User personas are an important part of the user experience design (UXD) process. They provide insights that lead to making key design decisions that contribute to delivering the perfect user experience.
There's a lot of work that goes into researching data to create user personas. But in UXD, that's only one part of the process. You also need to present the data in a beautiful way to make it more appealing to clients during presentations. This is where persona templates come in handy.
With Figma persona templates, you can create stylish profile-like designs to showcase all your gathered data for a user persona in a more professional way.
All the work for these user persona templates has already been done for you. All you have to do is copy and paste the user data into the template. Pick a template and get started.
Free Modern Figma Persona Template Builder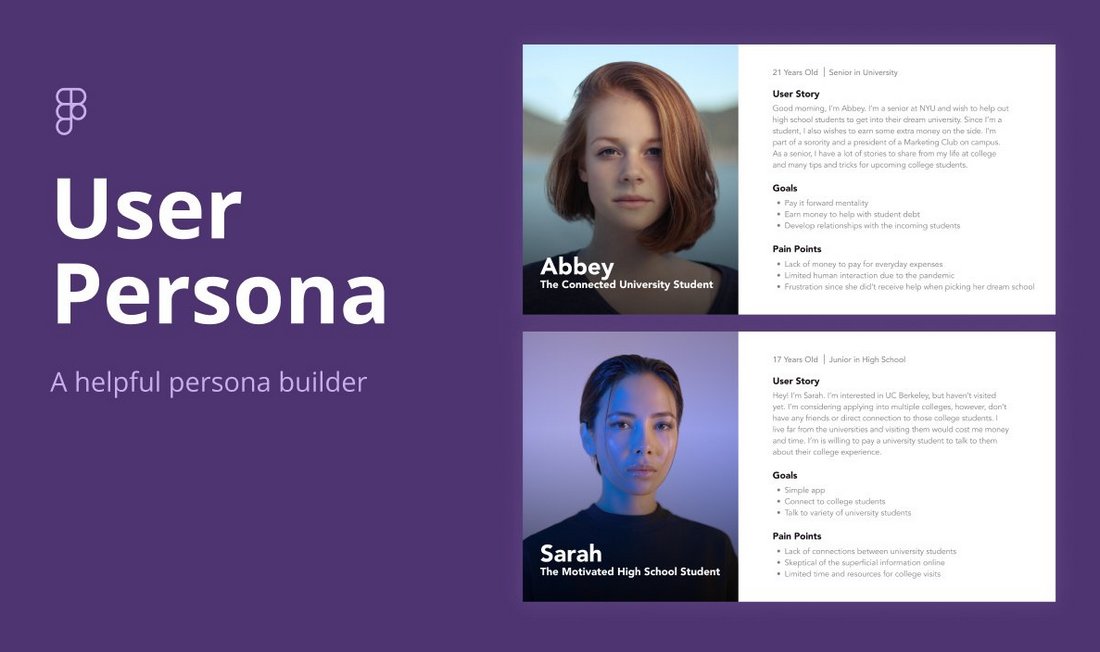 The clean and modern design of this user persona template makes it a great choice for creating simple user personas that are more straightforward. It has space to include a large profile photo with a description of the user's interests as well as goals and pain points. Another great thing about this template is that since it has fewer design elements it's easier to customize.
Free Creative User Persona Template for Figma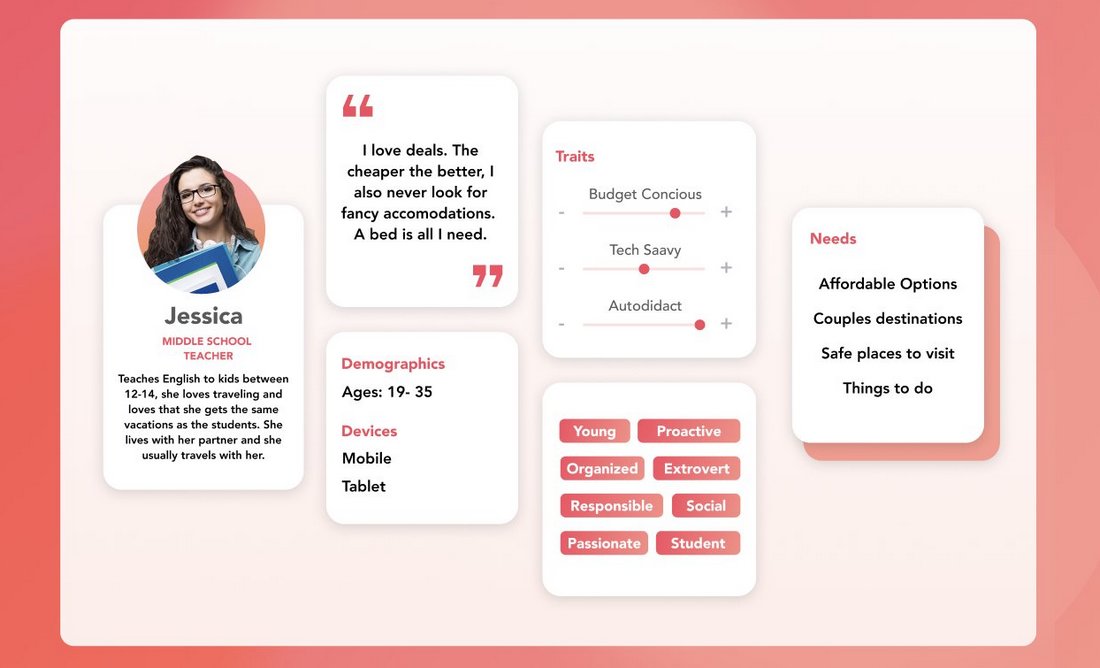 If you want to go above and beyond with your user persona by creating a more colorful and creative user profile, then this Figma persona template is for you. It features a unique design with separate block-like sections for showcasing the data related to the persona. Of course, you'll be able to duplicate these blocks to add more sections as well.
4 Figma User Persona Templates for Free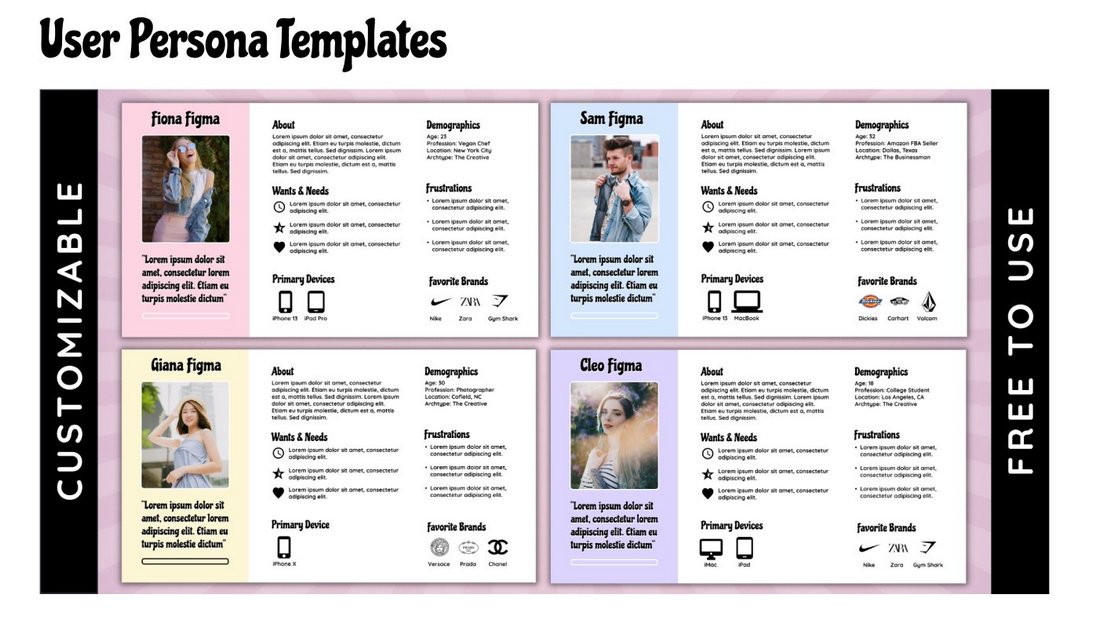 This collection of Figma persona templates has casual and fun written all over it. There are 4 different persona designs in this Figma template and they are perfect for making user personas for lifestyle UX designs. Each template has plenty of space to include demographics, interests, wants and needs, and more about the user persona.
Minimal Free Figma Persona Template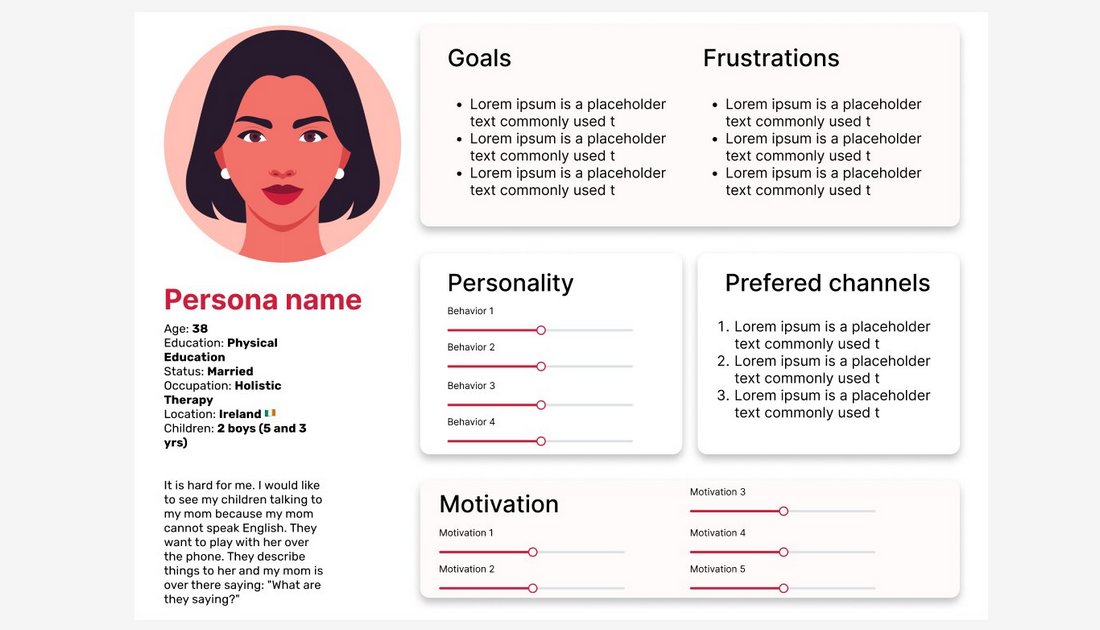 Having a clearly structured design is important for creating more effective user personas. And that's exactly what makes this Figma persona template one of the best on our list. It features a minimal design with a well-structured layout that lets you highlight all the key information in one place.
Free Light & Dark Figma Persona Templates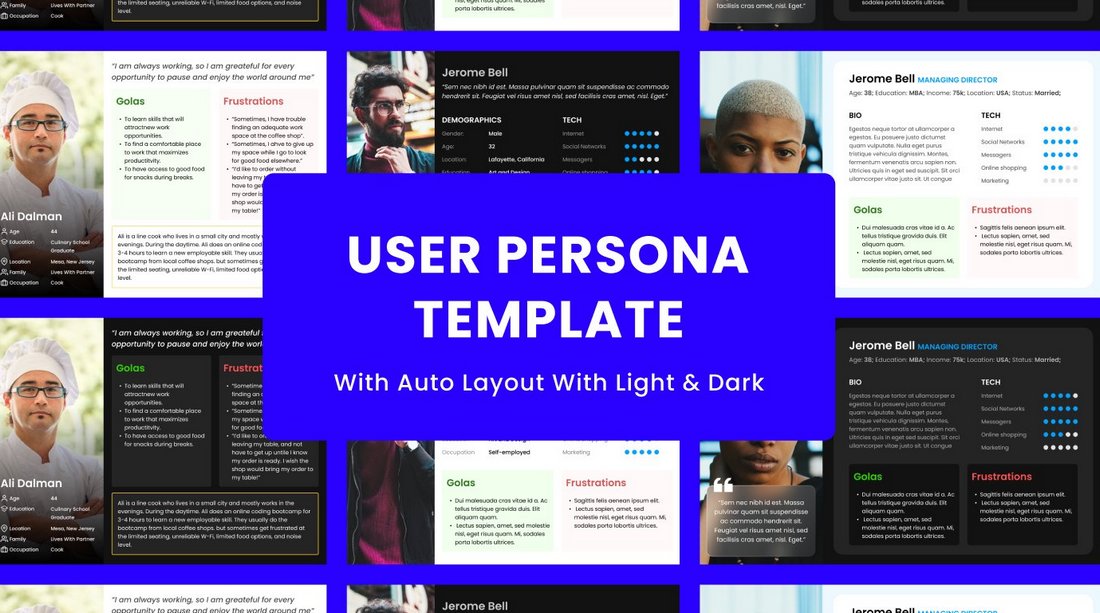 This Figma persona template kit is for making more detail-oriented user personas. It includes multiple user persona templates that you can easily customize to your preference. There are templates that allow you to add more details about your users too. And the templates also come in light and dark color themes.
Free Professional Figma Persona Template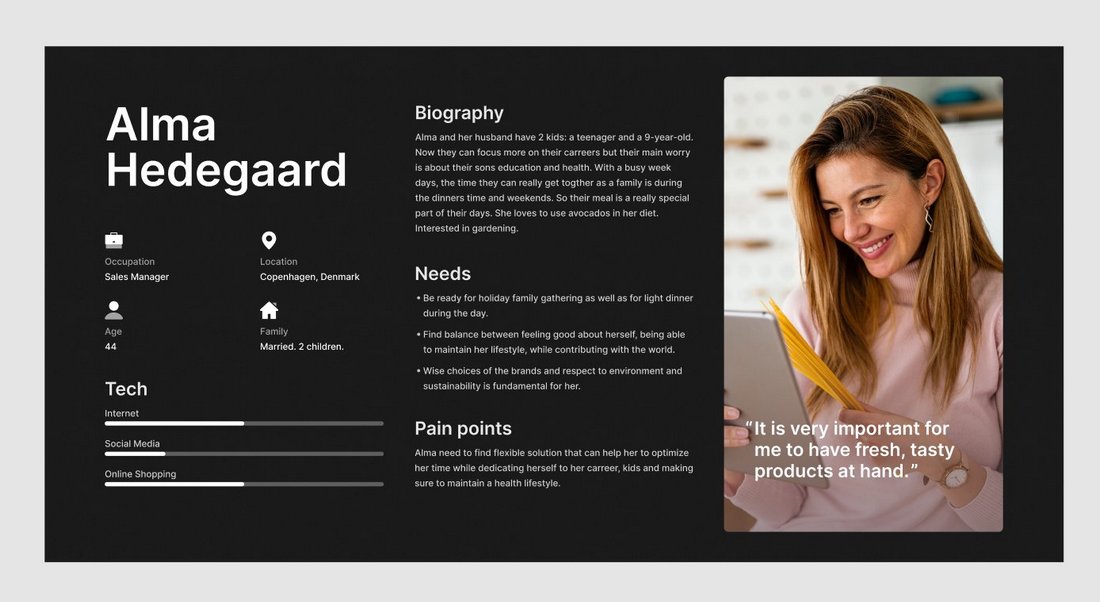 A sleek, modern, and beautiful persona template for Figma. It's ideal for creating user personas for various design projects as it comes with a clear and visual layout for showcasing the details about the end user that you're crafting the design for. You can also fully customize the template however you like.
Free Figma Persona Template for Presentations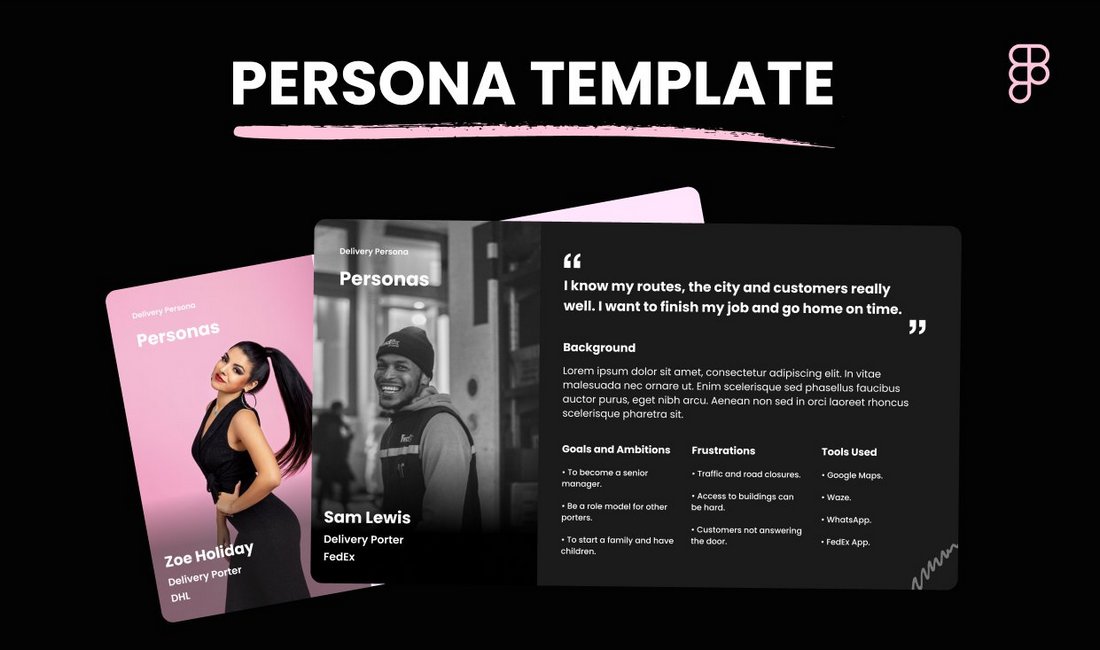 This persona template comes with a stylish design that makes it great for your design presentations. It features two different styles of user persona designs that you can edit to change colors, images, text, and layout to your preference.
Free UX Persona Template for Figma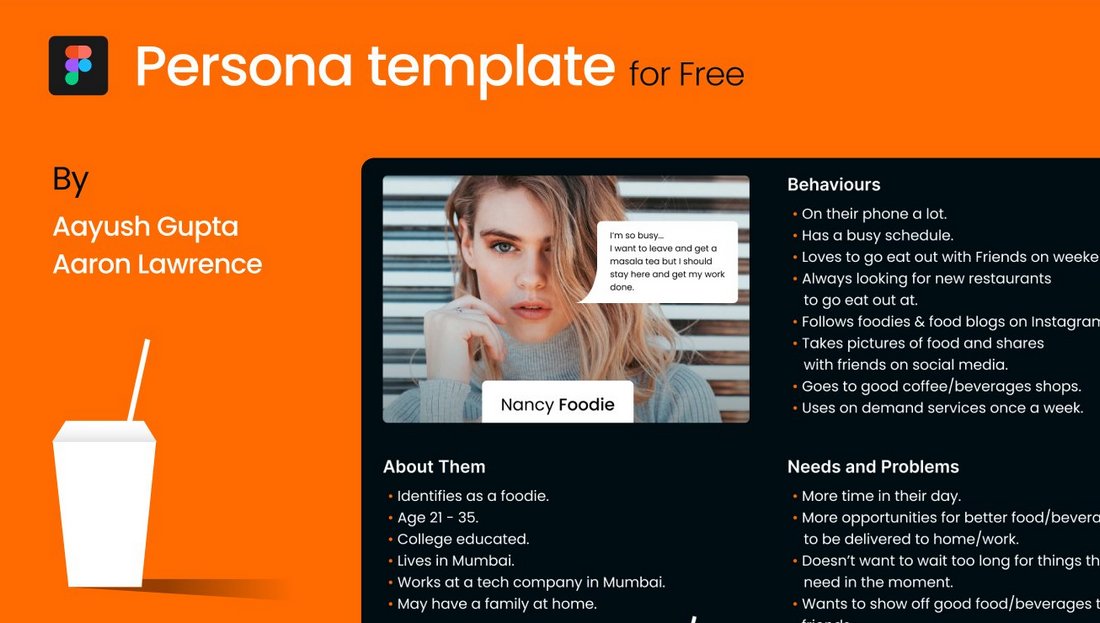 You can create a basic and simple user persona for your UX designs with this Figma template. It uses very basic formatting and a layout to let you create a user persona with minimal effort. You can also easily expand the template to add more details as well.
Detailed User Persona Free Figma Template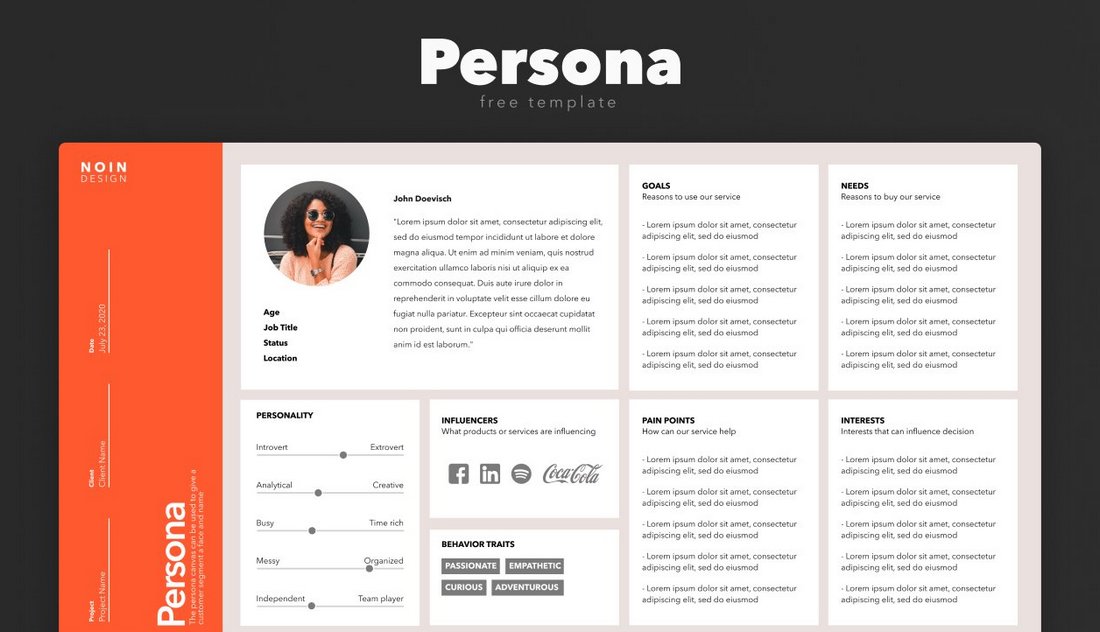 If you're working on a more serious design project for a big client, you'll need to pull out those big templates. This Figma persona template is exactly what you need to show off your skills to your high-end and corporate clients. It features a detailed design with lots of space and sections to add all the info about your target audience.
Stylish Free Figma User Persona Template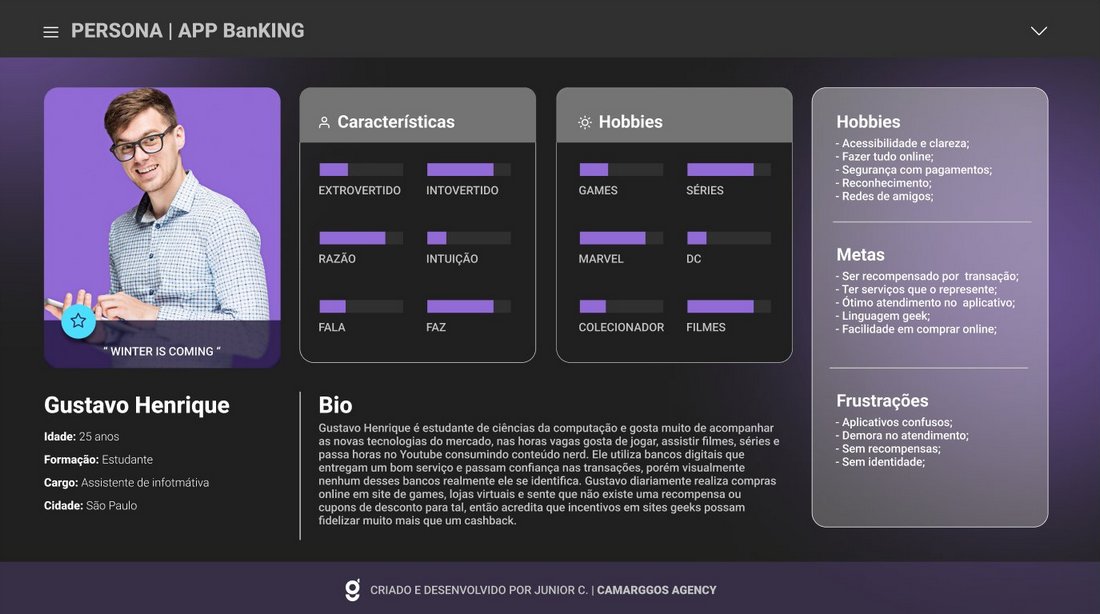 With this persona template, you can include more details with visual elements to make a more stylish user persona for your UX design projects. It features a dark color theme with a few progress bar designs for showcasing the characteristics and interests of the target audience.
Free Simple Figma Persona Template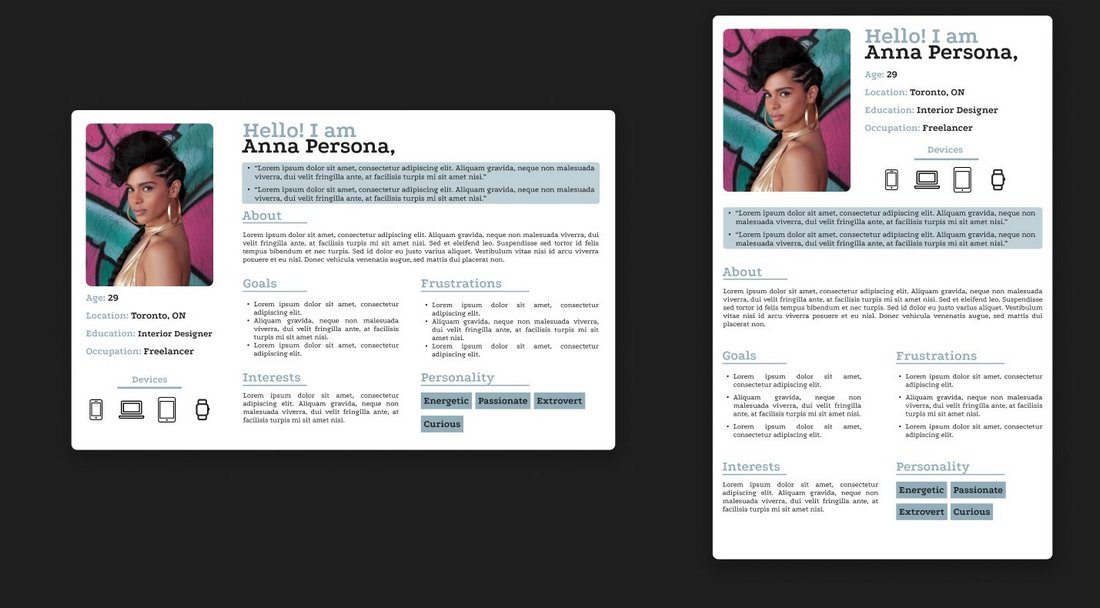 This persona template comes in two different styles. One features a landscape-style layout and the other has a vertical design that looks like a profile page from a social media platform. It has lots of different sections for creating a detailed user persona.
Free Colorful Figma User Persona Template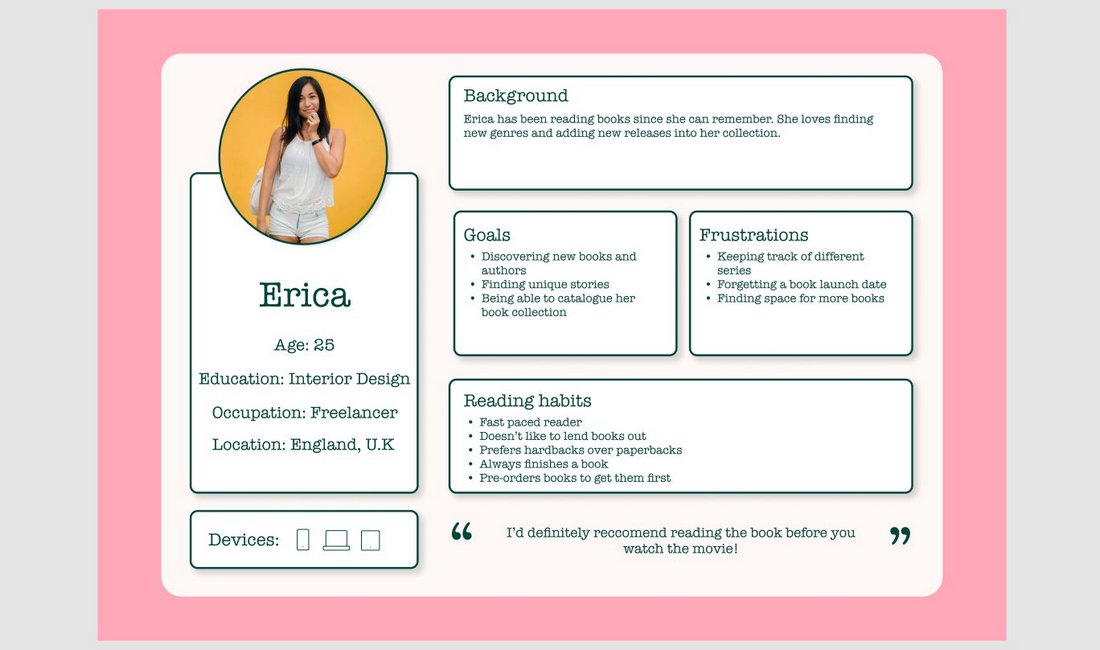 The bright colors, stylish borders, and overall beautiful design make this one of the best user persona templates on our list. It features a flexible layout that you can easily expand to add more data. The template seems most suitable for casual and lifestyle design projects.
Free Figma UX Persona Template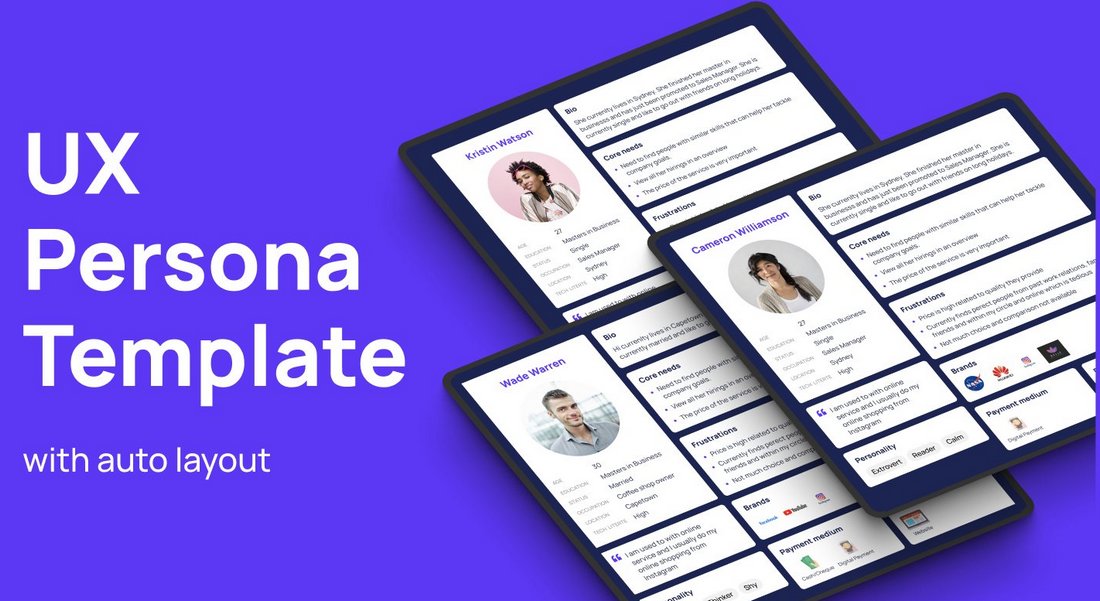 Looking for a Figma persona template with a modern design? Then this one is perfect for your project. It comes with a stylish layout where you can effectively showcase data and details about your target user and audience. It can be easily customized to your preference as well.
ctionable User Persona Free Figma Template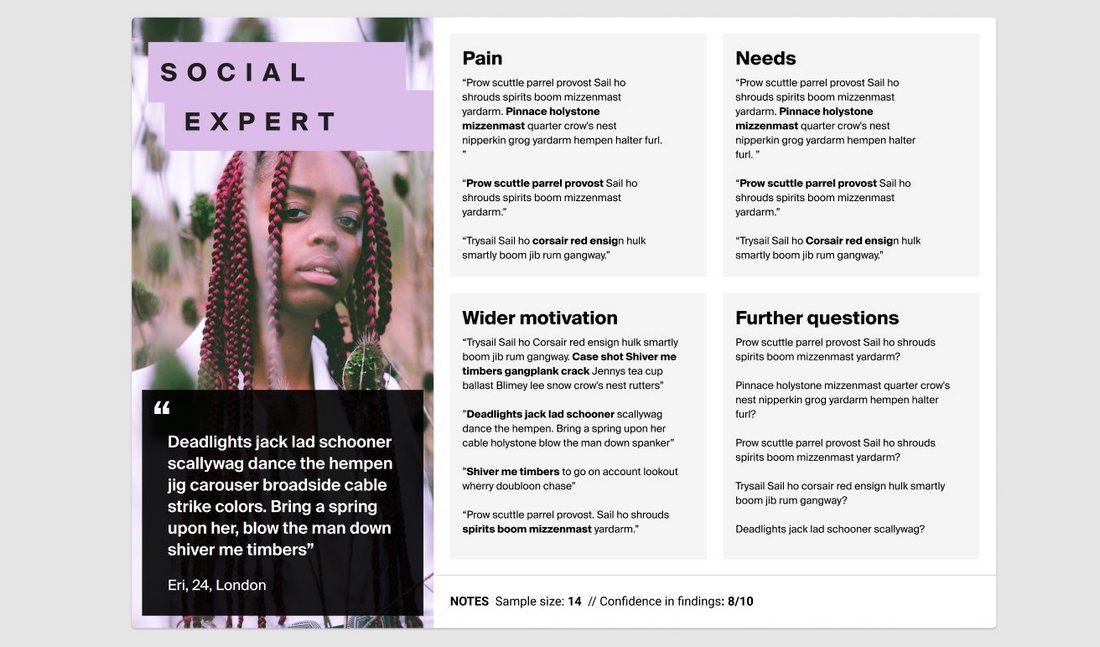 This Figma persona template is designed with a more actionable approach. It's designed to create detail-oriented user profiles that allow you to take better actions in UX design projects. The template is fully editable so you can change colors, fonts, and add more details according to your needs.
Minimalist User Persona Template for Figma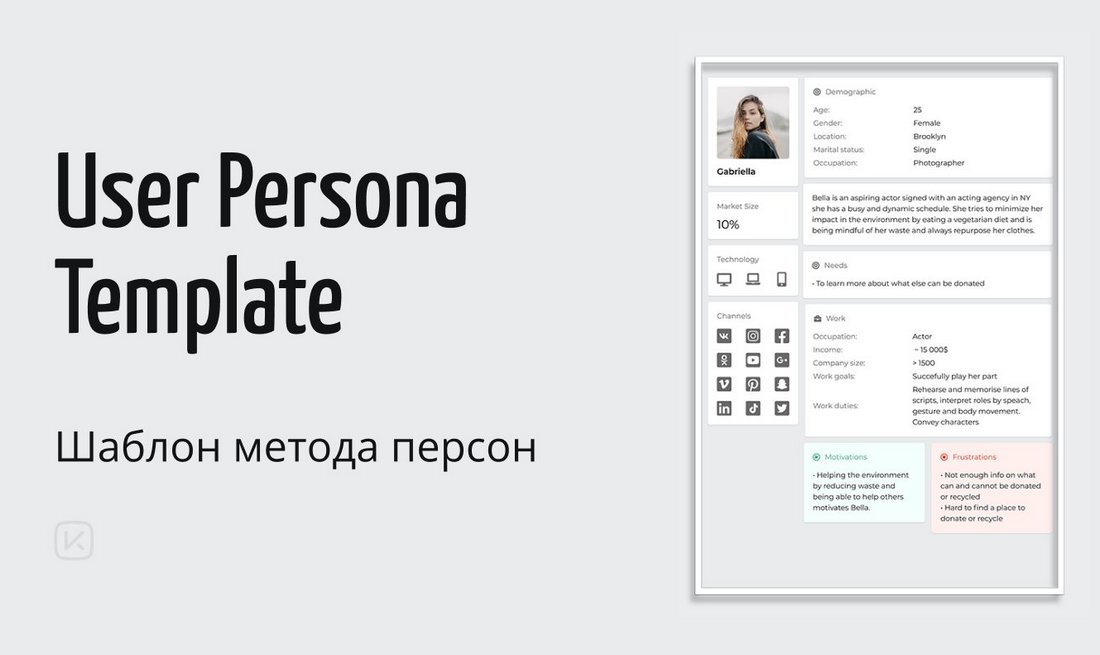 A simple and minimalist user persona template for Figma. This template also has a clean design where you can add all the details about your target audience in an easy-to-use layout. It also uses a creative profile-like layout as well.
Free Elegant Figma Persona Template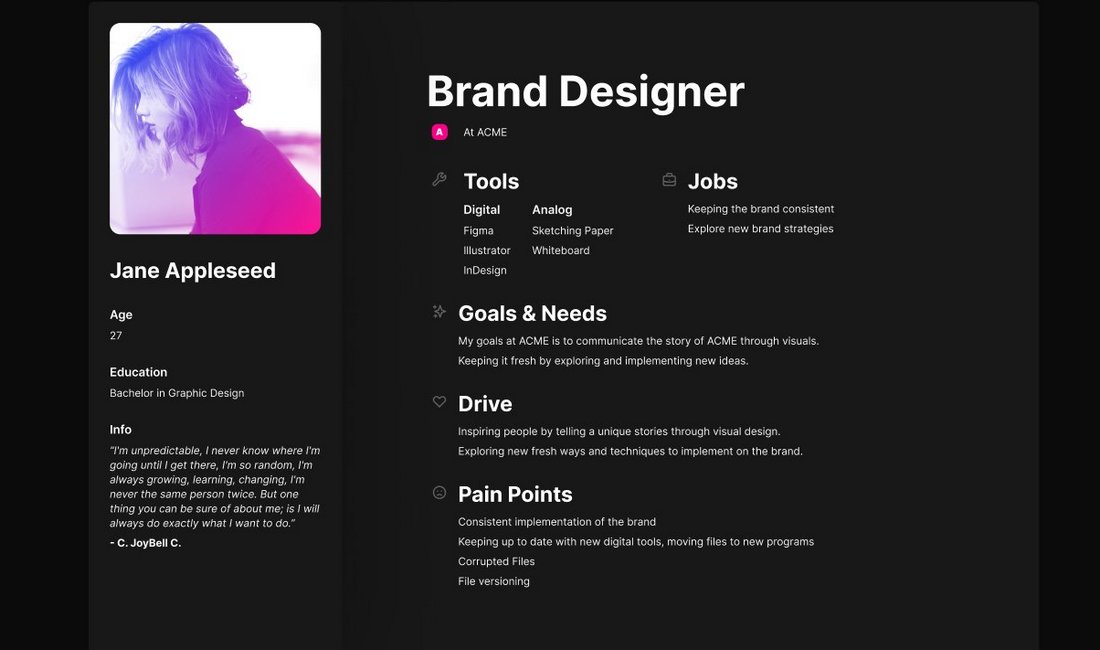 This persona template features a modern and elegant design that will definitely wow your clients. It comes with a stylishly dark theme that highlights its content more effectively. The template also includes several sections for creating a detailed user profile with customizable elements.
Free Creative Figma User Personas – 3 Templates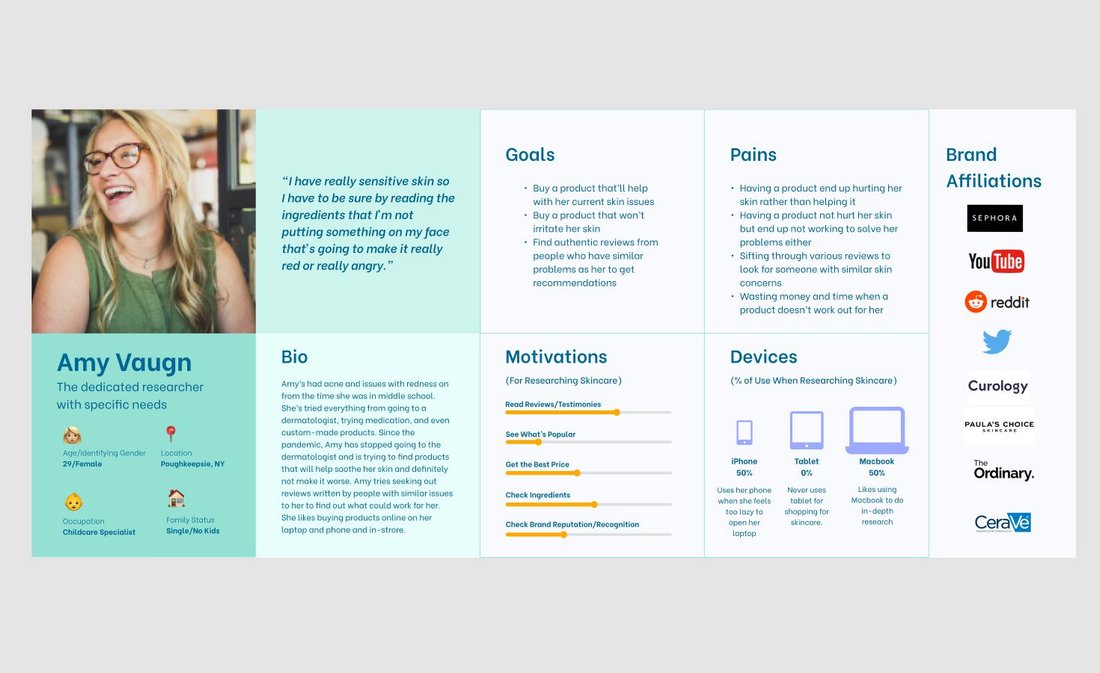 You can use this bundle of user persona templates to craft more creative and colorful personas in Figma. It comes with 3 different persona designs with fully editable features. Each template has all the necessary sections for making your UX persona profiles.
For more great Figma templates, you can explore our best Figma UI kit templates collection.
FAQs About User Personas
Here are some of the frequently asked questions about user personas to help you learn more about their role in UX design.
What is User Persona in UX?
A user persona in UX often referred to the fictional profile you create of the ideal user for an app, website, or product. Even though the profile is fictional, the data and details that goes into a user persona are gathered by researching a target audience. It helps you to craft effective UX designs according to the needs of your ideal end user.
How to Make a User Persona
Designing a user persona is much easier when using templates. You can pick a free template from our collection above and use it in Figma to easily create a beautiful user persona for your design projects.
How to Write a User Persona
As we mentioned earlier, you need to do proper research to find the perfect target user among your audience. Then you can write the user persona just like creating a profile in a social network by including a description, interests, pain points, and more about the user. You can look at the templates in the list above for inspiration.
By: Roshan Perera
Title: 15+ Best Figma Persona Templates (For User Personas)
Sourced From: designshack.net/articles/inspiration/figma-persona-templates/
Published Date: Tue, 13 Sep 2022 09:00:35 +0000
Did you miss our previous article…
https://www.webdesignhawks.com/?p=8776