Designing an admin dashboard is a sophisticated process that requires careful planning and, most importantly, teamwork.
Communication between the designers and developers is crucial to crafting the perfect dashboard UI that delivers the best user experience.
Although, most developers and designers often fail to communicate their ideas with each other. A great way to make this process easier is to use templates. With pre-made dashboard templates, you can show your ideas and concepts in visual form, even if you're a developer without design experience.
Today we have a big collection of Figma dashboard templates for you. These templates are ideal for sharing your ideas with the team. As well as for designers to get a head start in your dashboard UI projects. Have a look.
Glazey – Modern Figma Admin Dashboard Template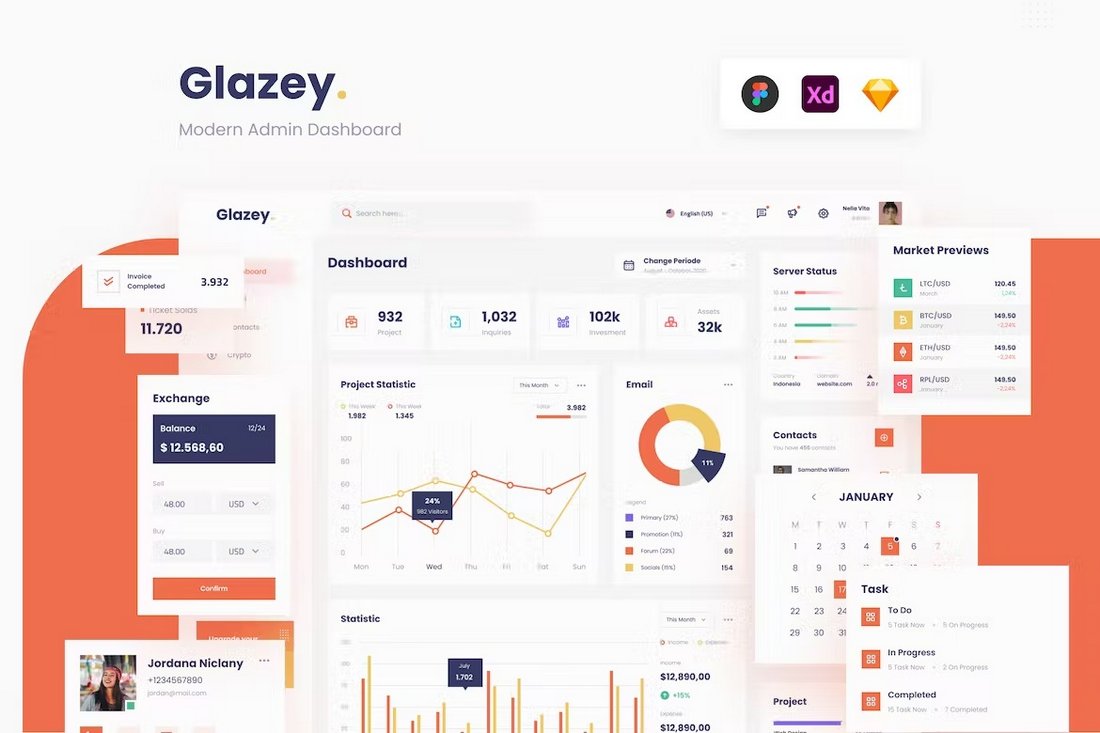 With more than 14 page templates, this admin dashboard has everything you need to create a complete user interface for almost any type of SaaS app. There are lots of different widgets and components in this template for showcasing stats, calendars, transactions, and more. You can fully customize the template using Figma or Adobe XD.
Nextrun – Professional Figma Admin Dashboard Template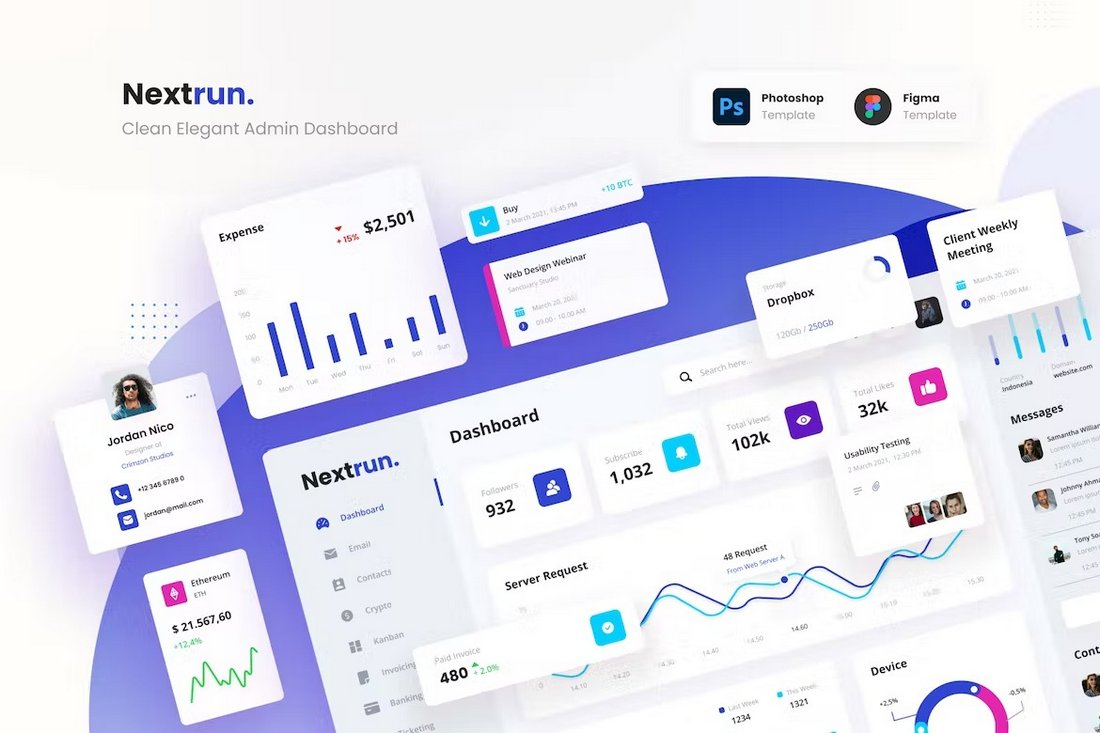 Nextrun is a stylish dashboard template that comes with a sleek and professional design. It features 16 page layouts with sections to deliver the perfect user experience to clients and customers. Each page template has customizable components. And it comes in both Figma and Photoshop file formats.
Modern POS Figma Dashboard Template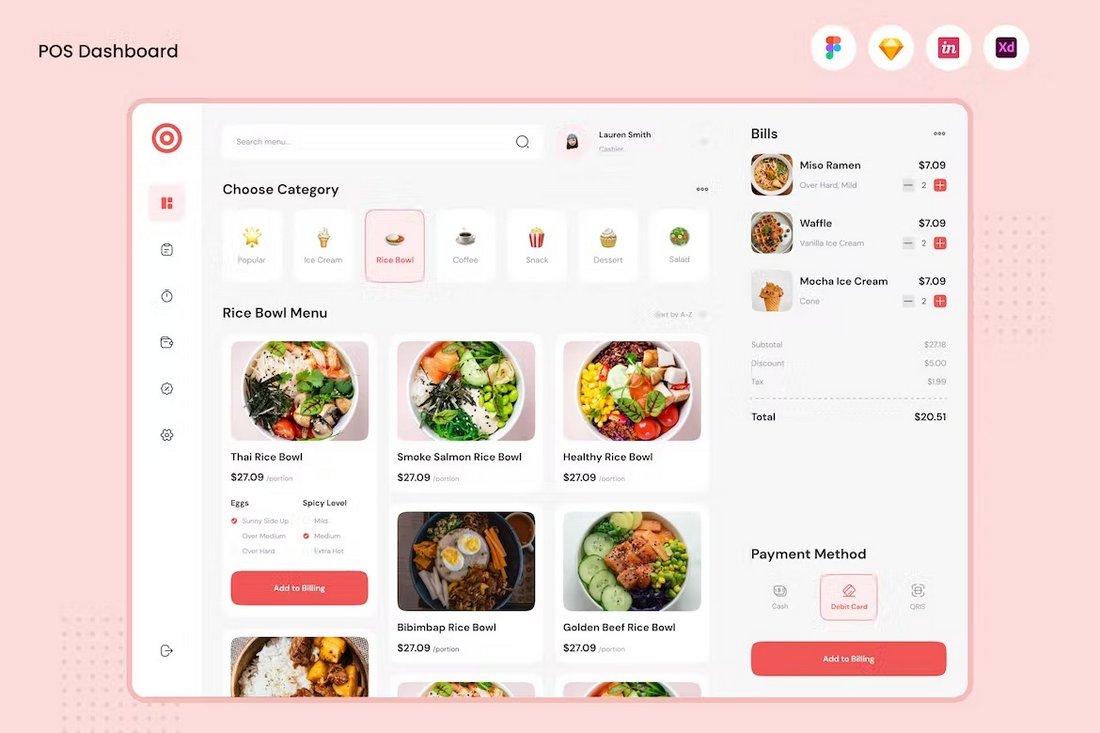 This Figma template is excellent for designing a modern and simple dashboard UI for a point of sale (POS) system. It has a clean layout that makes it much easier to select, organize, and process orders. The template is very easy to customize and it includes organized layers and groups as well. You can customize it using Figma, Sketch, Adobe XD, and InVision Studio.
Finance Dashboard UI Template for Figma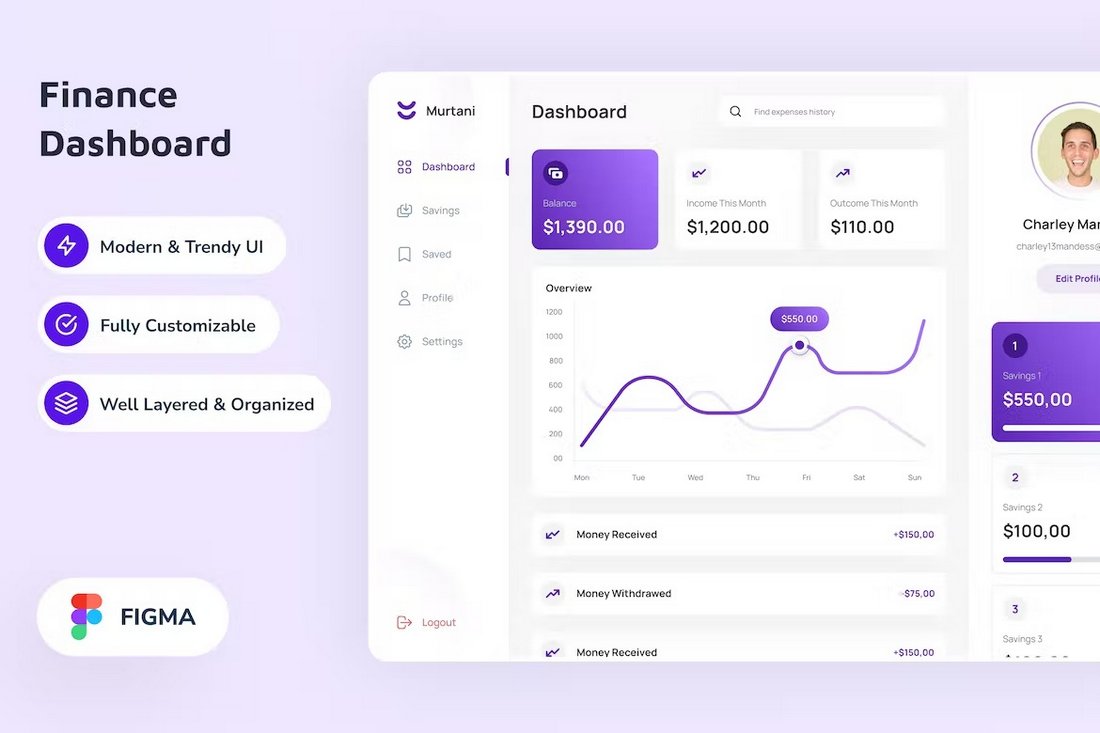 When designing a user interface for a finance dashboard, it has to follow a certain layout. You also need to avoid clutter and deliver a smooth flowing experience to the user. This Figma dashboard template seems to cover all those aspects perfectly with its modern and simple layout. It has a beautiful design with just the right widgets and components. You can customize this template however you like using Figma.
Performance Dashboard Templates for Figma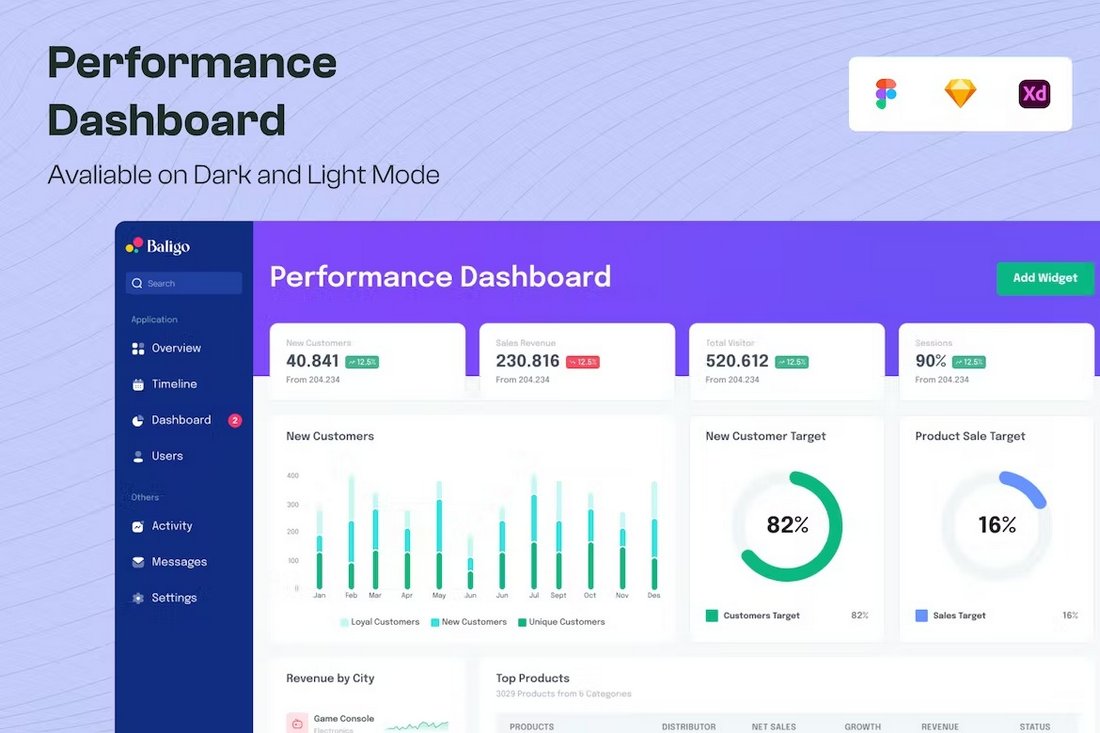 Another stylish and trendy dashboard template specifically made for showcasing all your performance-based metrics. This design is ideal for various types of SaaS and eCommerce admin dashboards, including SEO, marketing, and online testing tools. The template comes in both light and dark color themes. As well as in Figma, Sketch, and Adobe XD formats.
Free Figma Dashboard Template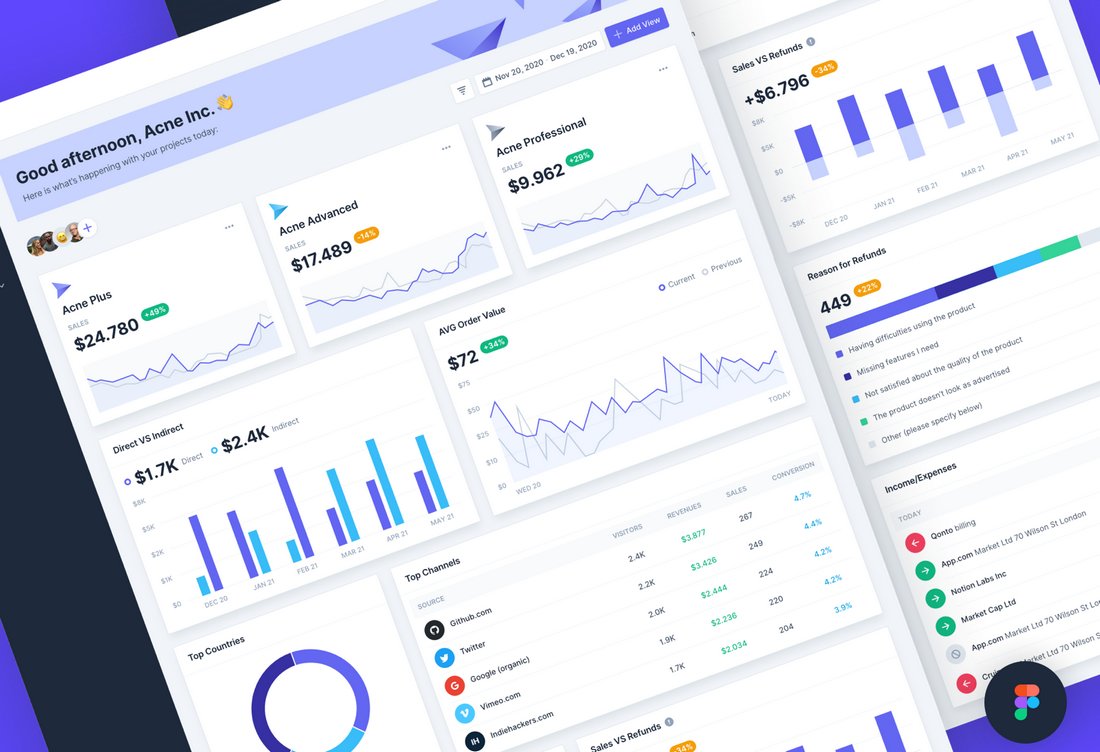 You can download this Figma dashboard template for free to use in your personal projects or even experiment with your own unique designs. The template has a clean and sleek design with lots of different customizable widgets and components.
Free Social Dashboard UI Kit for Figma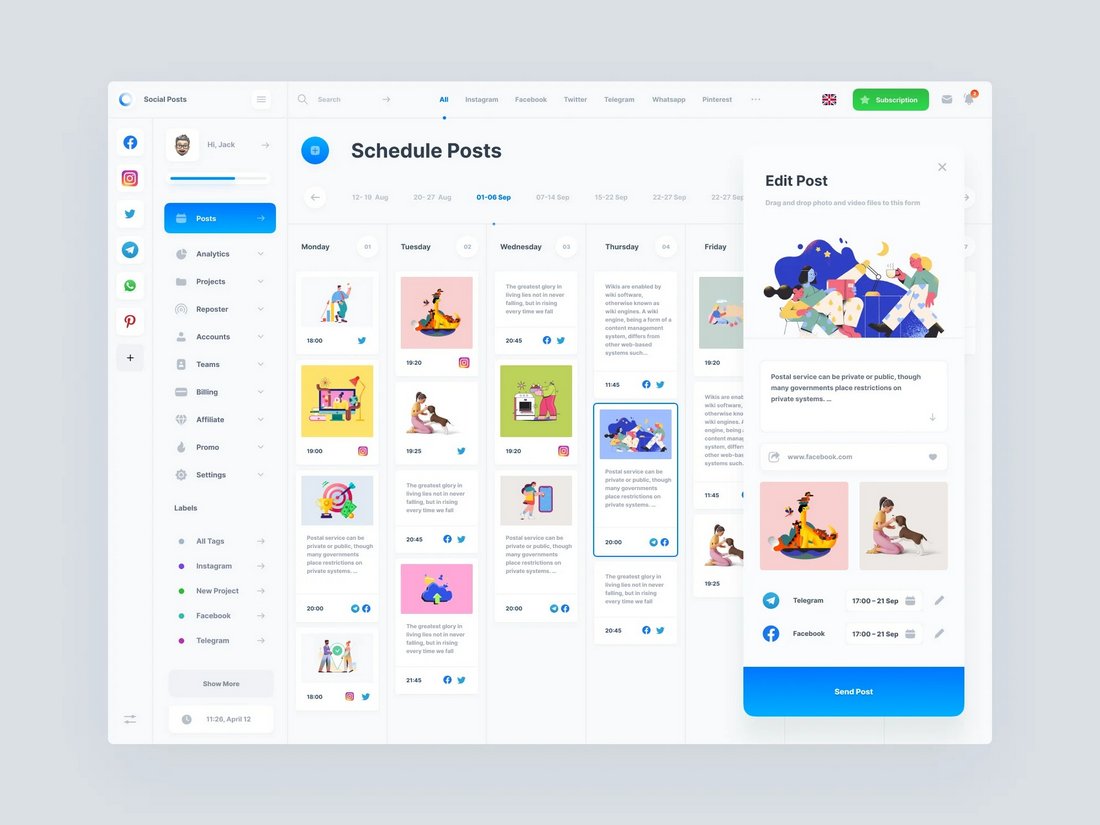 A beautiful dashboard layout for social media management and scheduling platform. This dashboard template is also free to download. And it comes with lots of useful objects that you can edit to your preference.
Nylon – Modern Figma Dashboard UI Kit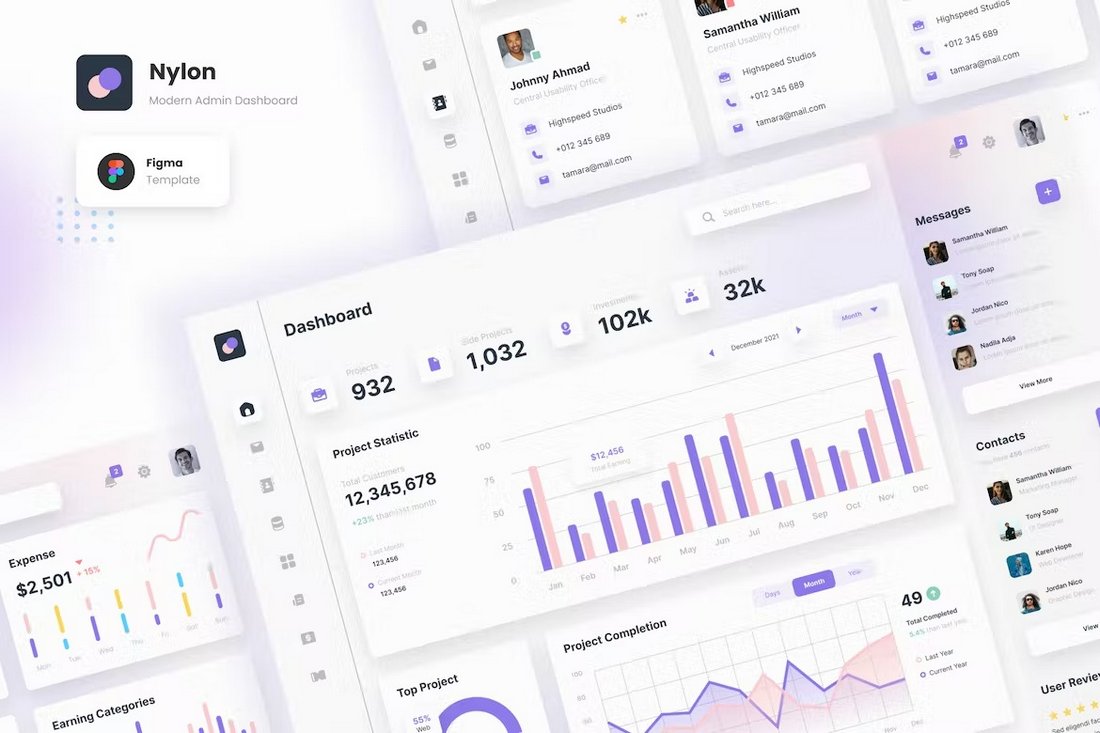 If you're looking for a template to design a minimal and modern dashboard, this Figma template is perfect for your project. It features an elegant look that uses fewer colors to create an aesthetic feel throughout every page on the dashboard. There are 8 different page layouts included in this template. You can easily customize them however you like.
Task Management Figma Dashboard Template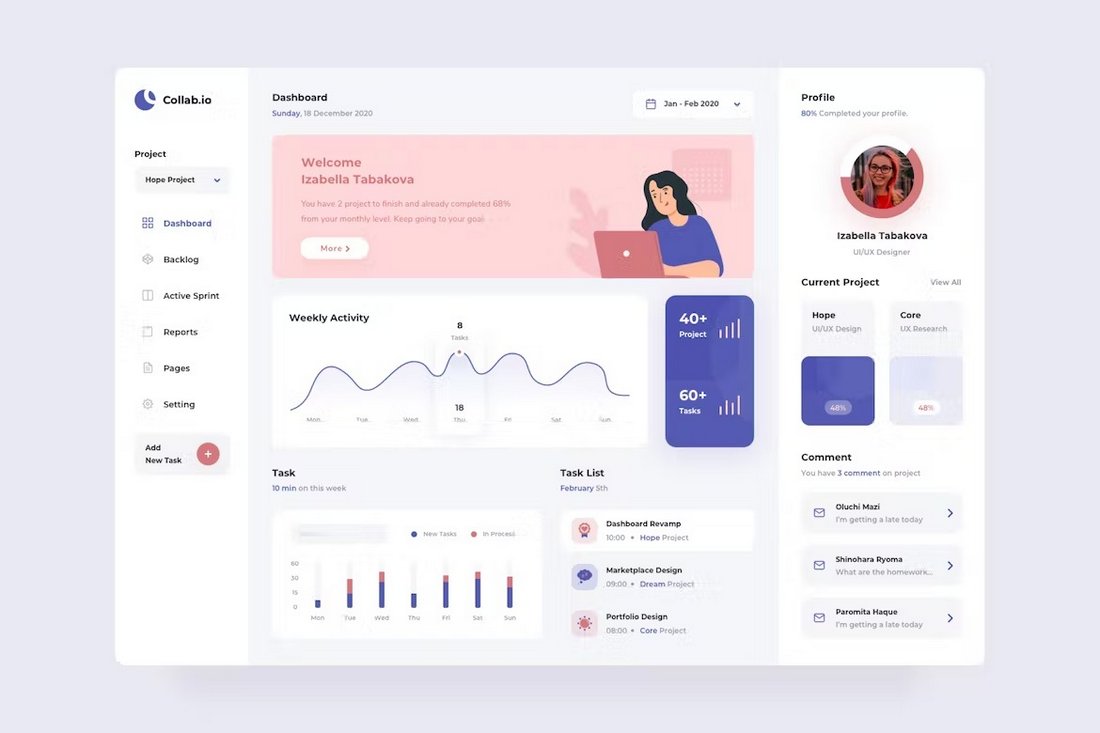 Designing an effective and user-friendly dashboard for your task management app will be so much easier when you have this Figma dashboard template. It features a minimalist design that offers a very structured layout for managing all the tasks in one place. Every component in this template can be scaled and you can edit them using Sketch as well.
Food Delivery Dashboard UI Kit for Figma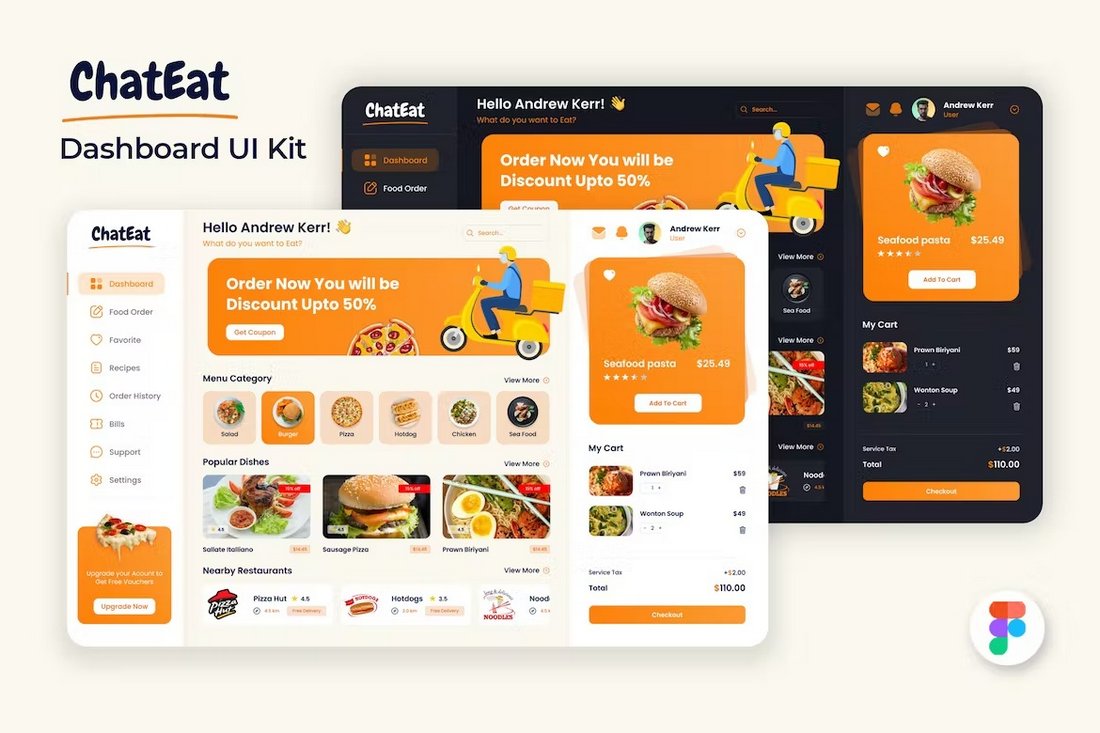 This is one of the most attractive dashboard templates on our list. It features a colorful layout that makes it much easier to process food delivery orders. This admin dashboard comes in both light and dark color themes. And it includes a highly visual approach to make the dashboard beginner-friendly.
Frize – Clean Professional Figma Admin Dashboard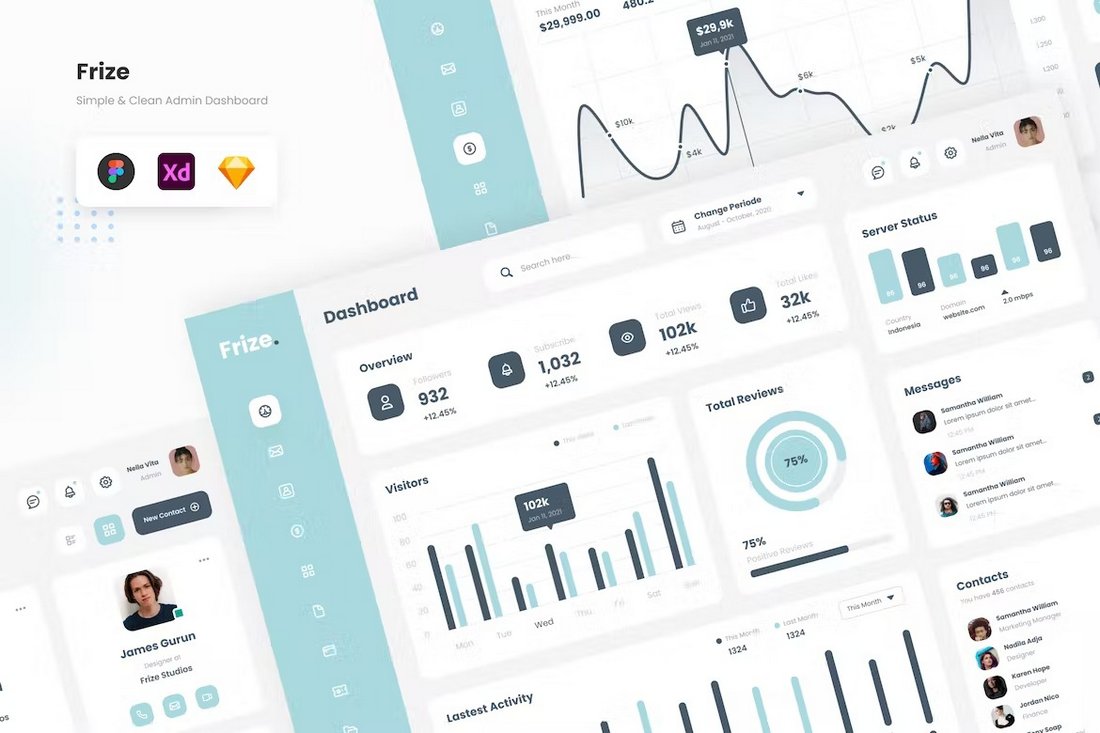 If you want to design a lightweight and simple admin dashboard, this template is the perfect place to start. It features a minimal design across 16 different page layouts. You can edit each page to move, rearrange, and customize the components to your preference. The template is available in Figma, Sketch, and Adobe XD formats.
Crown – Material Figma Admin Dashboard UI Kit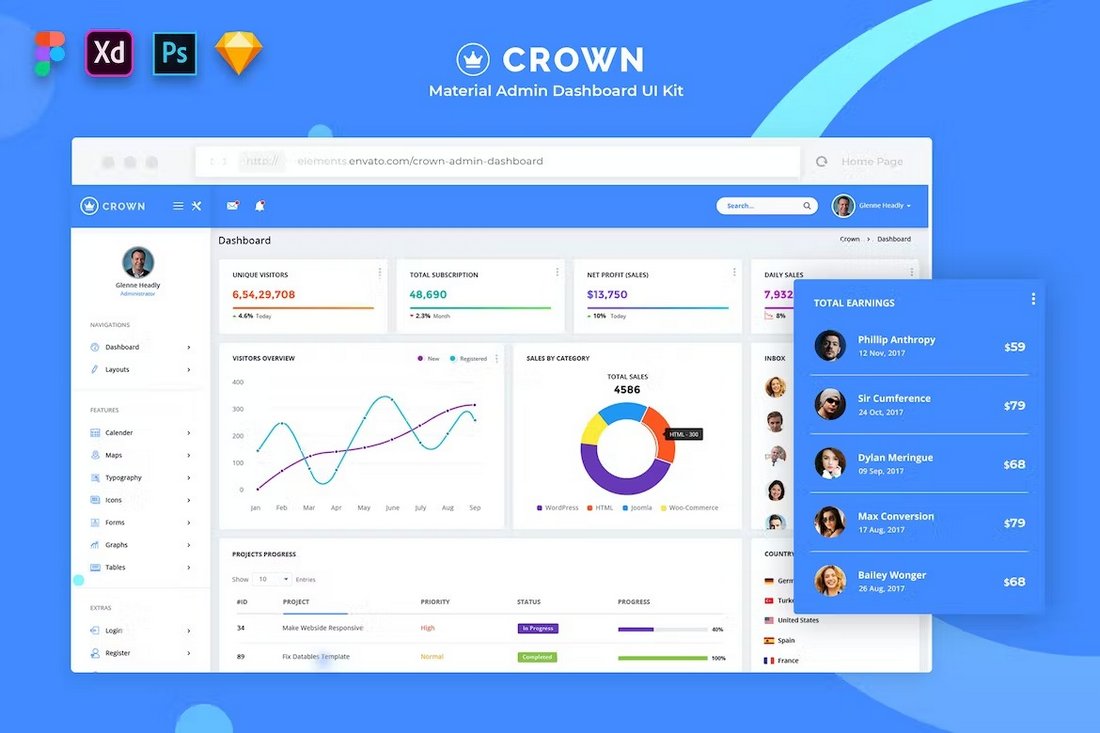 This Figma dashboard template is perfect for modern SaaS apps, especially for eCommerce and project management niches. The template offers a complete bundle full of 40 different files. It has every page layout and component you'll need to design a professional admin dashboard. They come in Figma, Sketch, Photoshop, and Adobe XD file formats.
Dash – Free Dashboard UI Kit for Figma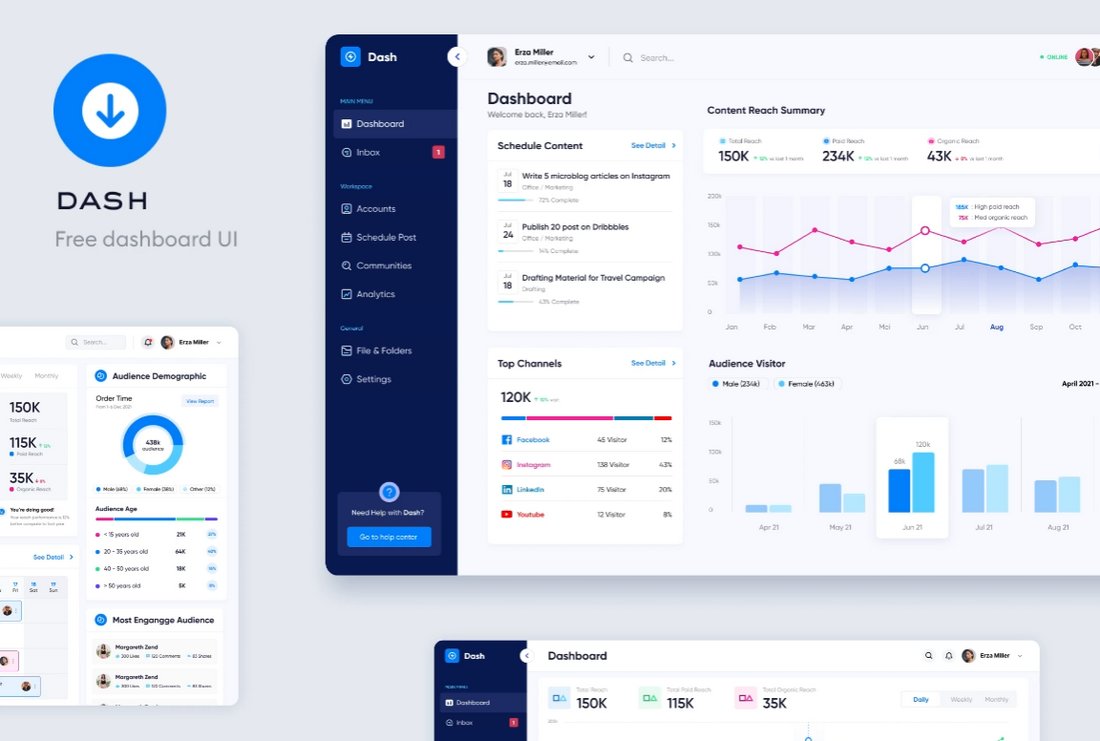 Dash is a free Figma dashboard UI kit that features a very modern layout. It has lots of different widgets for metrics, stats, scheduling, and more. You can use it to create dashboards for various types of marketing and content management platforms.
To-Do Dashboard Free Figma UI Kit Template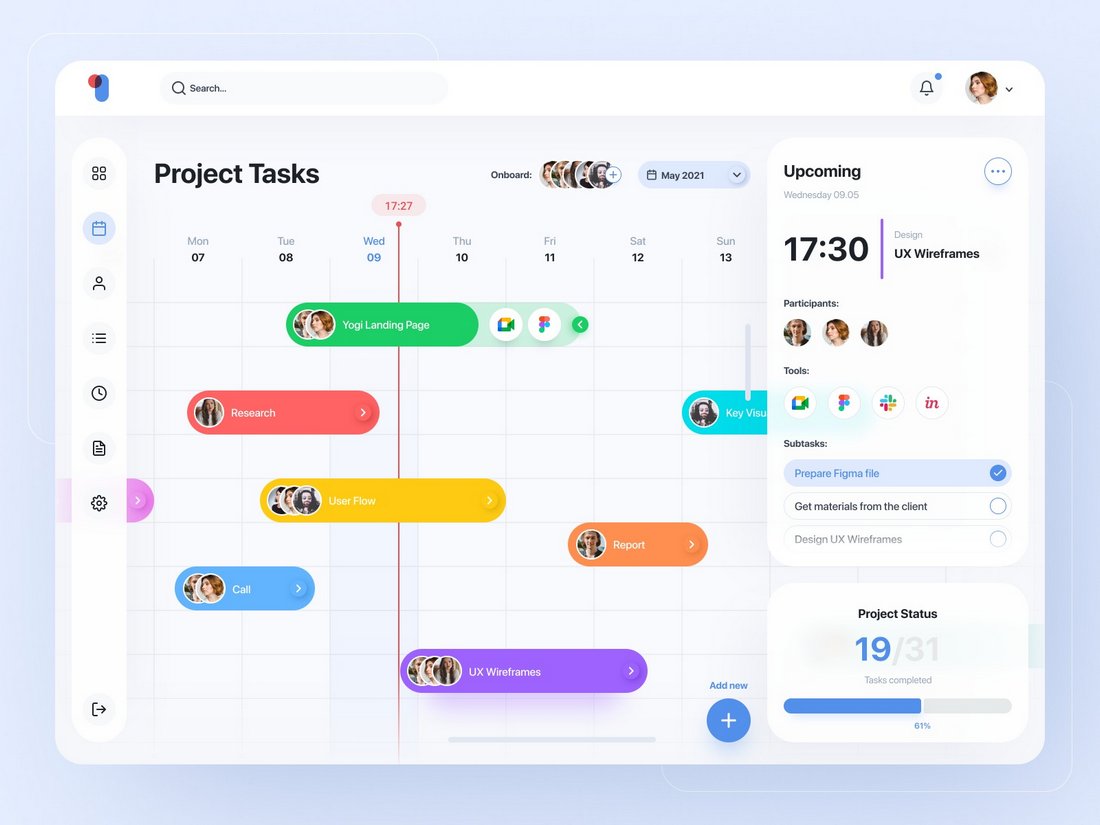 This is a simple and free Figma dashboard template that features a colorful design. It's ideal for making a basic task-management page in your dashboards that use color coding and user profiles.
Chat and Message Dashboard Template for Figma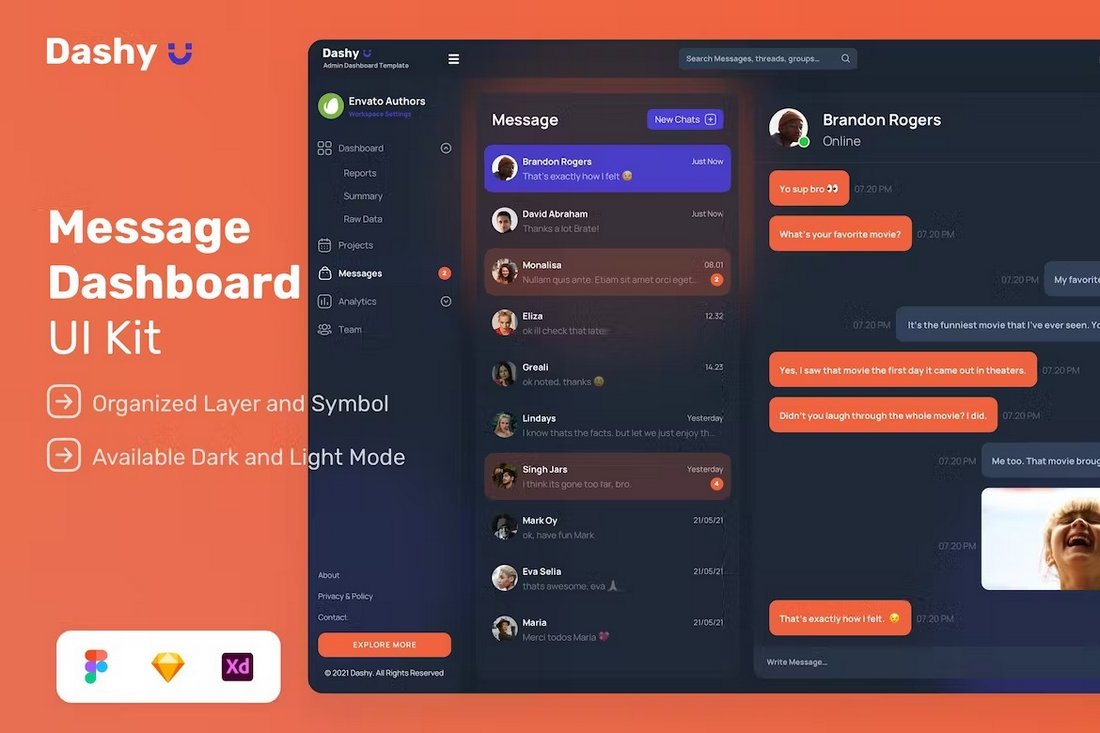 A chat system is now a must-have part of almost every dashboard. Whether it's to interact with customer support or with other users, a messaging system is a part that creates a community inside your app. This Figma dashboard template kit has a beautiful chat design you can use to add that missing section to your dashboard. It comes in multiple file formats too.
uction Dashboard Figma UI Template
Creating a platform for auctions or a marketplace? Then this Figma dashboard template is for you. It features the perfect layout you can use to create a user-friendly dashboard design for an auction or marketplace. The template comes with organized layers and groups to help you customize each element to your preference. It's available in Figma. Sketch, and Adobe XD formats.
E-learning Figma Dashboard UI Template
A simple yet effective dashboard design for online learning platforms. This template is great for crafting a dashboard for a school website or online courses platform to allow users to easily navigate and explore your programs through a clean user interface. The template lets you choose from multiple file formats as well.
Podcast Dashboard Template for Figma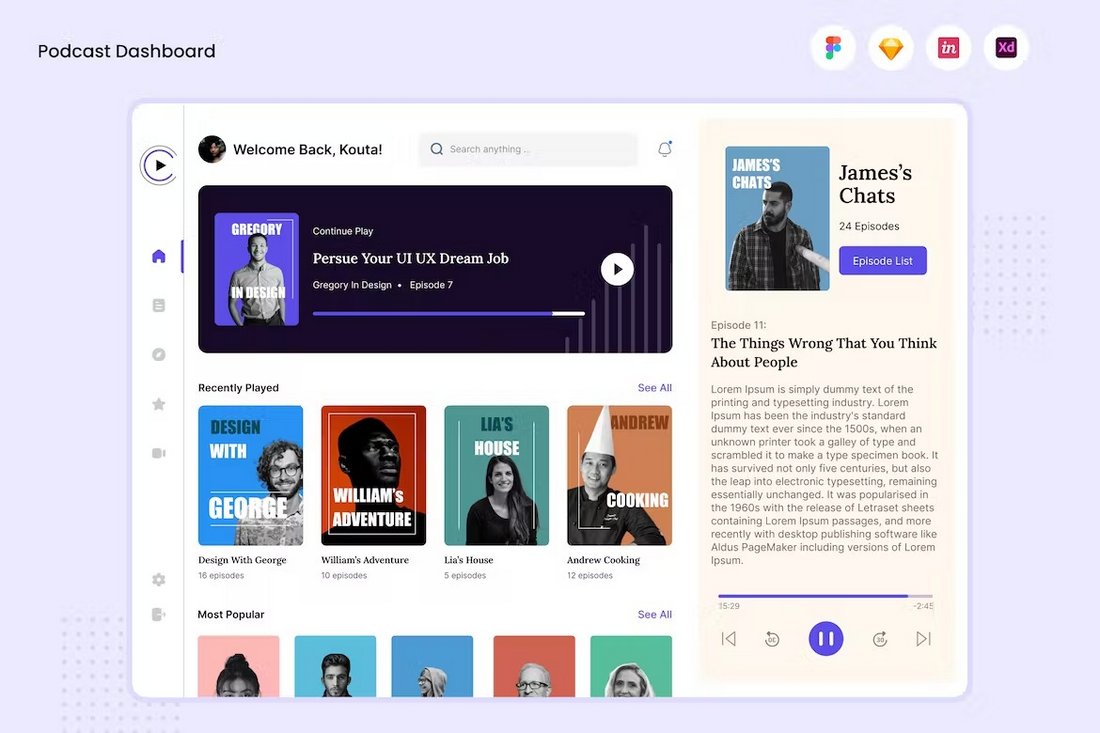 You can use this template to design a creative dashboard layout for a podcast platform. It features a clean and minimalist design that will offer a relaxing and calm experience for the users. You can customize the template using Figma, Sketch, Adobe XD, or Invision Studio.
Crypto Trading Figma Admin Dashboard UI Kit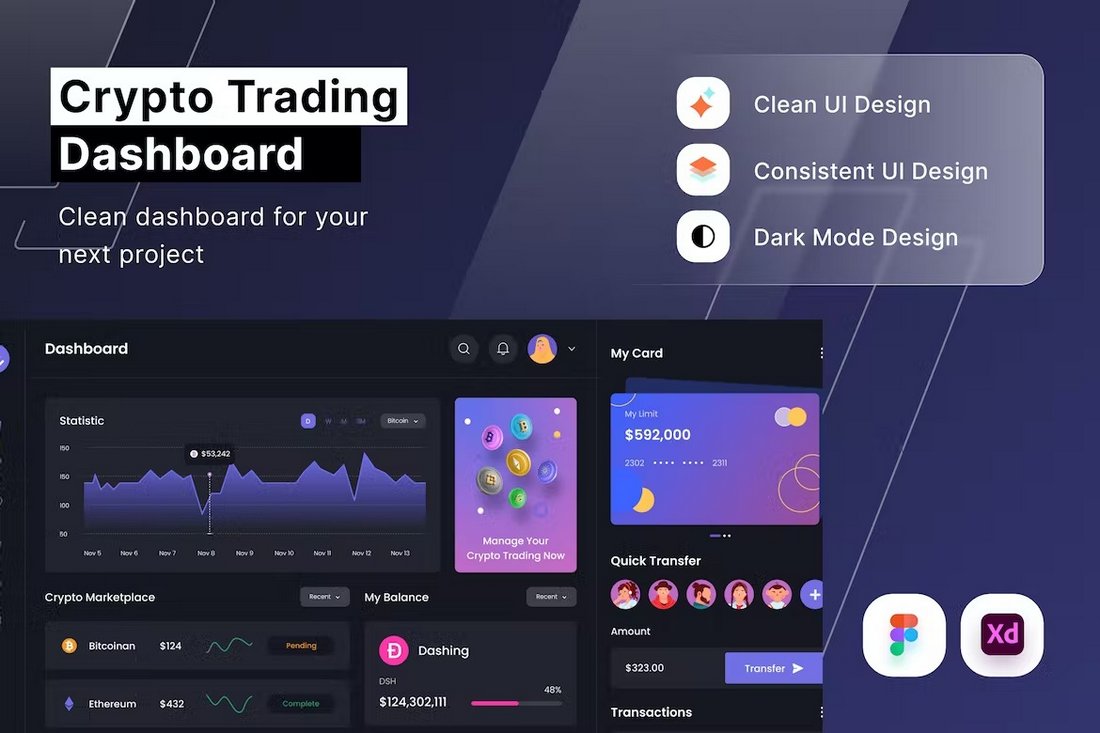 This Figma dashboard comes with a dark color theme and lots of gradient colors. It basically checks all the boxes for making a dashboard for cryptocurrency and NFT trading platforms. The template features a sleek modern UI design with organized layers for fully customizing it however you want.
Free Multipurpose Figma Dashboard Template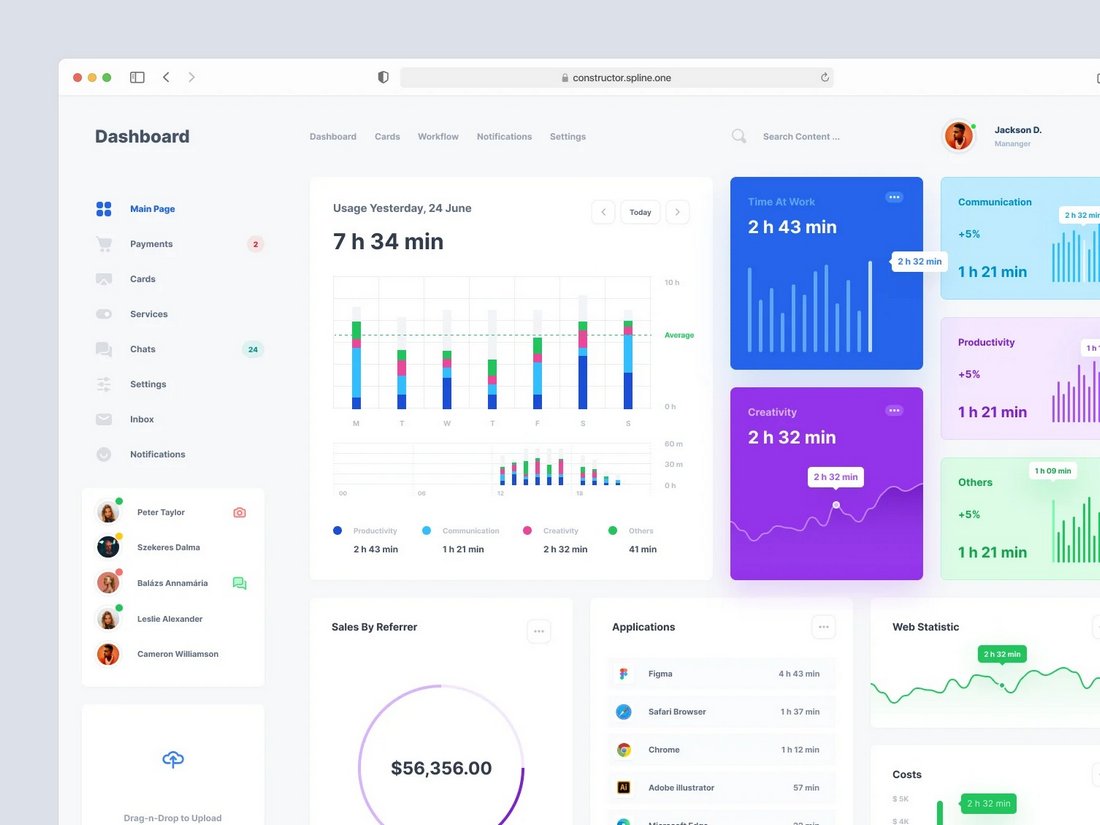 The multipurpose components and widgets used in this template make it suitable for all kinds of dashboard layouts. You can edit and customize it to create dashboard UIs for business, finance, eCommerce, and various other platforms. And it's free to download.
Free Dark Crypto Figma Dashboard Template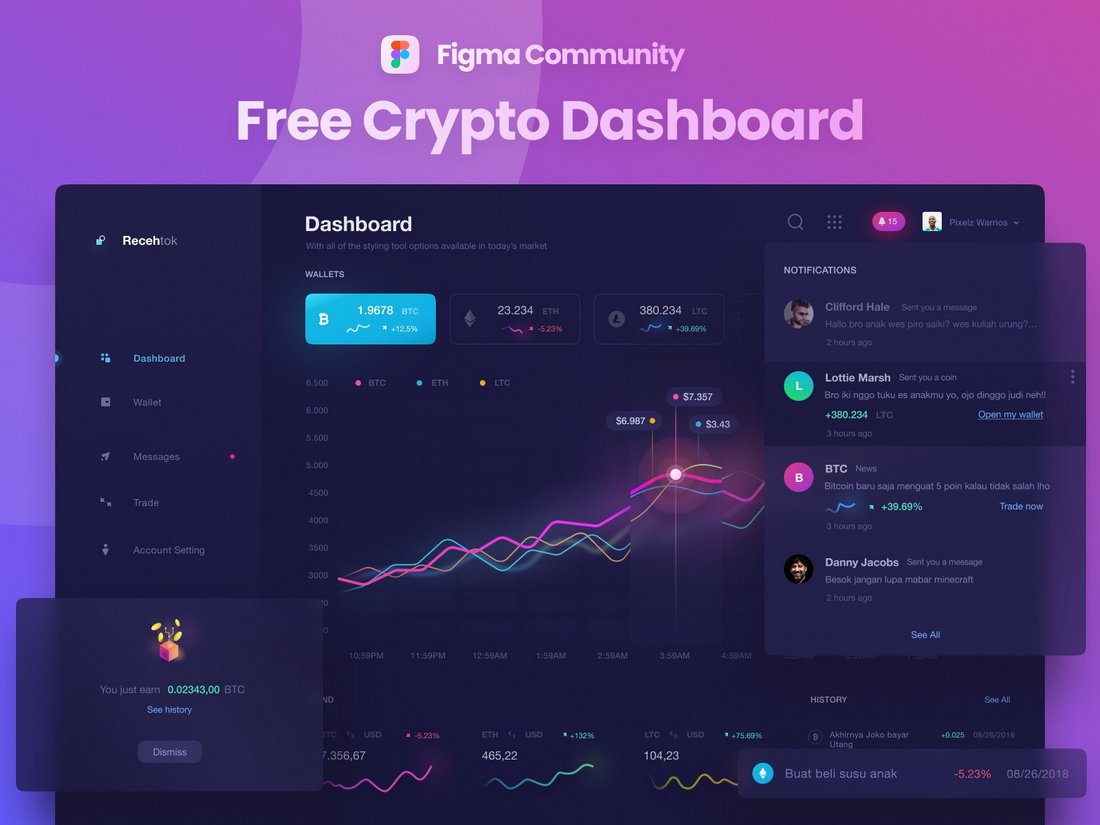 We know there's high demand for crypto dashboard designs so we included another one. This Figma dashboard template is free to download. And it features a professional-looking dashboard layout with all the components, in dark and light themes.
Food & Restaurant Figma Dashboard Template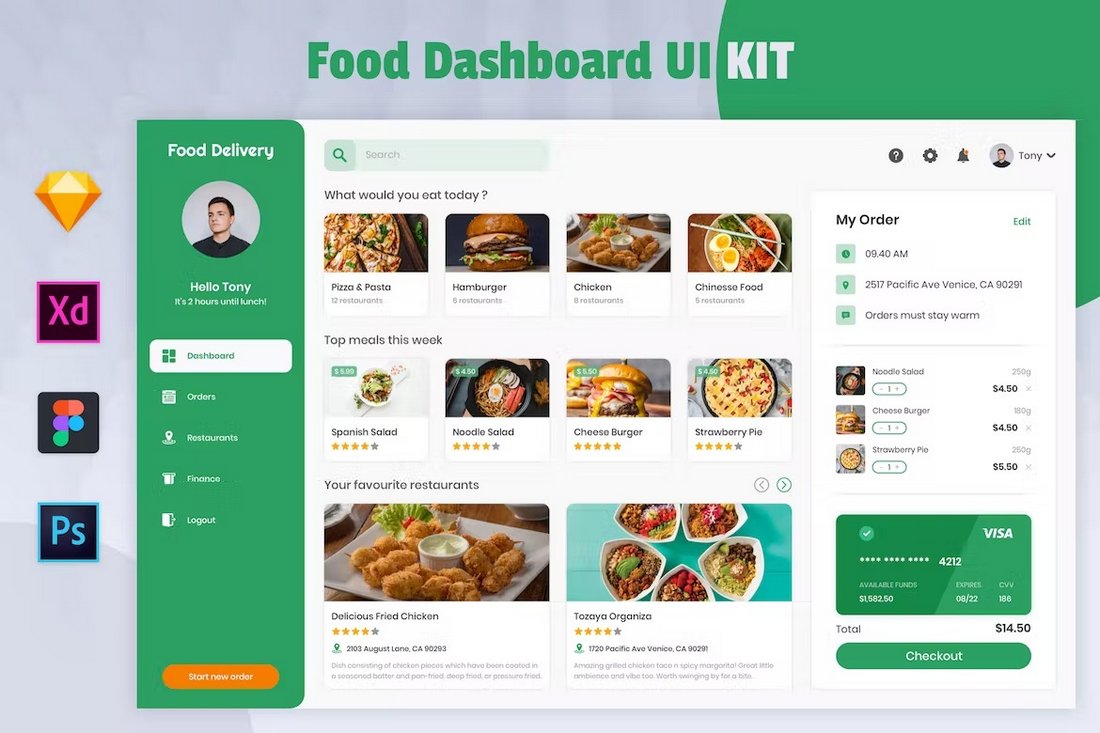 Whether you're working on a dashboard for a food delivery service, restaurant, or retail shop, this Figma template has an effective layout to help you design a better admin dashboard for your app. It features a stylish and beautiful design for POS systems, apps, and much more.
Real Estate Properties Figma Dashboard Template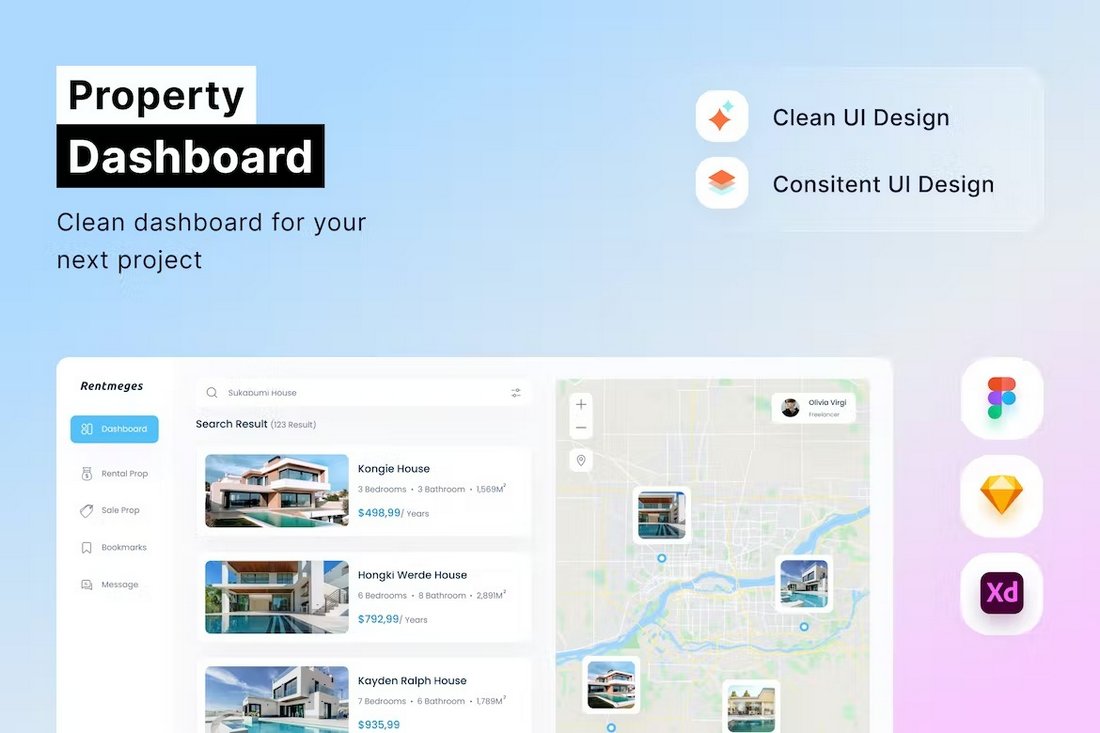 This is a unique admin dashboard template you can use to make a simple dashboard layout for a real estate property management platform. It's perfect for making databases or even online marketplaces as well. The template is available in Sketch, Figma, and Adobe XD formats.
Check out our feature guide to learn more about Figma templates and find other great collections.
By: Roshan Perera
Title: 20+ Best Figma Dashboard Templates (Admin Dashboard UI Kits & More)
Sourced From: designshack.net/articles/inspiration/figma-dashboard-templates/
Published Date: Wed, 14 Sep 2022 17:00:33 +0000
Did you miss our previous article…
https://www.webdesignhawks.com/?p=8880