If you're looking for a quick, easy, and affordable way to create a resume, Figma is a great platform you can use for the task. It's not only free to use but also works directly on your browser.
Since the app is free and cross-platform, Figma also has a very large community where users share design resources with others, including Figma resume templates.
We found some of the most amazing CV templates you can use in Figma to make a professional-looking resume for your job application.
This collection includes resume templates for all types of industries from graphic designers to UX designers, writers, developers, and more. The best part is most of the templates are free to use. Have a look!
Multipurpose Figma Resume Template (Light & Dark)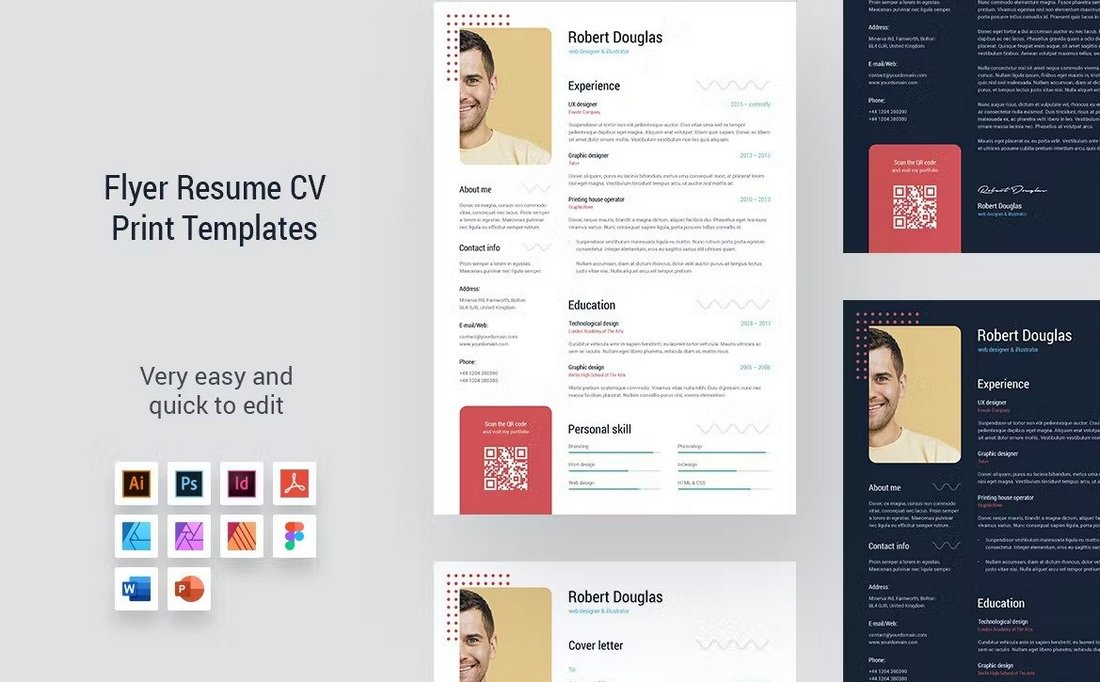 This template comes with a premium design and a flexible layout that will allow you to create resumes suitable for any type of job position. It will definitely help you create different styles of CVs when applying for various jobs. The template is available in both light and dark designs. And it comes in multiple file formats, including Figma, Adobe XD, Photoshop, MS Word, and more.
Interiorch – Figma Resume CV Template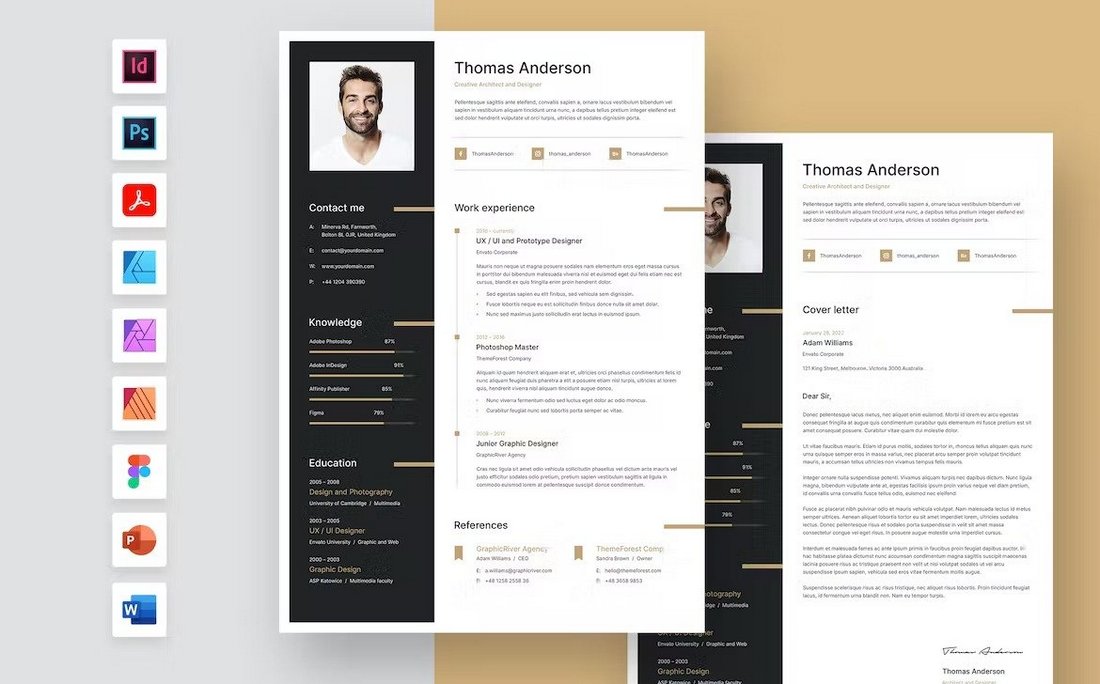 This clean and minimal Figma resume template is designed with architects and interior designers in mind. But you can easily customize the design, formatting, and text to create CVs for various other professionals as well. The template has resume and cover letter designs in A4 and US Letter sizes. You can also edit them using Figma, Photoshop, Affinity Photo, Word, and other apps.
Supa Resume – Free CV Template for Figma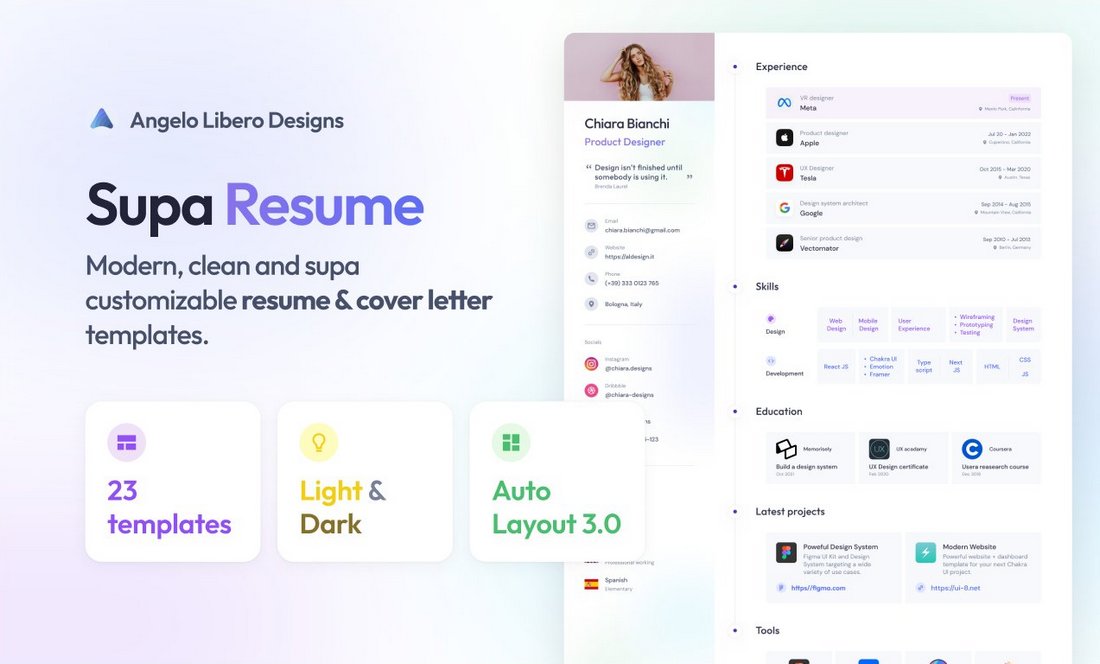 Creating a resume with a different style of design is a great way to make your CV stand out from the crowd. This template features the perfect layout to achieve that goal. It comes with a unique design with lots of visual elements to highlight your skills and experience. There are many different resume and cover letter designs to choose from, including ones with light and dark color themes.
Gradient Free Figma Resume Template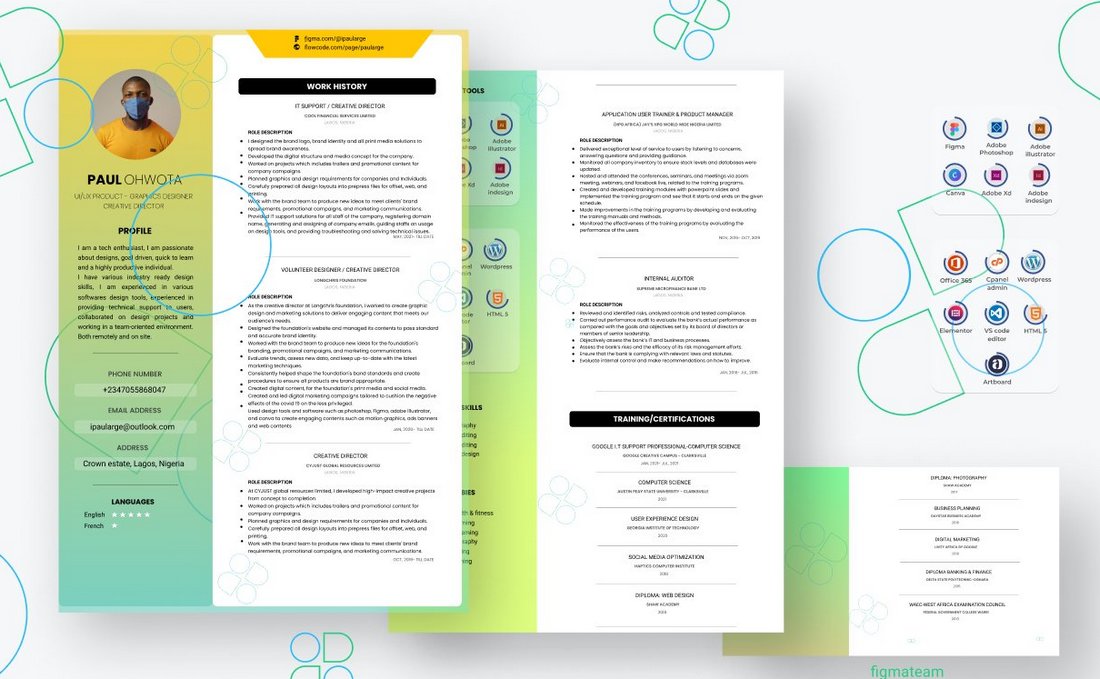 Want to create a more colorful resume? Then this Figma resume template is for you. It comes filled with lots of beautiful gradient colors to give a different style of look to your CV. It also includes an extensive and detailed page design to help show off all your skills and talents across two to three pages. You can make it longer or shorter as you like.
Free Modern Resume Template for Figma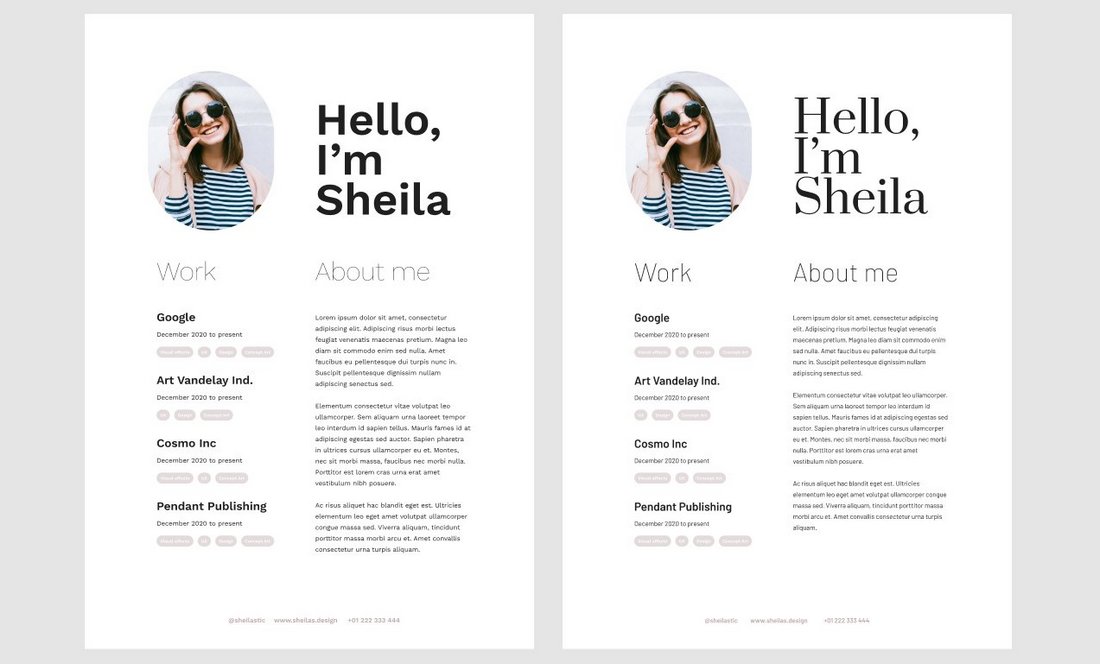 This free Figma resume template is perfect for creating a simple one-page CV to showcase your skills and include a brief introduction of yourself. The template is very easy to customize so you can add your own details and change the colors, fonts, and design to your preference.
20 Free Minimal Figma Resume Templates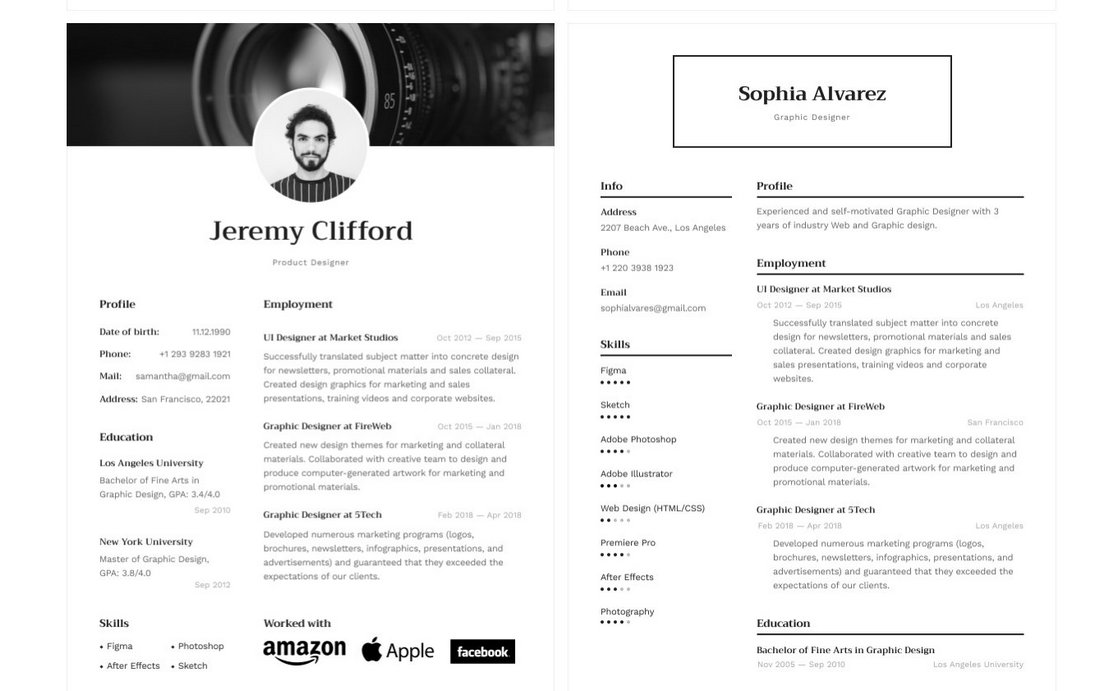 This is a big bundle of resume templates for Figma. It includes 20 resume designs with minimal and clean layouts. These are perfect for applying for various types of jobs, including corporate companies and agencies. The templates come in multiple formats, including Figma, Adobe XD, and Sketch.
Gridfolio – Free Designer Figma Resume Template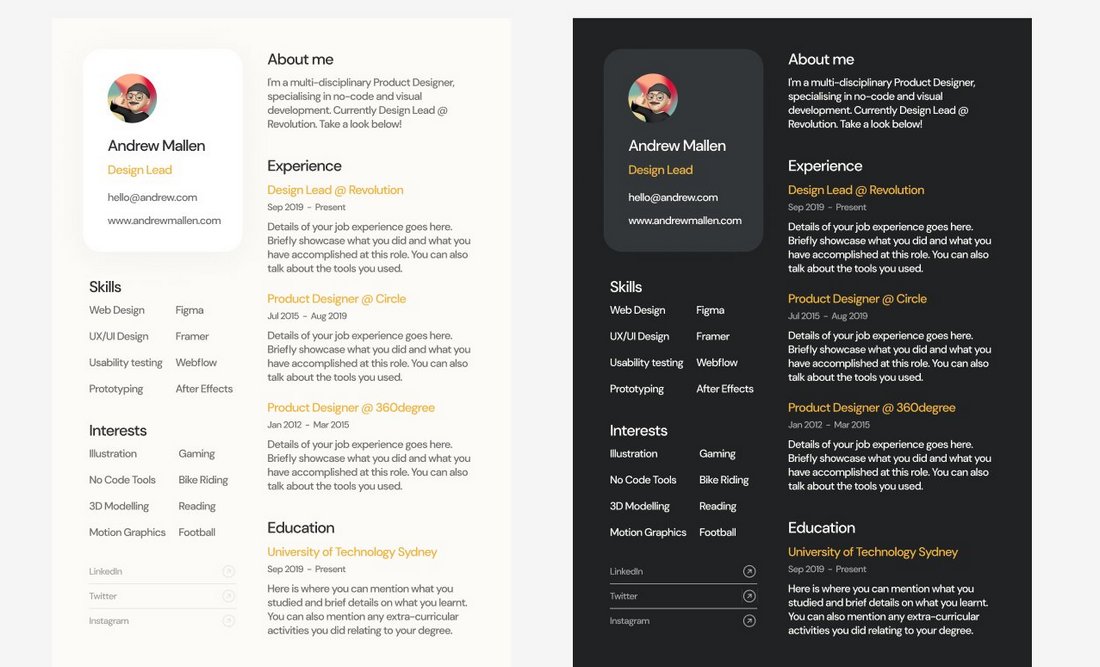 Gridfolio is a creative resume template you can fully customize in Figma. This template is made with all types of designers in mind. It has a modern flat design-inspired layout where you can neatly showcase your skills in a professional way. The template is available in light and dark designs as well as in A4 and US Letter sizes.
Free Professional Resume Template for Figma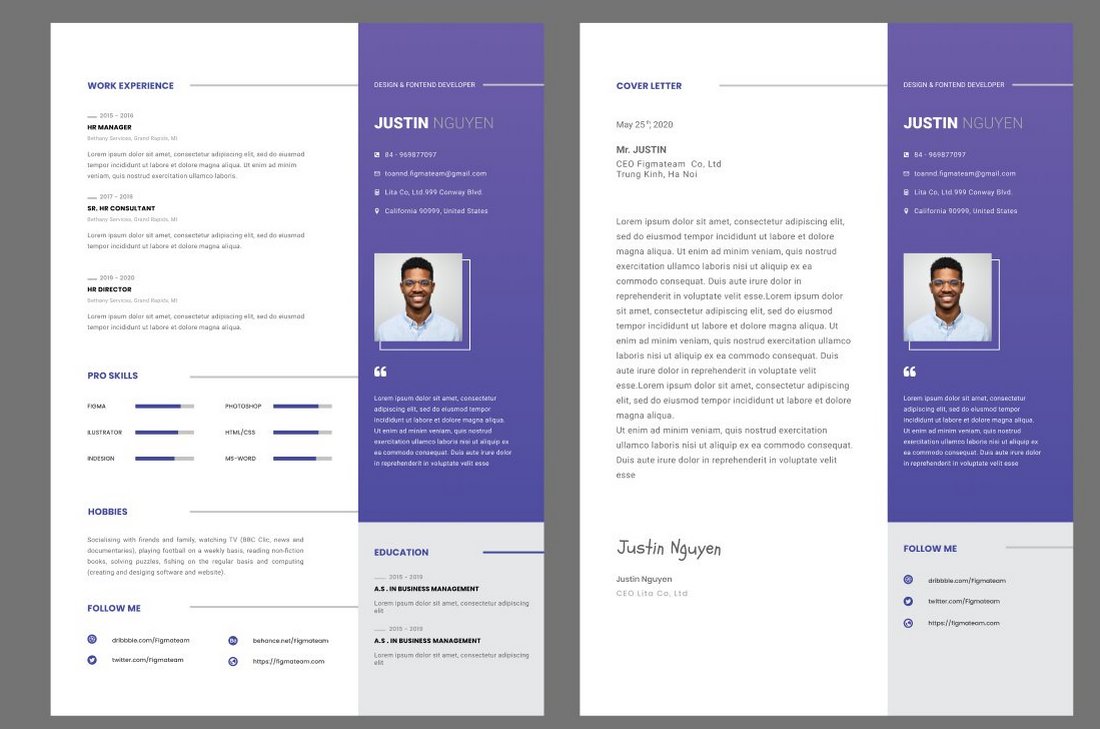 This is one of the most professional-looking resume templates on our list. It features a simple yet effective design that allows you to clearly showcase your details in the CV. The template also comes in multiple color designs and matching cover letter layouts to choose from as well.
Clean Free Figma Resume CV Template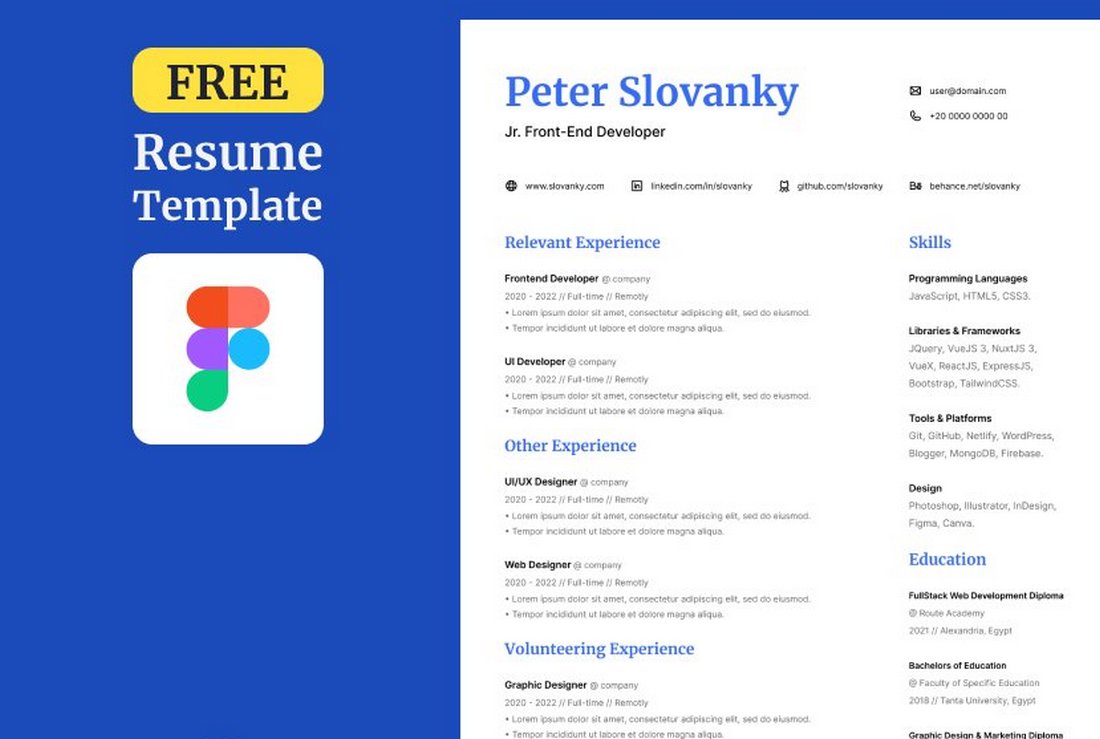 If you prefer simple and minimalist designs, this resume template is perfect for your needs. It comes with a beautifully minimalist design with fewer visual elements and lots of space to include written details. It's great for professionals who have lots of skills to showcase. And of course, you can edit the template to add your own details as well.
Modern Free Figma Resume Template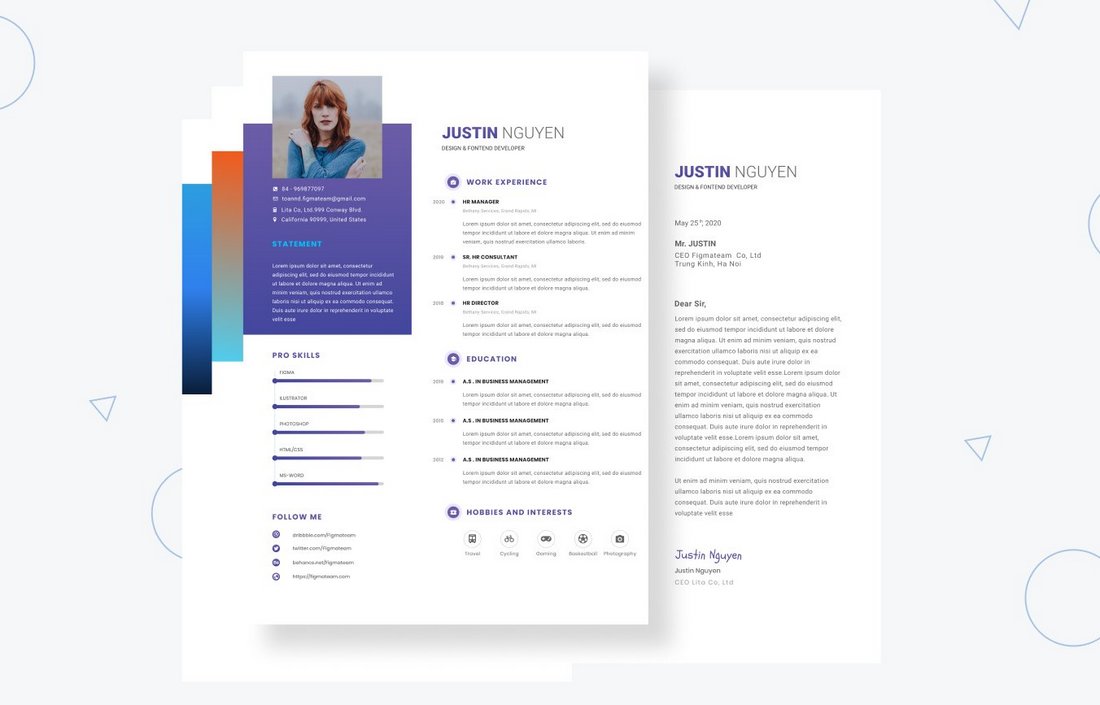 This free Figma resume template comes complete with a fully customizable design that lets you change colors, fonts, and add your own content as you like. It also has a matching cover letter design. You can use it to create digital resumes as well as print them out.
Free CV Template for Figma for Designers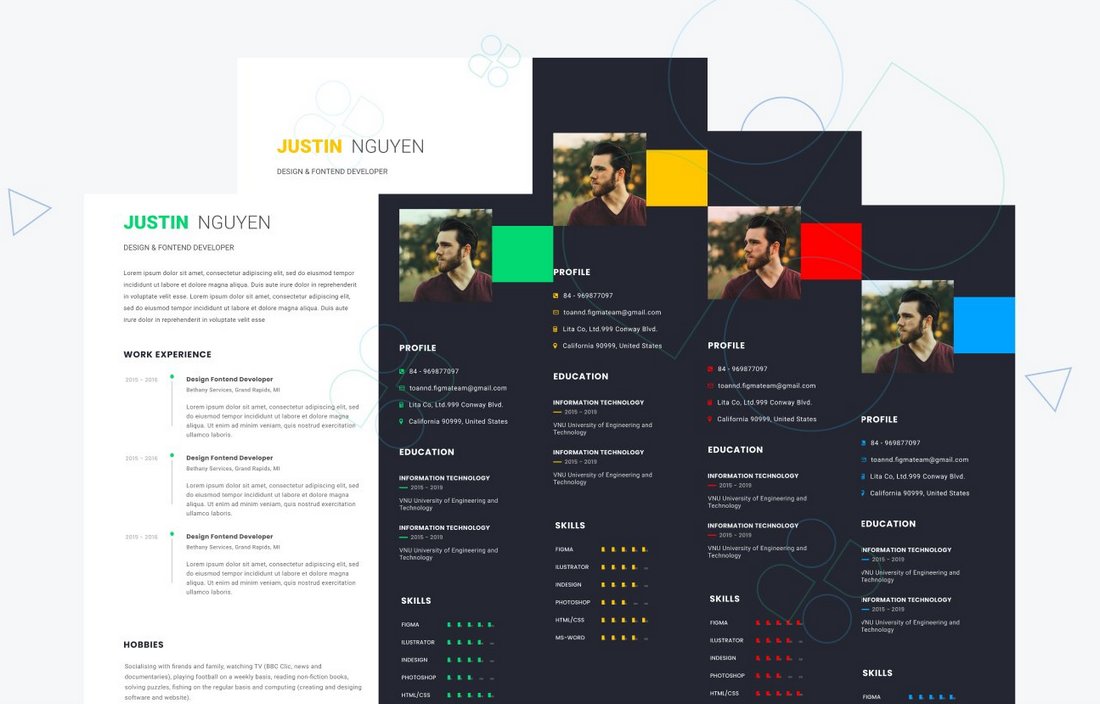 This resume template comes with a colorful design that makes it an excellent choice for making CVs for graphic designers. It has a stylish single-page CV design that you can customize to your preference. The template also features a flexible layout that you extend to add your own details and elements.
Free Figma Resume Builder Templates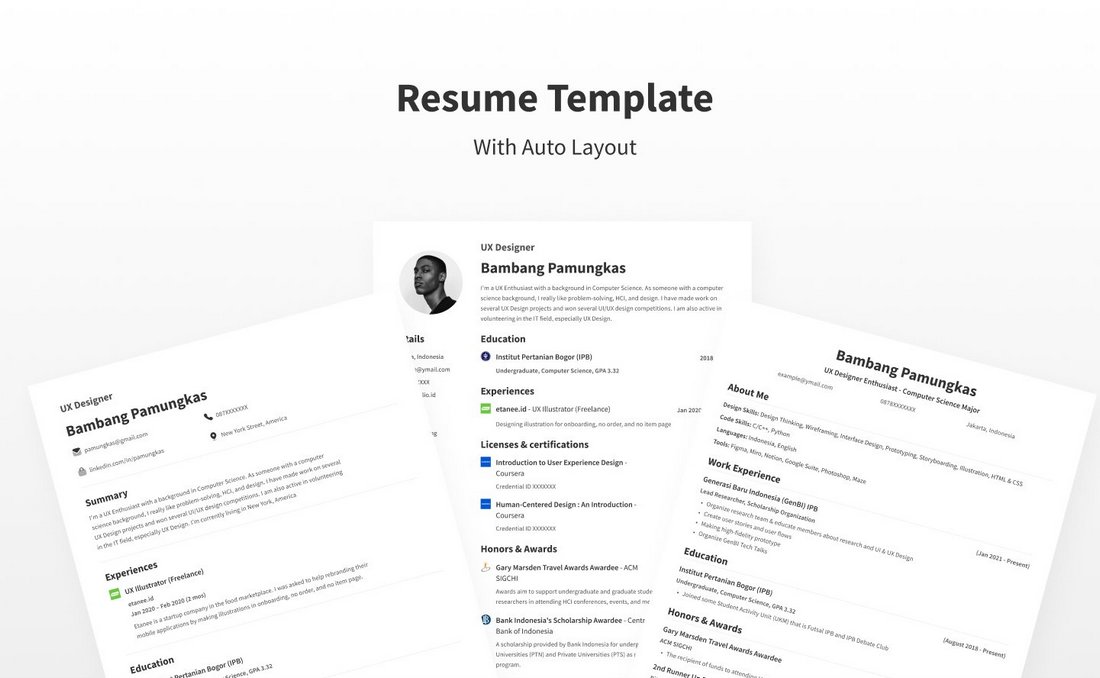 If you want to create a minimal resume with a design that you can personalize according to your needs, this free Figma resume template is for you. It comes with multiple styles of CV layouts for you to choose from. And each design can be easily customized to make unique and clean resumes to apply for your dream job.
Free Creative Resume CV Template for Figma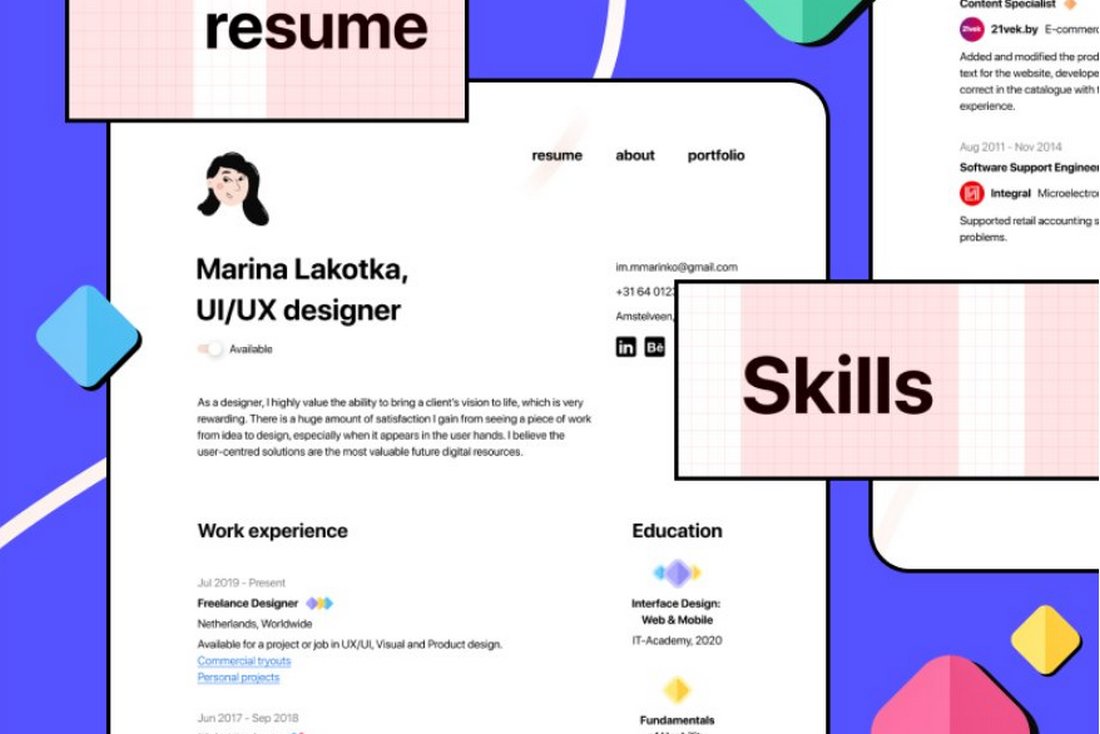 This is a very creatively designed resume template that's much more suitable for making digital resumes. While its layout seems a bit odd, you can easily customize it according to your needs. The template is free for you to use and experiment with.
Free Unique Figma Resume Template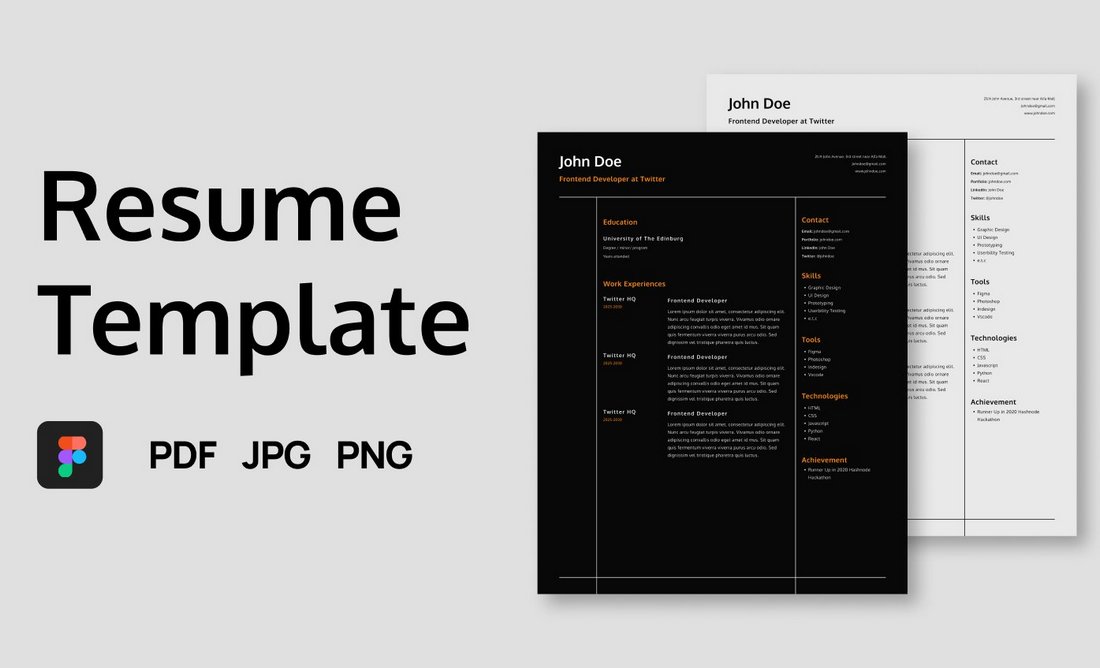 Whether you like dark or light color themes, this resume has designs for folks who like both colors. It features a very unique resume design with a clean and well-organized layout for adding all your information. The template is also fully customizable and you can add any additional sections to it if you want.
Free Designer Resume Template for Figma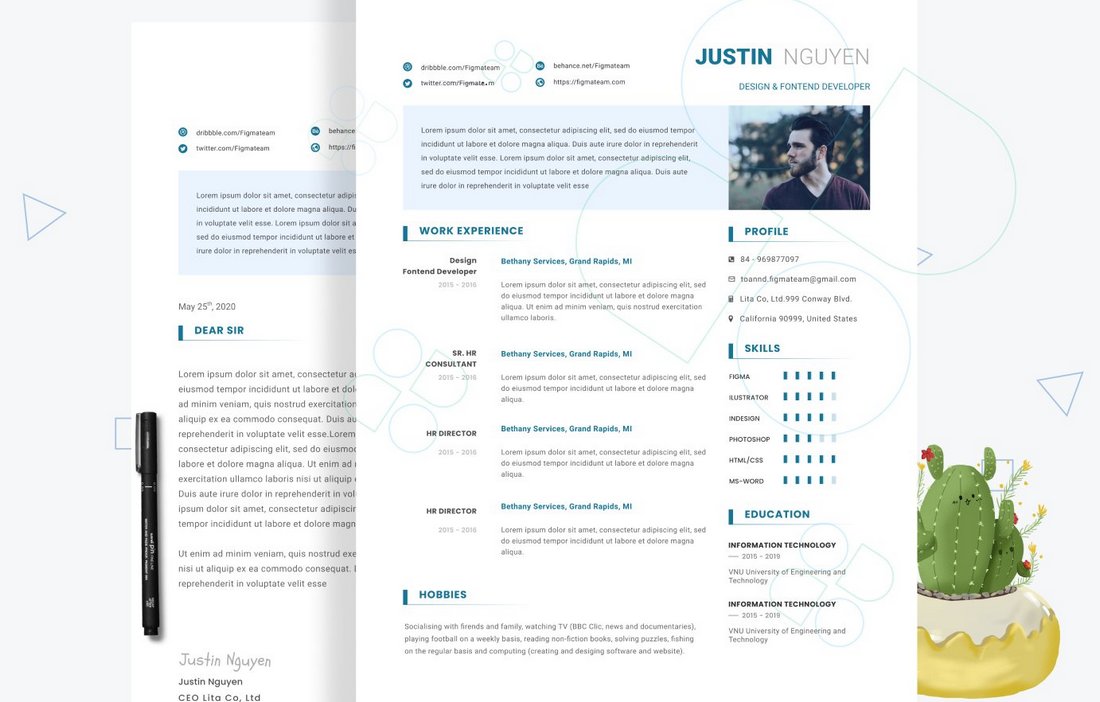 You can download this Figma resume template for free to create a modern and stylish resume to apply for all kinds of jobs. All of the elements on the template can be customized to match your personality. And it has a cover letter design as well.
Figma Resume Template Free Download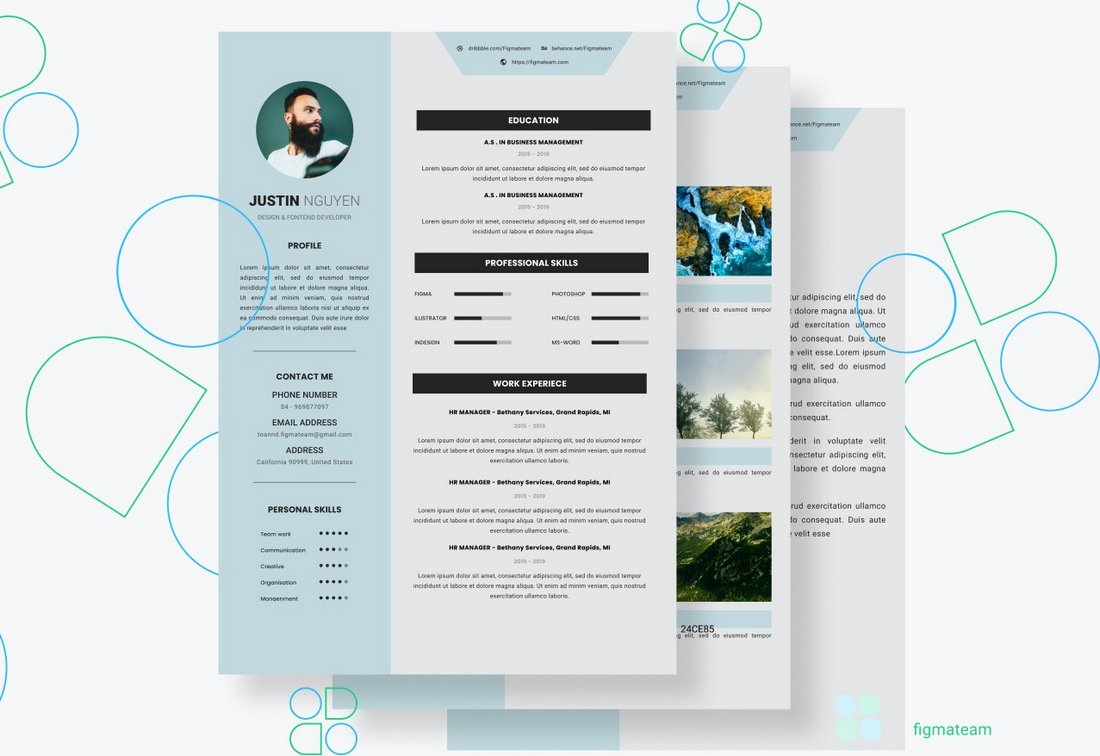 This free Figma resume template is ideal for designers and photographers. Especially because it comes with a three-page CV design, which includes a portfolio page. On this portfolio page, you can easily show off your designs using images and photos. You can also change its colors and fonts to your liking.
Dark Figma Resume Template Free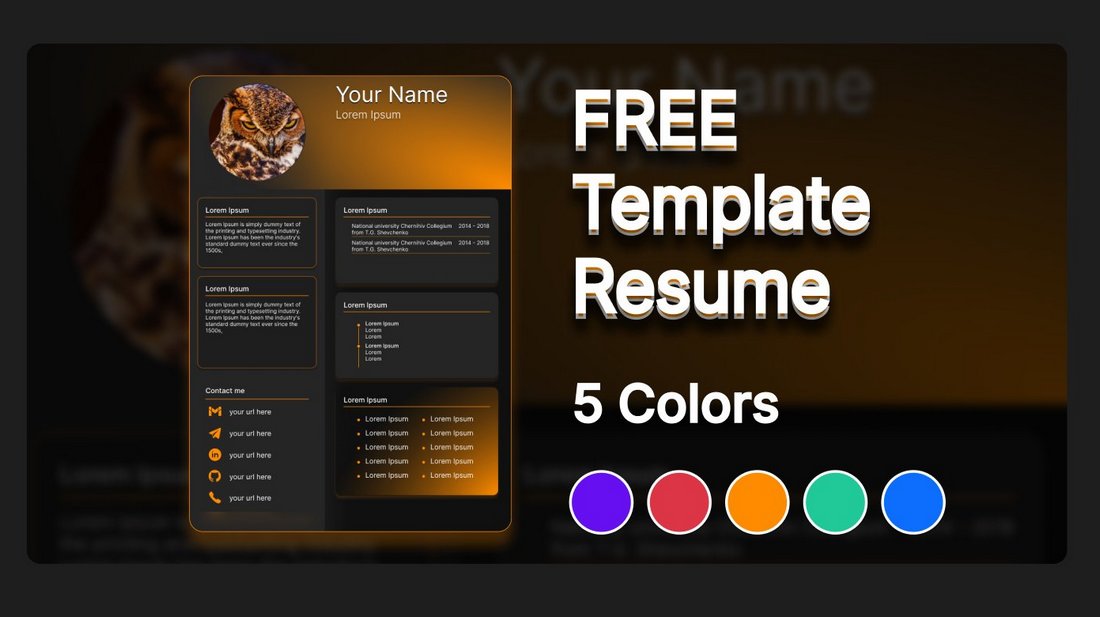 With this Figma template, you can create a stylishly dark CV with a unique look and feel. It uses lots of gradient colors and creative elements so it will be ideal to use this template only to create digital PDF resumes. The template also comes in 5 different color themes.
Free Simple Resume Template for Figma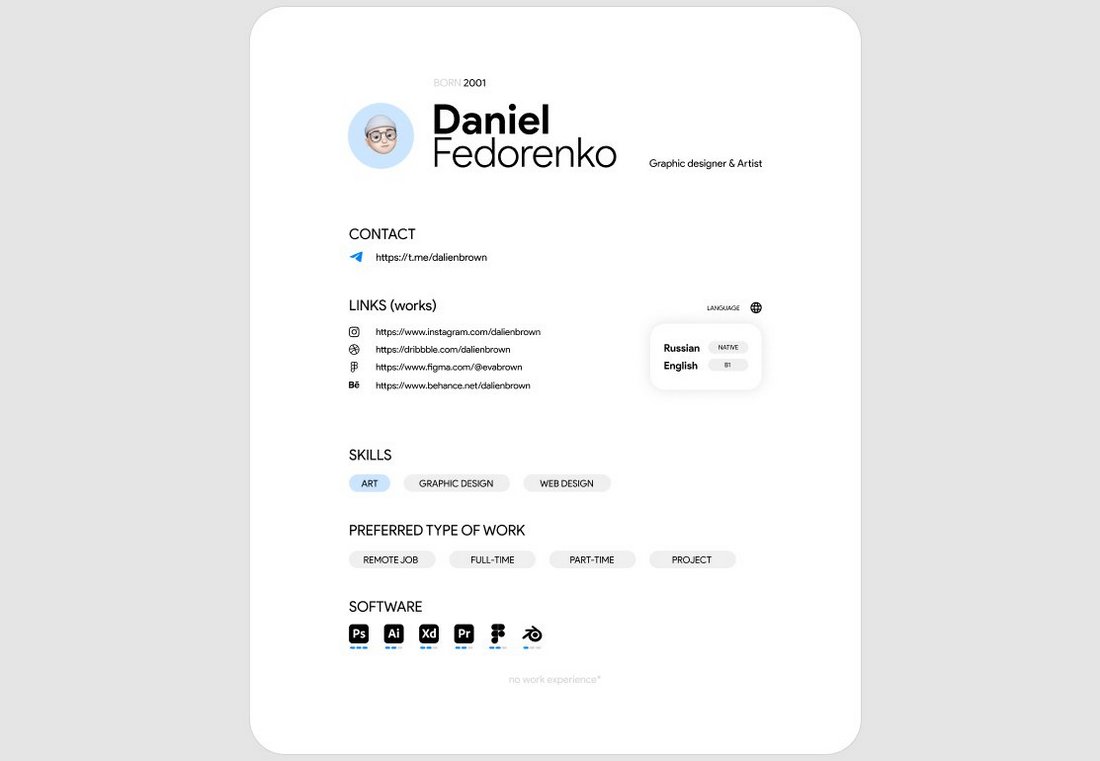 Less is more! That seems to be the inspiration behind this Figma resume template that comes with a very simple design. It only has a single-page layout with just some space to include links to your works, contact info, and other details. It's perfect for making a minimal CV.
Free Two-Page Figma CV Resume Template
With this resume template, you get a two-page layout that includes a beautiful resume and a cover letter design. It's great for UX designers, graphic designs, and more. The template also includes space for you to showcase your skills, experience, and interests using visual elements.
Colorful Figma CV Template for Free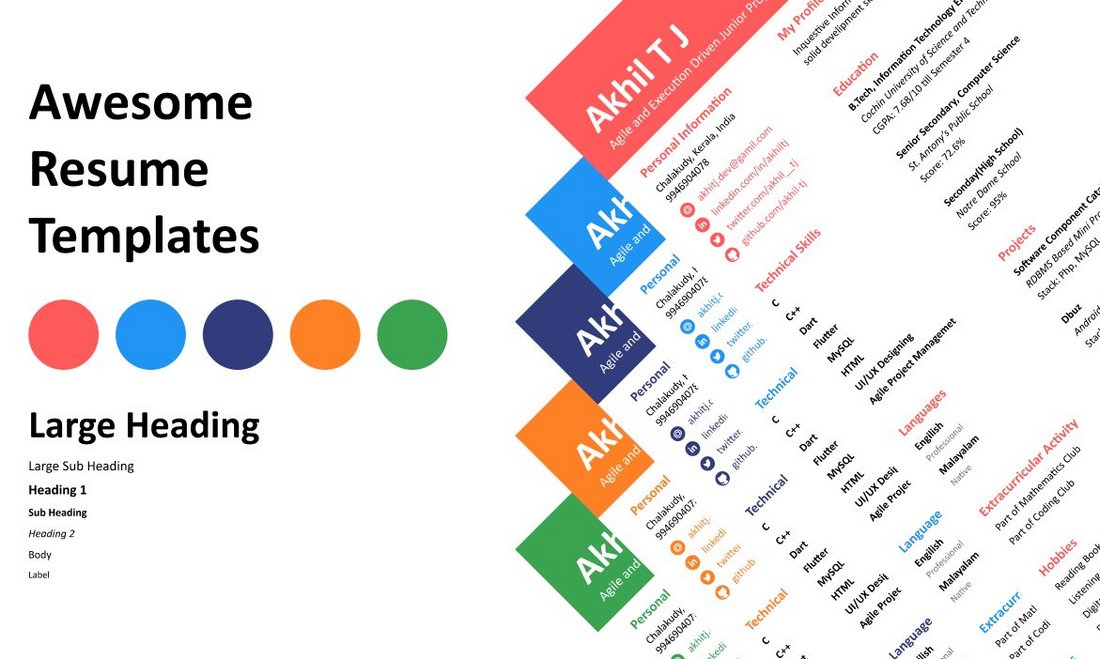 This resume template lets you choose from 5 different color themes to create the perfect resume for your work. It has a very clean and simple layout where you can easily edit to add your own information as well.
Free Figma Resume Template for Developers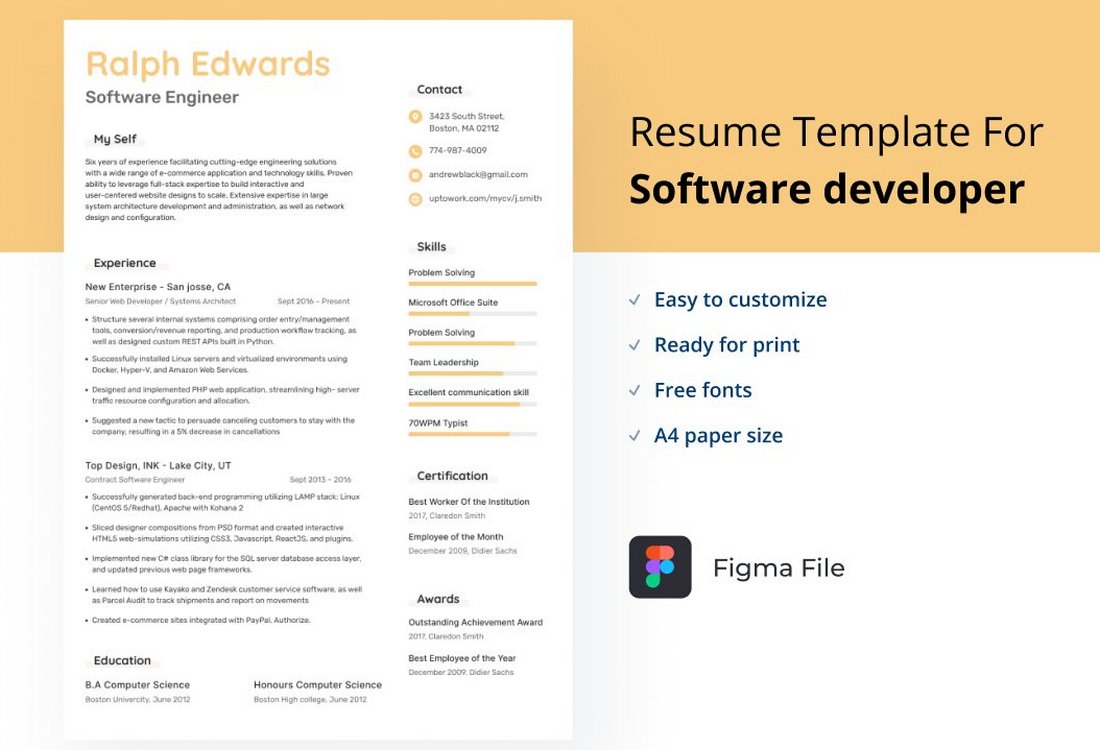 Creating a printable resume will be much easier with this free Figma resume template. It comes with a well-structured and simple layout for showcasing all your personal and professional designs in one place.
Free Elegant CV Template for Figma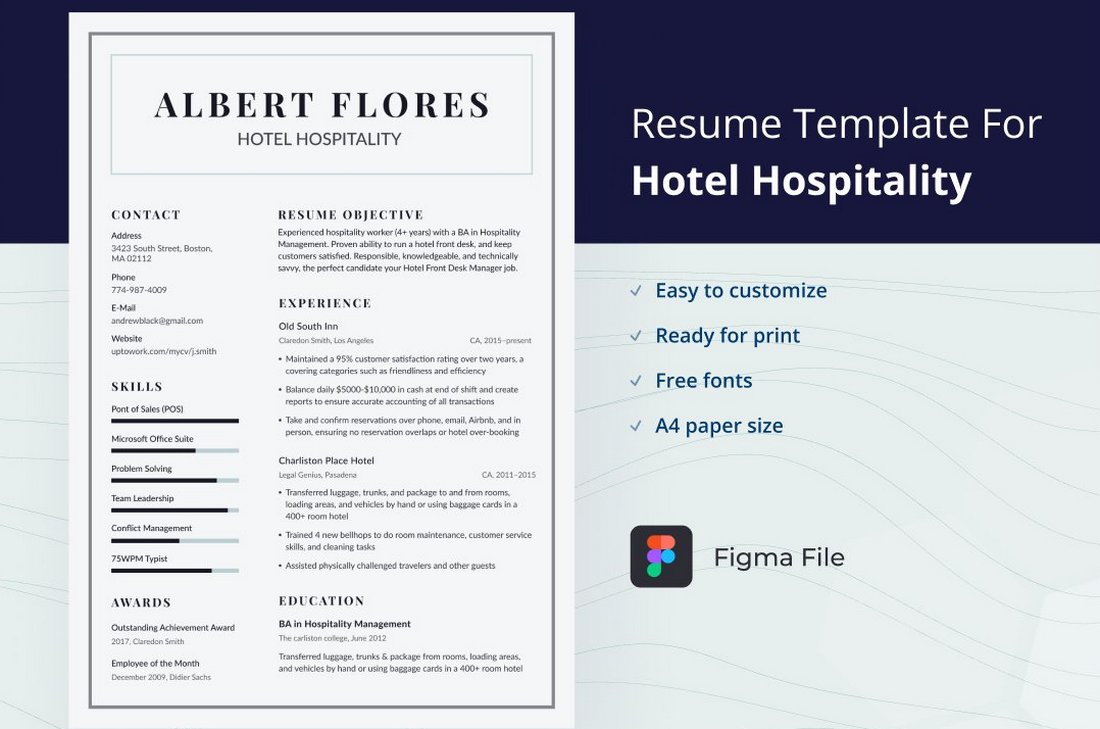 If you're a fan of classic resume designs, this free template will come in handy. This free Figma template has an elegant layout with an old-school design. But you will be able to also customize it to create modern-looking CVs as well.
For more great Figma templates, you can check out our best Figma UI kits and best Figma fonts collections
By: Roshan Perera
Title: 20+ Best Figma Resume & CV Templates
Sourced From: designshack.net/articles/inspiration/figma-resume-cv-templates/
Published Date: Tue, 20 Sep 2022 09:00:12 +0000
Did you miss our previous article…
https://www.webdesignhawks.com/?p=9039