Writing a book is surely a difficult process. Then also coming up with a great design for your eBook is a challenge of its own. But you won't have to worry about that, thanks to our collection of eBook templates.
Many businesses, brands, and even bloggers know that eBooks are a powerful marketing tool for promoting products and services. It's also a popular incentive for growing your email lists.
With this collection of eBook templates, putting together a modern-looking eBook for your marketing needs will get much simpler. Here, you'll find templates for all sorts of purposes.
These templates are easy to customize and you can just copy-paste your book content into the template and have it ready to download within minutes. Have a look.
Education – eBook Template for Coaches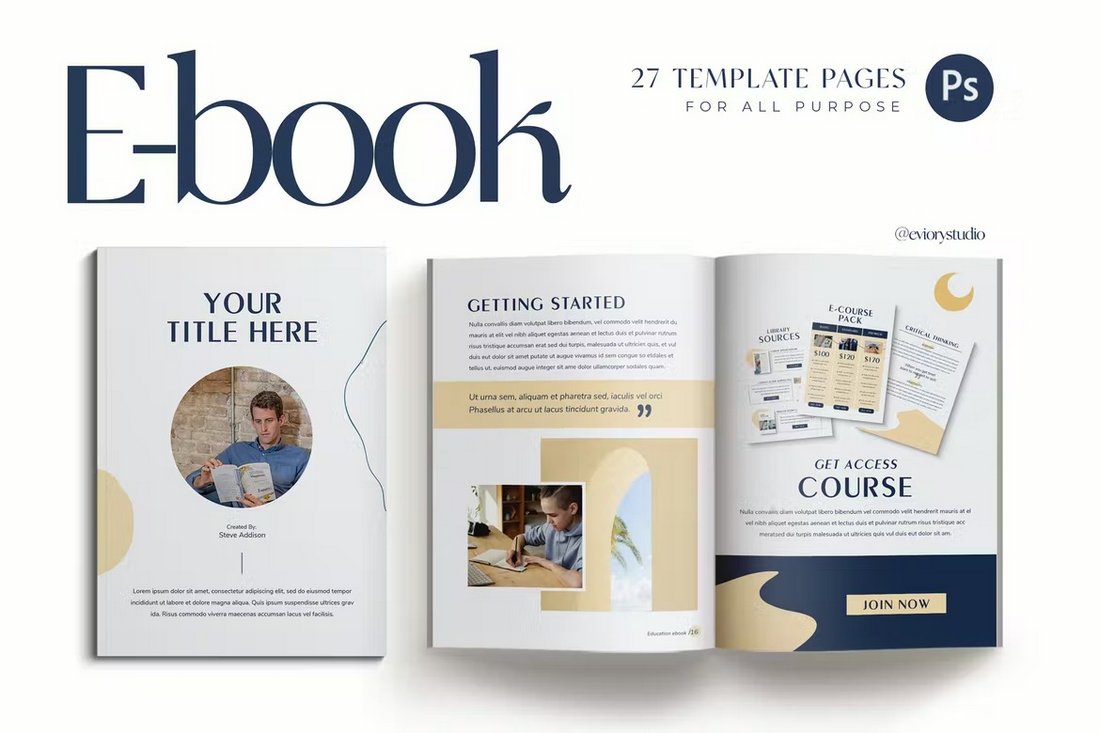 Ebooks are an important part of coaching programs. They go a long way to help educate your clients and students by guiding them along the training program. This eBook template is designed for creating such eBooks for coaching programs. It includes 27 beautifully crafted page designs. You can edit it using Photoshop.
Modern & Multipurpose eBook Templates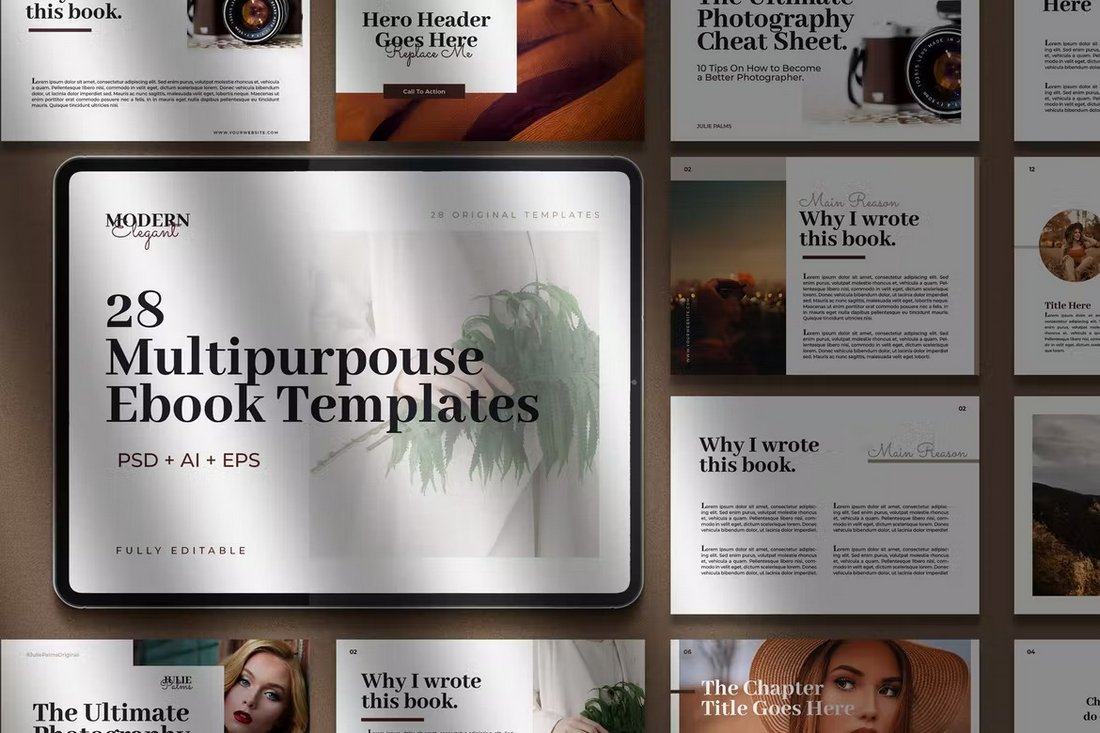 As a marketer, you'll have to create eBooks for all kinds of businesses and projects. Having an eBook template with a flexible and multipurpose design to create books for all those projects is definitely a time and money-saver. This template comes with 28 pages with multipurpose designs, including multiple cover designs and content page layouts. You can customize them all using Photoshop or Illustrator.
Creative Blogger Ebook Templates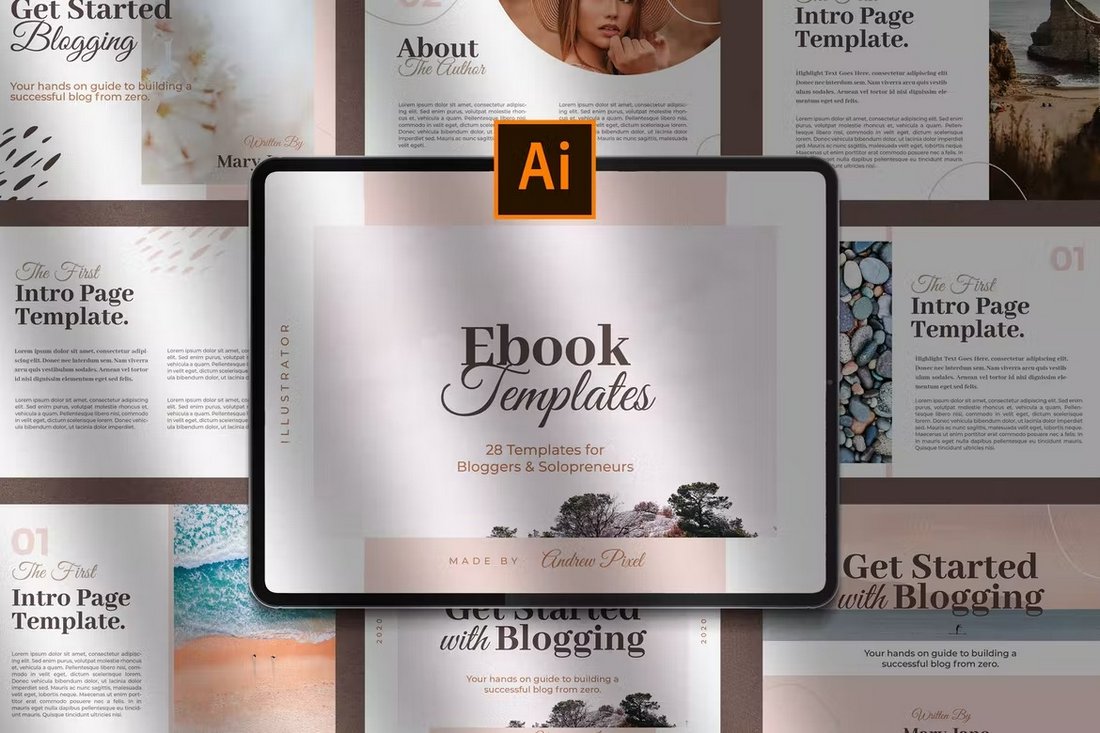 Bloggers often use eBooks as an incentive for generating more leads. They are also great for creating guides and downloadable resources for users. This eBook template will help you design creative eBooks with more professional-looking designs for your blog audience. It includes 28 page templates that you can edit and customize using Adobe Illustrator.
Minimal Ebook Templates For Illustrator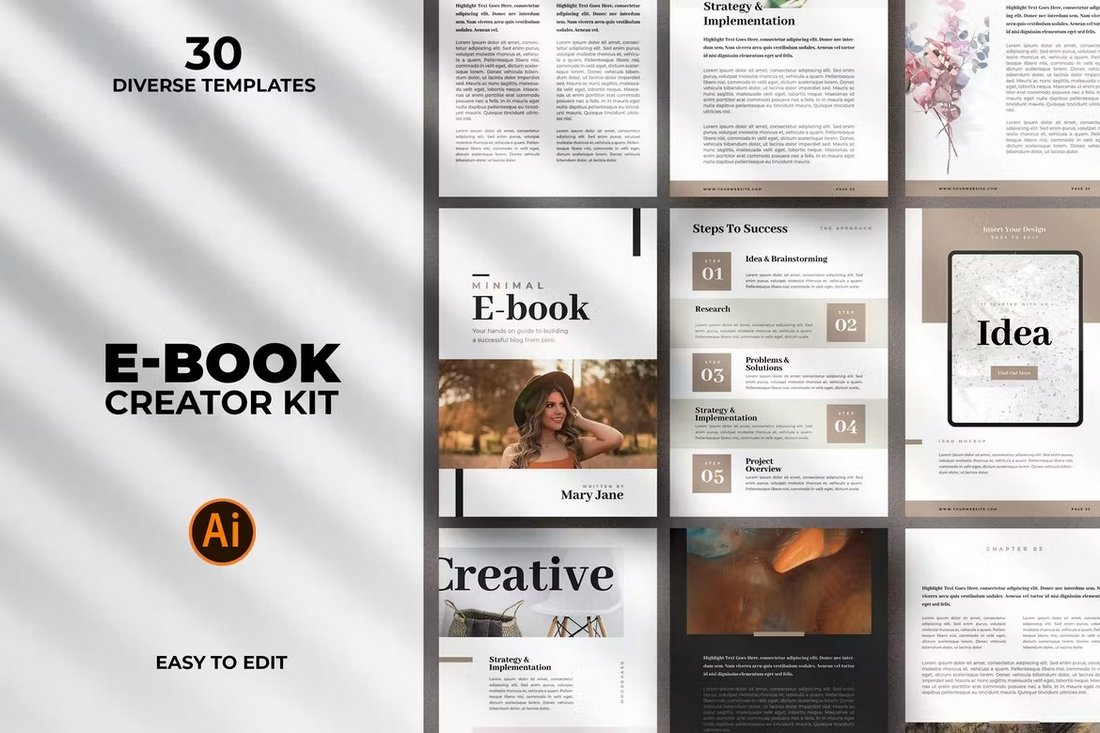 With 30 different page templates to choose from, this eBook template will help you craft the best eBook to promote products, services, as well as to educate your audience. It comes in Adobe Illustrator format featuring minimal and clean layouts. The template is perfect for authors, bloggers, marketers, and small businesses for making various types of eBook downloads.
Classy & Minimal eBook Templates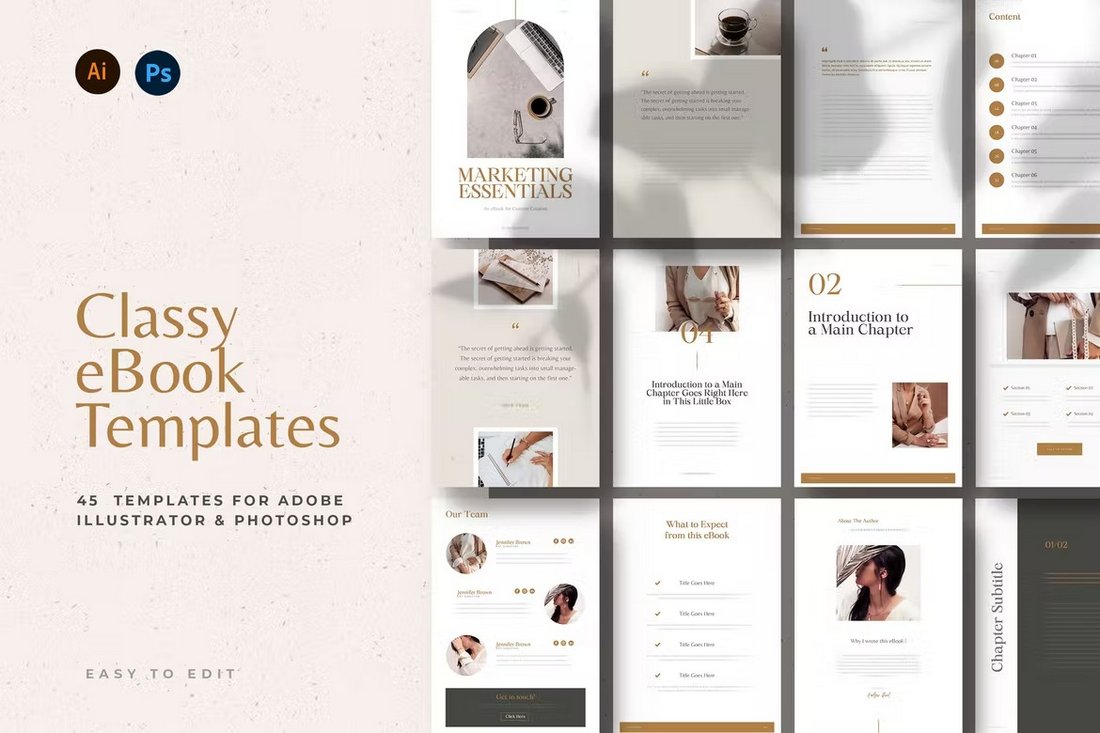 Beauty and fashion bloggers will surely find this eBook template much more useful as it comes with a classy and stylish design. It's also ideal for making eBooks and brochures for small businesses related to feminine brands. The template includes 45 page layouts with fully customizable designs. You can edit the template using Photoshop and Illustrator.
36 Free eBook Templates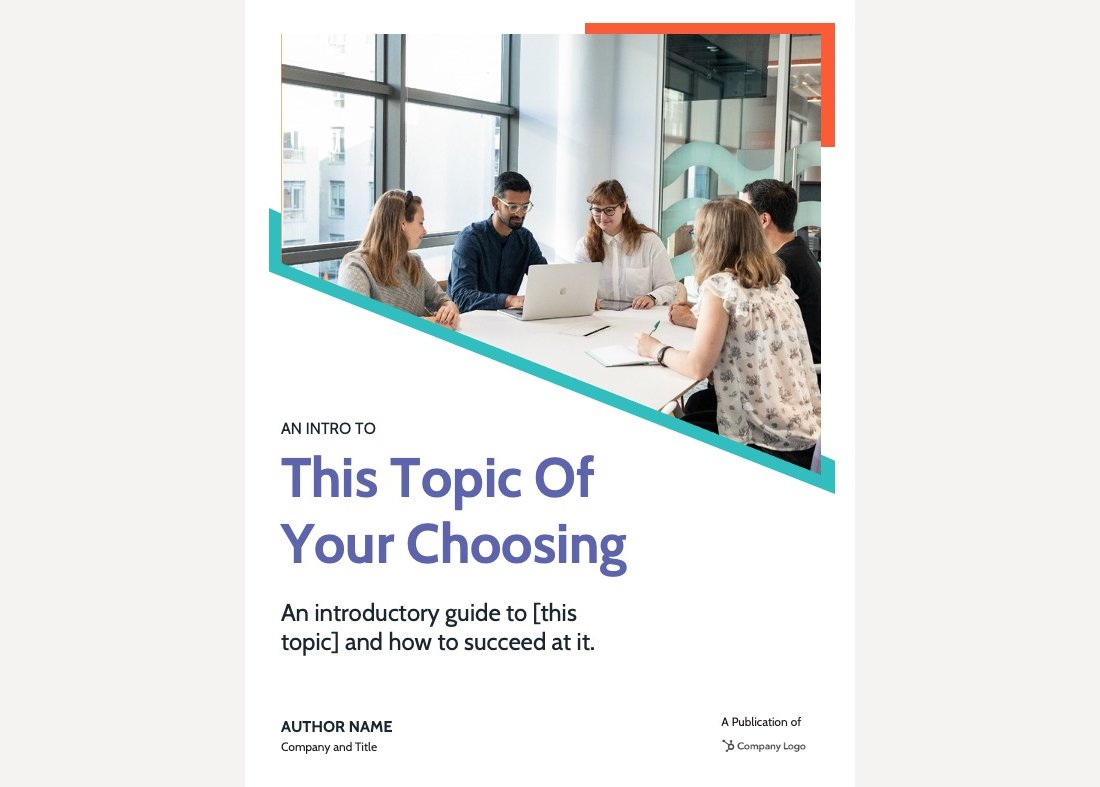 This is a huge collection of eBook templates featuring different styles of modern eBook designs. There are templates in this pack in Google Slides, PowerPoint, and InDesign formats. You can download them all for free.
16 Free eBook Templates for Bloggers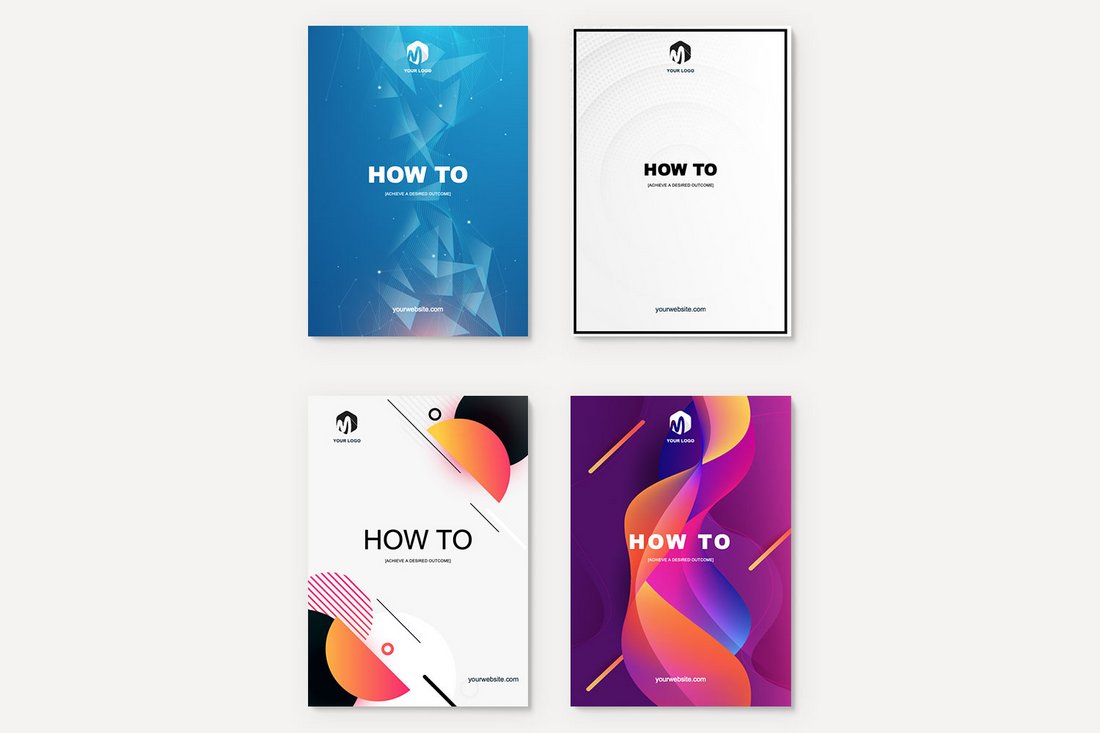 This eBook templates bundle is also free to download and use. It features 16 different templates you can use to create guides, case studies, tutorials, and much more. They are especially useful for bloggers for making email incentives. The templates are available in PowerPoint format.
lnest – Professional eBook Templates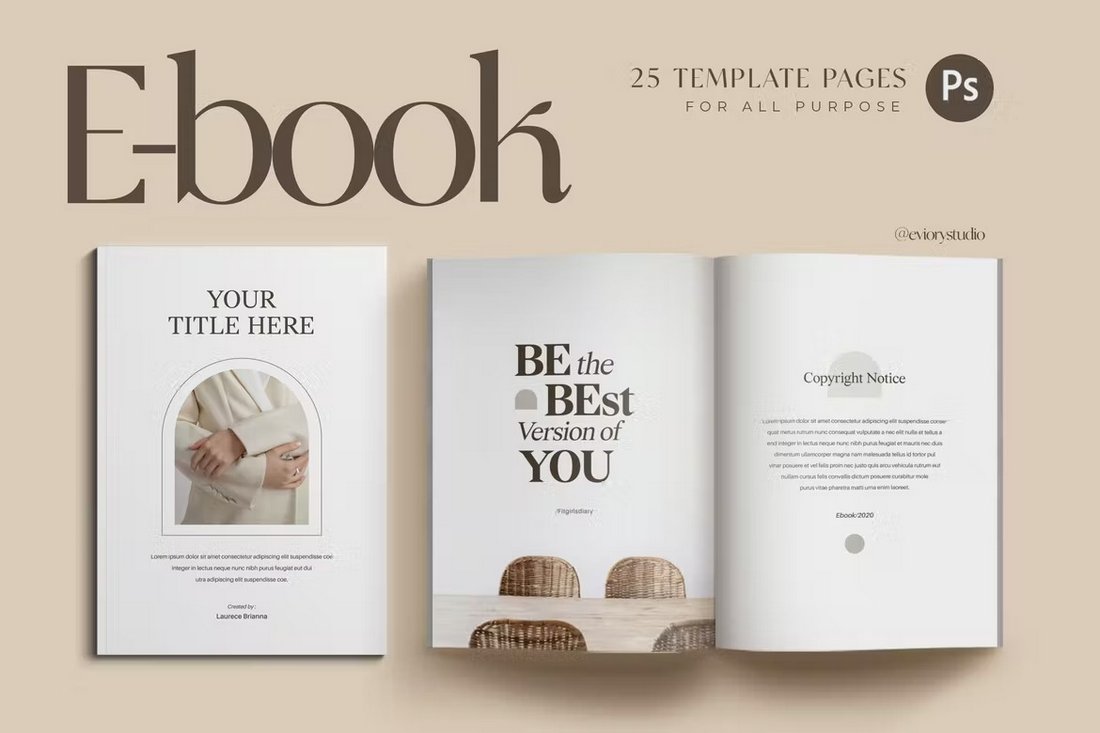 With this eBook template, you can design a beautiful book to promote your brand and products to all audiences. It features 25 unique pages with stylish designs full of colors and visuals. There are 3 different cover page designs to choose from as well as multiple variations of content layouts. The template is available in Photoshop PSD format.
Ebook Template for Bloggers & Coaches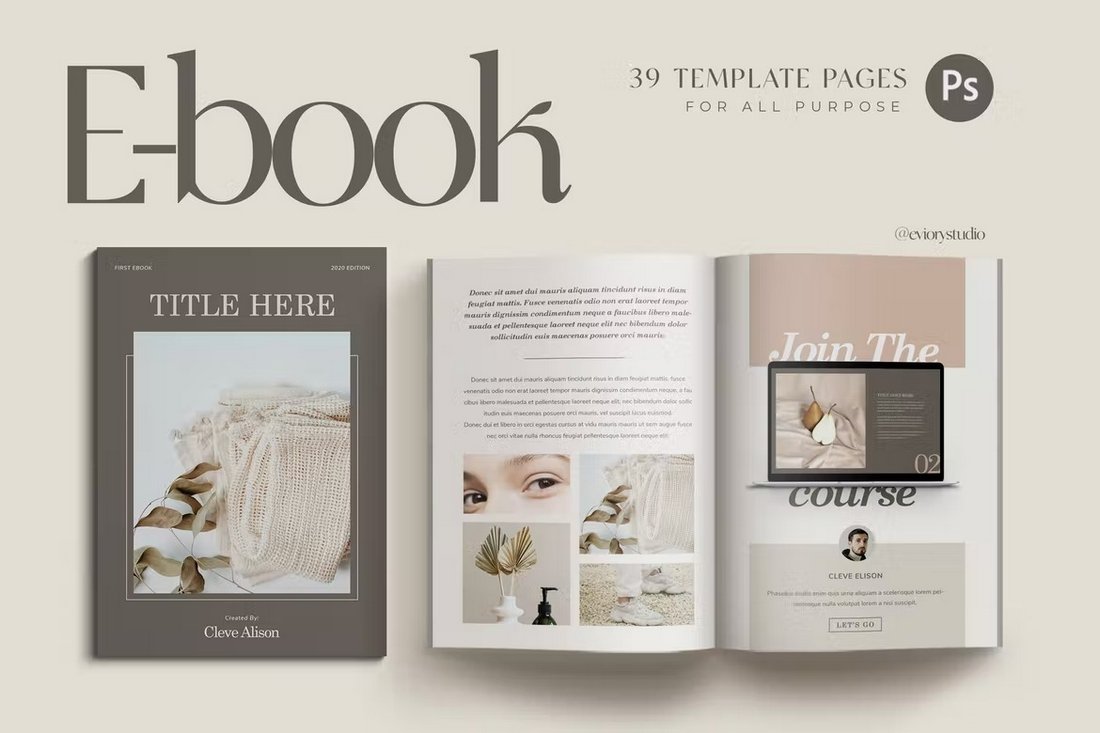 Another stylish eBook template made with bloggers and coaches in mind. This template comes with a colorful and feminine design that makes it most suitable for marketing products and services in the fashion and beauty industry. It has 32 different page designs with easily editable layouts and elements. You can customize the template using Photoshop.
Stylish Multipurpose eBook Templates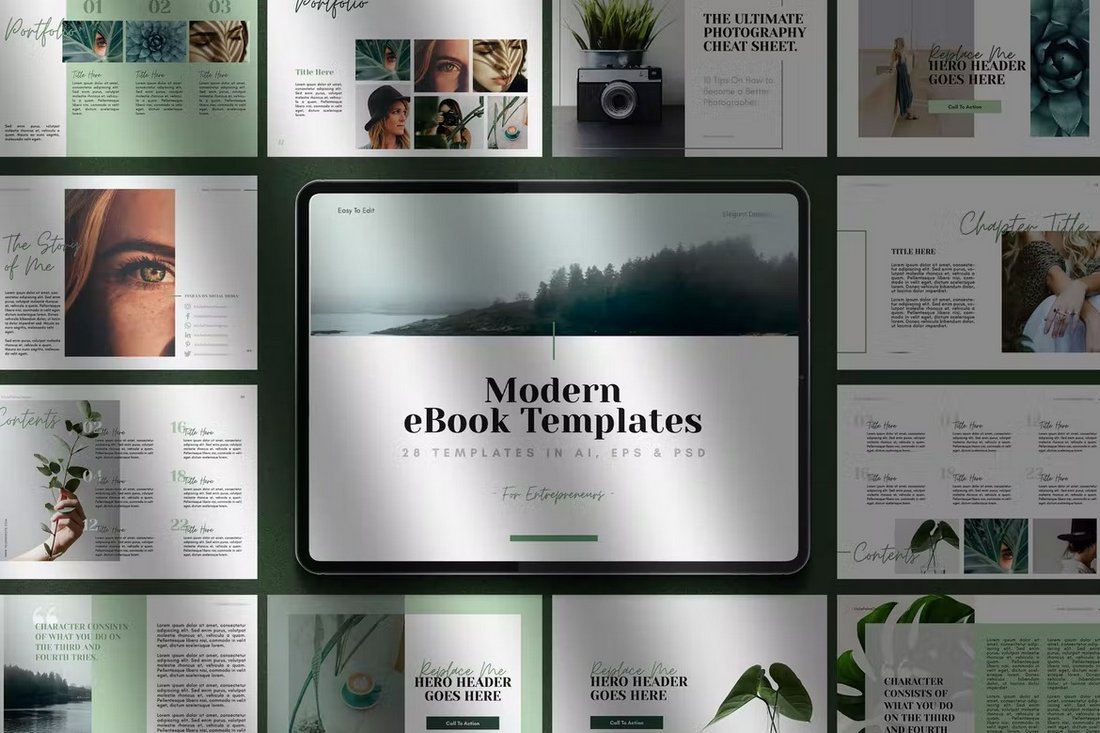 This multipurpose eBook template features a highly visual-centric design. It has page layouts with placeholders for large images as well as lots of colors. This makes it a great option for designing eBooks for designers, photographers, artists, and even agencies. There are 28 page layouts included in the template in PSD format.
Creative eBook Template for InDesign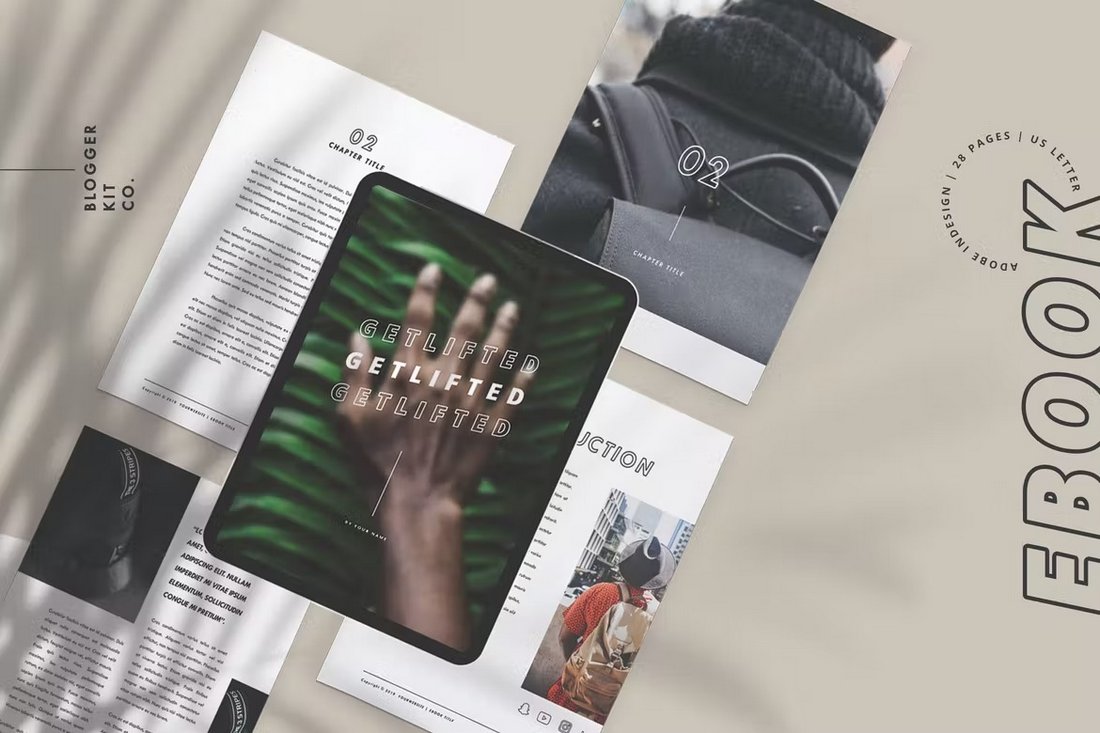 A simple, minimal, and creative eBook template made with professional writers and bloggers in mind. This template includes 28 pages for crafting books rich with content. It's especially suitable for writing guides, tutorials, and for educational brochures. The template includes lots of additional resources, such as charts, icons, and device mockups as a bonus as well.
Clean Ebook Template for Word & InDesign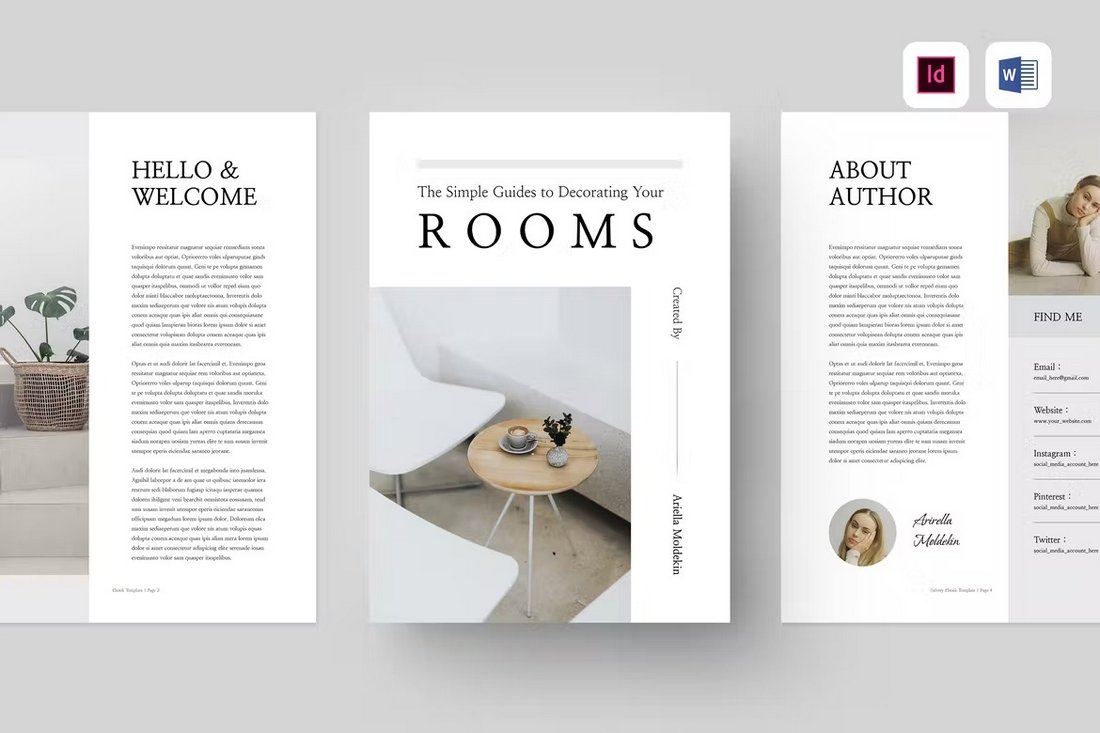 This eBook template can handle many different types of books and brochures. You can use it to craft books for your blog audience, market products, promote brands, and more. It features clean page designs with fewer distractions. There are 28 page layouts included in the template. You can edit it using MS Word or Adobe InDesign.
Free Minimal eBook Template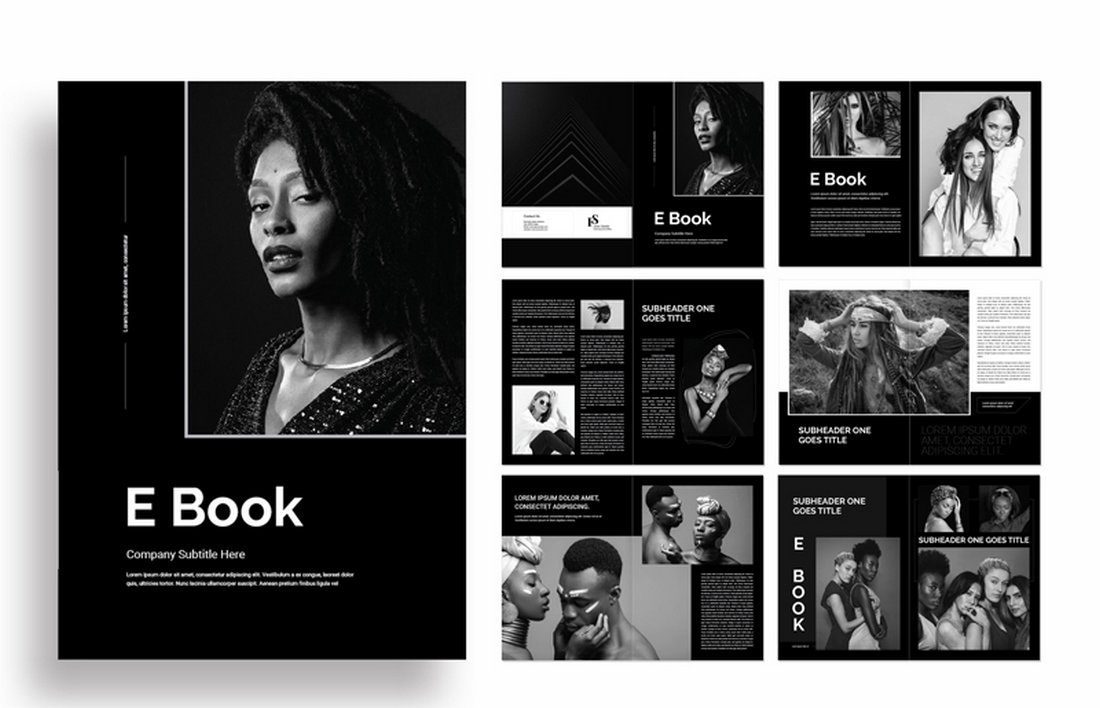 Another free eBook template featuring a minimalist design. This template features 16 different page layouts with unique designs. You can edit and customize each page to make eBooks and magazines for various purposes. It comes in Illustrator file format.
Free Lookbook eBook Template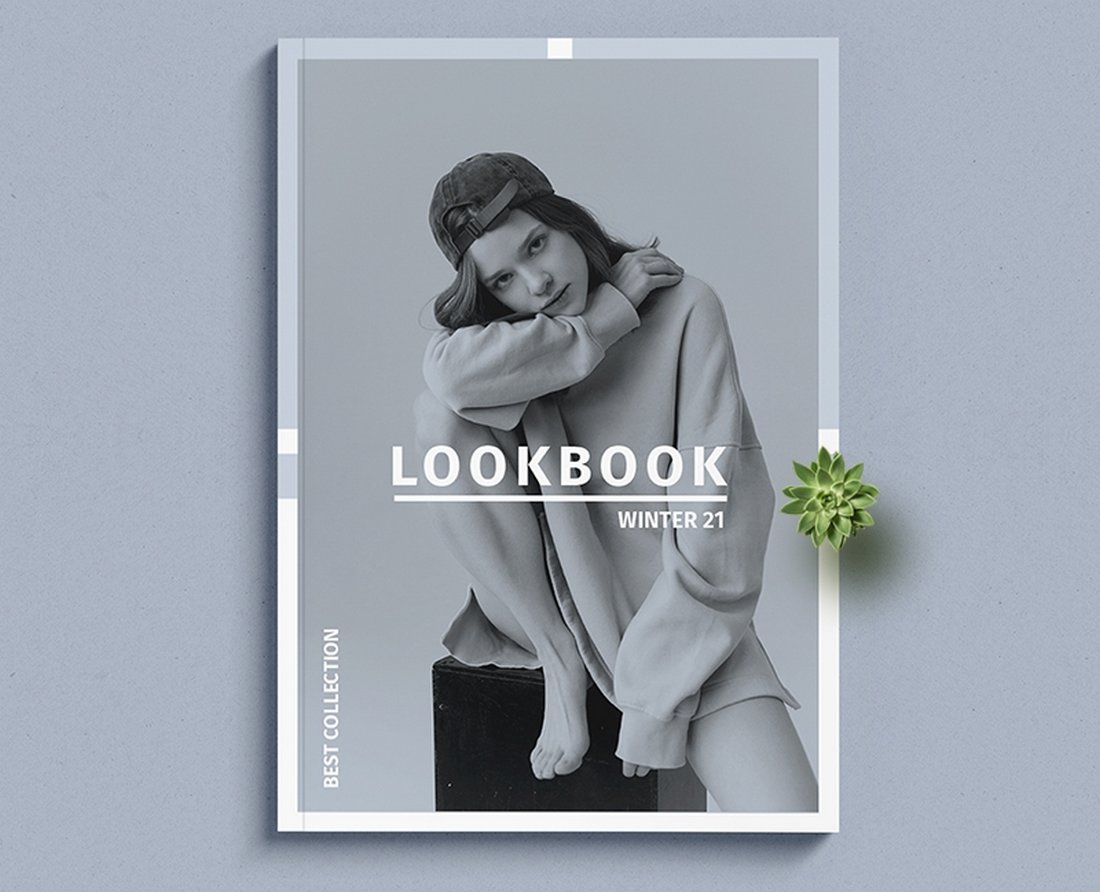 This is a free lookbook template with a beautiful design. It includes 18 unique page layouts with highly visual layouts. You can use it to craft lookbooks and eBooks for design, fashion, and art projects.
Modern Ebook Template for Illustrator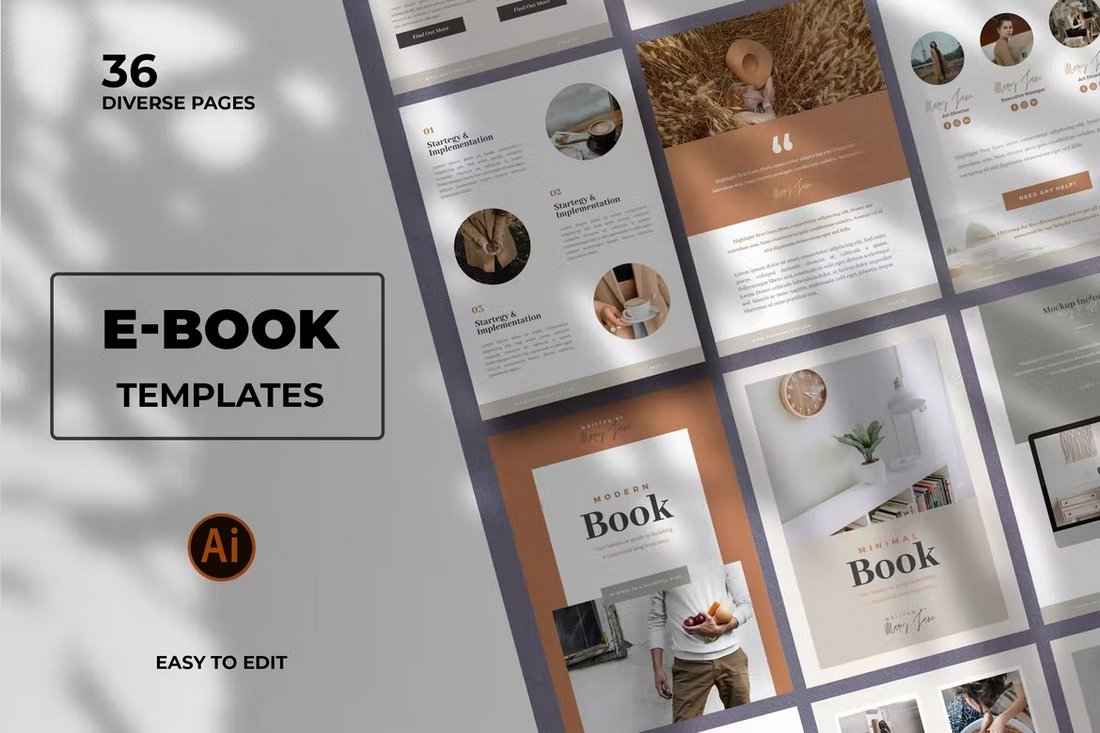 Whether you're a blogger creating your first product or a marketer promoting a business, this eBook template has a beautiful design that's suitable for all sorts of purposes. It comes with 36 page layouts filled with space for images, big titles, and colorful shapes. The template is available in Adobe Illustrator format and includes a few device mockups as a bonus too.
Taraman – Workbook Creator Ebook Templates
This eBook template features 56 different page layouts that you can use to craft workbooks to accompany your online courses, coaching programs, and training. It has lots of different types of pages for educating your clients about your course and guiding them through it. You can customize the template using Adobe InDesign.
COVENTRY – Moodboard Ebook Template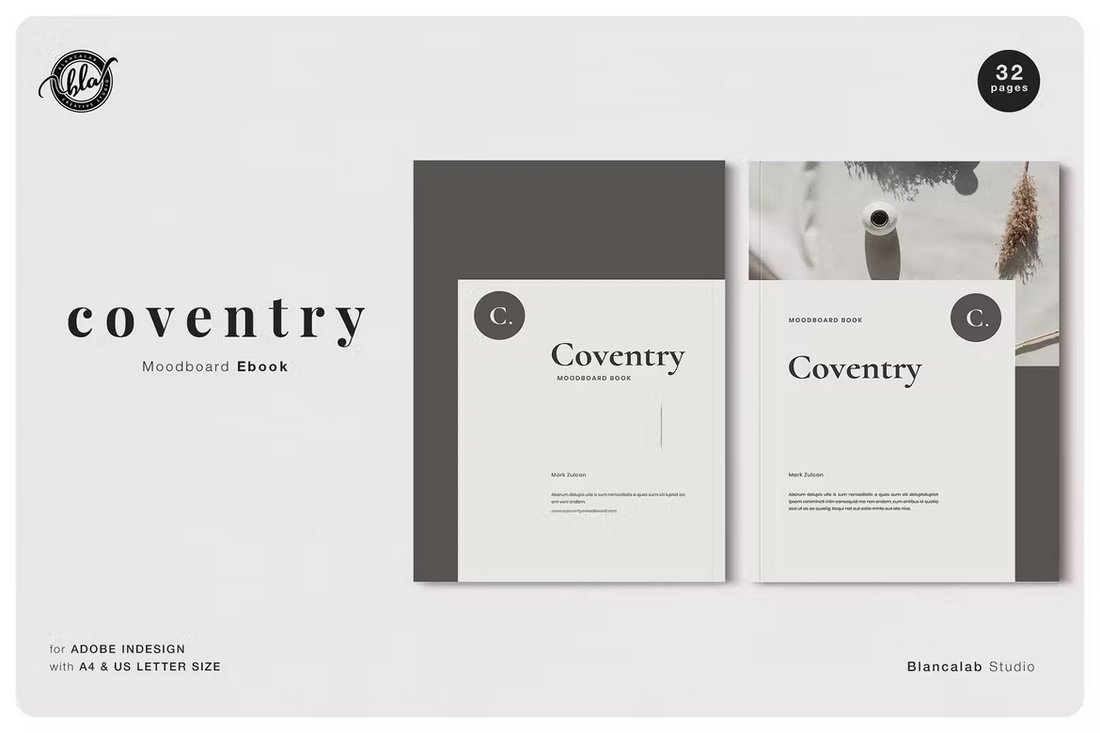 If you're a designer or brand working in the fashion industry, this eBook template is made just for you. It features highly visual page layouts you can use to craft beautiful moodboard eBooks. It's also great for lifestyle, beauty, and many other types of industries. The template comes in A4 and US Letter sizes with 32 page layouts. It's available in InDesign format.
Stylish E-Book  & Magazine Template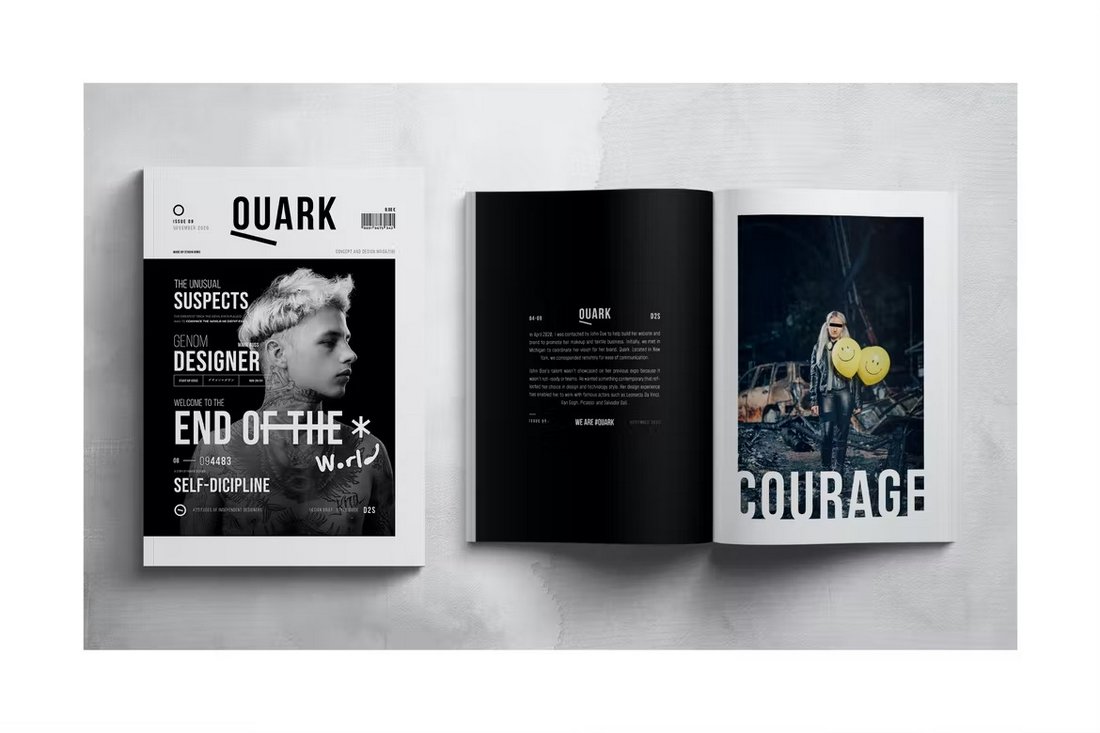 This template doubles as both an eBook and magazine template. You can use it to design eBooks or magazines for topics related to fashion, lifestyle, and branding. The template has 58 pages with visual designs. Of course, you can change colors, fonts, and formatting of each page however you like to make the design your own.
Simple Ebook Template for MS Word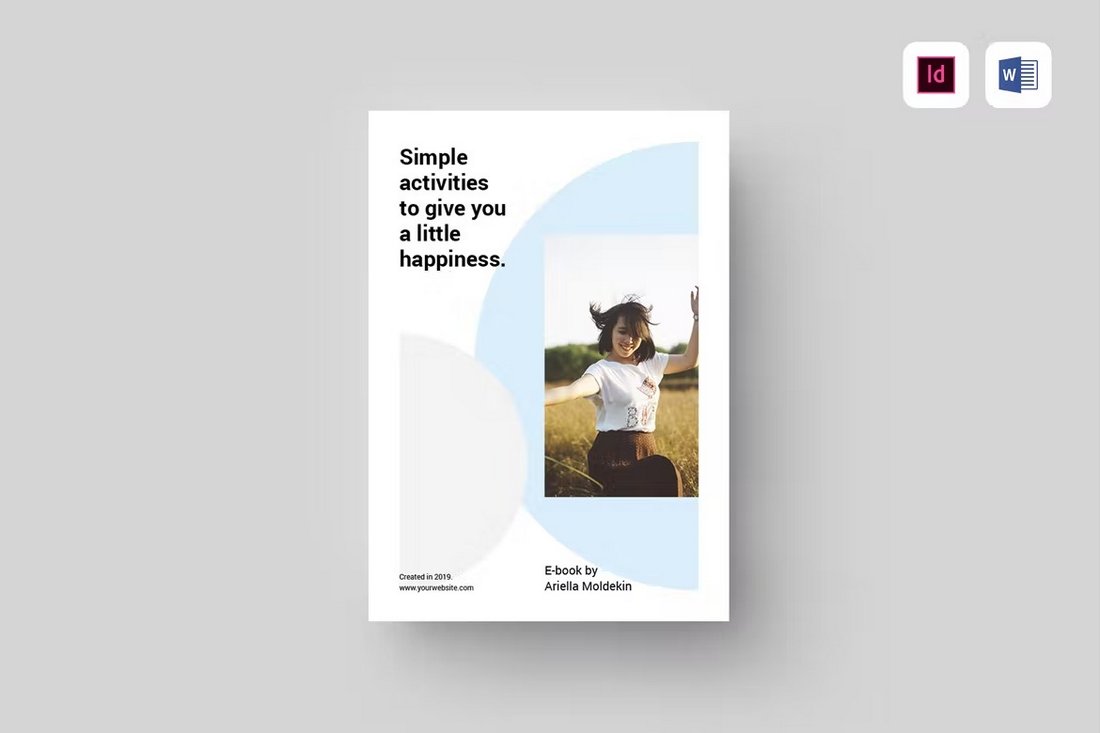 A simple and minimal eBook template for content creators, bloggers, and professionals. This template comes in MS Word and InDesign file formats. You can edit it freely using your favorite app. There are 17 page layouts included in the template with easily customizable formatting and elements.
Tasty Food Recipe & Cookbook Template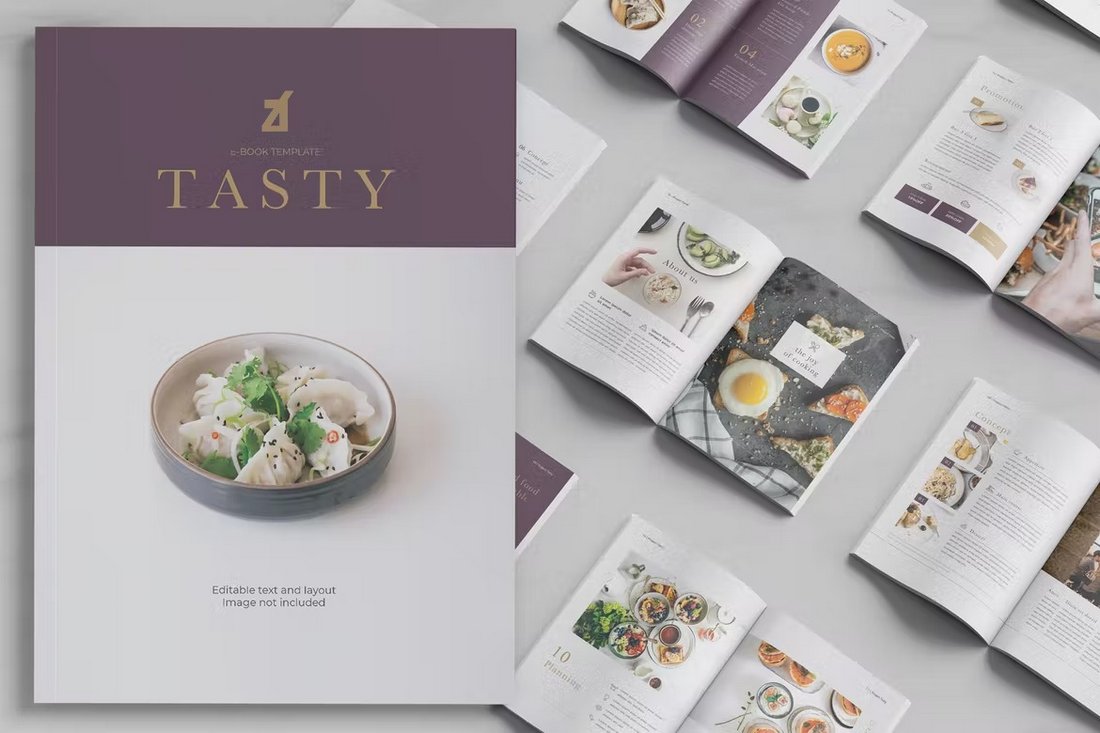 A must-have template for food bloggers and food recipe magazines. With this template, you can design beautiful cookbooks and recipe books to sell and promote your website. It comes with 18 different page layouts with neatly formatted designs for effectively showcasing recipes. You can customize the template using Adobe InDesign.
PRAMBANAN – Free Travel Magazine & Ebook Template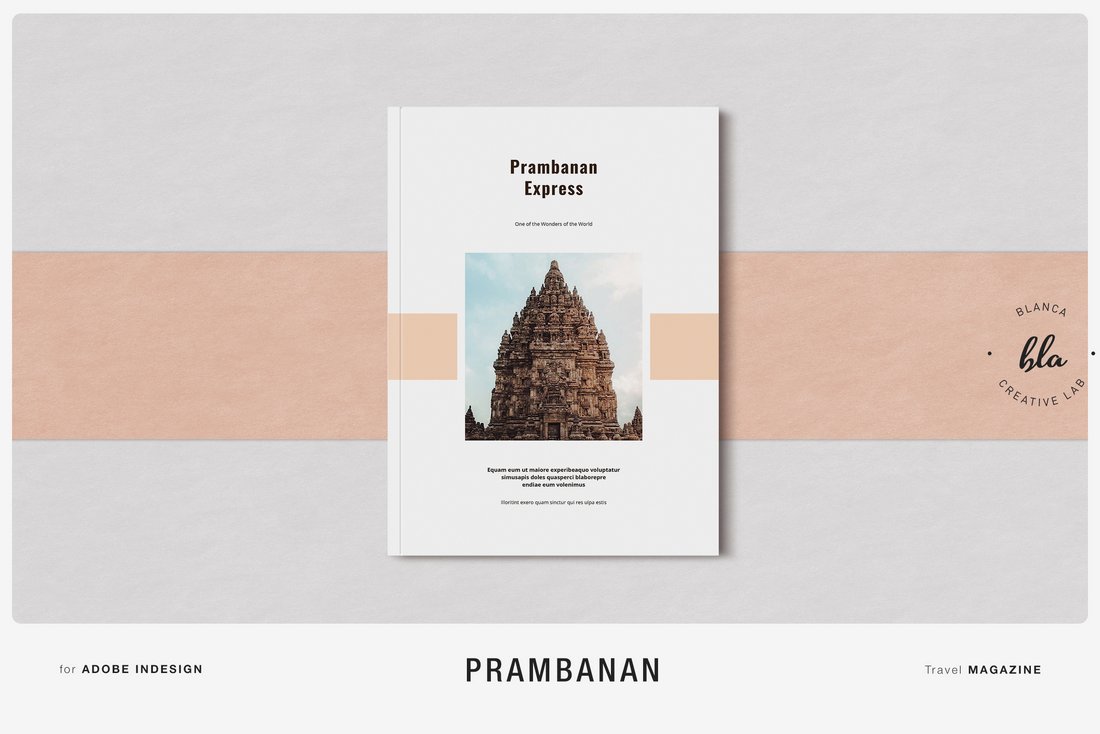 This is a free eBook template you can use to craft modern magazines and brochures related to travel-themed businesses. It comes in InDesign file format with lots of customizable page layouts. You can use it for free with personal projects.
Free Business Magazine & Ebook Template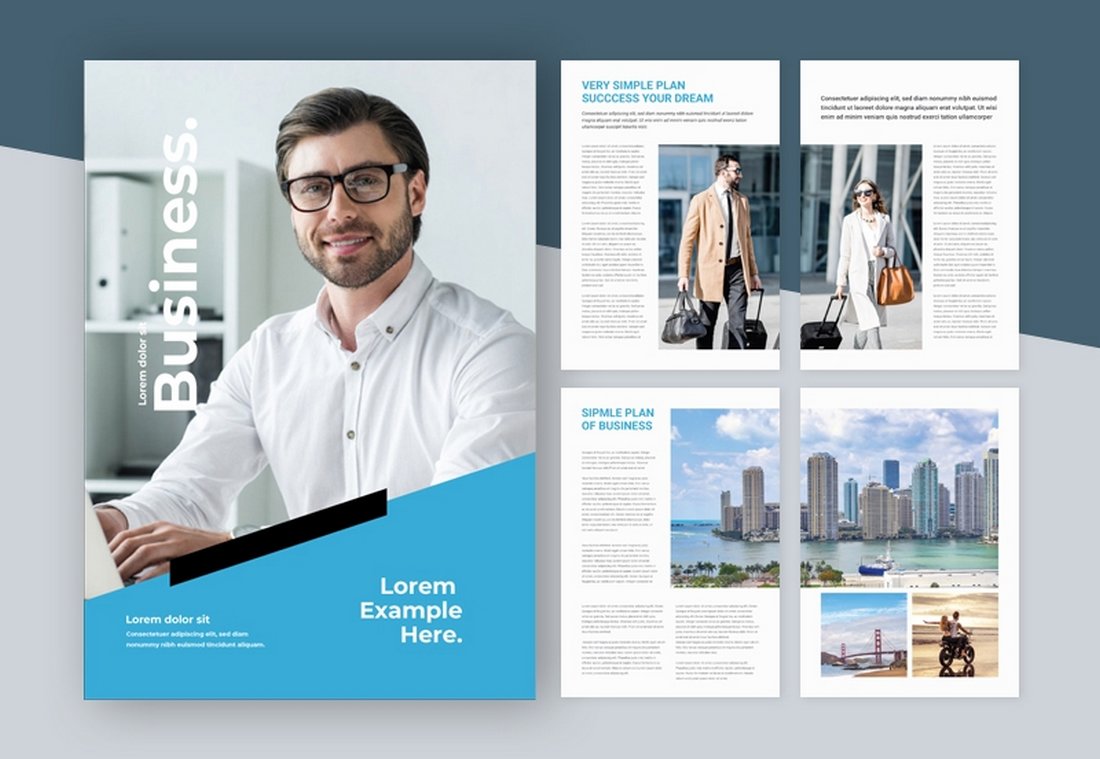 This free eBook template is great for making business brochures, magazines, and eBooks. There are 32 different page layouts included in the template and you can easily customize it using Adobe InDesign.
If you're looking for templates to make brochures, check out our best InDesign brochure templates collection.
By: Roshan Perera
Title: 20+ Best Modern eBook Templates in 2022 (Free & Pro)
Sourced From: designshack.net/articles/inspiration/ebook-templates/
Published Date: Tue, 02 Aug 2022 09:00:01 +0000