One of the best ways to add more credibility to your presentations and build trust in your audience is to use numbers and statistics in your slideshows.
When you add charts, graphs, and diagrams to your presentations it not only helps reinforce your claims but also shows the level of your knowledge in the industry. Simply put, it shows your audience that you know what you're talking about.
As designers, we always encourage adding more charts and infographics to your presentations. There's no need to design them yourself. We've got templates for that.
In this collection, we have lots of different types of PowerPoint templates with charts and graphs. There are templates with org charts, gantt charts, flow charts, and so much more.
These charts are easily customizable so you can add your own numbers and data in to the charts with just a few clicks. Take a look and start downloading.
Chart – Dashboard PowerPoint Chart Templates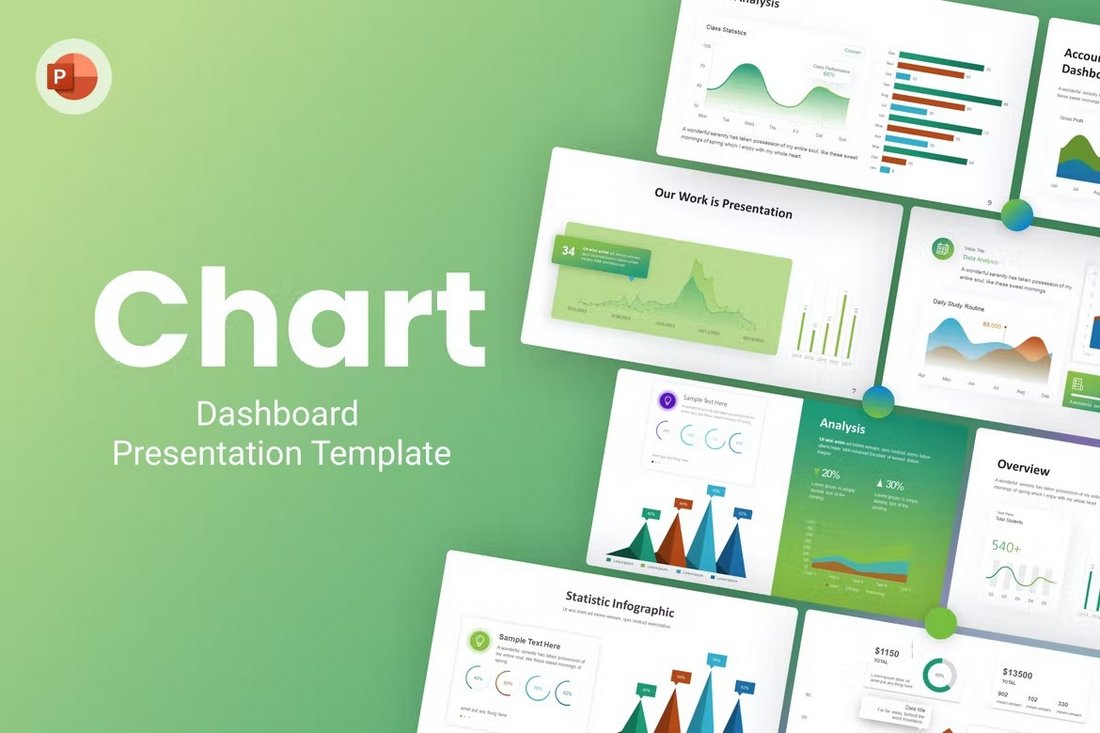 When presenting data, the designs you use is very important. Because when you go that extra mile to design beautiful charts and diagrams, it's much easier to attract attention. This PowerPoint template is made with that goal in mind. It comes with lots of beautifully designed charts in light and dark slide designs. There are 35 unique slides in the template.
Timeline, Maps & PowerPoint Chart Templates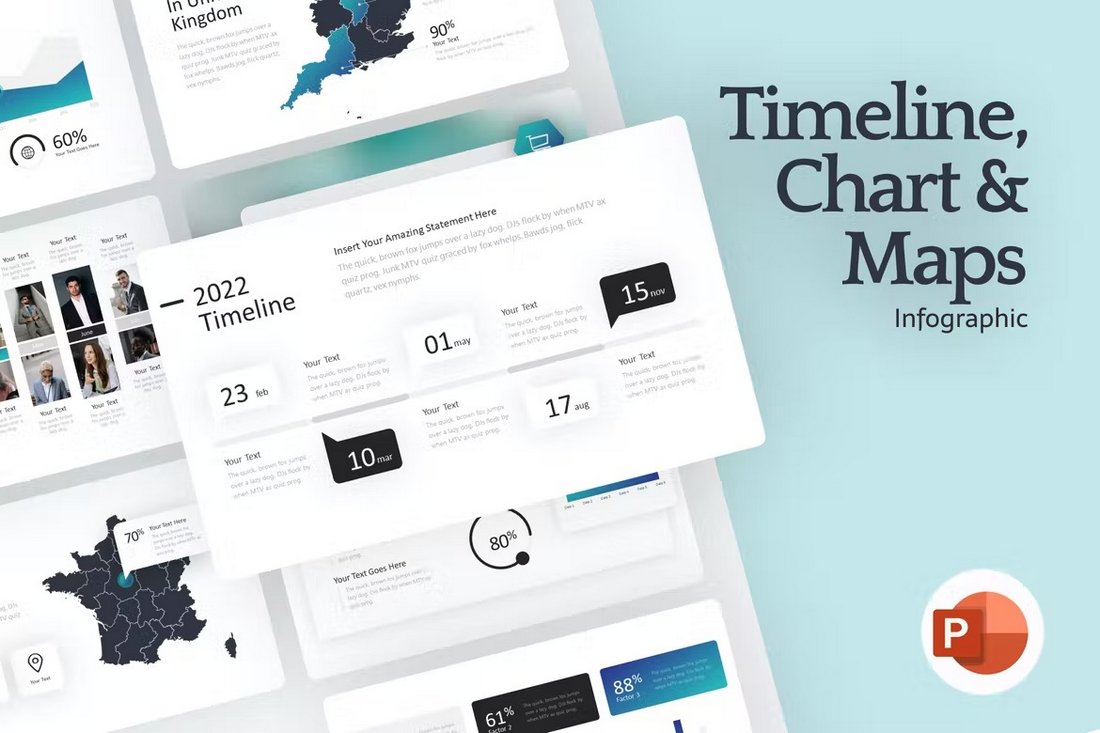 Maps and timelines are great for showcasing demographics and product roadmaps. This PowerPoint charts template comes with plenty of those slides for you to choose from. It includes 25 different slides with modern timelines, maps, and chart designs. Each slide can be easily customized to your preference as well.
Bar Charts & Infographic PowerPoint Template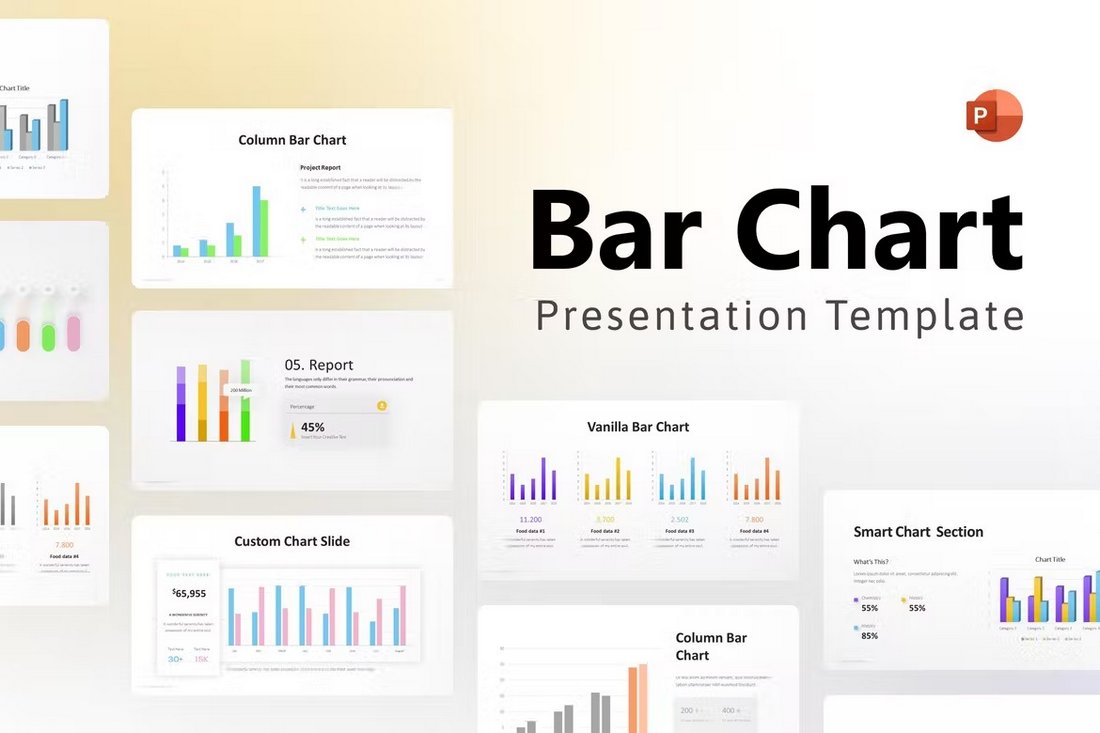 Looking for slides with bar chart infographics to show off the progress you've made? Then be sure to download this PowerPoint template. It gives you 40 different slides with various styles of bar chart infographics to choose from. Each slide comes in dark and light color themes as well as more than 90 custom color options.
Organizational Hierarchy Org Chart PowerPoint Template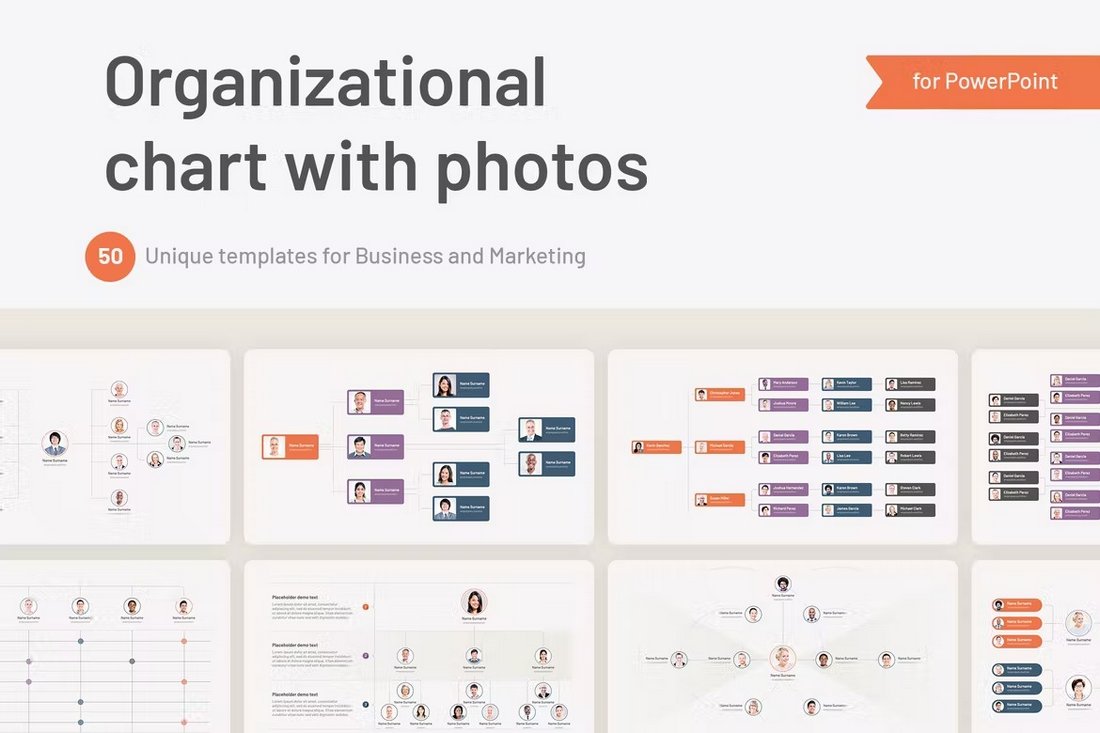 Org charts are used by big companies to streamline and organize the company structure of its employees and their roles. This PowerPoint template comes with lots of beautiful slides you can use to design better-looking org charts for your company. There are 50 unique slides in 10 different color themes in this template, making it a total of 500 slides.
nimated Flow Charts PowerPoint Template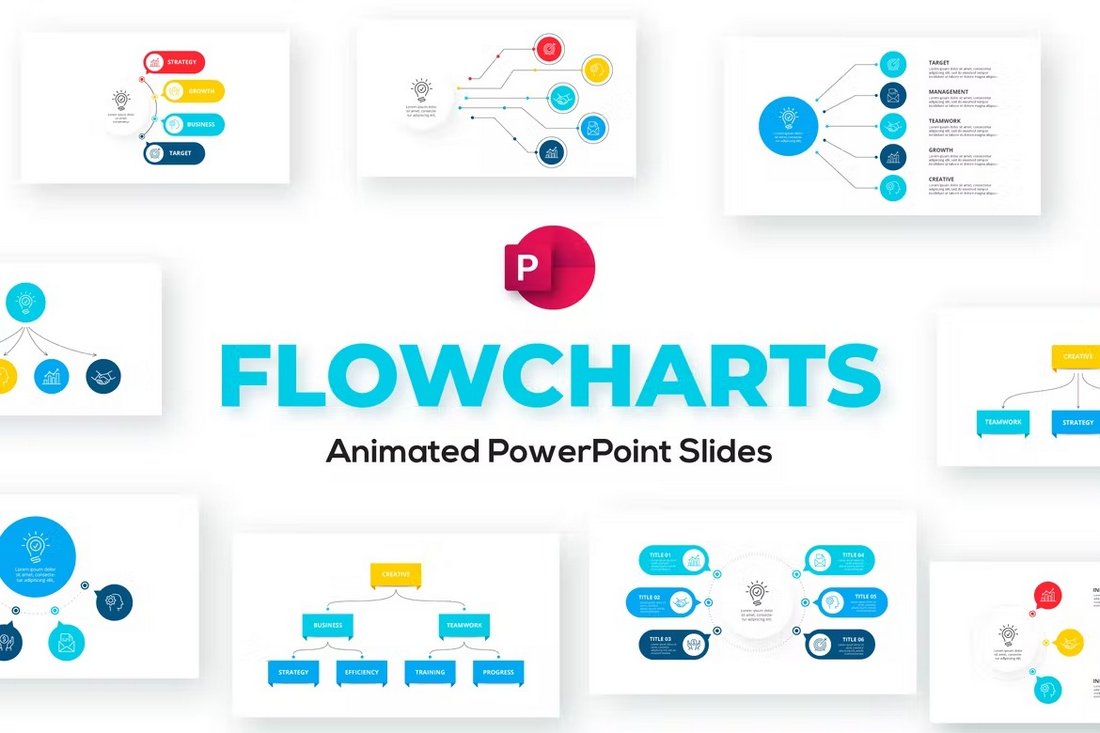 With 20 different styles of flow charts to choose from, this PowerPoint template is a must-have for making professional-looking business and marketing charts. Each slide in the template is also available in 50 color variations. You can easily edit the charts and customize them to your preference.
Free Doodle Flowcharts PowerPoint Template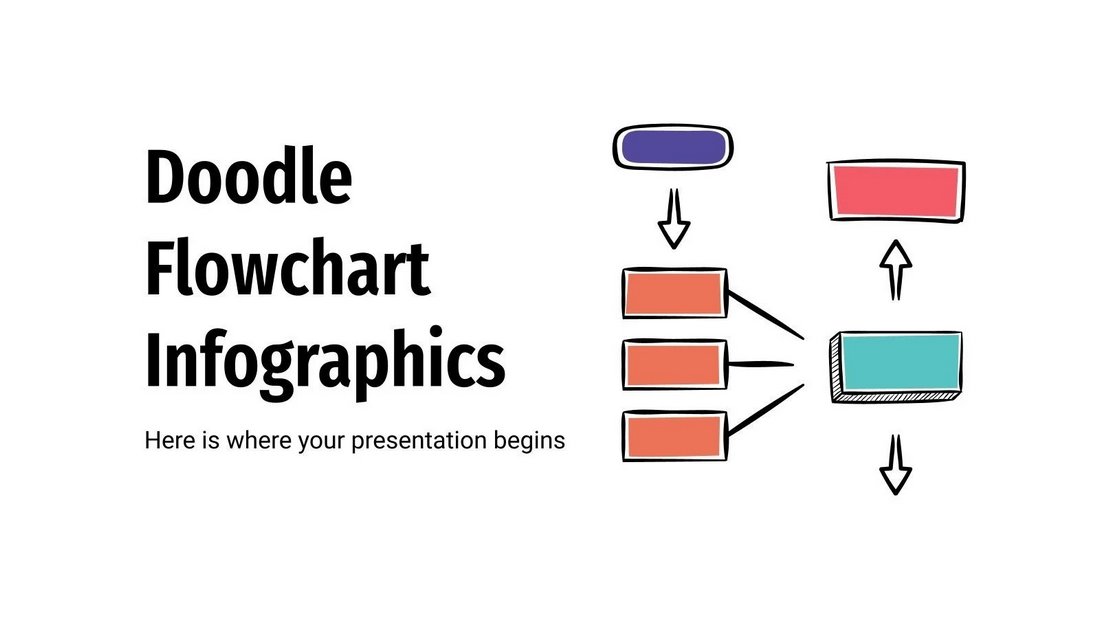 This is a fun and free PowerPoint template featuring flowcharts made in doodle-style designs. It's perfect for presenting data with a casual and friendly manner. The template includes 30 unique slides.
Free Process Diagrams PowerPoint Templates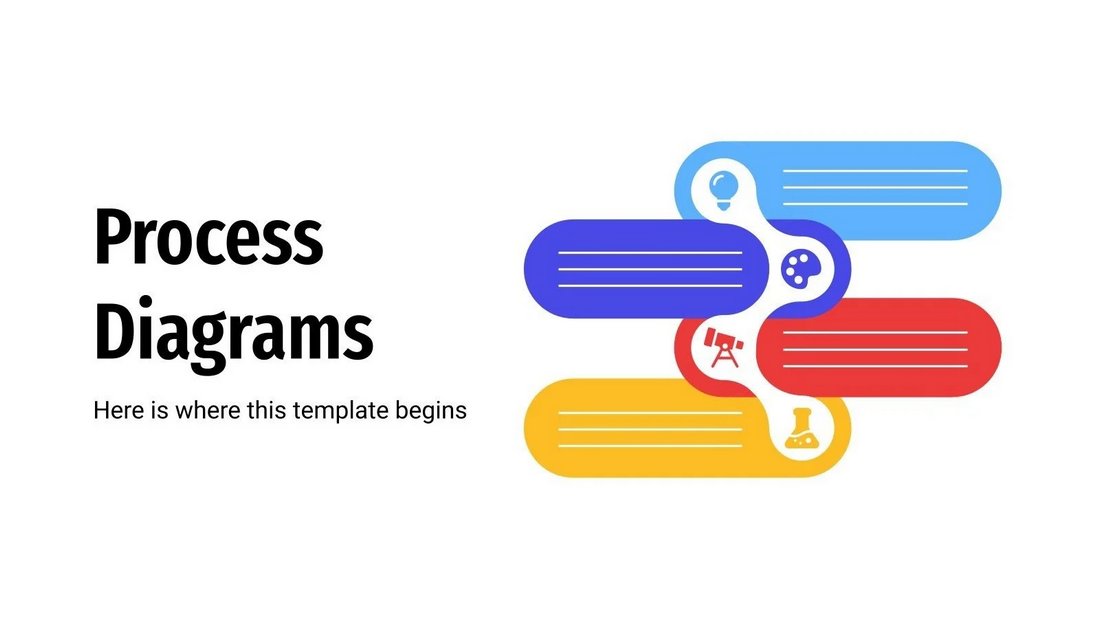 With this free PowerPoint template, you can create beautiful diagrams to streamline the process behind your projects. It also includes 30 different slides with lots of creative diagram layouts.
Pie Chart PowerPoint Templates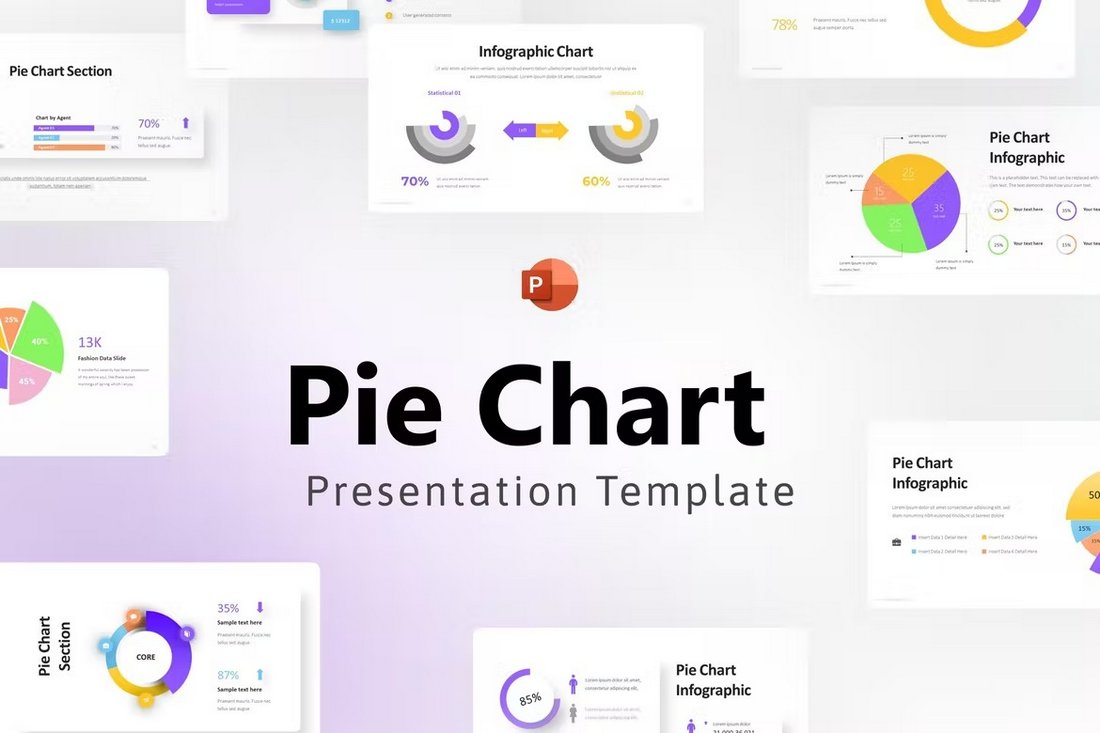 Designing pie charts is always fun as it gives you the opportunity to get creative with the chart design. This PowerPoint template is a good example that shows how creative you can get with pie charts. It includes 40 different styles of pie chart designs with colorful and cool-looking layouts. They are available in light and dark color themes as well.
Office & Custom Charts PowerPoint Template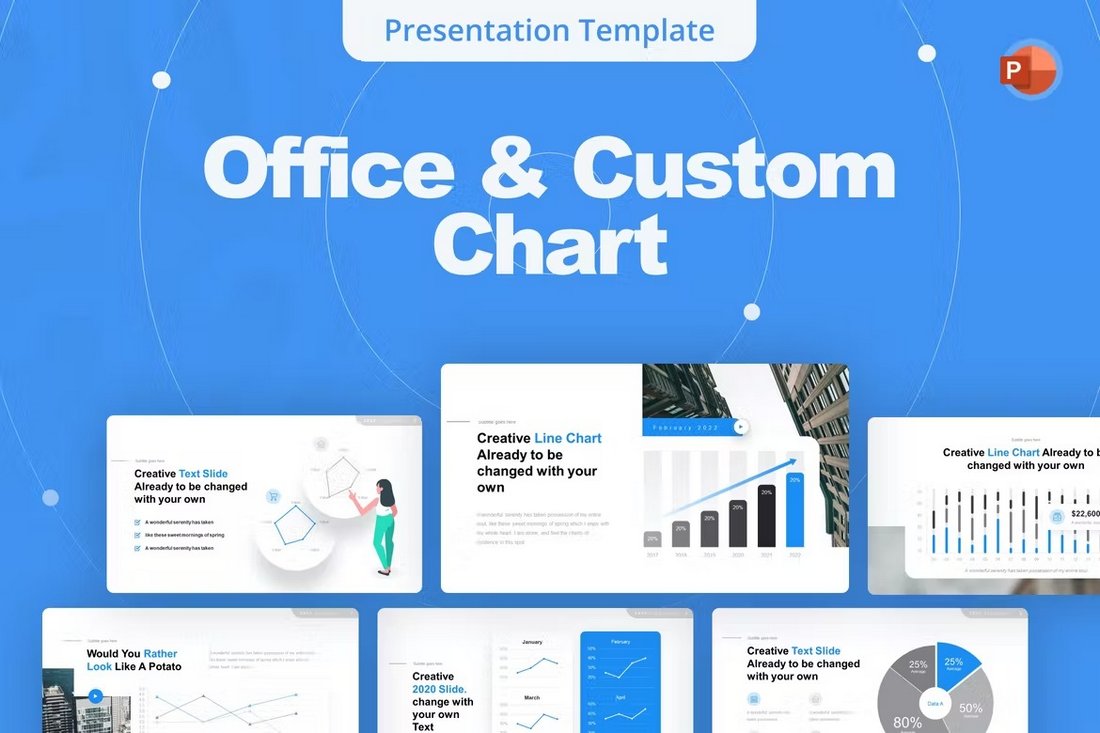 With this PowerPoint template, you can go into office meetings always prepared. It gives you a collection of 20 different charts to present data and statistics like a pro. Each slide can be customized with more than 90 color variations. The charts are also easily editable as well.
Org Charts PowerPoint Templates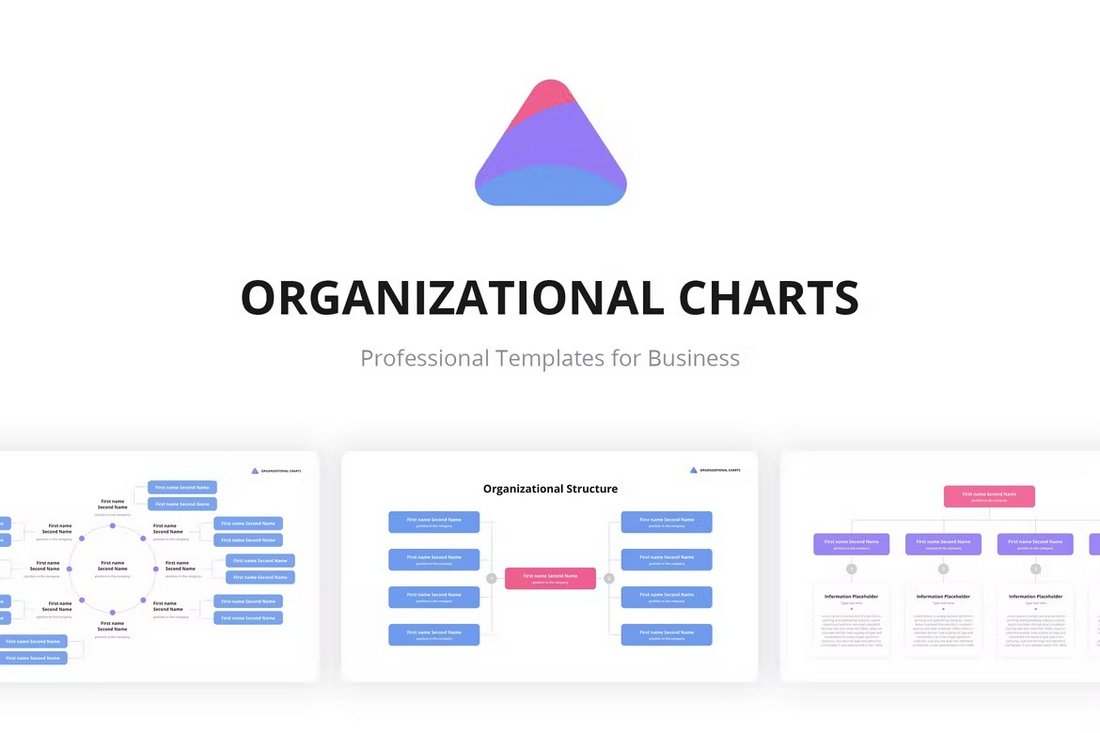 Another PowerPoint template full of org charts for you to showcase your company hierarchy. This template features beautiful org charts with modern and minimal designs. There are 32 different chart slides included in the template with easily editable objects, shapes, and graphics.
Gantt Chart PowerPoint Templates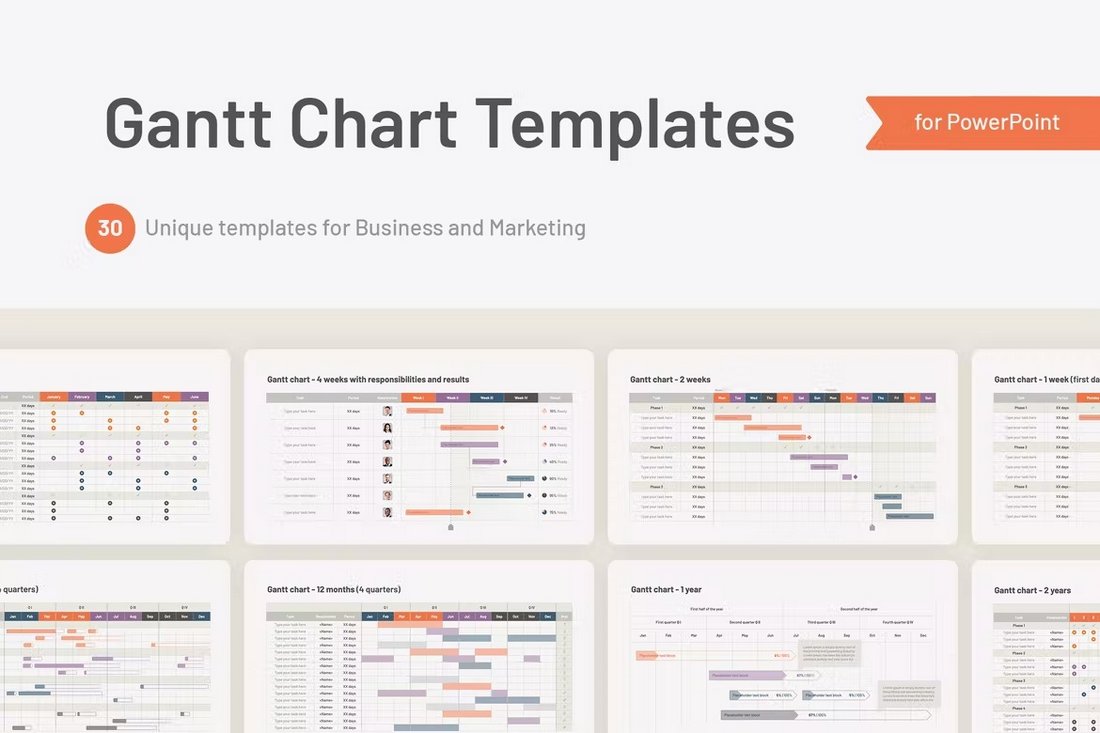 A must-have chart in project management presentations, Gantt charts are one of the more difficult chart types to design. This PowerPoint template will make the process easier for you. It includes 30 unique Gantt chart slides and you can choose from 10 different color variations as well.
Company Hierarchy PowerPoint Org Charts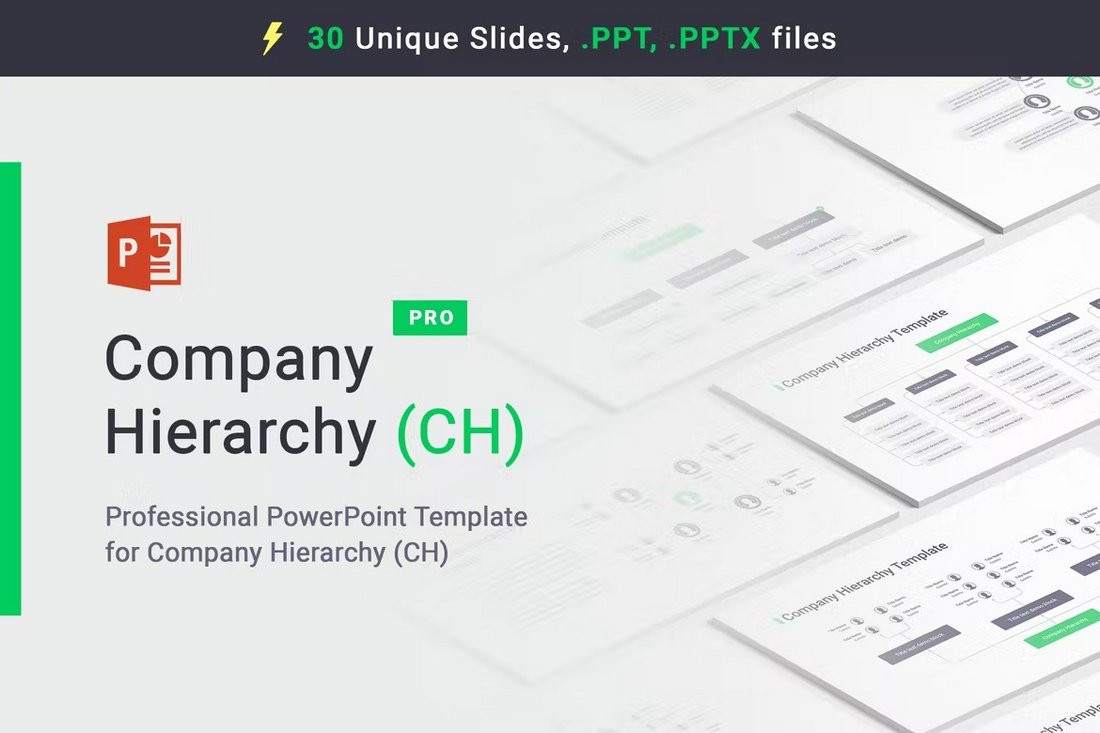 You can use this PowerPoint template to design more modern-looking org charts for your presentations and various other projects. It comes with 30 unique slide layouts featuring org charts in 5 different color schemes. No animations are included but you can add them yourself if you want.
Free Venn Diagrams PowerPoint Template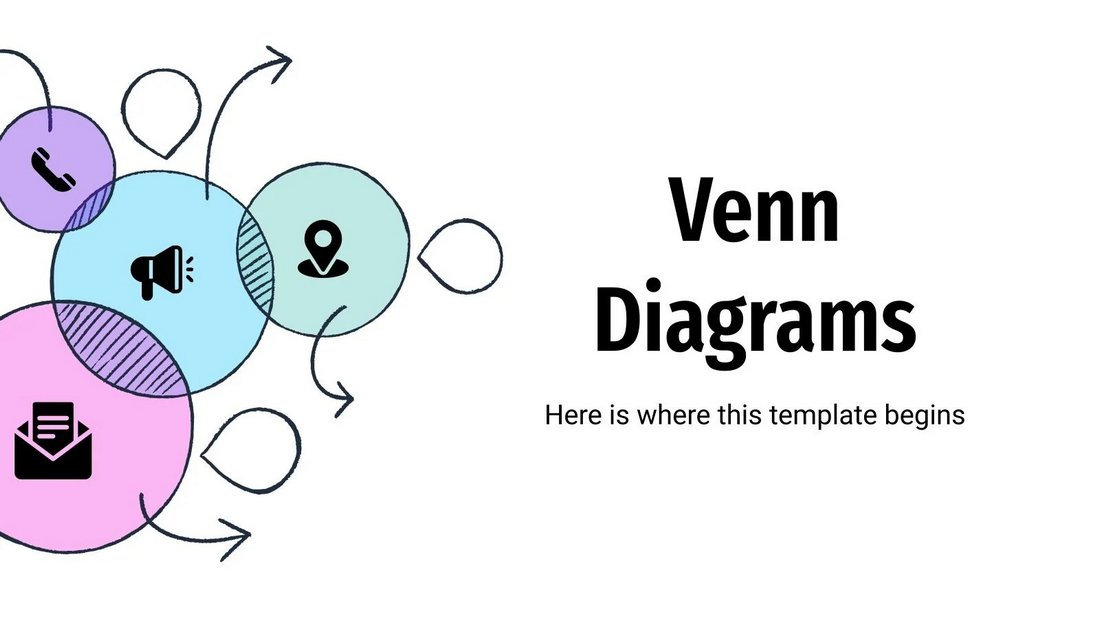 If you're a fan of Venn diagrams, this free PowerPoint template is a must-have for you. It features 30 different slides with stylish Venn diagrams for you to use in various presentations.
Free Linear Flowchart Infographics for PowerPoint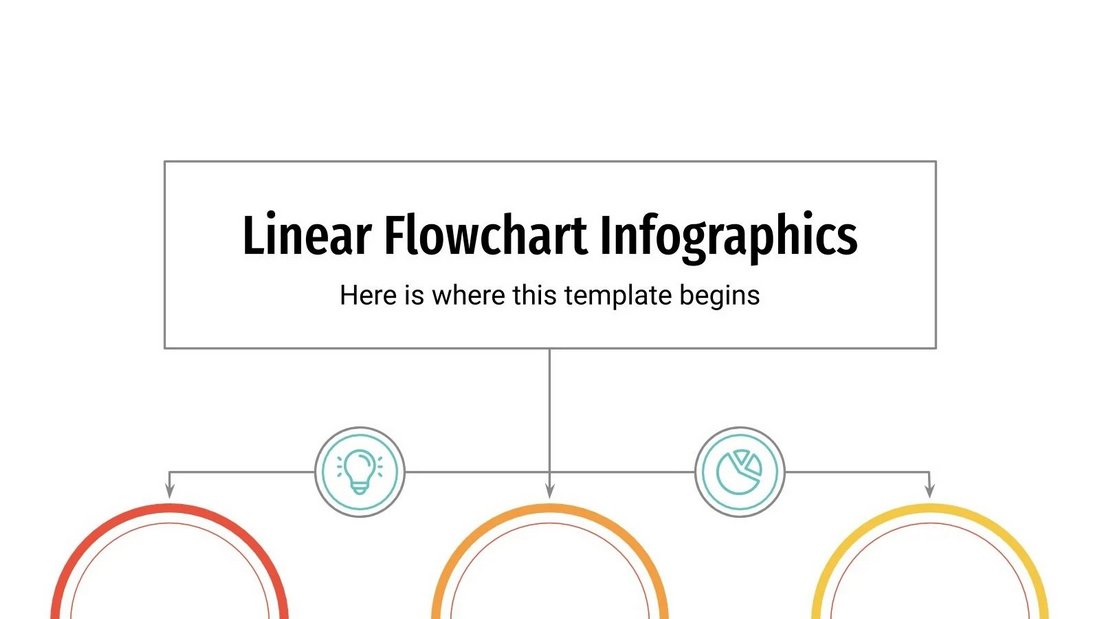 Another free PowerPoint charts template featuring a collection of flowchart designs. These flowcharts have beautiful linear style designs that will make your presentations look even more attractive.
Hexagonal, Line & Flow Chart PowerPoint Template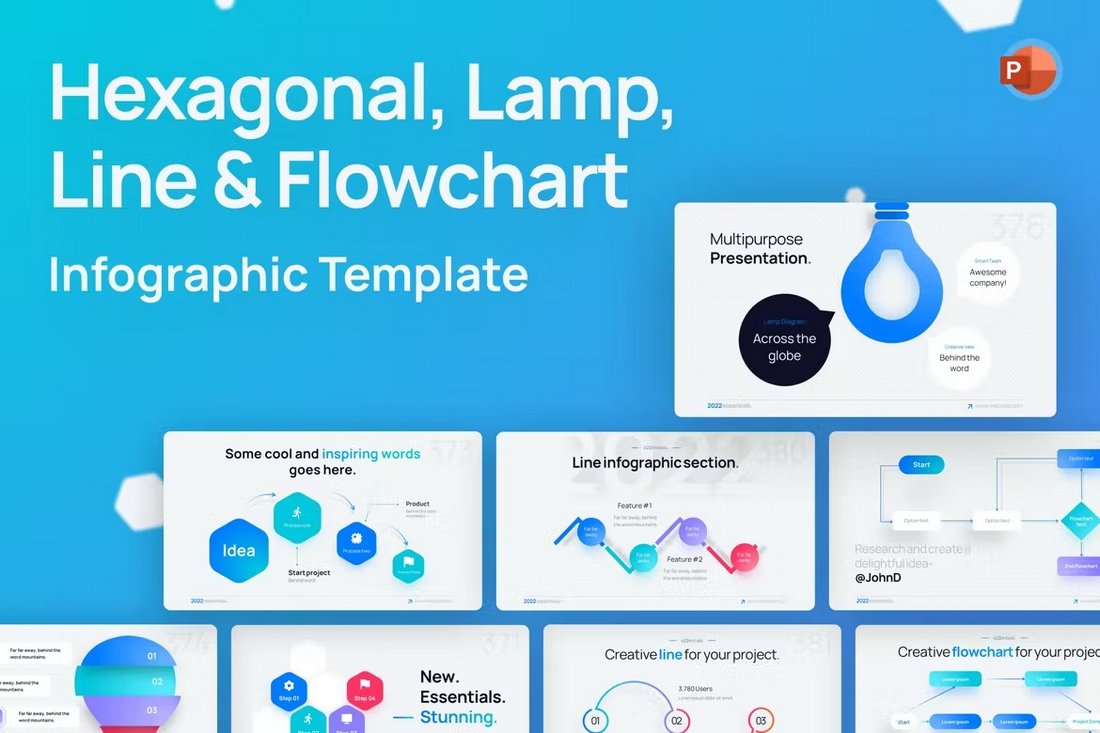 This PowerPoint template includes some of the most creative chart slides we've seen. It has multiple styles of chart designs including hexagonal, line, and flow charts for you to present data in various ways. There are 20 unique slides in the template with 90 color variations to choose from.
Chart Data Infographic PowerPoint Template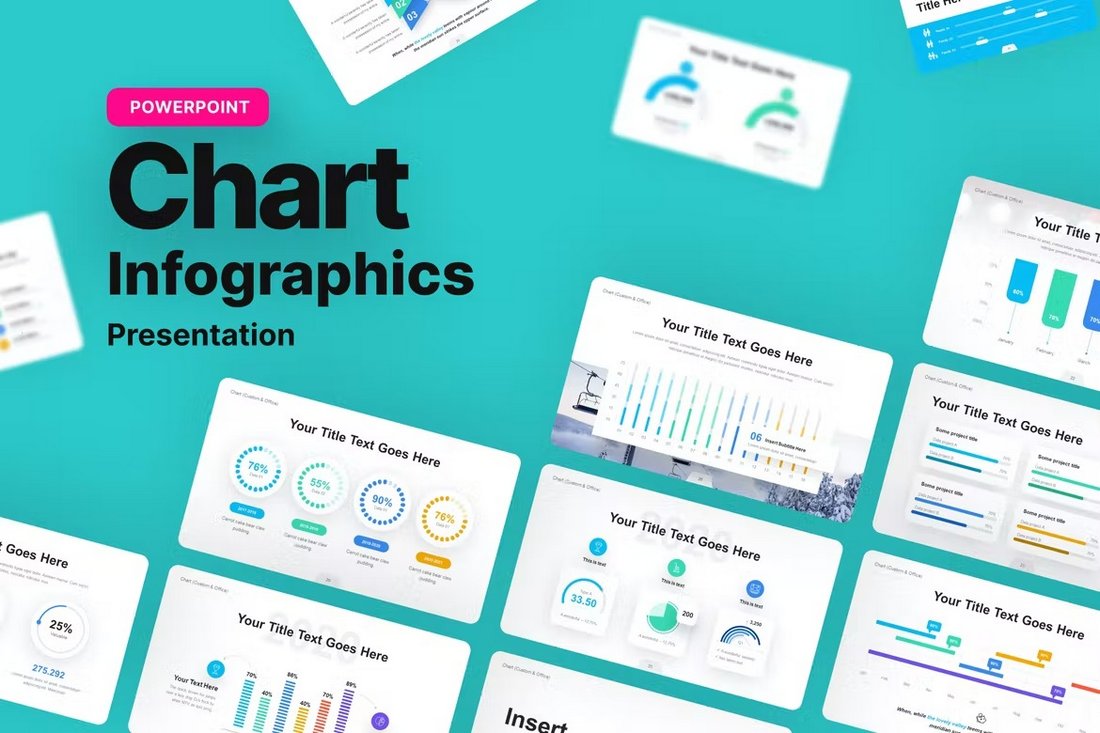 With this PowerPoint template, you'll get a mix of several different types of charts for your marketing and research presentations. There are pie charts, bar charts, timelines, and many other types of chart slides in this template. It has 30 unique slide layouts with fully customizable designs.
Modern Flowchart PowerPoint Templates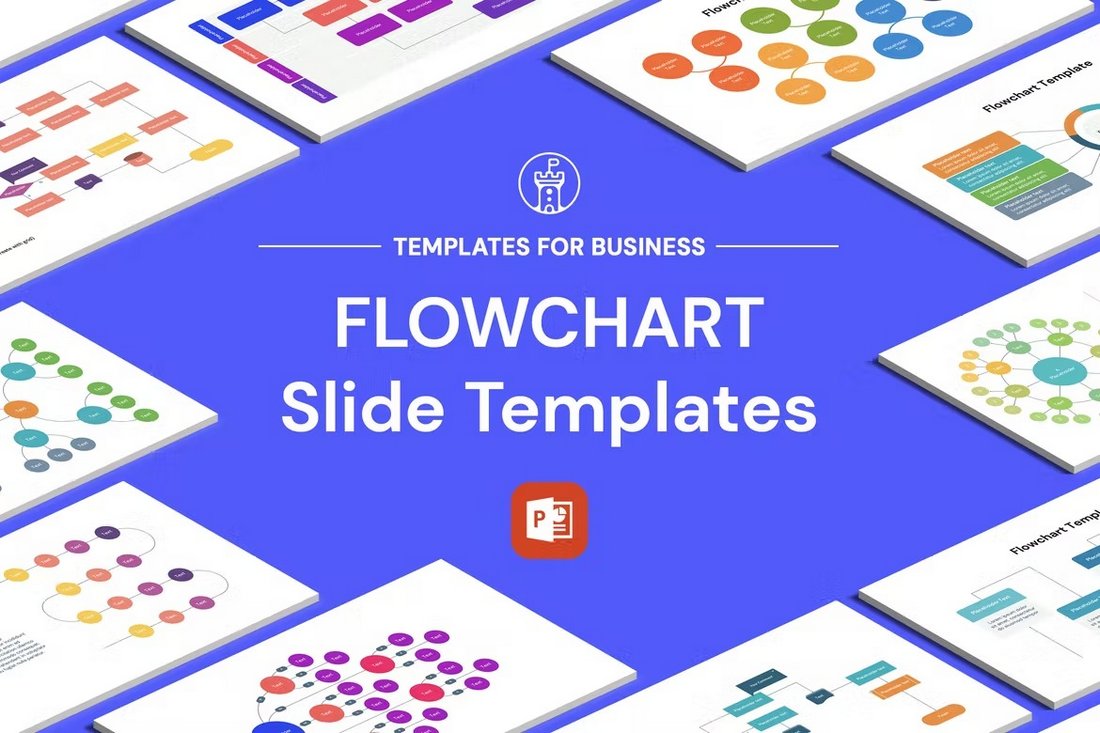 A huge collection of chart slides for PowerPoint. This template features more than 60 different slides with various styles of flowchart designs. Each slide also comes in 25 color schemes as well as light and dark themes. You can edit each slide with just a few clicks to add your own data as well.
Excel Charts Animated PowerPoint Template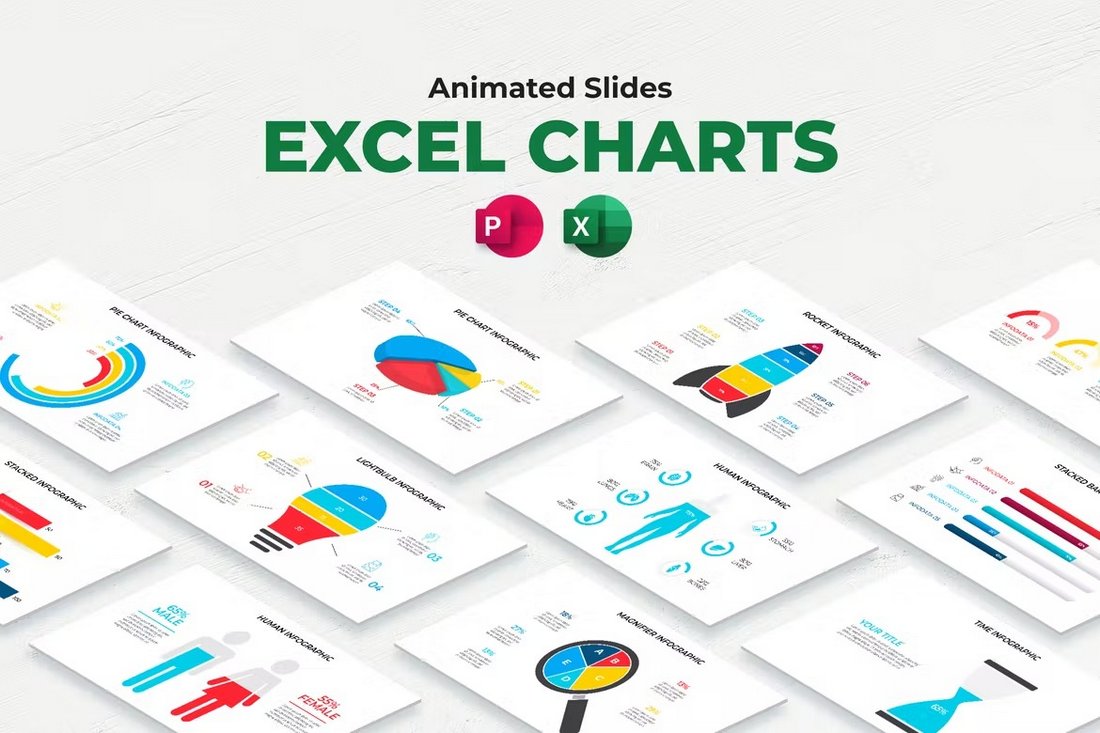 This PowerPoint template also features a collection of beautifully animated chart slides. There are several different types of chart designs in this template, including bar charts, pie charts, and infographics. The 18 slides in the template also come in light and dark color themes.
Smart PowerPoint Charts Templates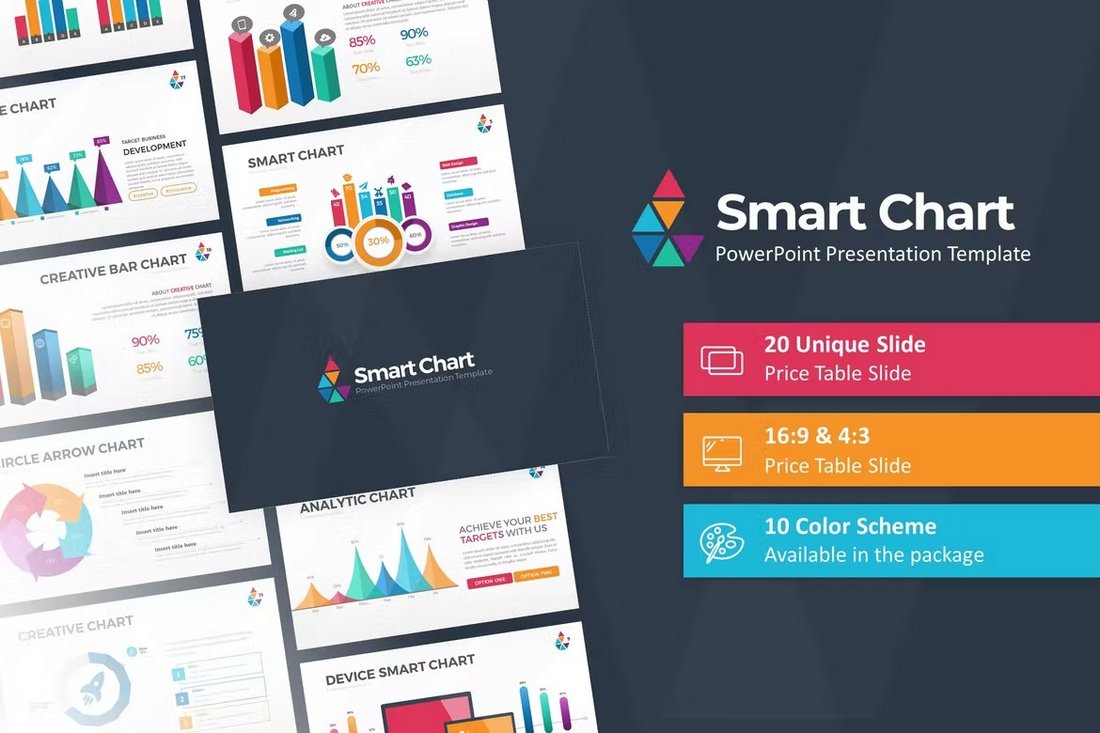 There are 20 unique chart designs in this PowerPoint template for showcasing your statistics and data in a professional way. It features hand-crafted infographics and chart designs that have colorful and fully customizable layouts. The slides are available in 10 different color schemes as well.
Free Org Charts PowerPoint Templates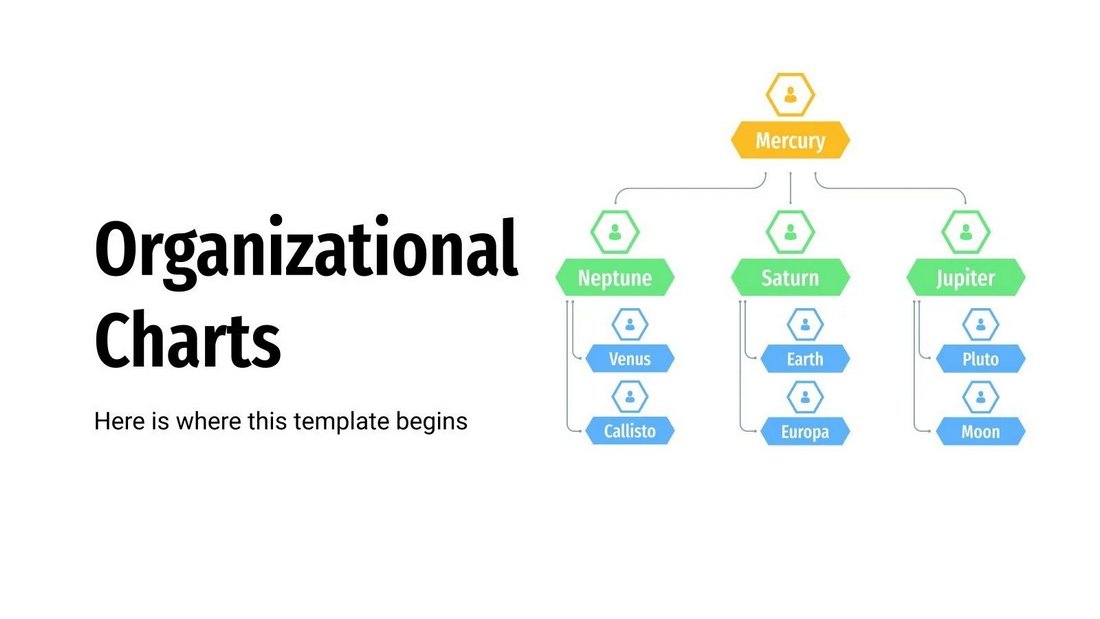 You can download this PowerPoint template for free to get a collection of high-quality org chart designs. It has 30 different org chart slides with colorful and fully customizable layouts.
Free Pie Chart Infographics for PowerPoint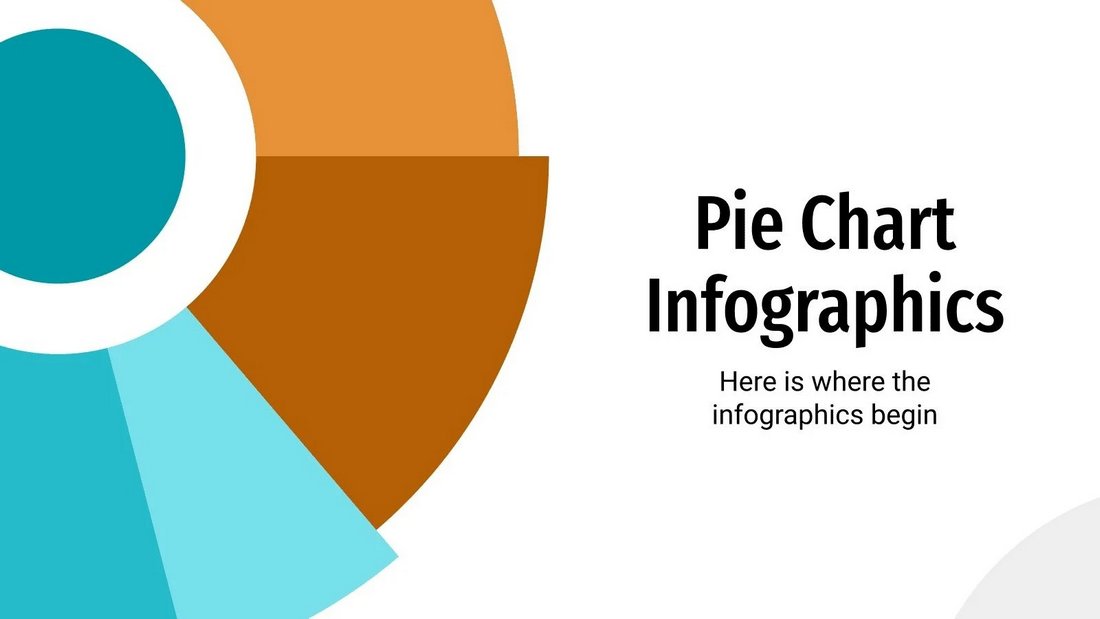 This PPT is also free to download. It comes with lots of different pie chart designs for showing off your stats and numbers in style. There are 31 unique slides in this template. And it's available in Google Slides format as well.
Chart Analysis PowerPoint Charts Template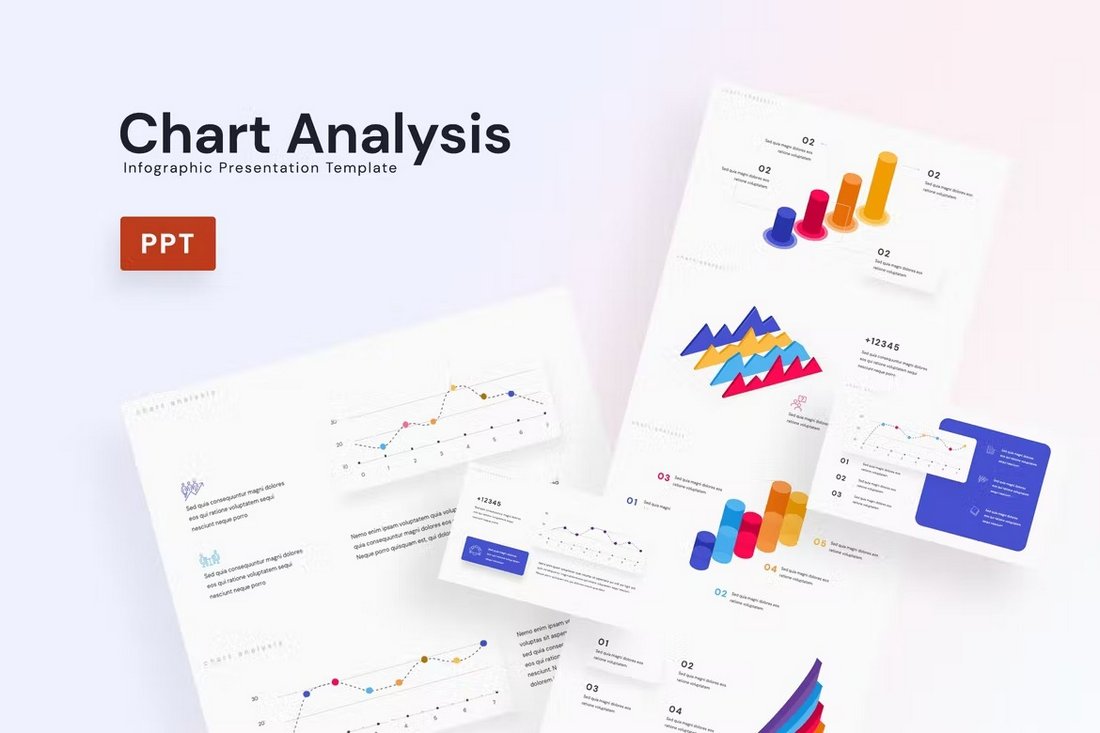 Whether you're working on a presentation for a startup or a marketing project, this PowerPoint template will help you add more convincing chart slides with modern designs. It lets you choose from over 60 slides, featuring 30 light and 30 dark designs. Each slide comes with a unique chart analysis design.
Graphs and Charts for PowerPoint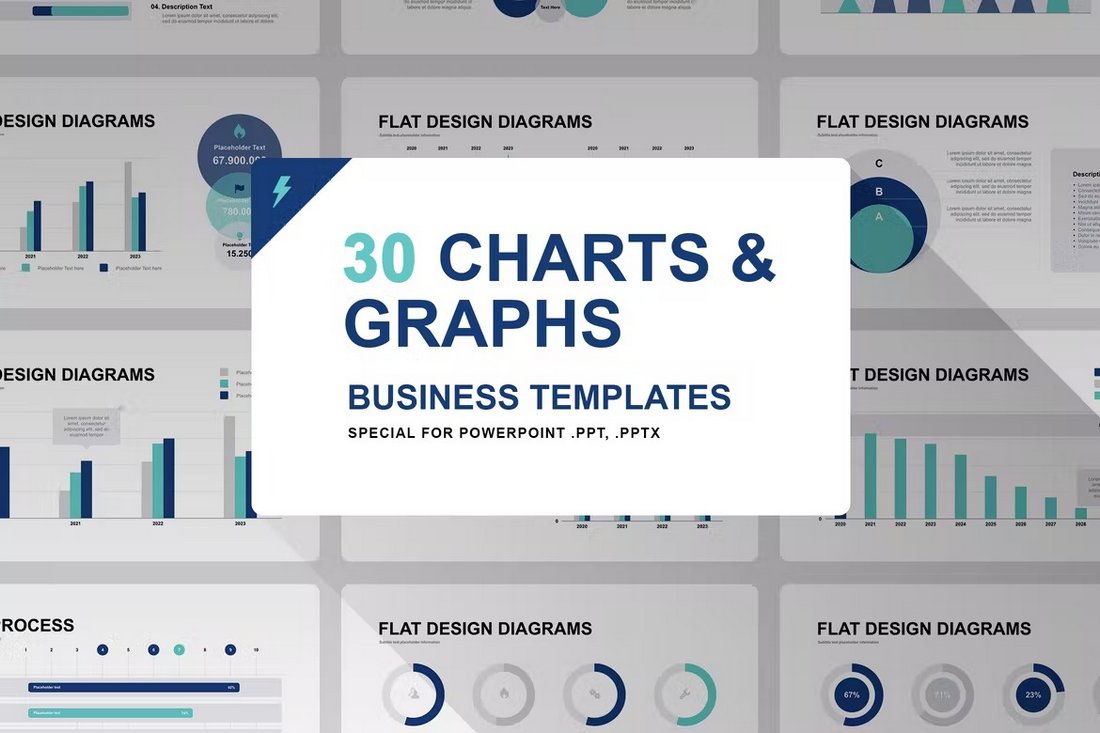 This PowerPoint template includes 30 unique charts and graphs with clean and minimal designs. They are perfect for presenting data in business, corporate, and marketing meetings. Charts are fully customizable to your preference.
If you're looking for infographic templates, be sure to check out our best infographic PowerPoint templates collection.
By: Roshan Perera
Title: 20+ Best PowerPoint Templates for Charts + Graphs 2022
Sourced From: designshack.net/articles/inspiration/powerpoint-templates-charts-graphs/
Published Date: Tue, 12 Jul 2022 08:00:47 +0000
Did you miss our previous article…
https://www.webdesignhawks.com/?p=4569