Setting up a blog using Wix is quite easy. In fact, it will only take you a few minutes to go from registering a Wix account to having a full-featured blog up and running.
The only task that will likely take up most of your time is finding a great template for your blog design. Because there are tons of templates in the Wix library. So we wanted to help you save your time by picking out the best of the best Wix blog templates for you.
In this post, you'll find some of the most beautiful and professional-looking Wix blog templates you can use to setup a blog. There are many different styles of blog template designs in this collection so be sure to explore them all.
If you're new to Wix, read the guide on how to create a blog on Wix at the end of the post.
Minimal Personal Blog Wix Template
A clean and minimal design is often the perfect choice for a personal blog. That's why we think this is the best template you can use to setup a beautiful personal blog.
This Wix blog template comes with an eye-catching fullscreen design with plenty of white space to bring more attention to your content. It has a featured post section on the homepage, a section to promote your email list, as well as a sidebar to introduce yourself and promote your social feeds.
Elegant Personal Wix Blog Template
If you're looking to craft a stylish personal blog to write about your life journey, this elegant Wix blog template is perfect for you.
It features a visual-centric homepage design where you can add a photo of yourself to give a personalized look to your blog. It also uses lots of colors to make the site look more attractive. Of course, you can choose from different color themes to change the design as well.
Food Blog Template for Wix
If you love to write about foods, review food items, or even share your recipes online, this Wix blog template is a great choice to build your own food blog.
The template has a cool design with parallax scrolling elements on the homepage. It includes lots of space for adding large images to get your readers interested in tasty foods. There are sections on the template for promoting your email list and socials too.
Fashion & Lifestyle Blog Wix Template
The elegant and simple design of this Wix blog template makes it one of the best designs in Wix's library. It's also perfect for setting up fashion and lifestyle blogs.
Visuals are very important when writing about fashion so this blog template provides you with plenty of ways to show off your fashion and lifestyle photos not only on the homepage but with each blog post you create.
Travel & Influencer Wix Blog Template
If you're a travel blogger or influencer looking to share your journeys online, use this Wix blog template to build your travel blog.
It comes with a unique design that allows you to highlight your travels and locations you've visited on the homepage. There are sections to promote your email list. And you can embed your Instagram feed directly into the blog as well.
Hobby Blog & Forum Wix Template
With this Wix blog template, you can setup a website to share your passions and hobbies with the rest of the world.
This template comes with a stylish blog and forum layout that allows you to create a professional-looking hobby blog. It actually has an incredible design that's suitable for any type of blog. Feel free to customize and use it however you like.
Lifestyle Wix Blog Template
Whether you want to share stories about your lifestyle or share memories from your family, this template has the perfect design to make a unique lifestyle blog.
There are multiple sections on this Wix blog template where you can showcase the main categories, blog posts, and introductions on the homepage. It also lets you choose from several different color themes.
News & Magazine Wix Blog Template
This great template proves that Wix is a platform you can use to build many different types of blogs, including news blogs and magazines.
You can use this Wix template to make a news website of your own. The template has a design that looks just like a high-quality news website with divided sections to show different categories and a professional blog post layout.
Design Blog Wix Template
Interior designers, fashion designers, graphic designers, and all other types of designers in between can use this Wix template to create a simple blog to share their work.
The template comes with a minimal design with a beautifully structured blog layout for writing blog posts about your design work, sharing stories about your projects, as well as for making case studies, and more.
Music & Podcast Wix Blog Template
If you're a musician, artist, or podcaster looking to setup a landing page to share your music with the world, use this Wix blog template to create your website.
This template has a bright and colorful design where you can effectively promote your music to your audience. It has sections to include links to your podcasts, music albums, and allows you to promote your email list and social channels as well.
Sports & Fitness Wix Blog Template
You can setup a bold and professional-looking blog to write about sports or fitness using this Wix template. It's perfect for coaches and influencers too.
The blog template uses a bright and colorful design that makes it easier for you to get the attention of the visitors. Also, there are sections for you to promote your training programs and get clients to book sessions with you as well.
Vlogger Wix Blog Template
Instagram and YouTube vloggers will surely find this Wix blog template useful as it allows you to promote your channel online and on other platforms.
The template has big placeholders for you to include large images and lets you embed your Instagram feeds on the website. It also has a section to promote your videos too.
Coaching Blog Wix Template
A blog is a must-have for coaching professionals and trainers. It helps you promote your work much more efficiently online and get discovered by new clients.
This Wix blog template is perfect for making coaching blogs as well as blogs for various other types of trainers. The template features a fullscreen design that utilizes space quite well to showcase your blog posts on the homepage.
Modern News Wix Blog Template
You can use this Wix blog template to setup your own modern magazine or news website in just a few clicks.
The template features a flexible design with sections to show posts from different categories. It also lets you choose from multiple color schemes to customize the design of the template.
Wellness Blog Wix Template
Another great Wix blog template with a modern design. This template is ideal for making health and wellness blogs.
One of the best things about this template is that it's fully optimized to help generate leads for your business as well. If you have health or wellness training programs, you can use the blog to promote them more effectively.
Gaming Blog Wix Template
Whether you have an eSports team or just love to write about video games, this blog template is perfect for building your website on Wix.
It has lots of different sections to promote your blog posts, introduce your teams, showcase games, and more. Of course, you can also customize it with different themes as well.
Business Blog Template for Wix
When creating a business blog, a simple design with a minimal layout and fewer design elements is the best way to show off professionalism. That's exactly what you get with this template.
It has a very clean design without using too many design elements, images, or colors. It's perfect for setting up a blog for small businesses, startups, or corporate brands.
Beauty Blog Wix Template
Looking for a bold and beautiful template to make your beauty blog? Then you can use this template to get started.
This is a Wix blog template made specifically for beauty bloggers and influencers. It comes with a highly visual design that gives you plenty of space to show lots of images of your favorite beauty products.
Writer & Book Blog Wix Template
For authors, having a blog is one of the best ways to promote their books. With this blog template, you can make that happen.
This blog template is perfect for making a professional blog to showcase your books as well as to develop a blog. It's perfect for writers, authors, and even book reviewers.
Movie Reviews Wix Blog Template
If you're a fan of movies and love to share your hobby with others, use this template to make your own movie review blog.
This Wix blog template has a cool design that uses large vertical images to help you craft attractive blog posts to write your movie reviews. You can choose from light and dark color themes as well.
Tech Blog Wix Template
If you've been dreaming about starting your own tech blog or magazine, this Wix template is perfect for you. It features a modern and professional-looking design to help make your blog look just as good as an industry-leading website.
How to Create Blog on Wix
Not sure how to get started on Wix? Here's a quick guide on how to create a blog on Wix.
Step 1: Sign Up
First, make sure to sign in to your Wix account.
If you don't have a Wix account yet, you can sign up for an account for free. Then you can create unlimited websites or blogs for free and publish them on a subdomain name. You only have to pay when adding a custom domain name to the website.
Step 2: Create A New Site
After logging in, you can create a new Wix site by clicking the "Create a New Site" button on your account dashboard.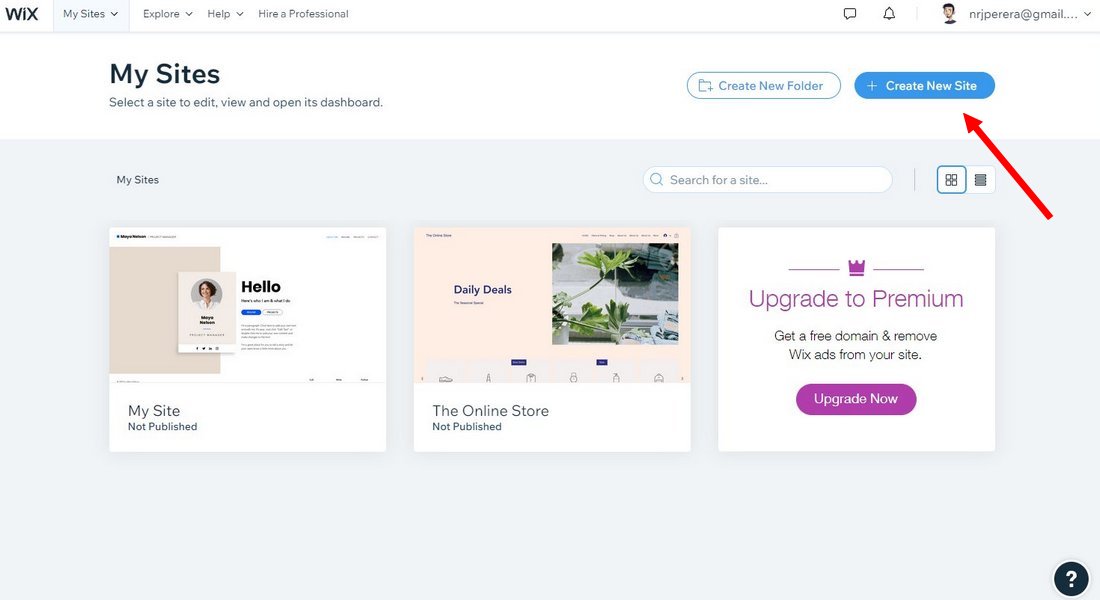 Choose what type of website you're building and give it a name.
Choose what you want to add to your website.
Now, this next step of the process is important so pay close attention.
Step 3: Begin with a Template
In the next step of the create a new site process, you'll be given a few options.
Choose the "Begin with a Template" option. This is important because once you create your blog on Wix, you can't change the template design.
After selecting this option, you'll be able to select a template from the Wix templates library. Feel free to browse or select one from our collection above.
Once you find a good design, click on the Use This Template button to start customizing your blog.
Add all the pages, logos, and other elements to personalize your blog. When ready, click the Publish button to go live with your blog. That's it!
By: Roshan Perera
Title: 20+ Best Wix Blog Templates & Examples (Create a Blog on Wix)
Sourced From: designshack.net/articles/inspiration/wix-blog-templates/
Published Date: Tue, 27 Sep 2022 09:00:30 +0000
Did you miss our previous article…
https://www.webdesignhawks.com/?p=9518