Whether you're planning your own dream wedding, organizing the wedding of another couple, or putting together a presentation to share your romantic story with family and friends and reminisce for years to come, a slideshow can be a brilliant tool to help you bring your ideas together.
But of course, for such an important day, your template needs to be perfect – and that's why we've hunted down the very best romantic wedding slideshow ideas and wedding PowerPoint templates for brides, couples, and professional wedding planners to use!
From delicate florals and pastel tones to earthy color schemes and minimalistic layouts, there's a style to suit every kind of wedding, and we've included options from both free and premium sources. Without further ado, let's take a look at our selection of wedding PowerPoint templates!
Love Story – Wedding PowerPoint Template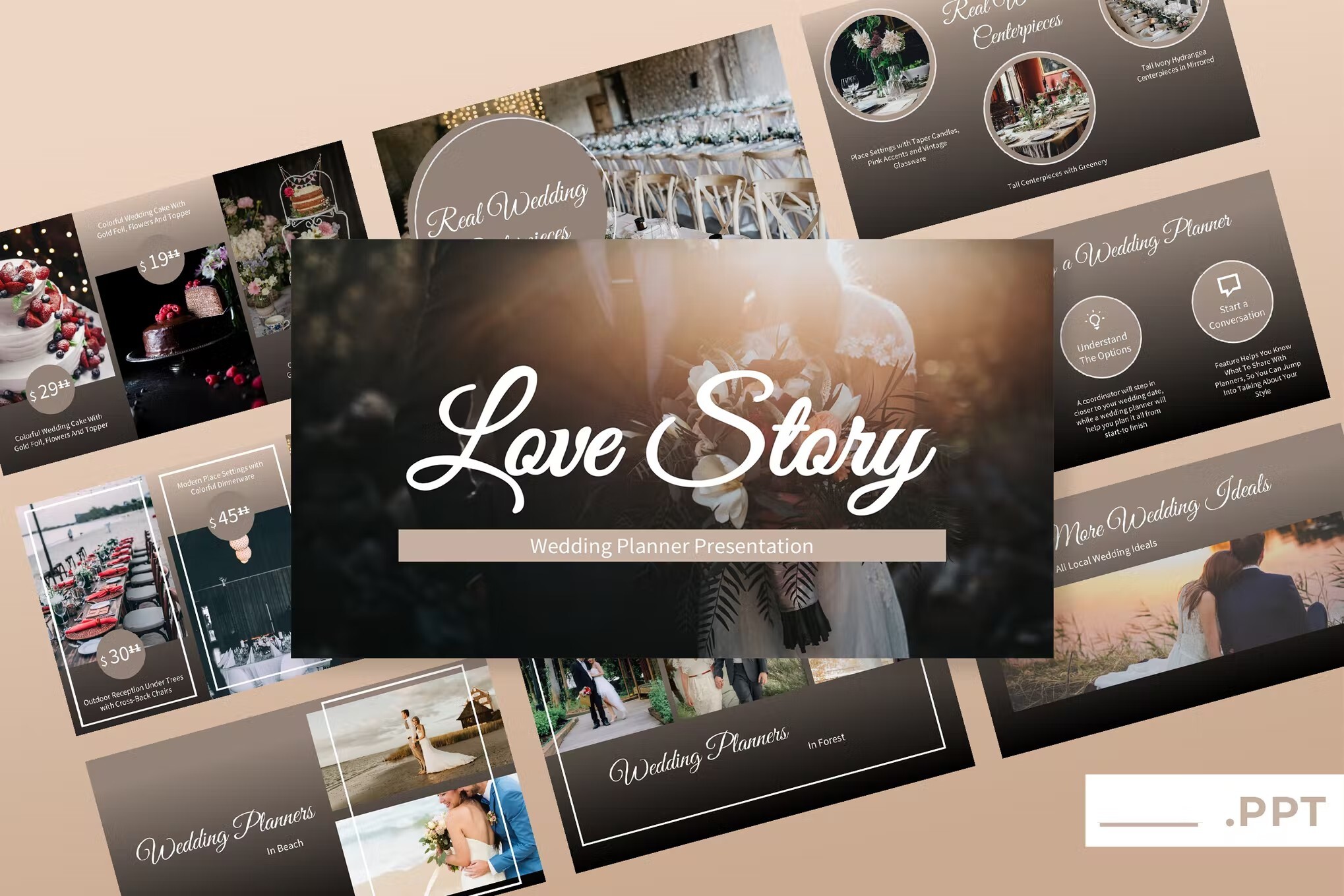 Is your wedding or anniversary celebration formal and sophisticated? Then the Love Story Wedding PowerPoint Presentation template makes a great choice. Its clean and creative layouts cover over 50 unique slides. This PPT wedding template also comes with 500+ scalable vector icons that make your slides even more engaging.
The Wedding PowerPoint Template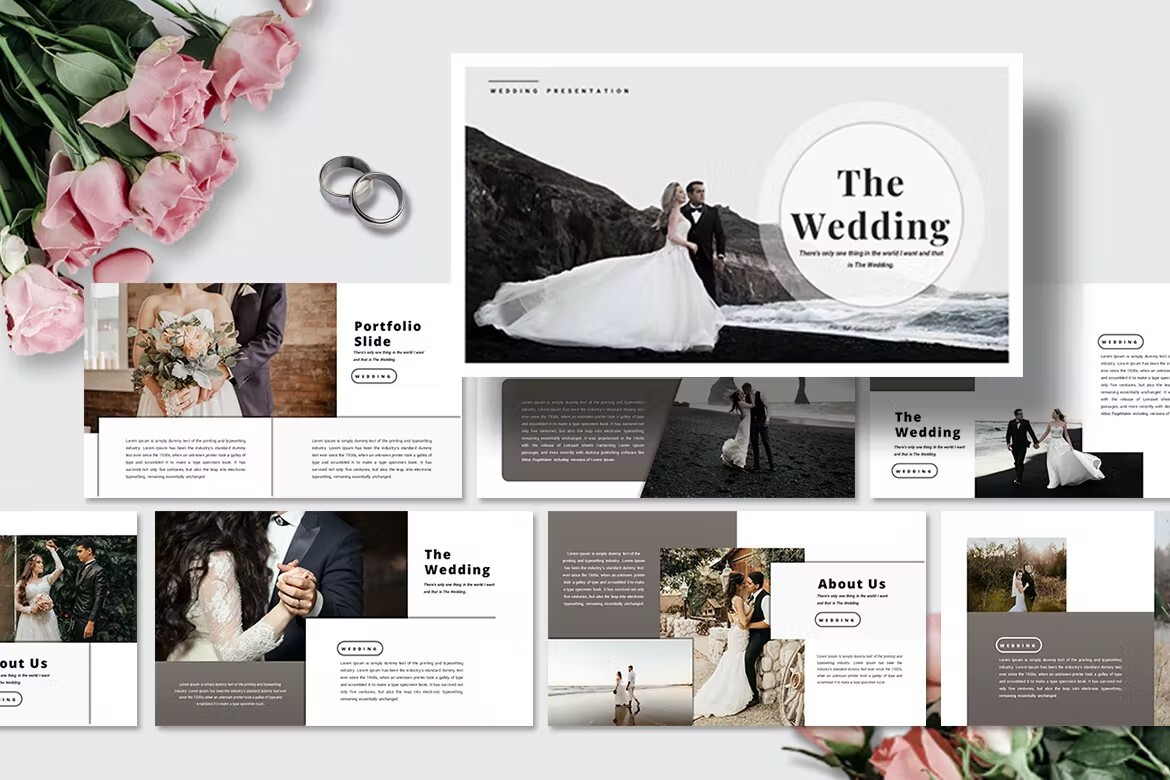 Want something romantic, yet playful? Check out the Wedding PowerPoint Template. Hand-drawn icons and illustrations come together in one unique wedding PowerPoint background presentation. Choose from the five premade color schemes or make your own that fit your wedding slideshow ideas. You get 30 unique slide layouts and all slide animations and transitions already built in, which saves you a ton of time.
Simple Wedding PowerPoint Template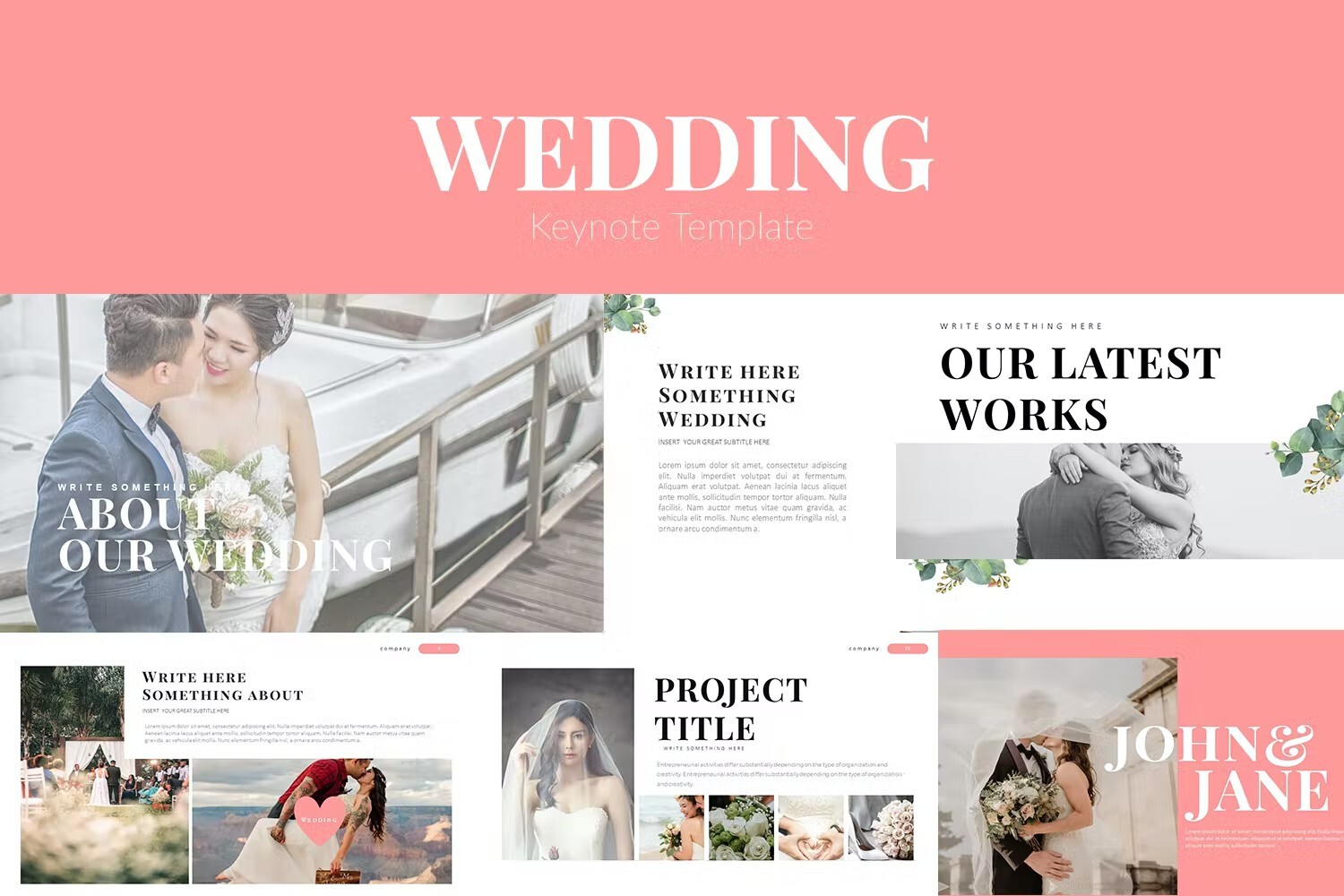 Childhood and courtship photos take center stage in this wedding PowerPoint theme, with its creative use of image masks. It comes with 30 unique bride slides and six premade color schemes. Drag and drop your images into the placeholders. Easily change colors—this wedding PowerPoint theme is fully customizable.
Hansen – Wedding PowerPoint Template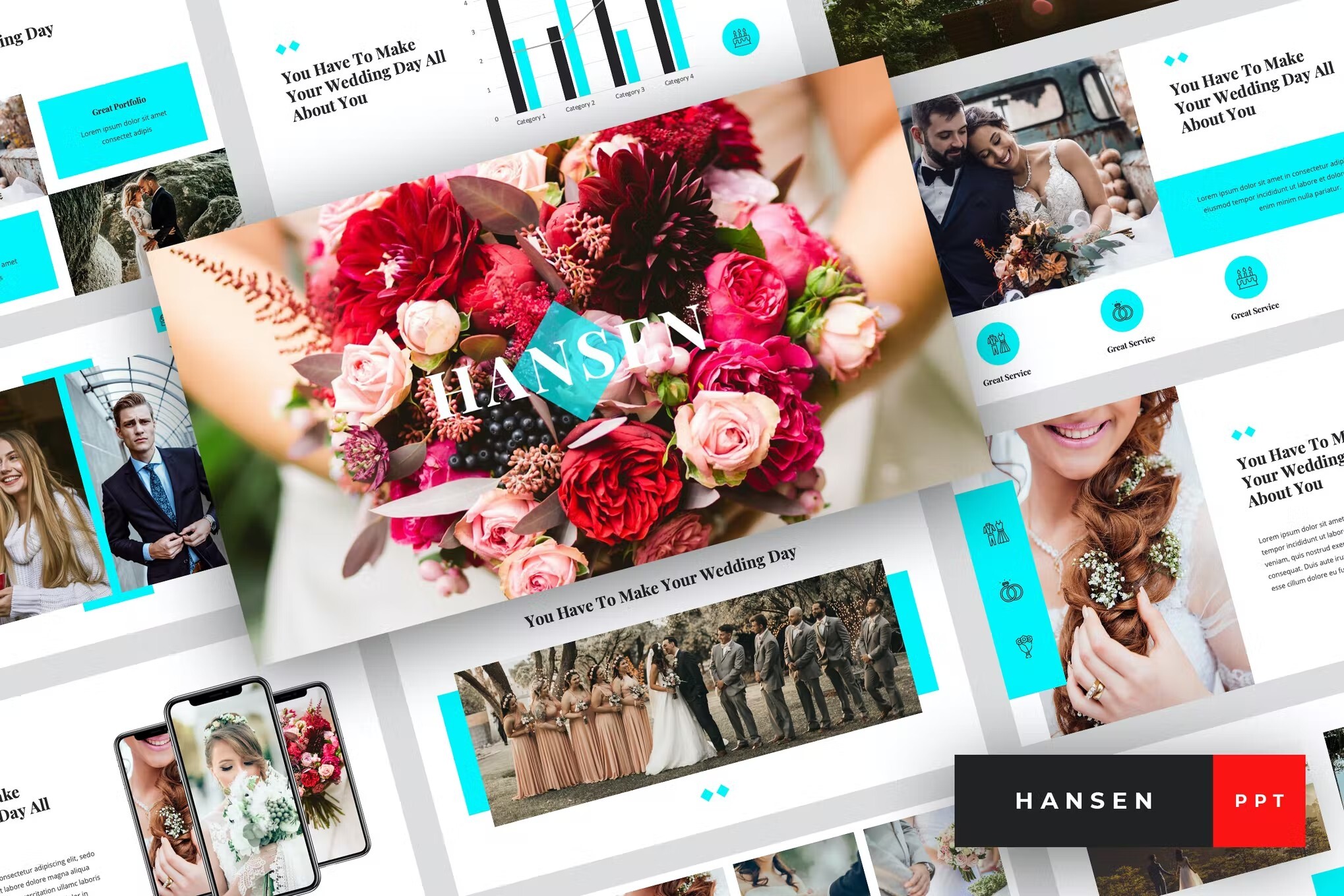 Wow your guests with the unique and creative layouts of the Hansen wedding presentation template. It comes with 30 slide layouts and five color variations. Use one of the handcrafted infographics to tell your love story. All graphic elements in this wedding PPT are resizable and editable in PowerPoint. Adding your own pictures into the placeholders is drag-and-drop easy.
Wedding Organizer PowerPoint Template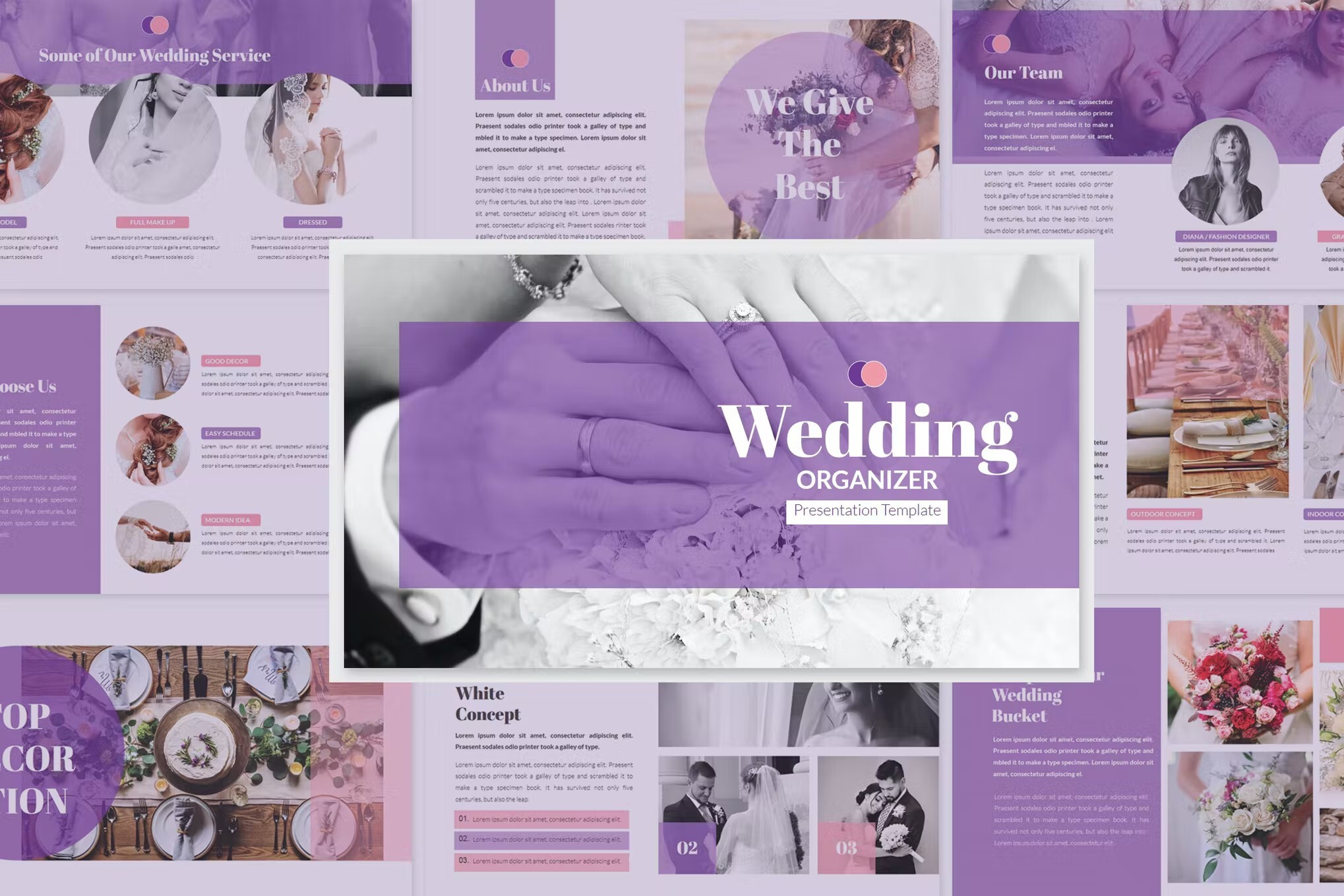 This is a wedding PowerPoint template that can share your love story with attendees. This template has 60 unique wedding slides. It also comes with icons you can use in your wedding presentation PPT. You can play around with the different layouts as well as with the dark mode slide designs.
Lovely Wedding PowerPoint Template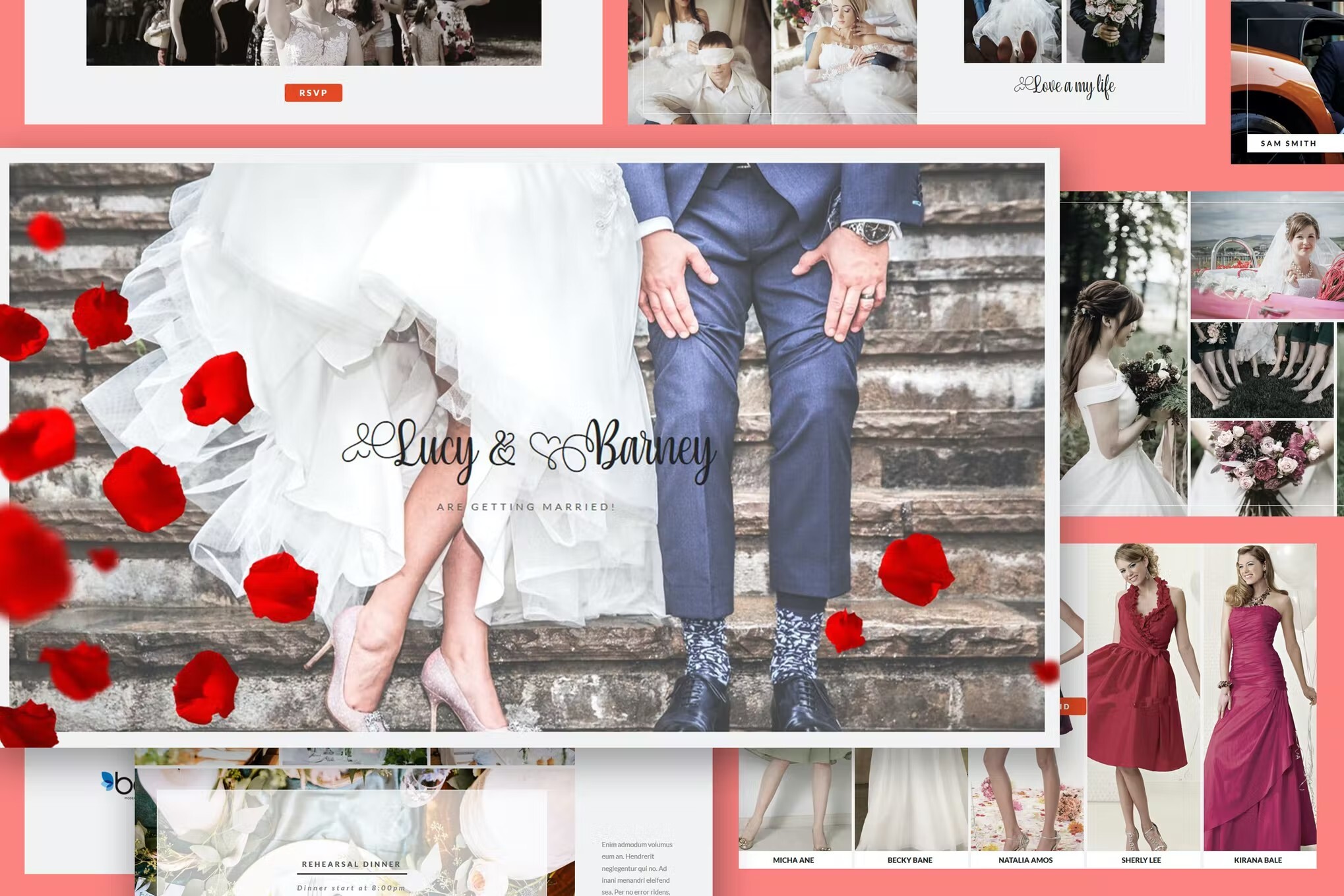 If you're looking for elegance in your wedding slide backgrounds, look no further than the above-featured product. It's another wedding slideshow template that's got a high-end look and feel. Easily showcase photos from your big day. Use the links to get the elegant fonts in this wedding presentation PPT.
Lyana – Wedding PowerPoint Template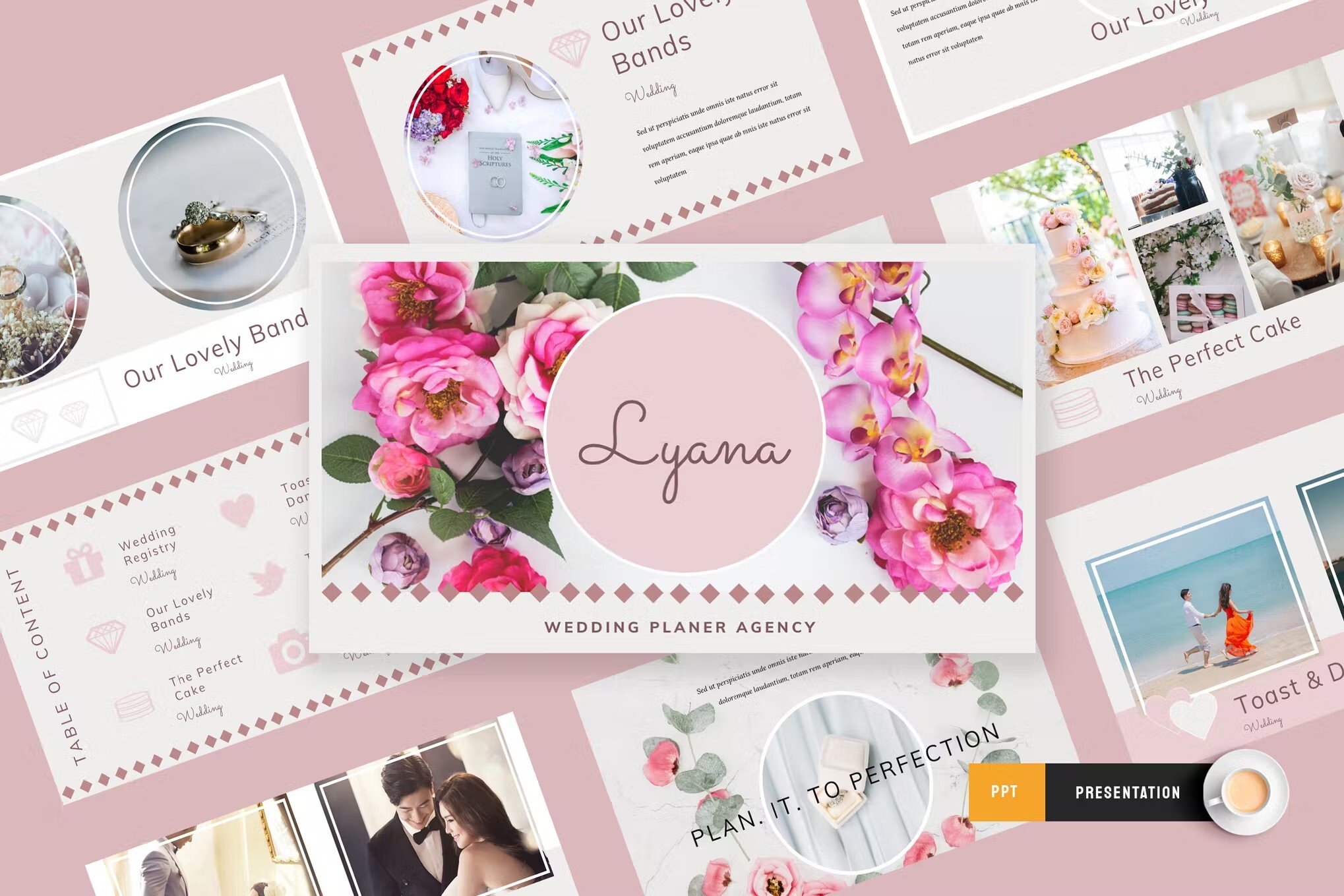 With the help of the Lyana template, you'll be able to create a beautiful and minimalist wedding photo slideshow. Complement your relationship's photos with written details about your wedding. This is a great way to create a journal about your wedding. If that's something you'd like to do, consider this wedding PowerPoint background.
Elegant Wedding PowerPoint Template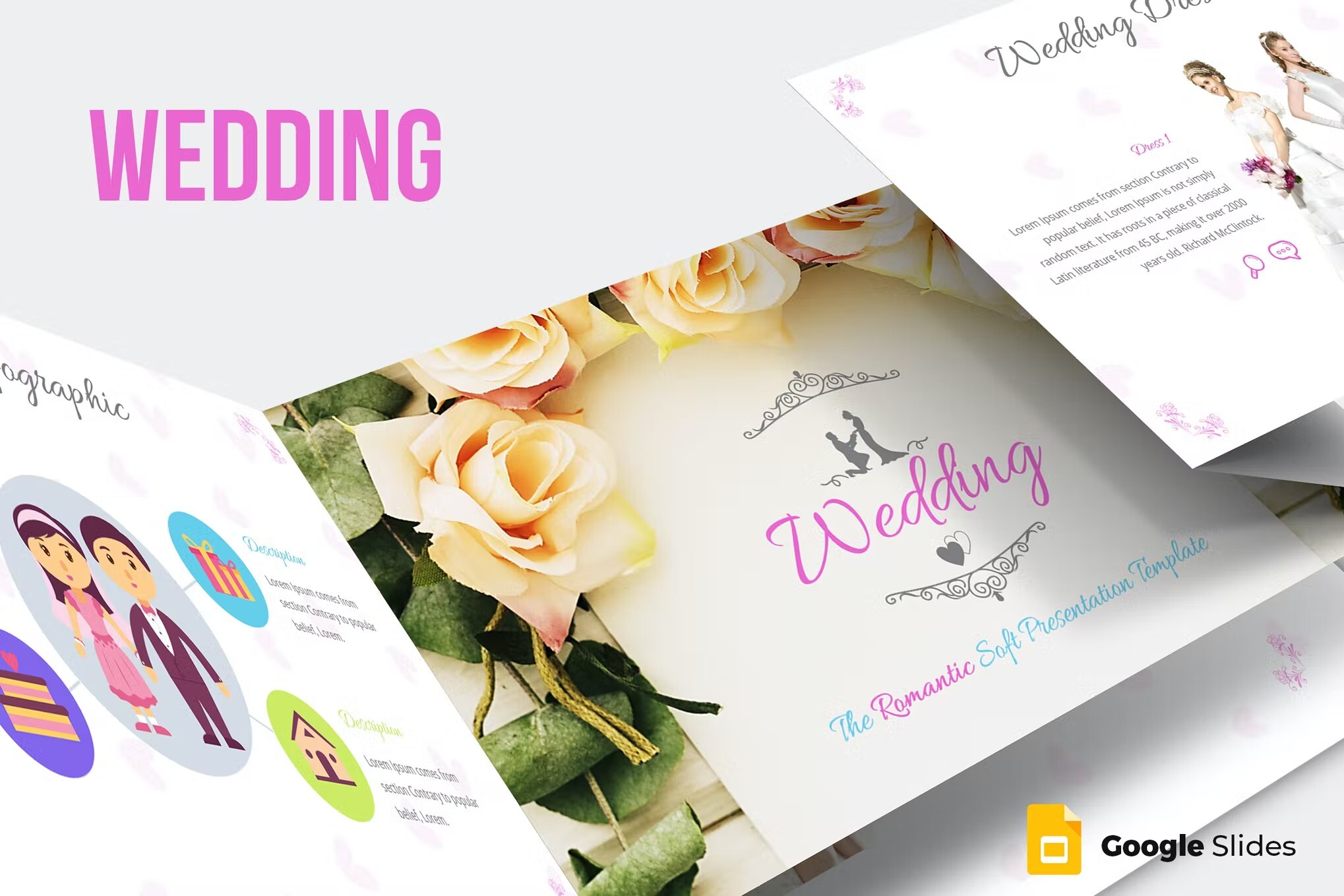 These professionally designed slides make a stunning wedding PPT presentation. The overlay picture effects will have guests wondering if you hired a professional slide designer. And the built-in slide animation will make the PowerPoint wedding photo slideshow look virtually like a video. These wedding PPT templates will be easy to customize with your own color scheme and graphic elements.
Wedding Planner PowerPoint Template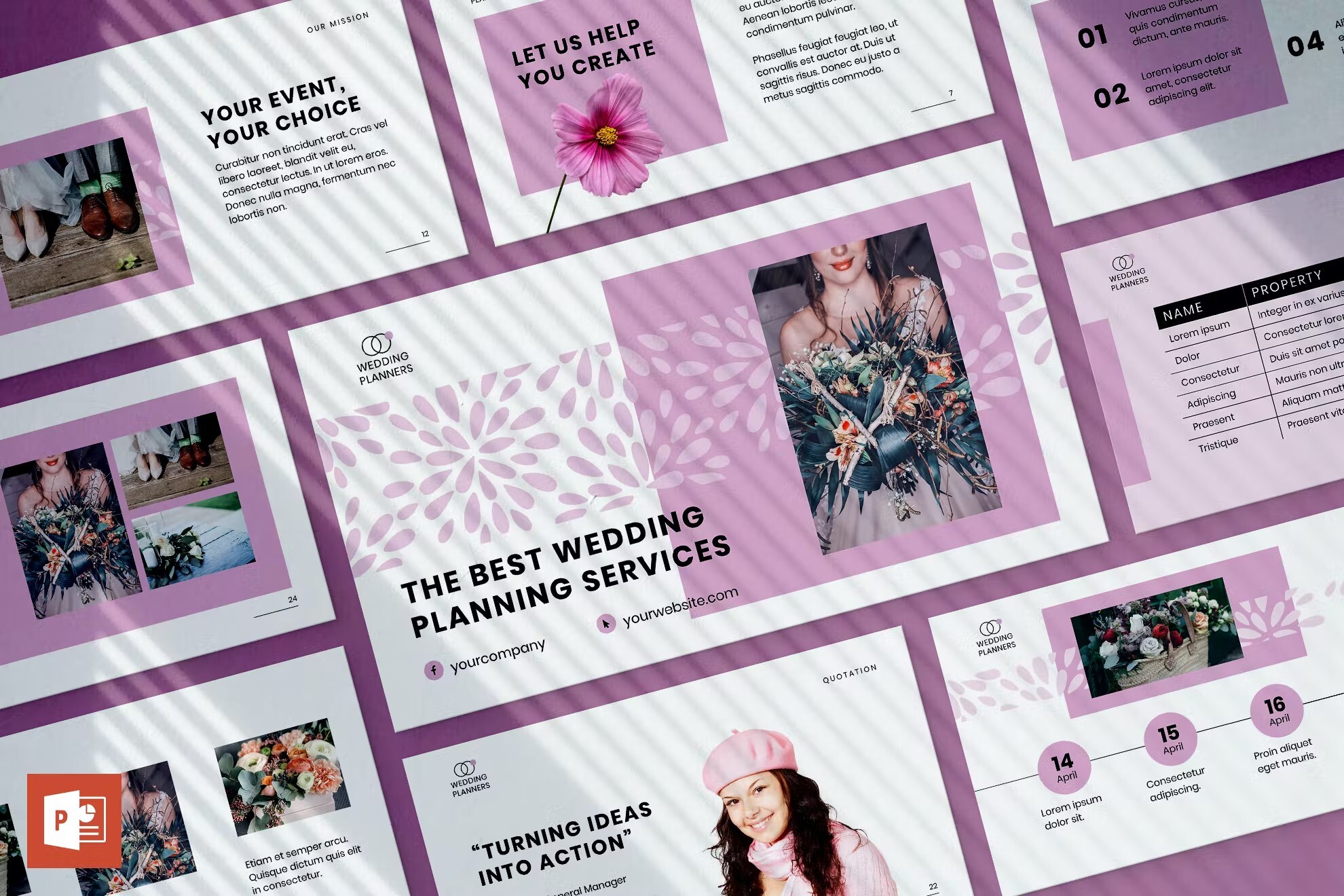 This wedding PowerPoint template is perfect for couples that want slides that pop. Easily change the size and color of all graphic elements to suit the newlyweds and wedding ceremony. Using only free fonts, this theme provides everything you need for a stunning wedding presentation. You know that free wedding PowerPoint templates can't compare to this one.
Weddio – Wedding PowerPoint Template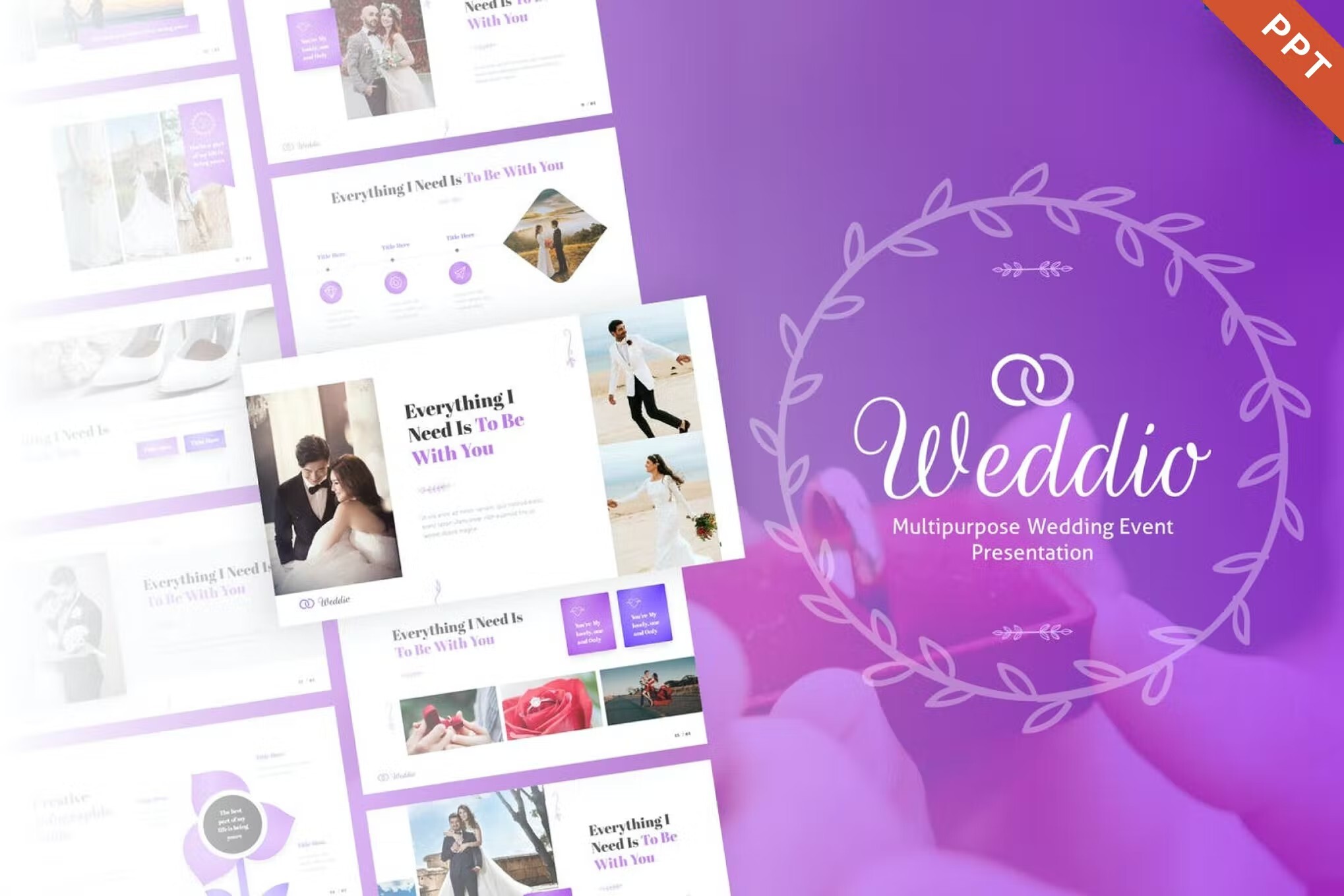 For the ultimate elegant PPT, look no farther than the Weddio wedding PowerPoint slideshow template. It includes 31 unique wedding slides and completely customizable colors. You can experiment with the different image masks and layouts for your wedding slideshow ideas. If a minimal style is what you're after, try out this subdued wedding PowerPoint theme.
Brides – Wedding PowerPoint Template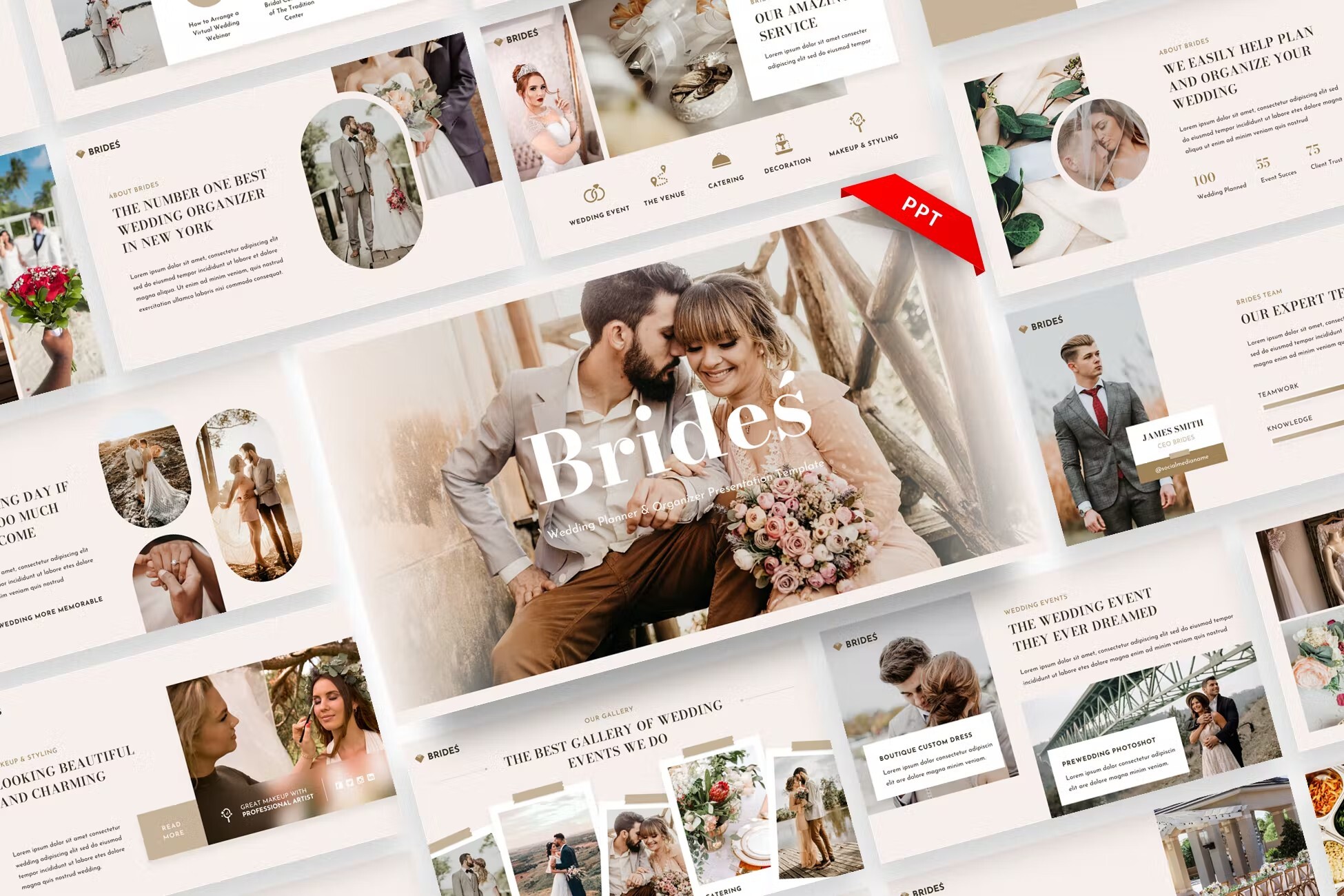 Brides is a brand new wedding slideshow template. This wedding slideshow stands out with its clean, modern and minimalist design. It's perfect if you work as photographer and you need to do a wedding photo slideshow.
Minimal Wedding PowerPoint Template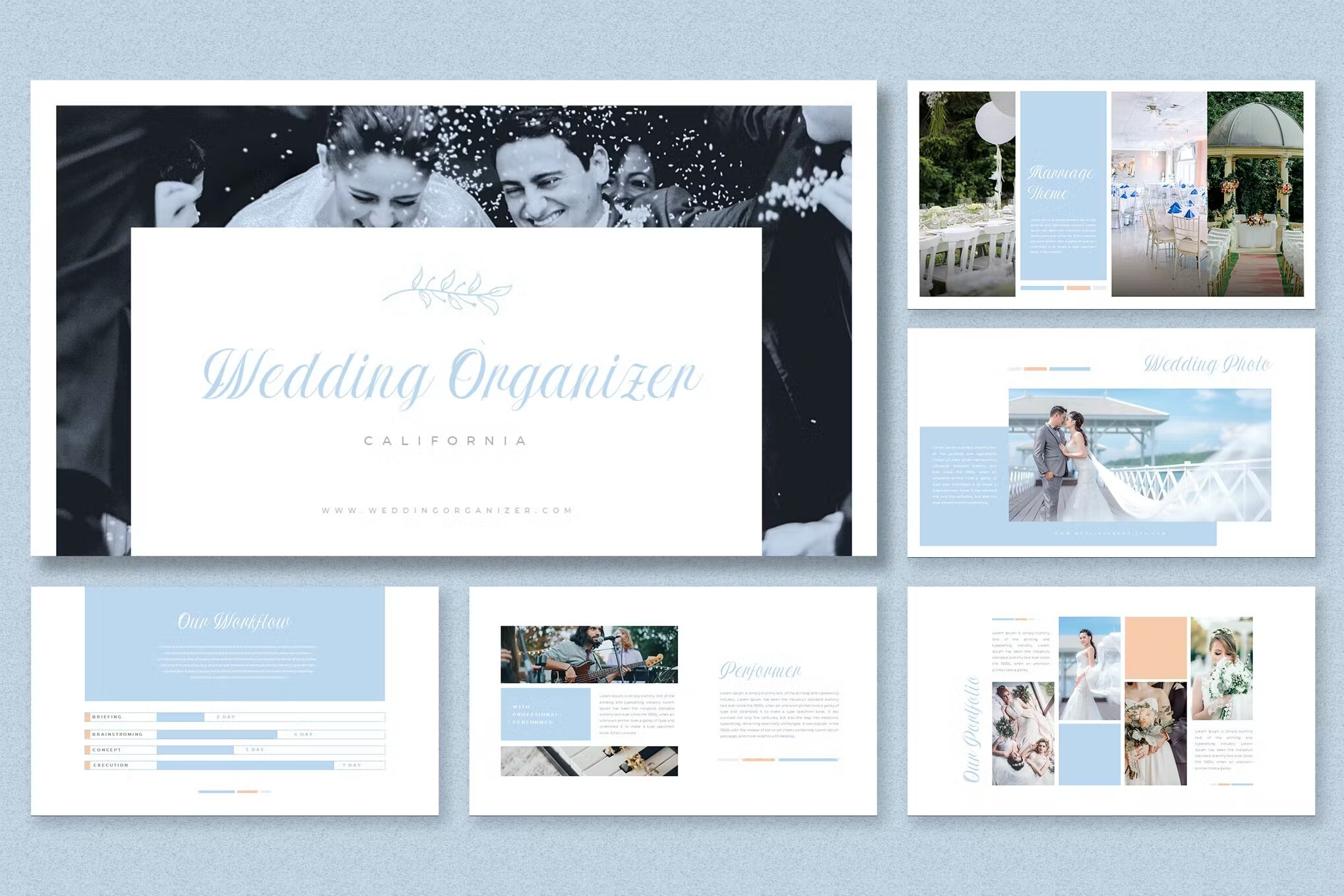 This wedding planner PowerPoint presentation is perfect for event organizers. Save hours of your time with this wedding PowerPoint theme and easily customize it for your clients.
Qawen – Wedding PowerPoint Template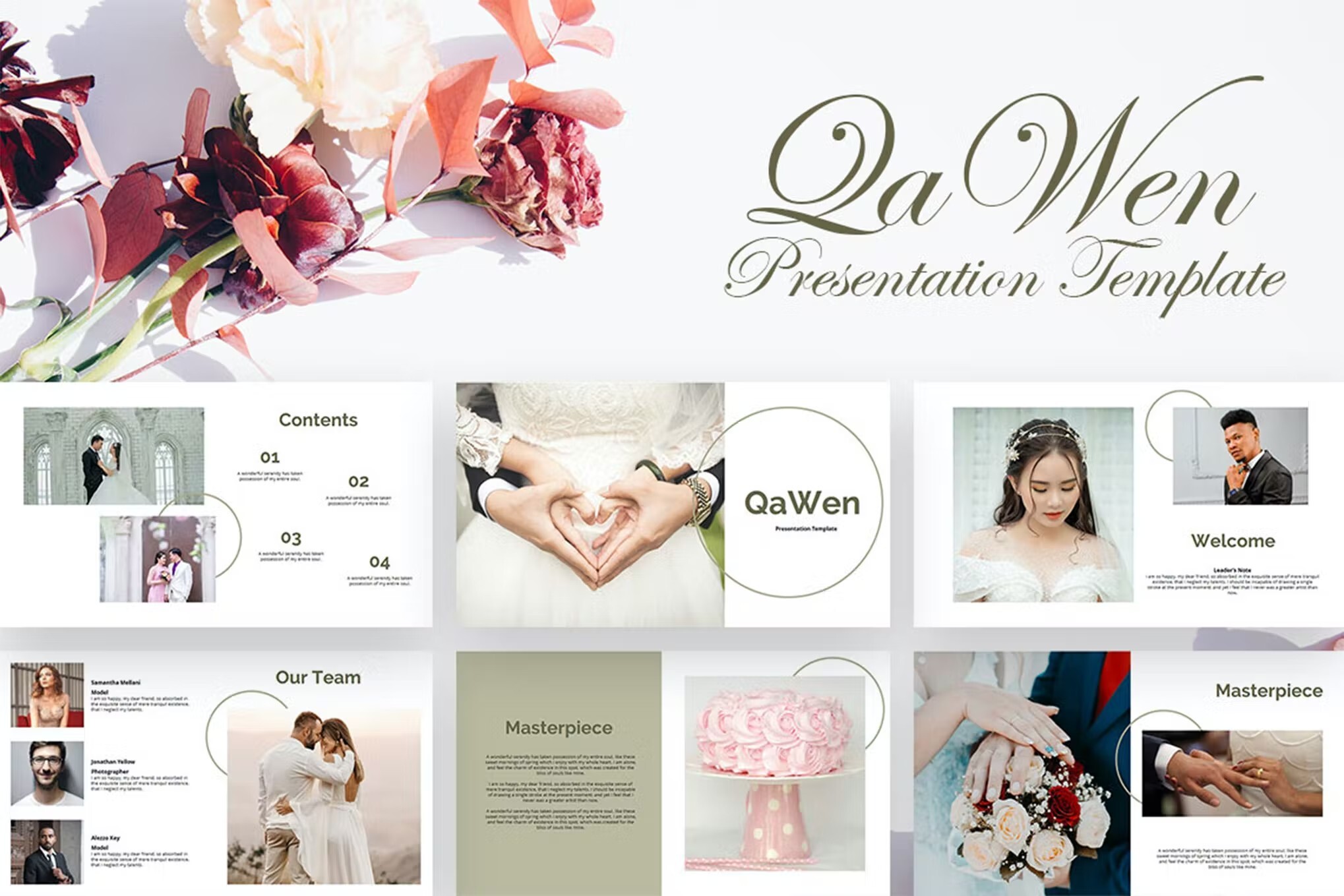 A big part of every wedding are the photos. If you're a professional photographer, or you wish to show your wedding photos to your loved ones, this wedding photo slideshow is for you. This wedding PowerPoint background theme is professionally designed to present images. Free wedding PowerPoint templates won't offer you what this wedding slideshow has.
Wedding Lookbook PowerPoint Template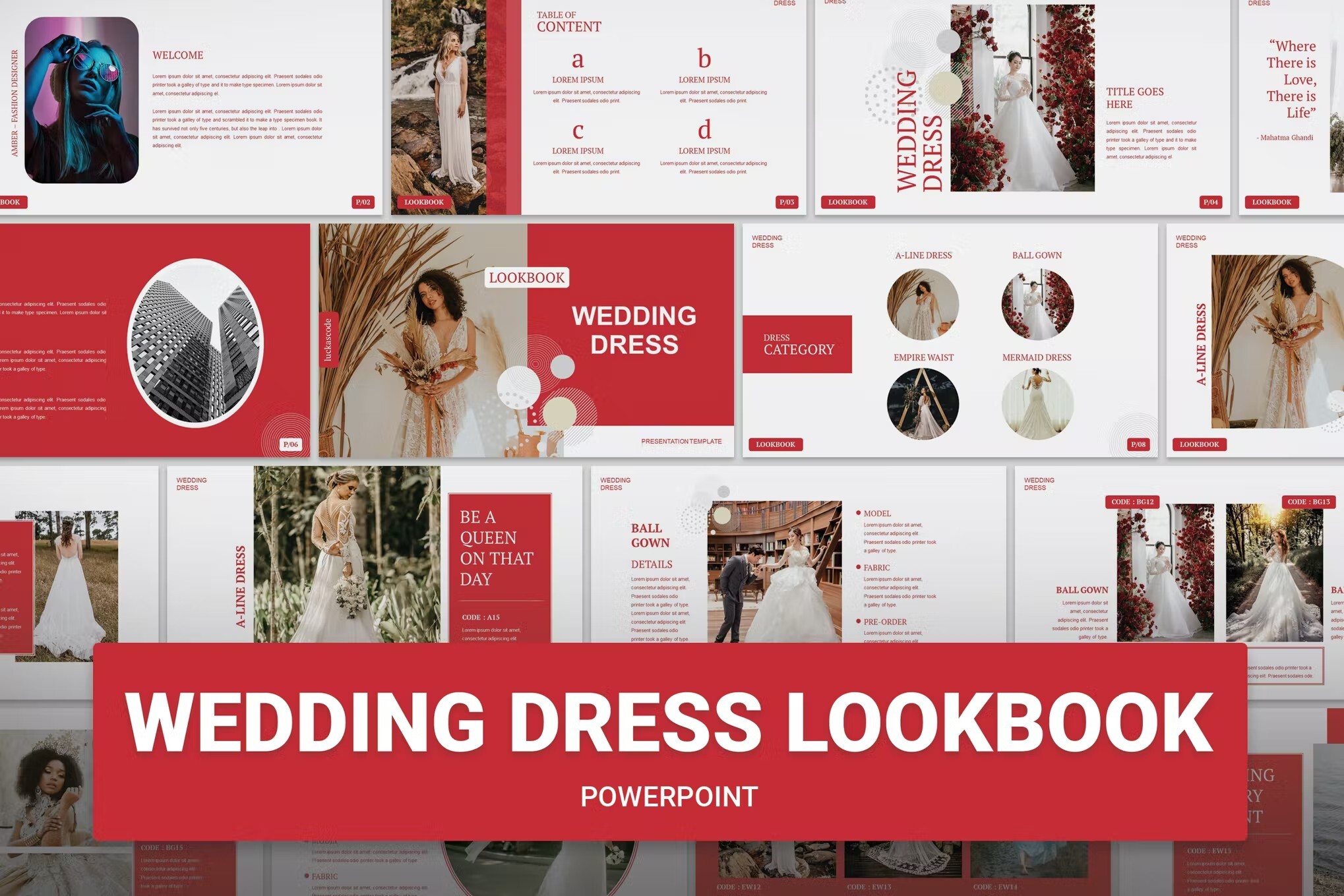 This is a wedding PowerPoint template with a classic design. This template has 36 total wedding slide backgrounds that you can use for your presentation. Easily add any image you want by dragging and dropping the image into the image placeholder. If you're after the best wedding PowerPoint examples, this template is one of them.
Violetta – Wedding PowerPoint Template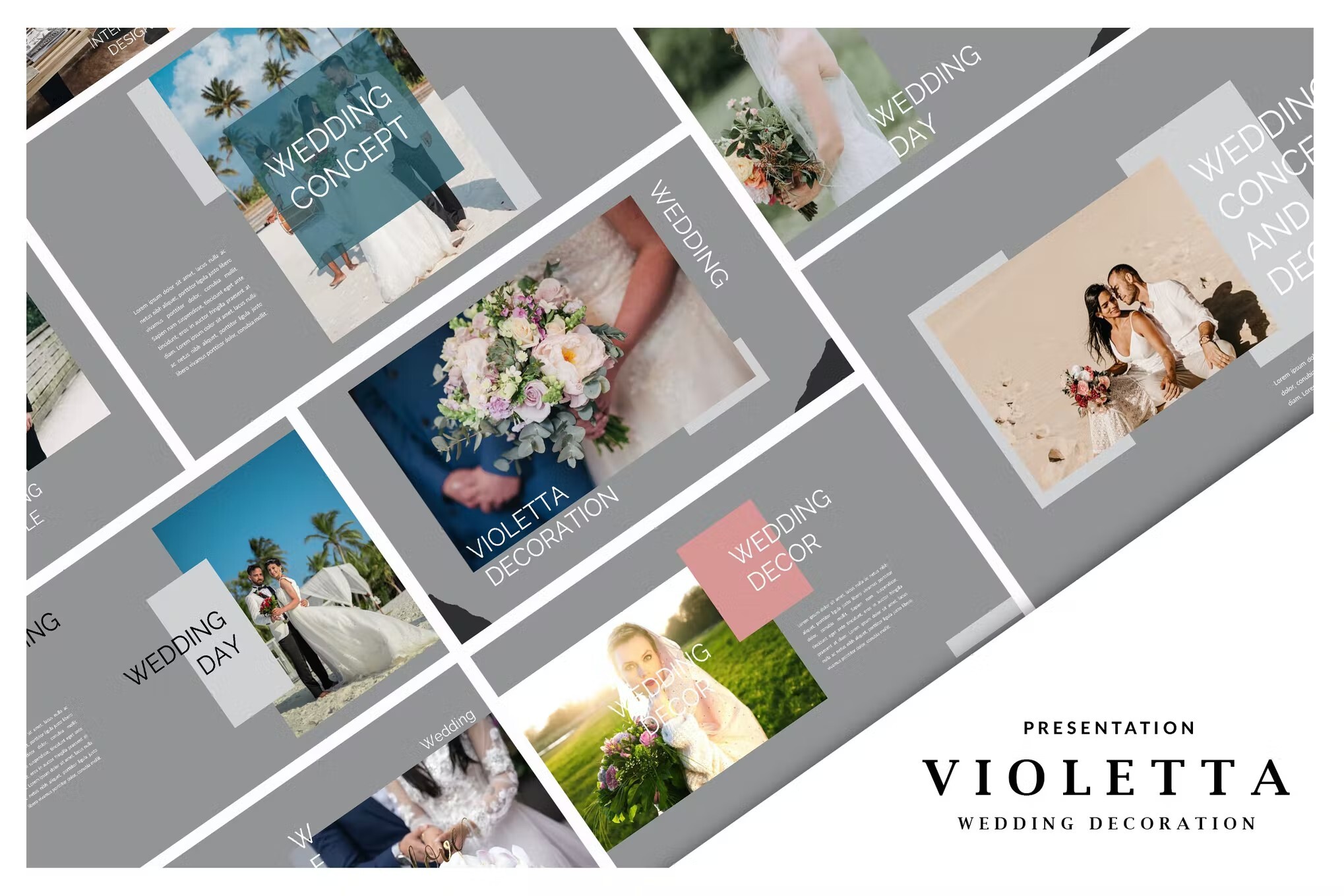 Violetta wedding presentation template has an elegant design that comes in both light and dark versions. This template comes with over ten color schemes to choose from and over eighty icons that you can use in your presentation. Violetta has 64 total bride slides including over 35 masters. Use it for yourself or as a wedding planner PowerPoint presentation template.
Moment – Wedding PowerPoint Template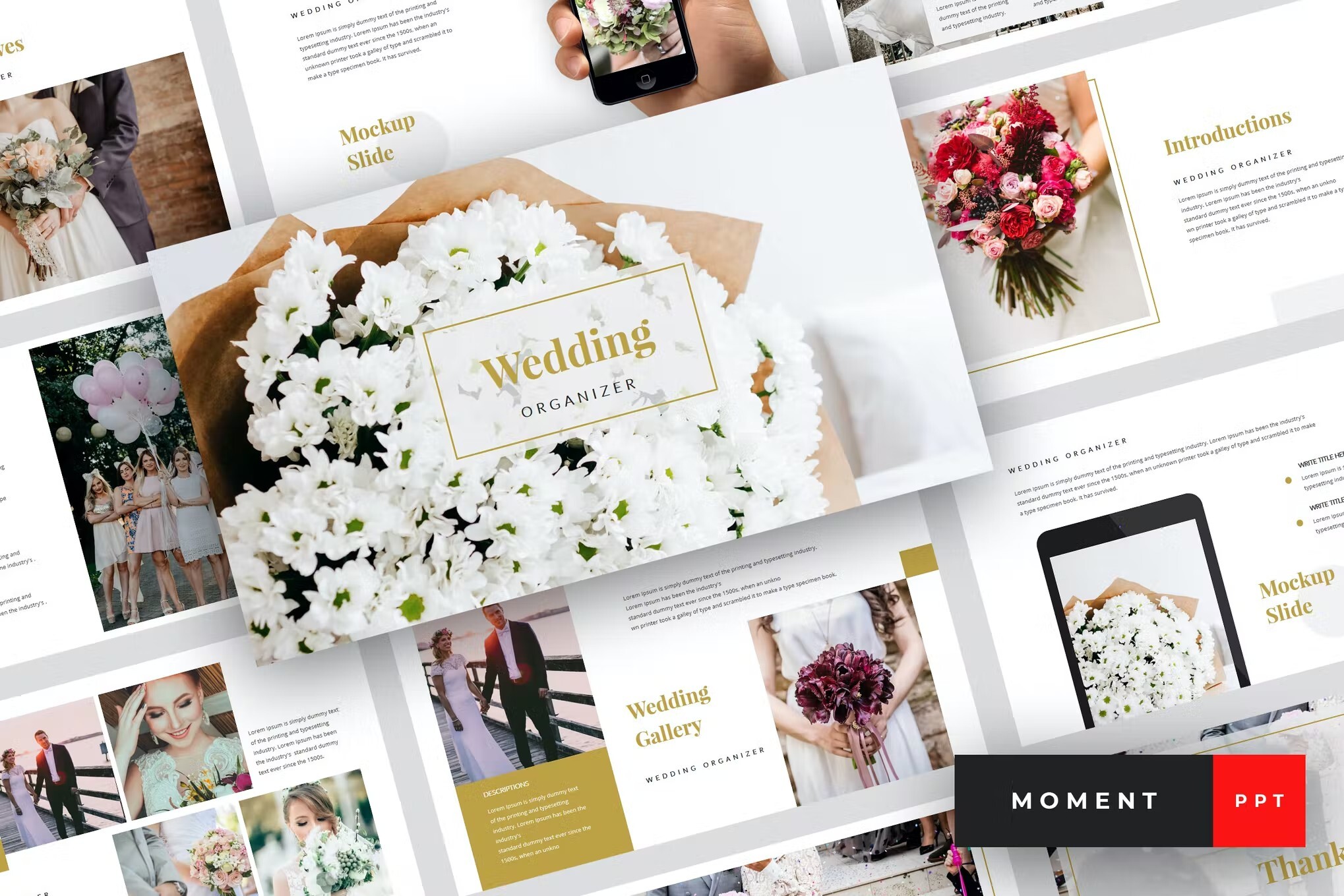 Show off childhood photos of the happy couple in the elegant design of Moment Wedding Presentation Template. It offers 68 unique slide layouts with a choice of light or dark color schemes. Of course, you can easily change it to match the ceremony's color motif because this template uses master slides. And the wedding slideshow template comes to life with custom animation and transitions pre-made for each slide.
Simple Wedding PowerPoint Template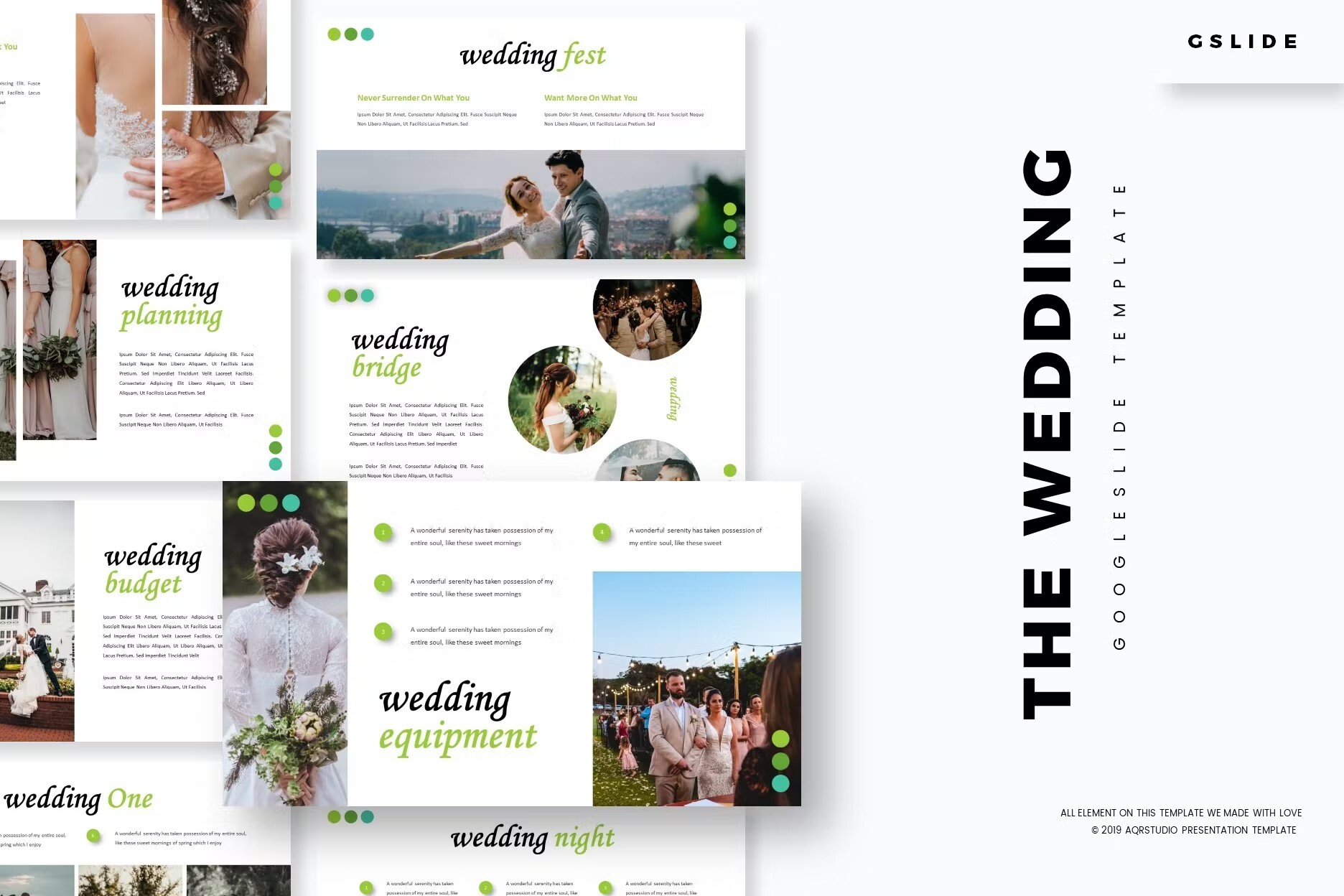 This simple PowerPoint template doesn't look like a wedding PPT template at first glance. But when you take a closer look, you'll notice it's a great choice for wedding photo slideshows. It features a photography-based layout. Easily add your best wedding photos along with a few lines that describe that perfect moment.
Kumea – Wedding PowerPoint Template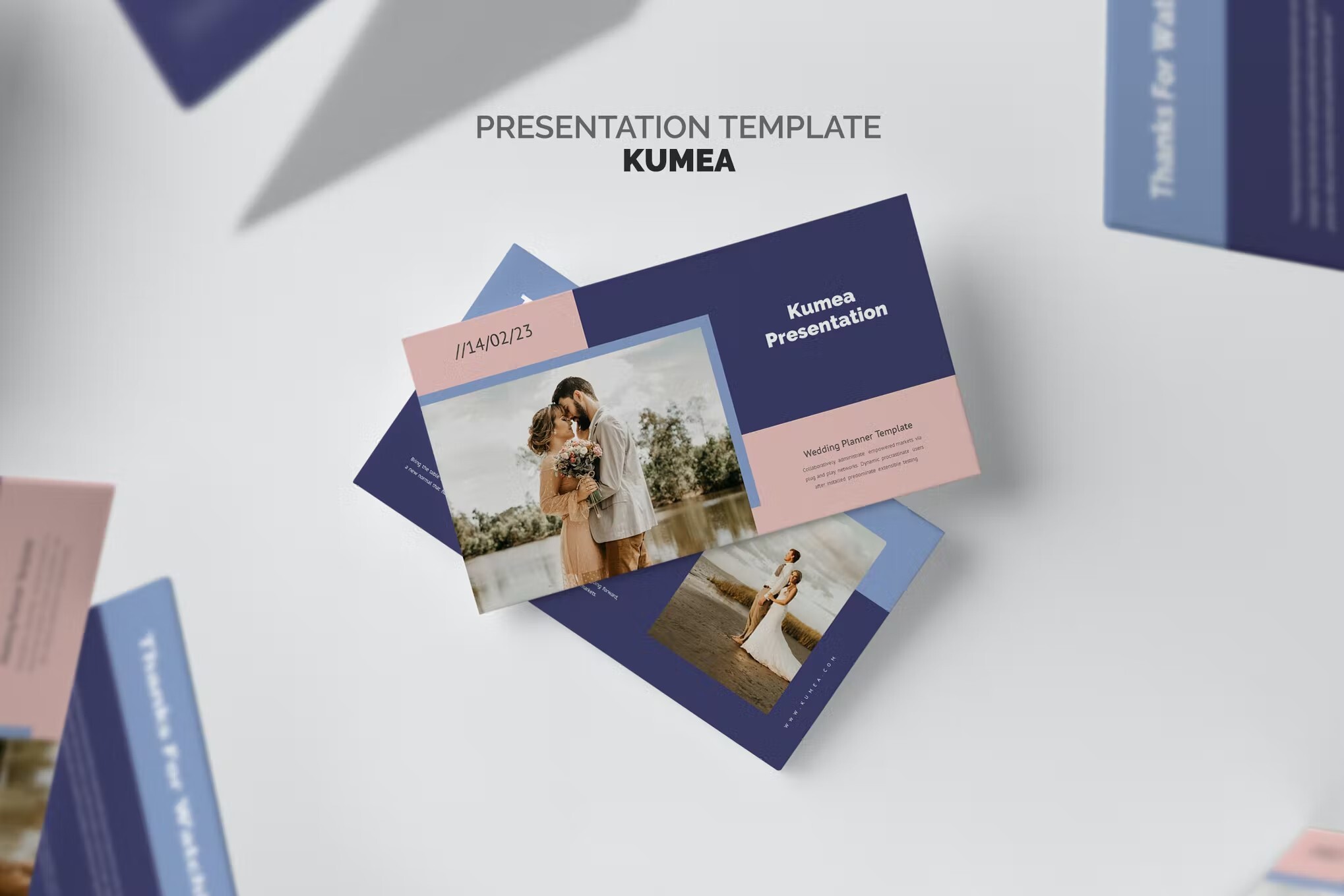 Thanks to its high-end look and feel, the Kumea template lends itself well to the best wedding slideshows. Easily create full picture slides as well as combination wedding slide backgrounds with both photos and text. There's no doubt Kumea should be one of your options if you need a wedding presentation PPT.
Lovera – Wedding PowerPoint Template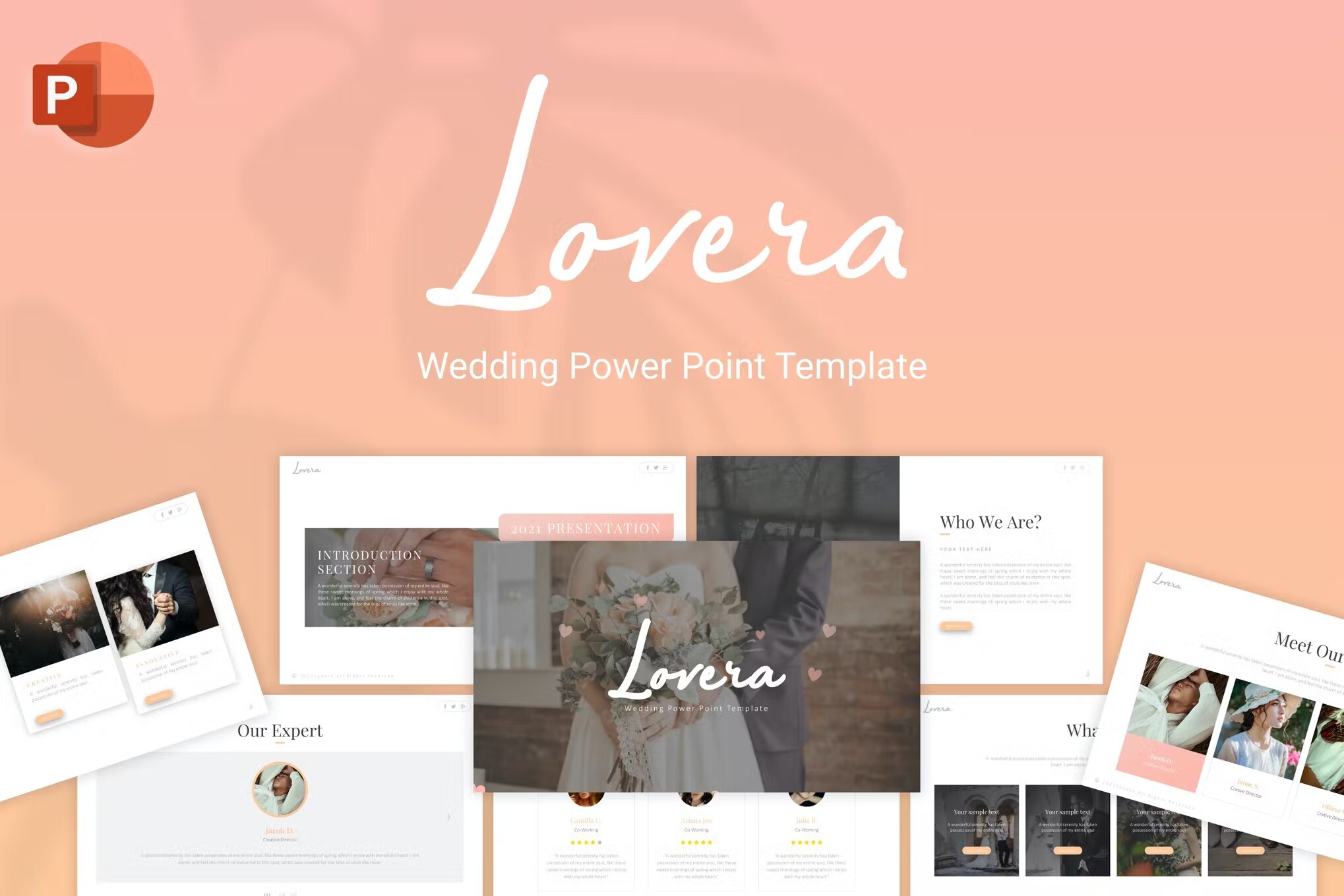 This template can be used as a wedding planner PowerPoint presentation template. It has 30 different slides that you can add information or pictures to. The Lovera PowerPoint template has a nice clean design that goes with any wedding theme.
Free Wedding PowerPoint templates
Rochester – Free Wedding PowerPoint Template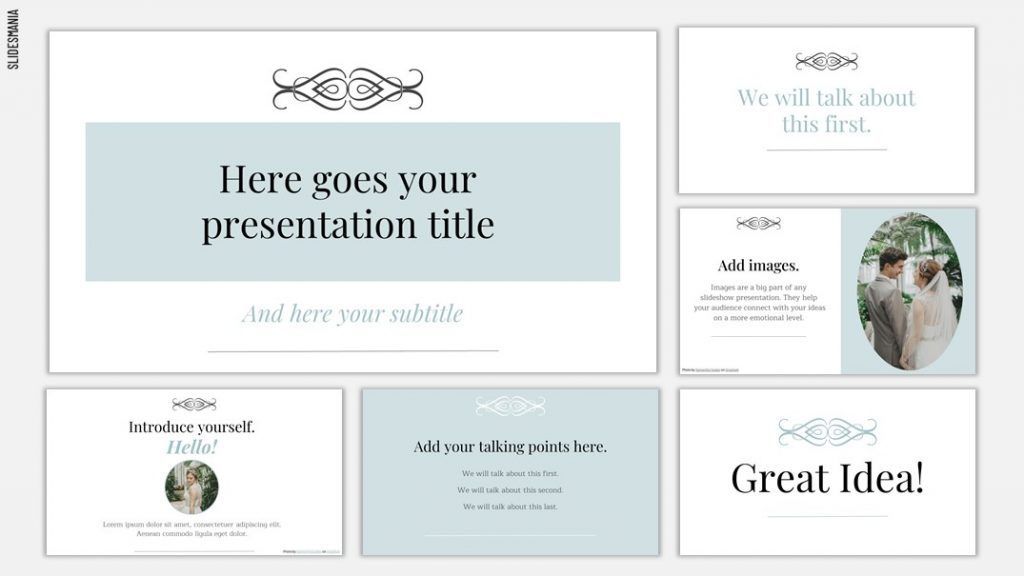 Rochester is a free and elegant template for Google Slides or PowerPoint. It works for a presentation, school lesson or assignment about classic literature. It's also perfect for planning a wedding or if you are a wedding planner, you can use Rochester to present your proposal.
Celebrations – Free Wedding PowerPoint Template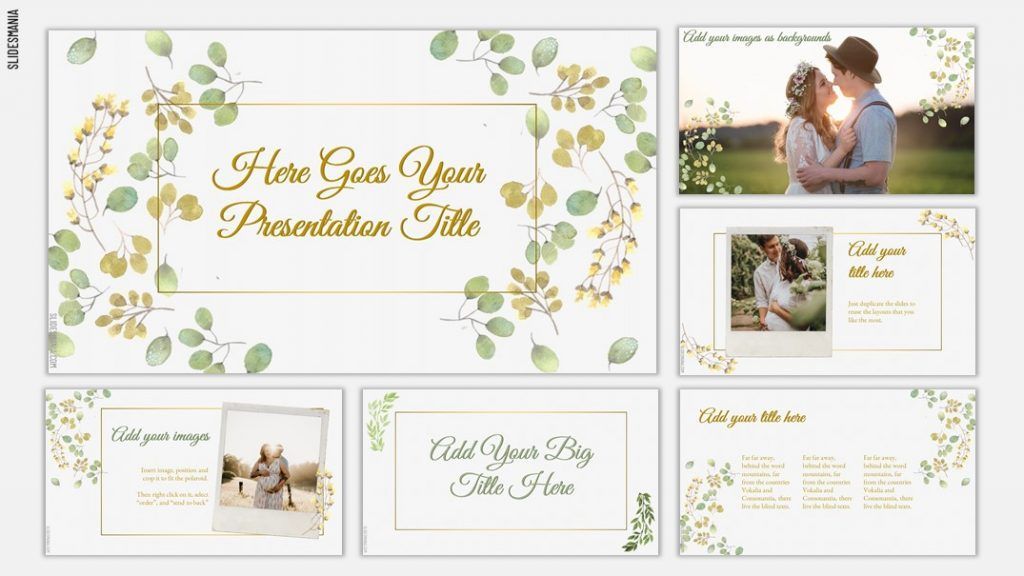 This Google Slides, and PowerPoint theme is perfect for celebrations; you can use it for a baby shower, an engagement party, or even a wedding.
Wedding Love – Free PowerPoint Template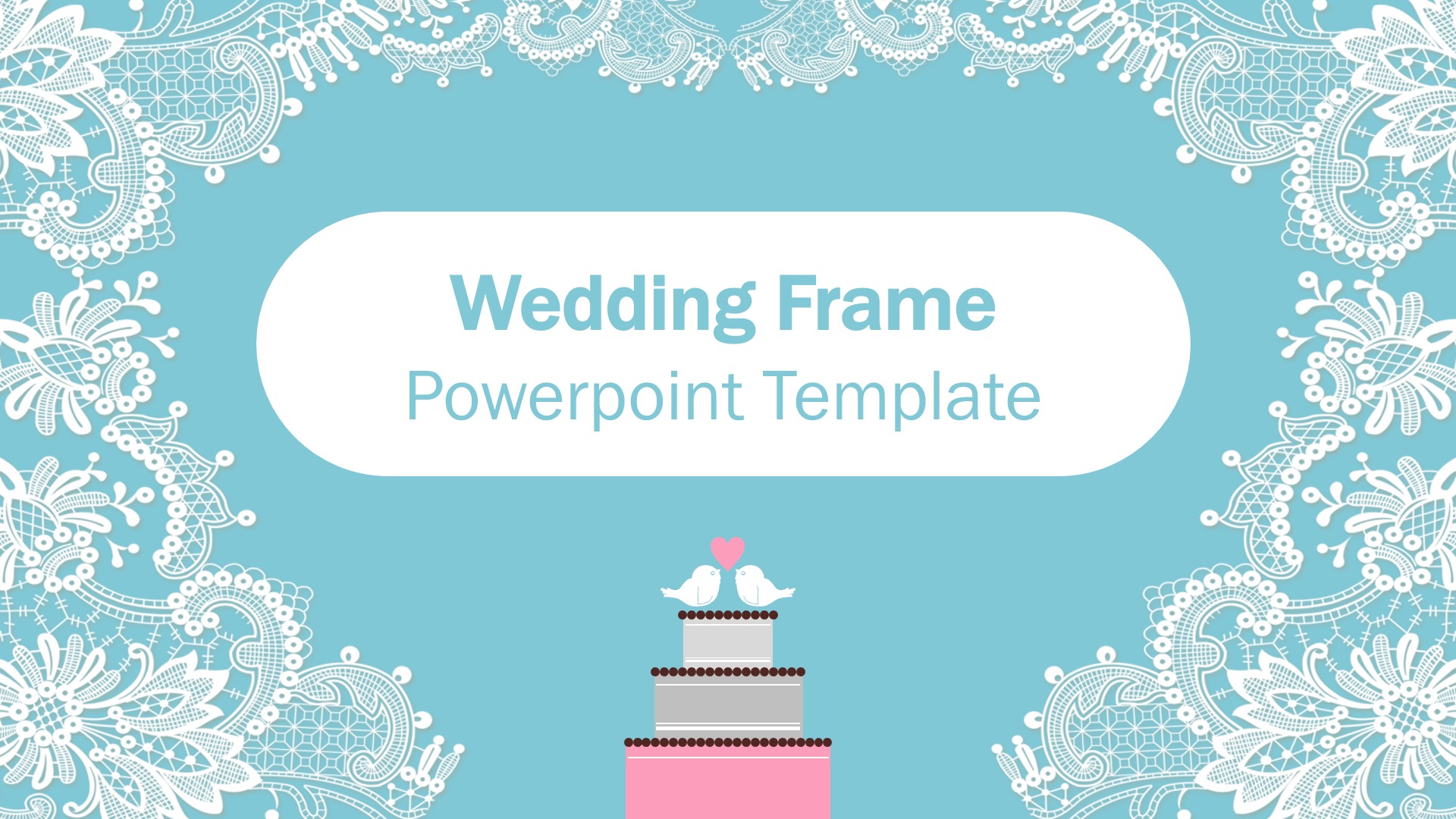 This free template is a beautiful and simple design for PPT presentations. This wedding template can be used by wedding planners but also by companies who offer or distribute products for weddings.
Dream Love – Free Wedding PowerPoint PowerPoint Template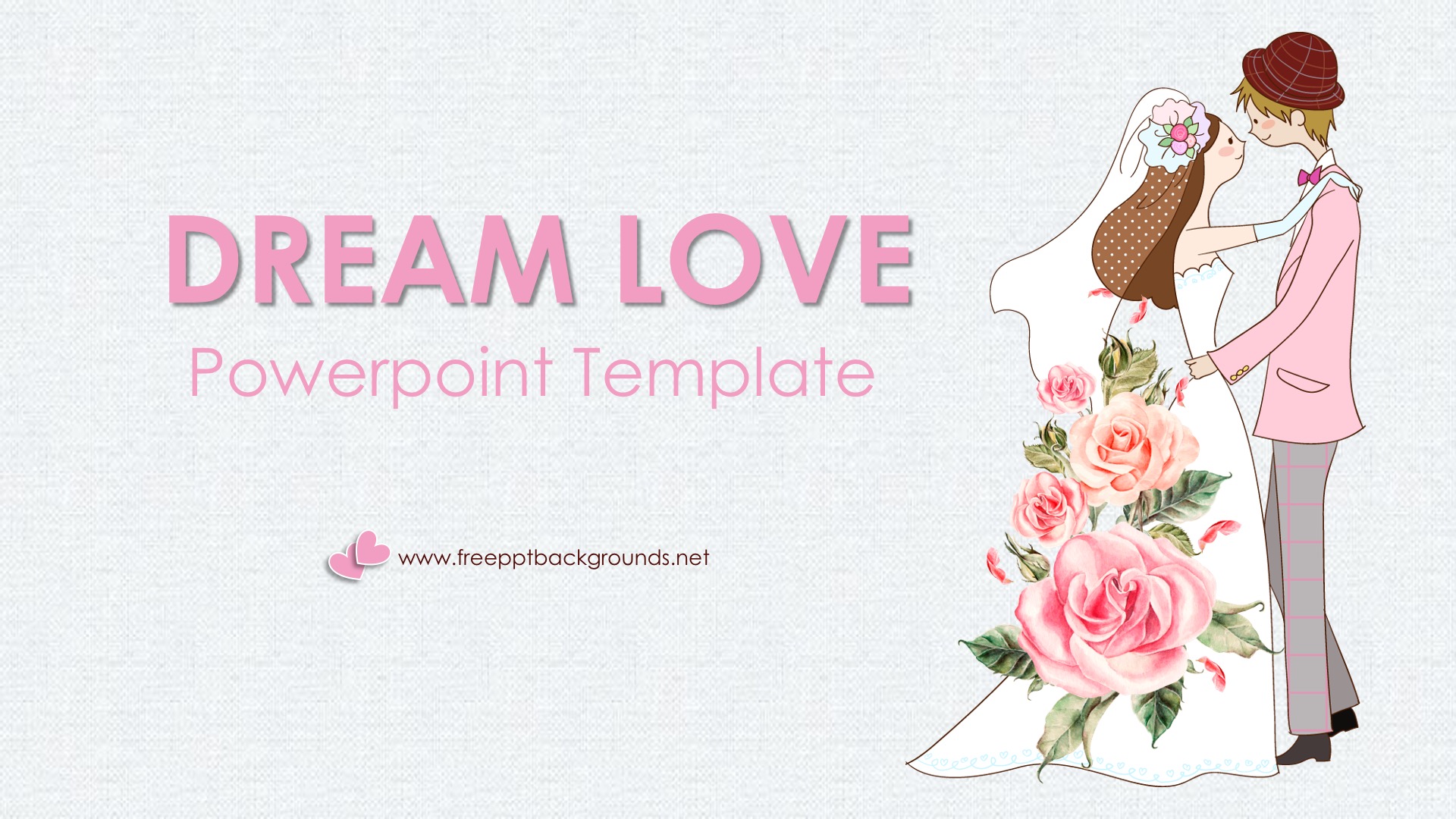 This is a lovely wedding themed template with pink toned colors and images. It includes diagrams, charts, and icons. Download free Dream Love template for Powerpoint and Google Slides.
I love You – Free Wedding PowerPoint PowerPoint Template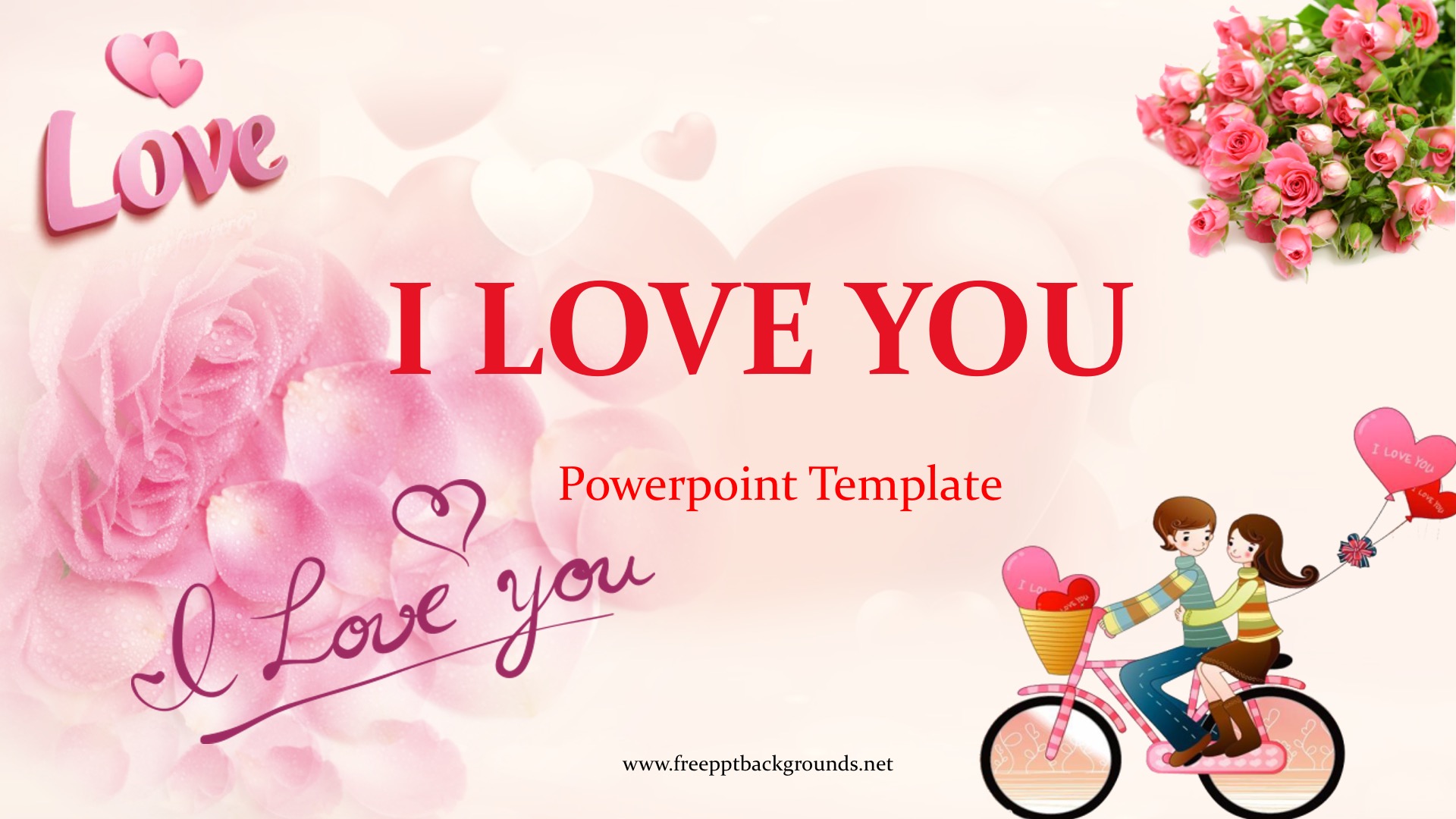 I Love You Template is a free PowerPoint background that you can download for love presentations, wedding as well as anniversary or engagement. This free PPT template is also good for couples falling in love as well as other presentations on love.
By: Sanchi Gupta
Title: 20+ Wedding PowerPoint Presentation Ideas & Templates
Sourced From: designshack.net/articles/inspiration/wedding-powerpoint-templates/
Published Date: Sat, 23 Jul 2022 09:00:29 +0000