Beanies and hats are one of the most popular branded "swag" items out there, and are a common choice for businesses wanting to create products with their brand or logo on them – it's both a functional item, and a marketing tool! But what if you go through all the trouble of creating a design, choosing a hat style and paying for manufacturing and shipping, only for it to arrive and look nothing like you imagined?
That's where our list of mockup templates comes in. We've curated a list of the very best, professionally designed mockups out there for you to choose from – simply insert your design into the template, and you'll instantly have a realistic idea of what your design will look like.
Plus, we've included both free and premium options, with a range of different hat types and aesthetics, to make sure that there's something for every possible need.
Let's get started!
Bucket Hat Mockup Templates
This is a complete set of bucket hat mockups that allow you to show off your hat designs from all angles. There are 4 different mockups in this pack, including one that lets you show the hat hanging on a rack. You can fully customize each template, including the color of the stitches.
5 Baseball Cap Mockup Templates
This pack includes 5 beautiful and minimal mockup templates for showcasing baseball caps. All of the templates have organized layers and smart objects. You can change the colors and edit the effect with just a few clicks.
Pom Pom Beanie Mockup Templates
A collection of cool mockup templates for all your pom pom beanie designs. There are 5 different mockups in this collection that shows the beanie in different sides. It's perfect for promoting your products on online stores and social media.
Snapback FullCap Mockup Templates
If you're working on a snapback cap design, this mockups bundle will help show off your designs in a professional way. It includes 8 different mockups in PSD files. Each template features editable shadows, reflections, and customizable backgrounds.
Baseball Cap Mockup Template
You can use this mockup template to show your baseball cap designs using a full front-facing view. It's great for branding, badge, and logo presentations as well. The template comes with a changeable background and smart objects.
Helmet Hard Hat Mockup Templates
With 5 realistic mockup templates to choose from, this mockup set is perfect for presenting your hard hat designs as well as for promoting a construction company. The templates come as fully customizable PSD files.
Woman In The Woods Beanie Mockup Template
If you're looking for a realistic mockup design to showcase your beanie, consider this premium template from Placeit that features a young woman in the woods, looking at a map, and wearing your hat! This is a great way to see what your beanie will look like in a real-life setting.
Cap On Cardboard Box Mockup Template
Here we have a photorealistic depiction of a classic "dad hat" style cap sitting on top of a cardboard box. This premium hat mockup template from Placeit allows you to change the color of the cap itself, as well as uploading your own logo and images.
Pom Pom Beanie Mockup Template
The next beanie mockup is a premium template from Placeit, featuring a warm, snuggly woolen hat with a classic pom-pom on top. The background, beanie and pom pom colors can all be customized to accentuate your design, and you can also add a personal touch to the layout with your own graphics.
Small Child Beanie Mockup Template
Perfect if you're designing a beanie for babies or small children, this premium mockup template from Placeit depicts a mother holding her young child who wears the beanie, in a soft, natural-looking setting. The beanie color can be customized, and you can also choose to include a logo in the design.
Plain Fitted Hat Mockup Template
Next in our lineup of hat mockup templates is another premium option from Placeit, featuring a standard fitted hat against a plain background. This minimal design lets you choose the color of the background and the hat, and is a great way to showcase your hat in a simple yet effective style.
Brick Wall Beanie Mockup Template
Next up, we have a selection of mockups presented in a premium template from Envato Elements, featuring five different beanie styles (cotton, knitted, heather, knitted heather, and cotton heather) and a total of 11 unique, fully layered mockup files, each offering sharp details, customizable colors and realistic shadow effects.
Snapback Cap Hat Mockup Template
Another premium template from Envato Elements, here we have a set of five high quality and easily customizable mockups depicting a three-dimensional snapback cap. This option utilizes the 3D functions within Adobe Photoshop to create an authentic, high-resolution design with shadows, reflections and interchangeable layers for every element.
Construction Helmet Hat Mockup Template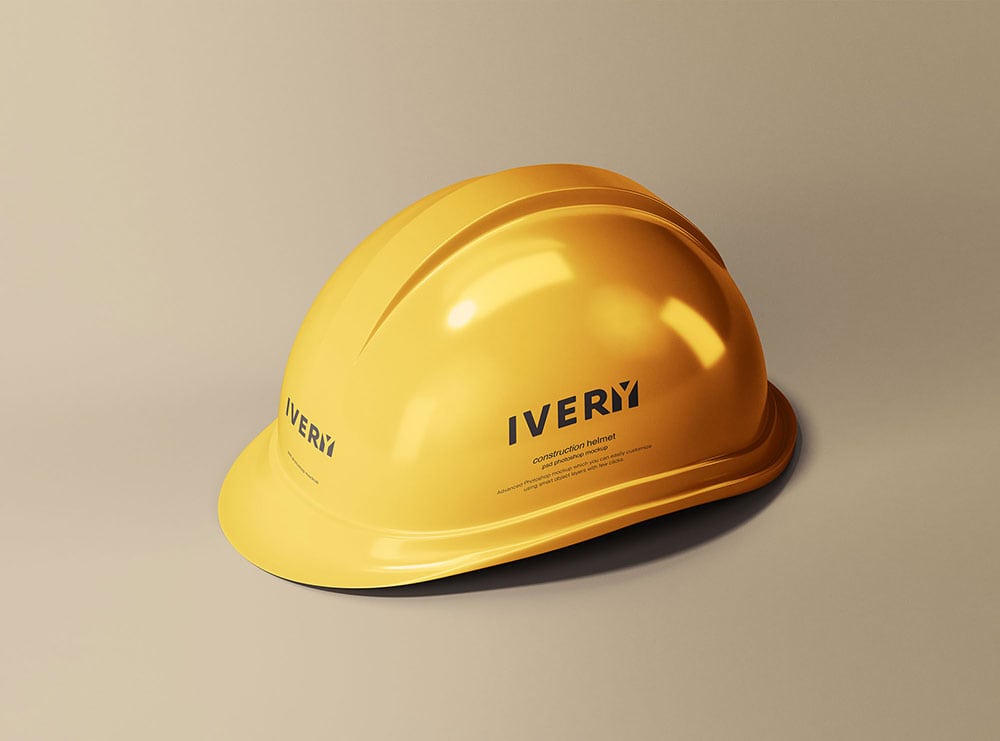 If you're designing a construction helmet or safety hat, look no further than this free mockup template from Mockup Tree, which uses smart object layers to display your design on the side and the front of a classic construction-style helmet, the color of which can also be customized.
Dad Hat Mockup Template
The classic baseball cap or "dad hat" is displayed from a range of different perspectives in a minimal, eye-catching setting with this premium collection of mockups from Envato Elements. It includes fully customizable PSD files with interchangeable backgrounds and customizable colors, shadows and effects.
Bucket Hat Mockup Template
Bucket hats are a great alternative to the common baseball cap, and offer an equally effective platform for you to advertise your brand or design. This premium mockup template from Envato Elements features three layouts with customizable bucket hats that include color masks, separate shadows and easily editable layers.
Realistic Beanie Mockup Template
This premium set of five realistic beanie mockups from Envato Elements is ideal for any aesthetic or purpose, and can be fully customized to reflect your style and complement your design. It offers a high-quality 300DPI resolution, smart object layers for easy editing, and full supporting documentation.
Classic Beanie Mockup Template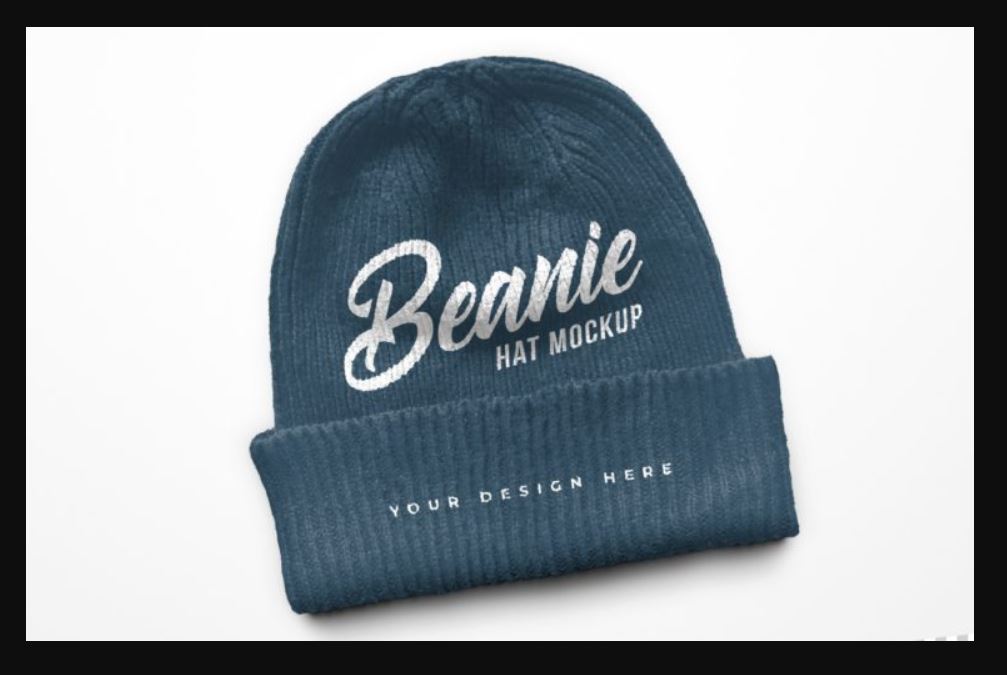 Here we have a minimalistic, high-resolution mockup of a classic folded winter beanie, which allows you to use any color, pattern, text or image for a fully customizable design. You can even edit the top and bottom sections of the hat separately – plus, it's available as a free download from Smash Mockup.
Pom Pom Hat Mockup Template
Ideal if you're creating a beanie that features a pom-pom on top, this premium template from Envato Elements features three unique mockups, each offering a range of customization settings including light and shadow intensity control, interchangeable backgrounds, and fully editable colors.
Embroidered Patch Beanie Mockup Template
Next in our roundup of beanie mockup templates is a highly realistic option that you can download for free from Behance. It features several perspectives of a set of beanies that include an embroidered patch at the front, a classy and unique way of incorporating your logo or design.
Unisex Cap Hat Mockup Template
Ideal for classic unisex cap designs, this premium mockup template from Envato Elements is an authentic and effective way of displaying your hat, and features a girl wearing the product in a natural outdoor setting. The background and colors can be customized with ease, and it comes equipped with smart object functionality.
Baseball Cap Hat Mockup Template
A baseball cap is a classic hat style that's ideal for displaying your company brand, and this premium set of four mockups from Envato Elements will help you see what your design will look like in a simple yet realistic setting. All backgrounds, colors, shadows and effects can be customized.
Funky Snapback Cap Hat Mockup Template
Another option that's perfect for snapback style caps, this free set of mockups from Mockup Tree offers ten different angles and settings, each with a funky, urban vibe and a range of surfaces, colors and textures to help your design stand out.
Trendy Hat Mockup Template
Featuring fully editable layers, a high-resolution image and smart objects for easy customization, this premium trendy hat mockup template from Envato Elements is a versatile and well-organized option for any kind of design, and allows full personalization to reflect your style and brand.
Realistic Cap Hat Mockup Template
Here we have a free mockup template that can be downloaded from Smash Mockup, and offers a realistic and simple way for you to showcase your cap or hat design. Both the designs on the front and the back of the hat can be customized, and the fully layered PSD file allows you to personalize all elements of the image.
Multipurpose Cap Hat Mockup Template
The last in our list of hat mockup templates is a series of seven different cap styles, each with two unique mockup layouts with a photorealistic look, sharp details and unlimited colors, as well as layered backgrounds, shadows and smart objects for full customization.
And there you have it – from beanies and pom-poms to bucket hats and baseball caps, there's a selection of free and premium mockup templates that are perfect for whatever kind of hat you're looking to design.
By: Sanchi Gupta
Title: 25+ Beanie and Hat Mockup Templates (Free & Premium)
Sourced From: designshack.net/articles/inspiration/beanie-mockup/
Published Date: Wed, 22 Jun 2022 09:00:00 +0000
Did you miss our previous article…
https://www.webdesignhawks.com/?p=2702