Designers of all kinds love the Sketch app for its incredible versatility. Whether it's crafting a complex app user interface or a cool icon design, Sketch has the right tools for every design project.
What makes it even more helpful is the huge amount of resources available for the app. You can find all kinds of templates, UI kits, layouts, and mockups for Sketch to speed up your workflow and design things much more efficiently.
In this post, we highlight some of the best of the best Sketch app resources that you should keep on your hard drive to make your design projects much easier and simpler.
Check out our handpicked Sketch resources below. There's definitely something for everyone in the mix.
Hello – UI Kit & Sketch Resources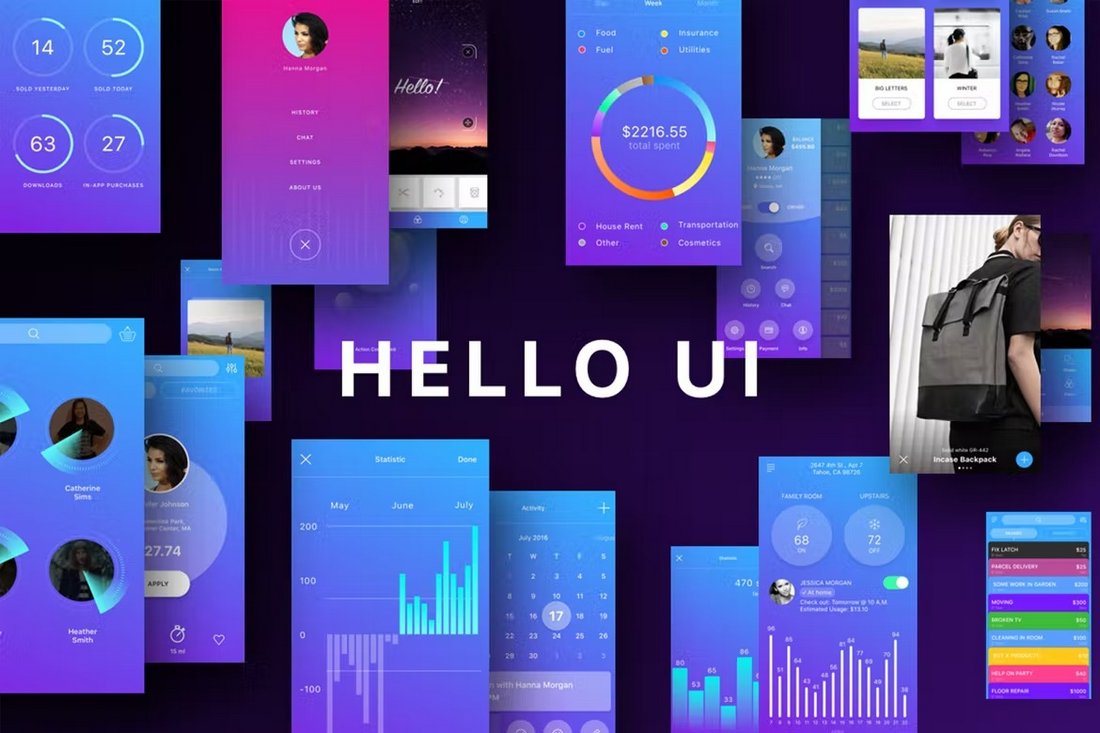 This is a massive UI template kit for Sketch that includes everything you need to design iOS app layouts and interfaces. There are over 160 different mobile screen designs in the bundle featuring more than 700 unique UI elements. You can use the templates to get a head start in your UX design projects or craft your own unique UIs.
Omega – Landing Page UI Kit for Sketch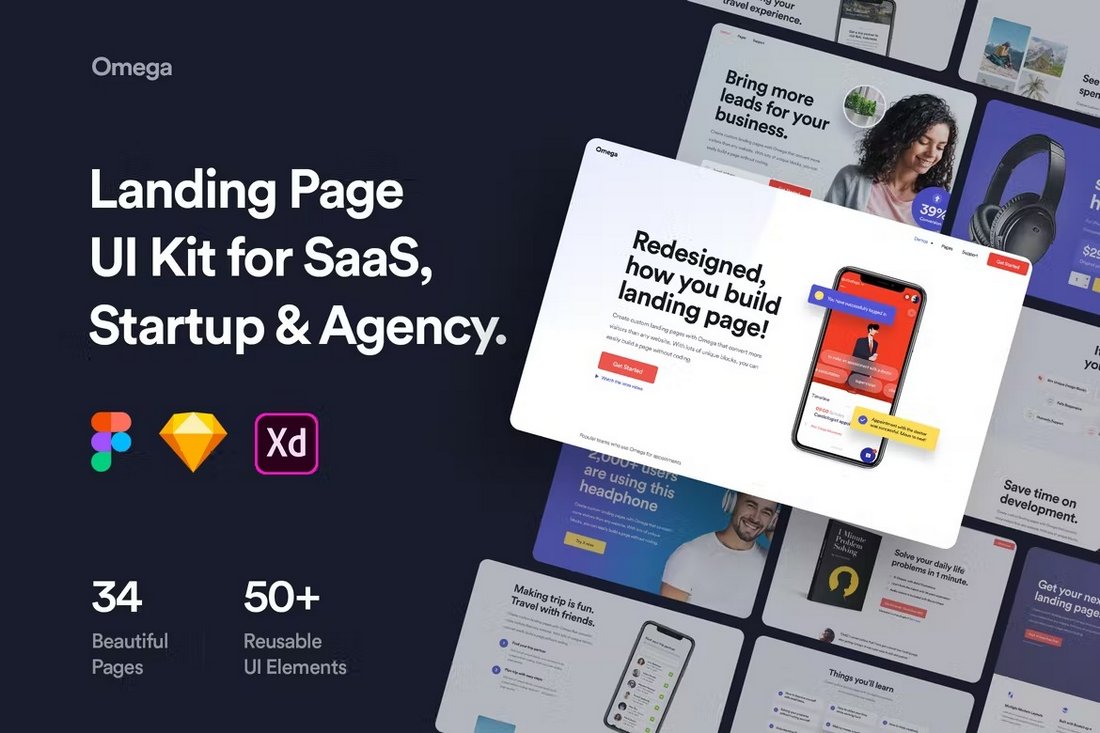 Building landing pages for startups and SaaS businesses will be a walk in the park when you have this Sketch resource at your side. It includes a template kit for building all kinds of landing page layouts. There are 7 complete landing page designs featuring 34 unique page layouts with more than 50 different UI elements.
Wirefire – Website Wireframe Kit Sketch Resources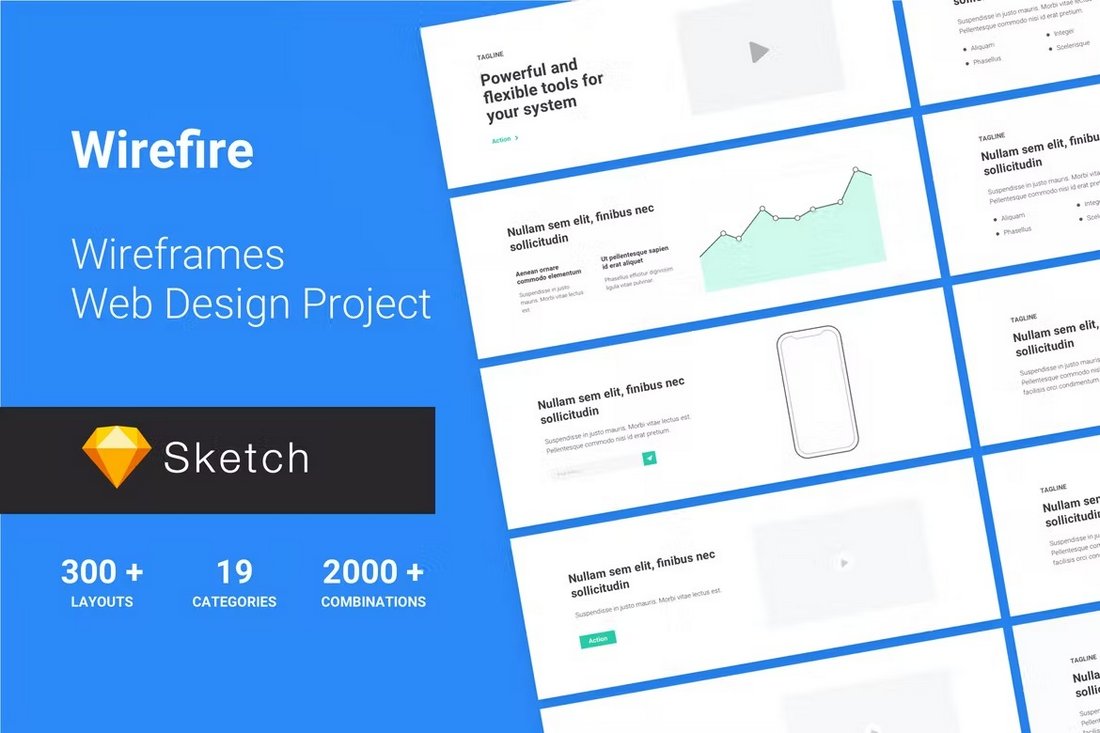 Wirefire is another massive Sketch resource that includes a huge collection of templates for crafting website wireframes. It comes with over 300 content blocks in 19 different categories, promising over 2,000 UI combinations. The UI kit is perfect for building any type of website wireframe you want within minutes.
85+ User Interface Cards & Sketch App Resources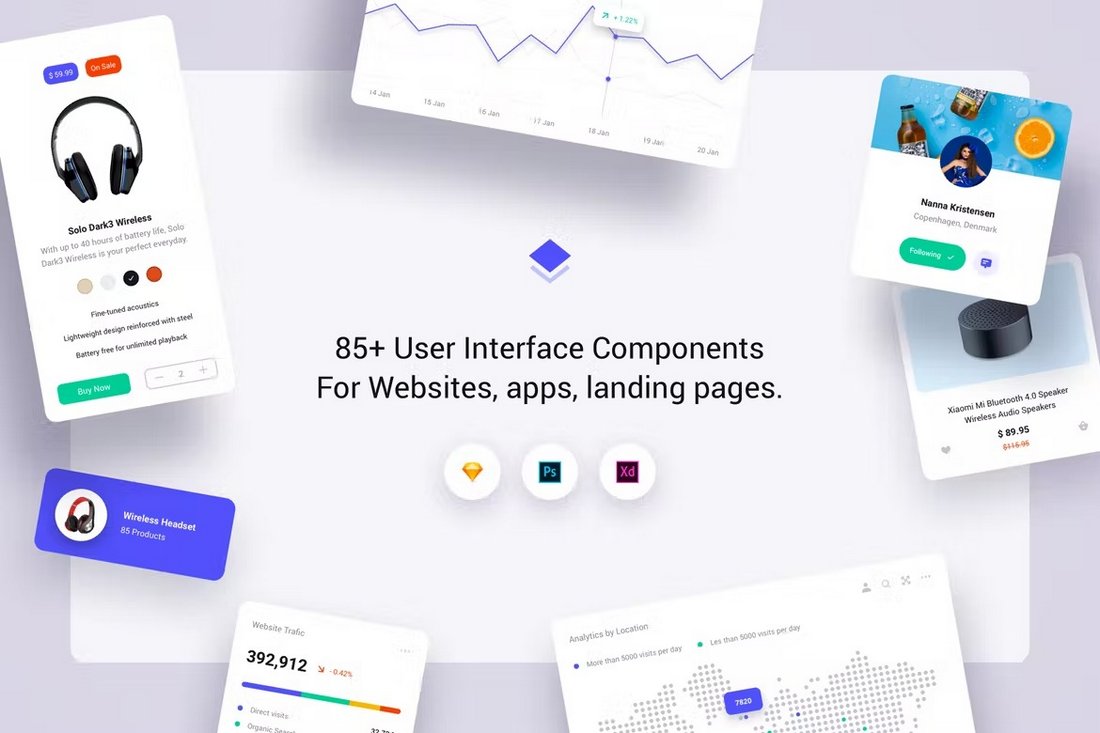 Whether you're working on a mobile app design or dashboard layout, this Sketch resource has lots of useful UI elements you can use to make your designs look more professional. There are over 85 different UI cards and elements included in this pack, featuring 31 dashboard elements, 30 social networking elements, 23 eCommerce elements, and 4 navigation components.
Paper – Mobile Wireframe Kit Sketch Templates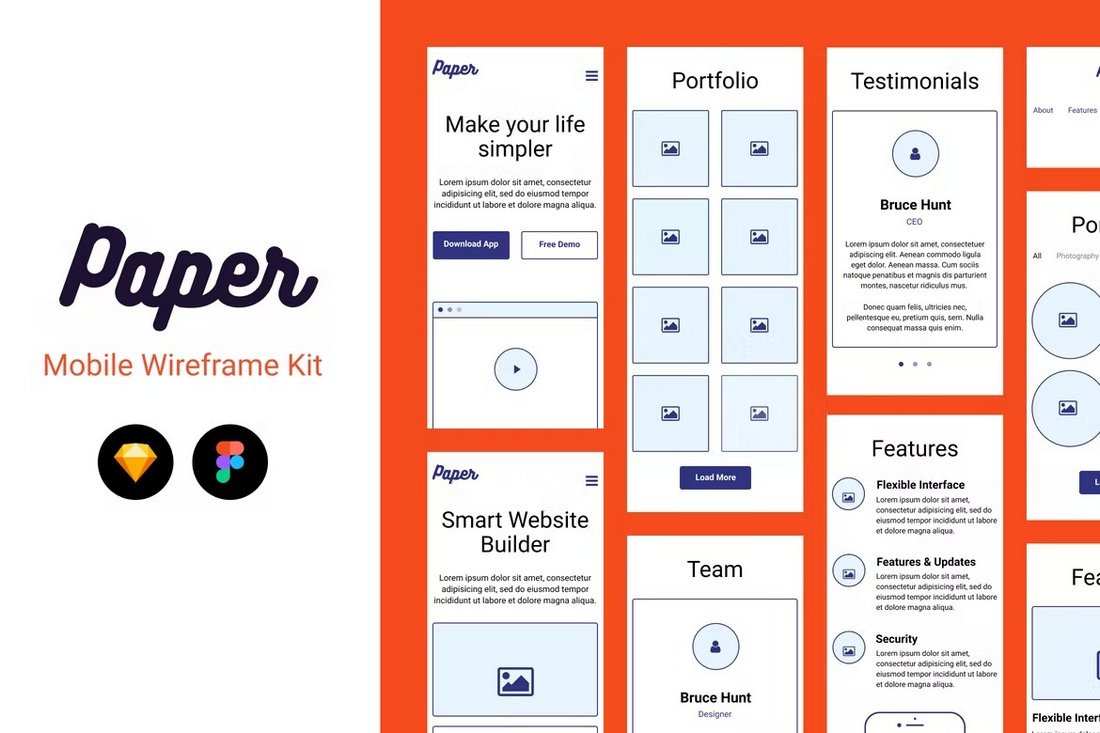 When it comes to wireframing mobile interfaces, speed is everything. This Sketch wireframing kit is designed with the same goal in mind. It will help you design high-quality mobile app screen wireframes quite fast without effort. There are lots of different UI elements included in this bundle in 10 different categories.
Yolk – Free iOS UI Kit Sketch Resources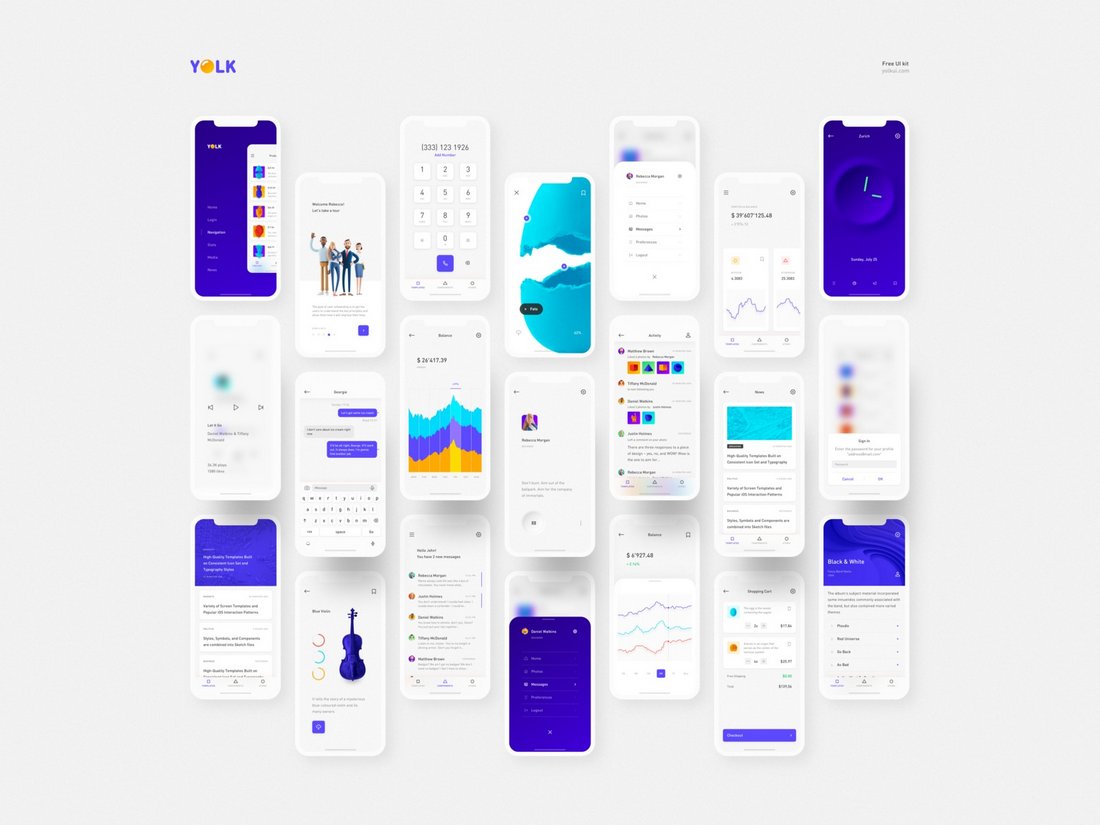 Yolk is a beautiful UI kit you can use to design mobile app experiences for iOS. It features several amazing app screens with modern layouts. The UI kit is free to download.
Velocity – Free Dashboard UI Kit for Sketch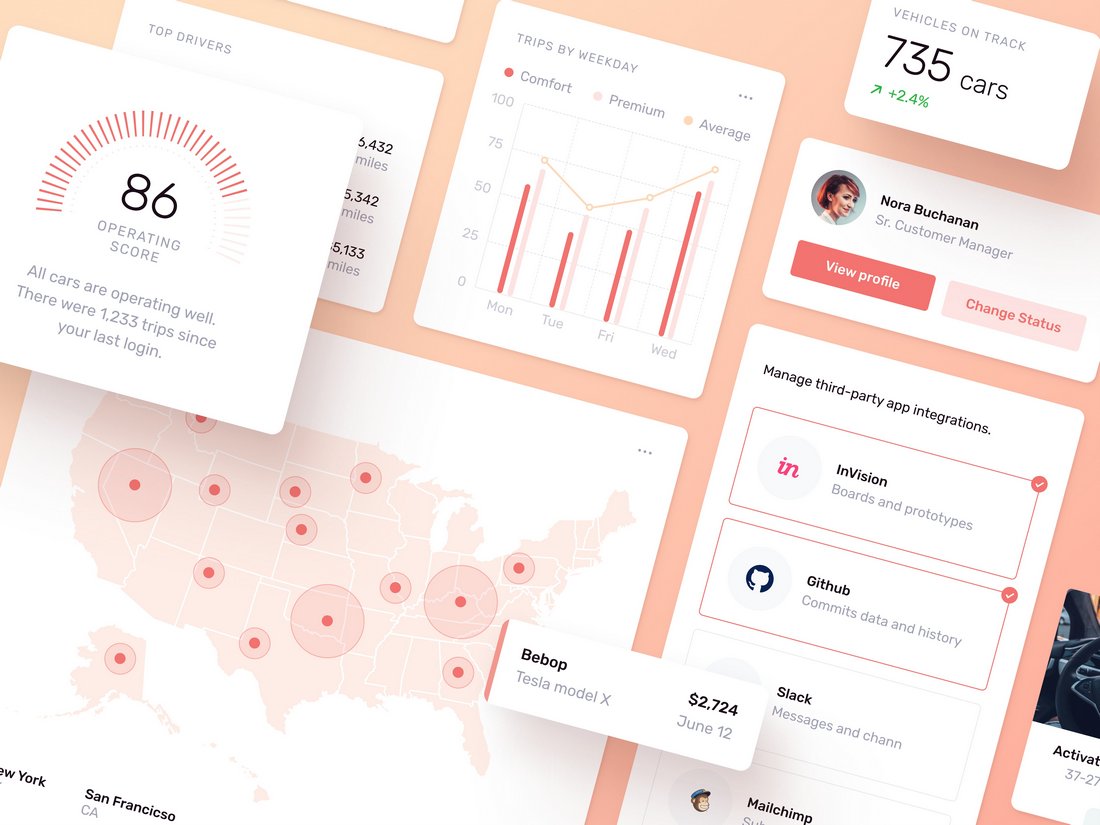 Velocity is a dashboard UI kit that features elements made for a concept self-driving car company app. This UI kit is perfect for finding inspiration for your own projects as well as to experiment with new designs.
Today – Web UI Kit & Sketch Resources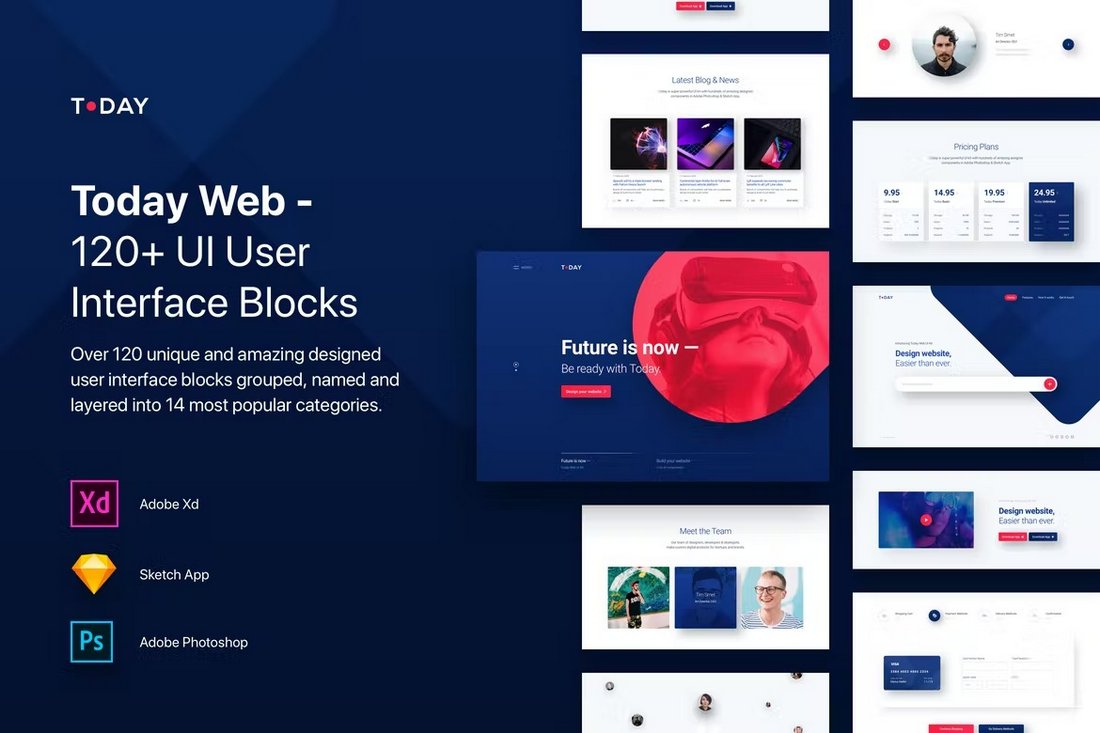 This is a must-have UI kit for web designers as it comes with a huge collection of components and content blocks for designing almost any type of website layout. In the pack, you'll find more than 120 different components in 14 different categories made with Bootstrap grid layout in mind. Each component can be easily customized as well.
Chameleon – Mobile App UI Kit for Sketch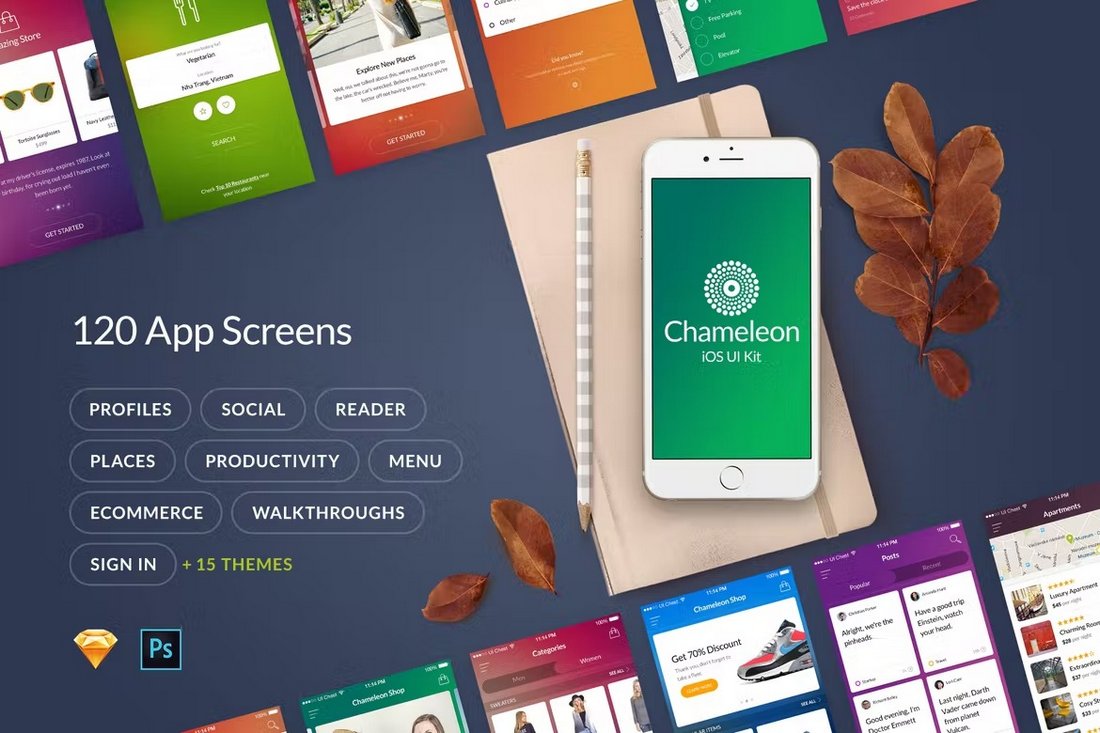 Chameleon is a Sketch UI kit for mobile app designs. It comes with 120 unique app screens in 10 different categories, including designs in eCommerce, profiles, social, signup screens, and more. The templates are available in 15 themes and allow you to easily edit and customize them to your preference.
UX-Design Grid Systems for 20 Devices for Sketch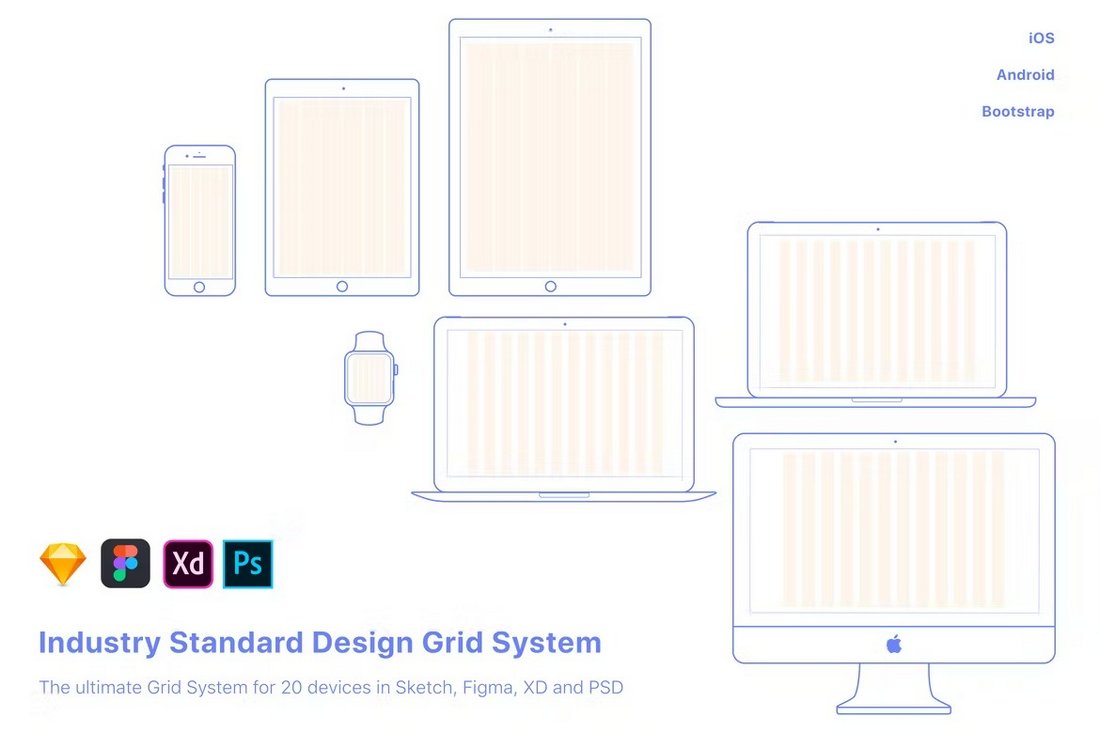 Grid systems are your best friend when it comes to designing user experiences and interfaces. With this Sketch resource, you'll get access to a useful grid system you can use to craft responsive designs for 20 different devices. In addition to Sketch templates, it comes in Adobe XD, Figma, and Photoshop versions as well.
eCommerce UI Kit & Sketch App Resources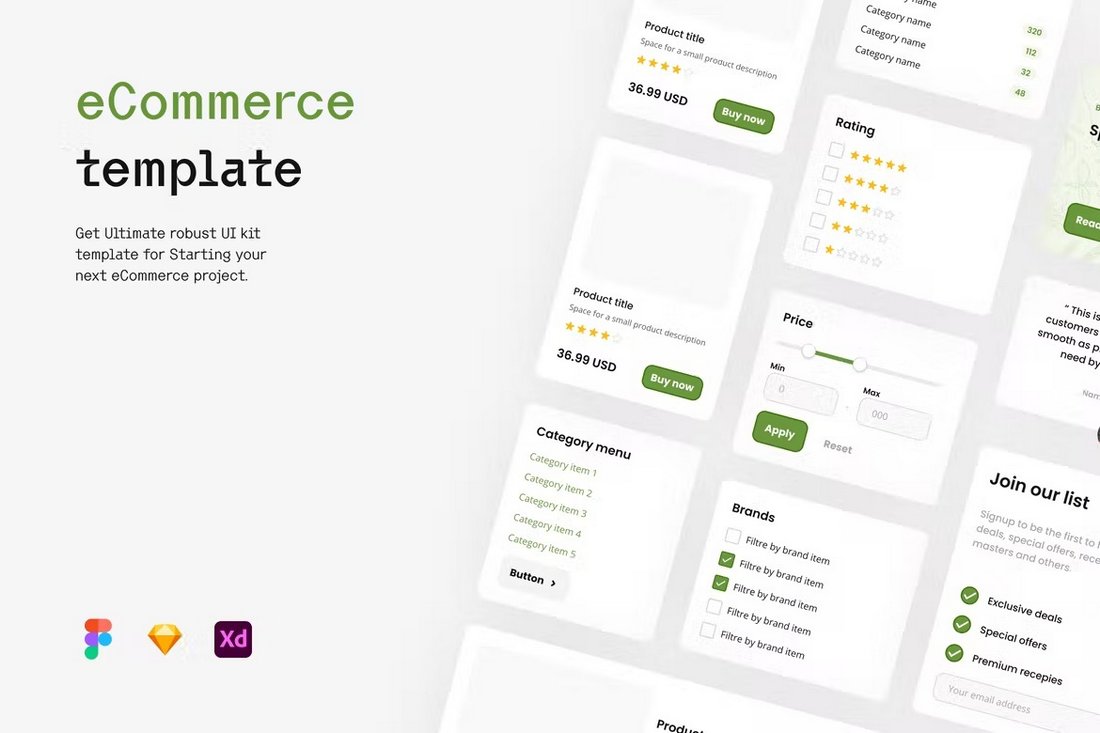 This is a UI kit that will surely make your job much easier when building eCommerce user interfaces. It features a collection of 80 unique web elements and components for crafting responsive user experiences for online stores, shops, and other eCommerce platforms.
Wirey – Mobile Wireframe Kit & Sketch Resources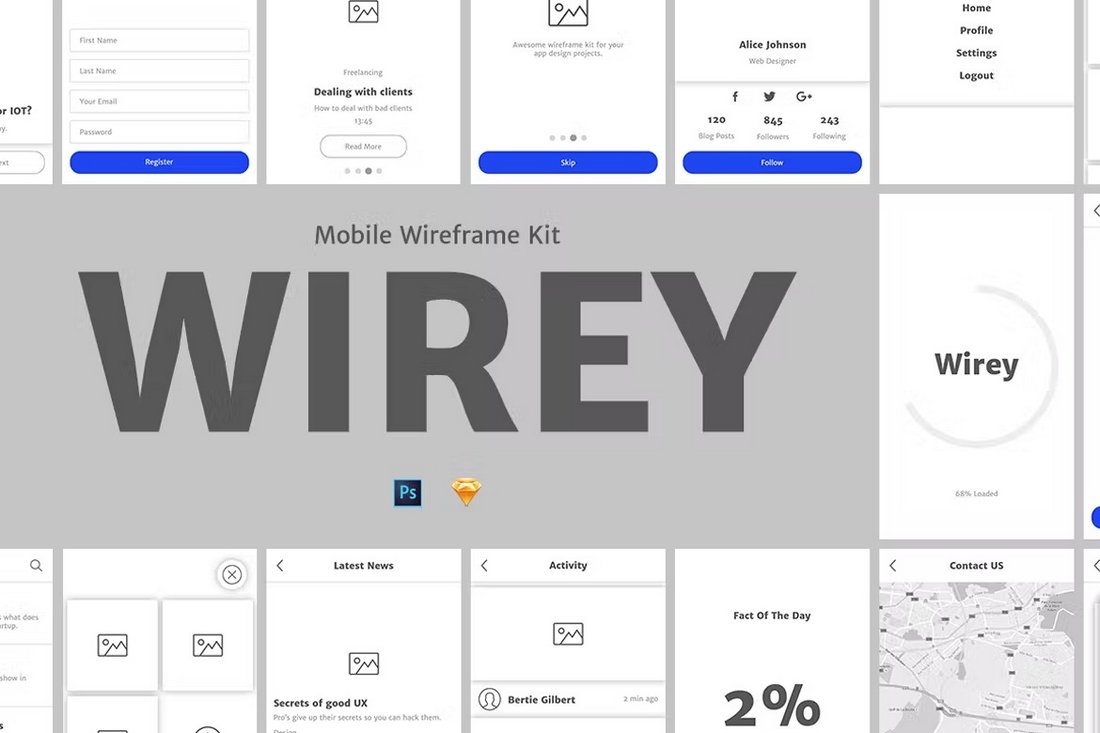 Wirey is a massive mobile wireframing kit that includes more than 200 unique pre-made mobile screens. It also comes with over 1,000 elements that you can use to craft unique designs of your own. The templates are available in 11 different categories for wireframing all kinds of app designs.
rrows Icons Free Sketch Resources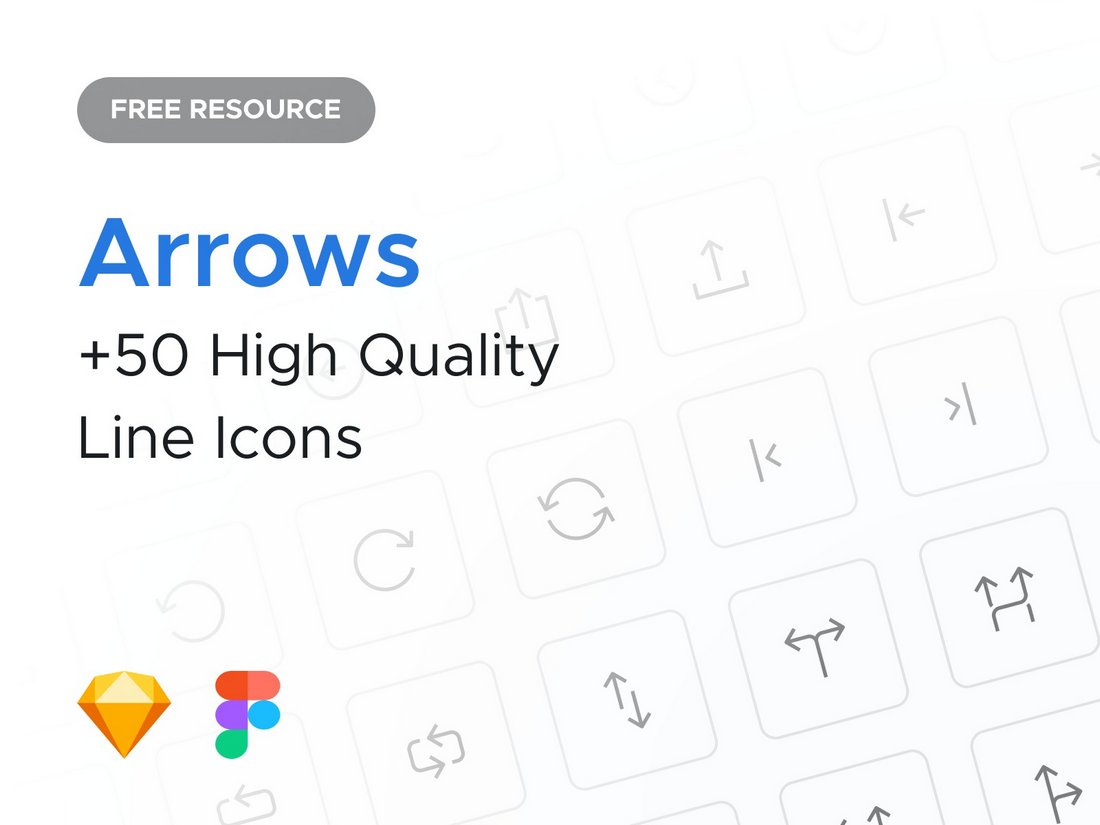 A bundle of free Sketch icons featuring arrow-style designs. These icons will fit in nicely with most of your mobile and desktop app design projects. It includes a total of 56 icons.
Free Sketch SVG Icons Pack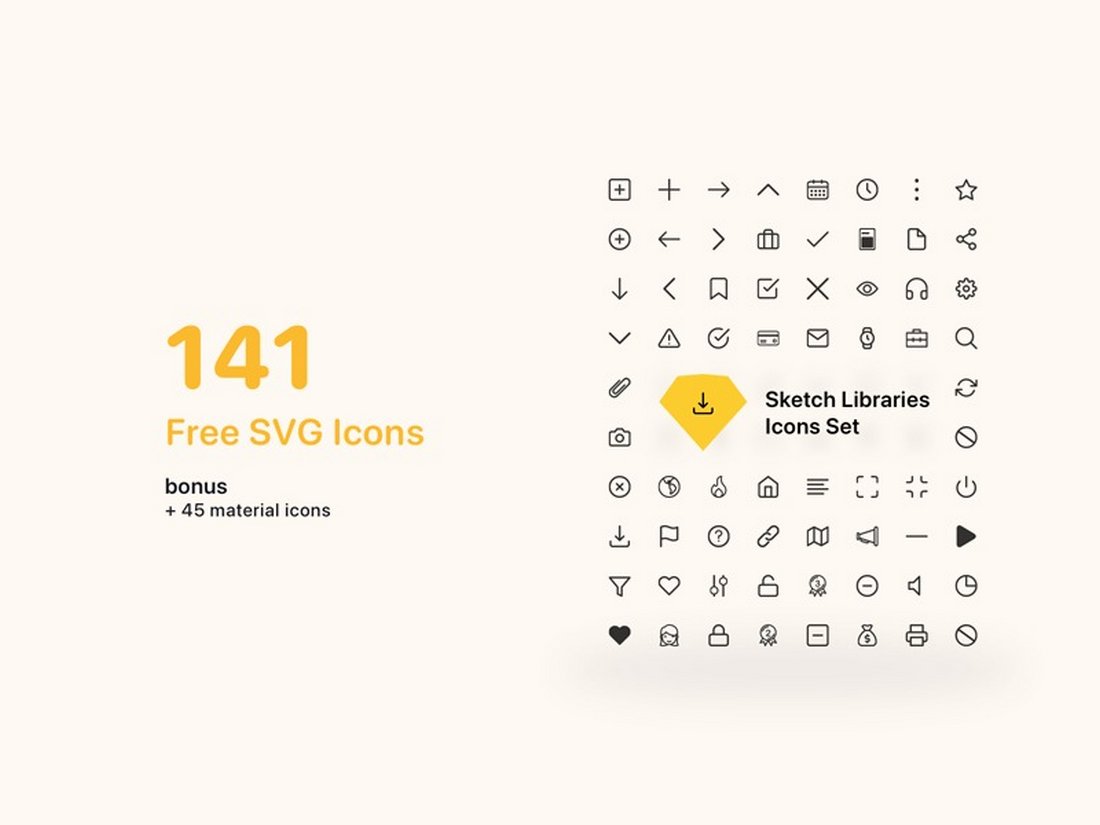 This icon pack is also free to download. It includes 141 different icons in SVG format. You'll get 45 additional material design icons as a bonus as well.
Containers – Web Wireframe Kit for Sketch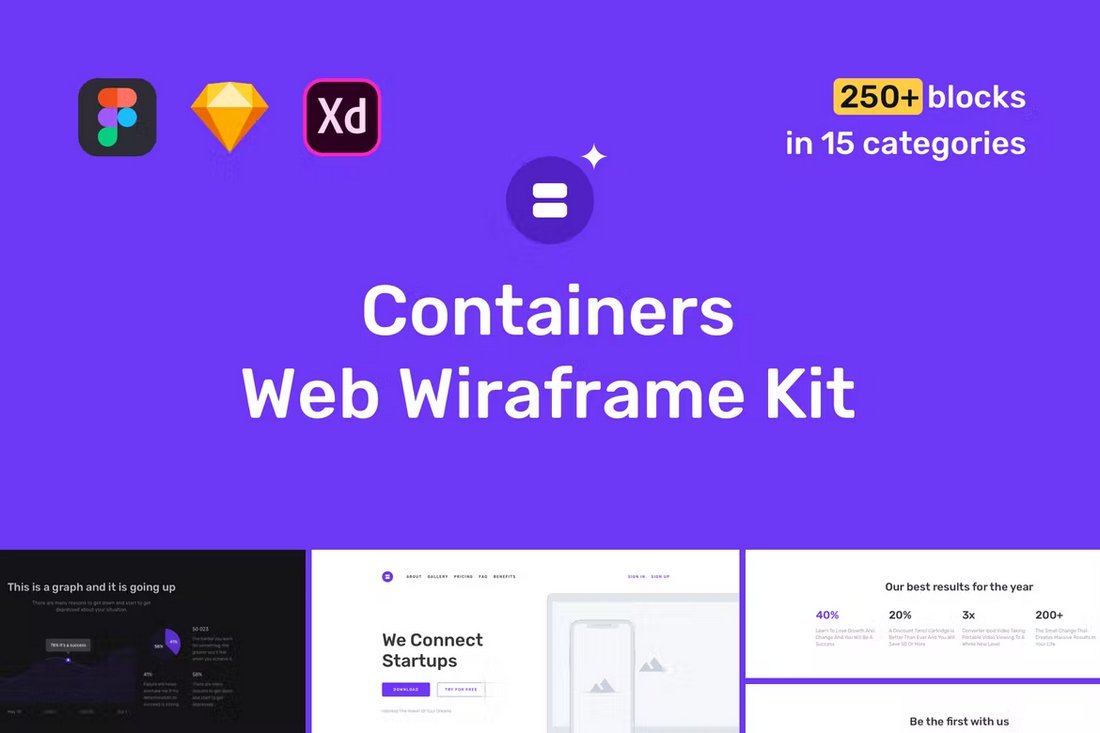 Containers is a wireframing kit for web design. It includes a collection of reusable components and elements for building websites of all kinds. There are over 250 content blocks included in the pack in 15 categories. They offer more than 2,000 different combinations for creating unique website designs.
Crown – Admin Dashboard UI Kit Sketch Templates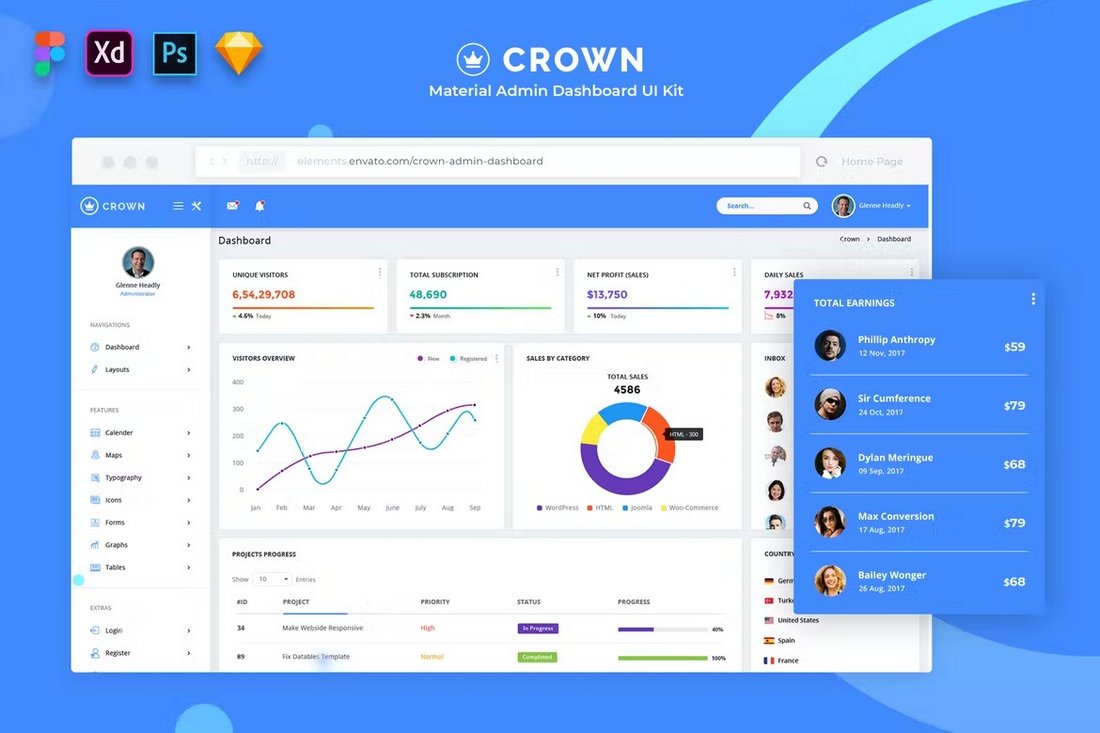 This admin dashboard UI kit provides you with all the elements you need to build effective dashboard layouts. It features 40 files with lots of different components and UI elements for crafting admin dashboards. The templates come in Sketch, Photoshop, Figma, and Adobe XD formats as well.
Menu Screen UI Kit Sketch Resources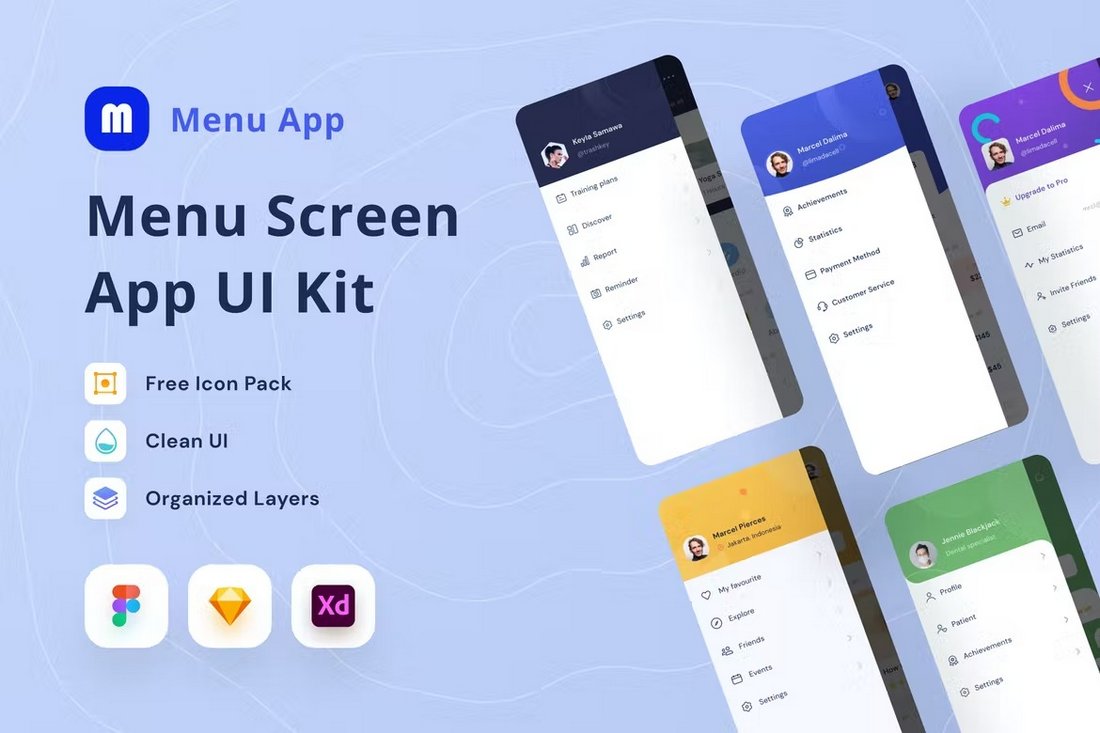 A menu screen is a must-have element in every mobile app interface. With this Sketch UI kit, you'll have plenty of options for quickly designing a better menu screen for your app design. It includes 4 different menu screens in multiple file formats.
Rogan – Multipurpose Sketch Landing Page Templates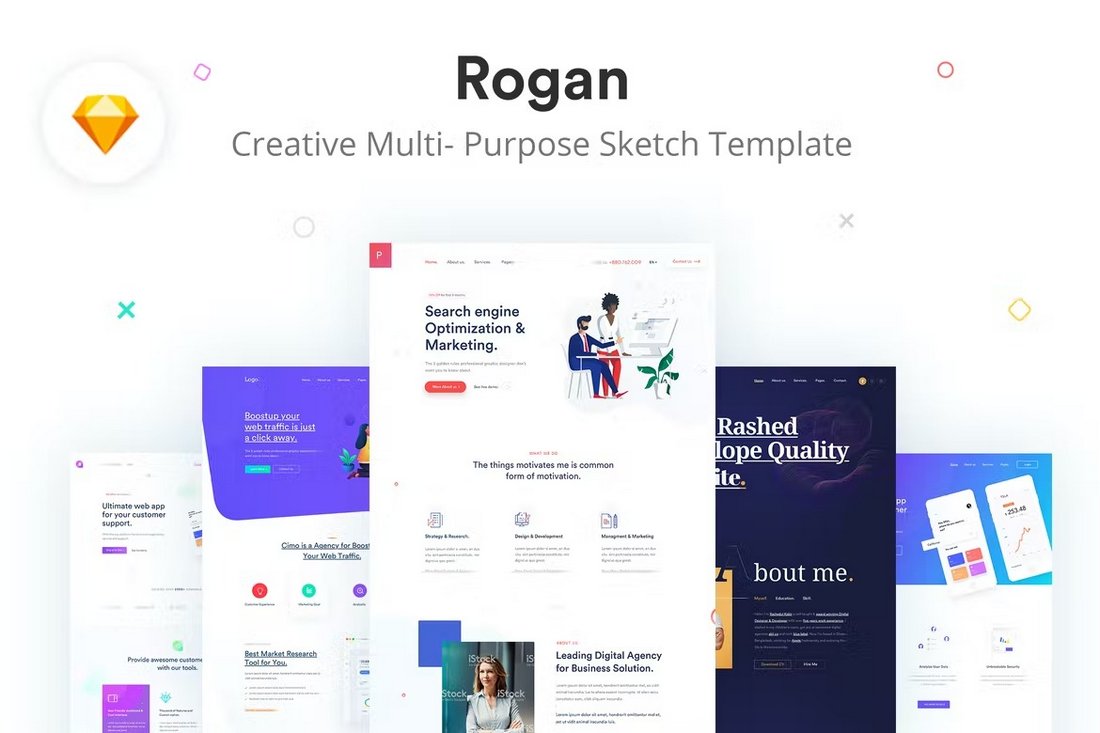 This Sketch template pack includes 5 complete landing page designs you can use to make websites for various types of marketing and consulting agencies. The templates feature more than 40 different page layouts. You can easily customize these templates as well as use them to make your own unique web designs.
Magicons – 160 Icons for Web & Mobile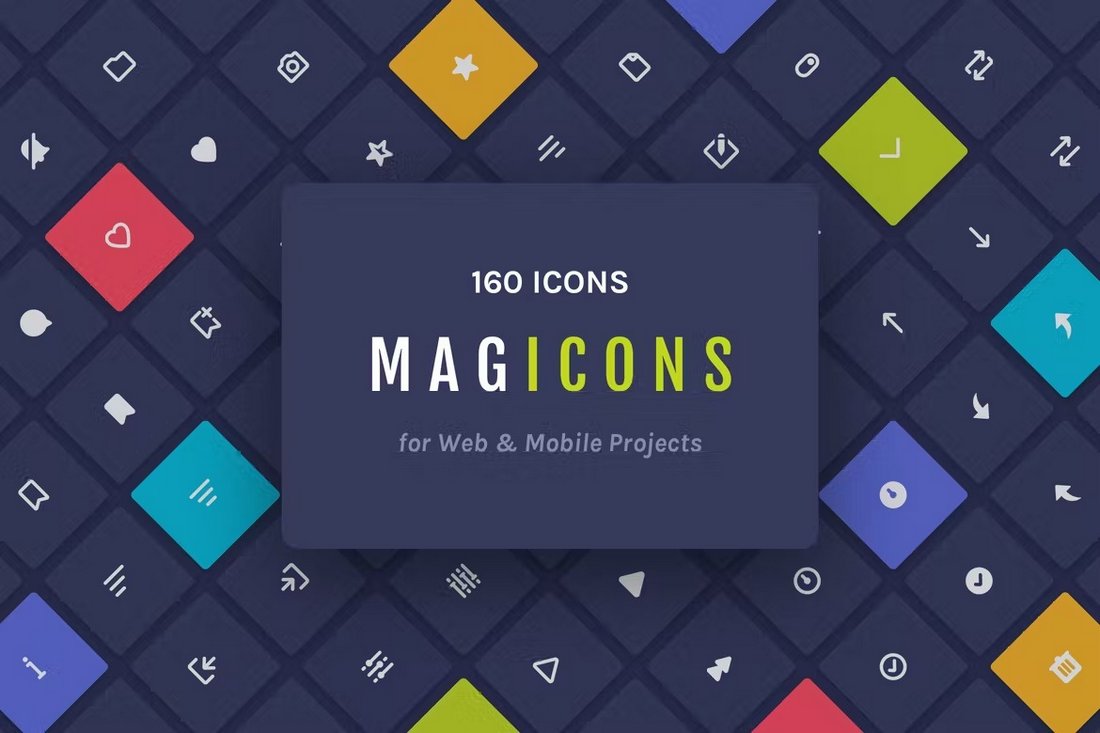 Icons are an important part of designing web and mobile interfaces. So be sure to grab this icon pack to use in your Sketch projects. These icons are designed to be cross-platform so they will help create a consistent look across both web and mobile platforms.
Free UI Kit Elements for Sketch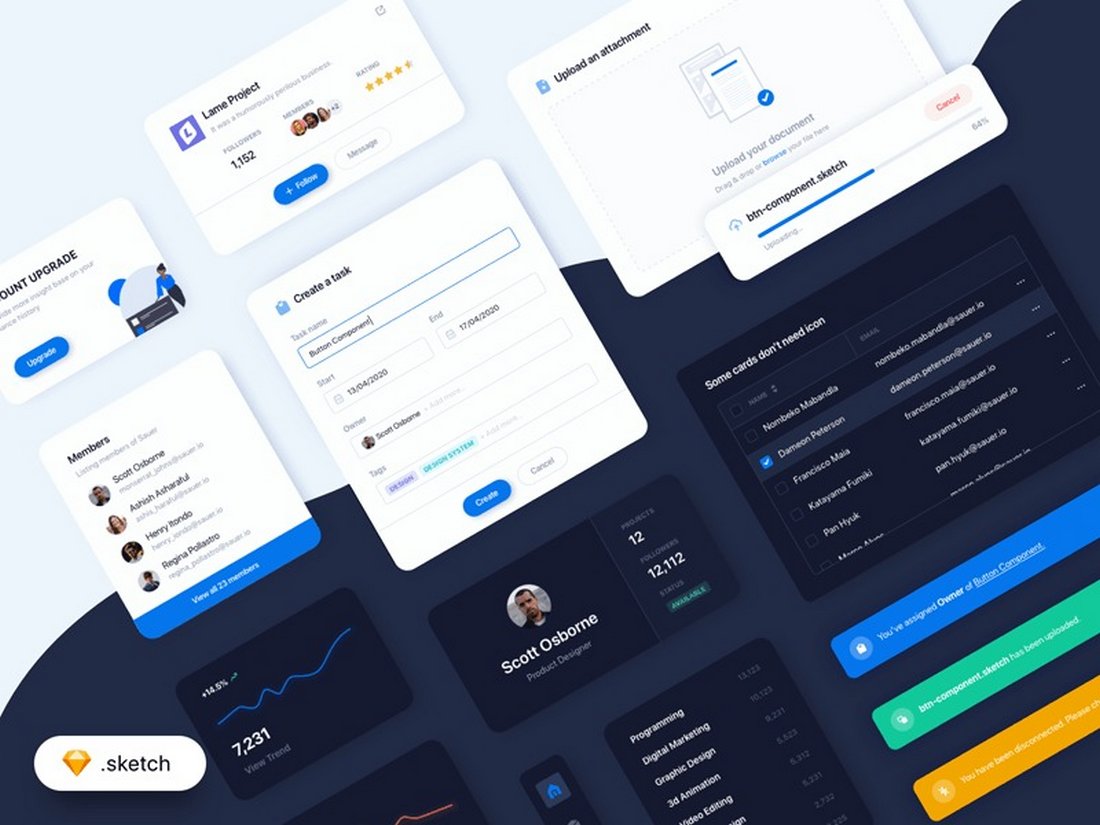 This free UI kit features some useful elements for crafting admin dashboards and web layouts. The elements are available in both light and dark themes. And it's completely free to download.
Free Cloud Storage App Concept for Sketch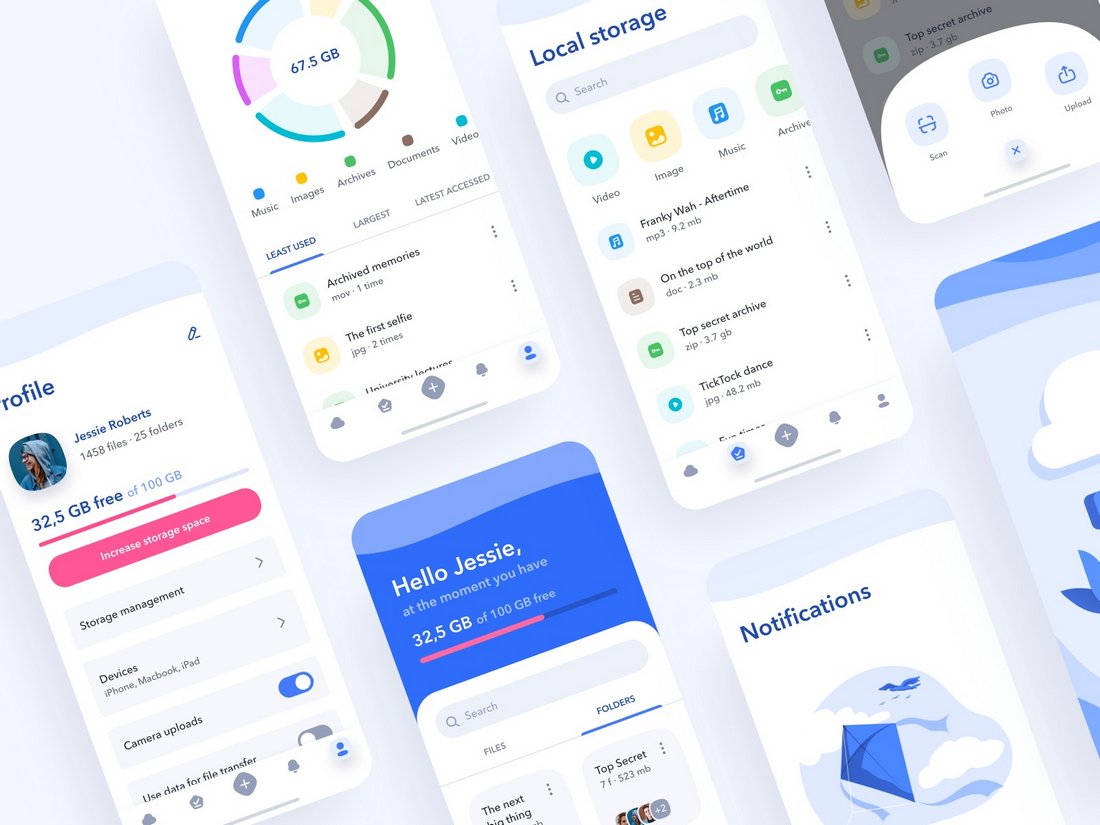 A useful concept app design made for a cloud storage app. This Sketch template kit is great for learning how to design certain elements of a storage-based app design. It comes in Sketch and Figma formats.
Online Shop Dashboard UI Kit & Sketch Resources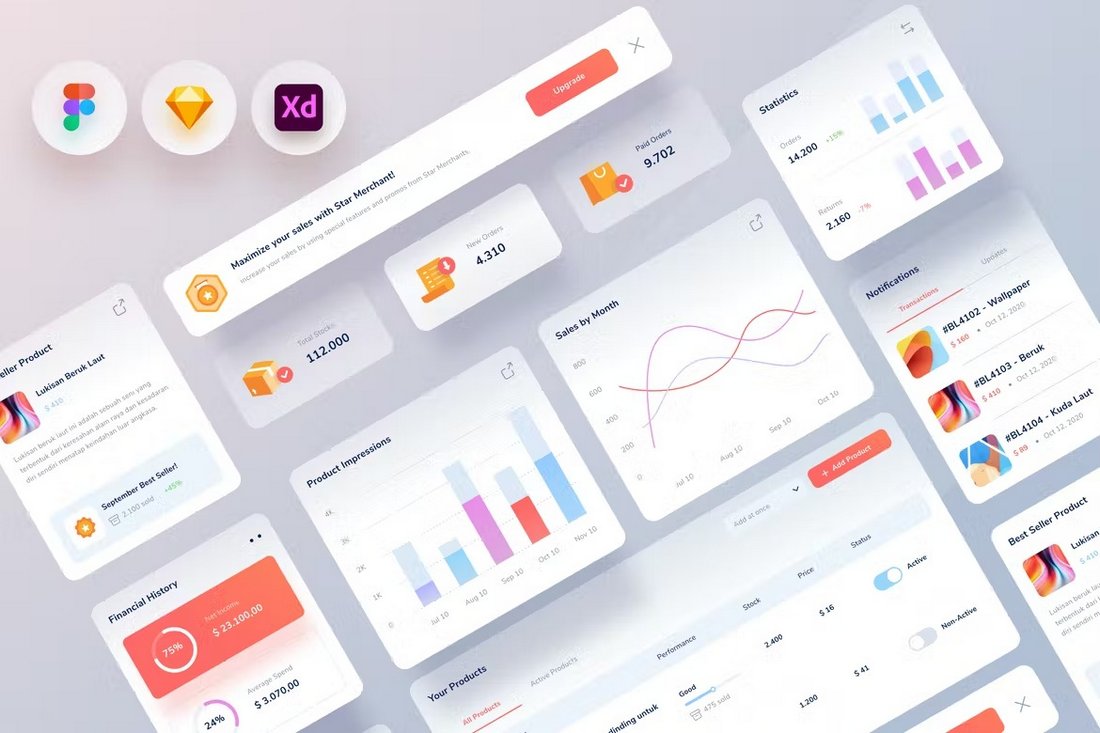 Building admin dashboards for online stores and eCommerce platforms will be a walk in the park when you have this Sketch UI kit. This bundle includes all the useful UI components and UI cards you'll need to design an effective dashboard for online shops. It includes templates in multiple file formats.
Datta – Dashboard UI Kit Sketch Templates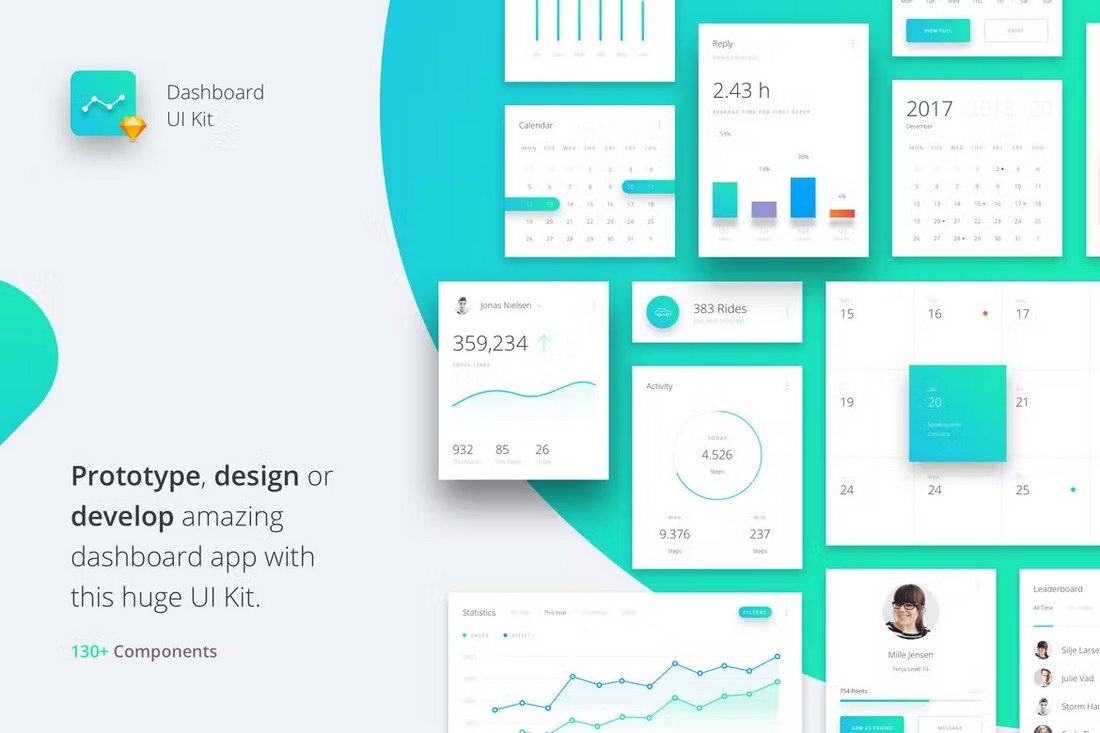 This is another useful dashboard UI kit you can use to build modern and user-friendly admin dashboards. It comes with more than 130 different UI components for crafting a complete dashboard UI experience. The templates are made using Bootstrap grid layouts.
Futura Creative Website UI Kit for Sketch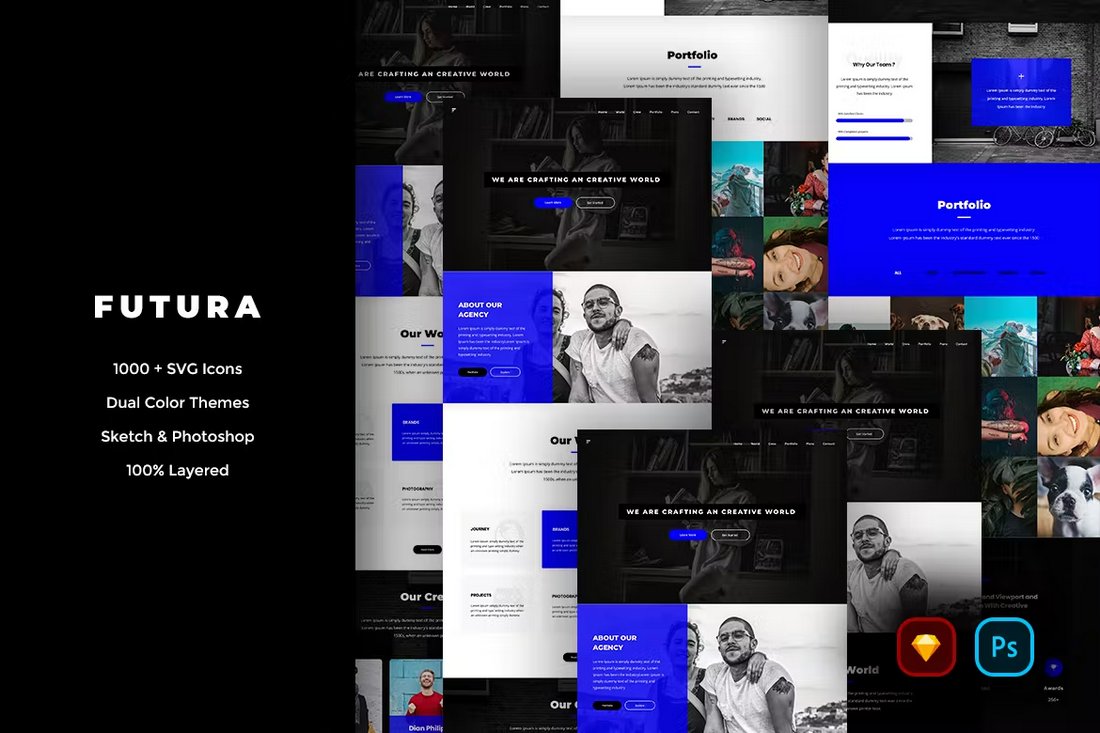 With this website UI kit, you can design landing pages and websites for agencies and small businesses. It's the perfect template kit for designing portfolio websites as well. In addition to the complete page layouts, you also get an SVG icon pack along with the templates in Sketch and Photoshop formats.
pp Onboarding Screens Sketch Templates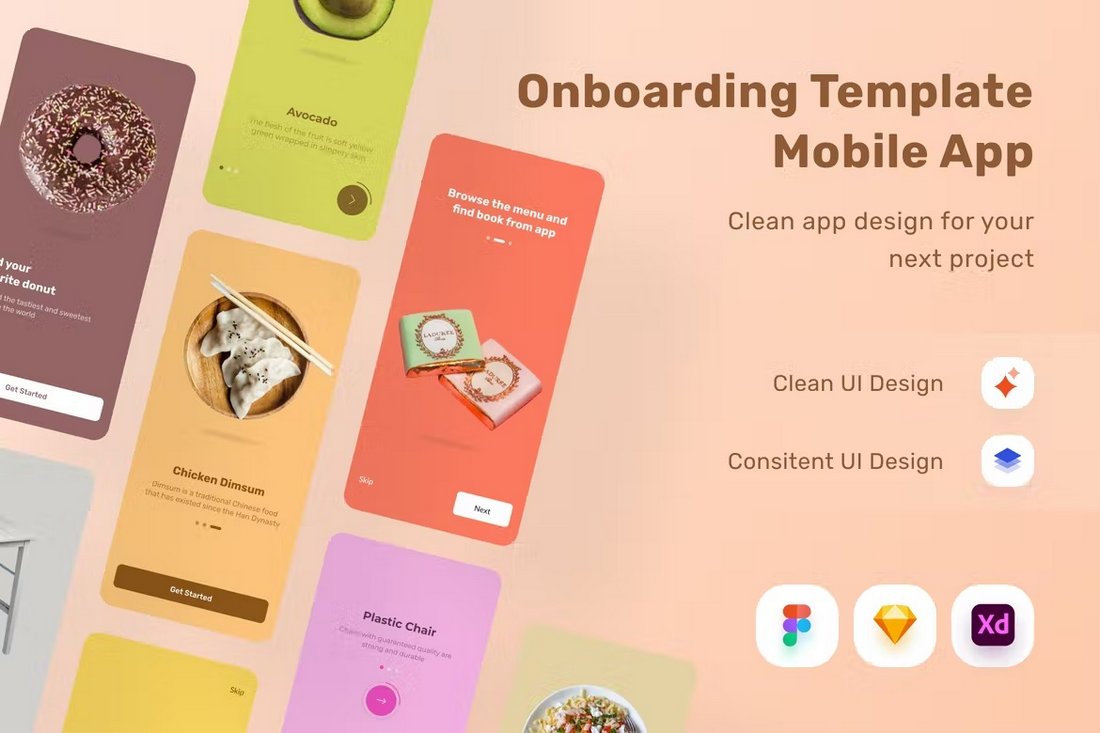 You can use this template kit to design beautiful user onboarding screens for mobile apps. It includes multiple screen templates that can be customized and repurpose to create as many onboarding screens for your app projects. The templates are compatible with Sketch, Figma, and Adobe XD.
Website Page Builder Icon Pack for Sketch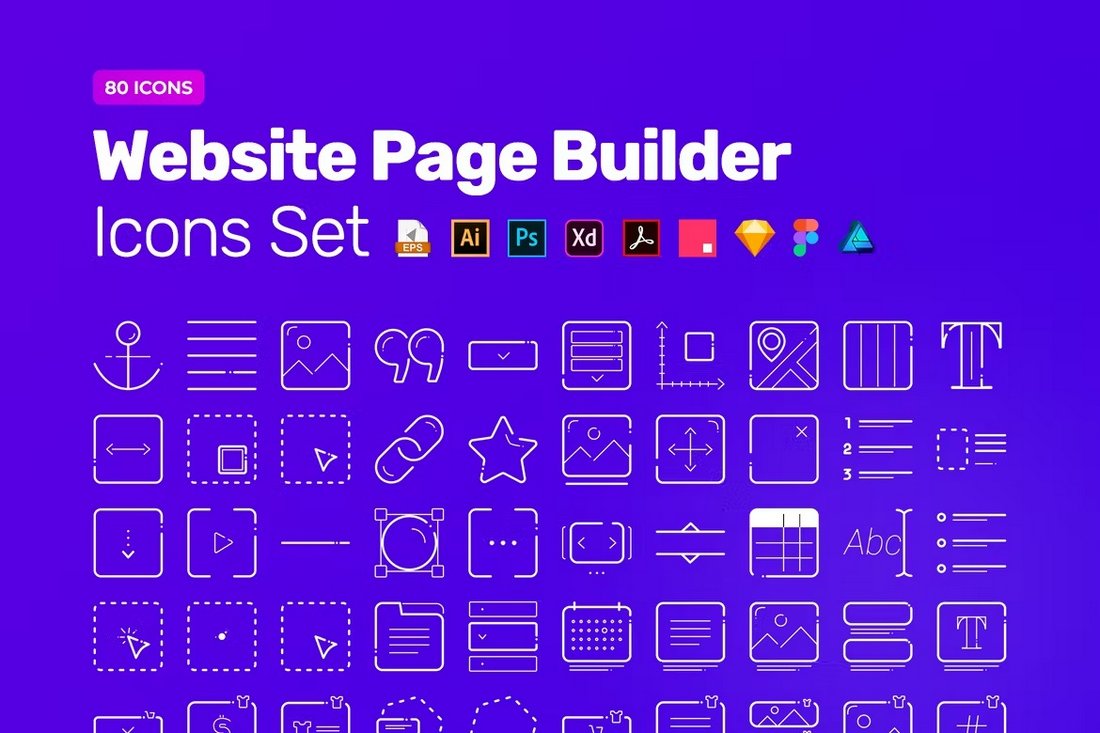 This is a useful icon pack you can use in your Sketch design projects. It includes 80 vector icons with fully customizable designs. They are perfect for all kinds of UI designs, business cards, social media posts, and much more. Each icon comes in vector formats, including Sketch, Figma, Illustrator, and more.
Dark UI Elements Free Sketch Resource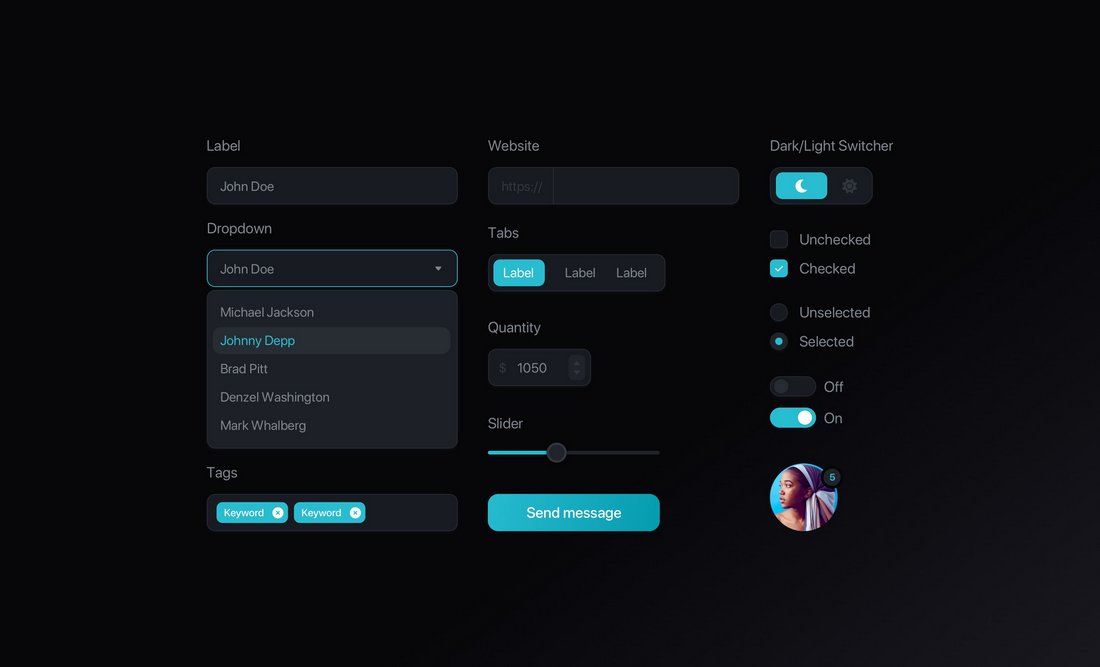 This free Sketch resource gives you some useful UI elements you can use to design user interfaces in a dark color theme. It's perfect for experimenting with personal and concept projects.
For more Sketch resources, you can explore our best Sketch templates collection.
By: Roshan Perera
Title: 25+ Best Sketch App Resources (UI Kits, Templates, & More)
Sourced From: designshack.net/articles/inspiration/sketch-app-resources/
Published Date: Thu, 26 May 2022 13:00:21 +0000