Today, we're bringing you a collection of van and car mockup templates. You can use these mockups to showcase your car wrap and decal designs like a pro.
Vehicles play an important role in the branding process for many businesses. Whether it's promoting the brand through a company car or delivery van, they offer exposure and opportunities for representing your business to local audiences.
If you're working on such a car decal design, make sure to grab a car mockup from our collection to present your design to clients in a more realistic way. We made sure to pick many different types of vehicles for this list so you'll find plenty of options to choose from. Let's dive in.
Sports Car Decal Mockup Template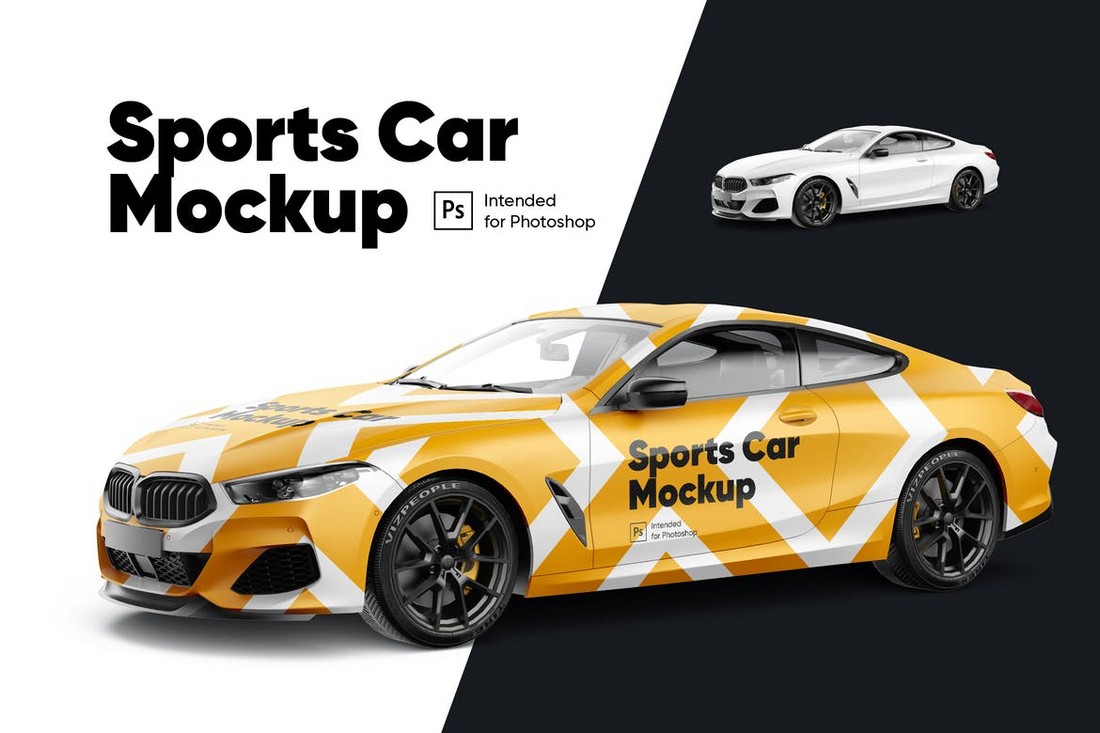 This car mockup is for sports car fans. If you're working on a high-end decal design or a wrap design for sports cars, this mockup template will help showcase your designs on a brand new BMW-style sports car. The mockup comes with smart object layers for easily placing your designs on the car. You can even change the background as well.
Side View Van Decal Mockup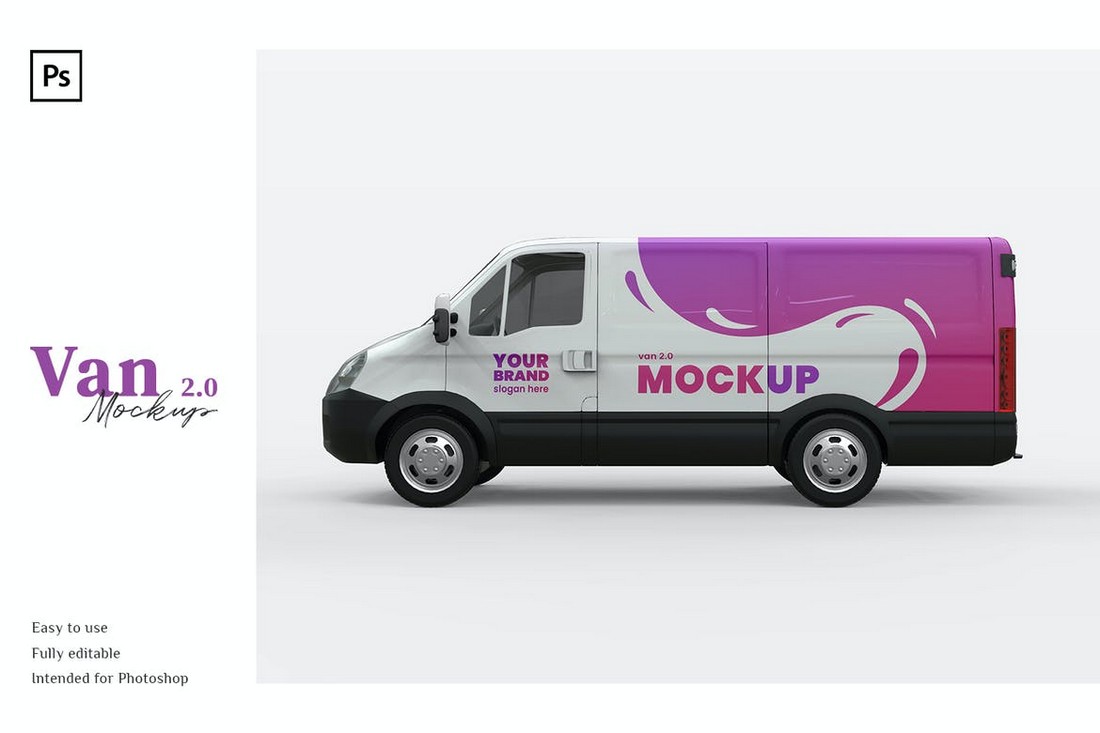 Designing a wrap for a transport vehicle or delivery van? Then use this template to present your designs. This van mockup gives a clear view of the side of the vehicle. You can edit the template using Photoshop to place your decals or stickers in the mockup. It even has separate adjustment layers for customizing the lighting and shadows.
Realistic Car Decal Mockup PSD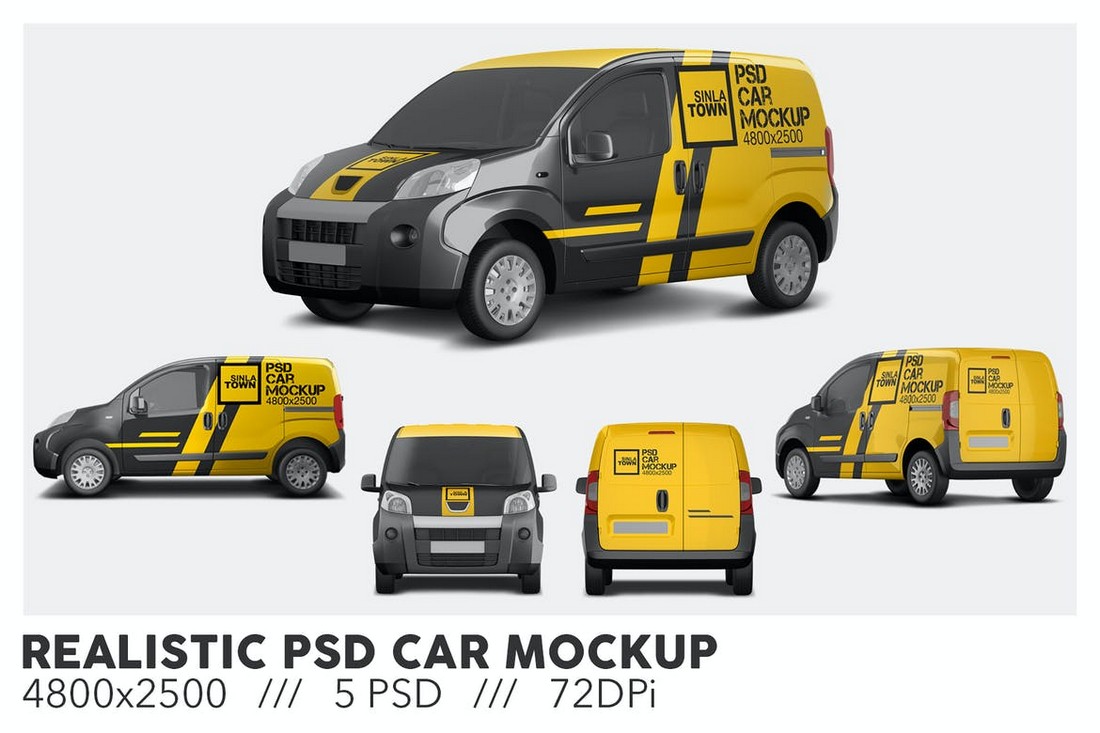 If you want to show off all sides of the car wrap or decal design you've been working on, this mockup template kit is for you. It includes 5 mockups in PSD format showing all sides of the vehicle. Each template has a different perspective view and you can easily edit them using smart object layers.
Van & Car Sticker Mockup Templates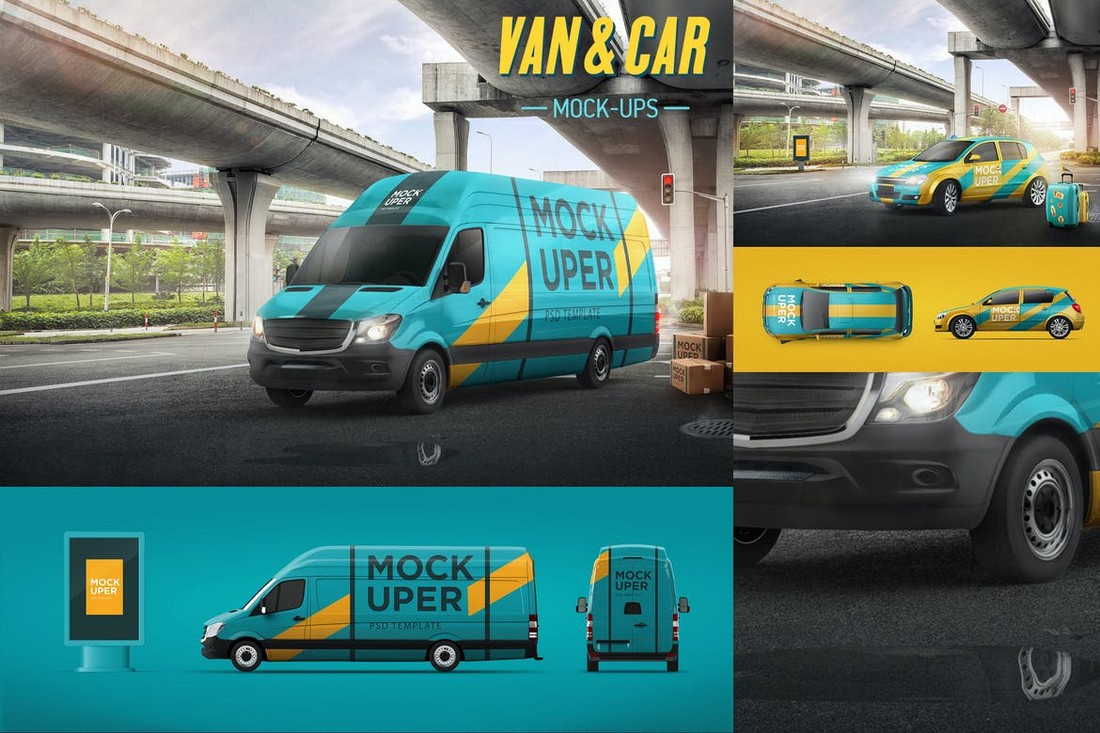 With this bundle of car mockup templates, you'll have plenty of options for presenting your designs using realistic mockups. It includes both car and van mockups with a fully customizable background environment. The objects in the mockup, like the manhole covers and boxes, can be moved to create your own unique mockup designs.
Vehicle Branding Mockup Templates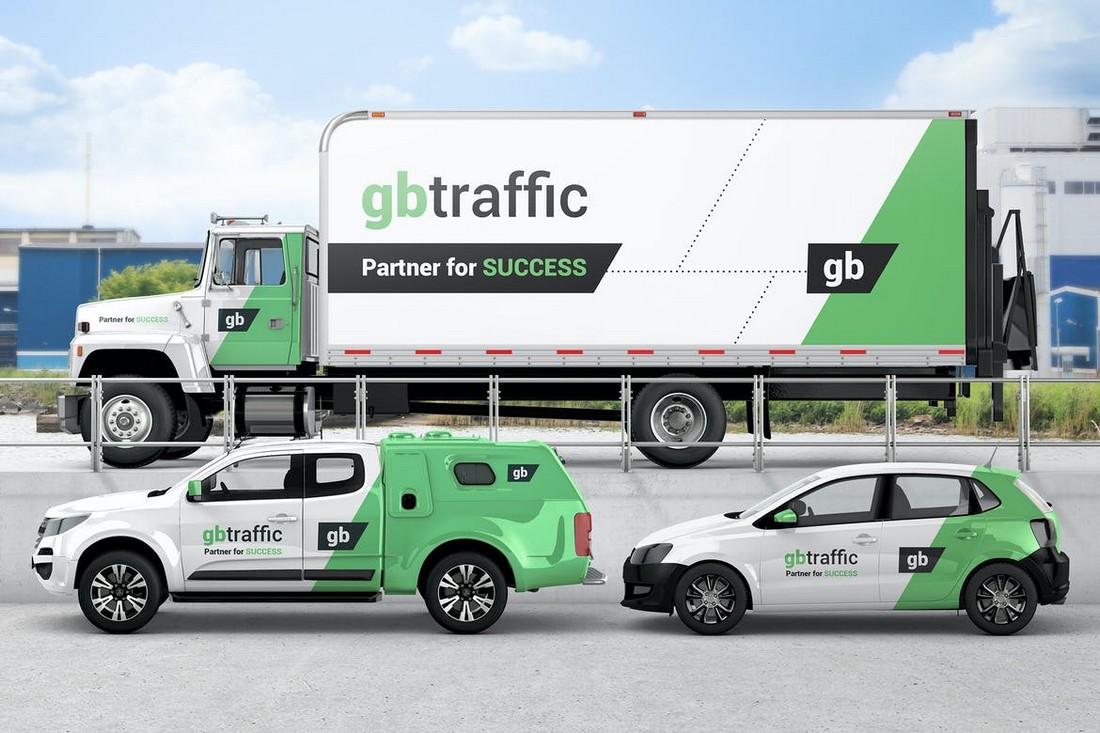 This is an all-in-one vehicle branding mockup template that includes a transport truck, a pickup truck, and a hatchback car mockup. It will make things much easier for you to show off your vehicle wrap and decal designs for the brand. The template features organized layers and a changeable background as well.
Free Cargo Van Wrap Mockup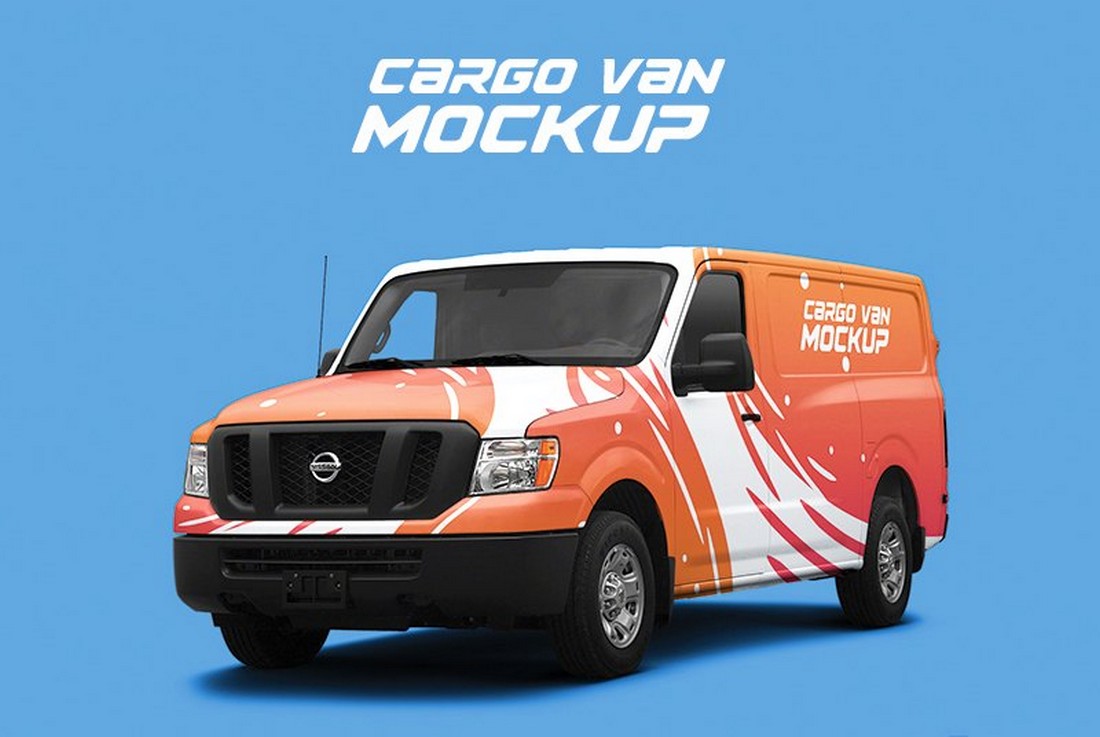 This is a free cargo van mockup you can use for showcasing your van wrap and decal designs. The mockup comes in a high-resolution PSD file with a detailed and realistic van design.
Free Compact Car Decal Mockup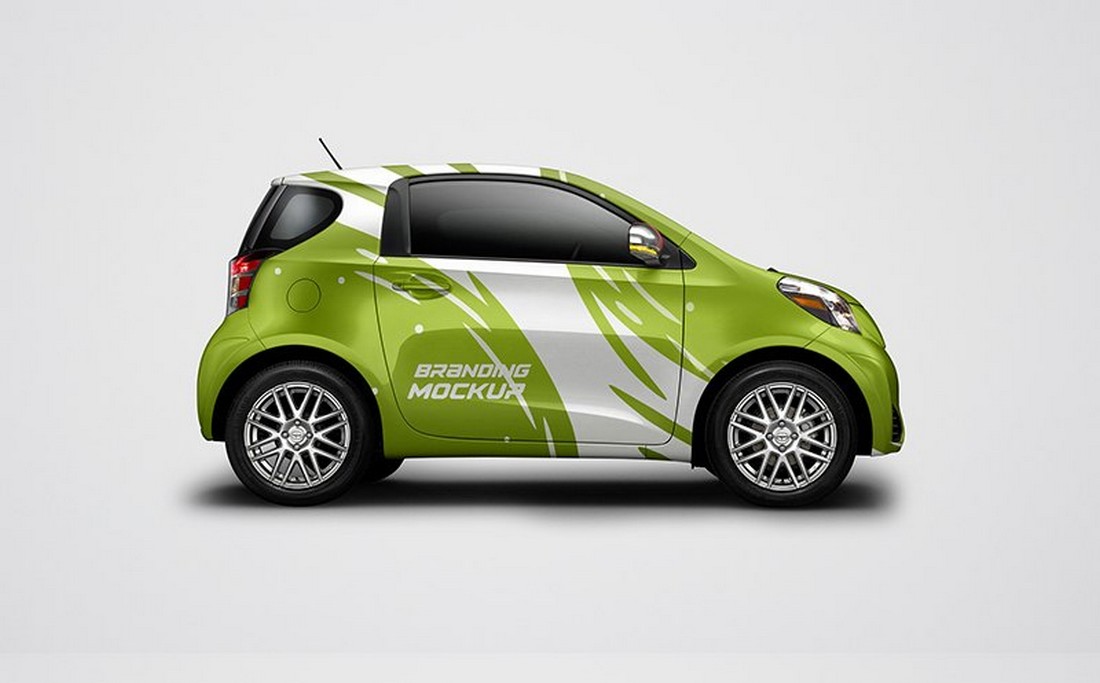 Looking for a compact car mockup for presenting your decal designs, then this free template is perfect for the job. It features an easily editable car mockup with a cute compact design.
Hatchback Car Wrap Mockup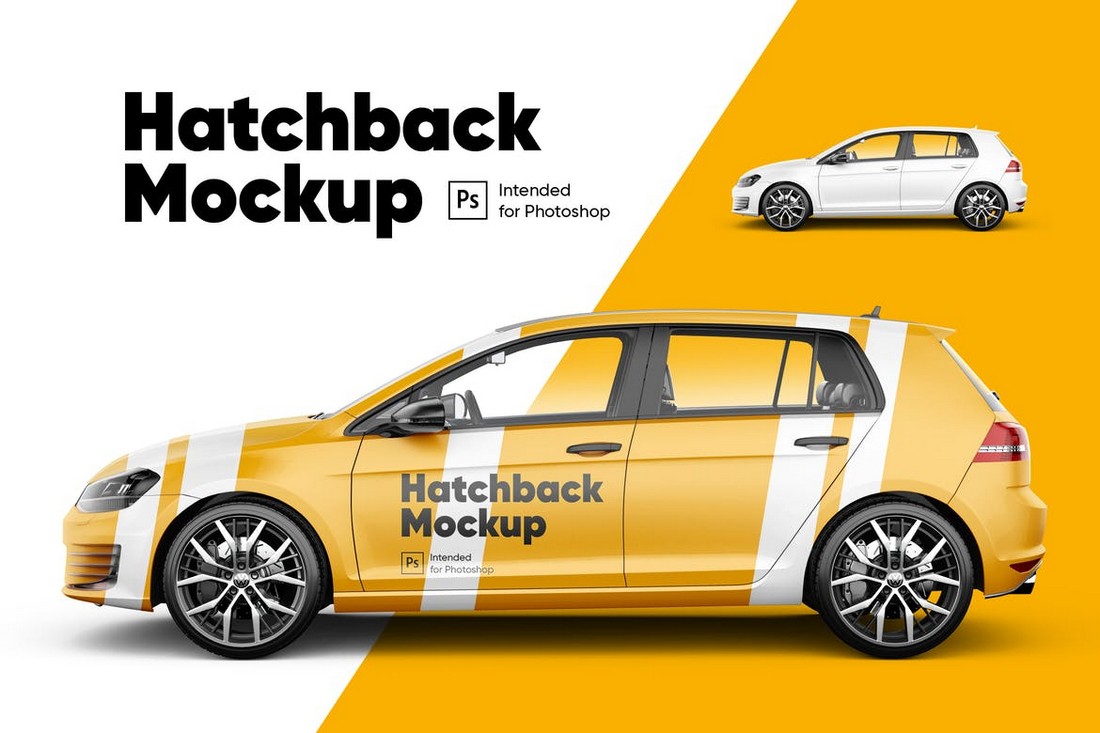 Hatchback cars are like the go-to vehicle for company cars. So it's worth keeping this mockup template saved on your computer if you work with vehicle branding projects. The template features a side-view of the car, giving a much clearer view for showcasing your designs. A different view angle of the car can be downloaded here.
3 Car & Van Mockup Templates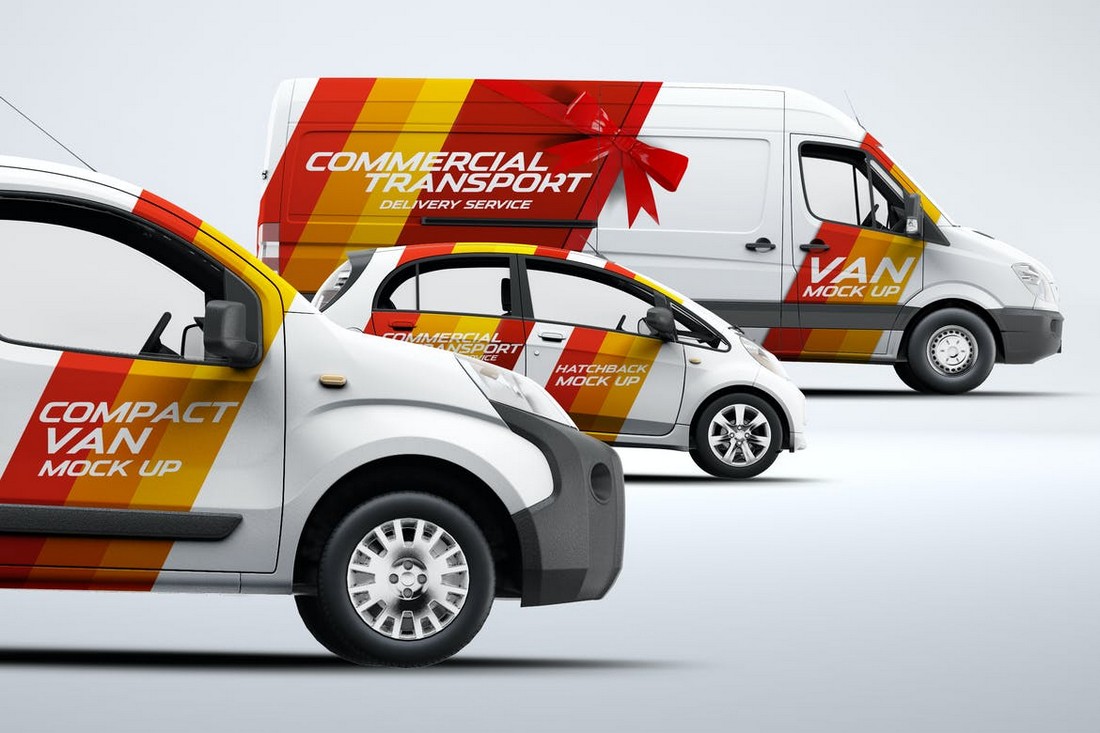 This is a big bundle of vehicle mockups that includes 21 different mockup templates. There are mockups for a car, van, and compact van. Each has mockups showing different angles of the vehicle. You can use them for your car wrap designs, decals, sticker designs, and much more. They all feature editable shadow, light, and reflections as well.
Realistic Electric Car PSD Mockup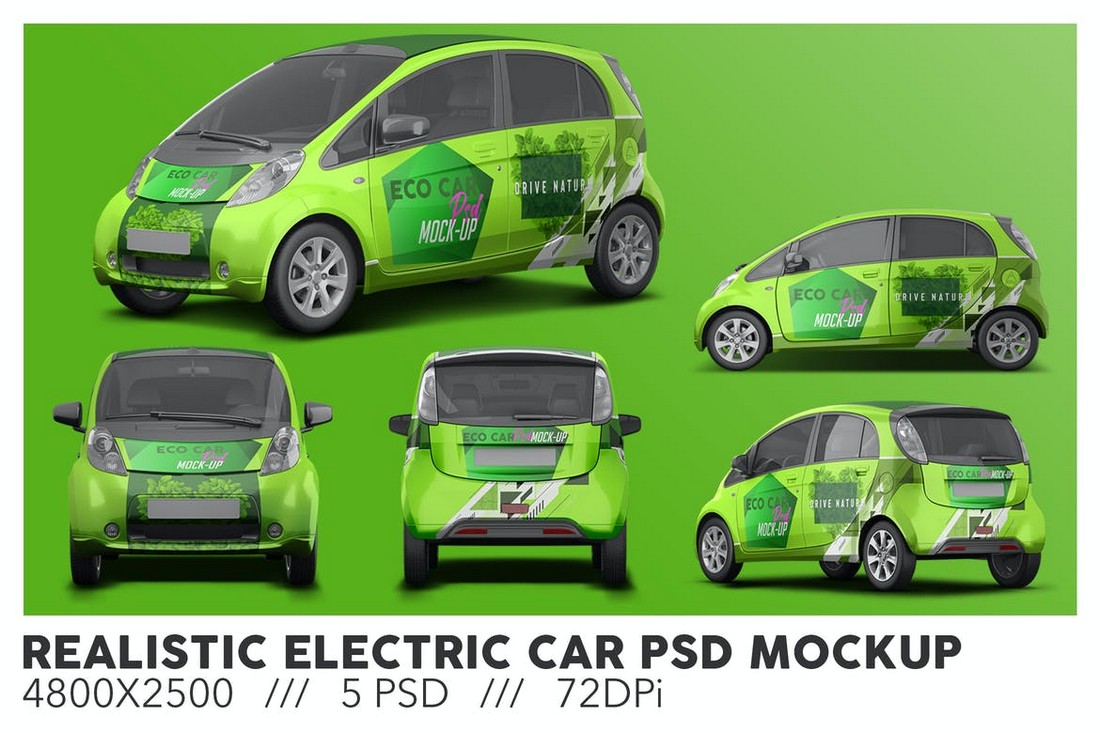 A mockup template for an electric car. If you're designing a car wrap for promoting an eco-friendly brand or business, this mockup will come in handy. It includes 5 mockups featuring different view angles of the vehicle. The mockups are available as fully layered PSD files with changeable backgrounds.
Van Side View Decal Mockup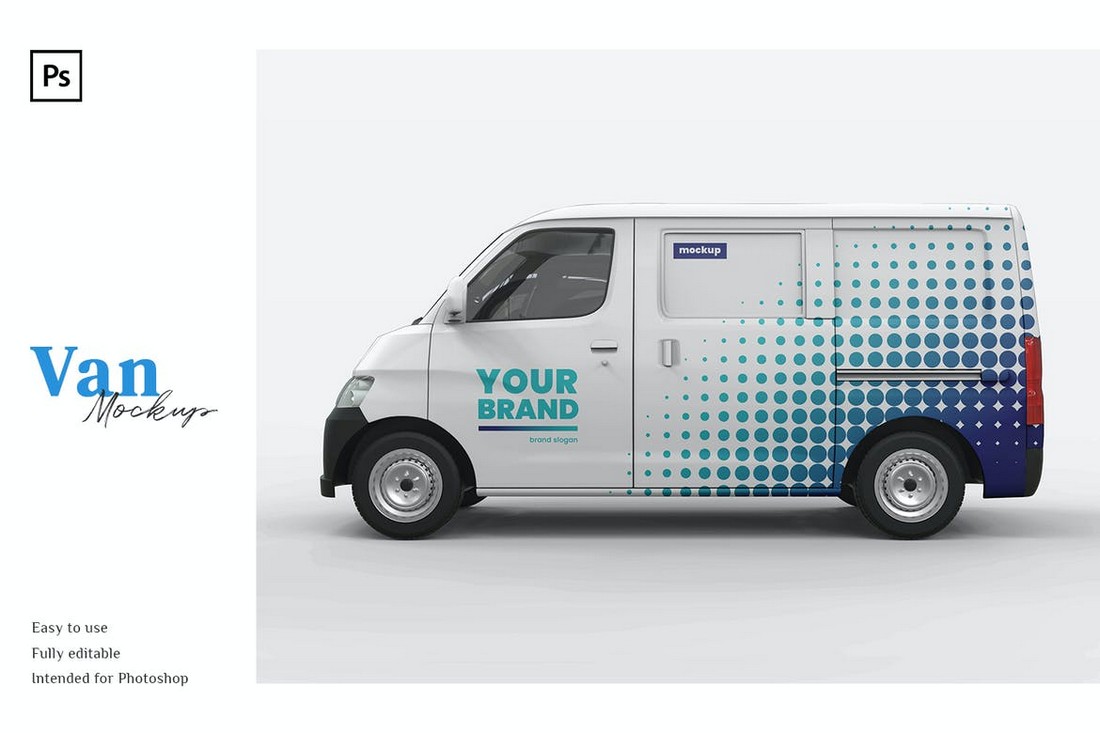 You can use this mockup to show off all kinds of transport vehicle decal designs. The realistic van mockup will make sure your decal and sticker designs look more professional. The PSD mockup includes smart objects and organized layers to let you customize the template with just a few clicks.
Car Branding PSD Mockup Template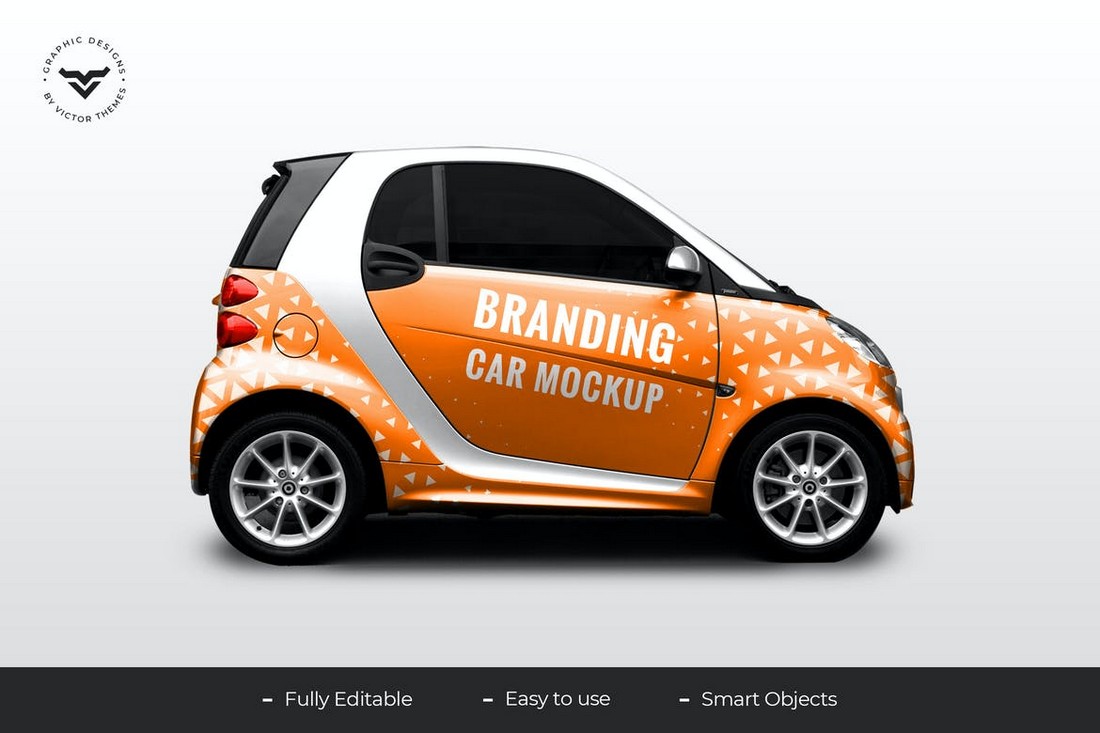 Mini cars are quite a popular vehicle used by many different businesses. With this car mockup, you can present your wrap designs for those tiny cars. It includes editable effects, smart objects, and editable backgrounds for customizing the mockup design to your preference.
Free Tesla S Car Decal Mockup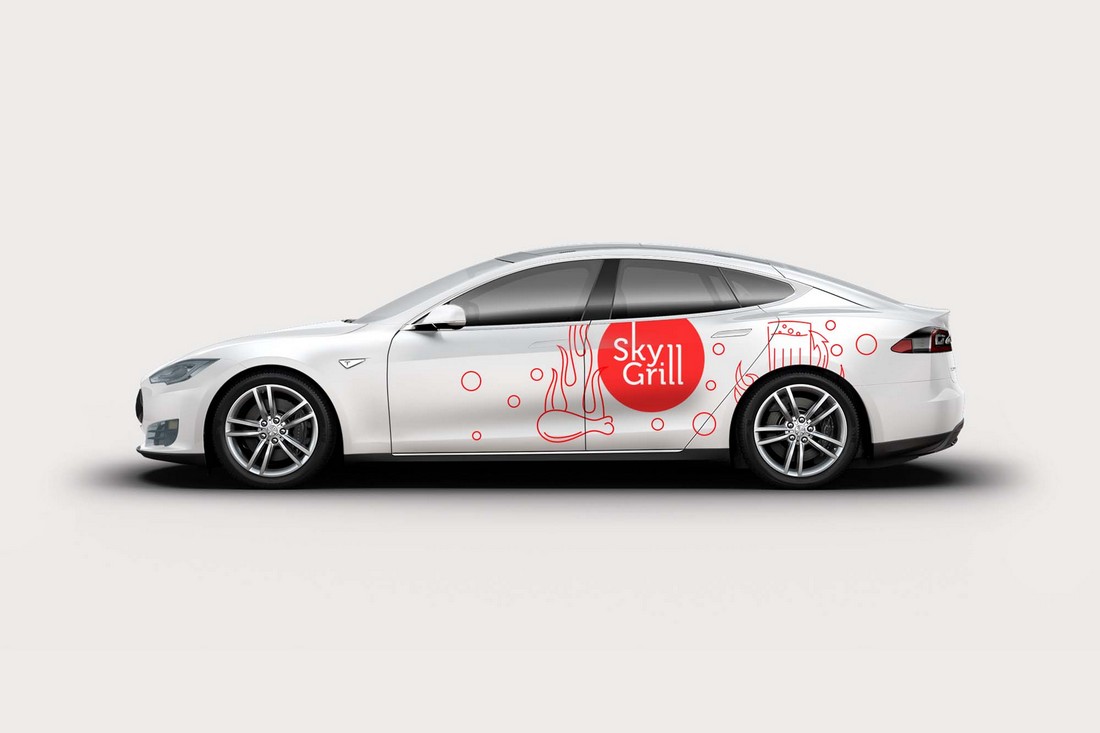 This free car mockup features a Tesla S car model, allowing you to show off your decal designs in a modern and environmentally friendly way. It includes 2 PSD files with 2 angles of the car.
Free Minivan Decal Mockup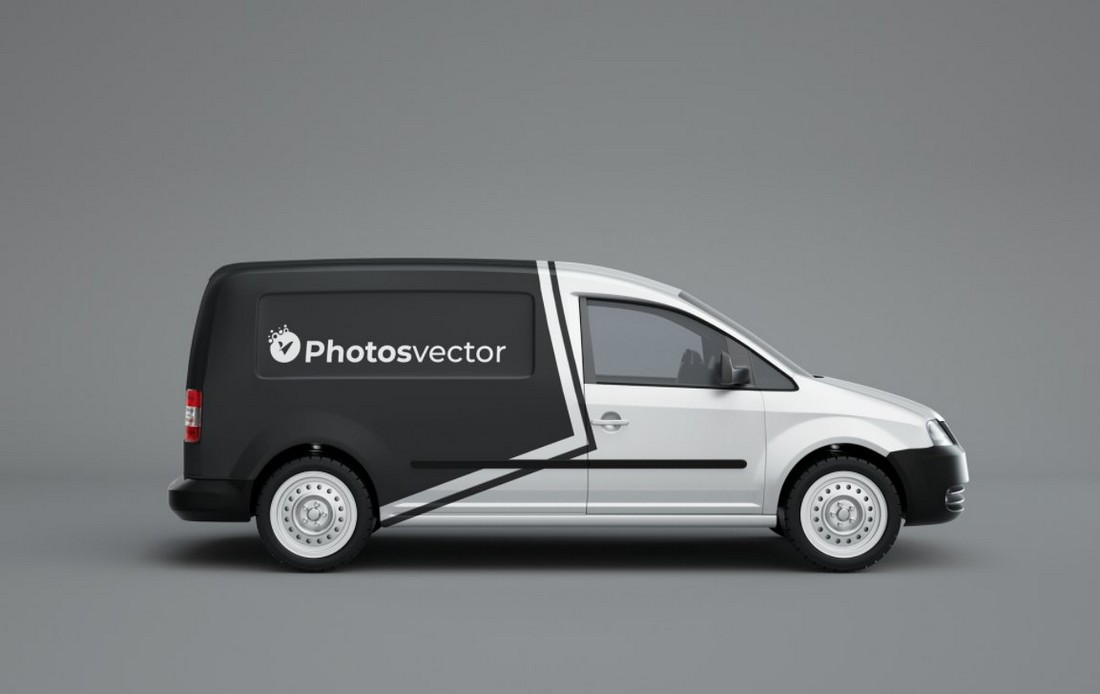 A free minivan mockup for presenting cargo and delivery van wrap designs. This mockup comes in a fully layered PSD file. And it's free to use with your personal and commercial projects.
Van Livery Mockup Template Kit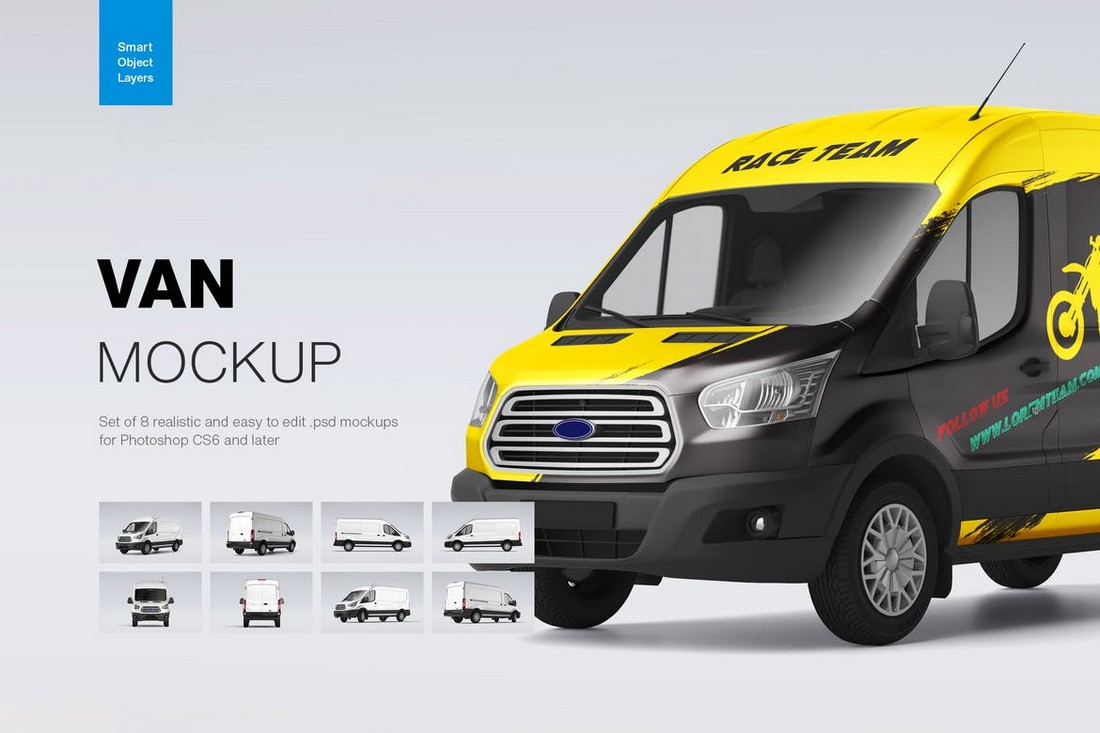 This is a complete van mockup kit you can use to present your van livery and wrap designs for transport and delivery vehicles. The bundle includes 8 mockup templates showing different angles of the van. Each mockup is available in high-resolution PSD files and they are easily editable with changeable backgrounds.
Realistic Cargo Car Mockup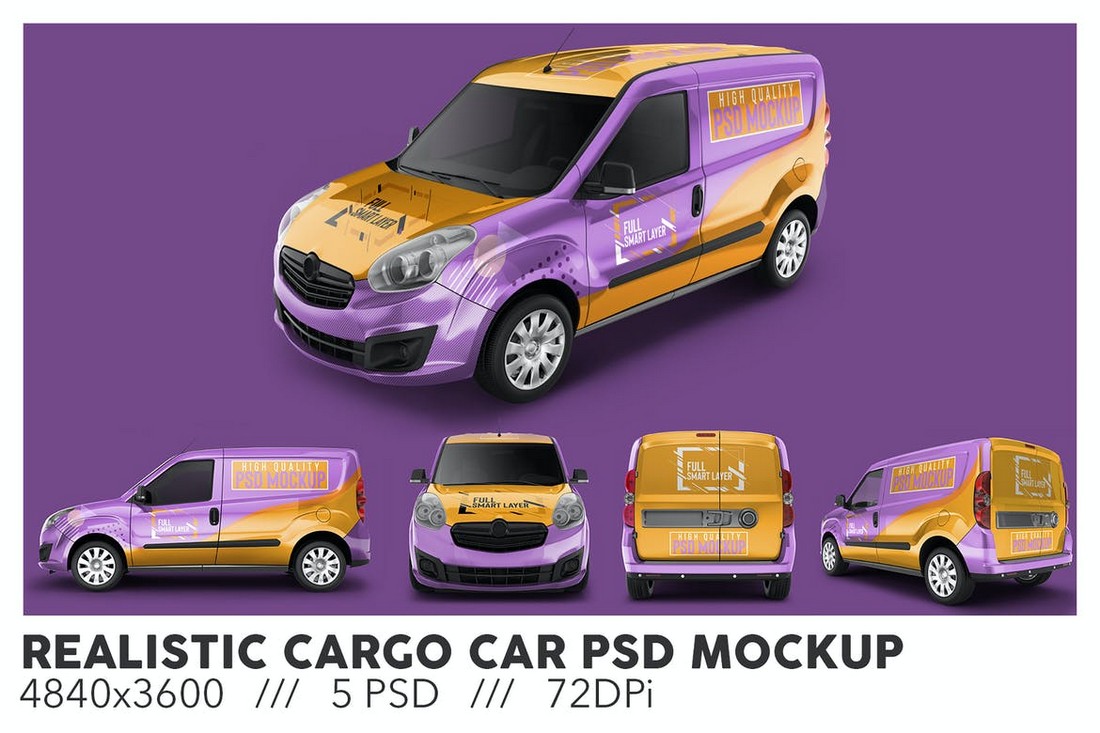 A stylish cargo car mockup for showcasing all your wrap and decal designs. This pack includes 5 mockups with different views of the car, all in 4K resolution PSD files. You can also edit the reflections and shadows to create a more realistic feel for presenting the designs as well.
Pickup Truck Mockup Template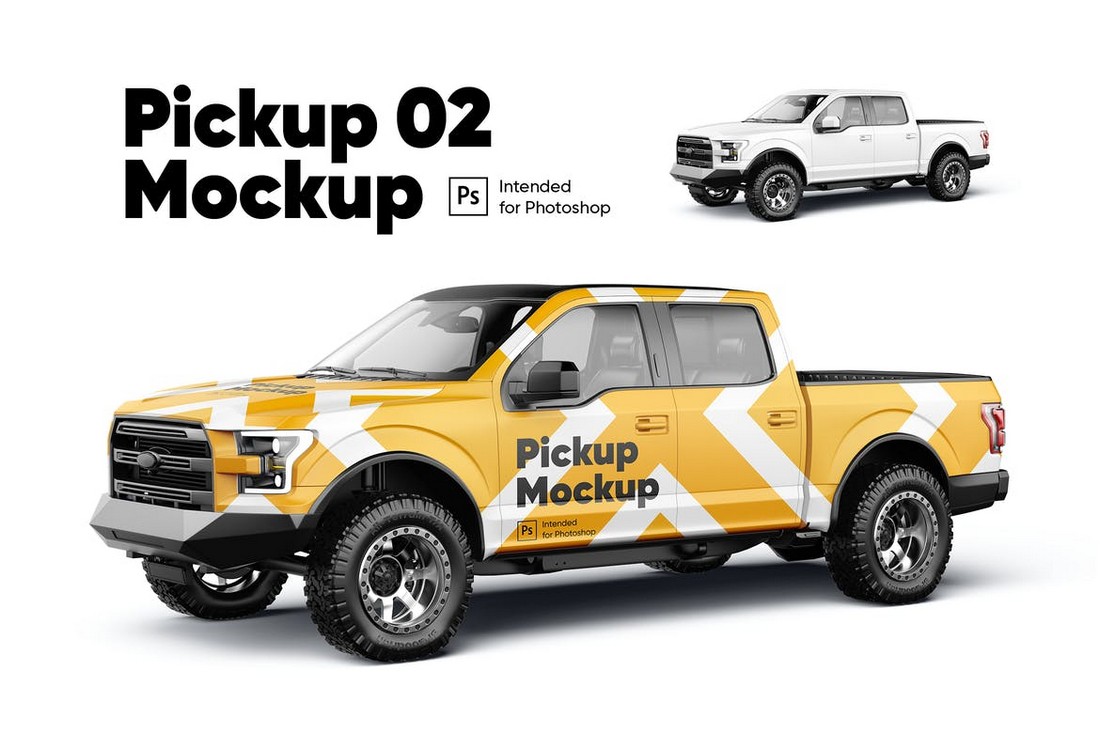 Working on a wrap design for a pickup truck? Then this mockup is for you. It features a full-frontal view of a pickup truck where you can show off your vehicle branding designs. You can also download a backside angle of the truck from here.
Mercedes SLS AMG Livery Supercar Mockup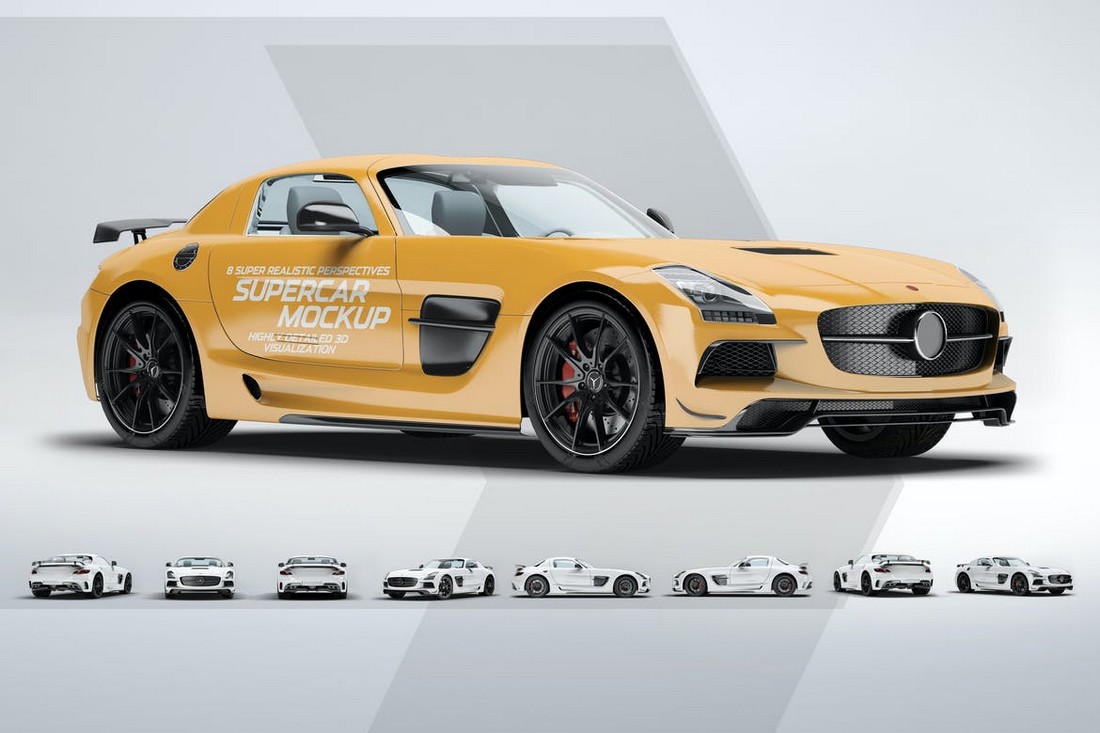 A mockup template kit featuring a realistic Mercedes SLS AMG. If you get to work on a design for a supercar, this mockup is a must-have for presenting your design. It includes 8 PSD templates with different angles of the car. Each template has editable lights, shadows, and reflections.
F1 Racing Car Livery Mockup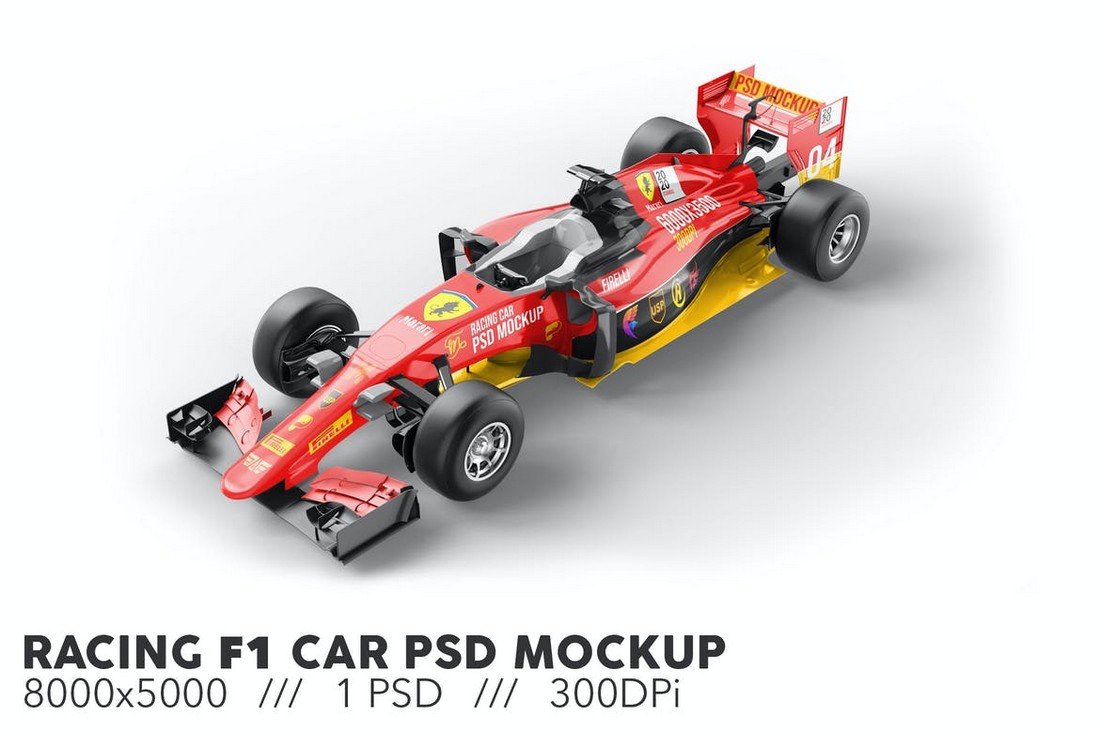 Not every designer is lucky enough to be able to work on a livery design for a real F1 racing car. If you do, this F1 mockup is for you. Even if you're working on a concept livery design for your favorite racing team, this mockup will help showcase your designs on your portfolio in a professional way. Be sure to keep it saved for later.
Free Van on the Street Mockup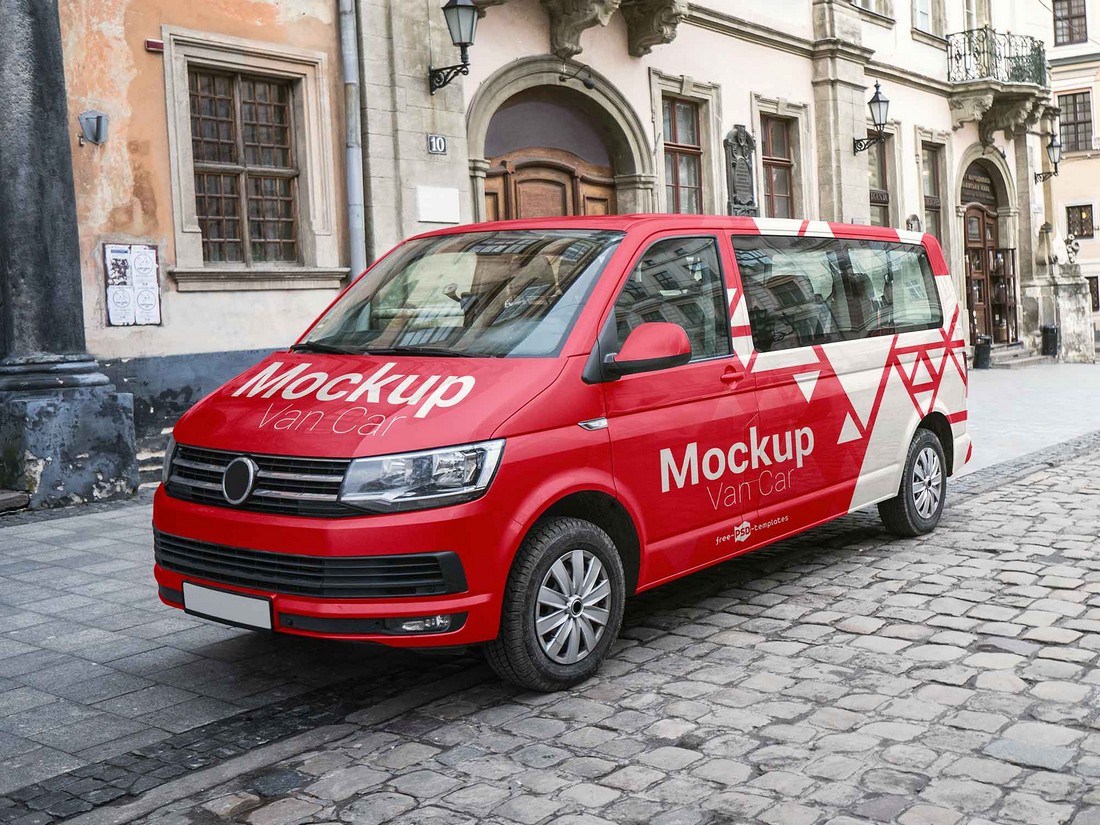 This mockup is great for promoting your branded designs in promotional campaigns. The template features a van parked on a street. And it's free to download and use with your creative projects.
Free Van Wrap Mockup Template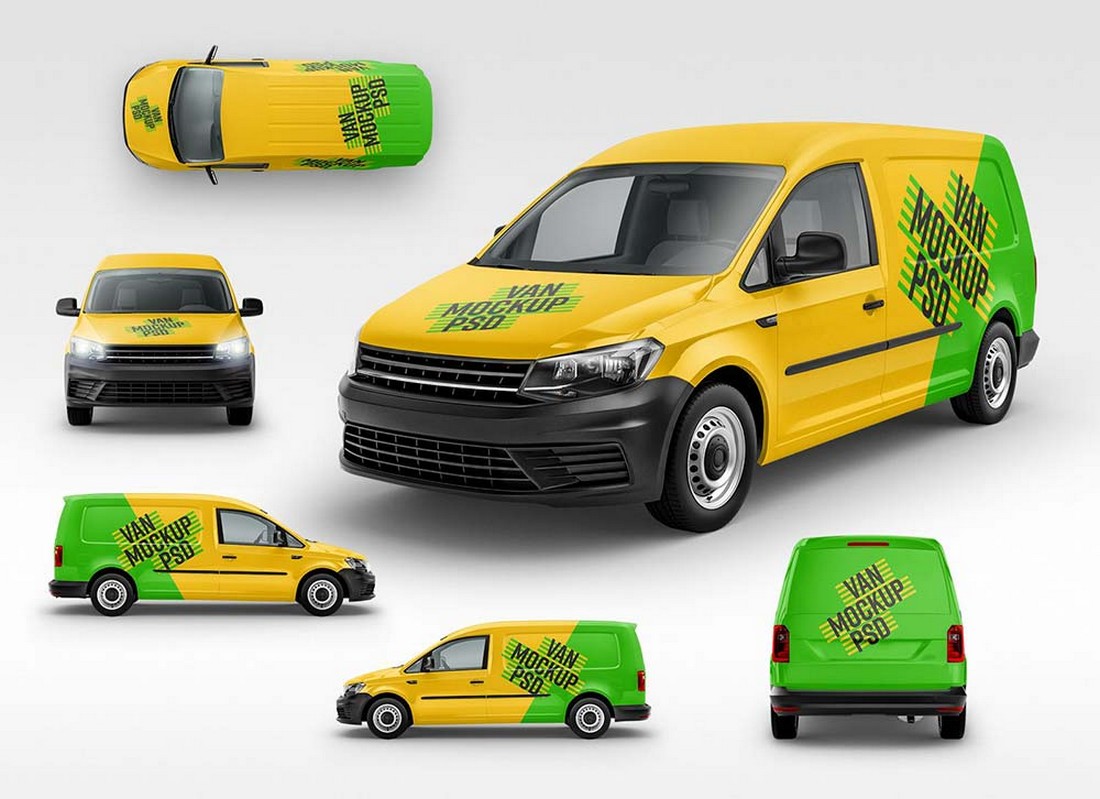 Even though this van mockup is free, it gives you all view angels of the van for effectively showcasing your wrap and decal designs. There are multiple sides of the mockup available, all for free.
Free Mini Cooper Car Mockup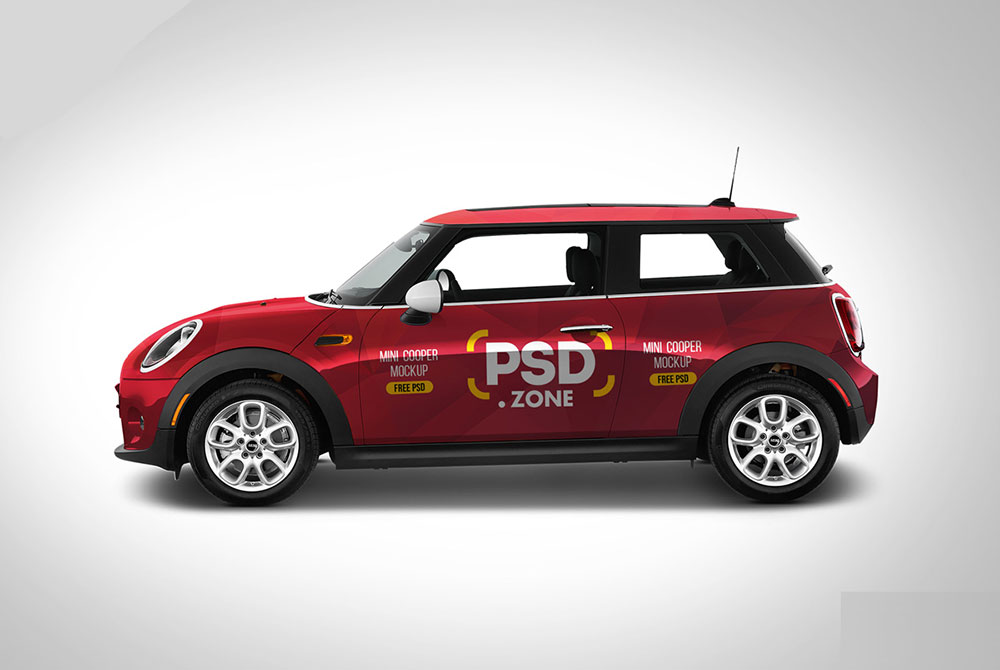 If you're a fan of the Mini Cooper, this mockup will allow you to showcase your car wrap designs using your favorite car. It's free to download and includes organized layers with smart objects for easy editing.
Van With Surfboard Branding Mockup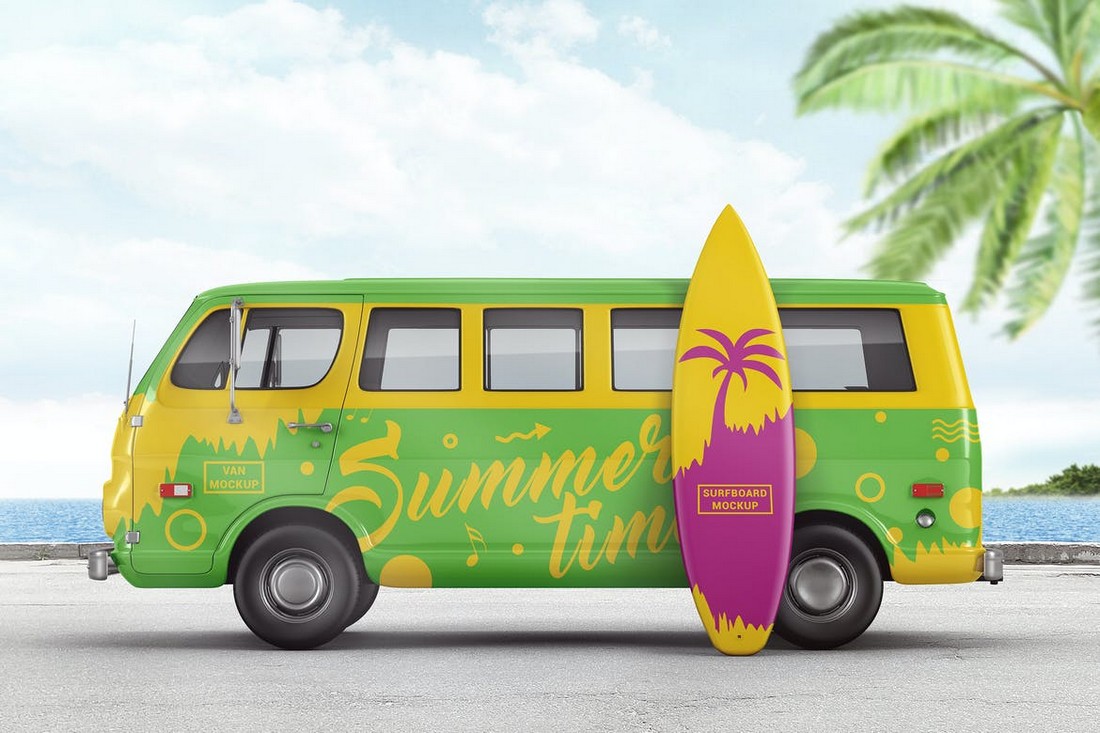 This is a very creative and unique van mockup you can use to showcase branding designs for travel and tour businesses. It's perfect for promoting special events, agencies, and brands as well. The template features smart object layers for both the van and the surfboard. You can find an alternate version of this mockup here.
Van On The Bridge PSD Mockup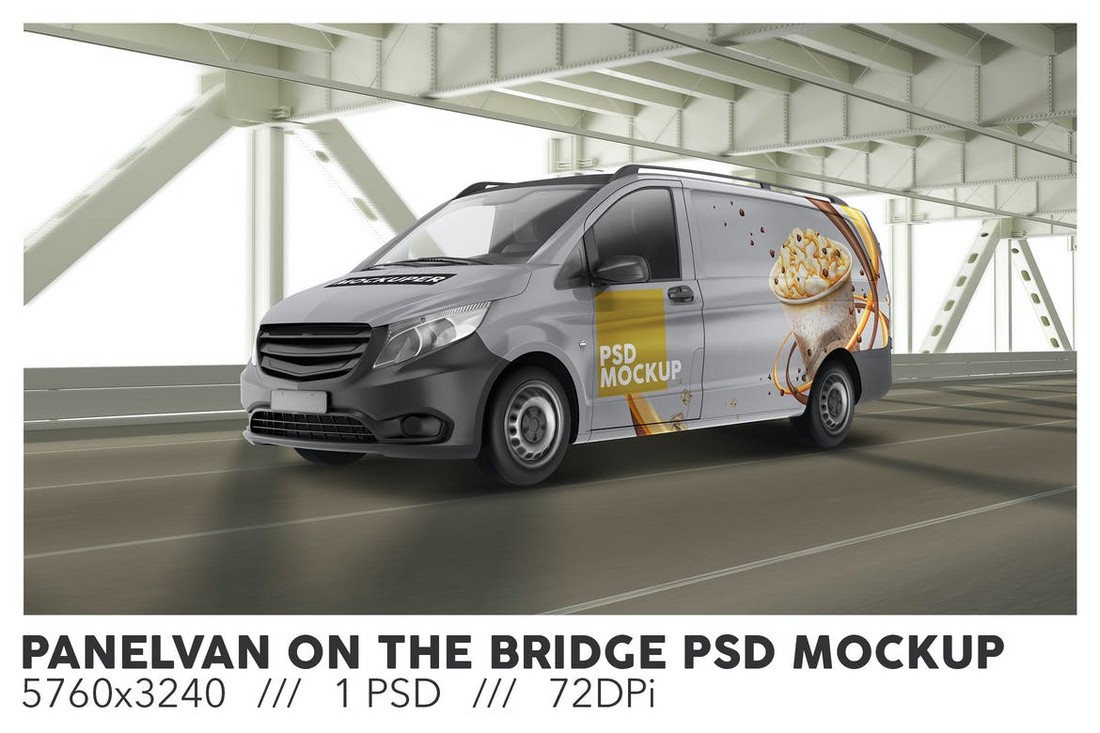 If you're working on a wrap design for a courier or logistics brand, this mockup is perfect for showcasing your designs. It shows a fast-moving van on a bridge with a clear front view of the vehicle. It includes smart object layers for easily editing the PSD file.
Skoda Sedan Car Decal Mockup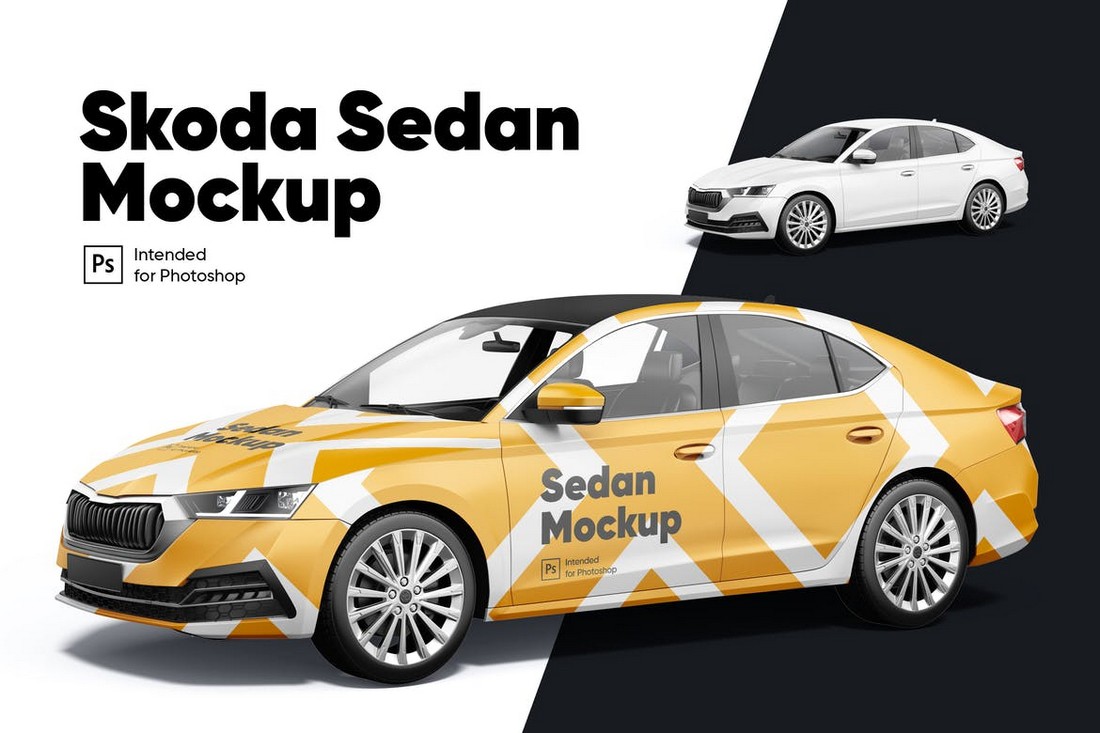 A classic sedan car mockup for presenting your vehicle branding designs. It features the Skoda Octavia sedan car and includes smart objects and editable background. This mockup is available in a side-view angle as well.
Free Vinyl Van Wrapping Mockup
You can add branding projects for food companies, mailing services, etc. or choose to decorate the van with patterns and geometric shapes that distinguish it from an everyday van. Coming in PSD format, the mockup can be customized via the smart object layers.
Free Mini Electric Car Branding Mockup
It's an editable PSD mockup which allows you to change via smart layer, the color of the car and that of the background. It's perfect if you're looking for a way to send your message directly to the audience.. It's available for personal and commercial use and you can use this car mockup for your branding project, or all sorts of advertising campaigns.
Free Retro Sport Car Mockup
Have some fun customizing this cool set of vintage wheels with the retro-sport car mockup. Whether you are using this for fun, personal projects, or commercial projects such as editorial, advertisements, newsletters or reports for the motor trade or car lovers, there is a huge range of uses for this graphic.
Free Volkswagen Vehicle Mockup
This model of Volkswagen included in the mockup reminds us of those iconic hippie vans like the ones we see in movies that are decorated with rainbow colors, hearts, and flowers. You can use this mockup for branding projects, advertisements, music album covers, and social media posts (with some hippie quotes written on it).
Free Opel Corsa Hatchback Car Mockup
Some inexperienced individuals refer to cars by their brands, or worse, their colors, and some take the time to notice the details and refer to the exact model and even the year. But whichever approach you prefer, you can still share your brands and businesses with this Opel Corsa hatchback car PSD mockup.
Want to update your brand stationery with a modern design? Then check out our best modern stationery templates collection.
By: Roshan Perera
Title: 30+ Car & Van Decal and Wrap Mockup Templates
Sourced From: designshack.net/articles/inspiration/car-van-decal-wrap-mockup-templates/
Published Date: Wed, 07 Sep 2022 22:00:00 +0000