One of the latest trends on Instagram is using the account feed to create unique designs to make each channel more memorable and attractive. While browsing Instagram, we came across many different styles of feed and post layouts featuring puzzles and grid designs.
This trend is a great way to make your profiles and Instagram pages stand out from the crowd. And offer a unique experience for the followers to browse your posts as well as to grab their attention. If you're thinking about creating a unique Instagram layout for your own account, we have a few creative ideas for you.
In this post, we share a few Instagram layout ideas and themes for all kinds of Instagram account feeds and posts. The best part is the examples we feature are templates you can download and use to create similar layouts without an effort. See for yourself.
Nature-Themed Instagram Post & Story Templates
The beautiful botanical and nature-inspired designs used in these Instagram templates will allow you to create content that will instantly grab the user's attention. It includes 9 Instagram posts and 9 story layouts. They are perfect for fashion, beauty, and lifestyle brands.
Watercolor Instagram Puzzle Template
Of all the different styles of Instagram puzzle layouts, this one is by far our favorite. The creative watercolor theme used in this layout gives it a very distinctive look. And makes it a great choice for creative artists, influencers, and designers.
Influencer Instagram Carousel Template
Whether you're an influencer, marketer, or agency, this Instagram carousel layout will allow you to promote your services and products much more effectively. The vibrant color combination and the clever use of the bold fonts make it look even better.
bstract Shapes Instagram Post Templates
The creative abstract shapes used in this Instagram post design give it a very stylish and trendy look. While it's crafted with travel influencers and agencies in mind, the templates are ideal for creative professionals and designers as well.
Free Gradient Instagram Post Templates
This colorful and vibrant Instagram post template is free to use in your personal social accounts. It includes 5 unique post layouts that are made with beauty and fashion brands in mind.
Modern & Colorful Instagram Post Templates
The modern art-style designs of these Instagram post layouts make them stand out from the crowd. They are designed for making posts for events and conferences. But you can also take inspiration from this layout style to make your own unique Instagram posts.
Clean Business Instagram Carousel Template
This template kit is a great choice for designing an Instagram carousel for promoting the services of a consulting agency or business. There are 5 different post layouts in this carousel template with fully customizable designs.
Retro-Wave Instagram Post Templates
You can create retro-style colorful posts for your fashion and apparel Instagram pages with this collection of layouts. It includes 6 different post designs with editable colors, fonts, and smart object image placeholders.
Dark Instagram Post Templates
With this Instagram layout kit, you can create dark and moody posts for your channel. It includes 15 different styles of dark Instagram post layouts. You can also customize them to change colors if you like.
Free Colorful Instagram Puzzle Template
This free Instagram puzzle template is perfect for creative agencies, artists, and designers for adding a bit of color to their feeds. It comes in EPS format and you can use it for free on your personal account.
Monochrome – Instagram Puzzle Post Template
This beautifully modern Instagram post template kit is perfect for creating an attractive puzzle feed for your profile. With it, you can make your profile stand out from millions of other Instagram users.
The bundle includes 15 different Instagram post template that creates a puzzle layout when put together. It's most suitable for fashion and lifestyle brand accounts.
Coaching Instagram Carousel Posts Template
If you're looking for a new way to promote your coaching or training program on Instagram, this carousel post template will come in handy.
The carousel post is a popular trend on Instagram where you share multiple images in a single post. This bundle includes 15 Instagram post designs with matching layouts, perfect for making carousels.
Fitness & Gym Instagram Carousel Template
Showcase your gym and fitness programs in style with this modern Instagram carousel template kit.
This template allows you to promote your fitness and gym using carousel posts. There are 15 different post layouts in this pack that you can customize using Photoshop and Illustrator.
Minaudiere – Instagram Puzzle Feed Template
Featuring a clean and minimal design, this Instagram template kit lets you craft puzzle feeds for modern fashion and lifestyle brands.
You can choose from 12 post designs to create an attractive puzzle feed for your profile. It's ideal for agencies, online shops, fashion brands, and more.
Free Creative Instagram Carousel Template
If you want to create a colorful and creative Instagram carousel post but low on budget, this free template will come in handy.
It includes 4 different post layouts you can put together to make a creative carousel post for your personal channel.
Fashion & Beauty Seamless Instagram Carousel Template
5 different post layouts and 1 amazing carousel template. This is the perfect Instagram carousel kit you can use to create an attractive post for your channel.
It includes 5 PSD files with organized layers and editable layouts. You can use it to promote fashion products, lifestyle brands, and much more.
Instagram Puzzle Feed Template for eCommerce
This Instagram puzzle template is designed with eCommerce brands and online stores in mind.
There are 12 post layouts in this bundle that you can use to create a stylish Instagram puzzle feed for your profile. You can edit the templates using Photoshop.
Swiss Modernism Instagram Carousel Template
This template kit comes with a design inspired by monochromatic designs. It features a big collection of post layouts.
There is a total of 49 different post designs in this bundle. You can use them to create 9 different Instagram carousel posts. Each template is available in both Illustrator and Photoshop file formats.
Polaboard – Instagram Post Templates Kit
A collection of 20 unique Instagram post templates featuring Polaroid-style post designs.
These templates have very unique designs, unlike any other post you've seen. And they allow you to create collage-like posts for promoting various brands and products on Instagram.
Free Fashion Instagram Carousel Template
Another free Instagram carousel template for promoting your personal channel in style.
This template is ideal for creating posts related to lifestyle and beauty products. It includes 4 post layouts that you can edit with Illustrator.
Koffie Grid – Instagram Grid Layout Theme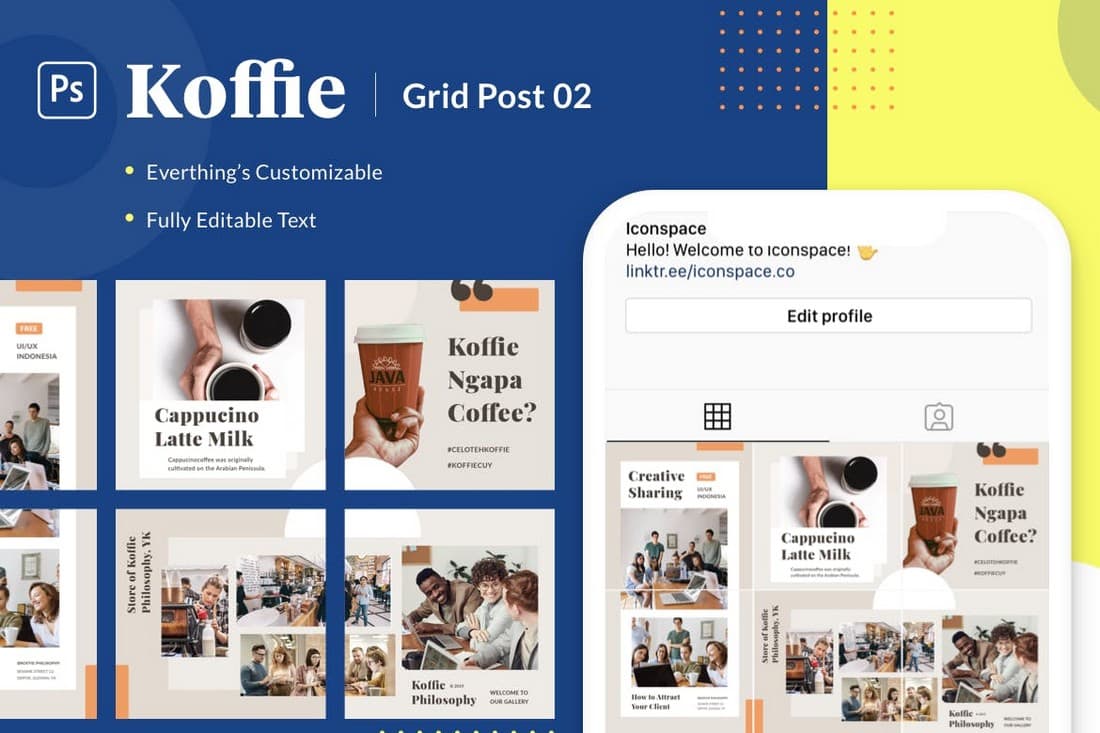 The grid Instagram layout is a concept where you put together multiple posts to show a compilation of a single design on your Instagram account feed. This adds a stylish visual appearance to your feed instead of the usual random posts.
This particular template allows you to create a similar grid design using its creative post designs. The templates in this pack are designed for promoting coffee and beverage brands. However, you can customize them to change images and colors to match other businesses as well.
Charming Instagram Puzzle Template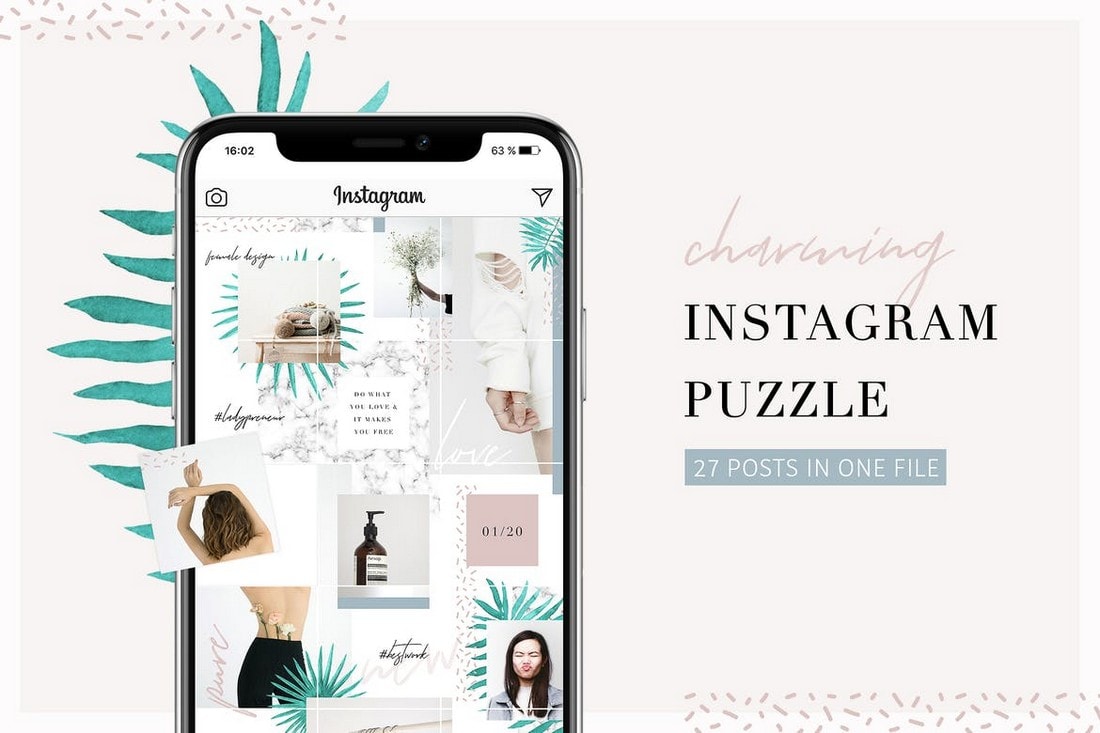 Instagram puzzle feed themes are also a popular trend on the photo blogging platform. This concept involves a similar strategy to grid layouts. However, puzzle themes create feed layouts with post designs that interconnect with each other.
Instagram puzzles are quite difficult to create even with good graphic design knowledge. But, with the help of a template, you can create one with ease. This puzzle theme features 27 post slices you can edit to your preference.
Fashion Green – Carousel Instagram Feed Template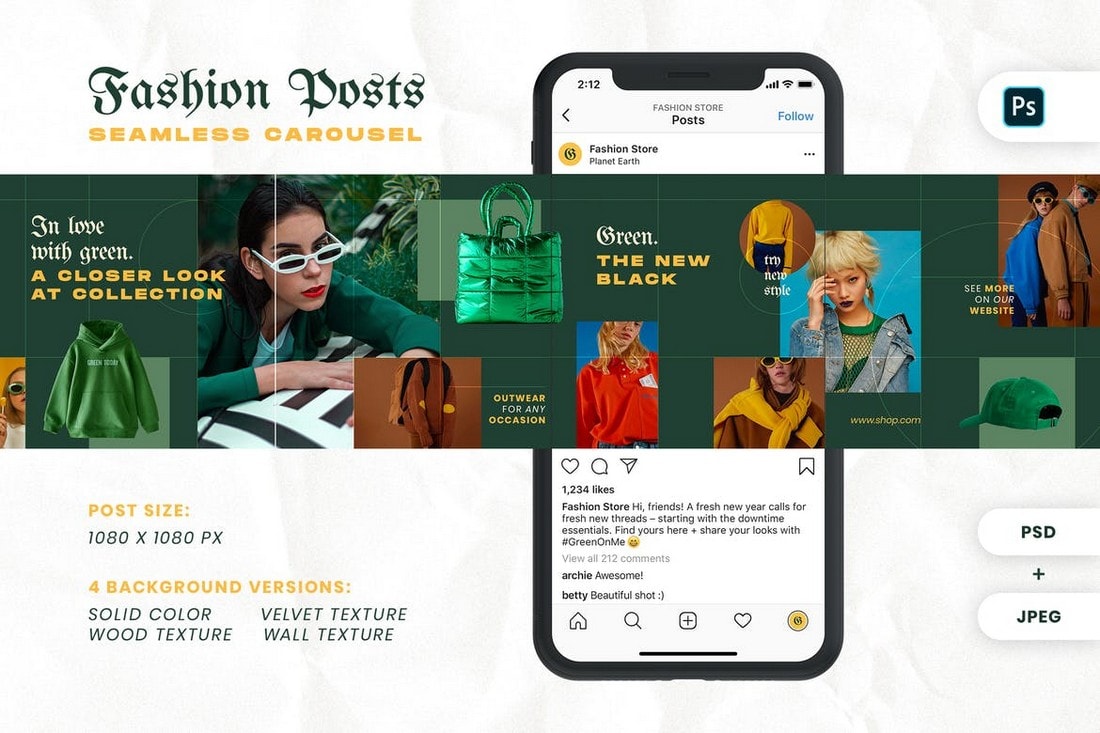 Creating carousel Instagram posts is quite an effective way to make your Instagram feed more engaging and allow users to interact with your posts in a more meaningful way. A carousel post normally consists of multiple images. But, what if you could create a carousel post with images that are connected to each other?
This Instagram feed template lets you do just that. It features 4 post designs with 4 background styles to create a seamless carousel post. It's perfect for fashion and apparel related Instagram accounts.
Flower Shop – Instagram Feed Puzzle Theme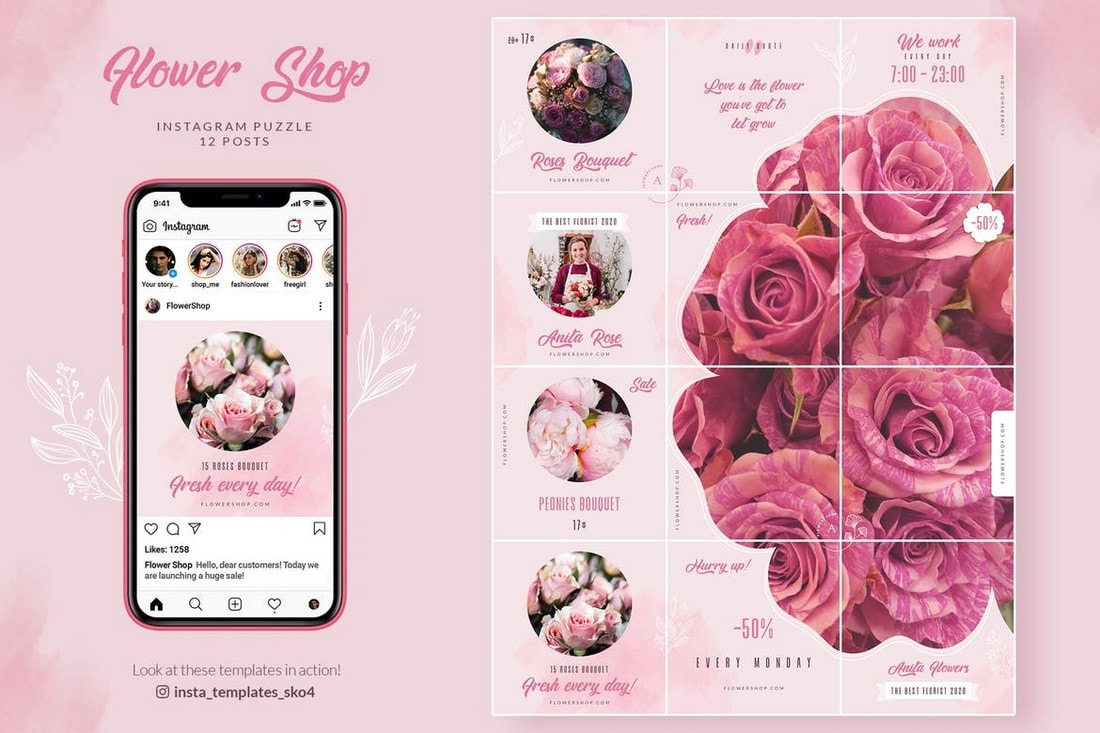 This is an Instagram puzzle template that features a more creative and beautiful design. This template helps you create a puzzle feed for flower shops. It's actually suitable for beauty and feminine product brands as well.
The template includes 12 post slides that create one stunning image when combined. It's full of pink flowers and layouts for promoting products. You can customize them all using Photoshop.
Dog Instagram Puzzle Feed Theme
Another Instagram puzzle feed template featuring adorable dogs. This template includes 12 different post slices with the perfect layout to get more likes and followers with adorable dog pics.
Pet stores, dog food, and many other pets related businesses and brands can use this template to create a cute Instagram feed that melts the hearts of their followers. All of the templates are easily editable with Photoshop.
Free Instagram Grid Cover Template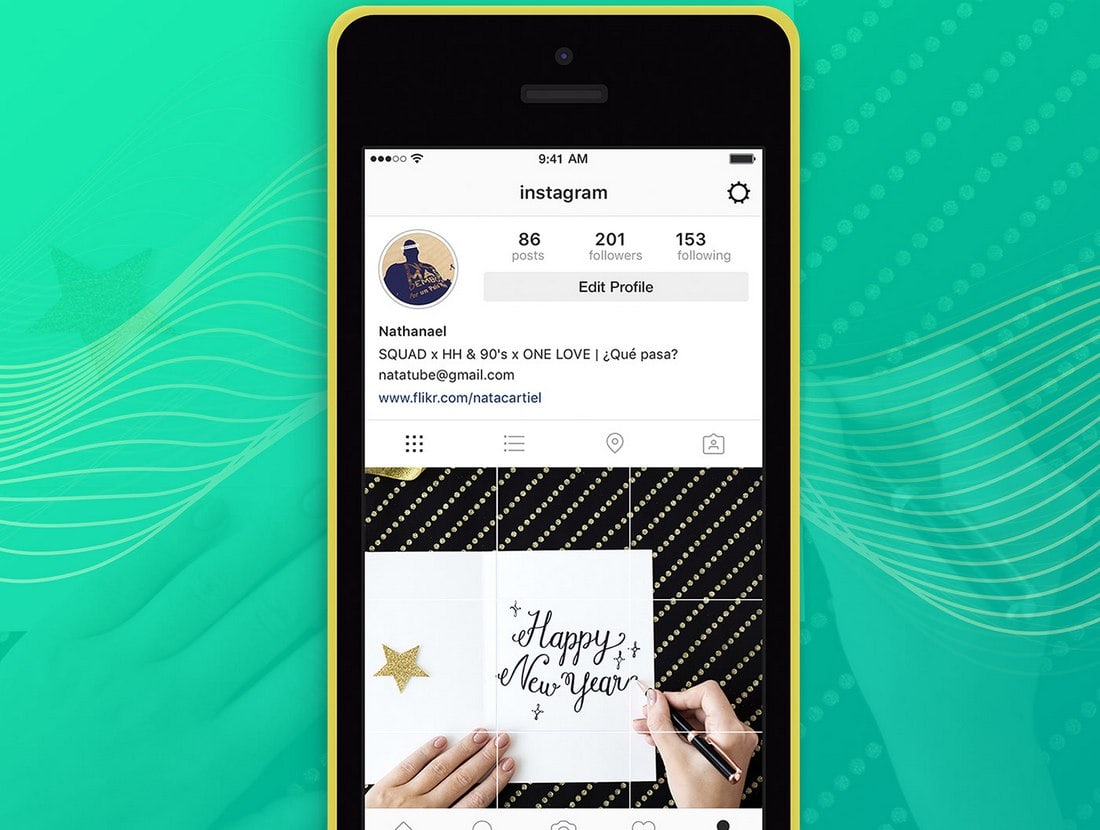 This is a free Instagram grid puzzle template you can use to create a simple feed layout. Even though the template is designed with a New Year theme, you can replace the post slices with your own promotional text or photo collages. You can customize the template using Photoshop CS3 or higher.
Free Grid Instagram Feed Template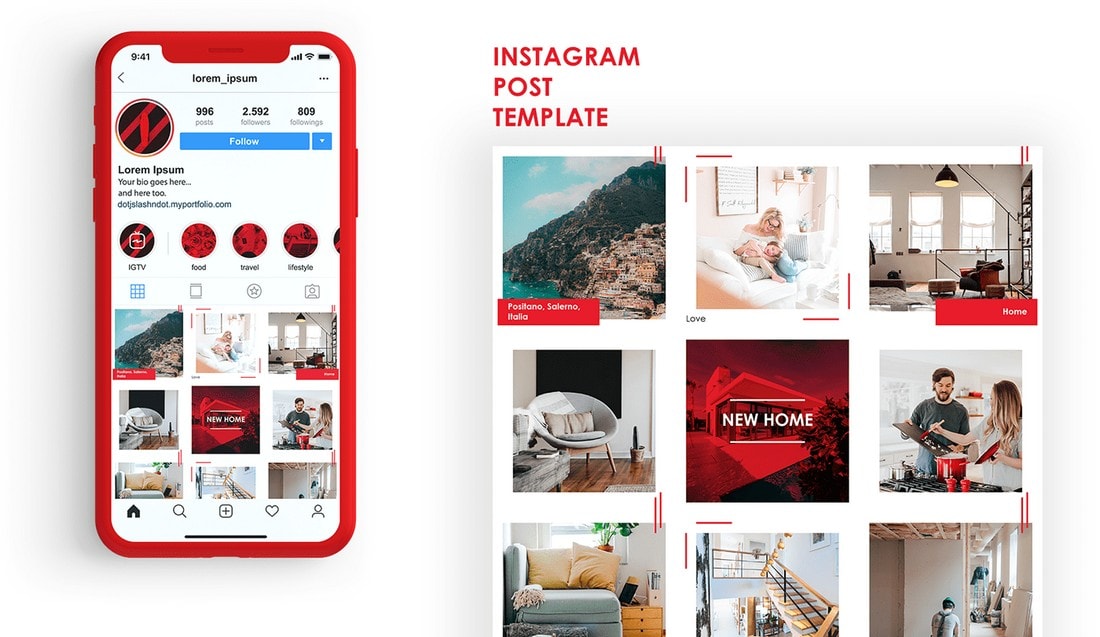 Travel bloggers, interior design, hotels, and photographers will certainly find this Instagram feed template more useful. It features a stylish and trendy grid design you can use to showcase various types of Instagram posts to create a grid feed layout. In addition, it includes 3 matching Instagram story templates as well.
Fine – Instagram Feed Puzzle Template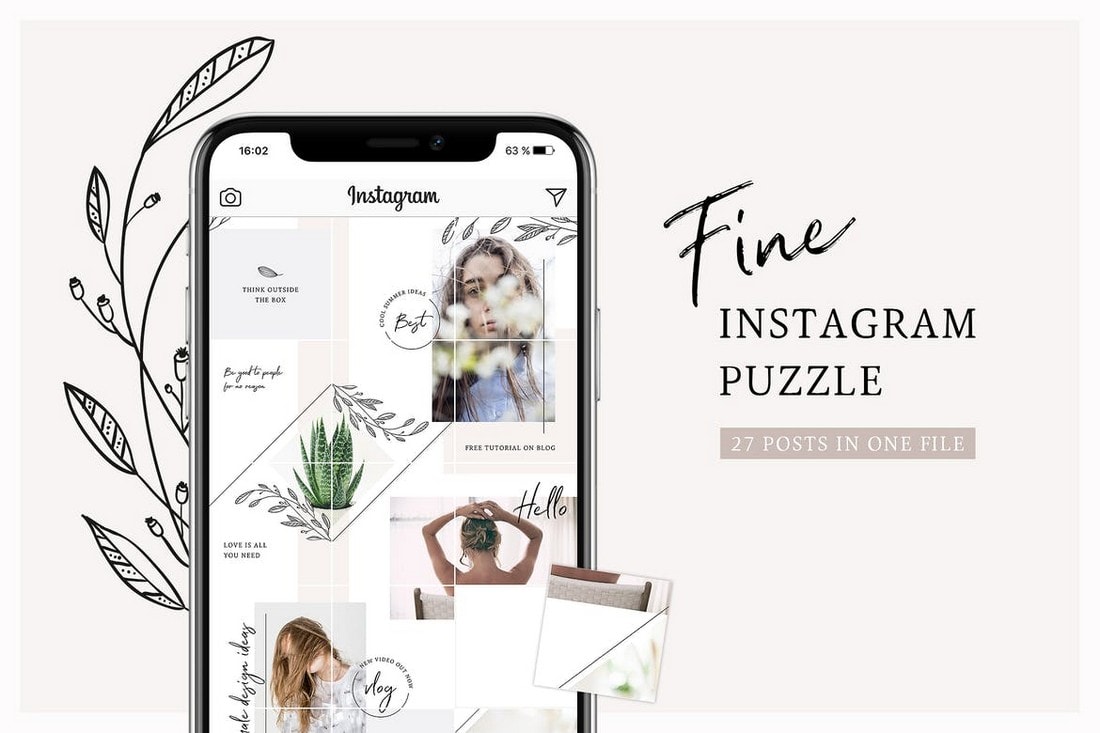 If you have an Instagram page for a creative brand or a business, this beautiful puzzle feed theme will help you design a unique and attractive profile experience for your followers and fans.
This template features a minimal and subtle design that allows you to showcase your products and promote the brand at the same time. It includes 27 post designs and they are ideal for fashion and beauty brands.
Rainbow Fashion – Instagram Puzzle Feed Theme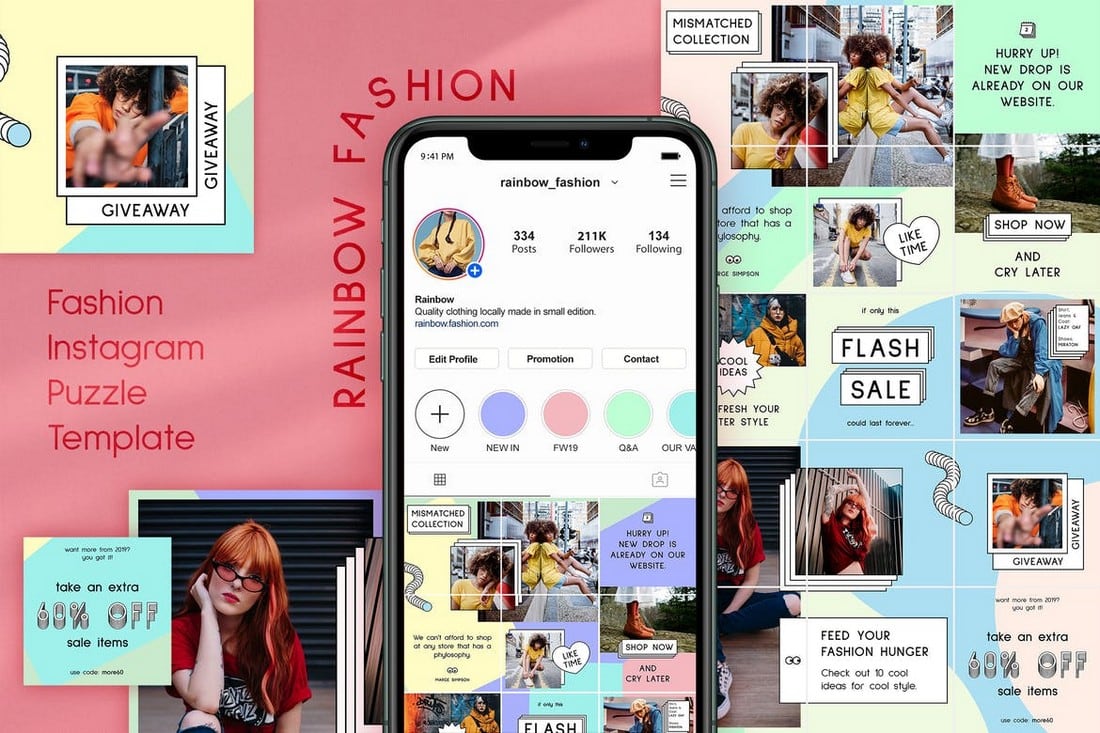 The younger generation always looks for colorful and eye-catching designs. With this puzzle feed design, you can create a vibrant and attractive feed layout for your fashion and clothing business Instagram page.
The template comes with 15 different post slices you can customize to your preference. Each template is available in 4 different color designs and includes a free font as well.
Mirrel – Puzzle Instagram Feed Templates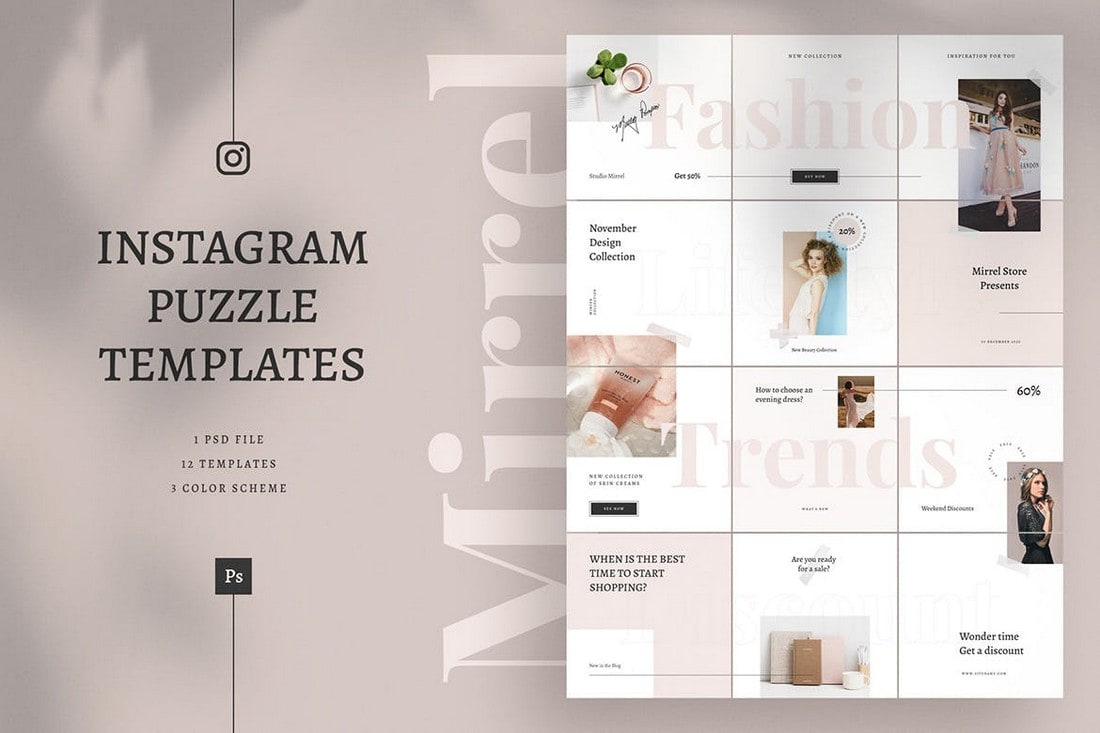 Another minimal and clean puzzle feed template made specifically for fashion brands and clothing stores. This Instagram puzzle grid layout will allow you to create a beautiful feed layout that actively promotes your products for new followers.
The template comes with 12 different slices and each PSD file is available in 3 different color schemes. You can edit them using Photoshop to change images, text, and colors to your preference.
Instagram Fashion Puzzle Feed Layout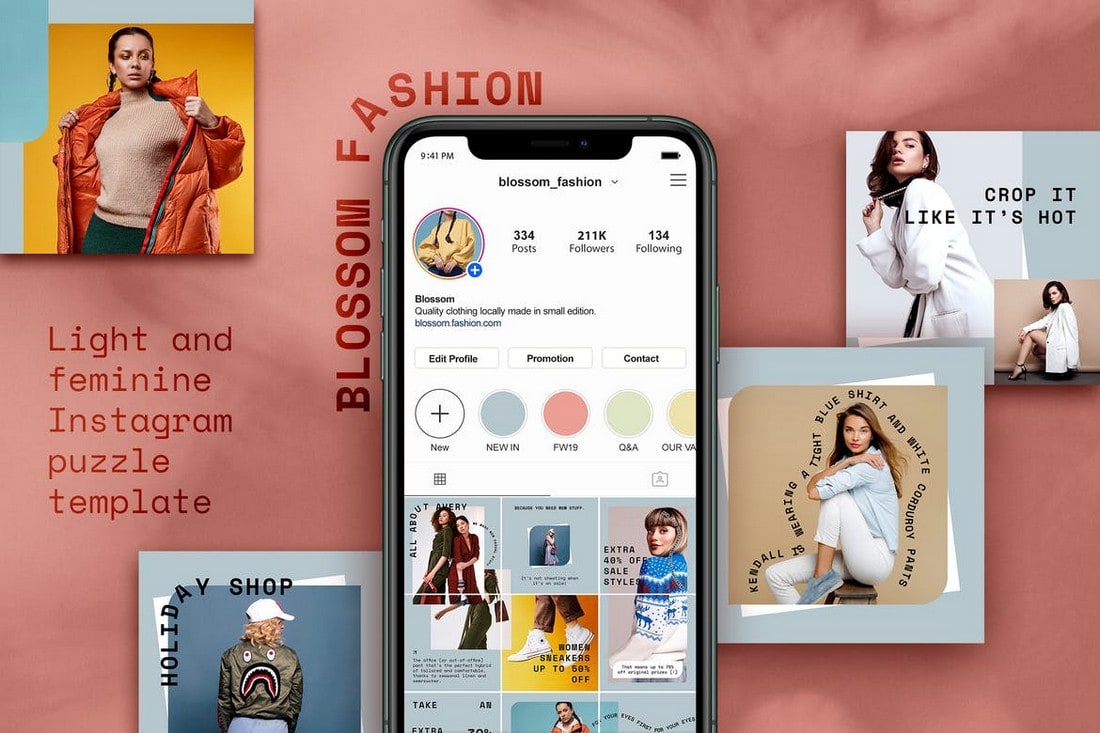 You can create a stylish and hip Instagram feed layout using this modern puzzle feed template. The template is designed for promoting fashion and apparel brands. However, you can replace the images, colors, and text to promote other businesses as well.
This template includes 21 post templates with connected designs. You can also choose from 4 different color schemes as well.
Beauty Blogger – Puzzle Instagram Feed Theme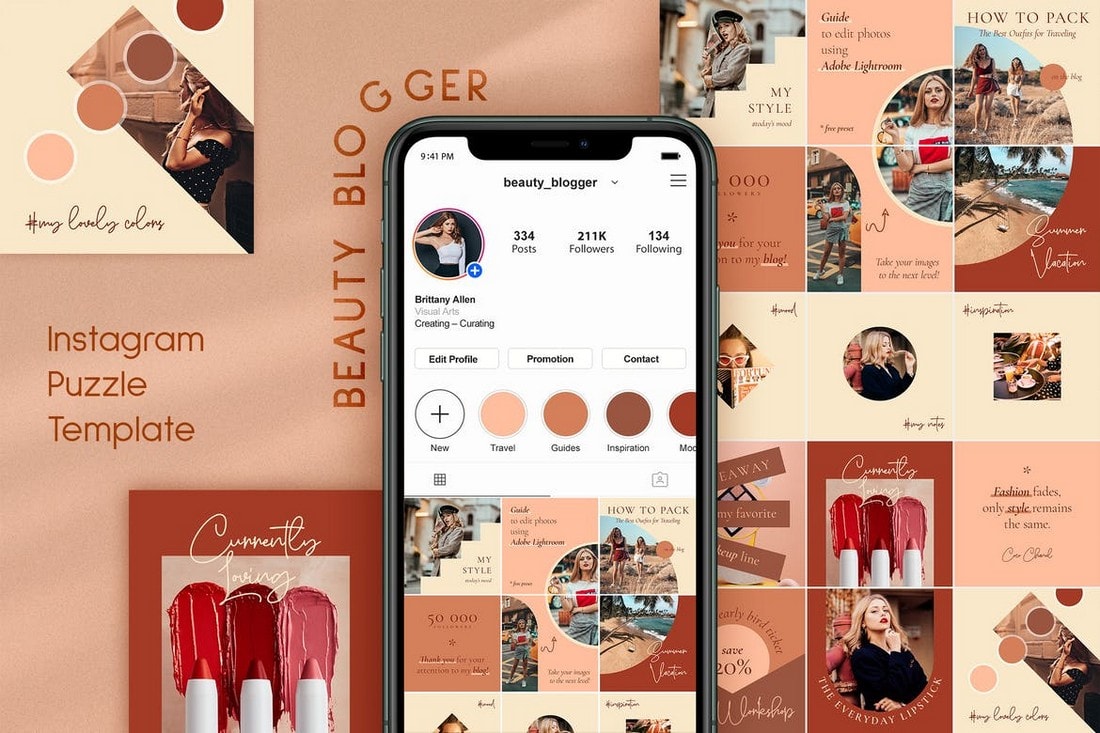 There are so many beauty bloggers already promoting products and tutorials on Instagram. Using this puzzle feed template, you can create a unique feed layout on your account to stand out from the rest.
This template is designed just for beauty bloggers and shops. It includes 15 post designs and it can be easily customized using Photoshop.
Beon – Free Instagram Grid Template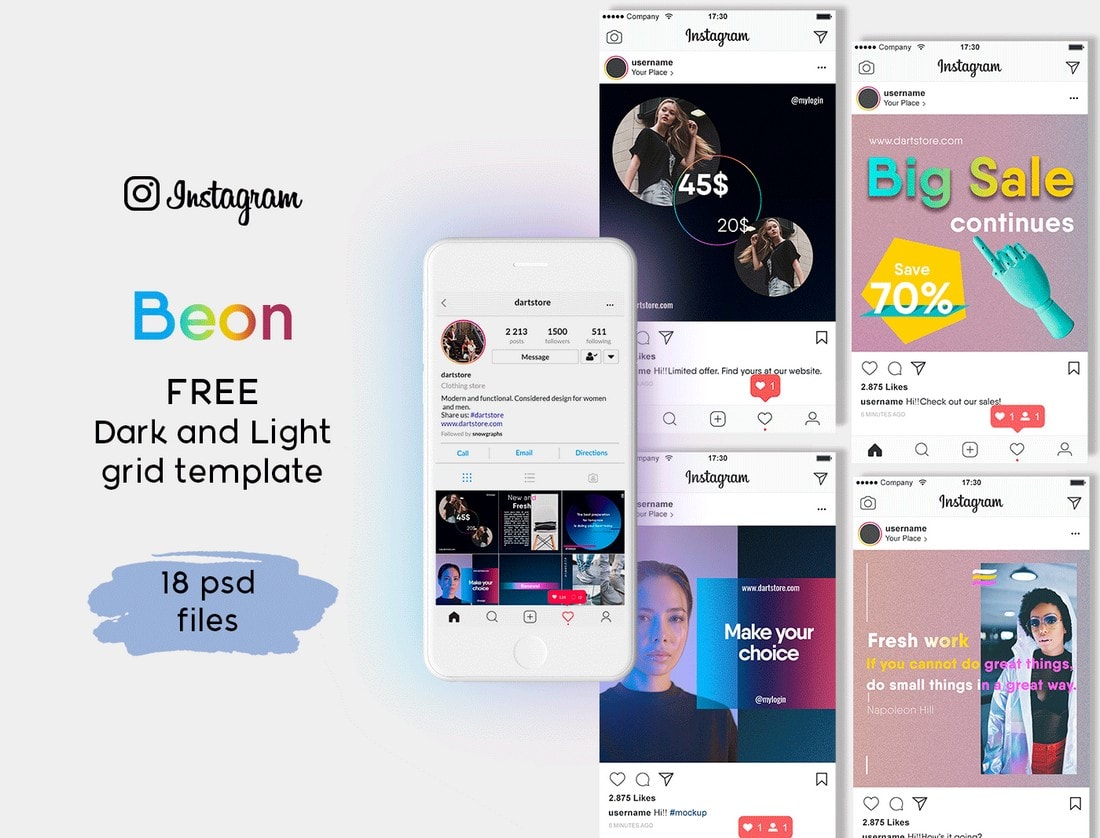 Another free Instagram grid template you can use to create a simple grid layout. This template comes with 18 different post designs you can publish together to create a trendy grid feed design on your Instagram account. The colors, text, and images of each template can be customized to your preference as well.
Looking for more Instagram templates? Then check out our best Instagram post and story templates collection.
By: Roshan Perera
Title: 30+ Unique Instagram Layout Ideas & Concepts
Sourced From: designshack.net/articles/inspiration/instagram-layout-ideas/
Published Date: Mon, 16 May 2022 13:00:00 +0000