Today, people spend more time on their phones than any other device. As designers, you now have to think more carefully about user interface design for apps than ever. As it plays a key role in improving usability and user retention.
To help you find inspiration for your next app design project, we put together this collection of best app designs.
We look at some of the inspirational and creative app UI designs. We handpicked lots of mobile app examples with templates covering different aspects of app designs. Including onboarding screens to in-app UI screens and more.
The examples we feature below are downloadable templates. If you're working on an app design, feel free to download them and use them with your own projects. Or even experiment with them to learn how professionals craft app UI layouts.
Food Delivery App Mobile UI Design Template
When designing food delivery app user interfaces, the apps that give clear directions for users to follow with cleaner layouts are the ones that are most successful. This UI design template follows the same philosophy to create a visually attractive and modern design to provide a simpler food ordering and delivery service to its users.
Grocery Shopping App UI Design Templates
Creating an app experience for grocery shopping can be a tricky process. Because most grocery items come in a range of variety and brands. And you also need to offer users the option to customize their order to buy specific amounts of an item. Although, this grocery store app UI seems to check all those boxes along with its clean and minimal design.
Real Estate App UI Design Template Kit
There are many approaches you can take to design a real estate app. Whether it's for browsing luxury properties or exploring options based on budget, the app needs to be designed based on the target audience. This app UI design is crafted with both audiences in mind. It allows you to showcase high-end properties with big visuals as well as include detailed information about each property.
pp Login Screen UI Design Templates
Every app needs a login screen. While most apps have similar login screen designs these days, you should always aim to make them part of your overall branding design as well. This UI kit will give you a few ideas on how to design a professional and more effective login screen. It includes 5 different login screen designs.
Mateo – Social App UI Template Kit
We didn't get to experience a new social media platform in a while. But if you're already working on one, be sure to steal a few ideas from this UI design. It features clean and modern mobile screens with much better user feed, user profile, search, and other layouts that actually looks better than Facebook.
Music Player App UI Kit Templates
The default music player apps on Android have terrible UI designs and the manufacturers don't seem to care about fixing it. This is why most users often look for alternative music players on the app store. You can also design your own music player app with this app UI kit. We could really use a great music player like this one.
CryptoCurrency App Design UI Kit
With so many new and different cryptocurrencies being introduced every day, designing an app UI that can effectively list all the cryptocurrencies in one place without cluttering the layout is a challenge on its own. But you can take inspiration from this app UI example for designing a modern crypto app with a much cleaner look and feel.
Taskio – ToDo & Task Management App UI Design
If you're working on a different type of a to-do list or task management app design, you can take a lot of cool ideas from this UI design kit. It comes with multiple mobile screens with gorgeous layouts where you can add creative illustrations and interactive objects to offer a much smoother experience to users.
Unique Banking Mobile App UI Designs
Almost all of the banking apps out there have quite terrible designs with outdated layouts. It's time we change that for the better. Use this app UI kit as inspiration to design more intuitive and modern apps to offer an improved banking experience for users. It's great for making a concept design to convince a bank to revamp their app as well.
Klopedia – Blogging App UI Design Templates
Blogging is still a thriving industry. Platforms like Medium proves that. With this app UI design, you can come up with an idea to design an app for a much more user-friendly blogging platform. The UI kit features 10 login screens that can be combined to create a complete app experience for all kinds of bloggers and writers out there.
Weather App Mobile Screens Templates
The weather forecast summary on Google mobile features a perfect design. The simplified interface with creative illustrations and colorful icons makes it very user-friendly. This particular app design follows a similar approach with an even more simplified approach. It also features colorful illustrations and graphs. If you're working on a weather app design, don't hesitate to use this template.
Financial App UI Design Templates
Financial screens are a common feature in most modern apps, not just banking apps. Whether it's to showcase the payments made by the user or to track spending habits, almost every app has a financial screen. This template kit is designed for creating similar screens for apps. It includes all the necessary elements of a professional financial app.
Shopping Mobile App UI Screens Templates
This app UI kit includes all the screens you'll need to design a complete shopping experience. It has multiple and customizable screen templates that take users from registrations to discovering products and through the checkout process. You can edit all the files using Adobe Illustrator.
Taxify – Taxi Booking App UI Kit
It's like every brand is making a ride-hailing app these days. If you're also working on a ride-sharing app or revamping the design of an existing app, this particular UI kit will come in handy. It features a set of unique app UI screen designs made just for ride-hailing and taxi service apps. With these screens, you can design an app with a modern and creative screen layouts that will surely improve the user experience. It includes 18 fully editable screen layouts in PSD file format.
Travel Mobile App UI Templates
Whether you're working on an app for a travel agency or designing a tours section for a hotel app, these two screen templates will help you craft app screens with a better user experience. It features all the right elements you can use to showcase a list list of locations in a beautiful grid view. As well as another screen to show details about each location. Both screens can be customized using the Sketch app.
Chat App Screens UI Templates Kit
Instant messaging or chat apps usually share a similar design. But there are some subtle changes you can make to design a more unique chat app interface. This is a complete UI kit that features 5 different app screens you can use to find inspiration for your own projects. It actually comes with mixed design elements from Whatsapp and Facebook Messenger apps.
Maps App Screens UI Templates
Design a beautiful and attractive map app screen using this UI kit. It features multiple screen layouts you can use to create map screens for various apps, including for hotels, restaurants, food delivery, and more. The bundle includes 16 different screens you can easily customize using Sketch, Figma, or Adobe XD.
Delivery Mobile App UI Templates Kit
If you're designing an app for a delivery service or a courier service, you'll be able to learn a lot from this template kit. It features all the screens you'll need to help customers go through the process of register deliveries and all the way to tracking orders. The templates are fully customizable as well.
Denrit – Pizza Delivery App UI Templates
Most apps for big pizza brands always have complicating designs with too many choices and options to fill out. With this app UI kit, you'll find the right elements for designing a simplified pizza delivery app design for a local restaurant or pizza shop. This kit includes 30 different screens. All of which are compatible with Sketch, Figma, and Adobe XD.
Turgi – Payment Mobile App UI Kit
This is quite an inspiring app UI design for a mobile wallet. Not just because of its user-friendly and colorful designs. But mainly because of its decluttered layouts that make the interface easy to use. This bundle includes more than 17 different app screens you can use to craft the perfect payments app for various services.
Education Mobile App UI Screens Templates
Education apps need to be much more user friendly and beginner-friendly than any other app. Especially when you're targeting students of all ages. This particular app design is a great example of how to approach such an app design. It features a minimalist and a creative design that makes the entire process of following courses, learning, tracking progress very easy.
Spojeeto – Calendar Mobile App UI Screens
A calendar section is a must-have for many types of apps. It's especially useful when adding booking, events, and scheduling sections for apps. This app templates kit features a smooth app UI design you can implement in your own apps when designing calendar sections. It includes 8 different screens for crafting a complete calendar app experience.
Neco – Meditation Mobile App UI Kit
Delivering a calming user experience is a must when designing interfaces for meditation apps. This app templates kit features the perfect combination of minimal and simplified design, perfect for a meditation app. It includes more than 30 different screen layouts you can easily customize using Sketch, Figma, or Adobe XD to make your own meditation apps as well.
Checkout UI Concept Design Template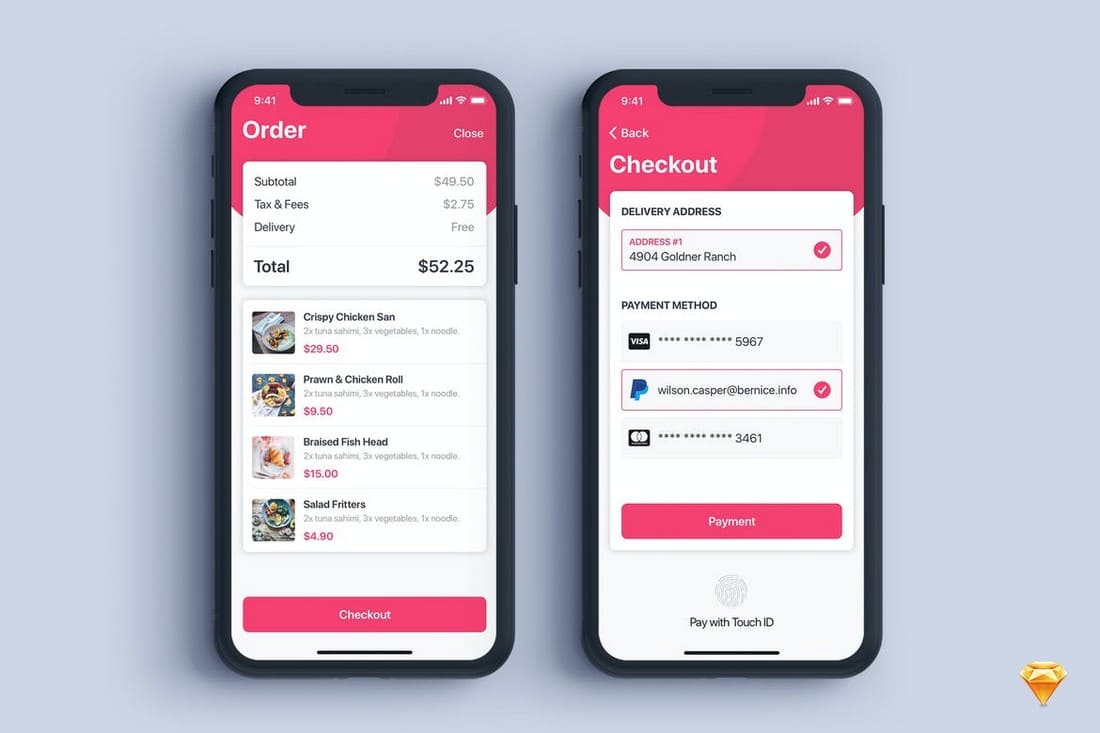 It may look like a simple checkout screen at first glance but notice how it creates a beginner-friendly experience for checking out orders. It perfectly streamlines the checkout process for easier understanding. This concept design comes with 5 artboards you can use with your own checkout screen designs.
Blockchain Mobile App Screens UI Templates
What makes this app design stand out is its use of colors. Instead of going for the usual dark color scheme, it uses a colored background. Yet it helps to effectively highlight the content as well. Great design and color choices for a blockchain or cryptocurrency app. This kit is customizable with Adobe Illustrator.
Spojeeto – E-commerce Mobile App UI Templates
A complete eCommerce app design featuring 13 unique app screens. This app templates kit will help you design a modern and user-friendly experience for shopping apps. You can easily customize the templates using Sketch and all the elements in the designs are fully scalable as well.
Cure – Doctor Appointment Mobile App UI Kit
When designing an app for a medical center for scheduling appoints with doctors, it needs to be made with a simplified user interface to help people easily make choices without confusion. This app features a design that has all the right elements of a doctor's appointment app. Complete with calming illustrations and colors. It includes 16 app screens in PSD file format.
Social Network Mobile App UI Templates
This is a complete app UI design kit for crafting a simple social networking app. But it's also suitable for making private community and membership apps as well. The kit includes all the basic screen designs you'll need to design a professional social networking interface. All the templates are compatible with Adobe Illustrator.
Modern Mobile App Onboarding UI Kit
The onboarding process takes a key role in helping users get familiar with an app. It's also an opportunity for you to show off your design skills as well. This is a set of modern app onboarding concepts that will help you find inspiration for your own projects. These templates are customizable with Sketch, Figma, and Adobe XD.
Startup App Onboarding Screens Templates
This is another set of app onboarding screen designs that features a more colorful and creative design. These screens are designed for making apps for SaaS apps and startup product-related apps. They are also available in multiple file formats, including Sketch and Illustrator.
Furniture Shop Mobile App UI Concept
Designing an online shopping app for a furniture store is easy. Mainly because it almost always consists of lots of image thumbnails. With this app UI concept design, you might be able to find a creative way to make a unique eCommerce app. These screens are designed with iPhone 11 and iPhone X devices in mind.
Music Mobile App UX and UI Kit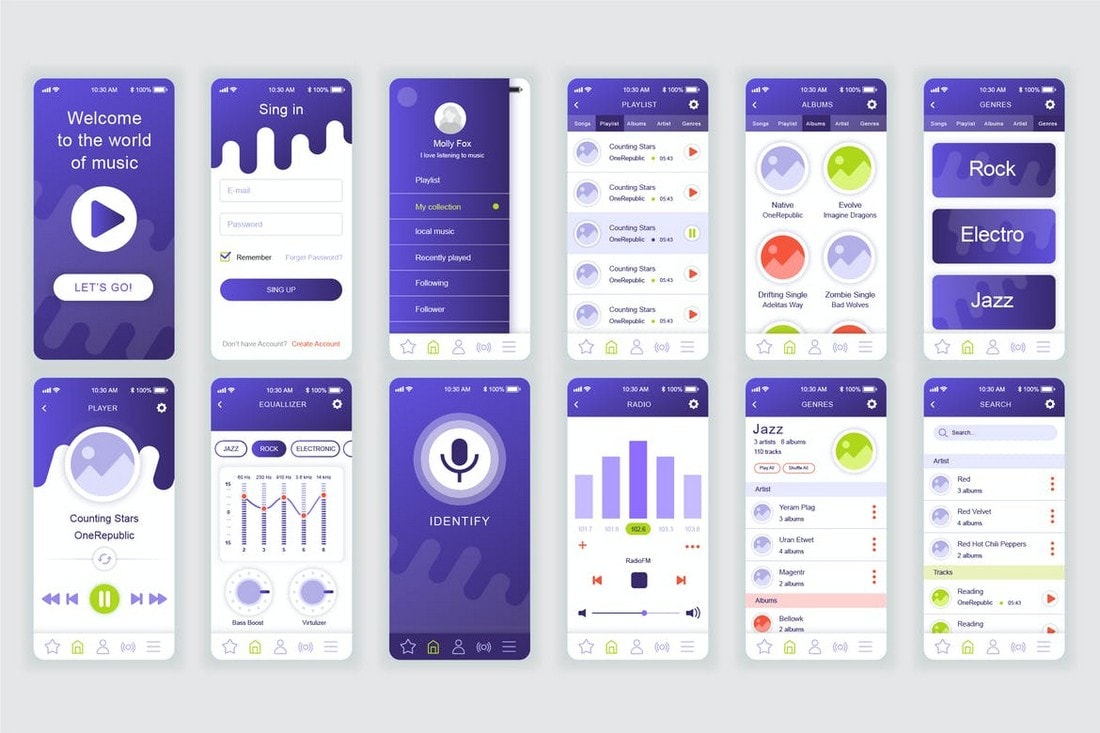 With this complete app UI kit, you'll be able to design both music streaming apps as well as music file management apps. The concept UI kit consists of all the necessary screen designs, including ones for equalizers and identifying songs. You can customize all the templates using Adobe Illustrator.
Food Delivery Mobile App Onboarding UI Screens
This beautiful onboarding UI screens kit is made specifically for food delivery service apps. However, you can learn a lot from its design to incorporate them into your own projects. For example, the color choices and shapes are well-balanced in this design to offer a unique and memorable experience to users.
Map UI Screens Template for Mobile App
Another collection of map UI screen designs. These screen layouts are most suitable for event management apps and services. It includes multiple app screen templates you can easily customize with Sketch.
User Profile App UI Screen Templates
Whether you're designing a dating app or a social networking app, one thing they all have in common is the user profile screen. This is an interesting approach to user profile screen design. It features a highly visual layout with large image previews. This will actually allow users to personalize their profiles in many different ways.
For more inspiration, be sure to check out our Sketch iOS app templates collection.
Did you miss our previous article…
https://www.webdesignhawks.com/?p=5153