Looking for a high-quality desktop computer mockup to showcase your design? Look no further. In this post, we're featuring the best desktop mockup templates for both Mac and Windows desktop devices.
Microsoft's new Surface Studio workstations are widely popular among creative professionals. This makes the device a great choice for showcasing your creative designs to clients and in your portfolio.
We've found a few stylish Surface Studio mockups, as well as a variety of other Mac and Windows desktop computer mockups.
Top Pick
Modern Desktop Computer Mockup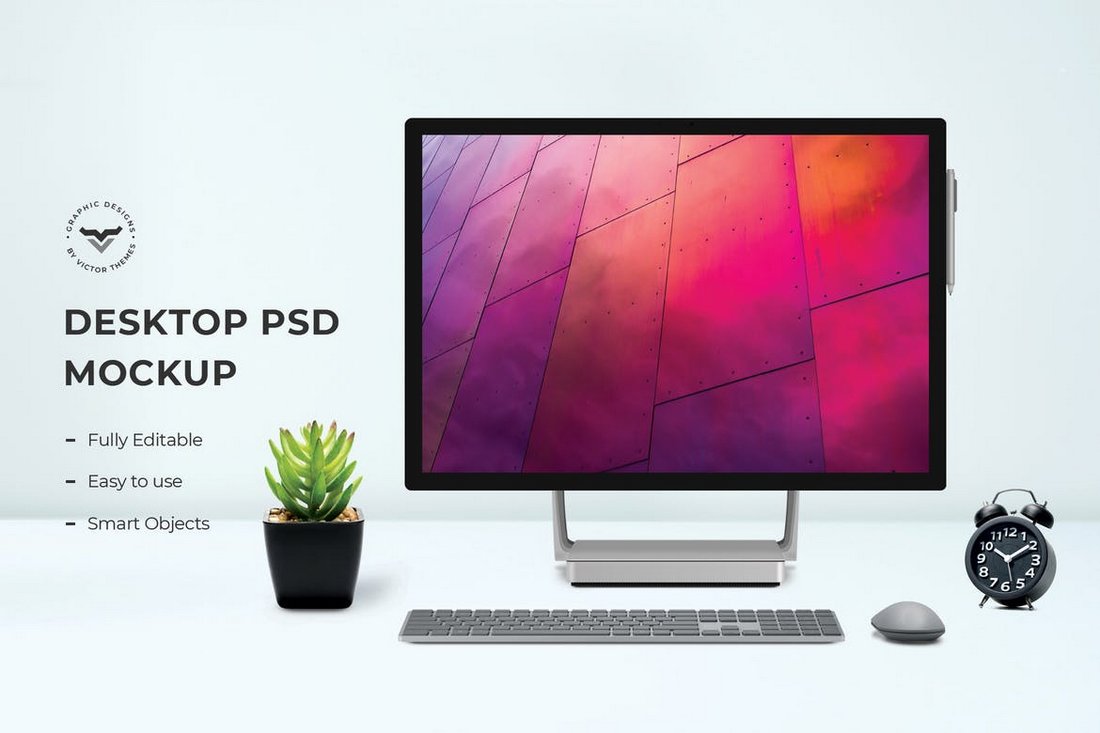 This modern and elegant desktop computer mockup is perfect for all kinds of uses from showcasing your work to clients and to designing website headers and much more.
The template is available in PSD file format with smart objects to make it easier for you to edit and replace the image with your own.
Why This Is A Top Pick
All of the items in the mockup comes in organized layers, which means you can easily rearrange them to your preference to design a unique mockup scene. This makes the mockup even more valuable to graphic designers.
Realistic iMac Desktop Mockup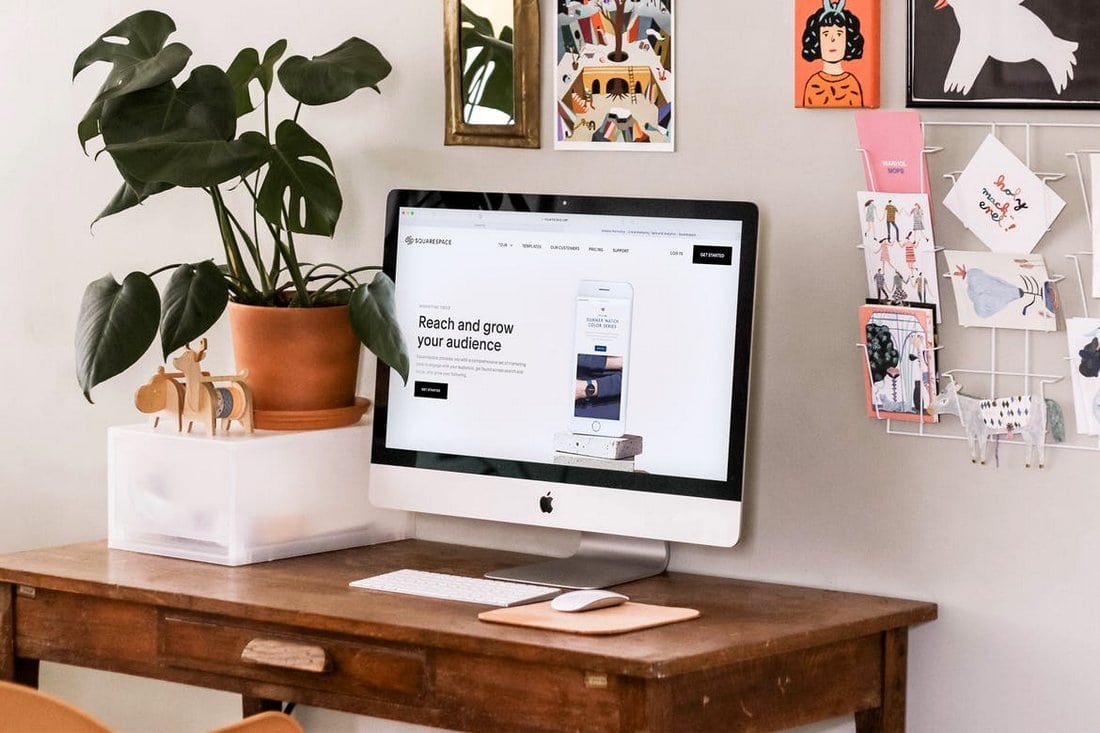 The realistic and creative environment of this mockup makes it the perfect choice for featuring screens in various startup and creative websites. You can use it to design website headers, showcasing items in portfolios, and much more.
Black Minimal Desktop Mockups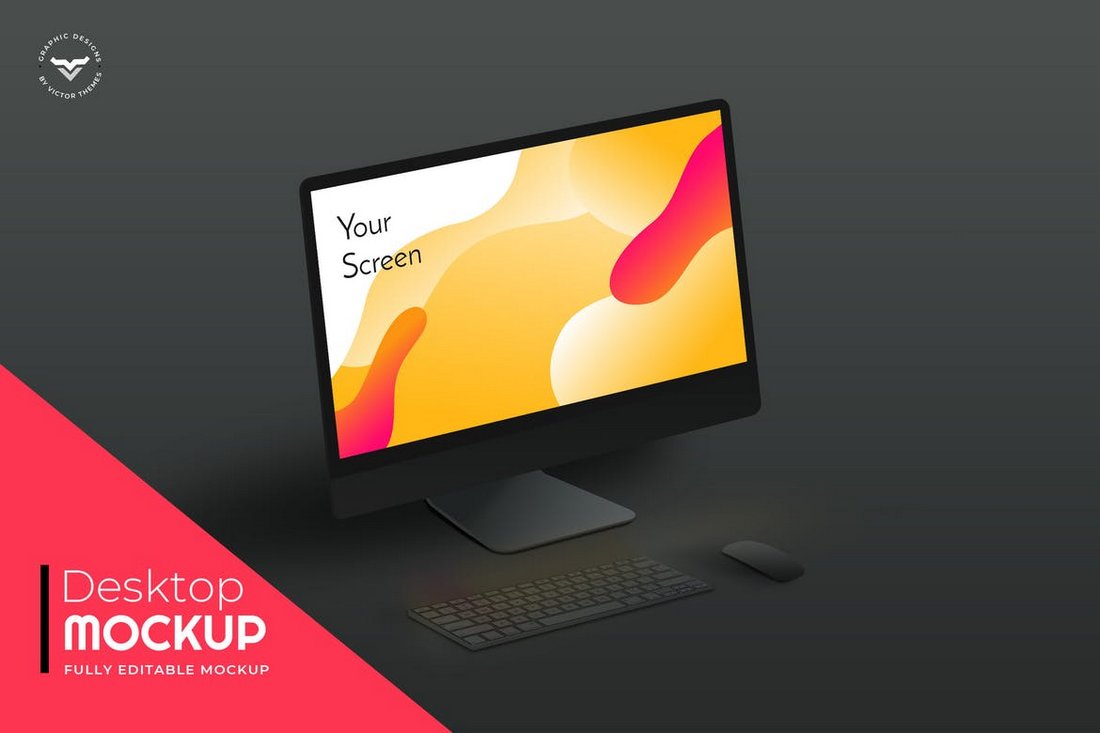 A fully editable desktop mockup featuring a minimalist design. You can easily customize this template using its smart objects to replace the screen image and rearrange the elements however you like.
Surface Studio Computer Mockup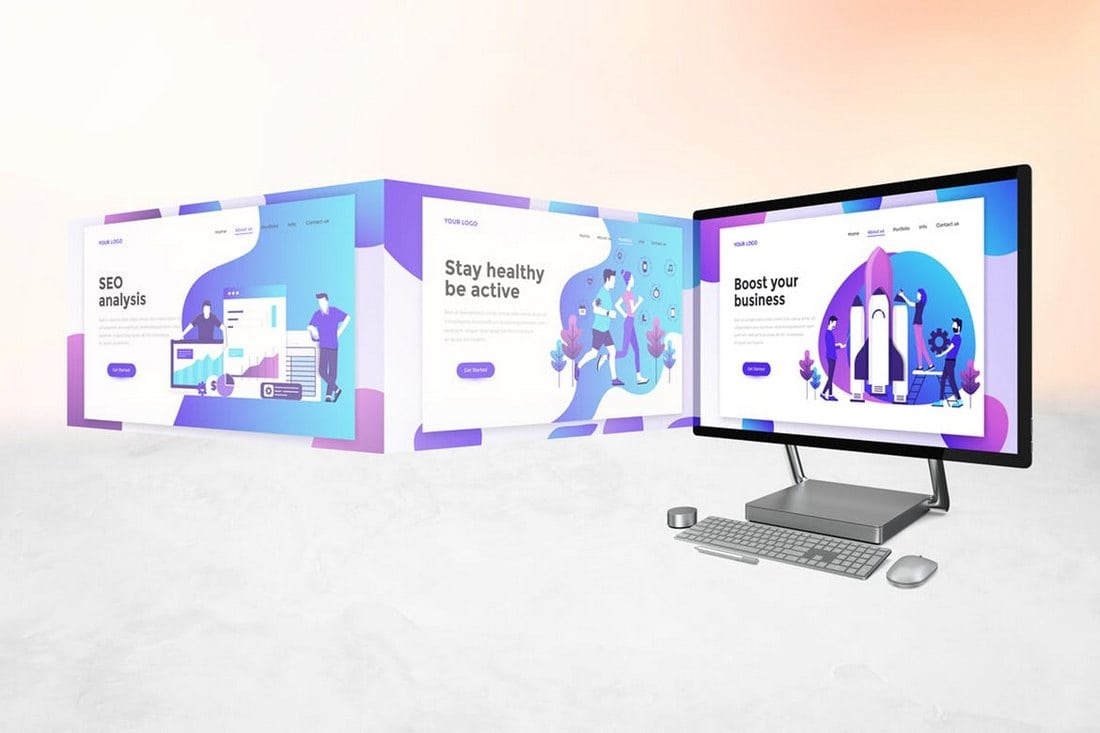 This beautiful Surface Studio mockup template comes in 6 different variations. It includes a fully customizable PSD file featuring organized layers and smart objects. You can use this mockup to showcase your creative artworks, website designs, graphic designs, and much more. It's also great for crafting a website header as well.
6 Surface Studio Mockups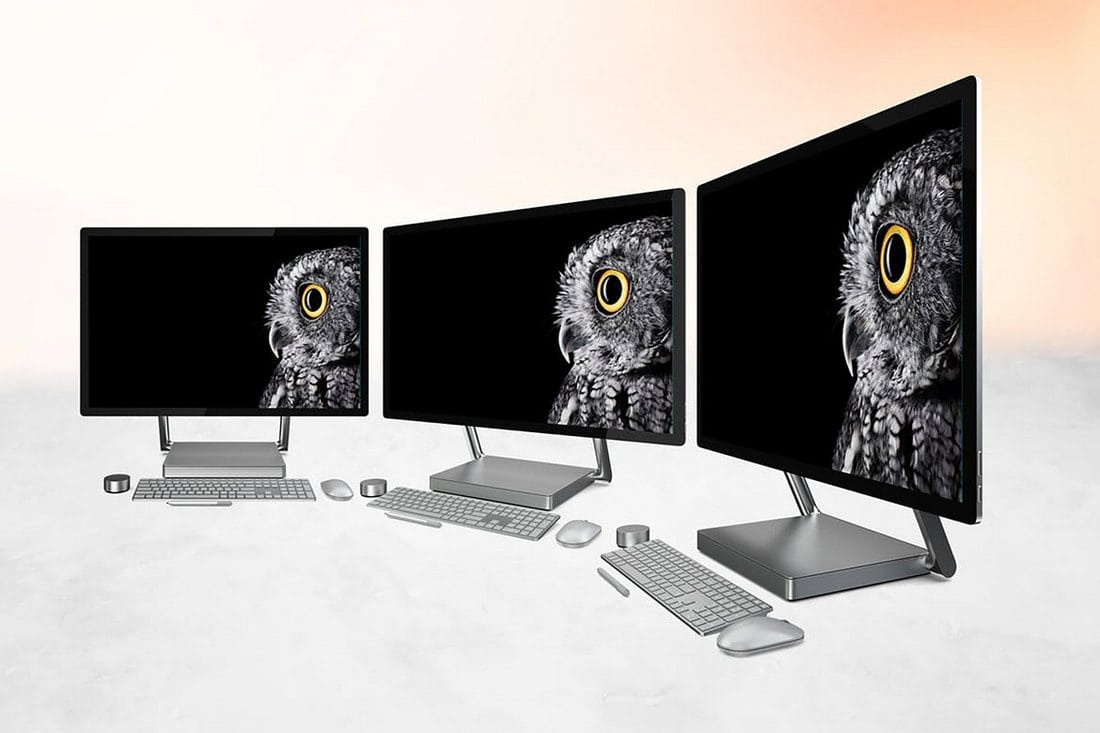 This bundle of Microsoft Surface Studio mockups also comes in PSD format. It includes 6 mockup templates featuring the desktop computer in several different angles, allowing you to present your designs in many different ways. The template can be easily customized using smart objects and you can move around the device accessories as you like.
2019 Mac Pro Mockup PSD Template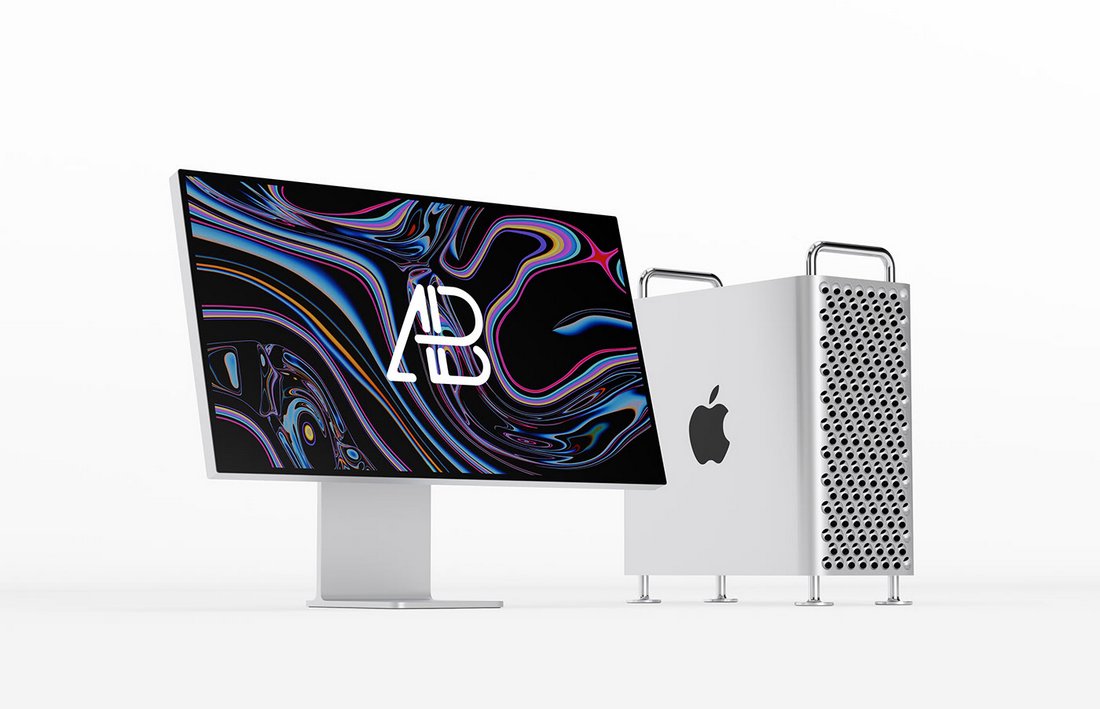 This is a mockup of the brand new 2019 edition of the Apple Mac Pro. The mockup also includes the new and expensive display stand and the desktop tower with cheese grater style design.
The template comes in a high-quality 5000 x 3750 resolution PSD file with smart objects.
This mockup not only features the new Mac Pro, which is a rare find but also lets you use the mockup free of charge with your personal and commercial projects.
Free 3D Desktop Screen Mockup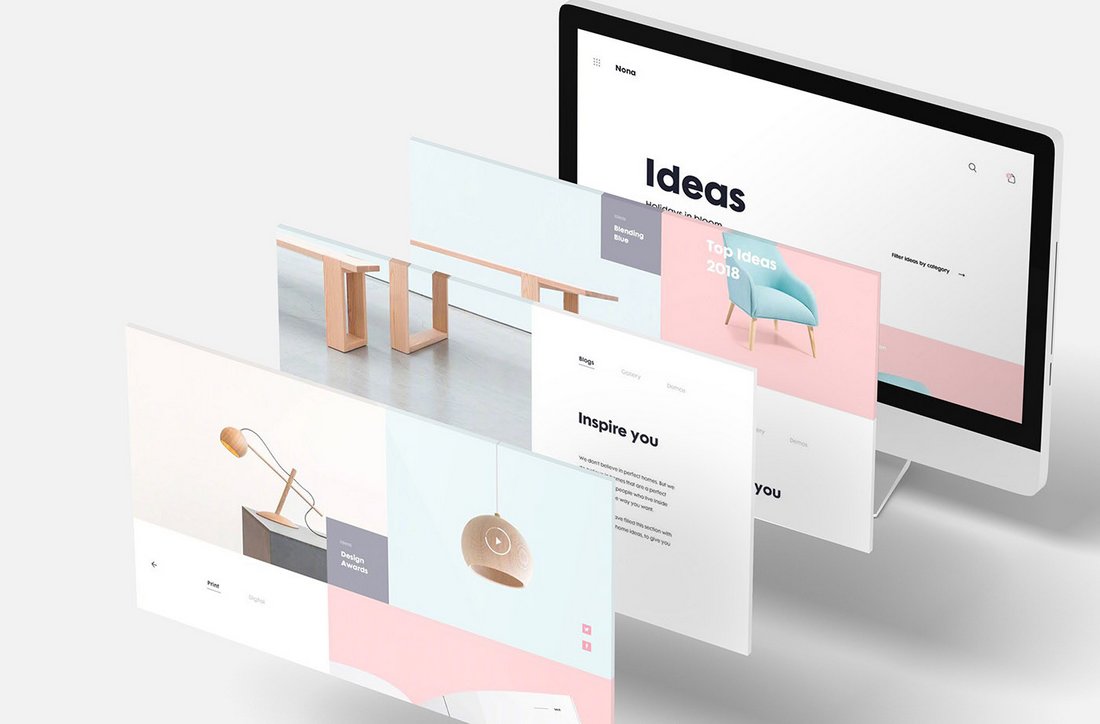 This unique desktop mockup is perfect for showcasing your website designs in a portfolio or a website. The template featurues floating screens you can easily edit with Photoshop. The template is free to use with your personal and commercial projects.
Free Mac Desktop Mockup PSD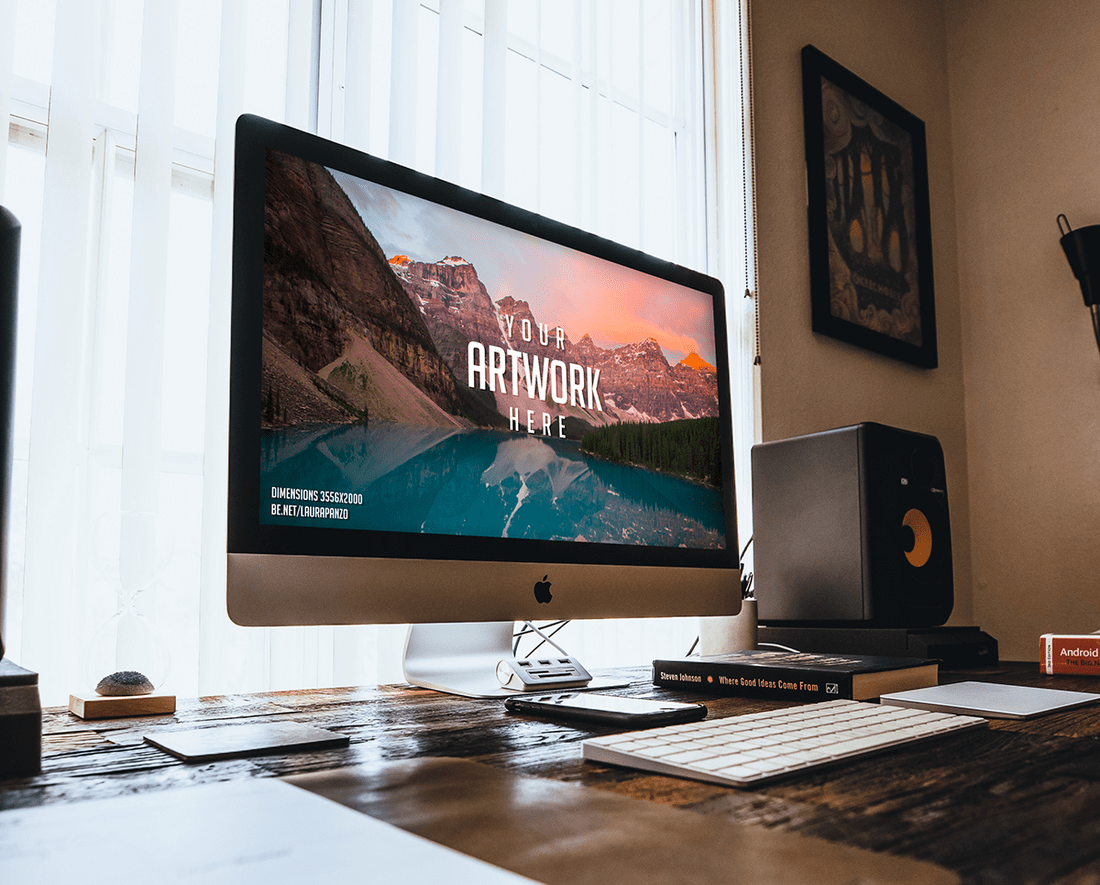 The creative and real background environment of this mockup makes it a great choice for using with your creative projects. It's free to use and it comes in PSD format.
Microsoft Surface Studio Mockups v.2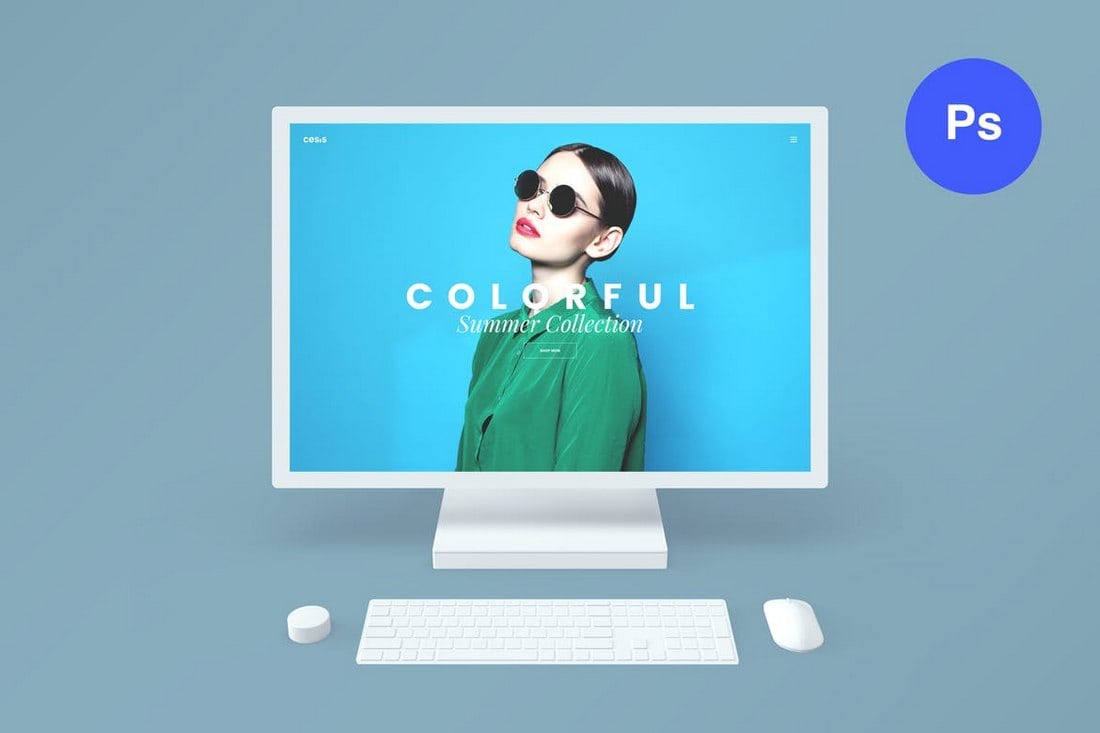 Another stylish Surface Studio computer mockup featuring a minimalist design. This mockup template includes 3 different versions of the mockup with changeable backgrounds, adjustable shadows, and movable accessories. This template is perfect for showcasing designs on a website or social media graphics.
Surface Studio Computer Mockup Bundle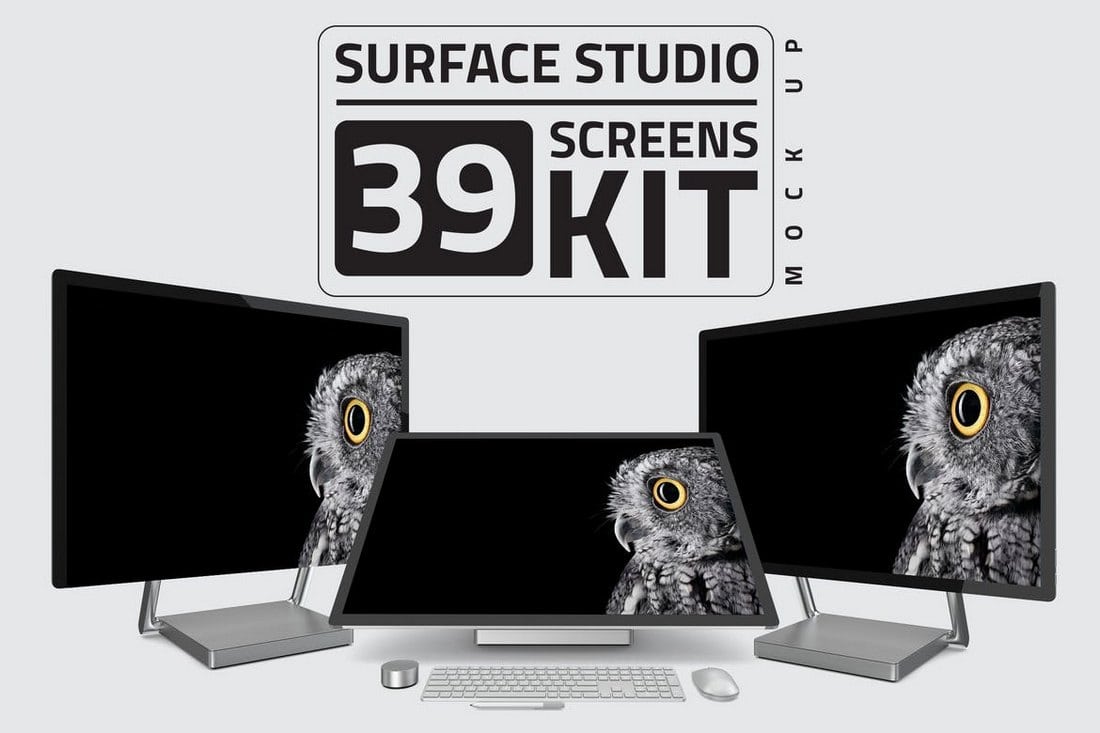 This is a massive bundle of Microsoft Surface Studio mockups featuring 39 different angles and views of the device. It includes mockups of the device in many positions to let you use them in various presentation situations. The templates are available in 4000 x 4000 px resolution PSD files.
Desktop Mockup Creator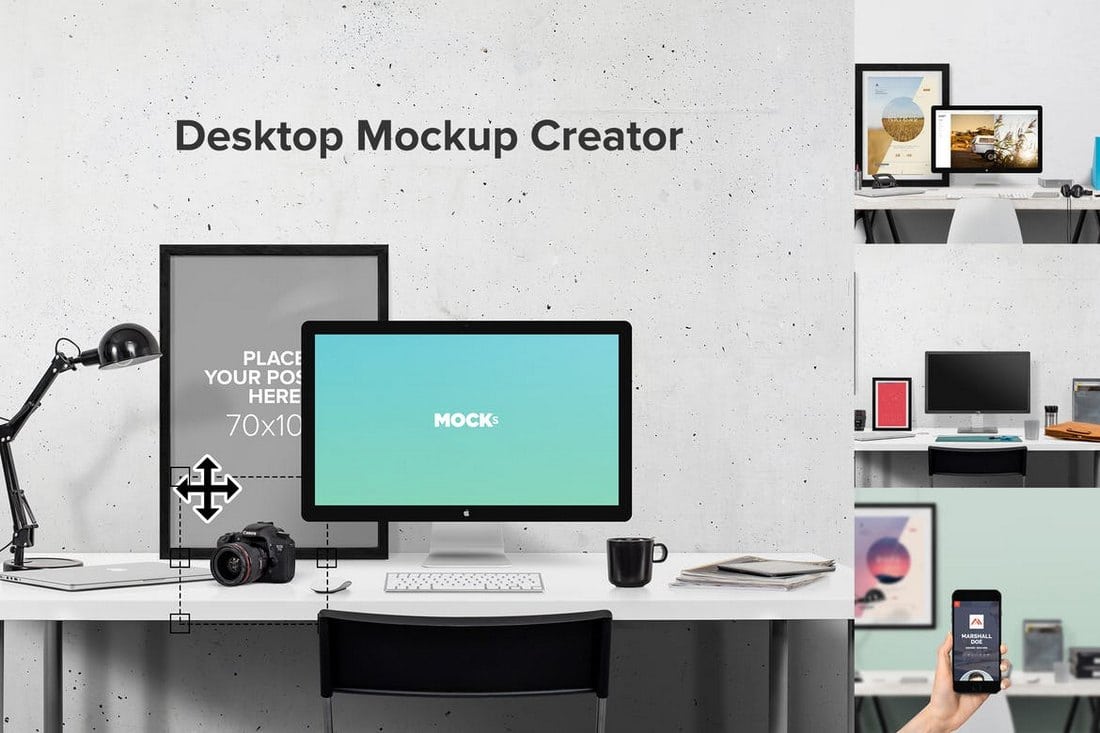 This is a mockup generator kit that allows you to create your own mockup scenes and hero image scenes. The kit comes with lots of customizable and movable elements and device mockups, which you can arrange however you like to create unique mockup templates to use with your design works.
Computer Mockup – 14 Poses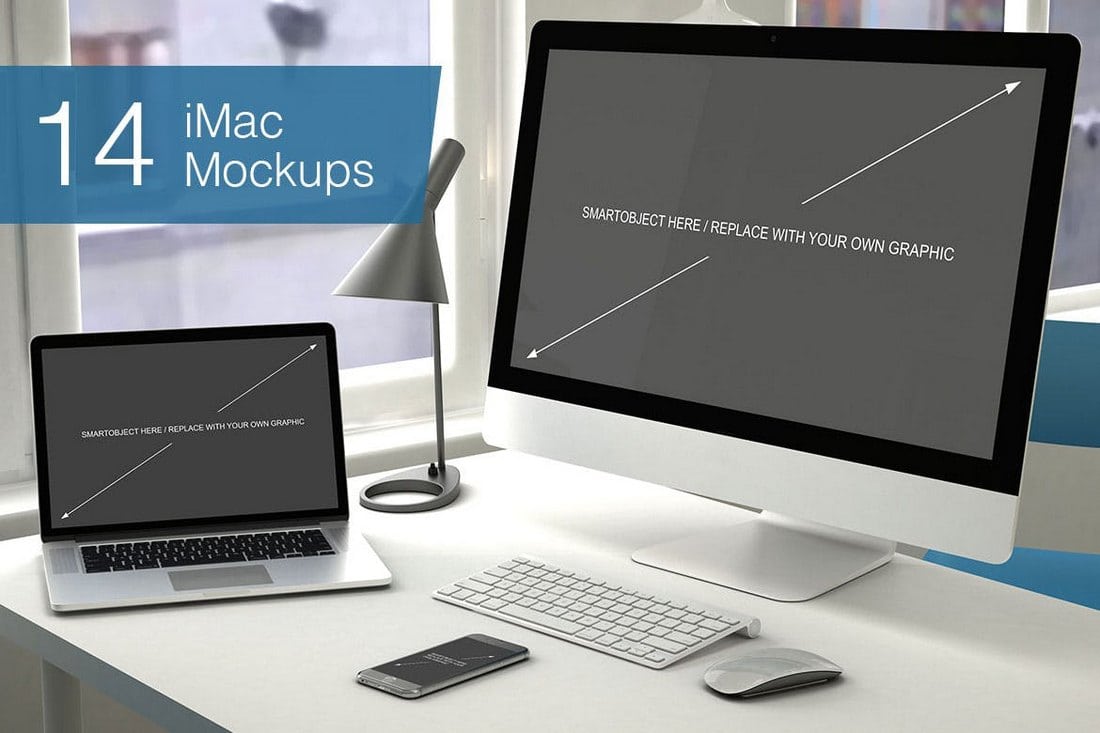 A collection of 14 iMac and MacBook mockup templates. This bundle features several unique and photorealistic mockup templates featuring the Apple desktop computers. They are available in 3500 x 2300 px resolution PSD files with a depth of field effect for giving your designs more focus.
6 Responsive Device Mockups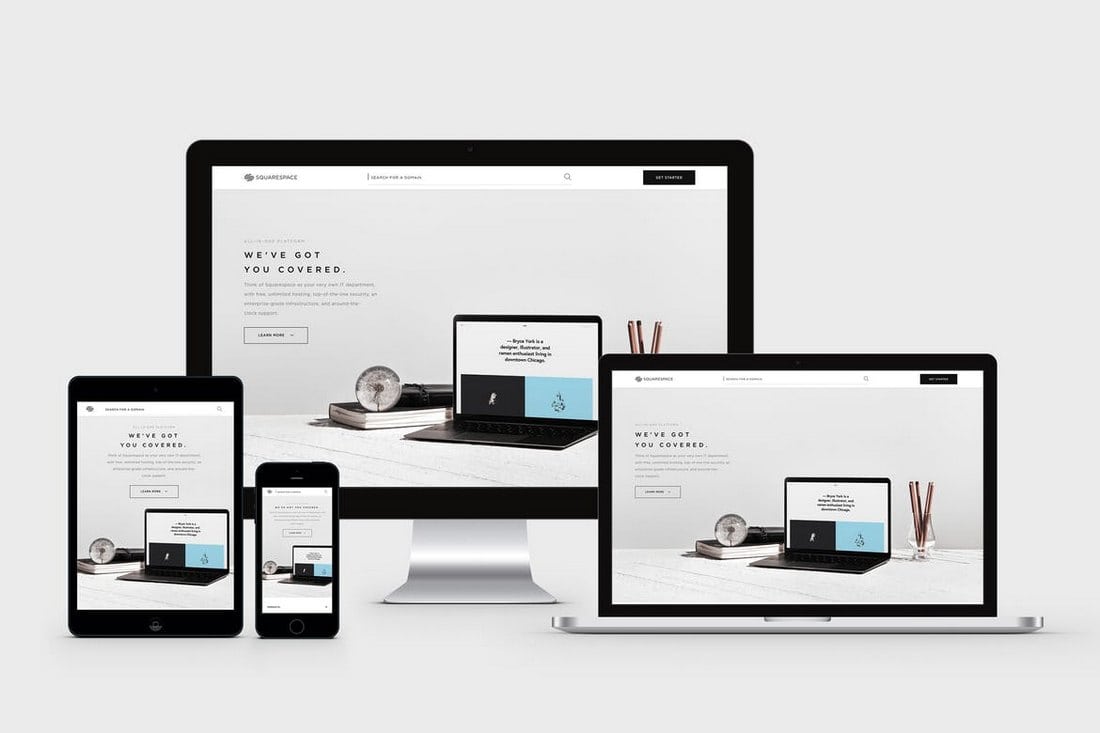 A set of 6 device mockups featuring a family of Apple devices including an iMac, MacBook, iPhone, and an iPad. The pack includes 6 separate mockups for each device in 3000 x 2000 px resolution. You can also easily customize the templates using smart objects.
iMac Pro PSD Mockup
A high-quality desktop mockup template featuring the front-view of the Apple iMac Pro. This template comes featuring smart objects and in 4000 x 3000 resolution.
Ultrawide Curved Monitor Mockup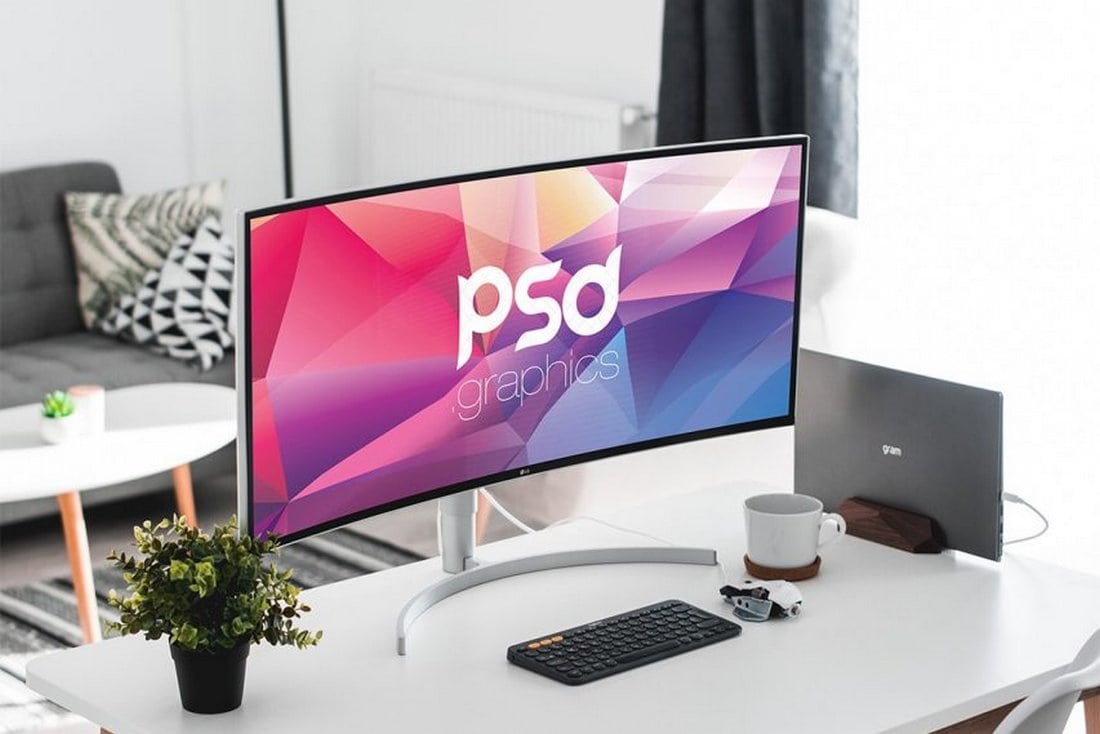 This desktop mockup template features an ultrawide monitor. You can use it to showcase creative projects and designs. The template is available as an editable PSD file.
iScreen iMac Mockup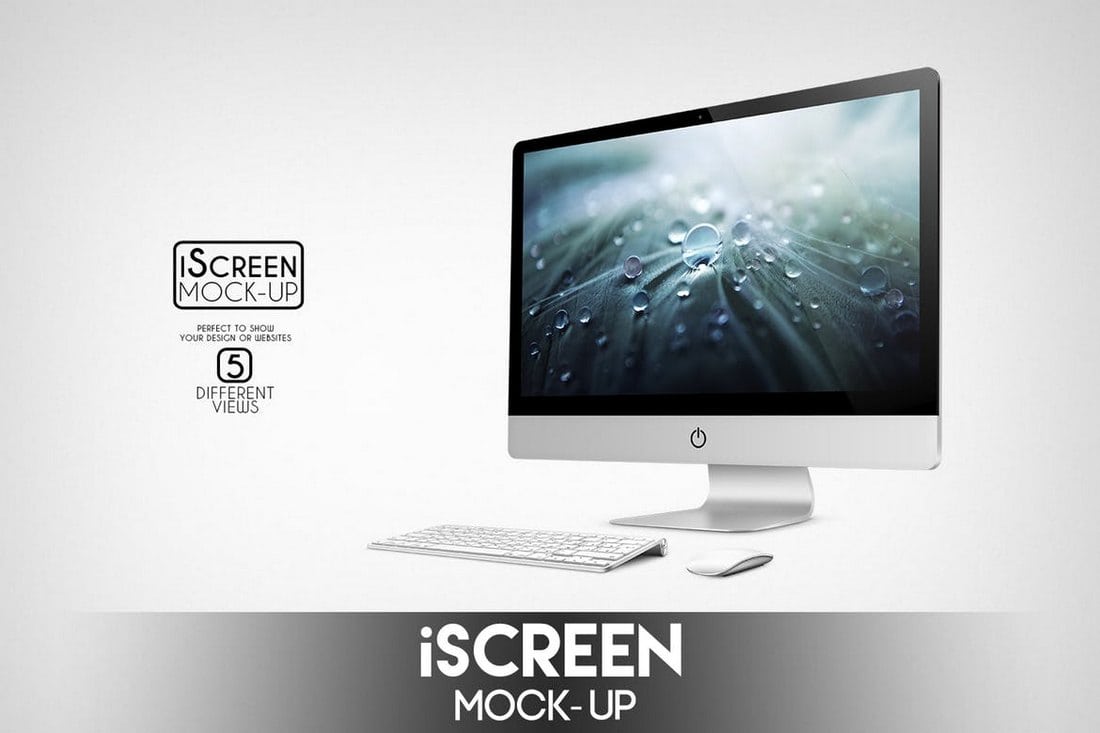 A collection of simple and minimal iMac mockup templates. This collection includes 5 different mockups featuring different views of the Apple desktop computer. You'll also be able to choose from 6 different background options and customize the templates however you like.
Mac Clean Style Desktop Mockup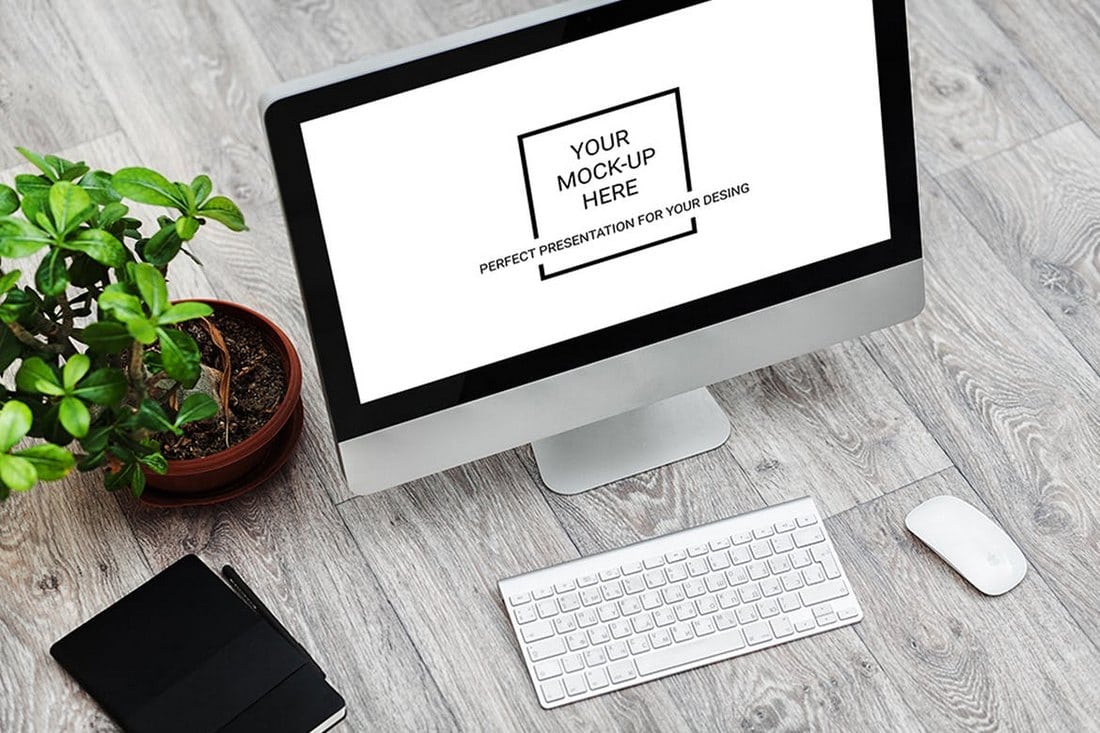 A clean and a creative iMac computer mockups. It includes 2 different styles of desktop computer mockups that you can use to showcase your designs, website screenshots, and app screens on presentations.
PSD Web Showcase Mockup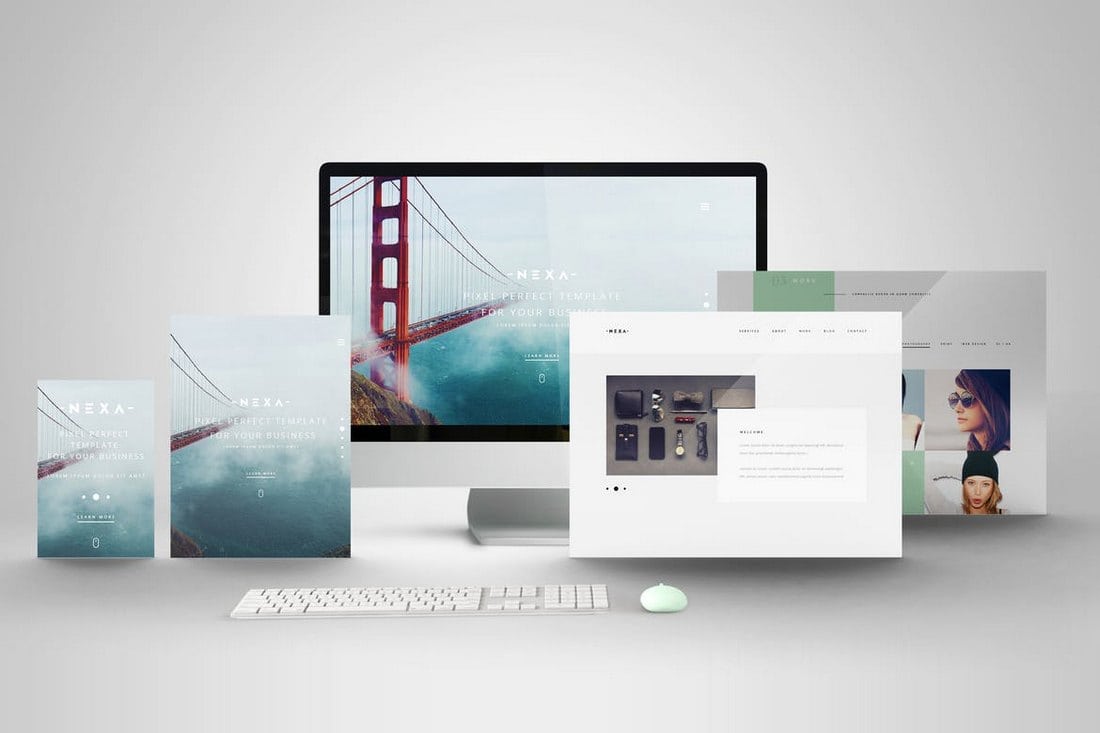 This iMac mockup template allows you to showcase your website and app designs in multiple views using the same image. It's available in 5200 x 2880 px resolution and supports advanced customization with the ability to add or remove shadows, change backgrounds, and drag and drop mockups to create your own scenes.
iMac Desktop Computer Mockup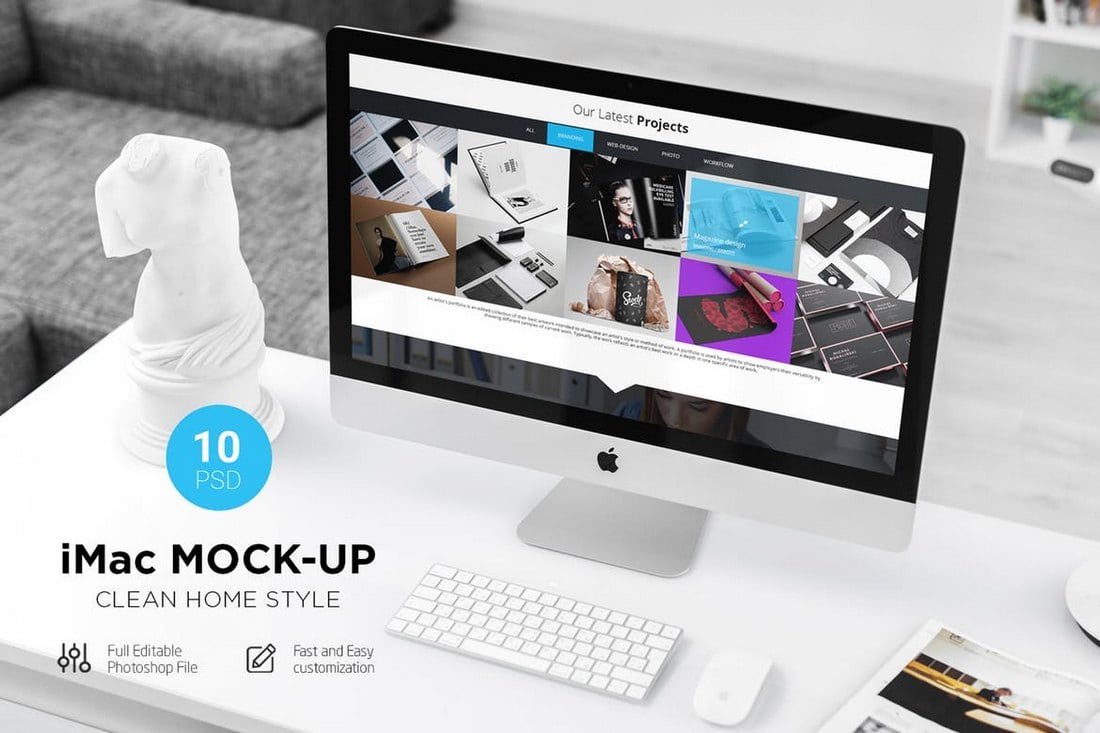 A creative iMac mockup template you can use with your minimal and modern design presentations. This template is available in 10 variations with different angles of the desktop computer. The template comes in a 5000 x 3333 px resolution PSD file.
Free Mac Pro Mockup 2019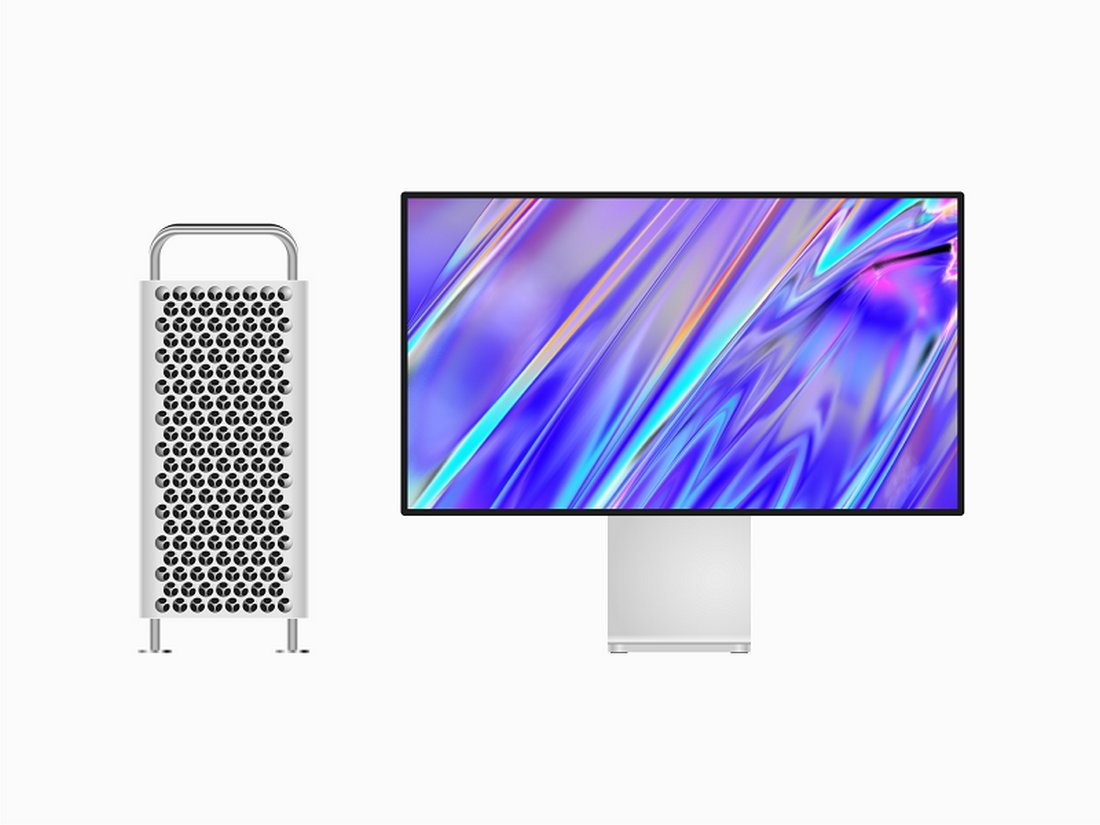 Another free template of the new Mac Pro. This template is available in vector format and you can edit it using Adobe Illustrator. It's fully scalable and includes isolated elements.
Surface Studio Zoom In Mockup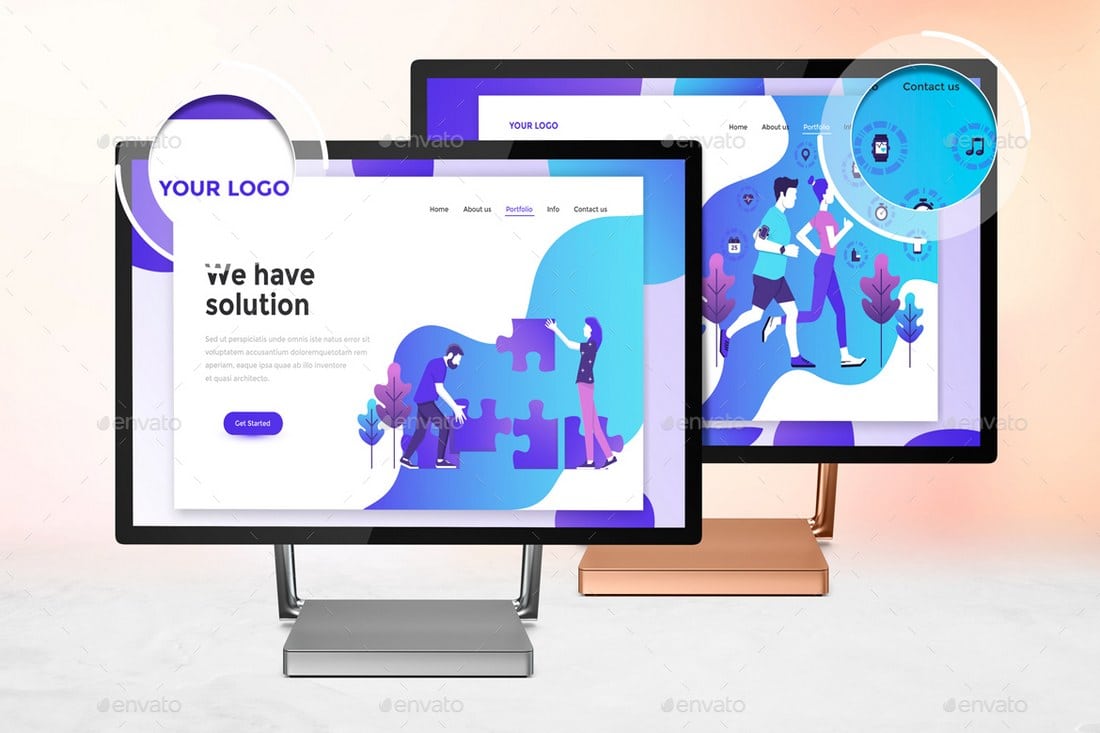 This is a unique mockup template of the Microsoft Surface Studio that allows you to showcase apps and website designs with zoomed-in sections. It's ideal for showing off features and special elements of your designs using the desktop computer mockup. The pack includes 6 different mockup templates.
Isometric Surface Studio Mockup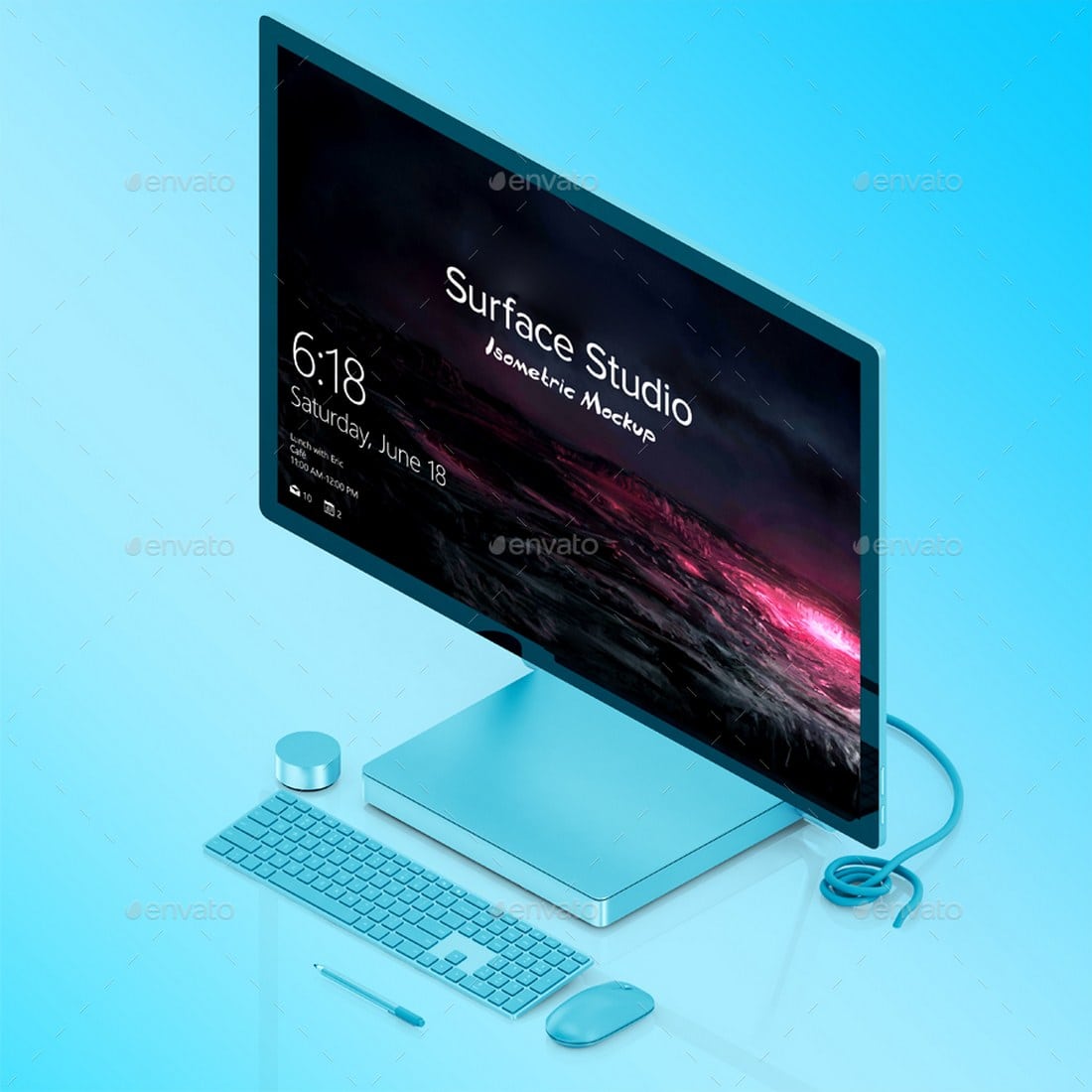 Another stylish Surface Studio mockup featuring isometric views of the design. This bundle comes with several different mockup templates showing different color versions of the computer. The templates can be easily customized using smart objects.
Creative Desk Scene Creator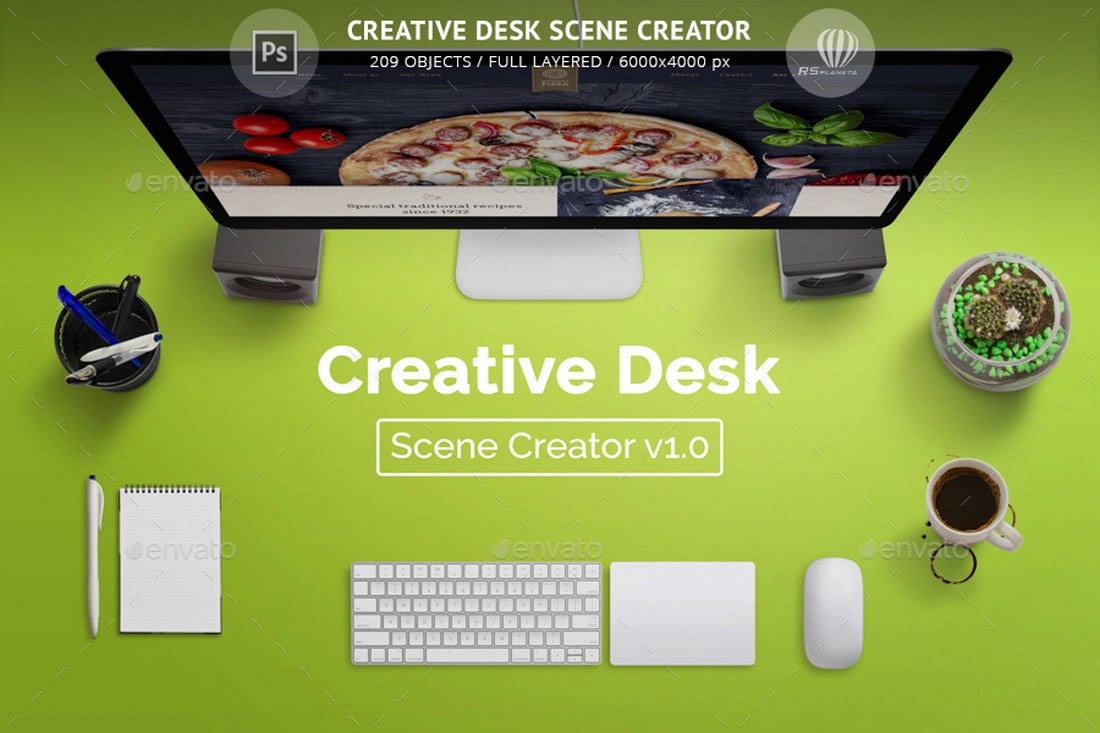 A creative mockup scene creator kit that you can use to create your own unique mockup scenes. This bundle includes lots of elements for creating stylish mockups and allows you to create both desktop computer and laptop mockups as well.
Basic Surface Studio Mockup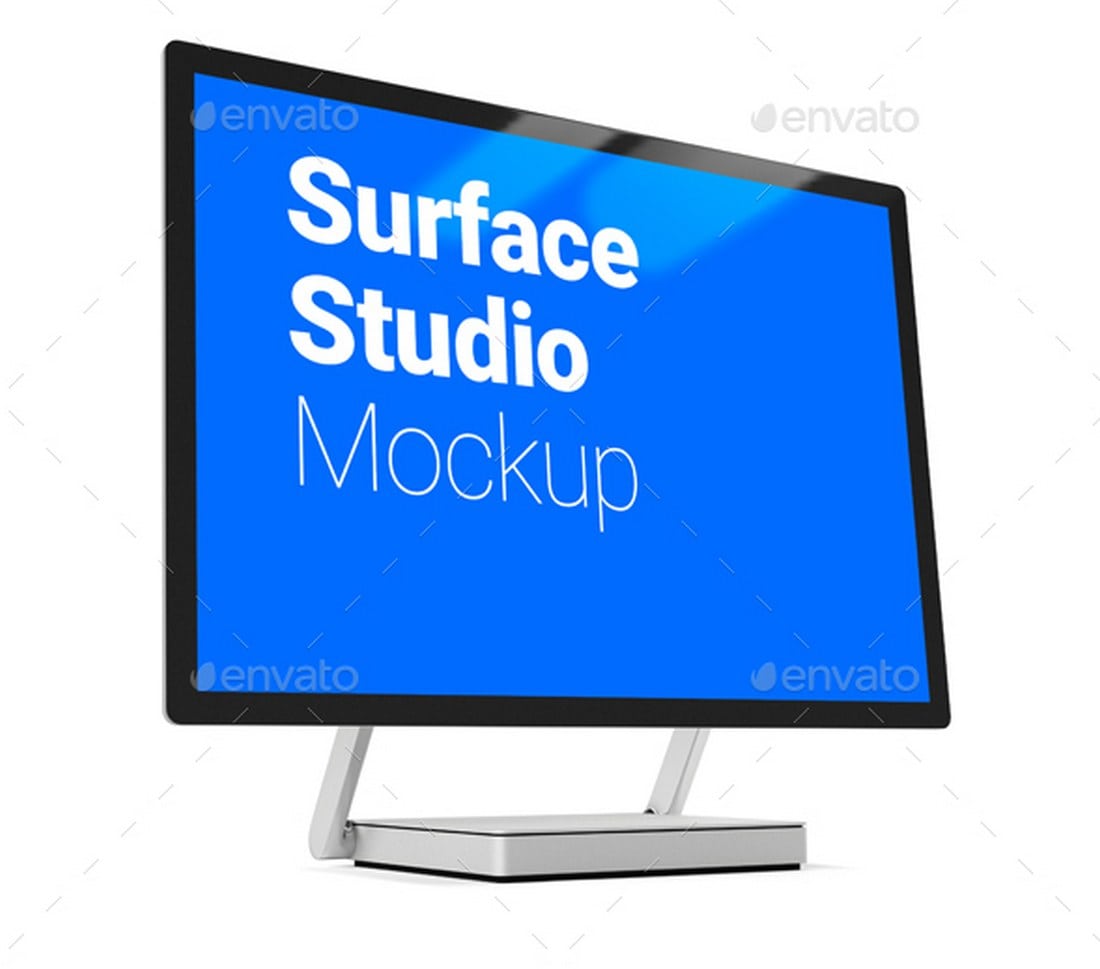 This is a simple and a basic Surface Studio mockup that you can use with various kinds of design showcases, portfolios, and presentations. It's perfect for showcasing website designs, app screens, and much more.
Clean iMac Mockup White Background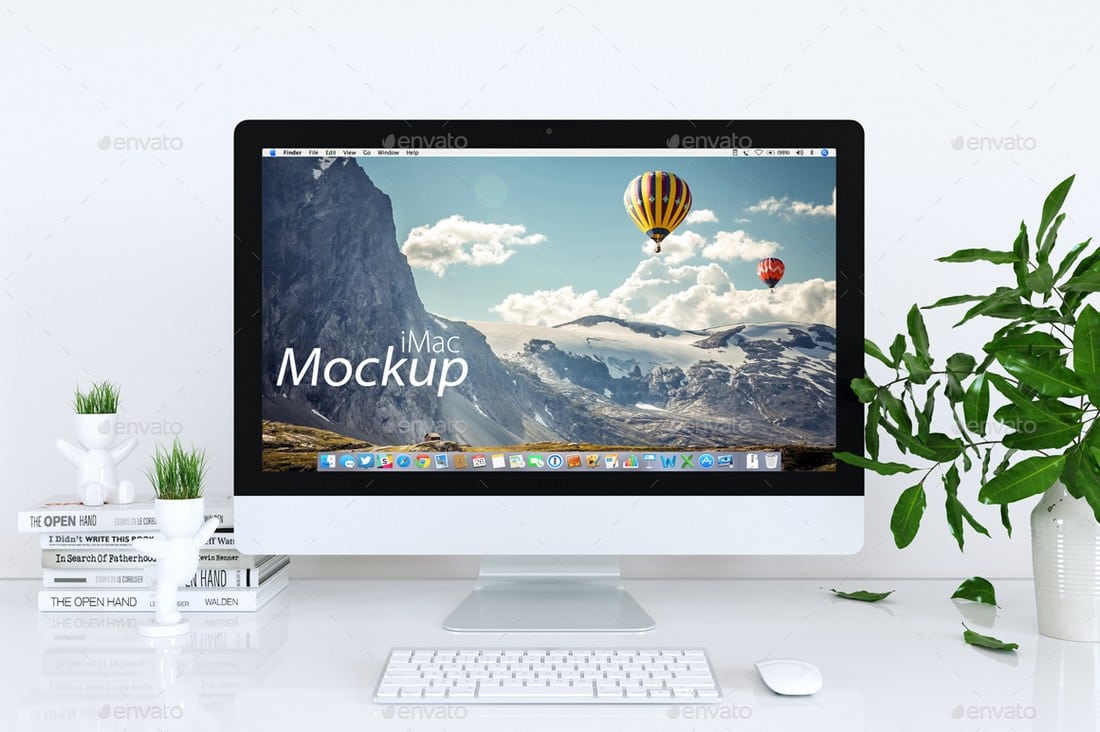 Another iMac mockup template featuring a minimalist background. This template comes fully equipped with smart objects for easier editing and in a 4000 x 2662 px PSD file.
23 Desktop Screen Display Mockups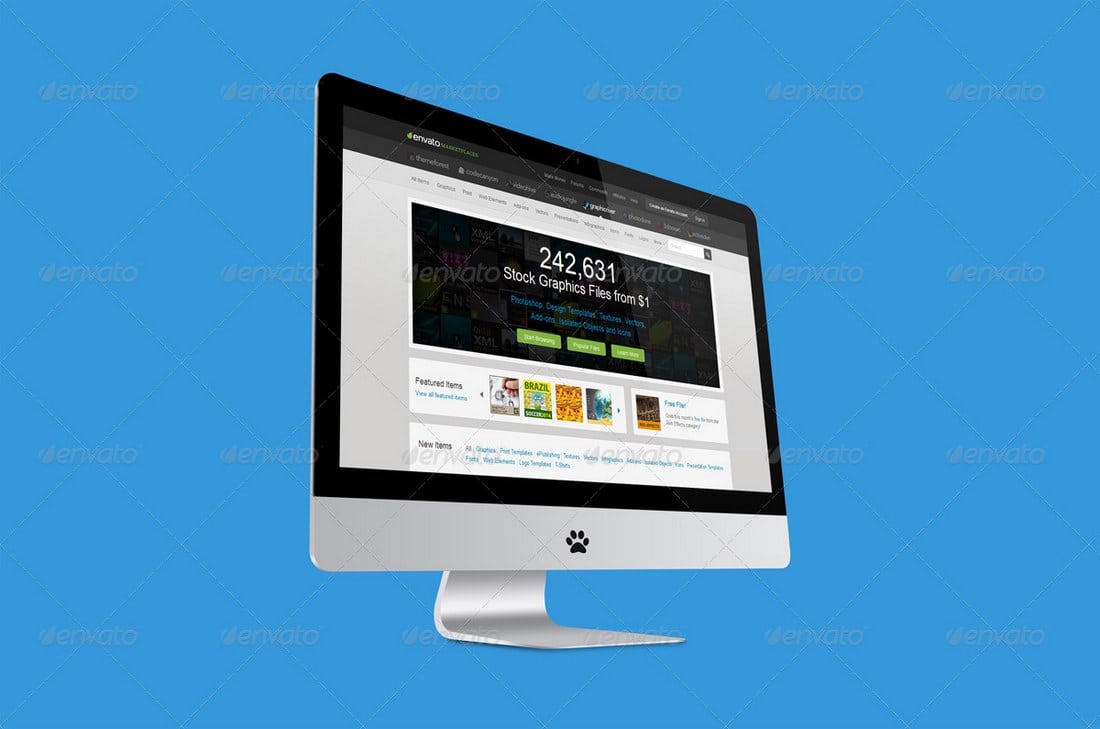 This bundle features 23 different desktop computer mockups you can use with various design presentations and showcases. The templates feature 7 different views of the devices and include an editable logo on the device as well.
White iMac Desktop Mockup Template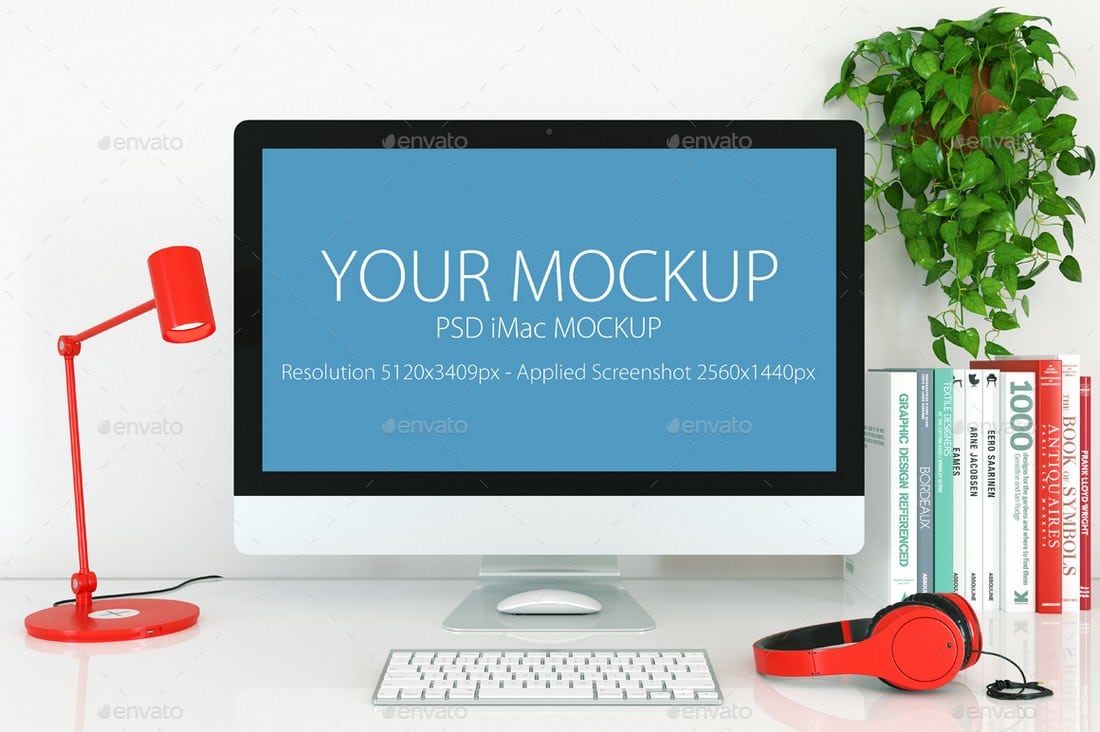 This iMac mockup template features a creative and study environment. It's ideal for showcasing website and app screens. The template is available in 5k resolution and can be easily customized to your preference.
Responsive Desktop Mockup for Presentations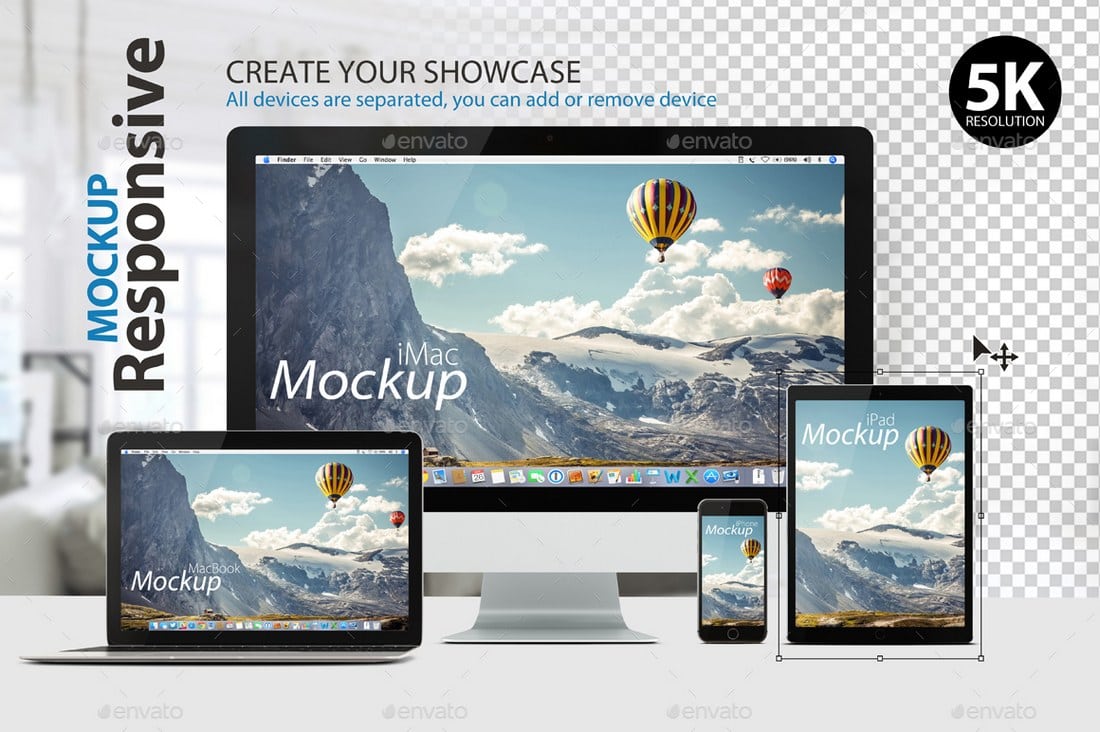 Another mockup template featuring the iMac Retina 5k. This template features a changeable background and includes separated iPad, MacBook, and iPhone device mockups as well.
Responsive Desktop Mockup for Presentations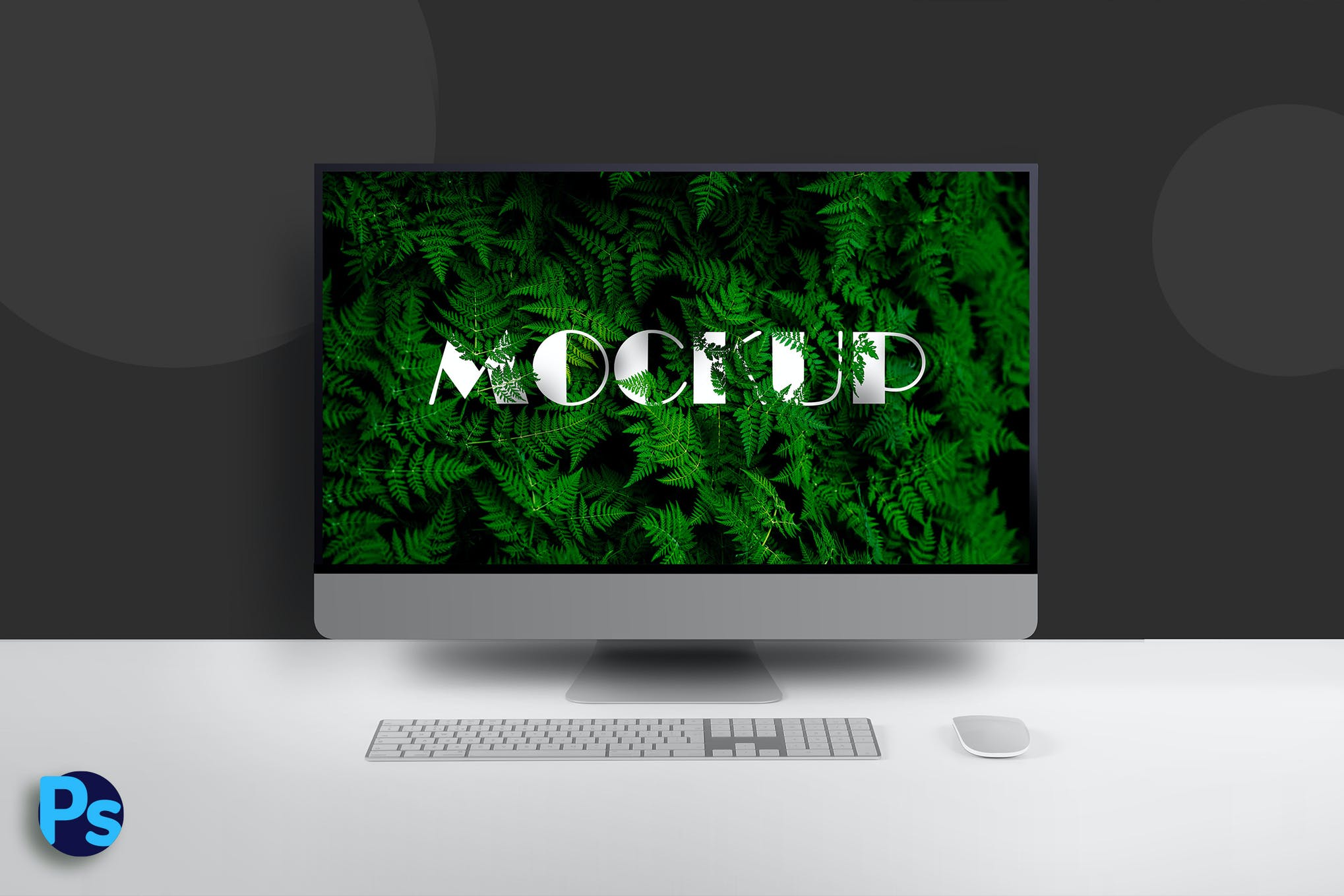 Here we have a Desktop PSD Mockup for your Website, Graphic presentations, and Branding that require Adobe Photoshop CS5+.
Front Desktop Mockup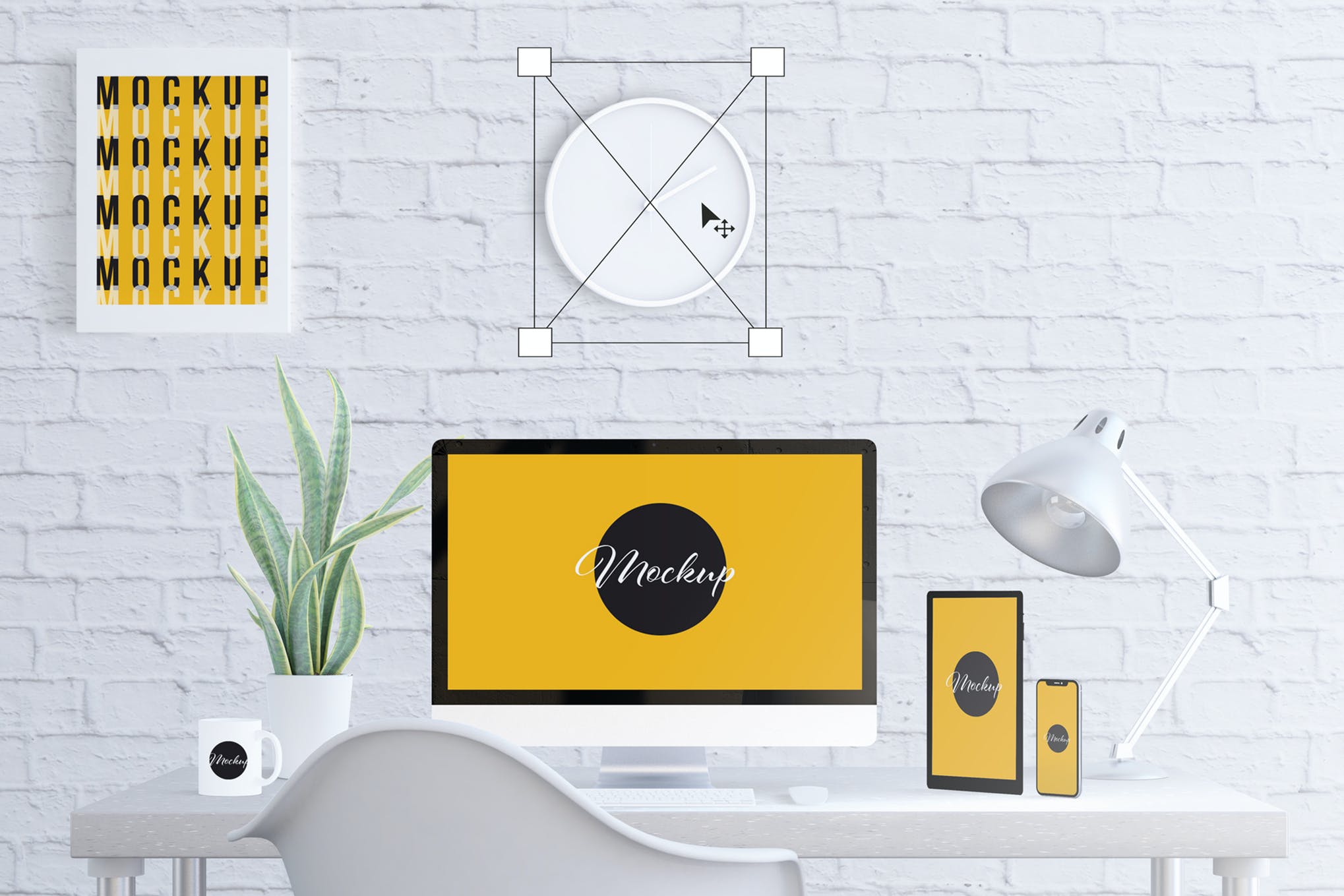 With this template, you can choose from 8 devices, 4 different tables, 4 chairs, and a variety of decorative elements and backgrounds to create your scene. All elements include realistic shadows on a layer that are separated from.
iMac Desktop Screen Mockups
Next up we have 4 different styles iMac/Desktop Mock-Ups to showcase your website design in realistic appearances. These mock-up files use the smart object feature which helps you change the design just in seconds (PDF instruction included). If you need help, you can contact me!
Responsive Desktop Mockup for Presentations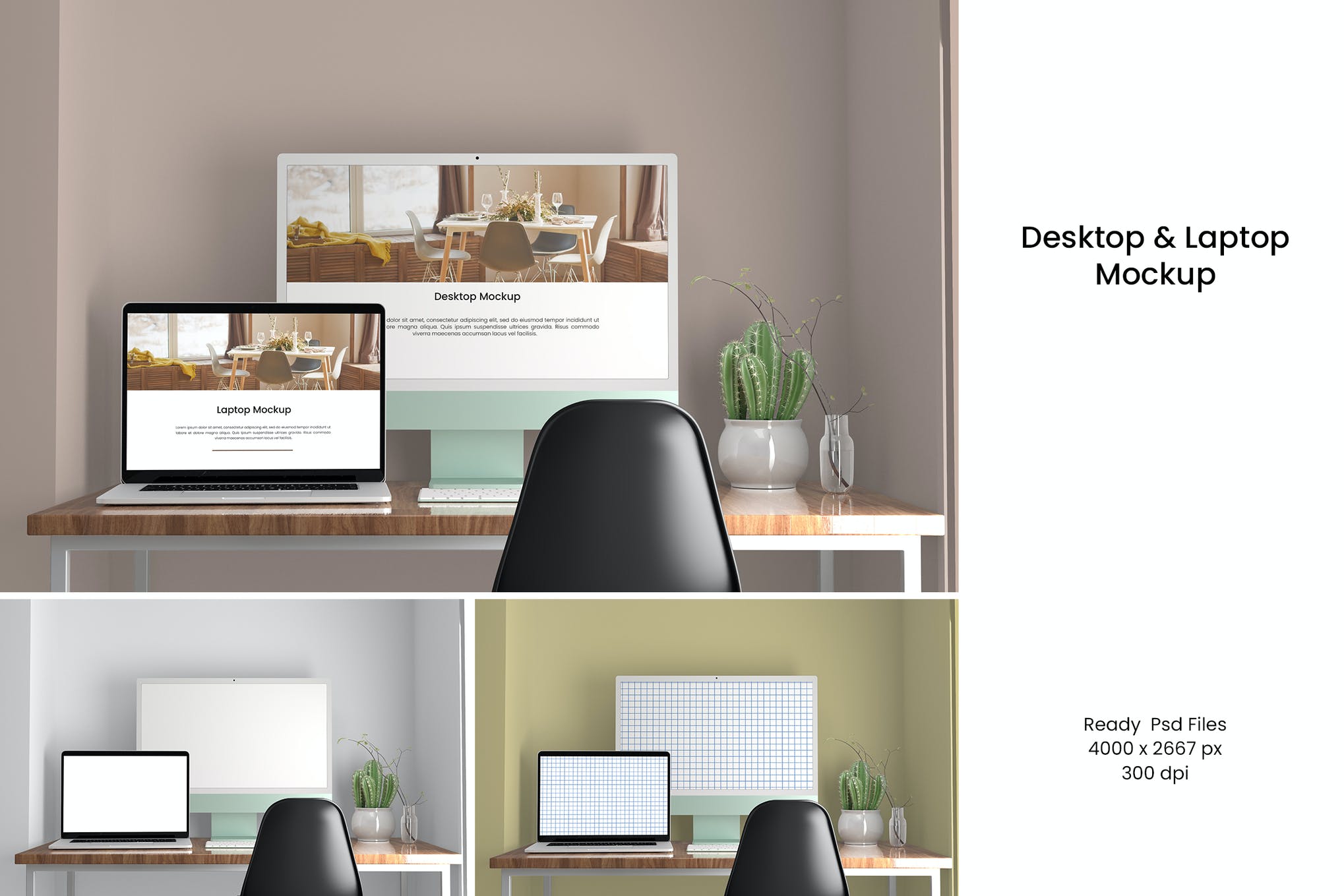 We Present a desktop and laptop mockup for showcasing your design in a realistic look. This Photoshop file is layered and editable using the smart object feature. Just by double click on the layer thumbnail of the smart object, it will open to a new document, then paste your design inside and save.
Surface Studio Computer Mockup Template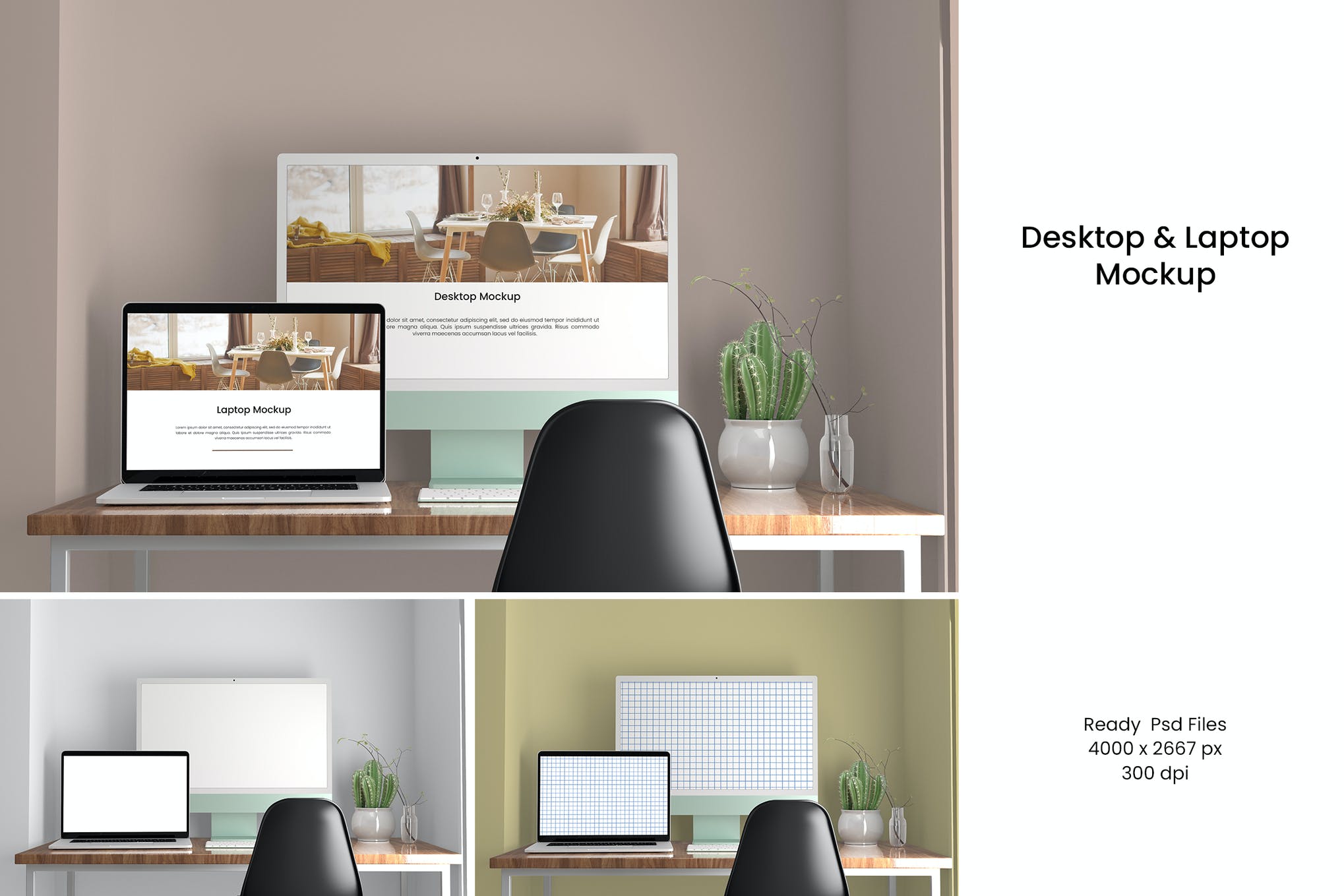 The Surface Studio is a desktop designed for creatives that lets you customize angles and more. This level of customization is also available in this computer mockup PSD. You can change the colour of the device, the accessories, and more in the included six scenes.
Desktop Mock-Up Computer Template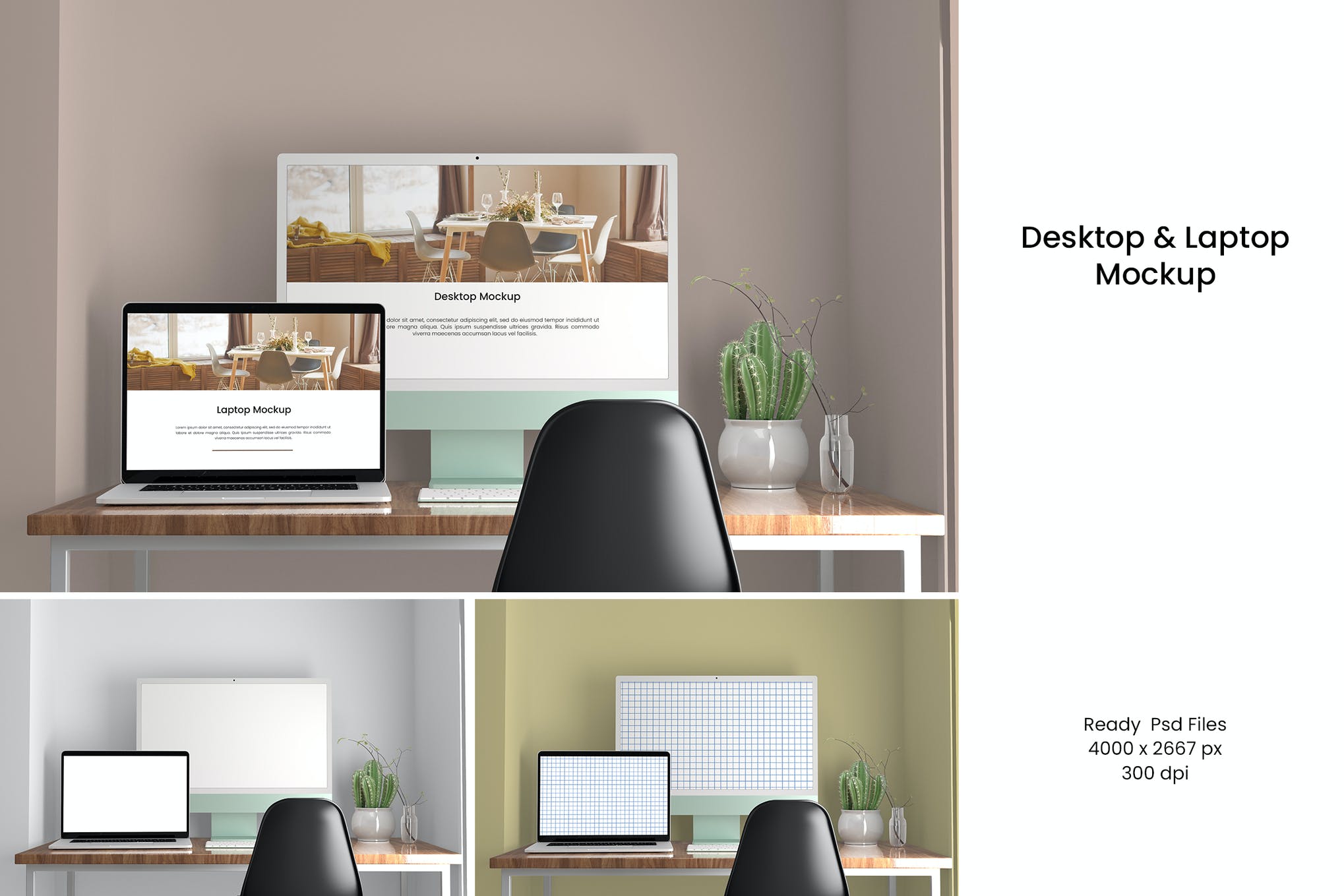 This Mac mockup doesn't limit you to a single screen. Showcase multiple pages and designs with this download. It comes with eight different scenes, so you can take your pick. Check out the simplistic creativity of this Mac desktop mockup from its item page.
3D Cartoon Computer Desktop Mockup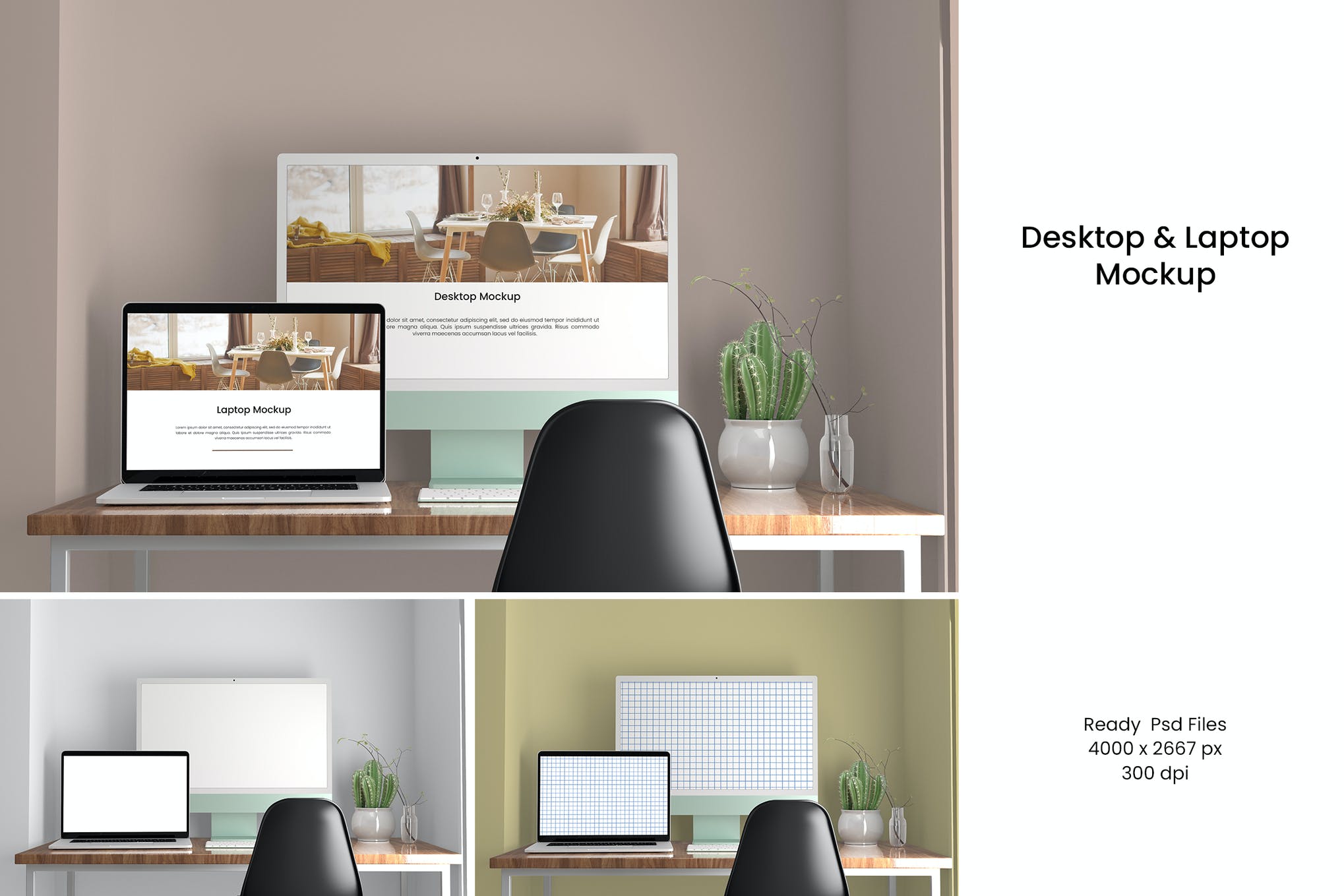 Go the illustrated route with this wonderful 3D mockup of a computer. It's friendly and fun. The PC computer mockup PSD template is also customizable. You can change the backgrounds and colours in just a few clicks.
Responsive Desktop Mockup for Presentations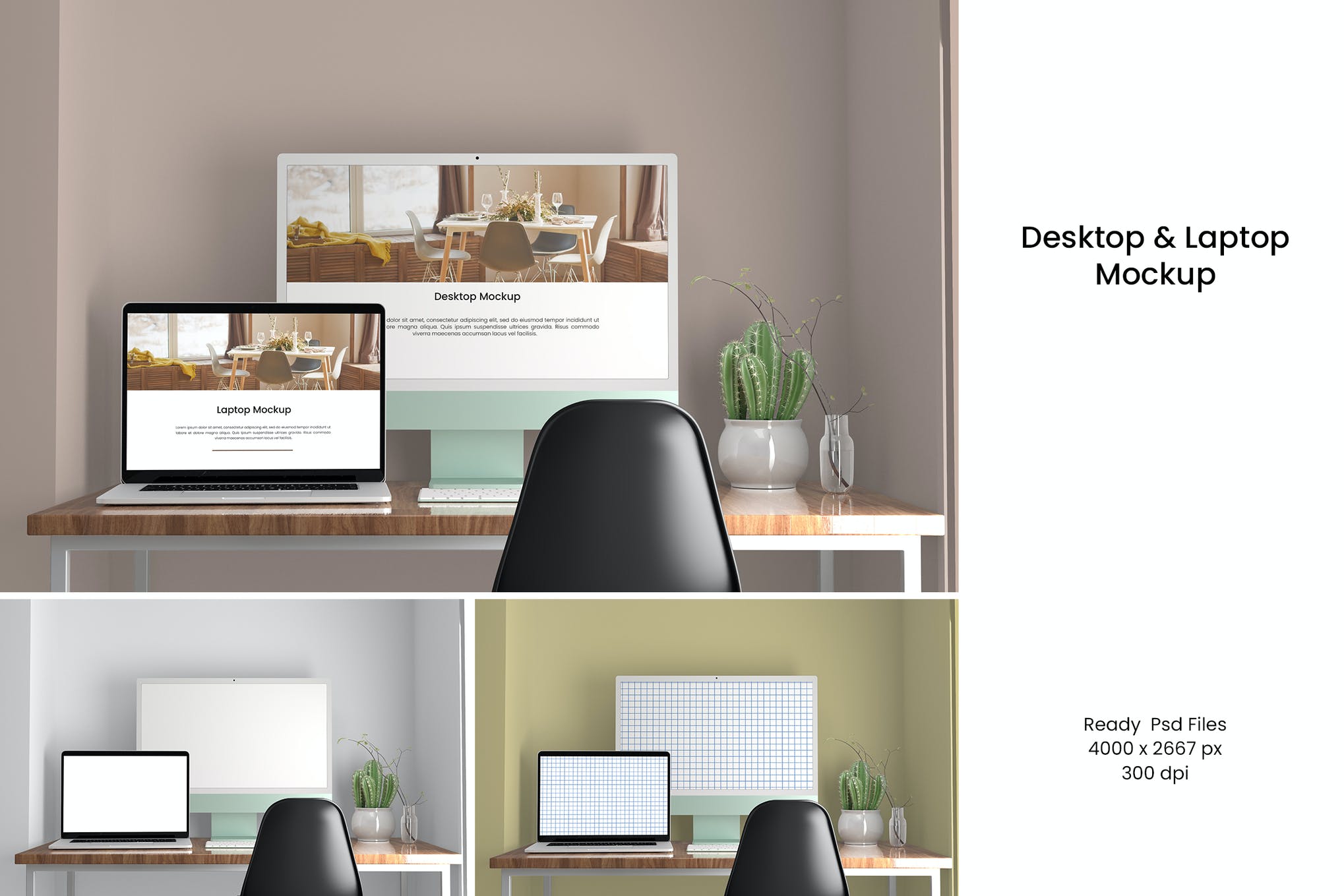 You can keep it old school or show off a new iMac in this mockup download. The simple scene has some character to it. It has a plain background and desk, but the devices are the stars of the show. Fire up the computer mockup PSD in Photoshop and start editing in no time!
Mac Desktop Mockup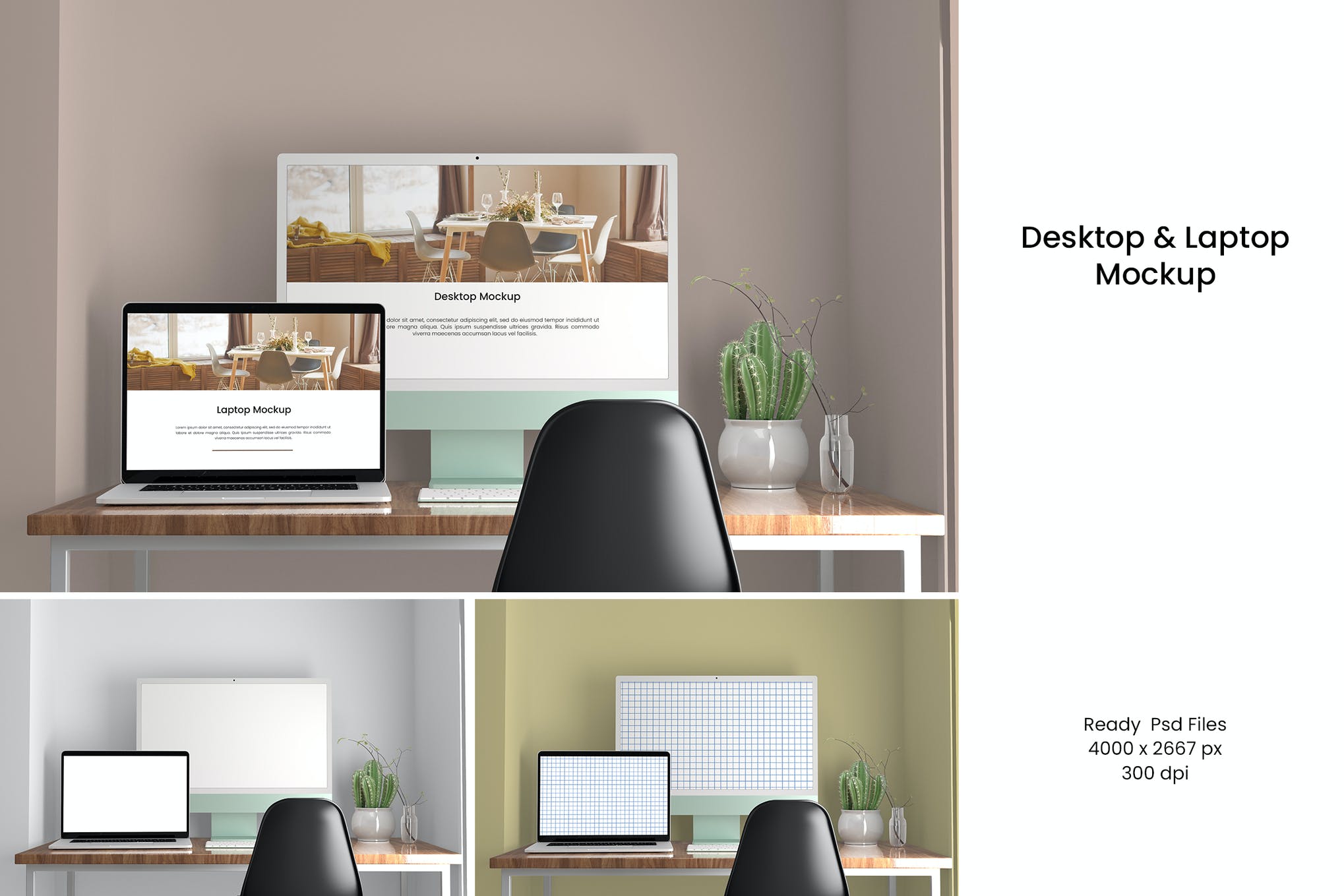 This terrific Mac computer mockup in PSD offers four high-res files in landscape and portrait orientation, with a variety of angles and light settings. The files are organised in layers and can be easily and quickly edited using Smart Objects.
Keep browsing for more mockups with our MacBook mockups and iPhone mockups collections.
By: Roshan Perera
Title: 35+ Desktop Computer Mockup Templates
Sourced From: designshack.net/articles/inspiration/desktop-computer-mockup/
Published Date: Wed, 09 Nov 2022 20:00:00 +0000