Are you looking for a way to design stunning retro text effects without having to spend hours in Photoshop? Then you'll love our collection of retro text effect templates and styles that you can use to cut your design work in half.
Whether you're working on a retro-style title for a website header, designing a badge for a T-shirt, logo for a brand, or crafting unique quote pictures for a social media campaign, this handpicked collection has a text effect for all kinds of design work.
No need to choose. You can actually download all these text effects for a single price. Simply subscribe to Envato Elements and start downloading everything on the platform. See if you can find some inspiration for your next design from this great collection of retro text effects!
We've also featured our tips for retro design, to help you get you started with any retro-style design project.
Top Pick
10 Vintage & Retro Text Effects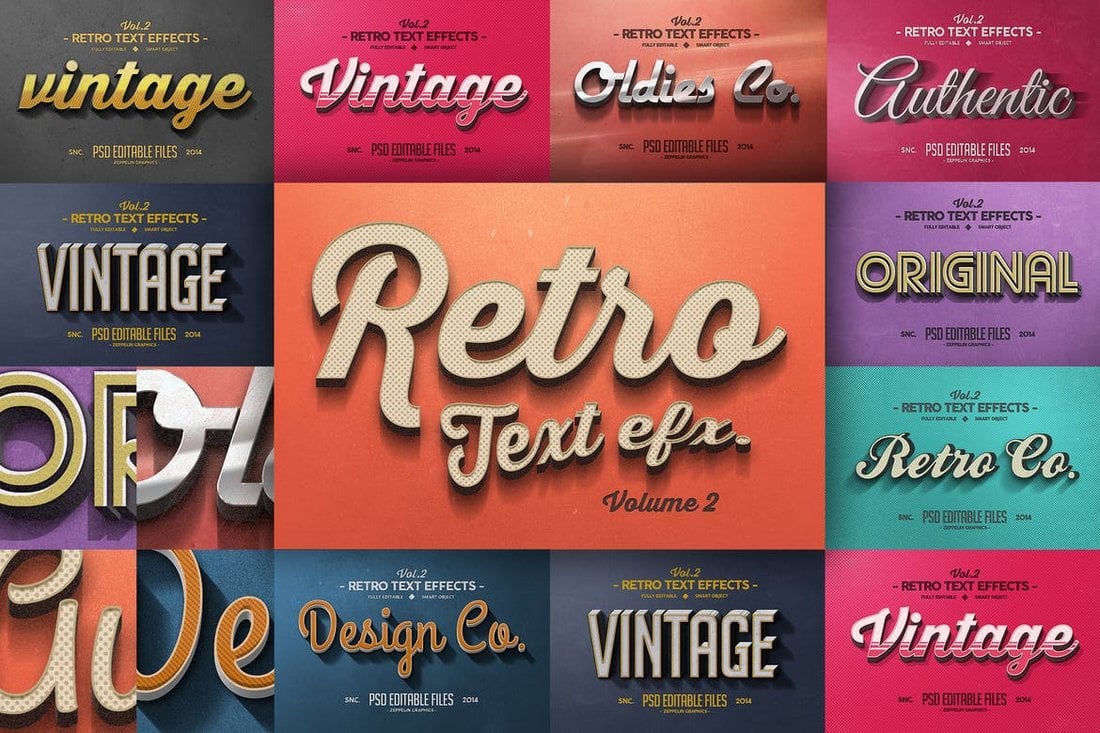 If you're a fan of both retro and vintage text effects, this bundle is perfect for you as it comes with a mix of both vintage and retro text effects.
The text effects in this pack are available in PSD format and in 2000 x 1500 resolution. The text in the PSD files are fully customizable and uses free fonts as well.
Why This Is A Top Pick
The easily editable PSD files are what makes this bundle special. Each text effect comes fully layered and with smart objects to make it easy for even a complete beginner to edit and customize the files without an effort.
Retro Text Effects V2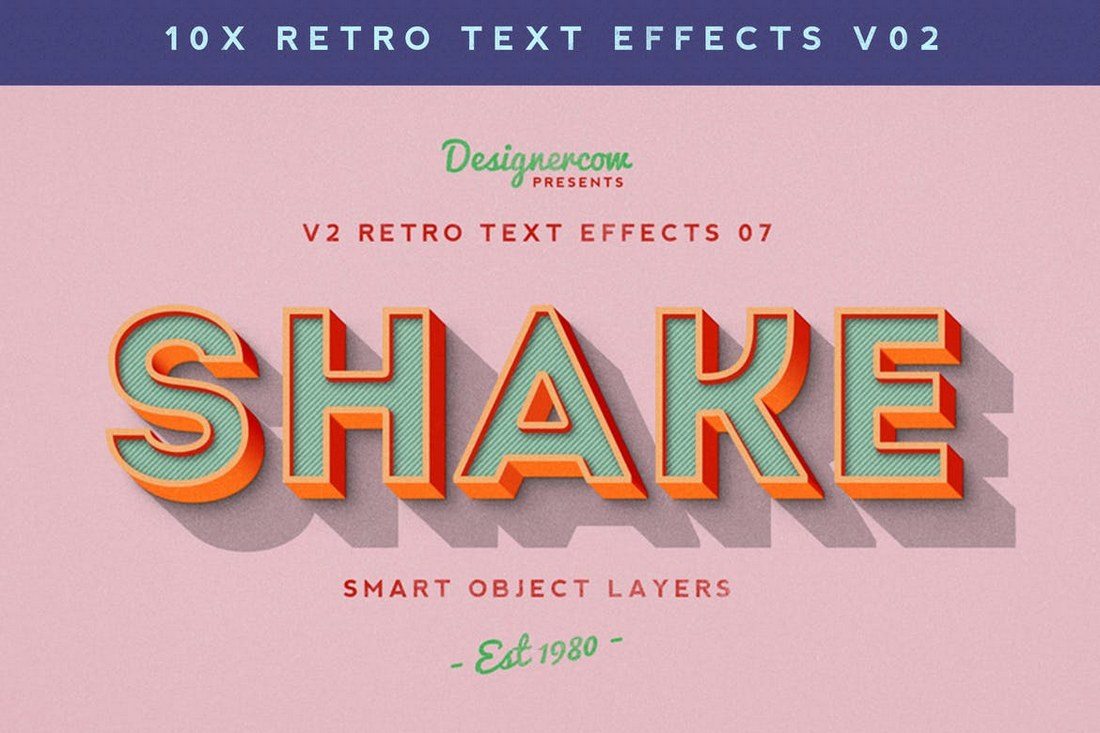 This bundle also includes 10 unique retro style text effects you can use to design website headers, logos, badges, signage, and more. The effects come to you in PSD files and they are available in 7 different colors as well.
14 Vintage Retro Text Effects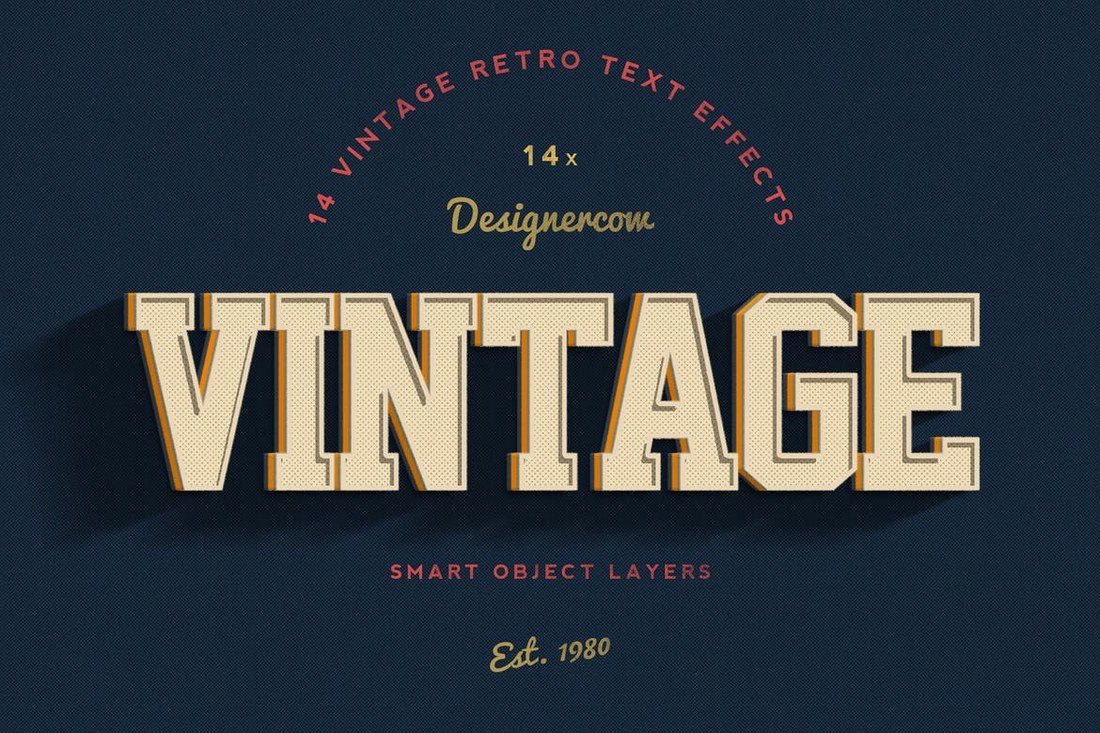 Another big bundle of text effects that includes 14 different text effects and styles for crafting various text and title designs. These text effects also feature an old-school 3D effect created with smart objects, which can also be customized to your preference.
Cyberpunk Retro Text Effects
The cyberpunk style has taken over the world of graphic design, and for a good reason. It makes any design look better; more attention-grabbing, and incredible. This Photoshop plugin gives you an amazing opportunity of bringing the lethal combination of glitch effects, and neon style to your text designs in a retro futuristic fashion.
Retro Party Text Effects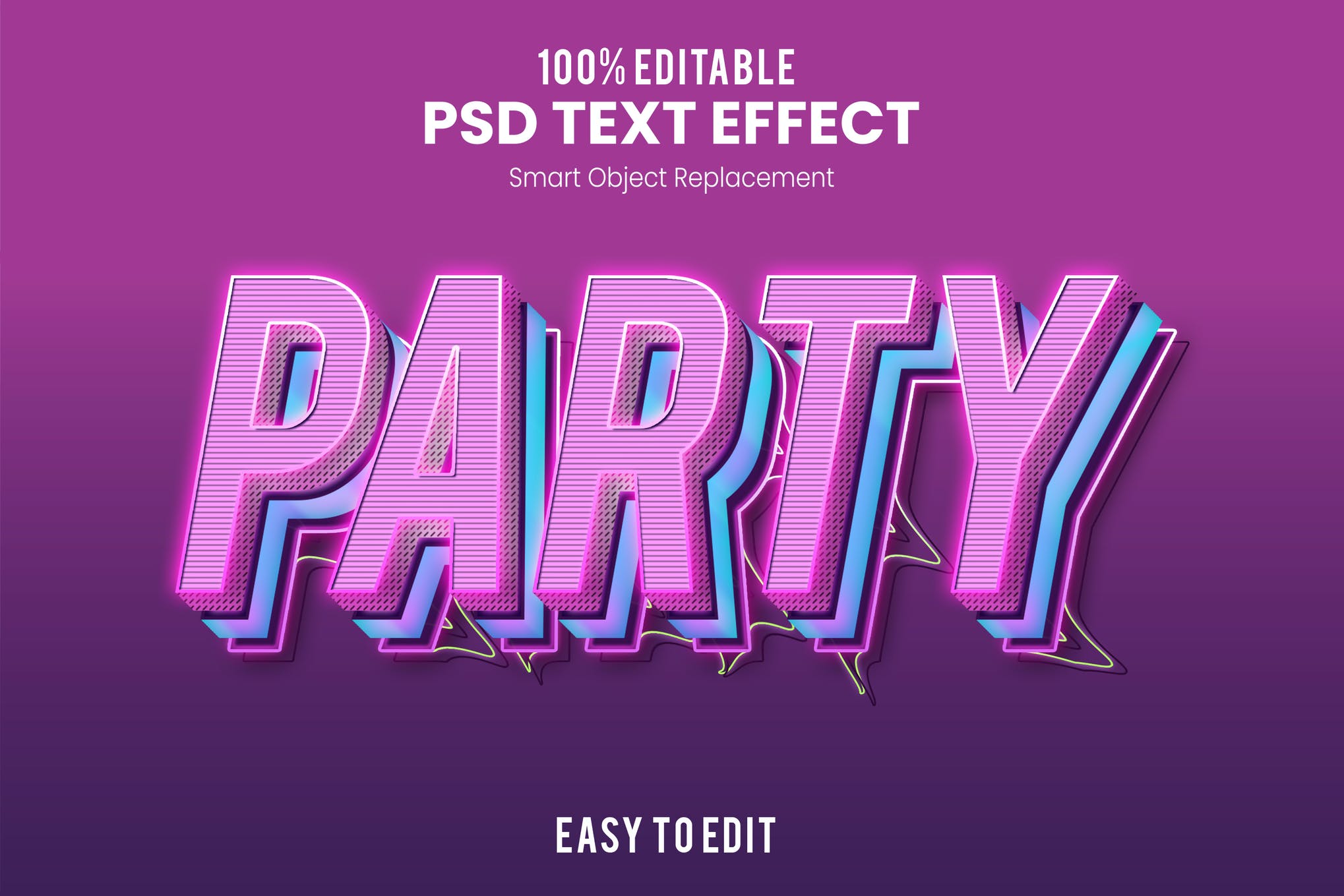 If you are designing a retro party poster, flyer or invitation card, this Photoshop template definitely deserves your attention. Featuring a bold, vibrant neon design, this template will make your typography stand out in a fanciful manner.
12 Retro Photoshop Text Effects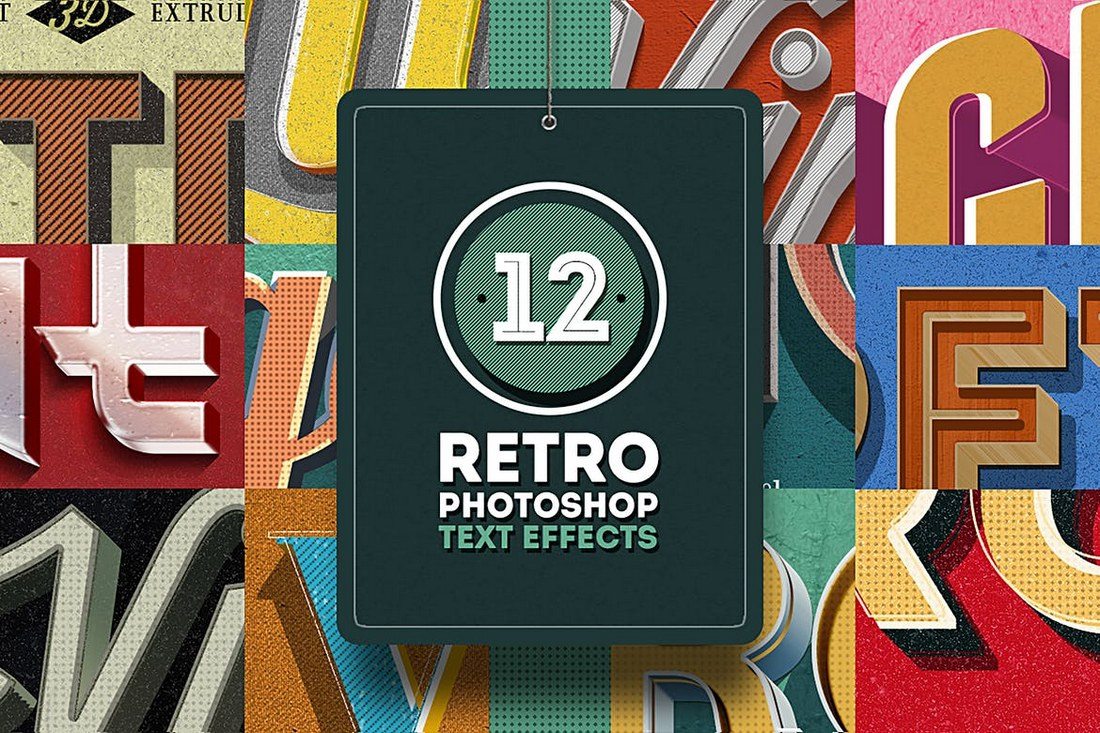 Quickly convert your text to a vintage design using this pack of text effects. This bundle includes 12 unique text styles created with smart objects for easier customization. The effects are clearly organized in PSD files to let you edit and customize them as you wish.
Retro Style Text Effects Vol.1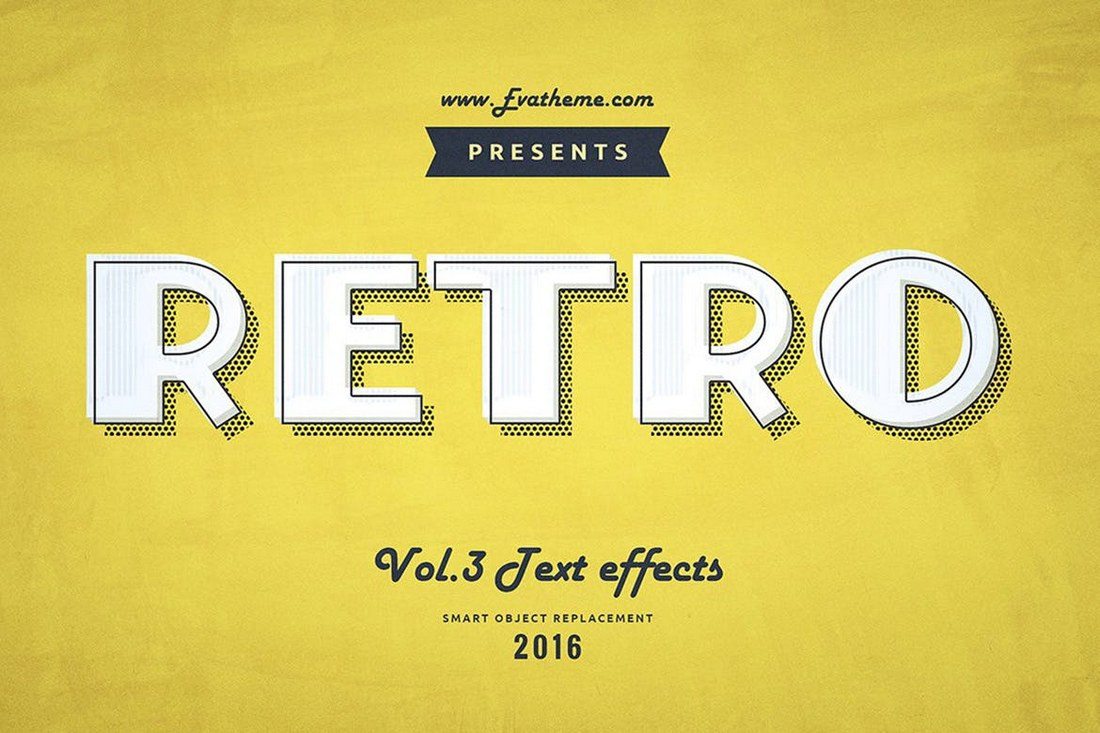 It doesn't get any more retro than this. This is a pack of 10 unique text effects, all featuring old-school text designs from the 80s. According to the designer, you can edit, customize, change, and save these text effects within 30 seconds.
Free Retro 80s Text Effect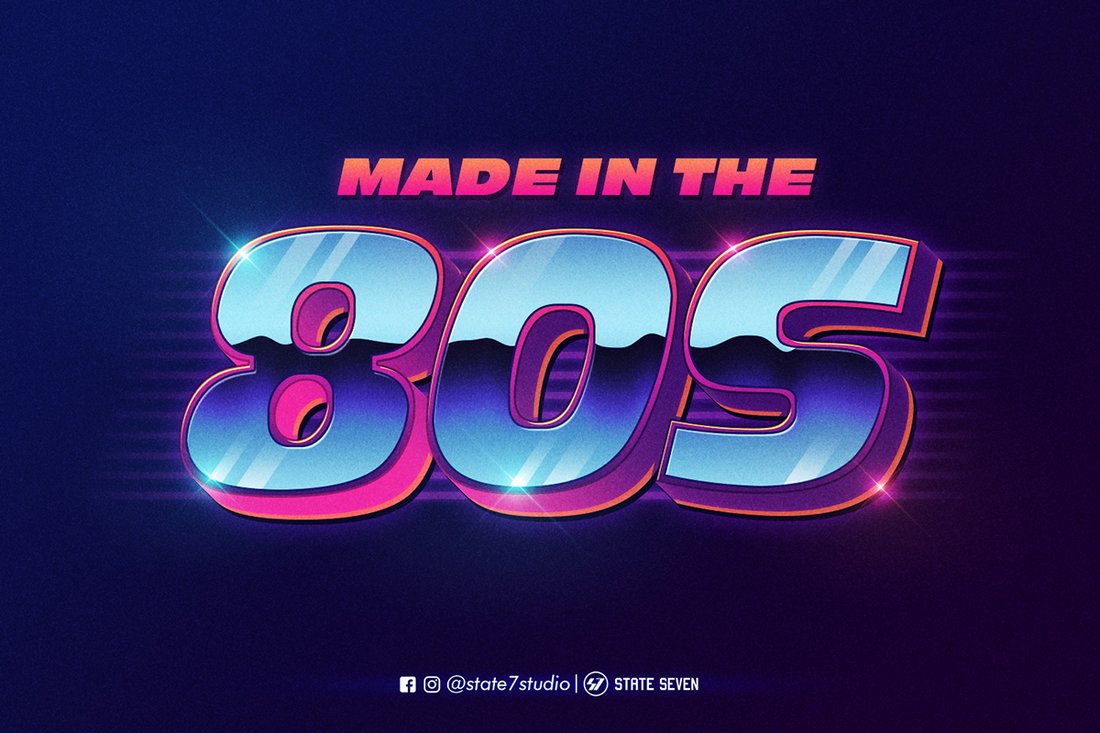 Another stylish and free retro text effect inspired by the 80s and featuring 3D like effect. The template is available in an easily editable PSD file.
Elegant Retro Text Effects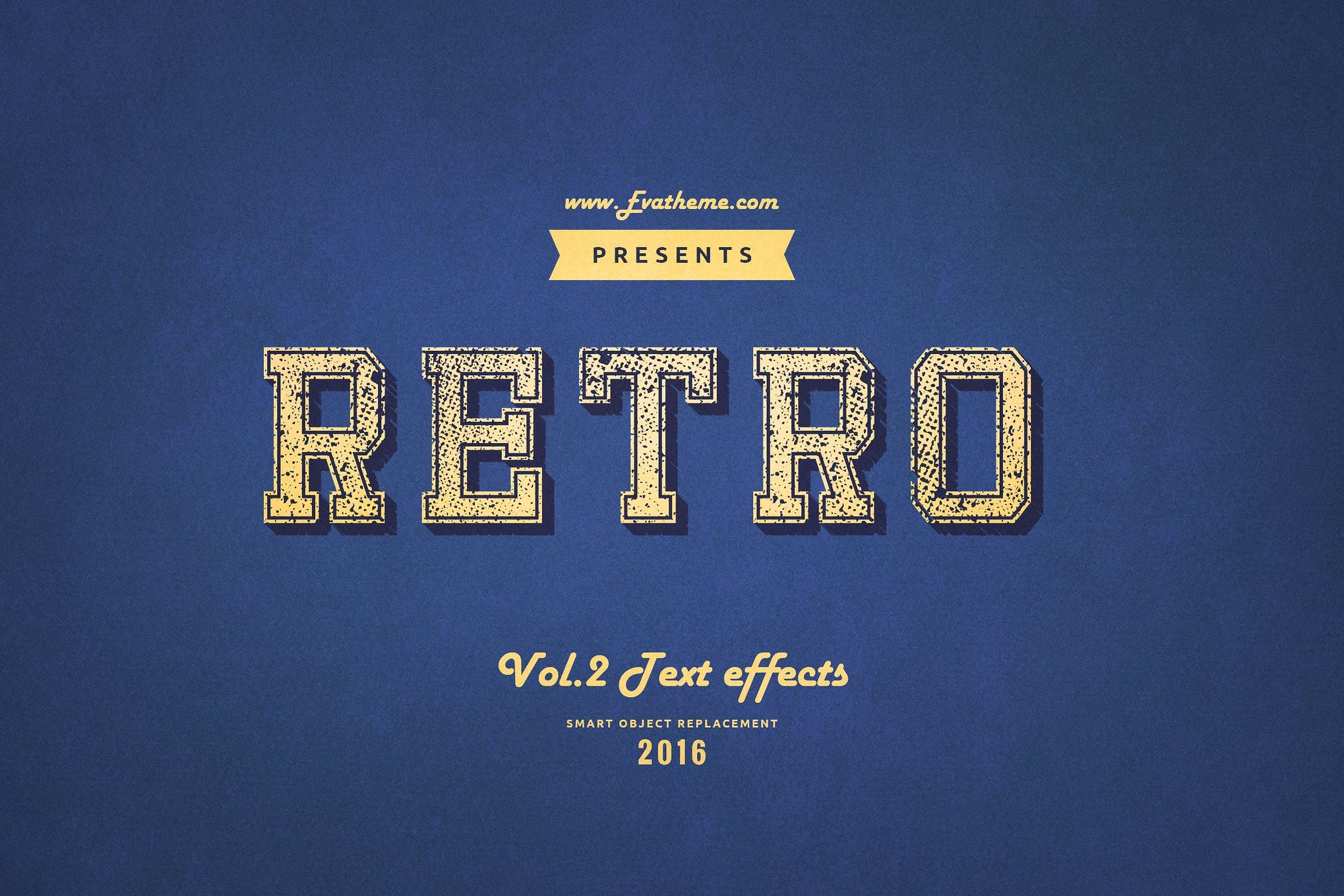 This collection consists of a range of Photoshop text effects, came straight from the 90s. All the effects are awefully simple to customize to suit your own branding, thanks to its super handy smart object functionality. Check it out!
Rose – Free Retro Text Effect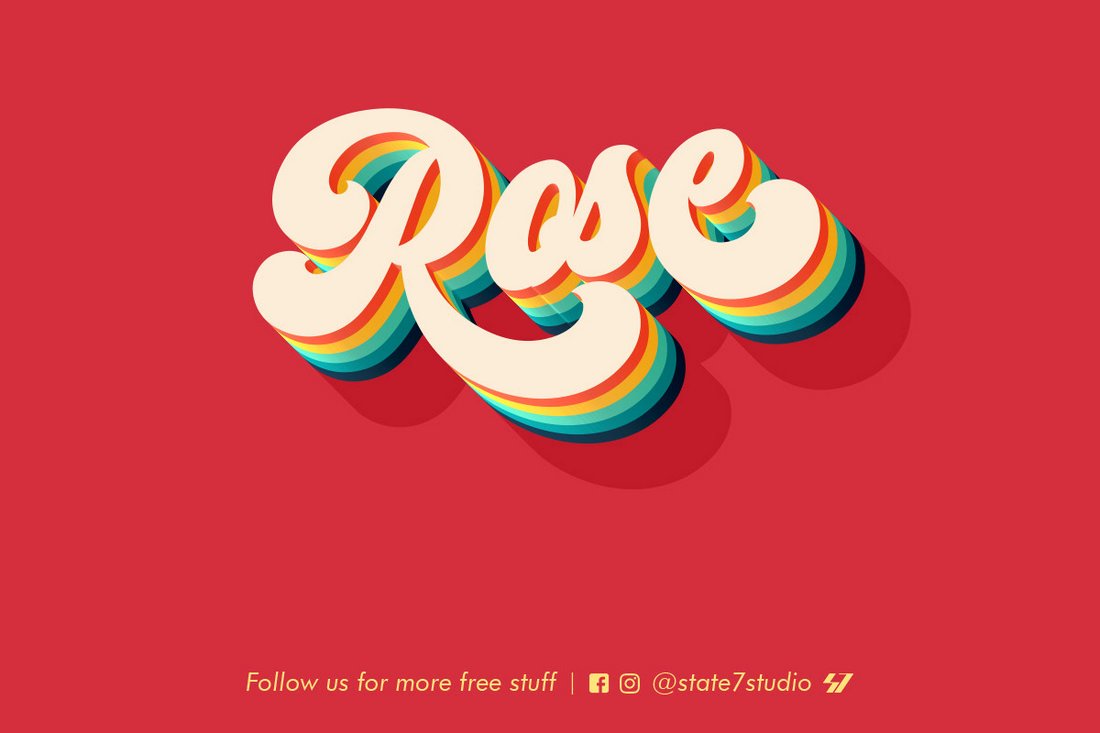 This beautiful text effect is perfect for designing poster titles and website headers. You can download it free of charge and customize it with Photoshop.
Rocking Retro PS Text Effects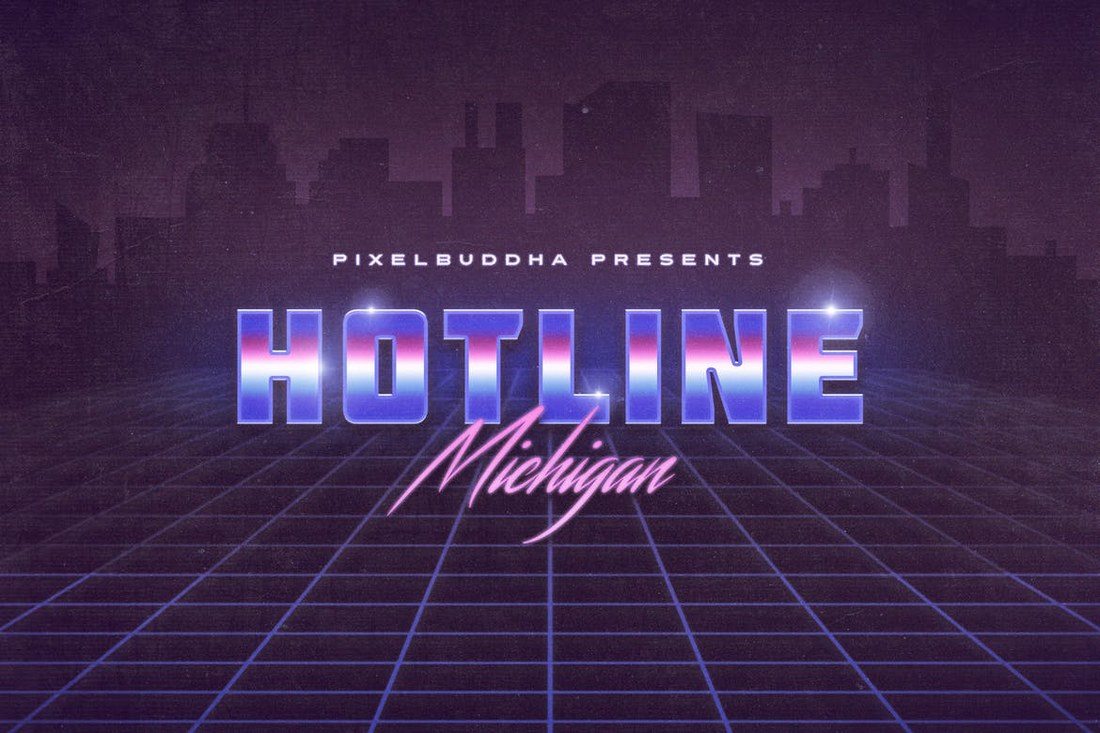 Give your text designs that old 80s look using this pack of retro text effects. This pack includes 3 different designs that feature retro electro look from the 1980s. It's perfect for designing a music album cover or a movie poster.
Free Retro PSD Text Effects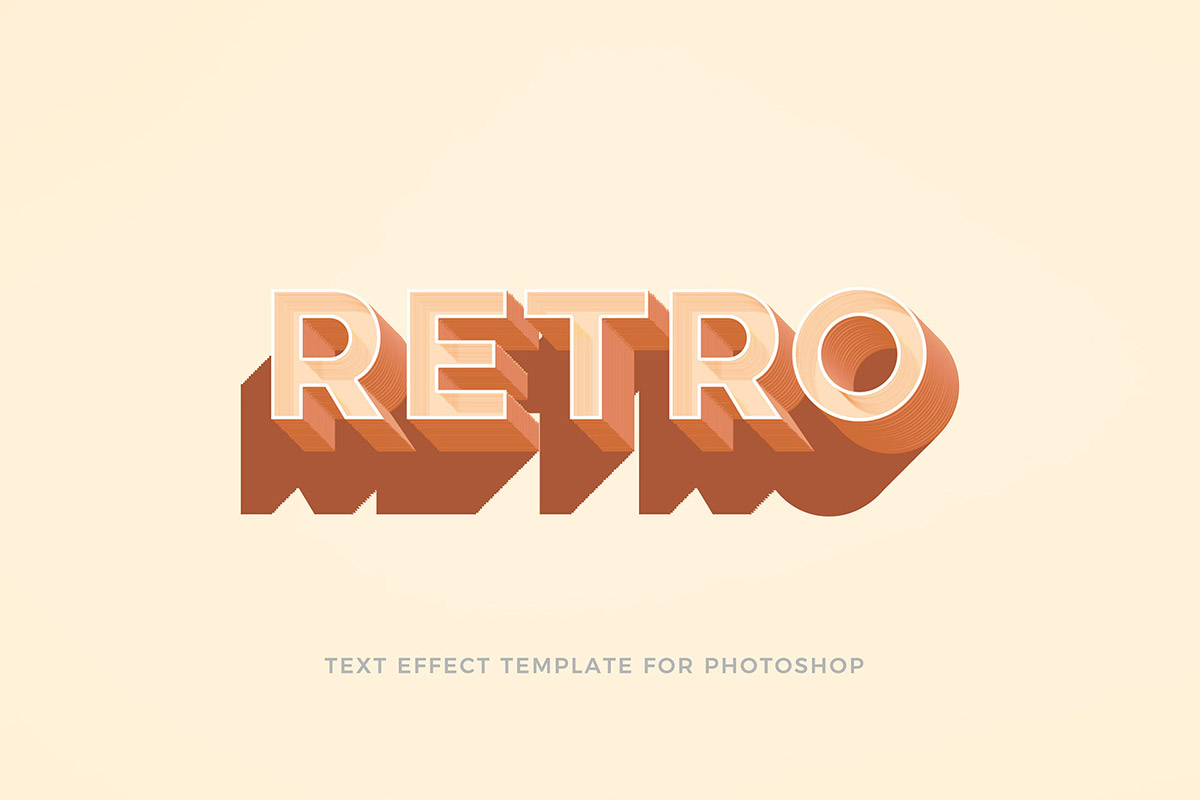 You don't always need an over-vibrant, and colorful design to make a statement. Sometimes simplicity is all you need to bring magic to the page. This retro text effect is a paragon of how you can achieve sheer excellence even with a no-frills approach.
Free 3D 80s Retro Text Effect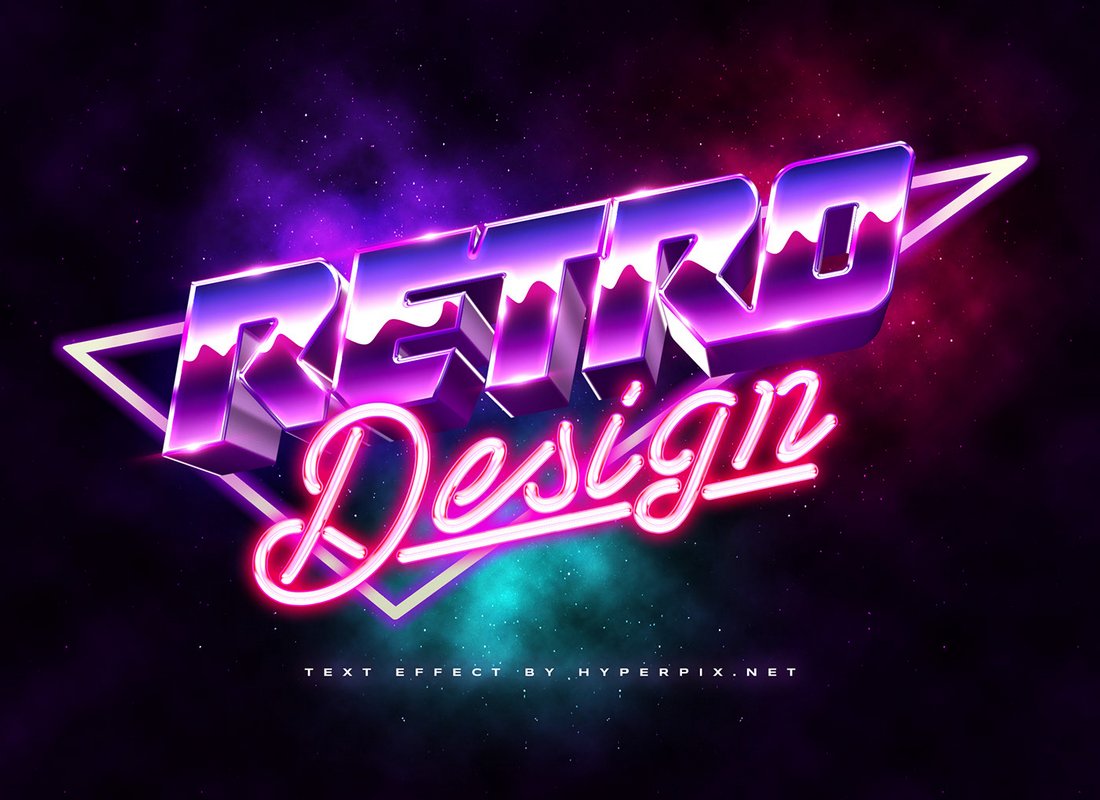 This free retro text effect is a great choice for designing a poster or a cover title with an 80s retro vibe. The effect features a mixed design of both 3D and neon signs.
The PSD file comes fully layered and it's easily editable. You can simply click and type in the text to make the text affect your own.
This is one of the grooviest and stylish retro text effects we've seen. It doesn't get any more retro than this.
Free Retro Text Effect for Photoshop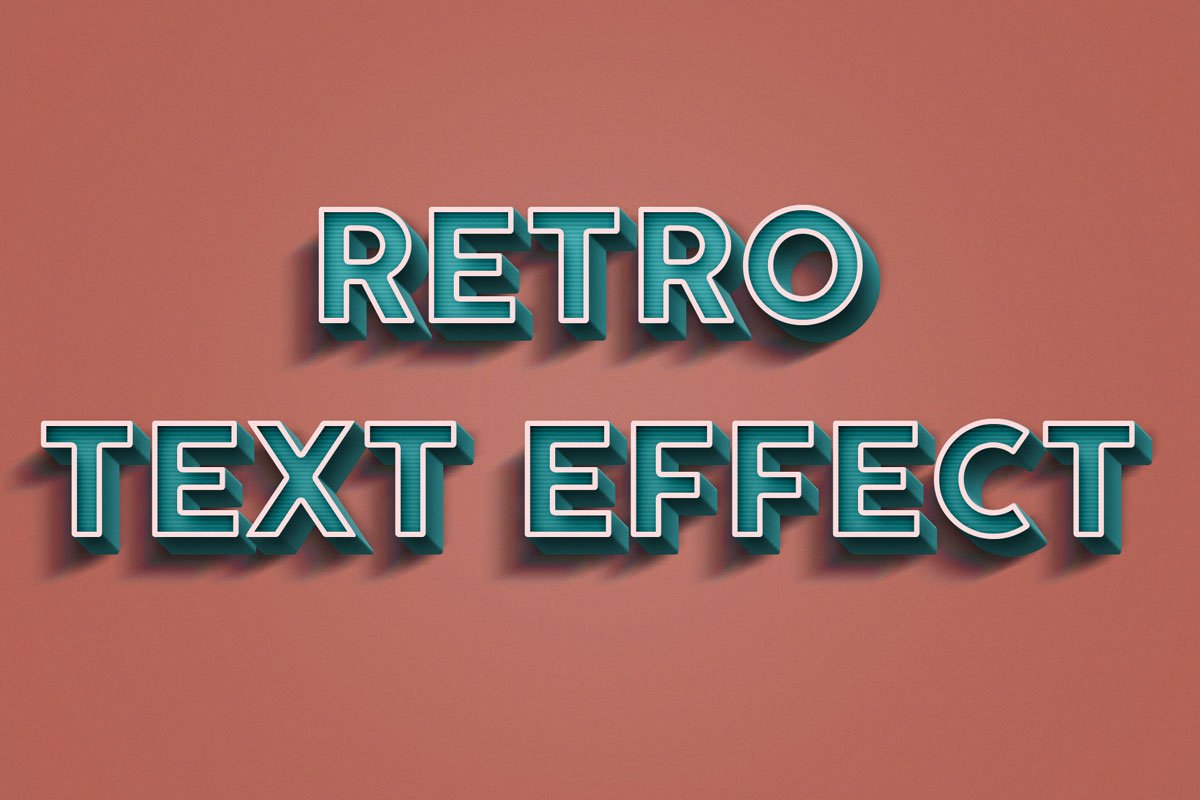 If you are a beginner looking to experiment with Photoshop text effects, this resource is well worth checking out. Featuring a simple yet wonderfully beautiful design, you'll surely have lots of fun playing around with this freebie.
10x Retro Text Effects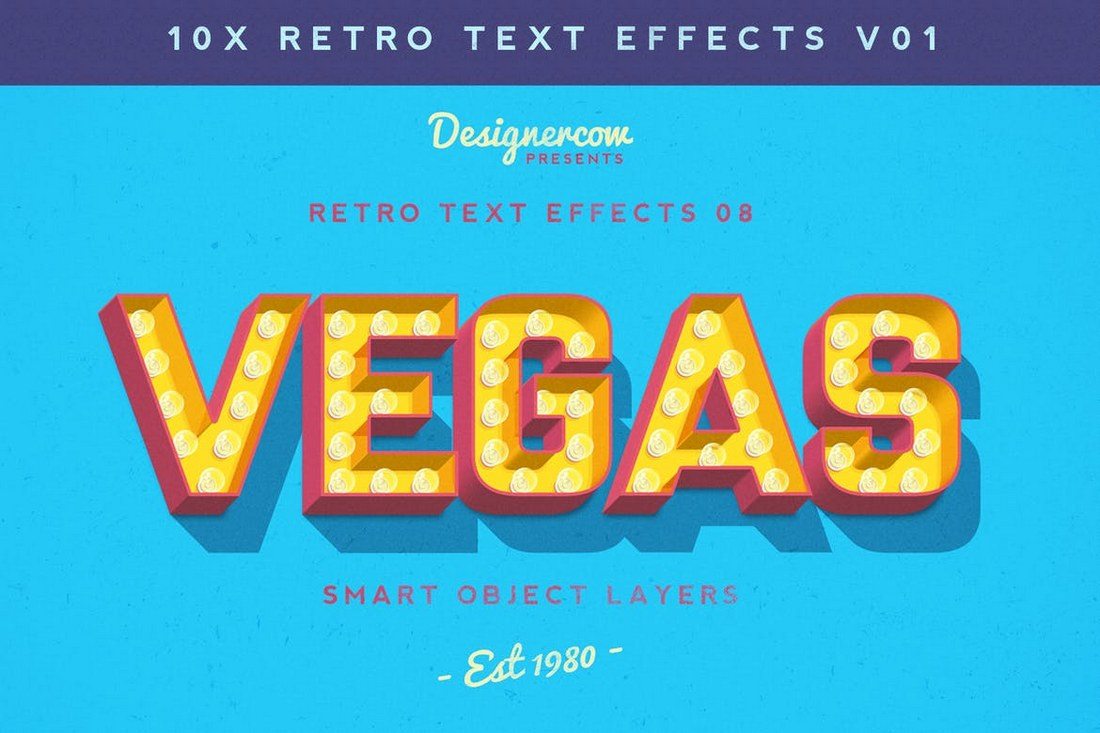 The text effects in this bundle feature several different retro designs, including one that's similar to the big illuminated signs you see in Las Vegas. It includes 10 different text effects, all of which are fully editable. The 3D text effect is also customizable.
Retro Text Effects vol.1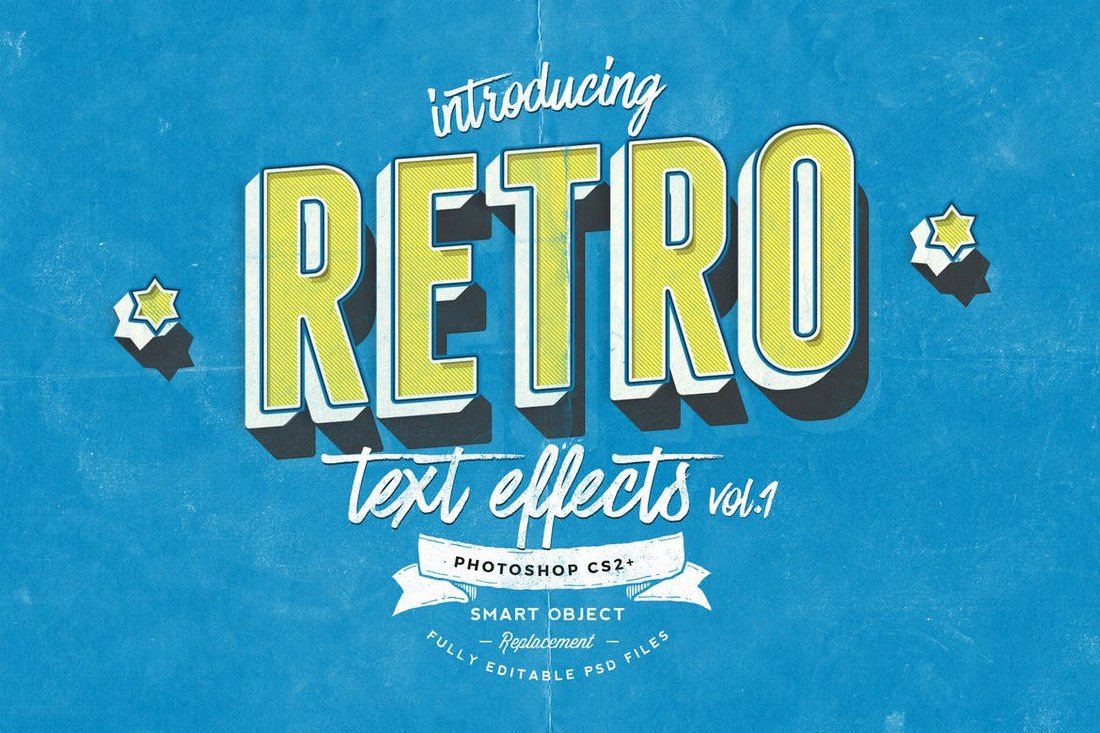 This Text effects bundle includes 10 stylish and beautiful effects you can instantly apply to your own texts. The PSD files in this pack are fully-layered with smart objects for easily customizing and editing the files. It's ideal for a T-Shirt design or a logo design.
80s Retro Text Effects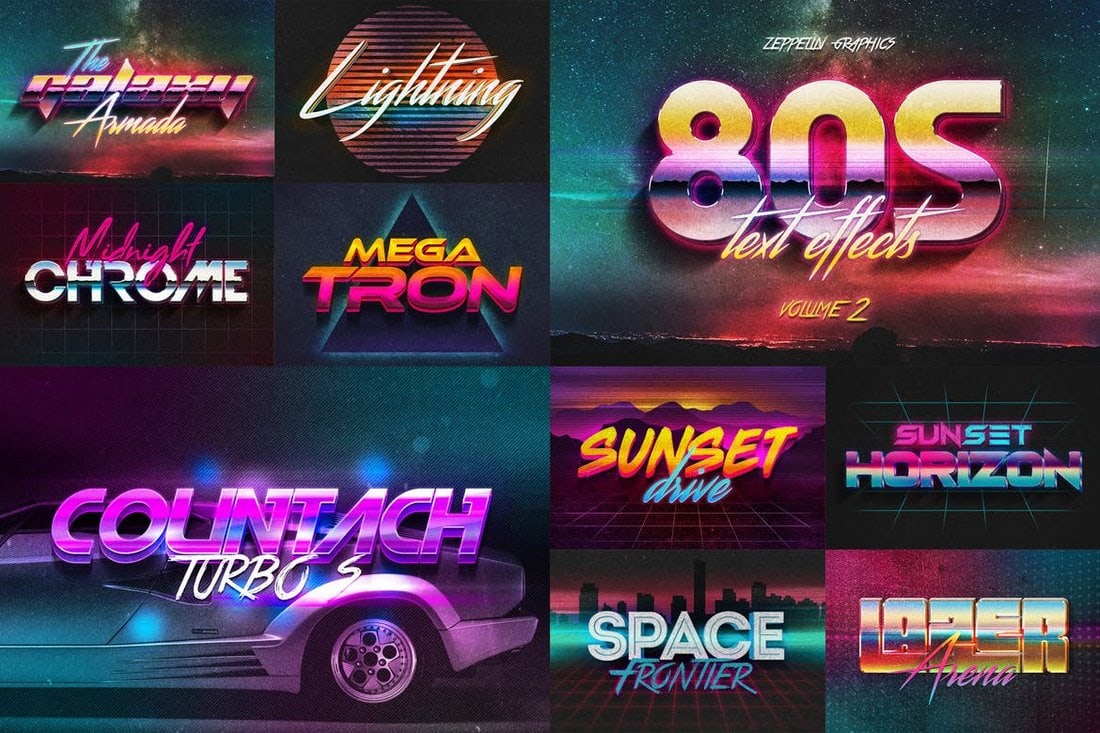 A collection of 10 stylish text effects featuring designs inspired by the 80s retro styles. This pack includes effects that are easily editable in Photoshop and comes with organized layers and smart objects.
Retro & Vintage Christmas Text Effects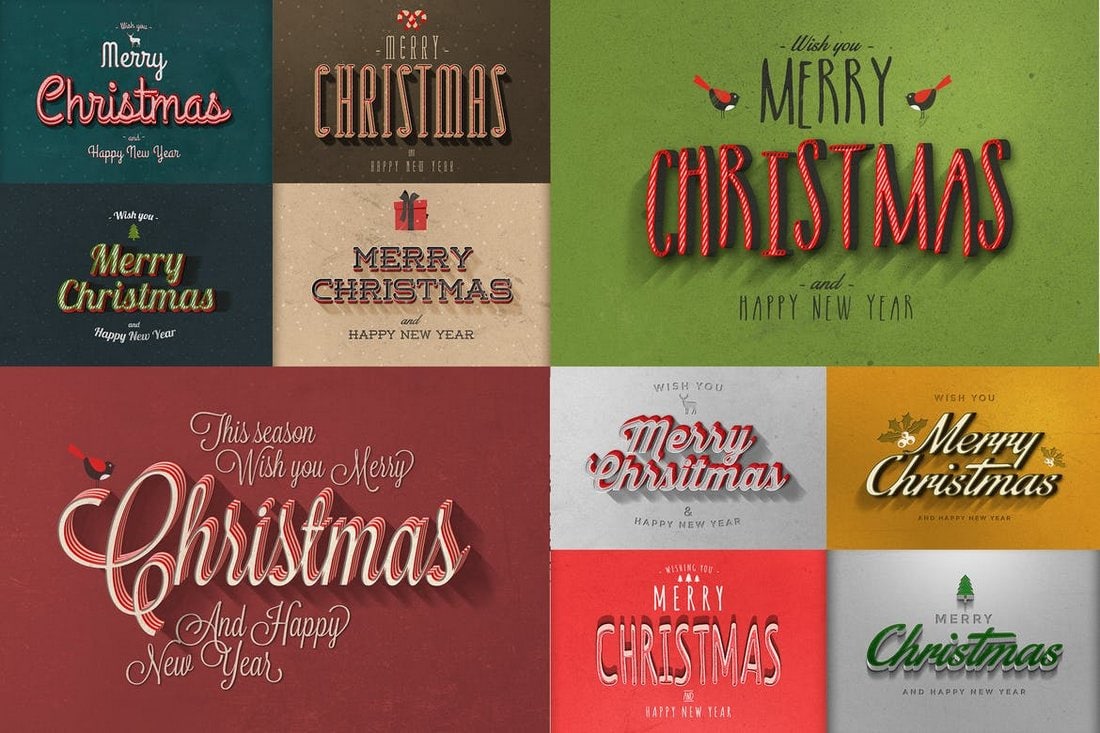 Designing a Christmas greeting card or a poster? Then use a text effect from this pack to make your design look more retro or vintage. The bundle includes 10 PSD text effects featuring both retro and vintage designs.
Retro Vintage Text Effect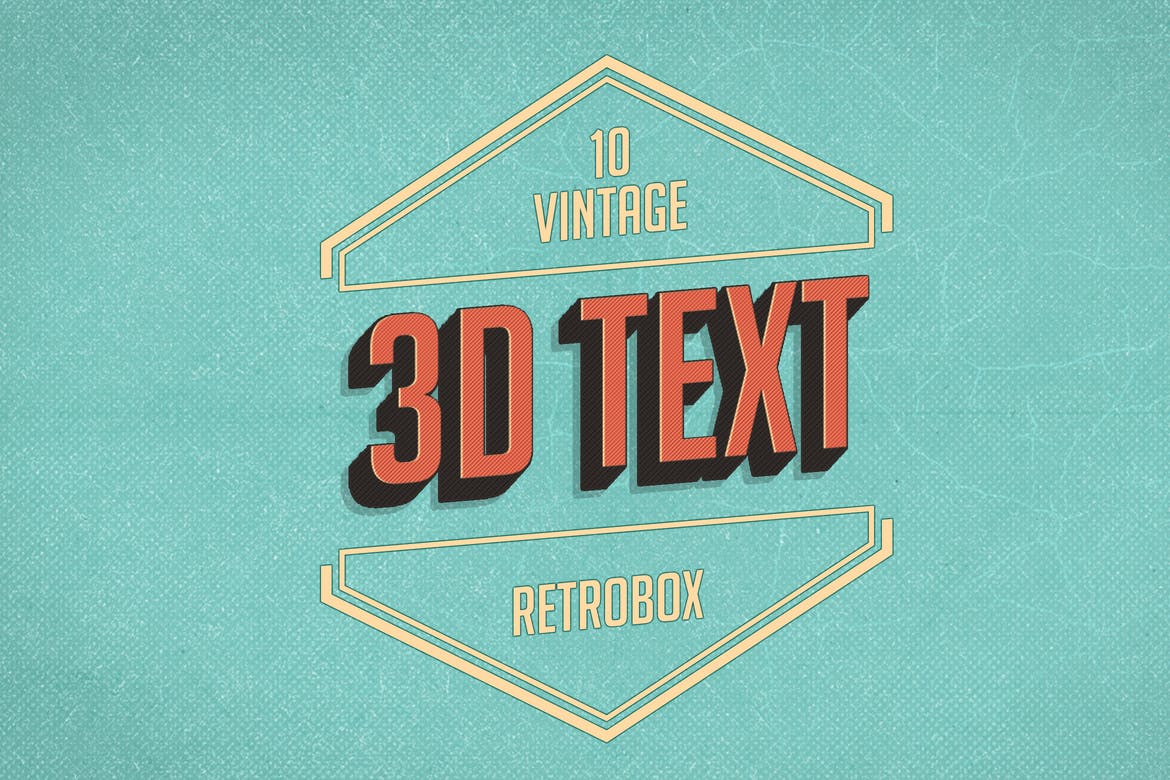 Perfect choice for crafting signage and badges, the text effects in this bundle features a retro design style with a mix of 3D effects. It includes 10 PSD files with different effects along with a set of retro backgrounds as well.
Old Comics Text Effects Set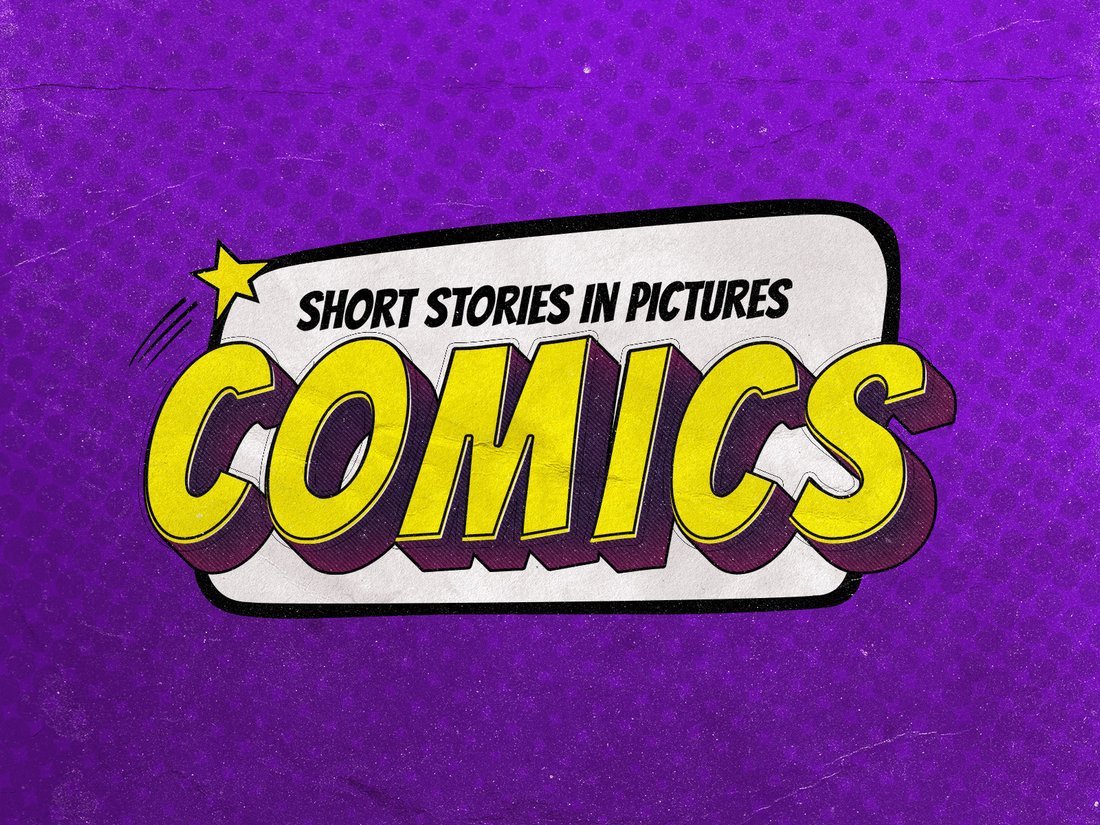 A set of creative text effects inspired by the old comic book title designs. This pack includes multiple text effects featuring various comic-style designs.
Free Retro Light Sign Text Effect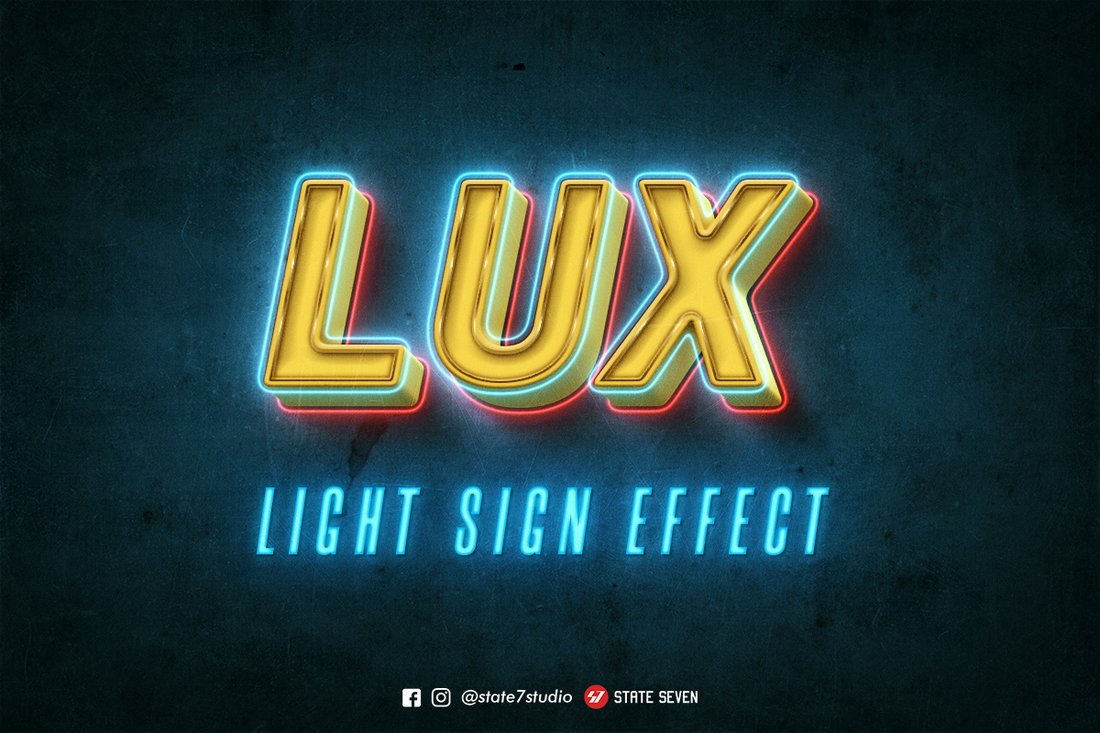 Make your titles and text look like an old neon light sign using this free text effect. The template is free to use and it's easily editable.
Vintage Halftone – Instant Text Effects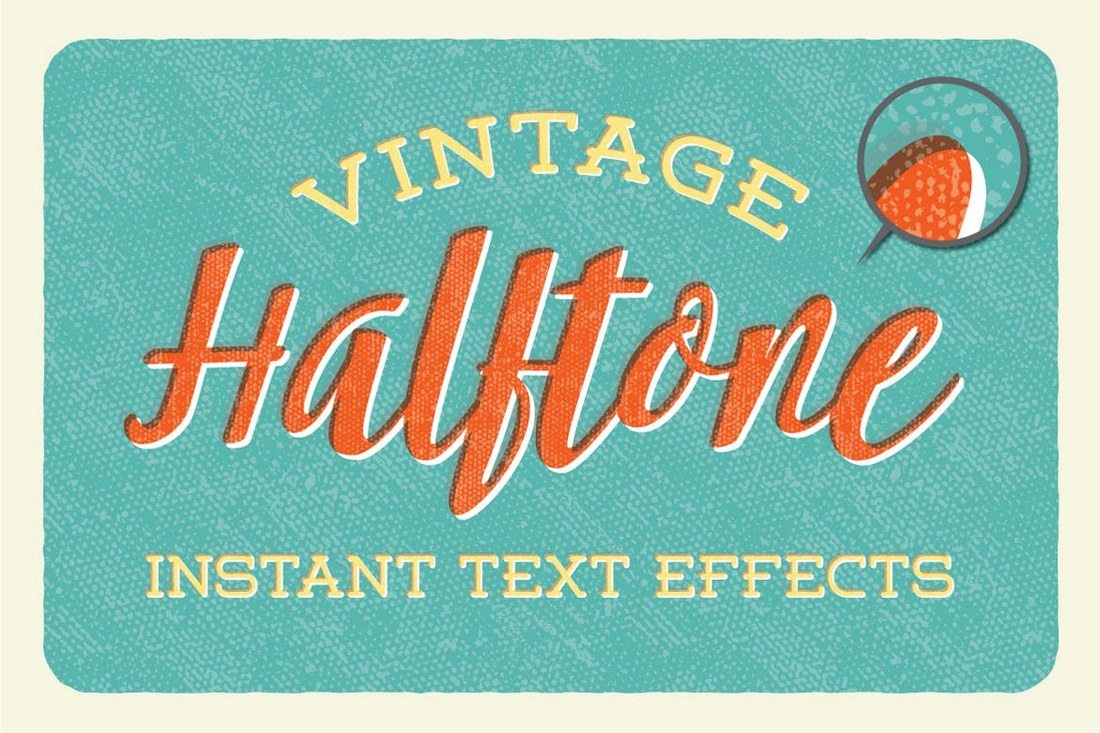 The halftone color effect is a popular design that's often used in vintage and retro designs. These text effects feature that same effect you can easily apply to your own text. The pack includes 12 different text effects with 12 color variations and 12 backgrounds.
Hometown Effects Pack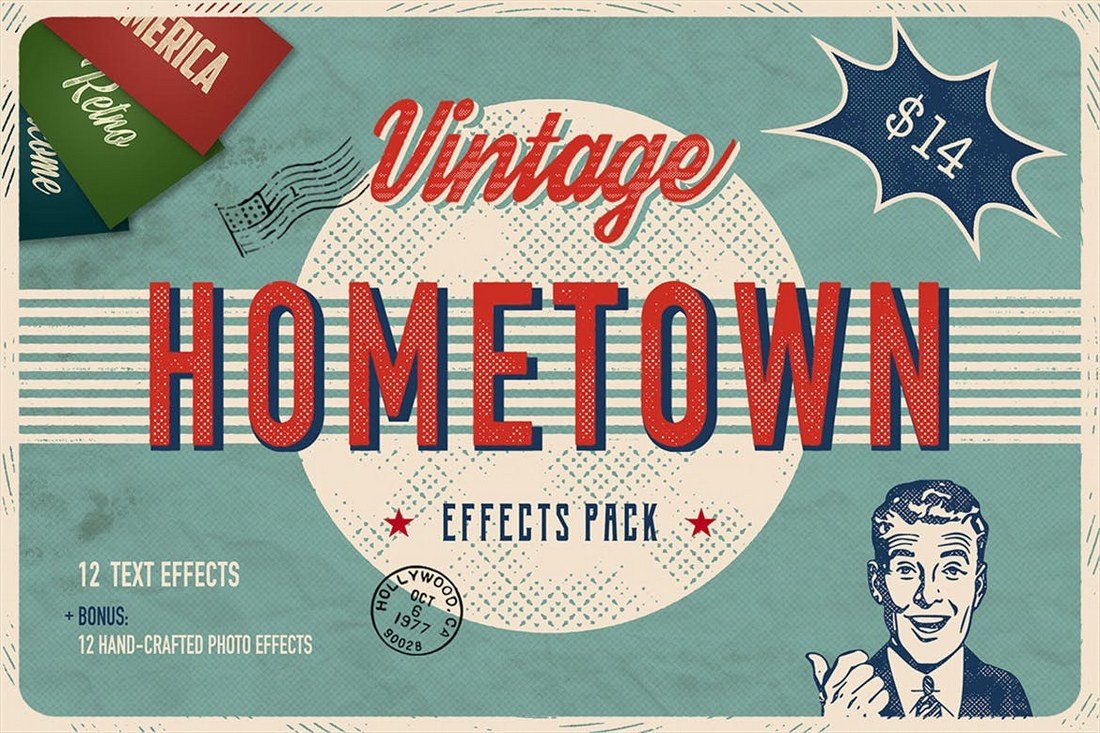 This bundle includes 12 unique text effects that all feature that same old design from the old text designs you see in newspaper ads and titles from the 1980s. The text effects come to you in easily editable PSD files. As a bonus, the pack also includes 12 photo effects you can apply to your photos and graphics.
Comic Book Text Styles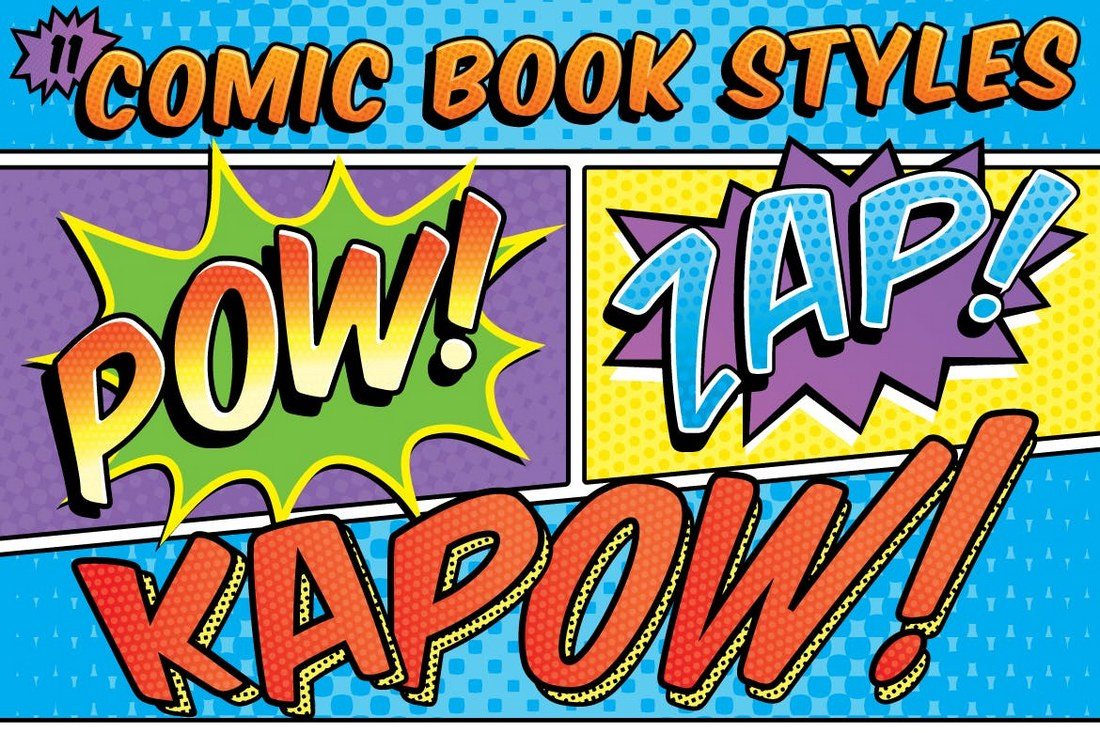 We can't forget about comic book text effects when talking about retro designs. This pack of text effects includes 11 colorful effects features that same old design style you see in comic books. These effects are perfect for designing any kids-related design project and crafting fun greeting cards as well.
Retro Text Effects vol.3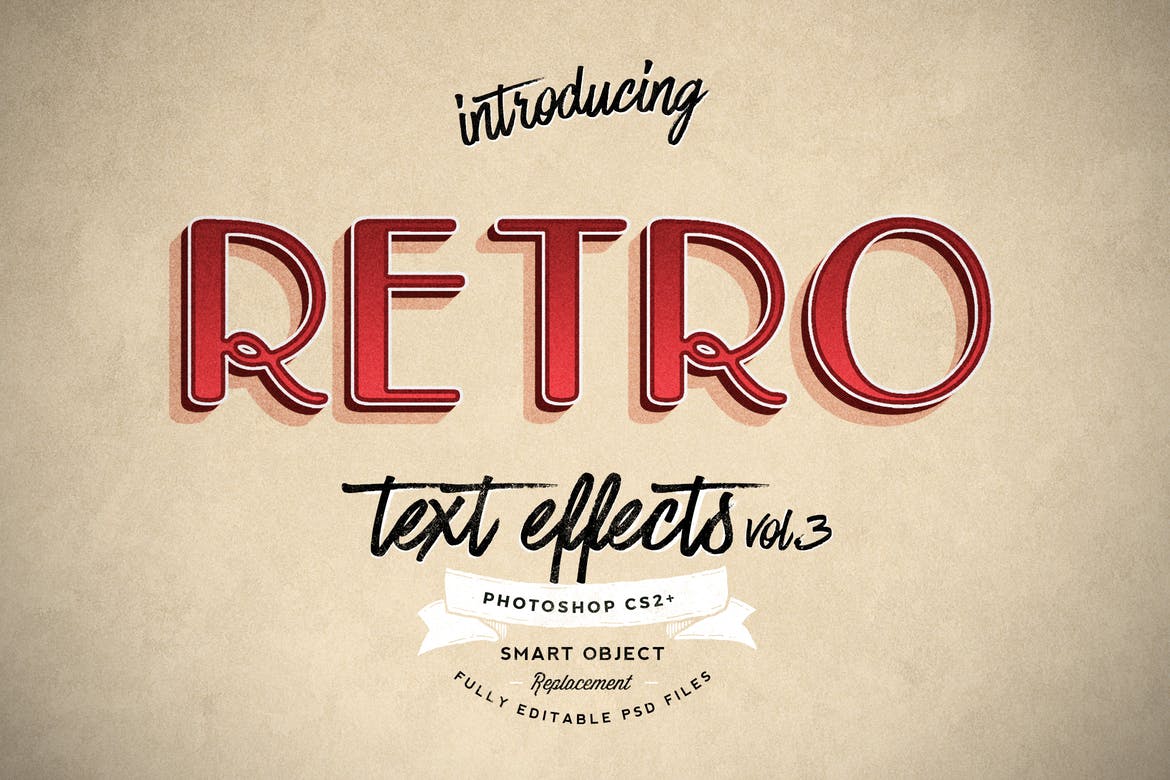 The retro text effects in this bundle also feature a certain elegant design that makes them ideal for designing titles and headers for luxury websites. It's also great for crafting signage and badges for T-Shirts as well. The pack includes 10 effects in layered PSD files.
Back to the Seventies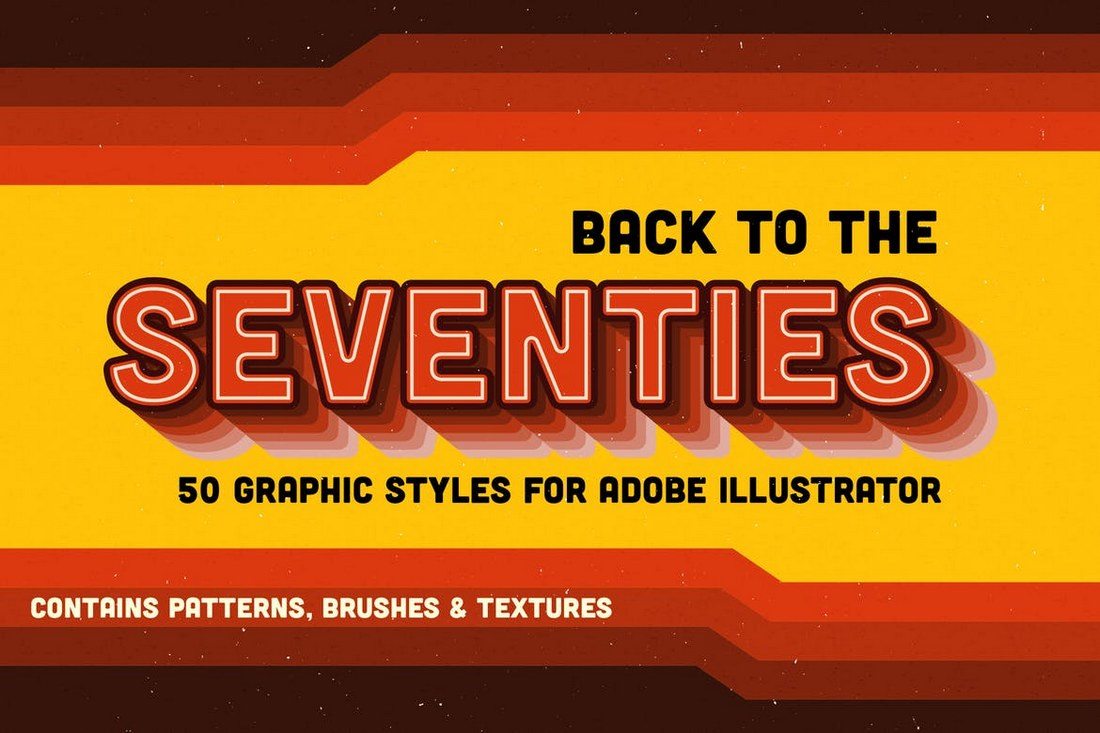 Bring your text and title designs back to the 70s using these groovy text effects. This effect has been designed inspired by the 70s pop culture. The pack includes 50 different text styles. You'll need Adobe Illustrator CS6 or better to edit and customize these effects.
Free Back To The Future Text Effect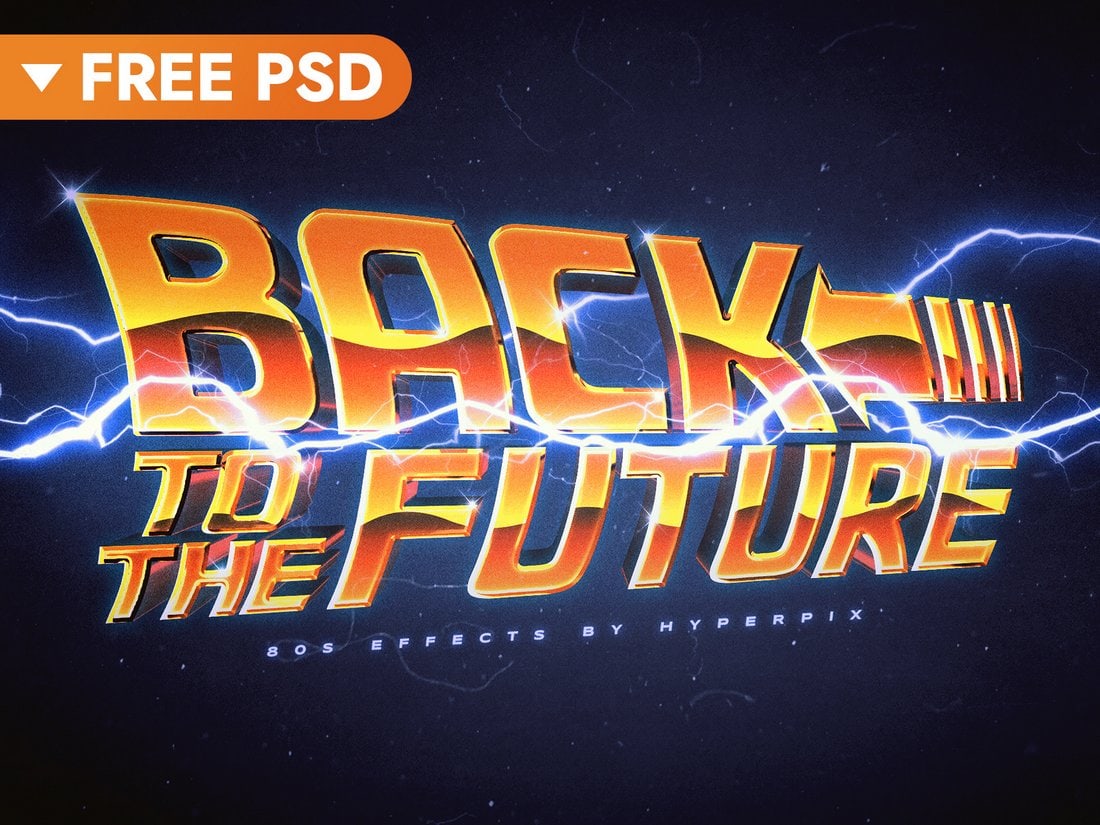 If you're a fan of Back to the Future, this is a text effect that you must have. The PSD effect is free to download and use with your personal projects.
Free Old Movie Text Effect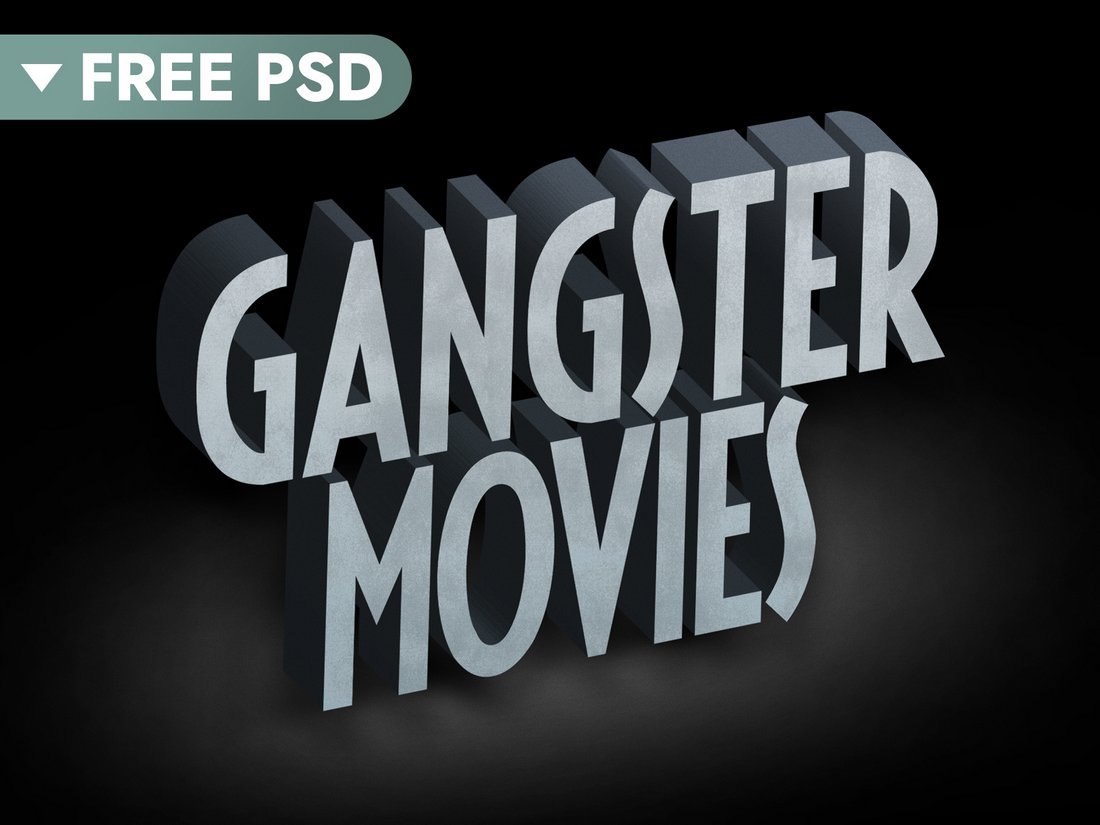 This free text effect features a creative 3D-like design similar to the ones seen in vintage movie posters and banners. It's available in an easily editable PSD file.
Retro Vintage Text Styles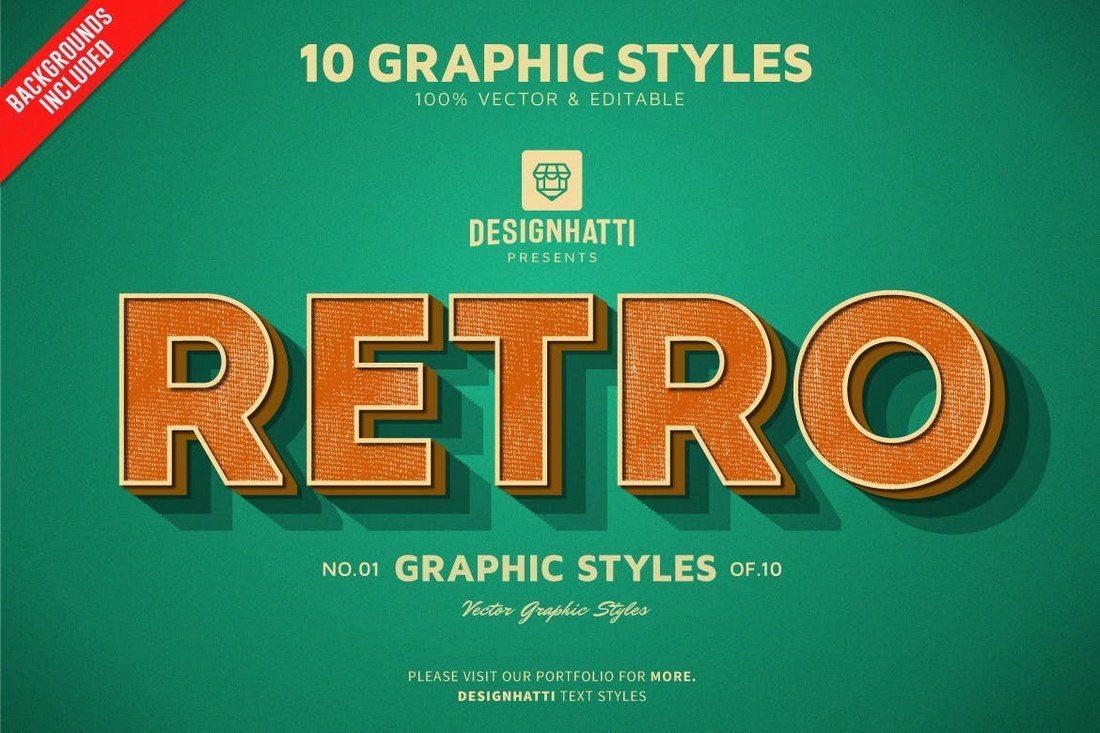 Another pack of retro text effects featuring the stylish look from the 80s. This bundle includes 10 different text styles along with the backgrounds. All come to you in editable PSD files. You can use these for crafting posters, covers, website headers, logos, and more.
80's Style Text Mockups V1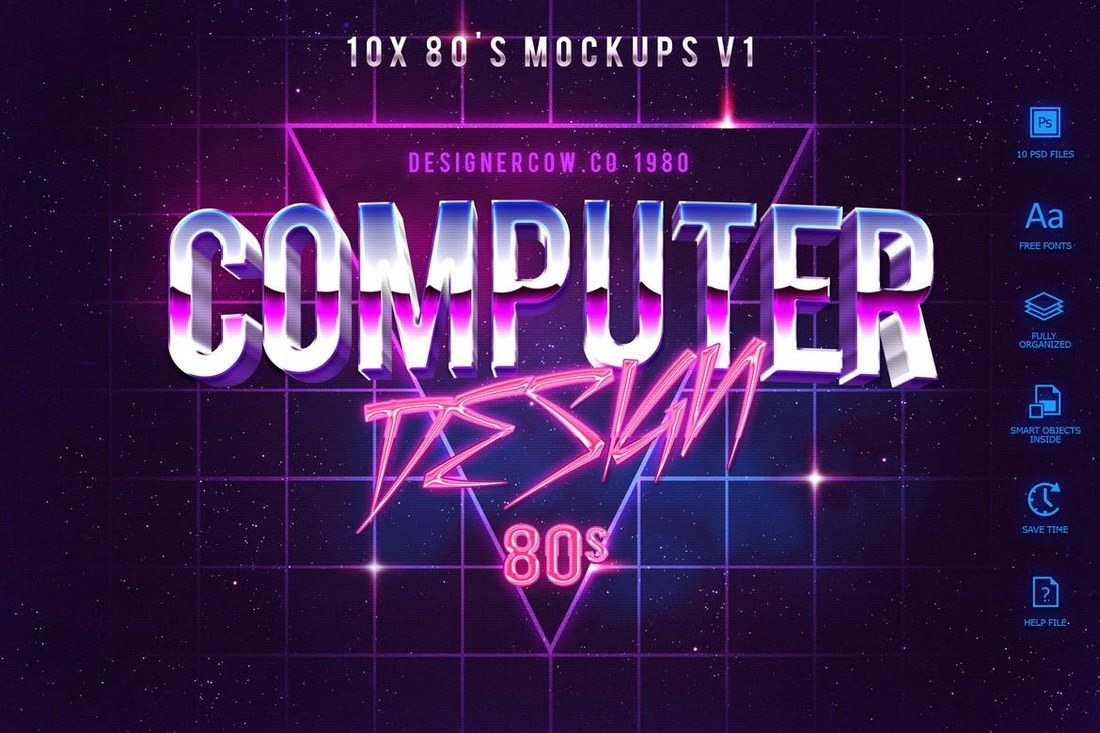 This stunning 80s retro text style features a cool design that truly represents the electronic tech craze from the 1980s. The bundle includes 18 text effects. You can easily edit and customize these effects to replace the font and change the text as well.
80's Style Text Mockups V2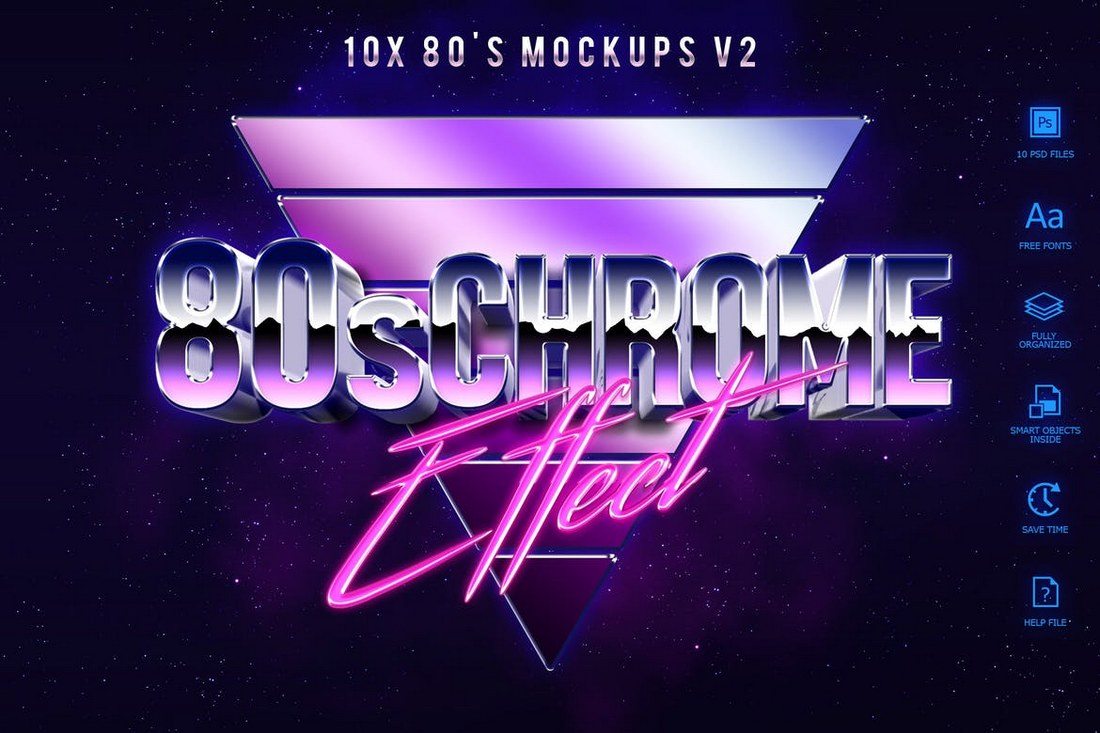 Another retro text effect similar to the one above. This text style also features that same 1980's tech design, but with a cool chrome design. It includes 10 different designs in PSD files. It's perfect for designing flyers for DJ events, crafting posters, logos, badges, T-Shirts, and more.
3D Retro Text Creator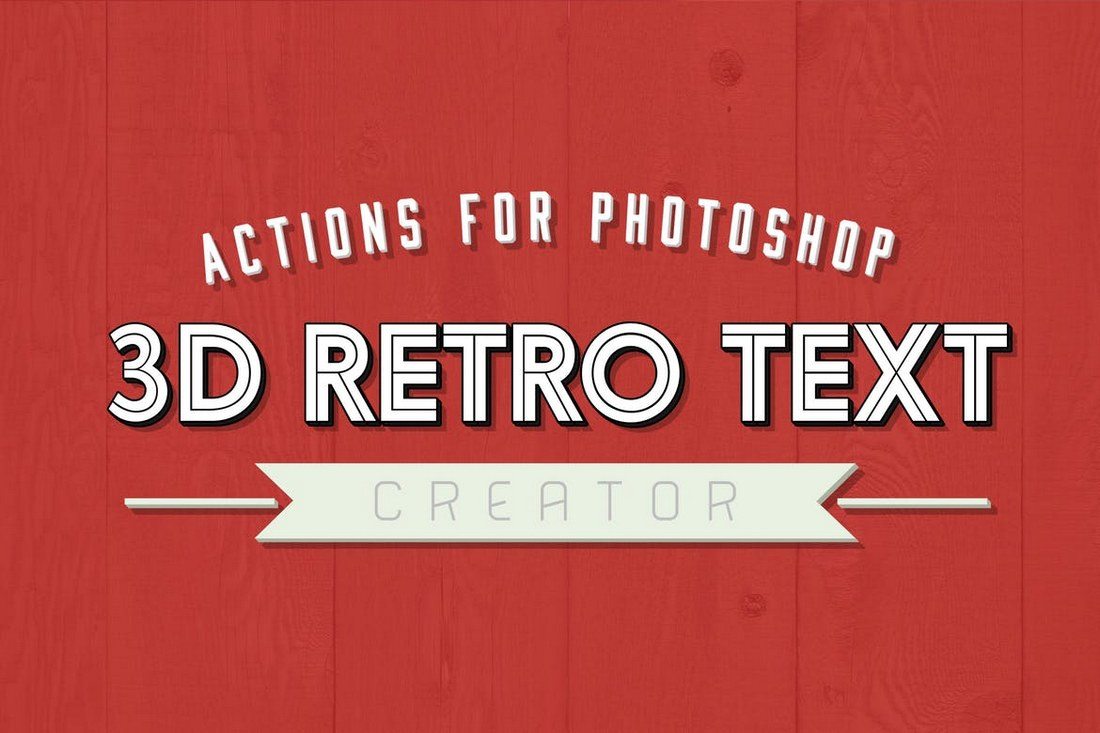 This is not an ordinary text effect template, this is actually a set of Photoshop Actions that allows you to instantly apply a retro effect to your normal text layers. It comes with 37 actions for achieving different styles of retro effects. You can also customize the effects to your preference.
Retrohat Graphic Styles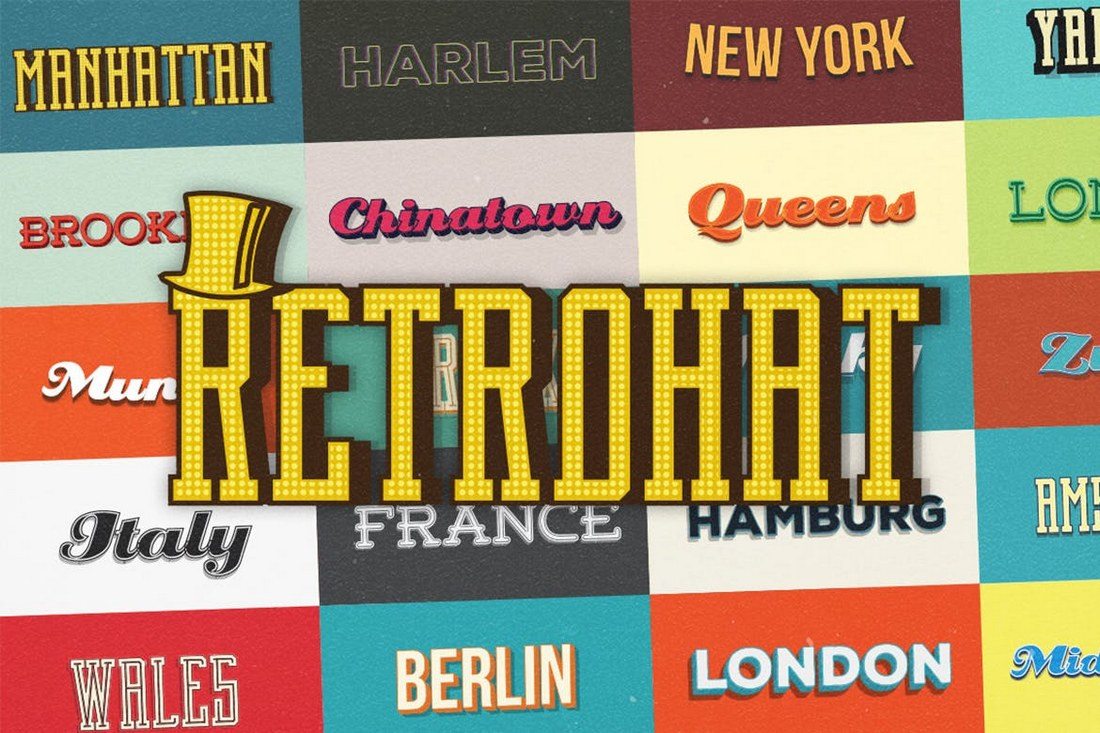 Retrohat is a collection of 26 different retro text effects that you can apply to your own text to add that same retro style to your designs. The effects come in both Illustrator AI files and EPS files for easier customization.
Sloppy Press Inc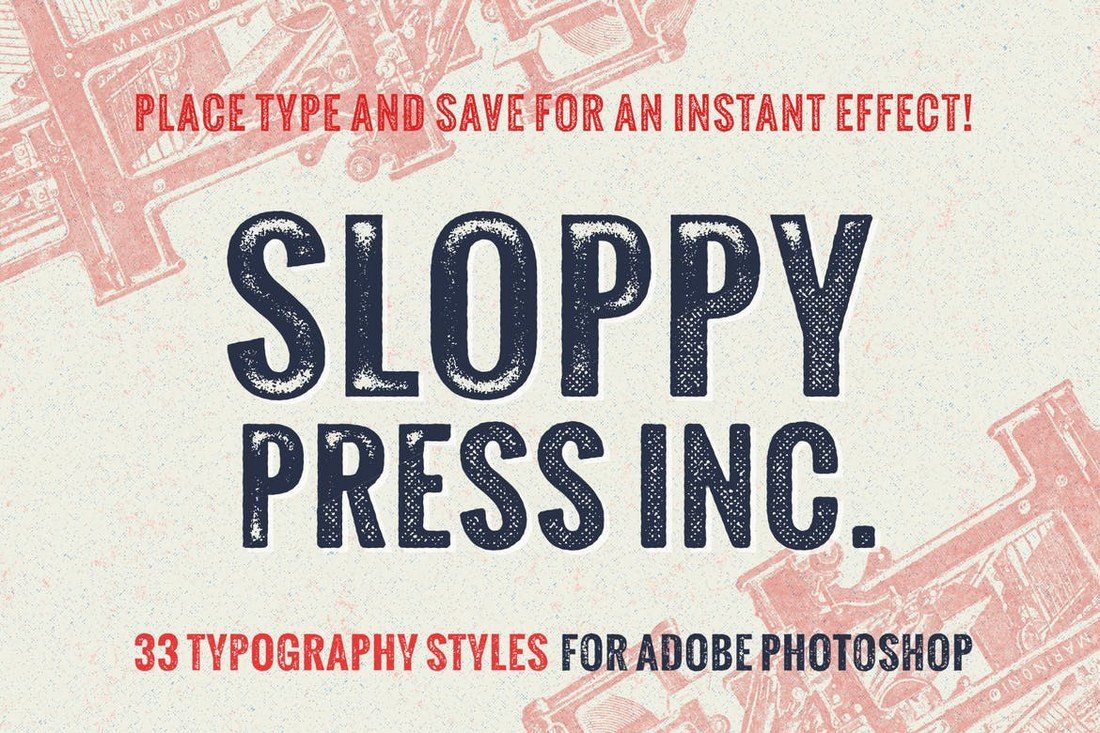 Sloppy Press is a set of layer styles for adding retro effects to both your text and objects. It also comes with textures, actions, and brushes for easily creating your own custom retro effects.
Retro Vintage Text Styles Vol.02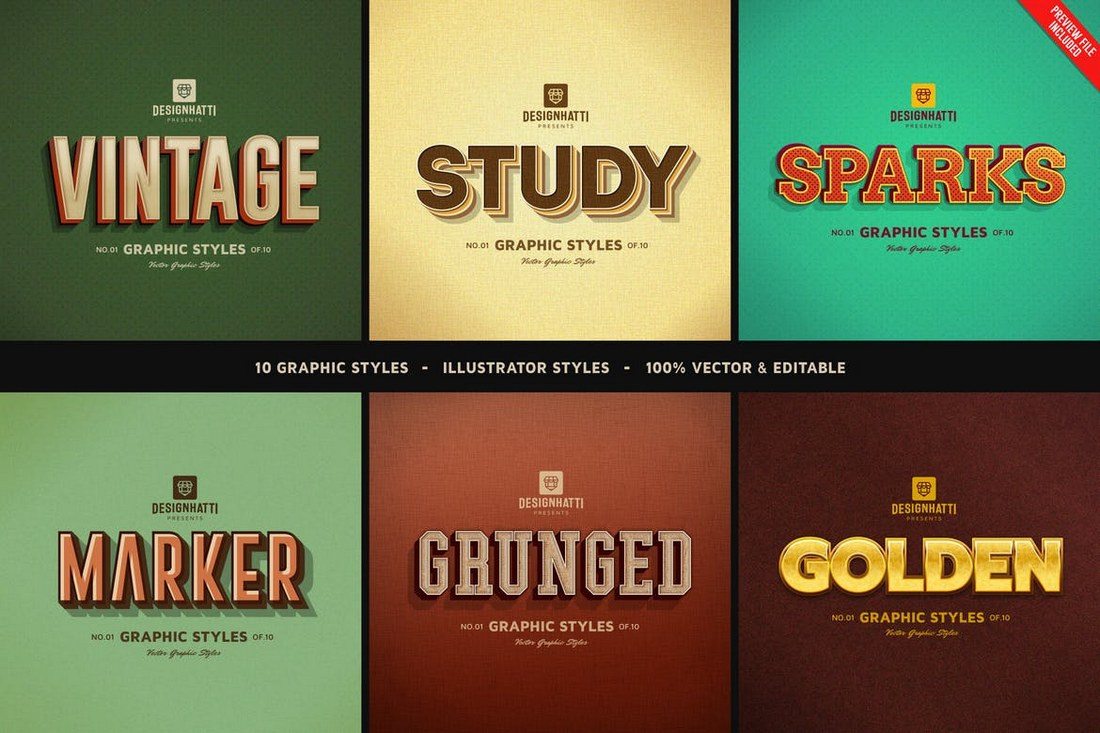 This collection of text styles features both retro and vintage style designs. It includes 10 unique designs in Adobe Illustrator vector files, which allows you to customize the effects however you want.
Steampunk Text Styles, Brushes and Backgrounds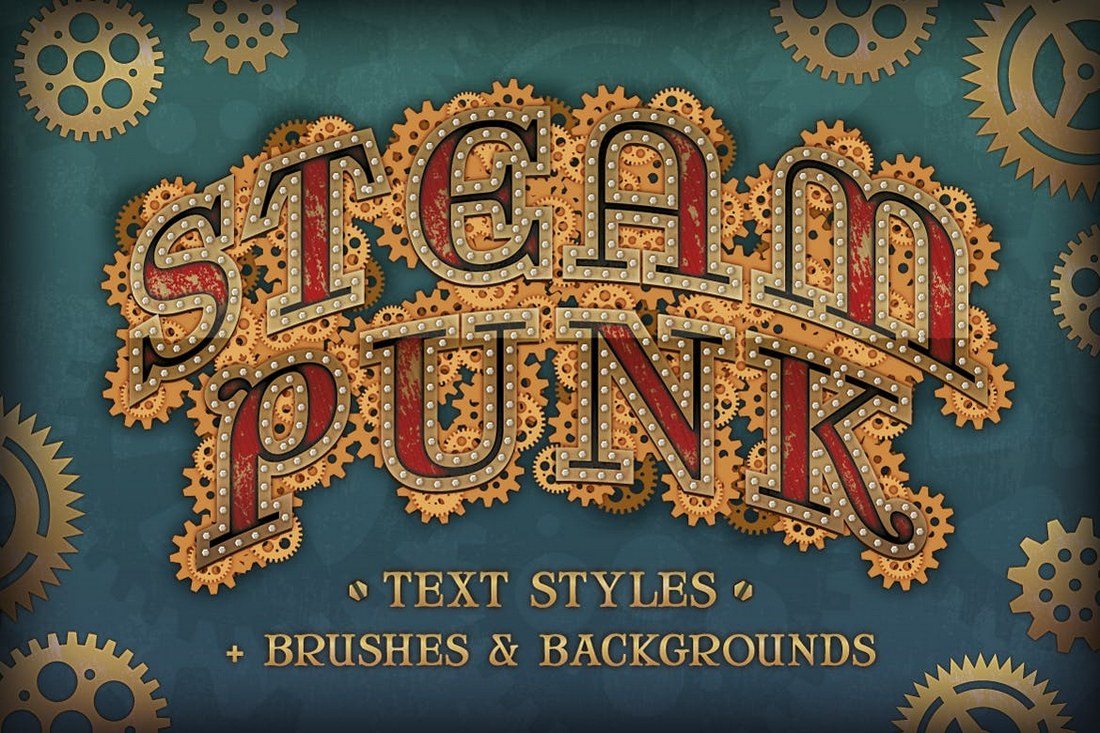 Steampunk designs are also a stylish trend these days. This text styles pack includes 5 different text styles and it also comes with steampunk style brushes and backgrounds as well.
Circus Text Styles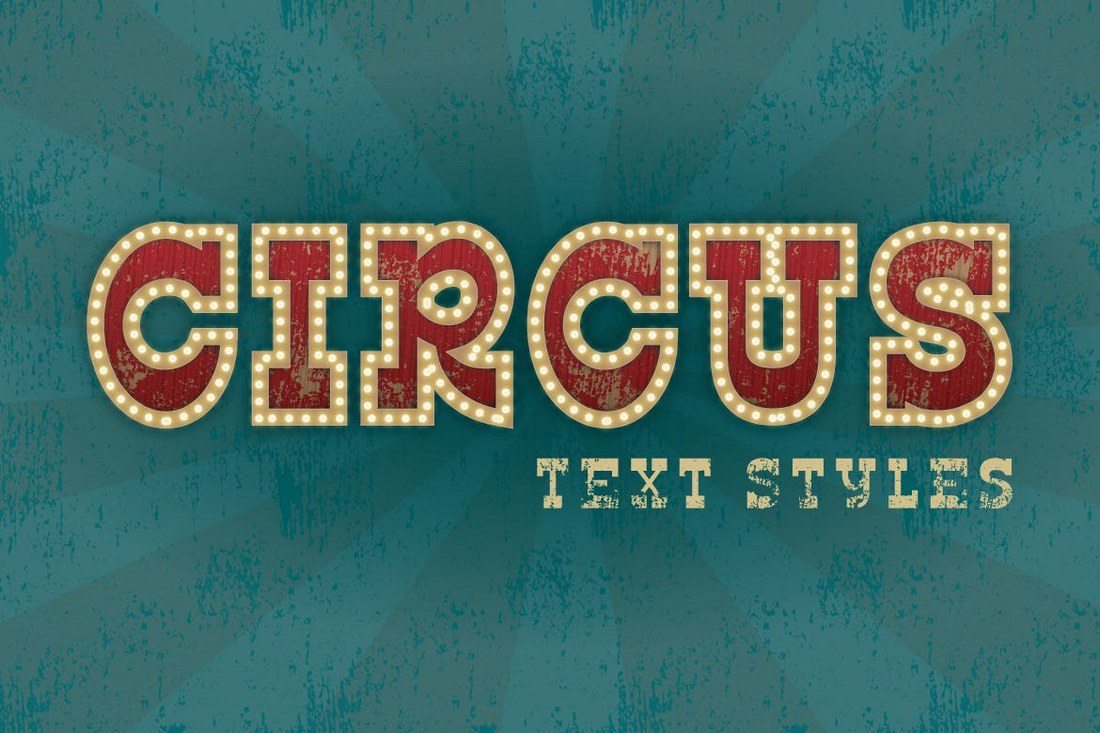 Turn your text and titles into a signage from a circus using this text styles pack. This bundle includes multiple retro text styles you can apply to your own text using Illustrator.
Grunge Text Layer Styles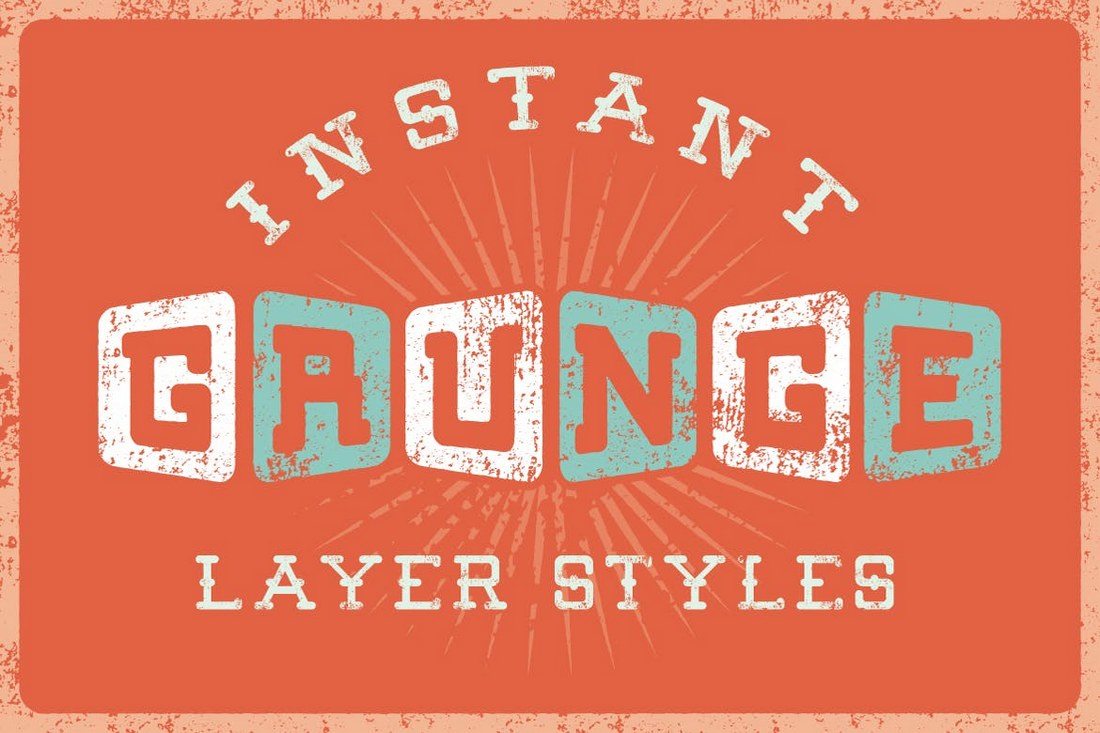 This is yet another Adobe Illustrator layer styles pack that includes 50 unique grunge retro style layer effects. You can use these layer styles on both text and objects to give a retro look to your designs.
Old Movie Title – Text Effect 1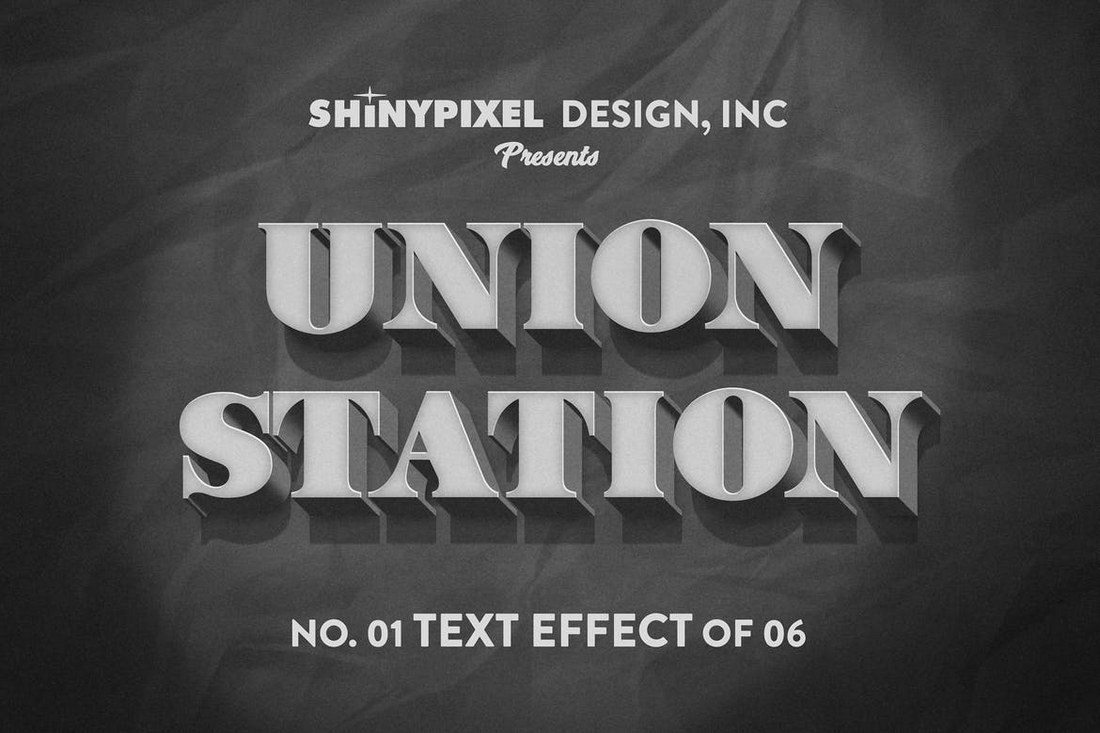 This effect gives your text layers an old vintage look by turning your text into old movie titles from the 1960s. This effect gives your text a nice 3D-like effect as well.
Old Movie Title – Text Effect 2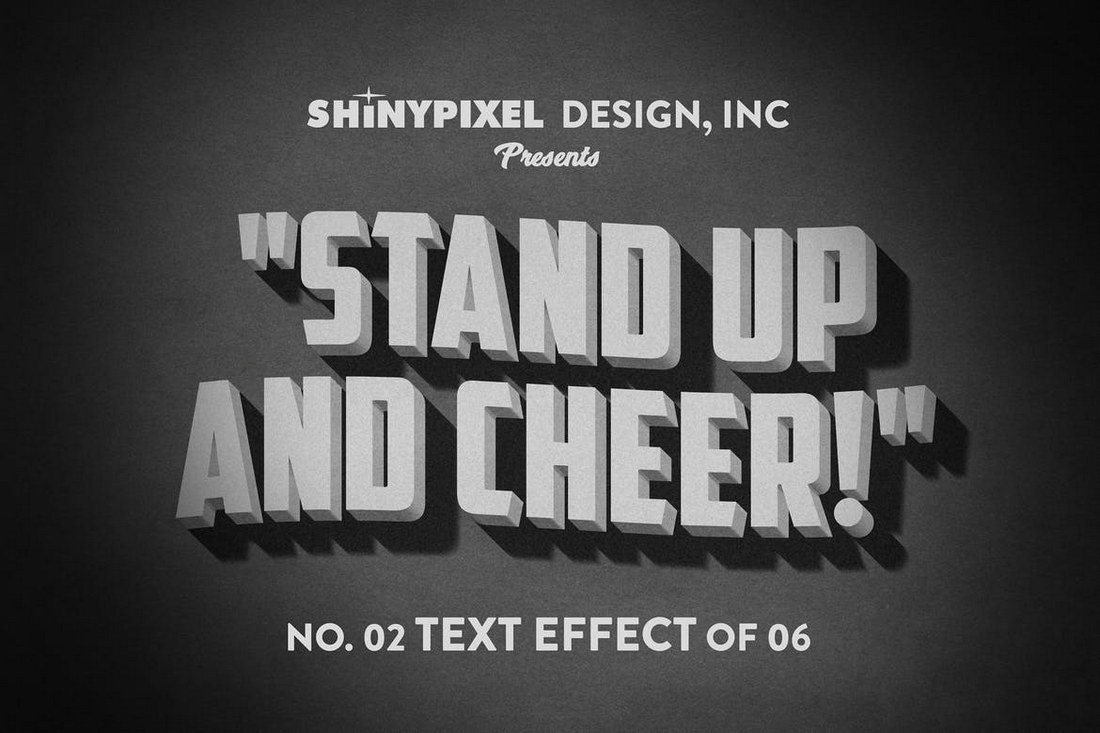 This is the second version of the old movie title text effect. It features the same effect but with a different design. You can replace the text by editing the smart objects of the PSD.
Old Movie Title – Text Effect 5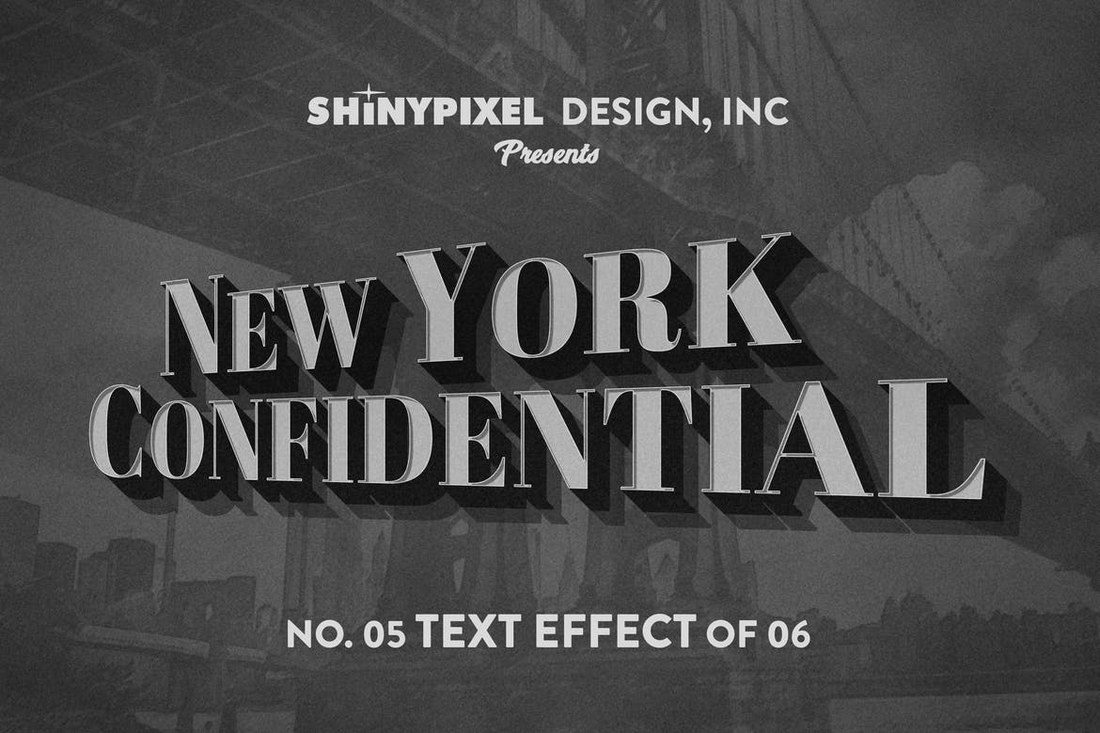 Another movie title effect for giving your text designs a vintage look. This effect is fully editable and comes in a layered PSD file for easier editing.
Old Movie Title – Text Effect 6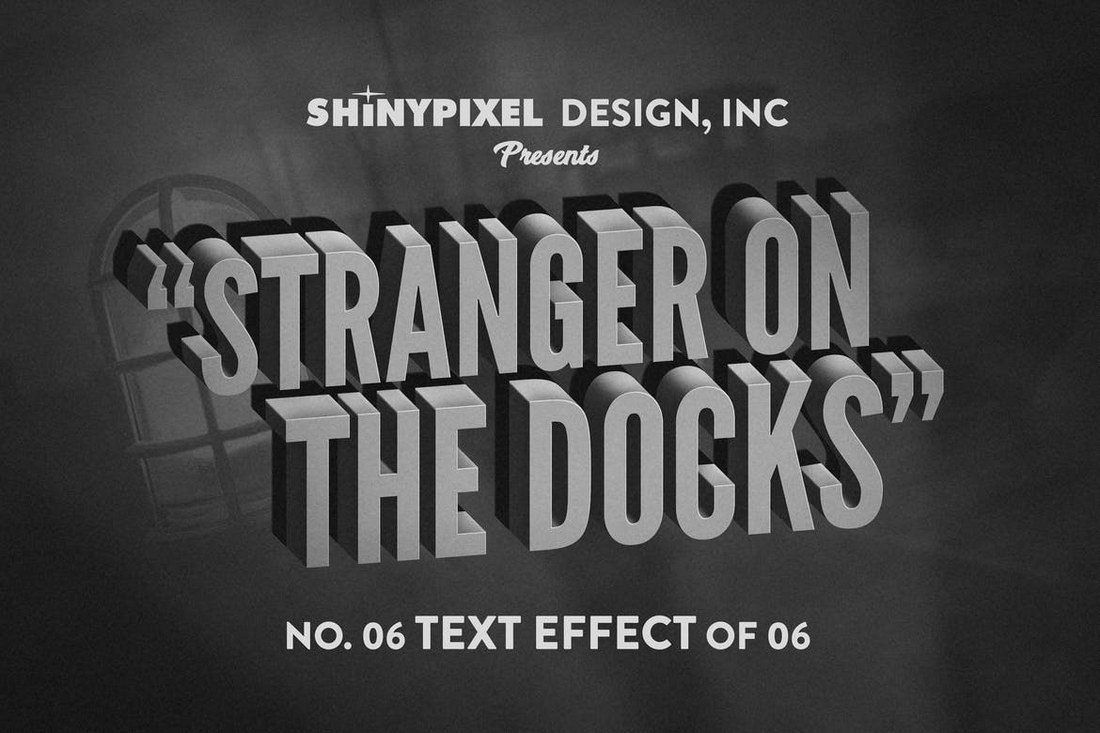 This retro movie title effect is perfect for creating horror-themed designs, such as Halloween greeting cards and movie posters. You can easily customize the PSD files to replace the text.
The 80s Retro Text Effect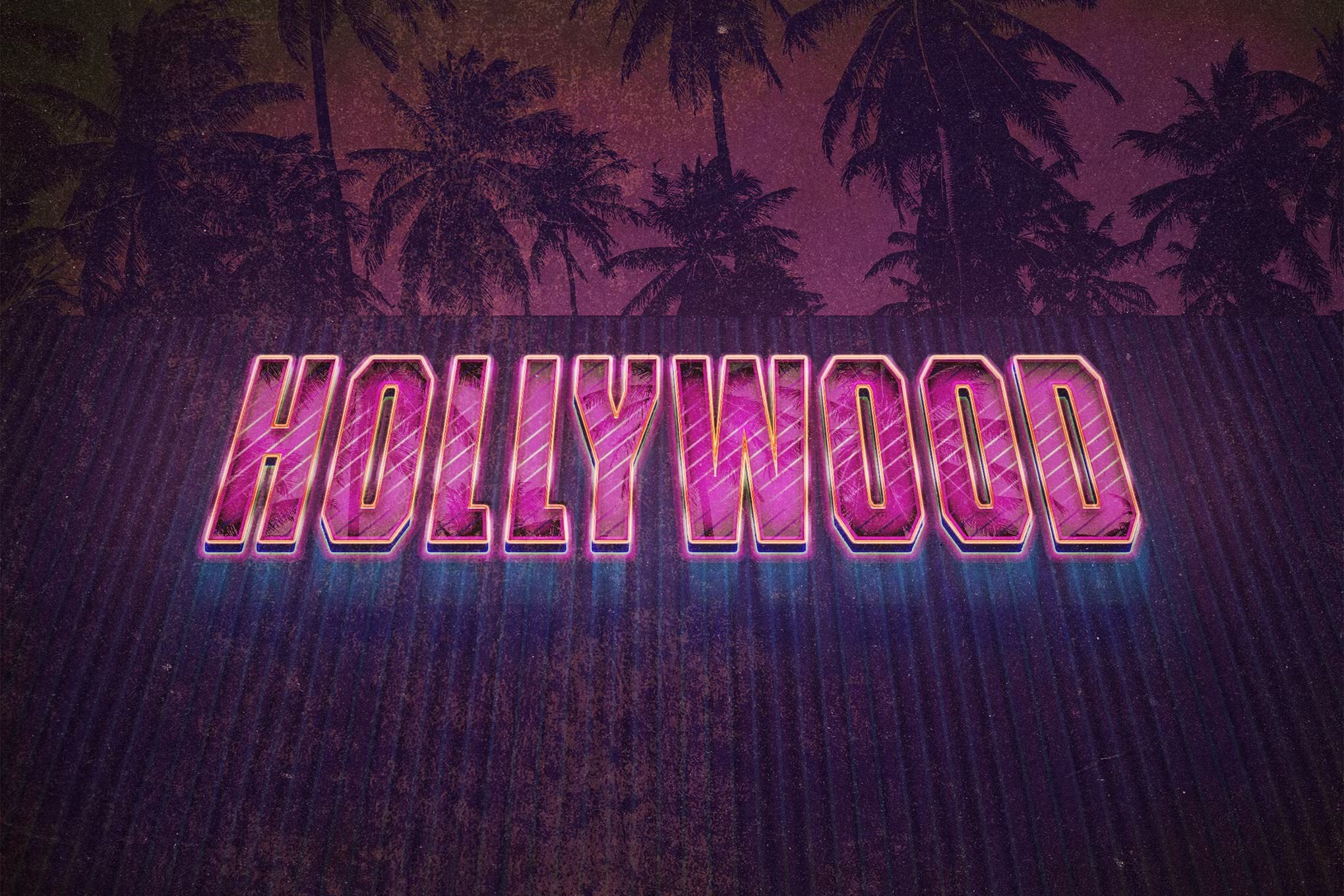 Wallow in retro aesthetics, brought by the LA palms, Hawaiian shirts, disco parties and bright neon signs everywhere! Unforgettable as a Californian sunset and adventurous as a retro movie about cops under cover, this text effect has absorbed all the best things about the iconic era, left a trace in pop culture.
Hotline – Retro Text Effect 6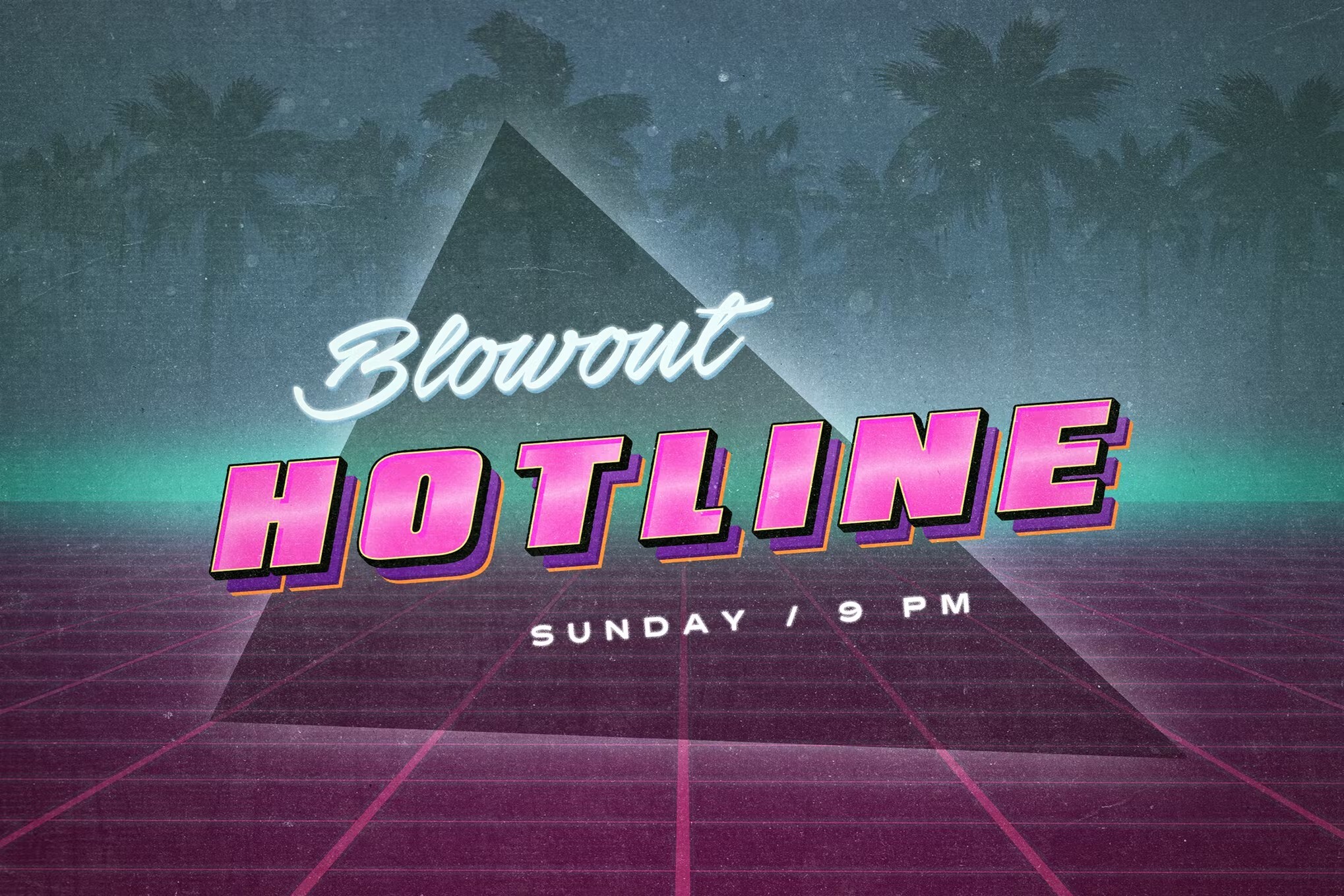 If you've played "Hotline Miami" games, half of the desired impression is already achieved. You can mimic any design to this easily recognizable intro shot! There are 2 Smart Layers with text editing options, so you'll have plenty of space to go crazy and design your hands off. Don't close the layers without pressing Cmd+S to save the progress and move away to the next level.
3D Retro Text Effects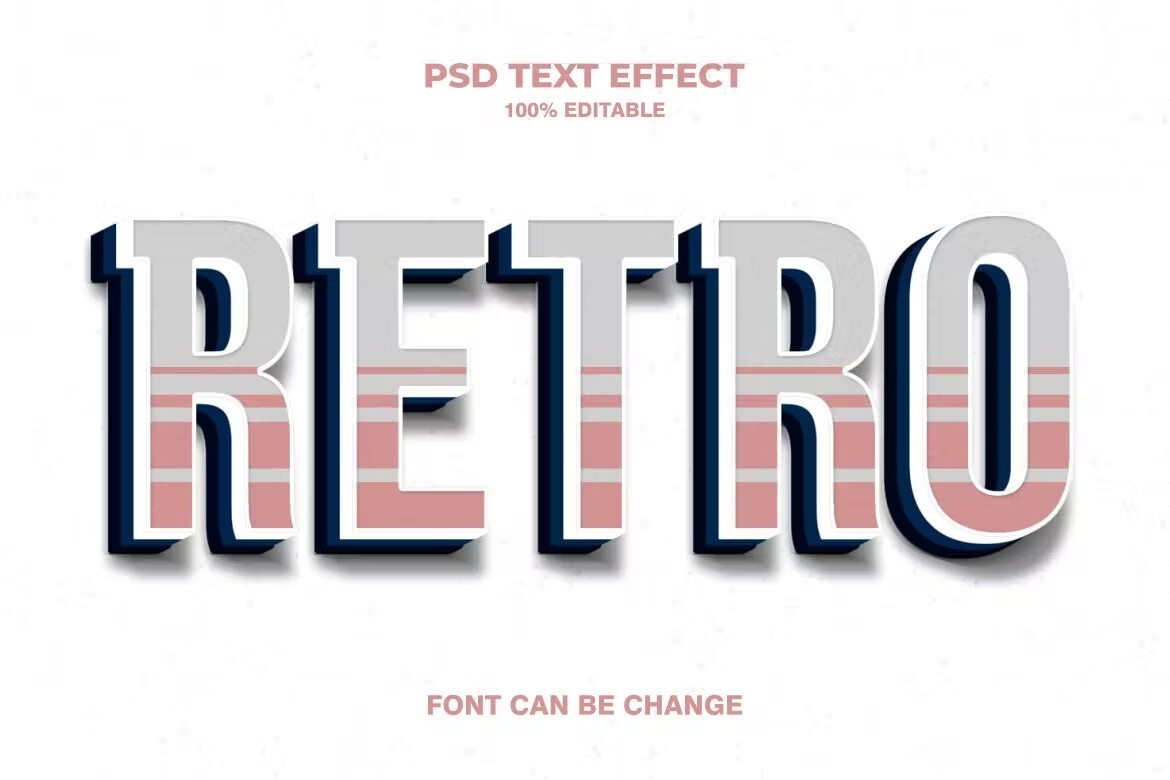 This chrome text effect lets you create an 80s-inspired piece of typographic work or logo. As with all the retro text effects here, just edit the smart layer and your lettering will instantly take on an iconic 80s feel. You'll need Photoshop CS3 at least to use the effect, though.
Letter Press Text Effect 6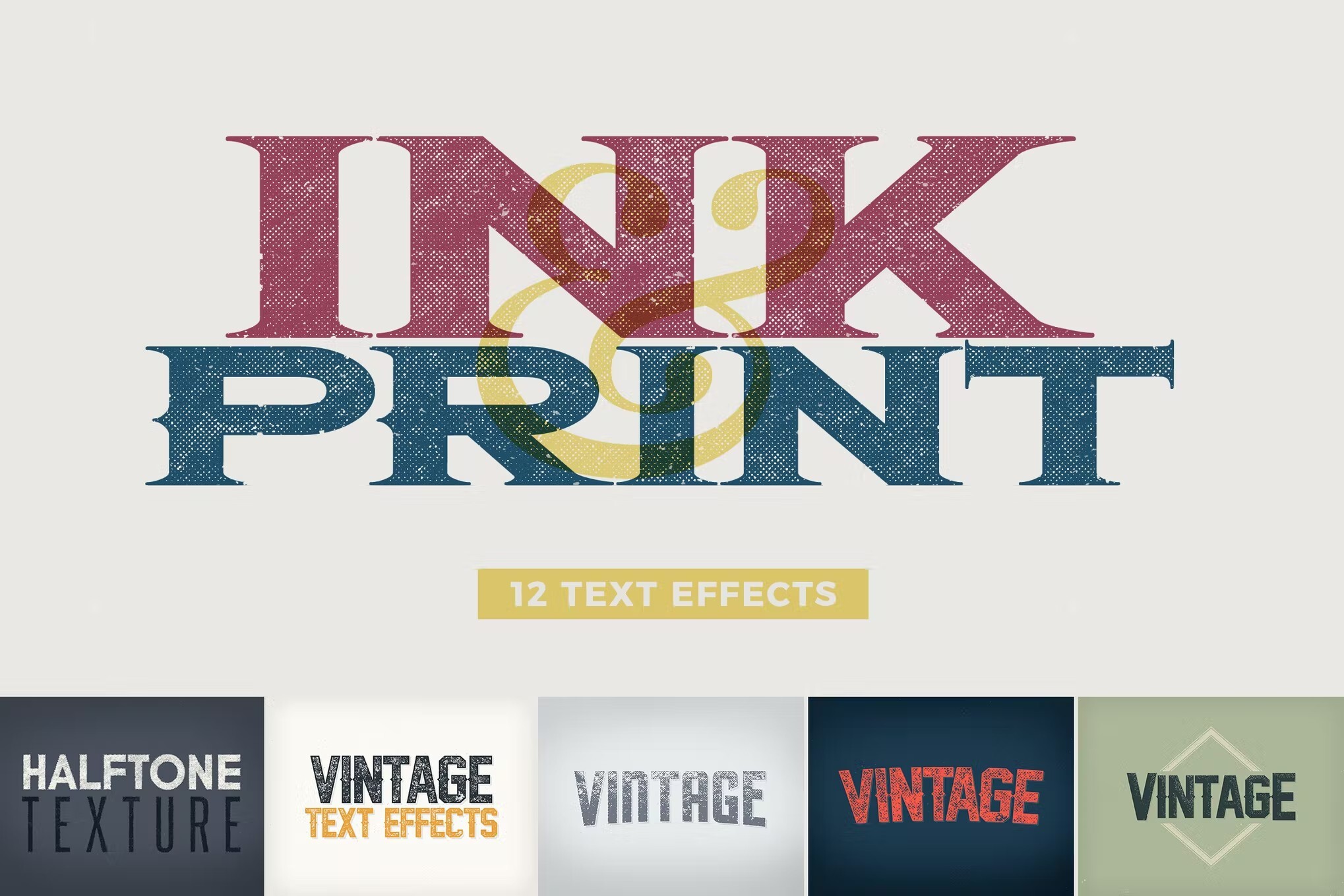 This is a PSD kit that gives you instant vintage print effects, transforming smooth colors and crisp edges into textured, hot-inked illustrations. All you have to do is drop your images into the clearly marked folders to get beautiful textures, ink edge bleeds, and authentic overlays
Vintage Text Effects
If you're looking for a nostalgic vintage text effect, try this smart PSD from Envate Elements. With an old-school signage feel, it's idea for breathing life into boring headline text.
5 Tips for Retro Design
Retro design is a popular design trend that can still be seen in modern badge, logo, label, and many other types of designs. If you're thinking about making such a retro-inspired design, be sure to follow these tips.
1. Don't Confuse Retro with Vintage Design
Most designers often get retro and vintage designs mixed up and end up making projects that look like Frankenstein's monster. Before you get any further, let's understand how these two design trends are different.
Retro design refers to designs that are inspired by all sorts of designs from the 1960s through 1980s. These designs usually include lots of bright colors, neon signs, 3D and shiny effects. Vintage design usually refers to designs inspired by the early 1900s but some also refer to retro designs as vintage as well. Vintage designs include washed out colors and rough textures.
2. Choose a Decade
Since the early 1960s, retro design went through several phrases in each decade until 1990s. For example, computer technology and video games were quite popular in 1980s. In this period, retro designs featured technology-inspired 3D effects and colorful text that represented things like video game arcades.
1960s and 70s had their own styles of designs as well. Do your research and choose a decade to find inspiration for your own retro design.
3. Prepare a Color Palette
Choosing the right color palette is the most important part of retro design. Depending on the decade you choose for your retro design, your color palette could also change. So pick your color palette accordingly.
You can also use a tool like Color Hunt to quickly find an appropriate retro color palette as well.
4. Pick Retro Fonts
Fonts take a major role in most retro designs, especially in logo and label designs. You can use both vintage and retro fonts in your designs. However, one thing you'll notice in your research is that sans-serif fonts were quite popular back in the 1960s and the 80s.
It would be wise to go with a sans-serif font for your retro designs. But, don't be afraid to use serif fonts if you think it fits your brand and style.
5. Use Textures
Both vintage and retro designs often use lots of textures to give them that rusty, grunge, and half-tone color looks. Find the right retro or vintage textures for your design and use them to design matching backgrounds and effects for your text.
Create your own text effects using our poster fonts collection and watercolor background textures collection.
By: Roshan Perera
Title: 45+ Best Retro Text Effects & Styles
Sourced From: designshack.net/articles/inspiration/best-retro-text-effects-styles/
Published Date: Thu, 30 Jun 2022 13:00:00 +0000