For many years designers had to visit dozens of marketplaces and pay hundreds of dollars to find the right graphics, templates, and stock photos for their projects. But not anymore!
With the introduction of the subscription model, there are now many platforms that give you unlimited access to millions of design assets and resources for a single price. It sounds like every designer's dream but it's now a reality.
Today, we are exploring some of the best stock photo and design resource platforms that give you unlimited downloads for a single price. Lots of websites currently use the subscription pricing model but when it comes to quality and the size of the library, there are only a few sites that are worth paying for.
In this guide, we handpicked only the best of the best unlimited stock sites. Keep reading to find out which one is best for you.
1. Envato Elements

Price: $16.50 per month
Envato Elements is an all-in-one marketplace and a one-stop-shop for all kinds of design resources and stock graphics. It features a massive library of over 11 million assets and you can instantly gain access to this entire library with its subscription.
What makes Envato Elements even more attractive is that it gives you unlimited downloads. Most other marketplaces only offer limited credits or downloads per month with their subscription plans. But with Envato Elements you can download as much as you want every month.
Envato is the company behind some of the world's biggest digital marketplaces like ThemeForest, GraphicRiver, AudioJungle, VideoHive, and PhotoDune. With Envato Elements, the company brings some of the best content from all these sites and more into one place while giving users unlimited access under a single subscription.
High-Quality Design Resources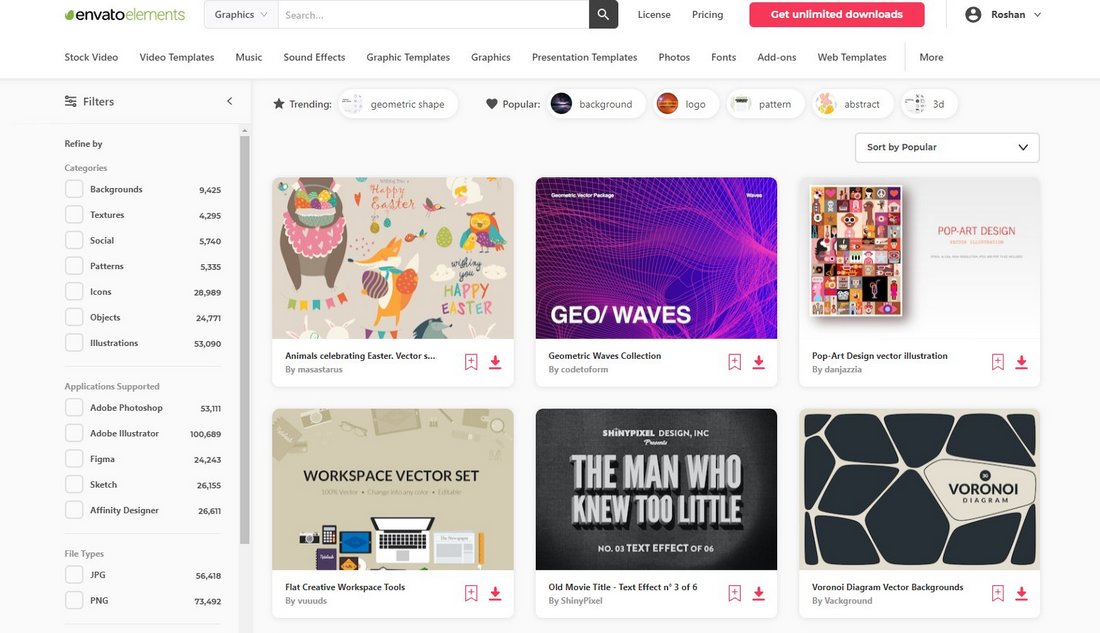 Every time someone submits a design to an Envato marketplace, it goes through a review process before adding it to the library. This makes sure that each item on the marketplace meets proper standards and guidelines. As a result, the design assets on Envato Elements are some of the best you'll ever find.
You'll also find some of the most creative and unique items on Envato Elements. Whether it's a stock photo or a design template, the marketplace is filled with experienced designers who offer their best creations through the platform.
Over 6 Million Royalty-Free Stock Photos & Videos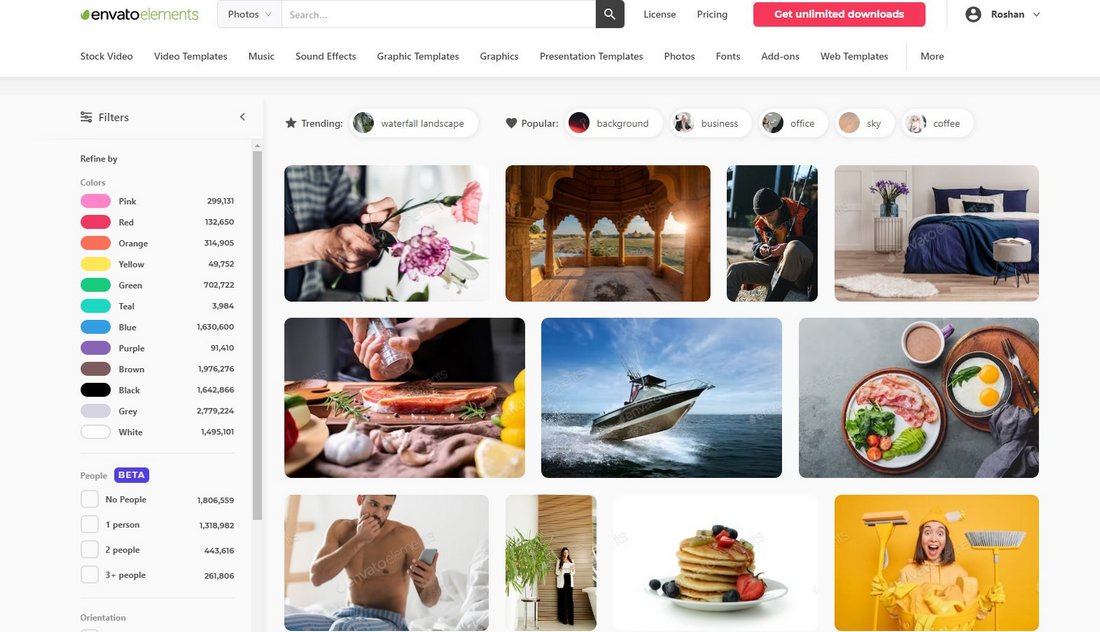 Just recently, Envato acquired Twenty20, a popular stock photo marketplace, and integrated all of its stock assets into Envato Elements. The marketplace already had a big stock photo collection and with this new addition, the library doubled in size.
In addition to stock photos, Envato Elements also has a huge collection of stock video footage and motion graphics as well. And these collections are growing every day.
Fonts, Graphics, Music, and Templates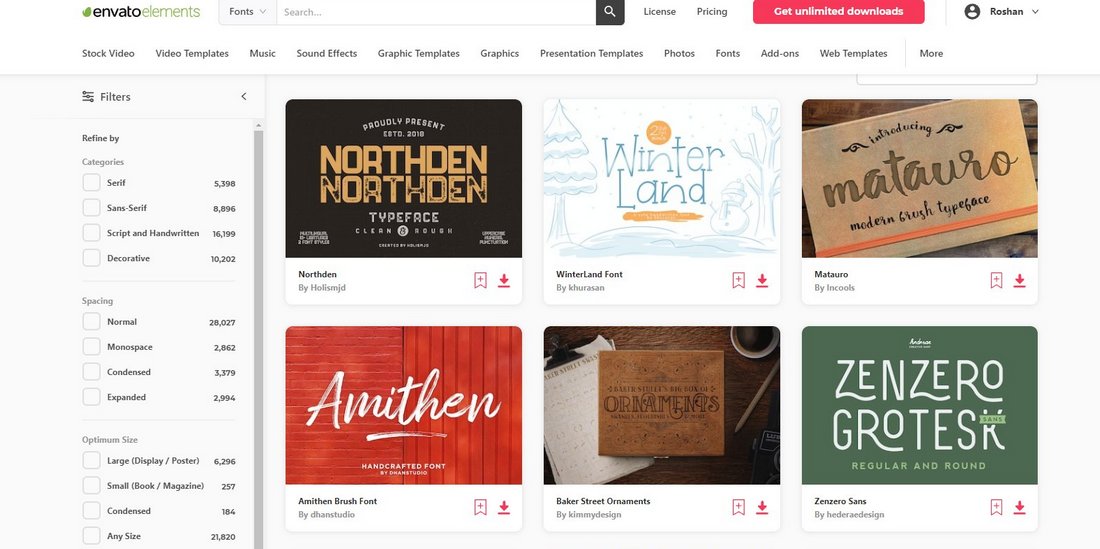 There are many different design resources available on Envato Elements. Here's a short list of some of the main categories:
Premium fontsPowerPoint, Keynote, and Google Slides templatesLogos, mockups, UI kits, & print templatesPatterns, backgrounds, icons, illustrations, and other graphicsBrochures, flyers, posters, and other templatesAfter Effects, Premiere Pro, and DaVinci Resolve video templatesRoyalty-free music and sound effectsPhotoshop actions, brushes, and add-onsThemes, templates, & plugins for WordPress and other CMSAnd much more
Worry-Free Simple Licensing
Licensing is one aspect where things get over complicated on most marketplaces. But with Envato Elements it's much simpler because there's only one license for all items and it's an unlimited commercial license.
Every item on Envato Elements is available for commercial use. And even if you cancel your subscription, you can continue to use the graphics you already have in your designs.
However, there are a few limitations to this license. You must have an active subscription to use an item again in your designs. You also can't re-distribute, re-sell, or use designs in on-demand or merchandise products.
Pricing Plans
Pricing for Envato Elements starts at $16.50 per month with the annual plan ($198 per year). Or it's $33 per month for the monthly subscription.
This plan allows you to download unlimited items from the marketplace to use in your personal, commercial, and client projects.
Who Should Use Envato Elements?
Envato Elements offers a wide variety of items through the platform. There's something for everyone in this marketplace.
Whether you're a logo designer looking for the perfect mockup, a photographer looking for better Lightroom presets, or a developer needing an HTML template, there are plenty of resources for you in Envato Elements in each category. This makes it much easier to recommend Envato Elements to everyone.
2. Freepik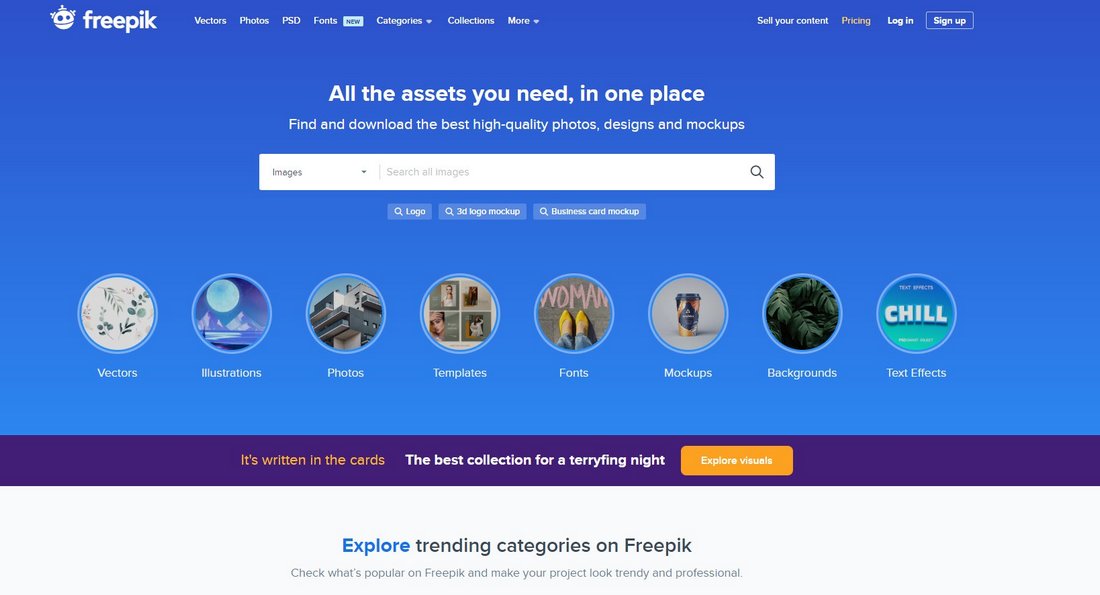 Price: €9 EUR per month
Freepik is a marketplace that's well-known for its impressive collection of vector graphics and illustrations. Lately, the company behind this site, Freepikcompany has been heavily investing in growing the marketplace.
The company acquired many other marketplaces like Iconfinder, Videvo, and SlidesGo to extend its library with more resources and categories. As a result, Freepik now offers much more than just vectors and illustrations.
Freepik library now includes stock photos, PSD templates, premium icons, and fonts. It's safe to assume that stock video content will also be added to Freepik in the near future with the acquisition of Videvo.
Over 8 Million Beautiful Vector Graphics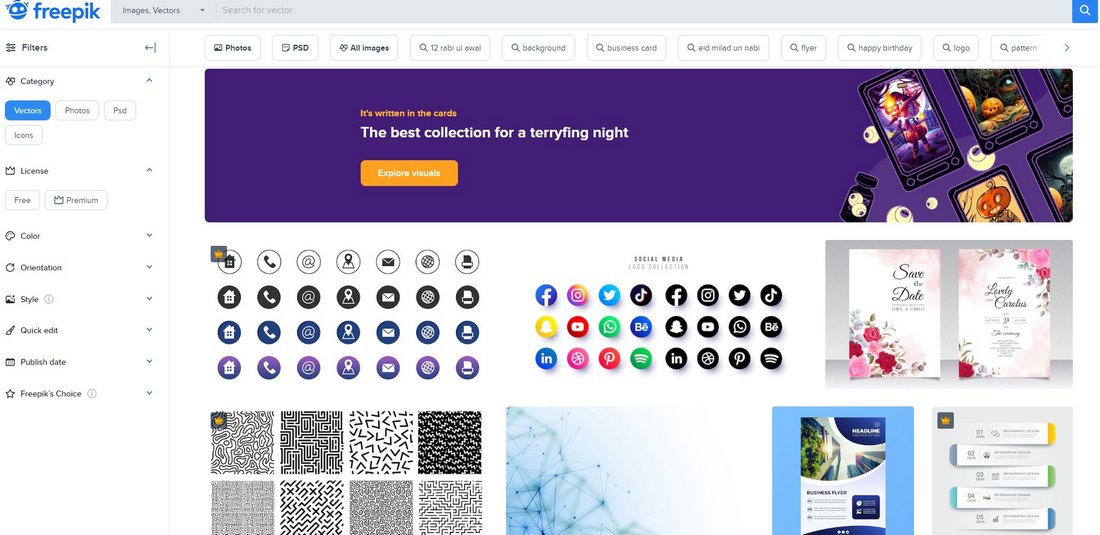 Vector graphics is what Freepik is known for and it offers various types of graphics in different categories for all kinds of projects. There are backgrounds, patterns, and print templates in this collection too.
But the best part of Freepik is its vector illustrations. This category features some of the best illustrations and drawings from various types of artists. And you won't find illustrations as beautiful as these anywhere else.
Huge Collection of Stock Photos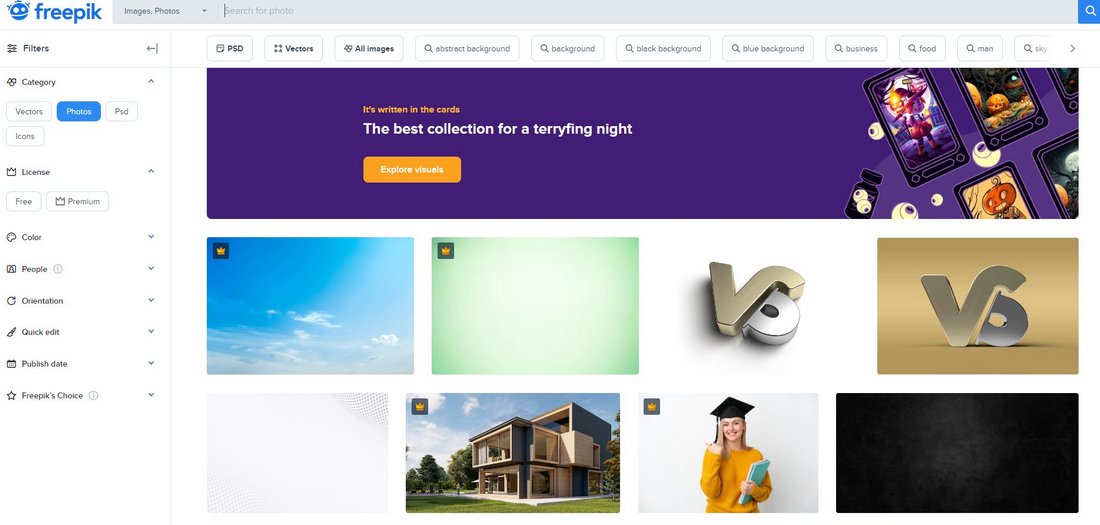 Freepik is growing and one of the first new additions to the platform was the stock photos collection. Freepik boasts a library of more than 19 million stock photos in its collection.
However, most of this collection consists of other types of graphics like backgrounds, 3D art, and random digital art. So the quality of the Freepik stock photo collection is questionable.
Icons, Fonts, and PSD Templates
Freepik now have a collection of Photoshop templates. You can now download things like mockup templates, logo templates, text effects, and all kinds of design templates in PSD format.
There's also a brand new Fonts section available in Freepik. Since it's a new addition to the platform, the font collection is fairly small but it's growing.
Unlimited, but Limited License?
Freepik gives you unlimited access to the platform and offers unlimited downloads. But there are certain limitations. You can only download 100 items per day. This is perfectly fine for most designers but it can be problematic when working on big projects.
Licensing system in Freepik is also a bit complicated. While the platform offers a commercial license for all item downloads, they have strict guidelines depending on usage. We encourage you to read all the guidelines here.
Pricing Plans
Freepik has a pricing plan similar to Envato Elements starting at €9 EUR per month (around $9 USD) for the annual subscription, a total of €108 EUR per year. Or you can pay €15 EUR per month for the monthly subscription.
Who Should Use Freepik?
Freepik is most suitable for graphic designers. It has one of the best collections of illustrations and graphics you can use in your digital and print design projects. And the PSD templates collection is also quite useful.
3. Storyblocks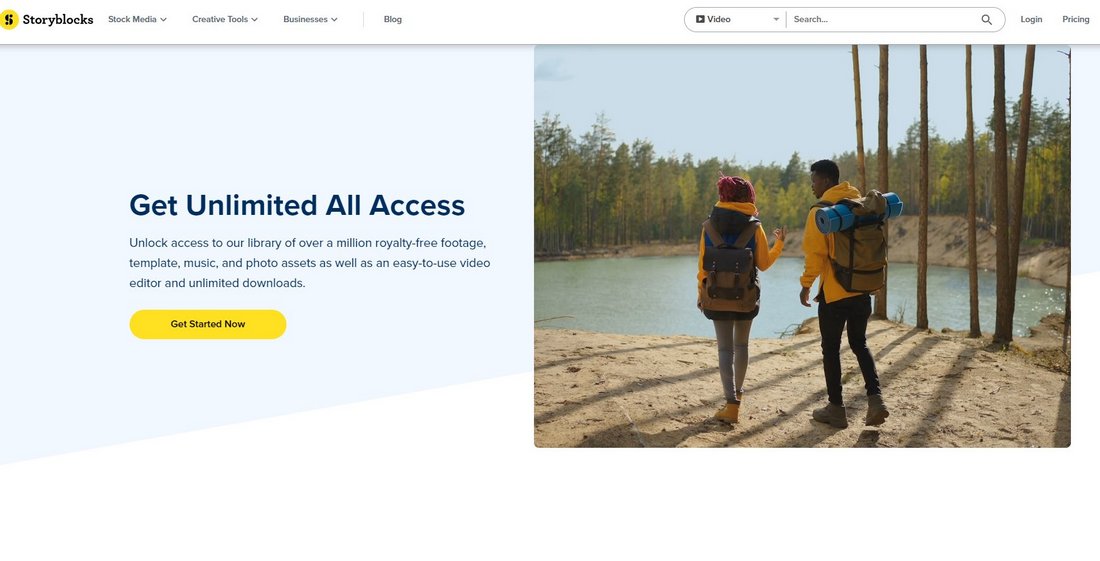 Price: $15 per month
Storyblocks is a very popular platform among YouTubers and social media content creators. This platform has a great collection of stock video footage that is perfect for making YouTube videos, promo videos, and various other content.
But that's not all. Storyblocks provides you with stock photos, video templates, music, and sound effects as well. Basically, it's a platform where you can find everything you need to make videos in one place.
You can access all of its stock assets and templates with the Storyblocks subscription plan, which offers unlimited downloads in HD and 4K resolution.
Stock Video for YouTube Videos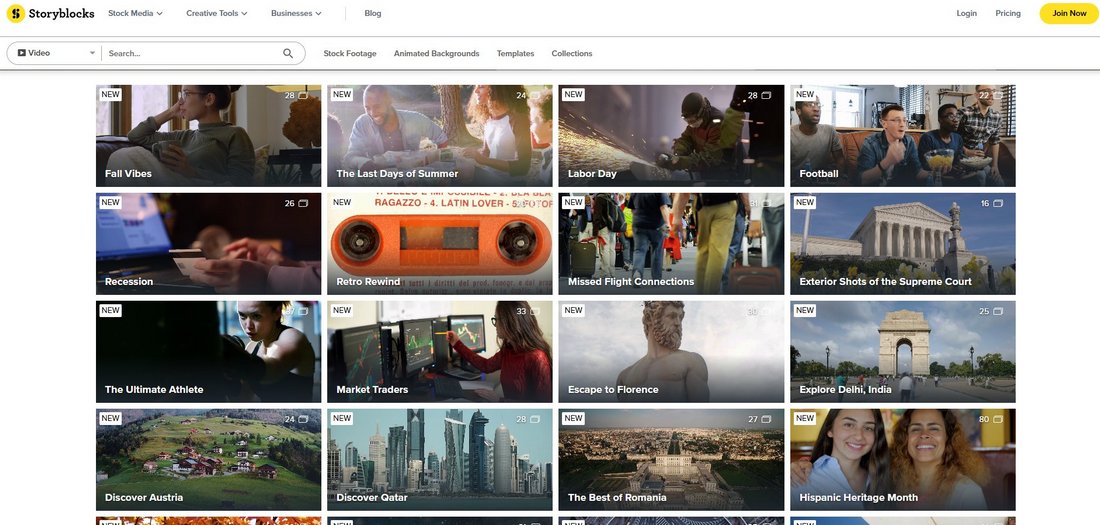 Finding the right video clips that convey your message is one of the most difficult things about making YouTube videos. Storyblocks solves this problem with its extensive library of high-quality stock videos.
The marketplace has stock footage for almost any type of video you're making, whether it's comedy, travel, or educational, there are hundreds of clips for you to choose from. Not just for YouTube, but for TikTok and Instagram videos as well.
Useful Video Templates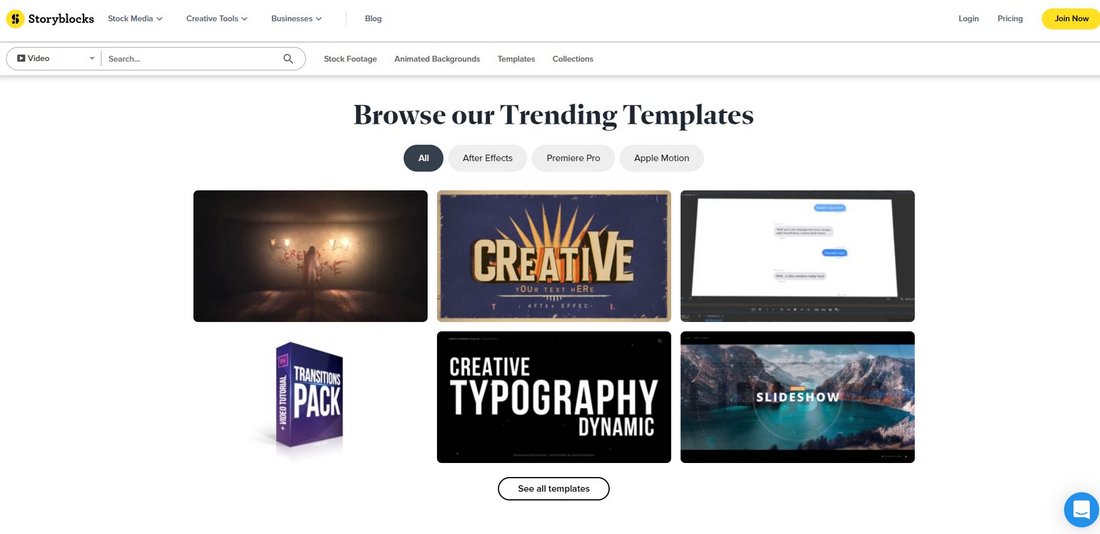 Storyblocks also includes a library of video templates for Adobe Premiere Pro, After Effects, and Apple Motion. The collection is small but it has some useful templates for making different types of videos.
There are transitions, logo reveals, text effects, slideshows, and many other types of templates in this collection.
Built-in Editor & Premiere Plugin
Storyblocks Maker is a built-in video editor that you can use in the browser to make cool promo videos for social media platforms. This tool is free to use and it allows you to use stock assets from Storyblocks library or upload your own content as well.
In addition, Storyblocks has a Premiere Pro plugin, which lets you browse and import videos in the Storyblocks library directly from the Premiere Pro editor.
Licensing Plans for Individuals & Businesses
Storyblocks offer simple licensing plans for both individuals and businesses. Each licensing plan includes indemnification, which guarantees that any item you use is safe to use in your projects and does not infringe any rights.
The licenses also give you the freedom to use the stock assets in commercial projects. Except for branding and logo designs. You are also not allowed to re-sell or re-distribute.
Pricing Plans
For individuals, Storyblocks offers three pricing plans. The $15 per month plan is limited, it only allows you to download 5 assets per month. But with the $30 per month plan, you get unlimited downloads with up to 4K resolution. The $40 per month plan includes access to the Premiere Pro plugin. These are all paid annually.
Who Should Use Storyblocks?
Storyblocks is most suitable for content creators as it offers an extensive library of stock videos, audio, and templates for making video content. And with the built-in video editor, you can even make your promo videos directly on the Storyblocks website and export them to social media.
4. Adobe Stock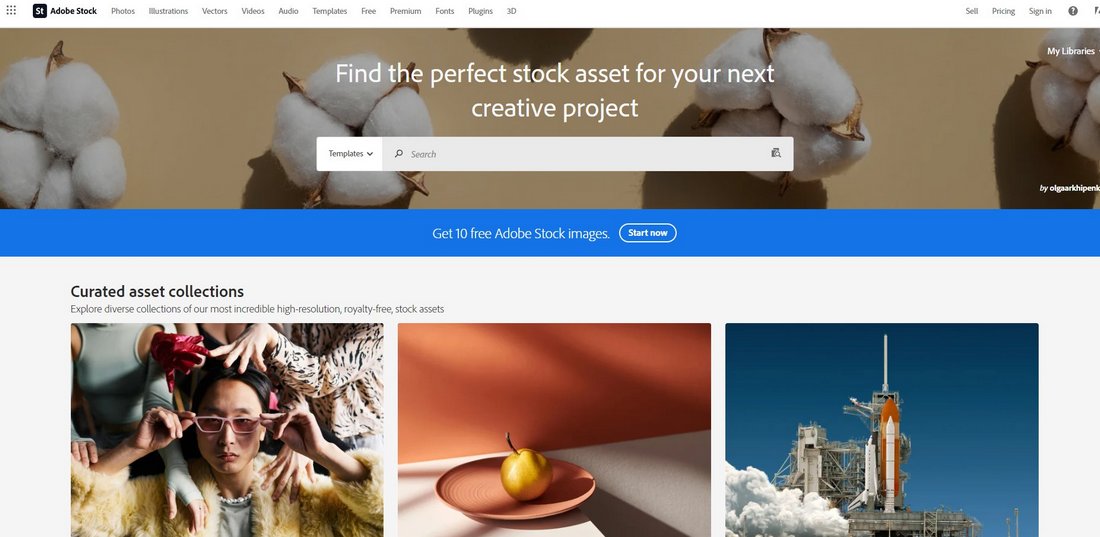 Price: $29 per month
Adobe Stock needs no introduction. It's one of the most premium marketplaces for finding stock photos, graphics, and templates.
Adobe Stock does not offer unlimited downloads but we wanted to include the site in the list anyway. Mainly for the stunning quality of the assets. Almost every item on this platform is unique and more creative than the ones you normally find on other platforms.
This high standard of quality might be the reason behind its expensive pricing. Still, if you can afford the price, you'll find some mind-blowing design resources in Adobe Stock.
Search Powered by Adobe Sensei
Adobe Stock has the most powerful search function you'll find on any stock photo website. It's all thanks to Adobe Sensei, the artificial intelligence system developed by the company.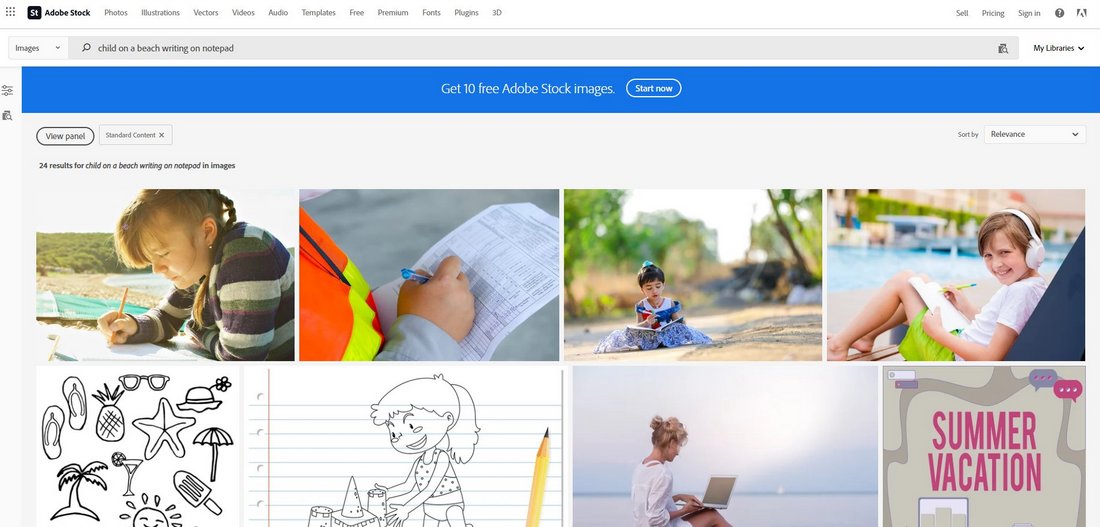 Adobe Sensei is integrated into the search function in Adobe Stock to help you find very specific photos and graphics. For example, when we searched for "child on a beach writing on notepad" in Adobe Stock, it showed us exactly what we searched for.
High-Quality Stock Photos and Videos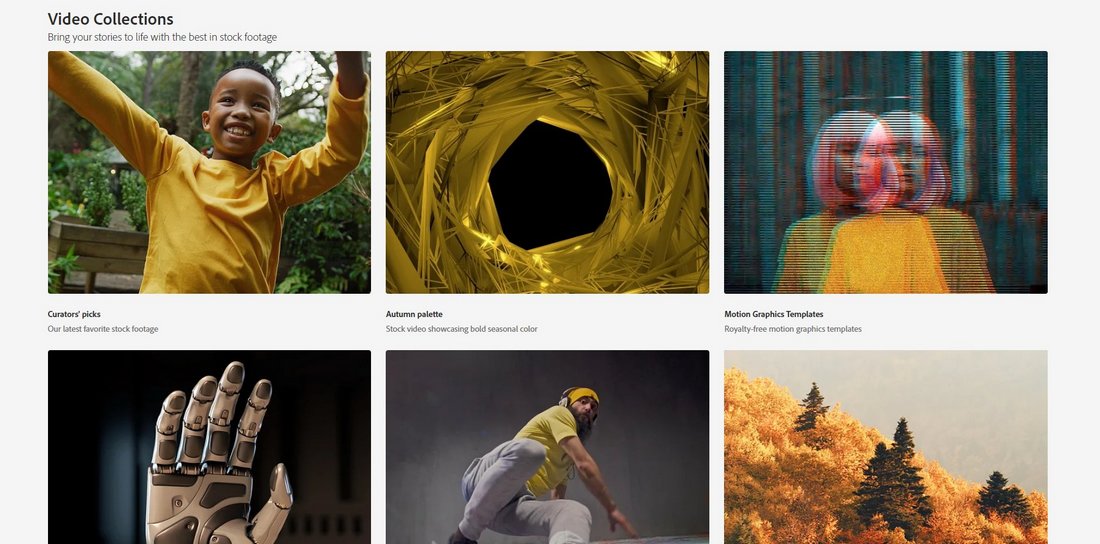 Adobe Stock has a special section with curated collections of premium stock images. This is where you'll find the best assets in the marketplace. These "collections" include beautiful content that is quite breathtaking.
The stock videos section also has a curated collection. You'll have to scour the Internet to find stock assets as good as the ones available in Adobe Stock.
Graphics, Audio, and Templates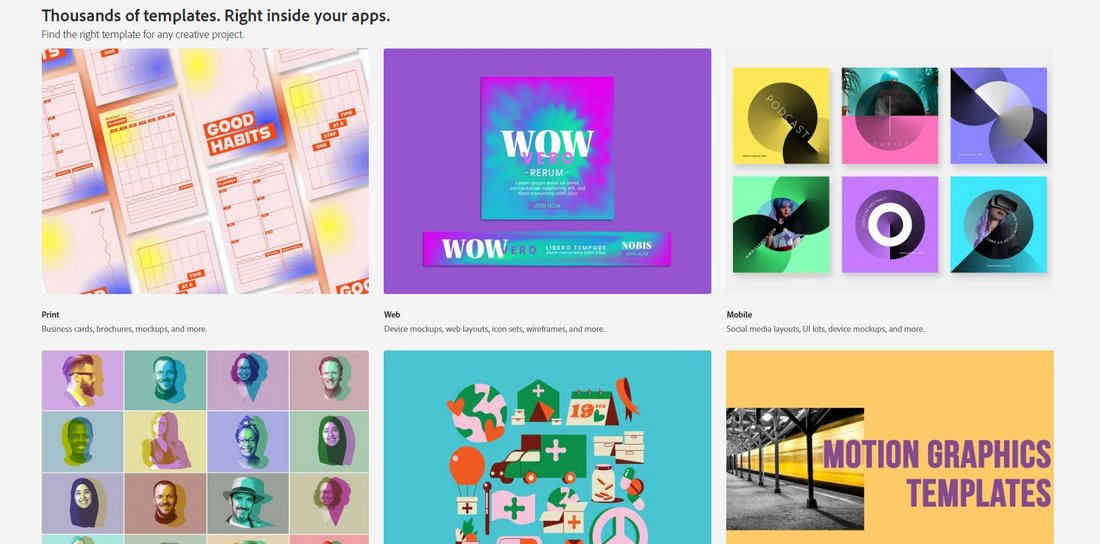 Another reason we wanted to include Adobe Stock in this list is its collection of design resources and templates. We know most of you use Adobe software for design work and Adobe Stock has a huge collection of high-quality templates and graphics for you to use in your projects.
Multiple Licensing Options
Licensing system used by Adobe Stock is a bit complicated but flexible. Items in Adobe Stock are available under three license plans. Standard, Enhanced, and Extensive.
You can use design assets in commercial projects as well as edit and modify them. But for projects with over 500k views or copies, you'll need the enhanced license. And with the Extensive license, you can use the design assets in merchandise and even resell them.
Pricing Plans
With the $29.99 per month subscription plan, you can access all the assets in Adobe Stock. But you only get 10 credits, which equals about 10 downloads per month. For more credits, you can upgrade to $49.99 per month or $199.99 per month plans.
And that's only the annual pricing plans. Month-to-month subscription plans start at $49.99 per month for just 10 credits.
You can also get access to Adobe Stock via certain Adobe Creative Cloud plans.
Who Should Use Adobe Stock?
Adobe Stock is the most expensive site on our list but it's expensive for a good reason. The quality of the assets on Adobe Stock is impeccable. The site is most suitable for designers and agencies who work with high-end clients who can afford premium-quality assets.
5. MonsterONE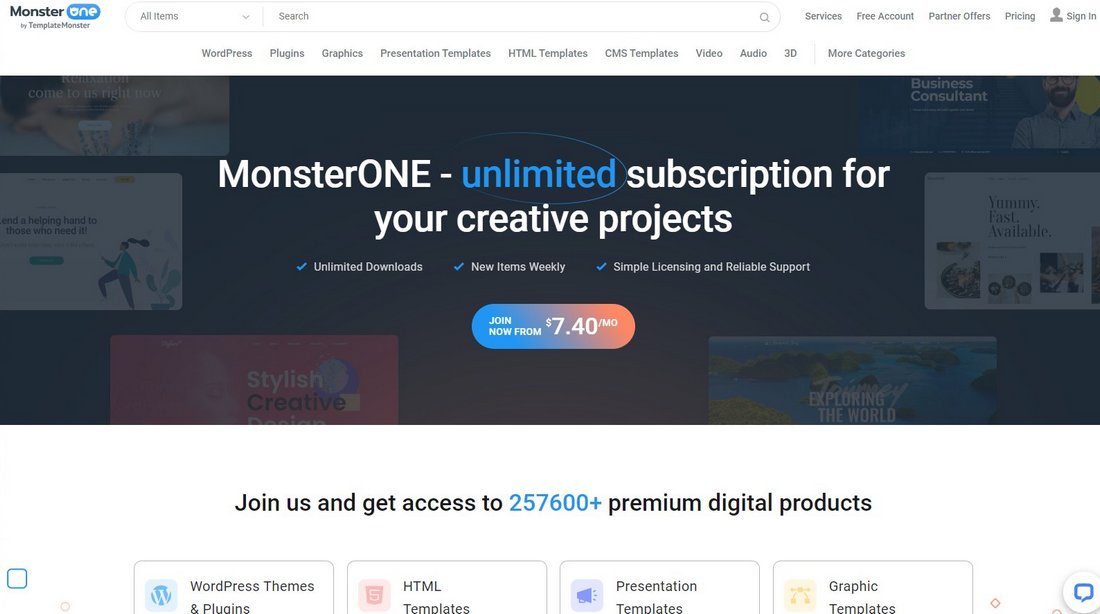 Price: $7.40 per month
MonsterONE is a new unlimited stock site introduced by Template Monster, another popular marketplace for graphics and website templates.
MonsterONE is fairly new so it only has a little over 250,000 assets on the site, most of which are WordPress themes, website templates, and presentation templates.
However, MonsterONE features an impressive collection of graphics and design templates as well. And it offers unlimited downloads for a single price.
More Than 100K Graphics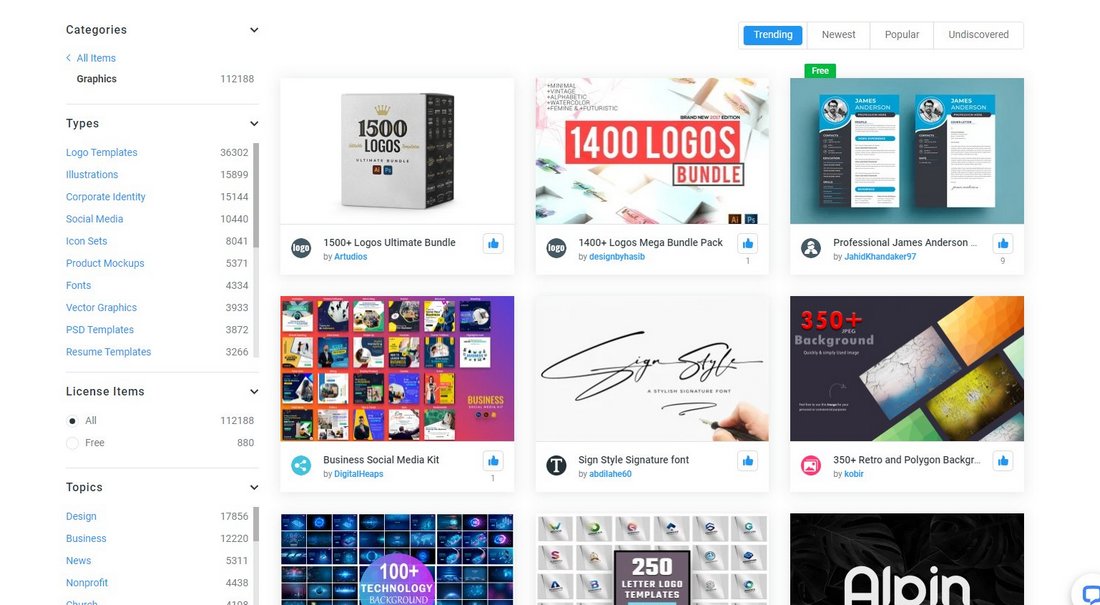 Whether you're looking for a logo bundle with a massive 1000 templates or an icon pack for a UI design project, MonsterONE has a wide variety of resources available for all your projects.
The platform seems to put quantity over quality. So most of these assets are not the best resources you'll find. Although, they are ideal for smaller freelance projects and personal designs.
Website Themes and Templates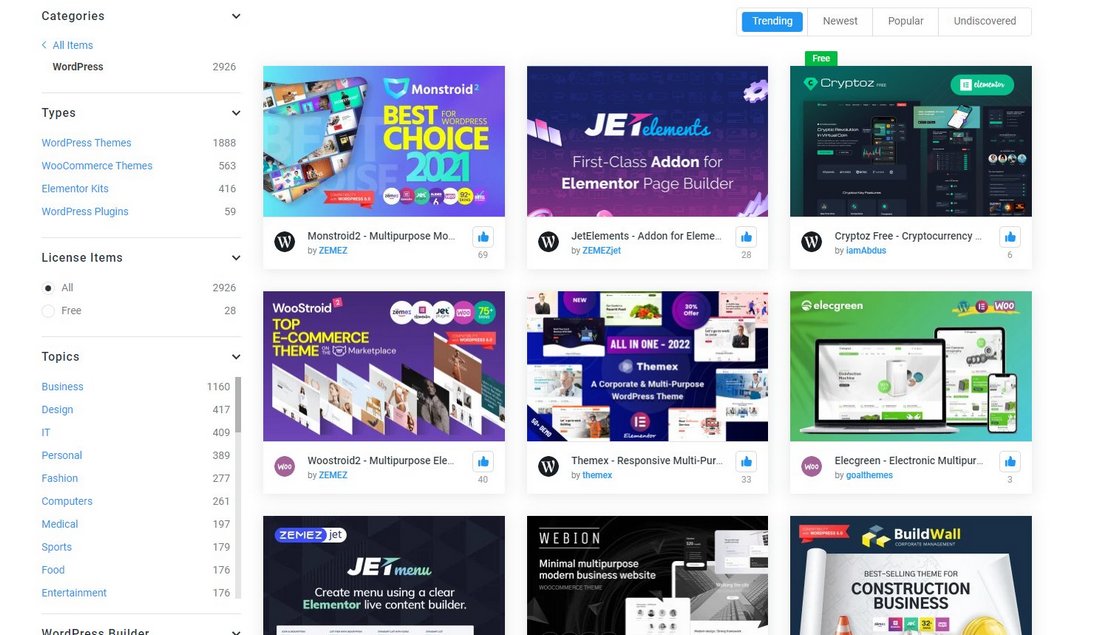 If you're a web designer or developer, you'll find plenty of value in using MonsterONE. There are thousands of premium WordPress themes, plugins, and HTML templates available on the site for your client projects.
Not only that but you'll also have all the other resources you need for website designs, like illustrations, backgrounds, infographics, and icons, all under one roof.
Simple Licensing Terms
Any item you download an item from MonsterONE, it can be used in your commercial and client projects. Although, you have to re-download that item again to use it in another project.
You are also not allowed to re-sell, re-distribute, or use design assets in merchandise.
Pricing Plans
MonsterONE pricing plans start at $7.40 per month ($89 per year). With this plan, you get unlimited downloads with access to everything except for WordPress themes and plugins. The $13.25 per month plan ($159 per year) gives you all access to the platform.
Or you can buy a lifetime account with unlimited access for a one-time price of $499.
Who Should Use MonsterONE?
MonsterONE is ideal for web designers and developers as it gives you everything you need in one place. It's also great for freelance graphic designers, especially for working on smaller gigs and projects.
Honorable Mentions
There are many other sites that we wanted to feature in this list. But that would make the post unnecessarily long. So here are a few of the other unlimited stock sites that are worth checking out.
Unsplash+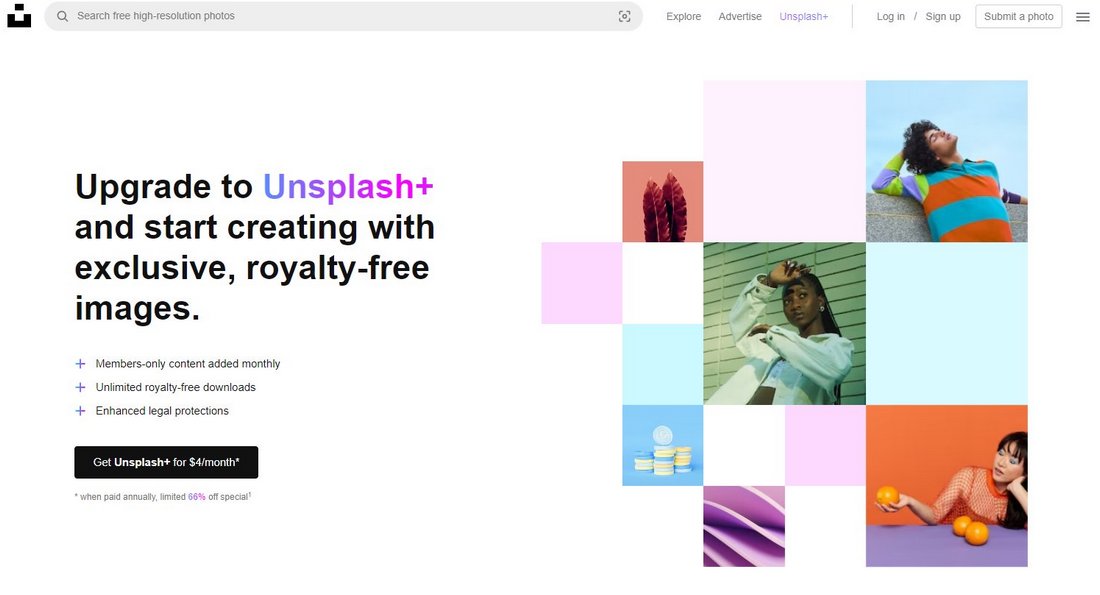 Price: $4 per month
Unsplash is a well-known site for its impressive collection of free stock photos. The site recently introduced a premium tier on the platform at $4 per month ($48 per year). This plan gives you access to an exclusive collection of members-only stock photos with unlimited downloads.
Every month new content is added to this members-only section. And it features even better quality stock photos than the ones you find in the free site.
JumpStory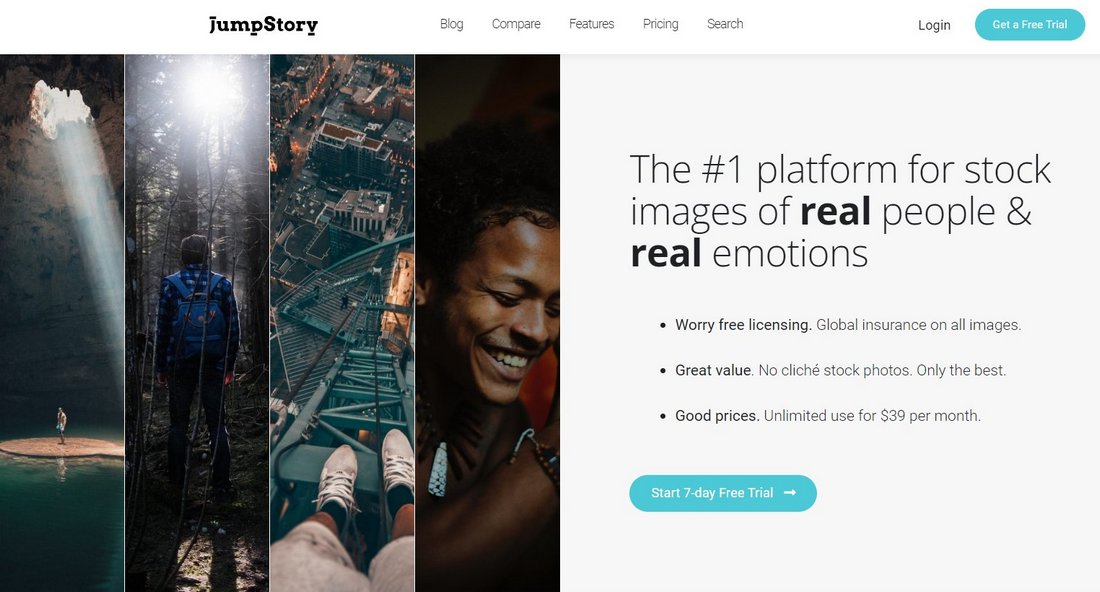 Price: $39 per month
JumpStory is a very unique stock photo site that features a selection of photos that "move people". There are millions of rich, authentic, and high-quality photos on this platform for all kinds of design projects.
You can access all of the assets on JumpStory for a single price. Pricing starts at $39 per month for individuals with unlimited downloads.
Template.net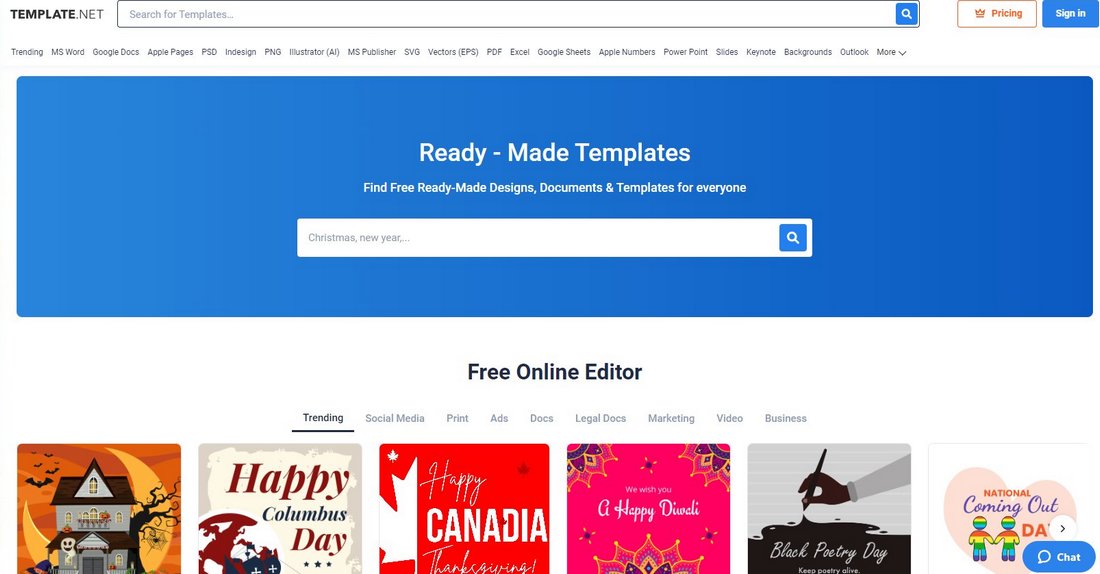 Price: $2 per month
Template.net is a site you can always rely on to find templates for your print projects. It includes a template for everything from business cards to flyers, posters, brochures, and much more. There are lots of graphics, such as icons, charts, illustrations, and clip art, included in the platform as well.
You can access all of the 200k design assets for just $2 per month ($24 per year). This plan includes unlimited downloads too.
Which Unlimited Stock Site Is Best?
When comparing these unlimited stock sites in terms of quality, price, categories, and licensing, Envato Elements is the clear winner. None of the other sites have design assets in such a wide range of categories as Envato Elements.
Having access to stock photos, videos, graphics, fonts, design templates, illustrations, website templates, email templates, and so much more in one place and under one subscription is what makes Envato Elements the best.
But, if you're seeking something specific, there are other sites you can check out. For example, you can try Unsplash+ for quality stock photos. Or use Freepik if you're looking for drawings and illustrations. The choice is up to you.
By: Roshan Perera
Title: 5+ Best Unlimited Stock Sites in 2023: For Photos, Art, Graphics & Video
Sourced From: designshack.net/articles/inspiration/best-unlimited-stock-sites/
Published Date: Thu, 20 Oct 2022 09:00:57 +0000