Figma is slowly becoming one of the most popular user interface design apps available today. With the ability to use the tool entirely online, it's also an easily accessible tool for UI design collaboration and prototyping.
Whether you've been using Figma to design mobile and desktop user interfaces or if you're new to the app, you'll find our Figma templates collection quite useful.
In this post, we feature some of the best Figma templates for wireframing, mobile user interface designs, app designs, website designs, and much more. We're also sharing our tips for getting started with Figma if you're new to the app!
With these templates, you can easily create wireframes and UI designs without having to spend hours crafting the small components and layouts. You can customize the templates to change colors and rearrange sections to make them your own as well.
Take a look at our collection below and start downloading.
Top Pick
Cards – Multipurpose User Interface Kit for Figma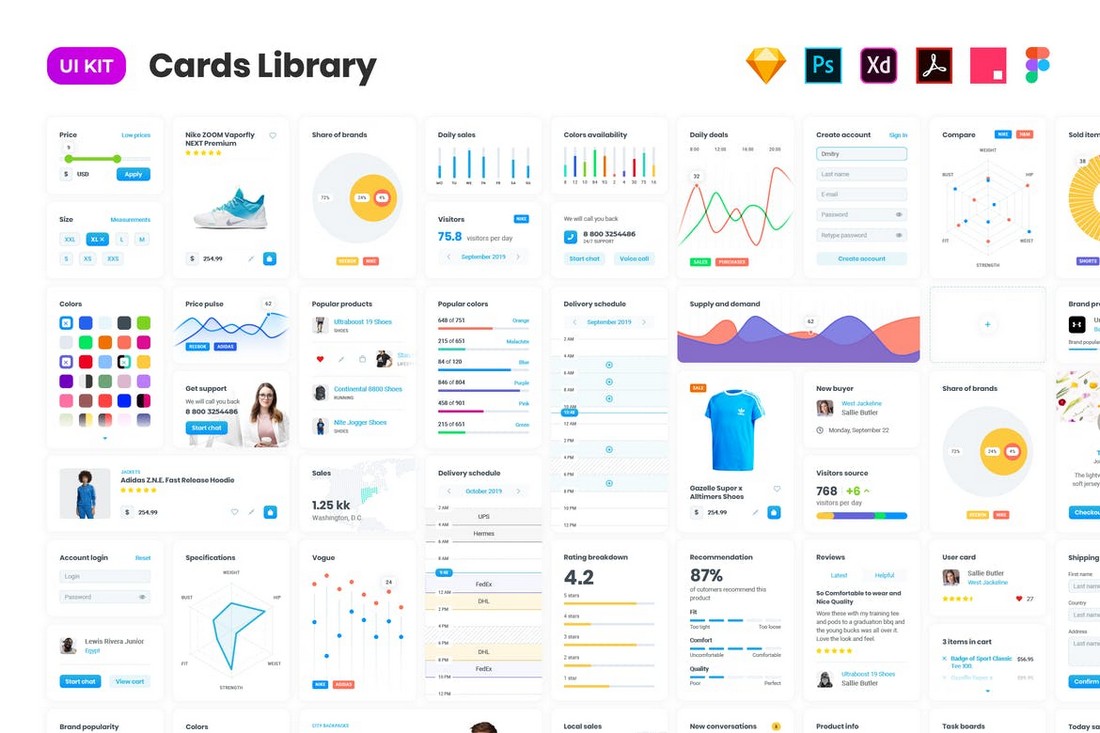 This is a massive bundle of UI card layouts you can use to design various types of app interfaces. It includes designs for eCommerce apps, business, accounting, cryptocurrency, marketing, and much more.
The UI kit comes with more than 70 unique card layouts and 50 useful eCommerce widgets. Each and every card design consists of organized layers for easily customizing them to your preference.
Why This Is A Top Pick
What makes this UI kit special is that it comes with multiple file formats. You can edit the templates using Figma as well as Sketch, Photoshop, Adobe XD, and InVision Studio. You can also download the dark version of this UI kit here.
Dashboard Chart Card UI Pack for Figma
Every dashboard design is different but you can never have enough chart cart layouts when designing dashboards in Figma. With this chart cards UI kit, you can add a few more beautiful templates to your dashboard templates collection. It comes in multiple file formats for Figma, Adobe XD, Sketch, and Photoshop.
Ontrack – Clean Admin Dashboard Figma Template
Ontrack is a complete admin dashboard UI kit that includes 16 different screens you can use to craft a full-featured dashboard for various types of platforms and apps. The templates are available in Figma and Adobe XD formats. You can easily customize the layouts to your preference.
E-Wallet Mobile App UI Kit for Figma
This is the perfect Figma UI kit template you can use to add a wallet section to your mobile app or even design a digital wallet app from scratch. The template includes multiple screen layouts with layered components and editable designs.
Website Hero Header Figma UI Templates
The here or header section of a website is arguably the most important part of a website. This bundle comes with 11 different header UI kits to help you get a head start in your website designs. There are templates in this pack for many different styles of websites.
Untitled UI – Free Figma Design Systems UI Kit
This is a free design systems UI kit for Figma. It features a massive collection of global styles that consist of thousands of UI components. It's a must-have for freelancers and UI designers.
E-Commerce Store Dashboard Figma UI Kits
This Figma dashboard UI kit will surely come in handy when you're building a backend system for eCommerce websites and online stores. It has a simple dashboard layout for customers to help organize their orders, shopping carts, and profiles.
Finance Mobile App UI Kit for Figma
A colorful and beautiful mobile app UI kit for finance and banking apps. It includes multiple app screen layouts for different parts of the app. The template is available in Figma, Adobe XD, and InVision formats as well.
Roomate – Hotel Booking App Dashboard Figma UI Kit
This Figma UI kit is perfect for adding a room booking section to your hotel booking app or dashboard. It's available in both light and dark designs. And the template includes a global style guide as well.
Storage Dashboard UI KIT for Figma
You can use this Figma template to craft a modern storage management UI for an admin dashboard. It features a clean design with organized components covering different aspects of a storage management system.
Pegasus Design System Free Figma UI Kits
Another free Figma UI kit template that comes with several useful components you can use to craft professional designs. This template has stylish widgets and elements that are perfect for website and admin dashboards.
Business & Corporate Landing Page Figma Template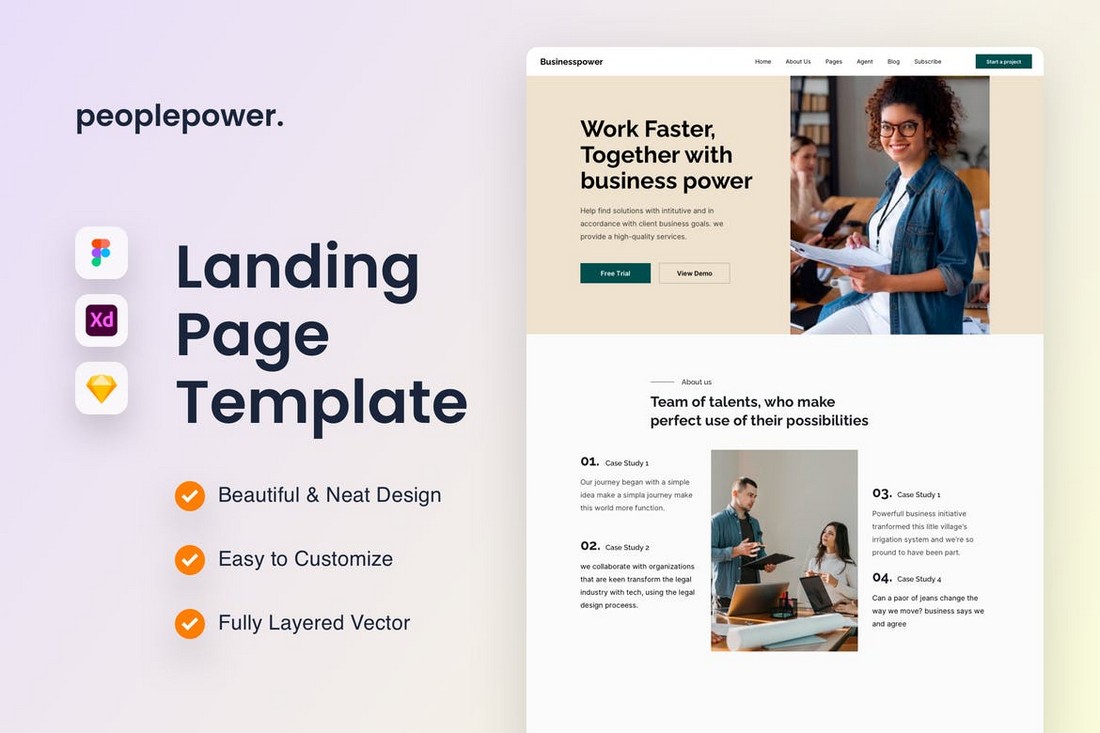 If you're working on a landing page design for a business or corporate brand, this Figma template will help you get a head start in your project. It features a complete landing page design featuring multiple sections. The template is fully customizable and comes in Adobe XD and Sketch formats too.
Freelancer Job Mobile App UI Kits Figma Template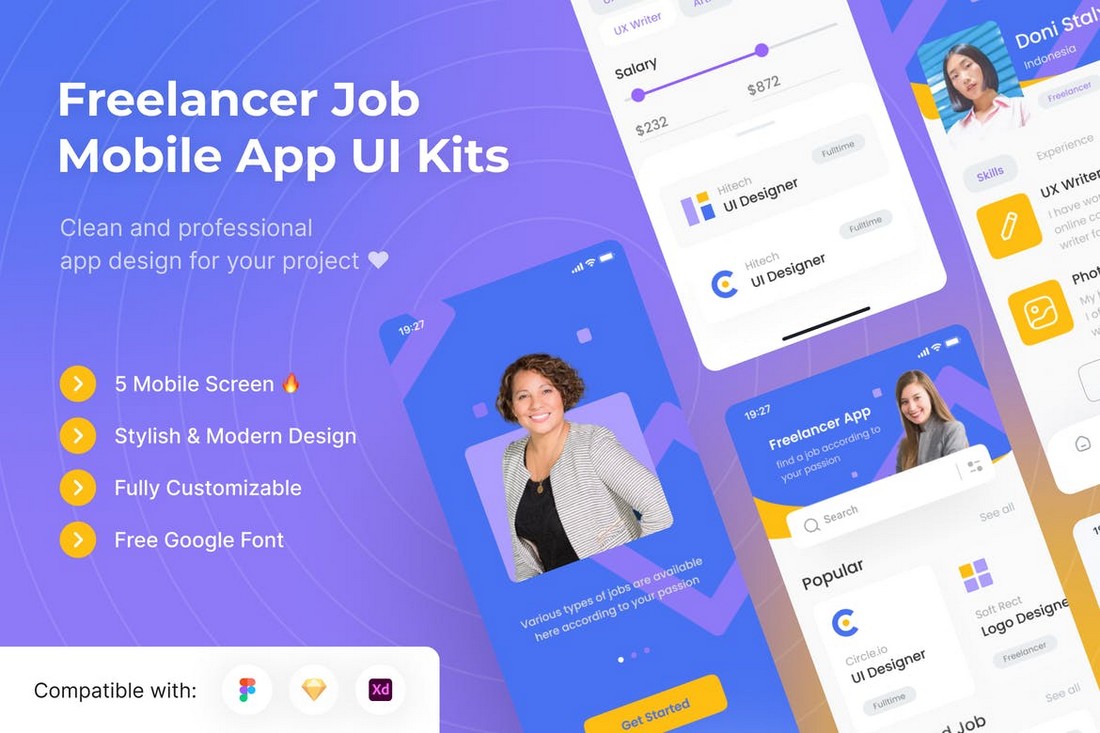 This Figma UI kit features 5 complete mobile screens you can use to craft a mobile app. It's designed with freelancer job boards and job marketplaces in mind. If you have a client looking to make a freelance job board, grab this template kit to blow their minds with a mobile app design.
Meeting Online Dashboard UI Kits Figma Template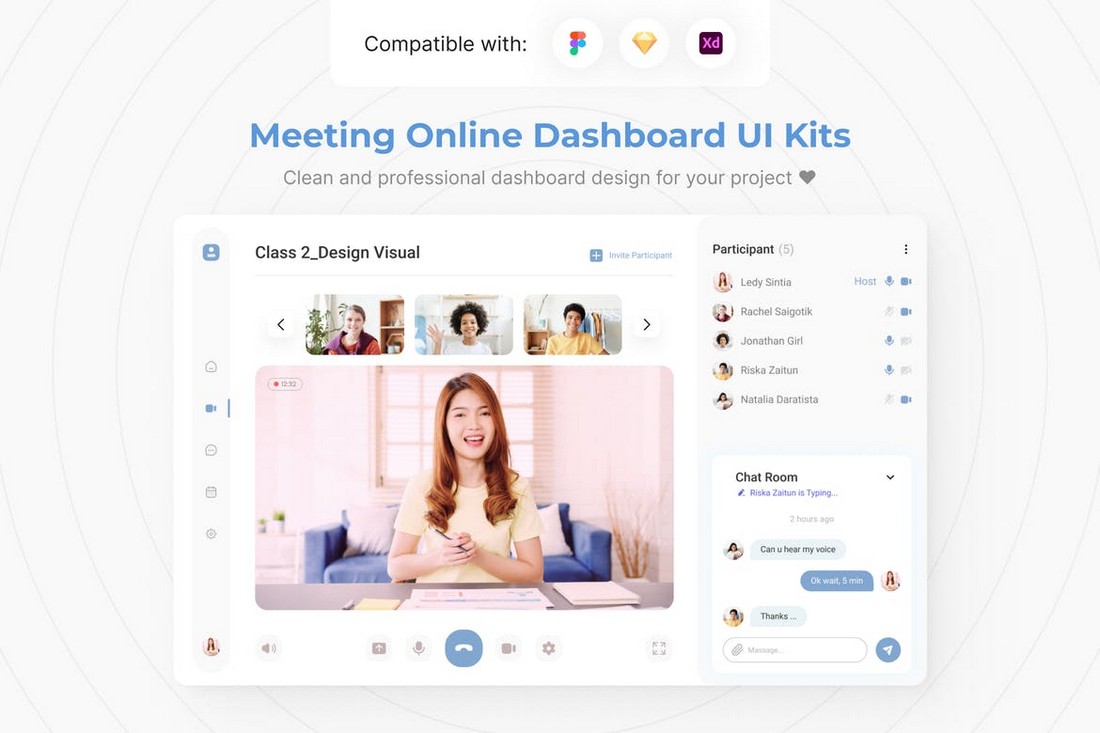 Online meetings and conferencing apps are quite popular these days. With this Figma template, you can design your own online meetings dashboard. It features all the UI elements you need to craft a modern and creative user interface for conferencing apps.
Task Management Dashboard Figma Template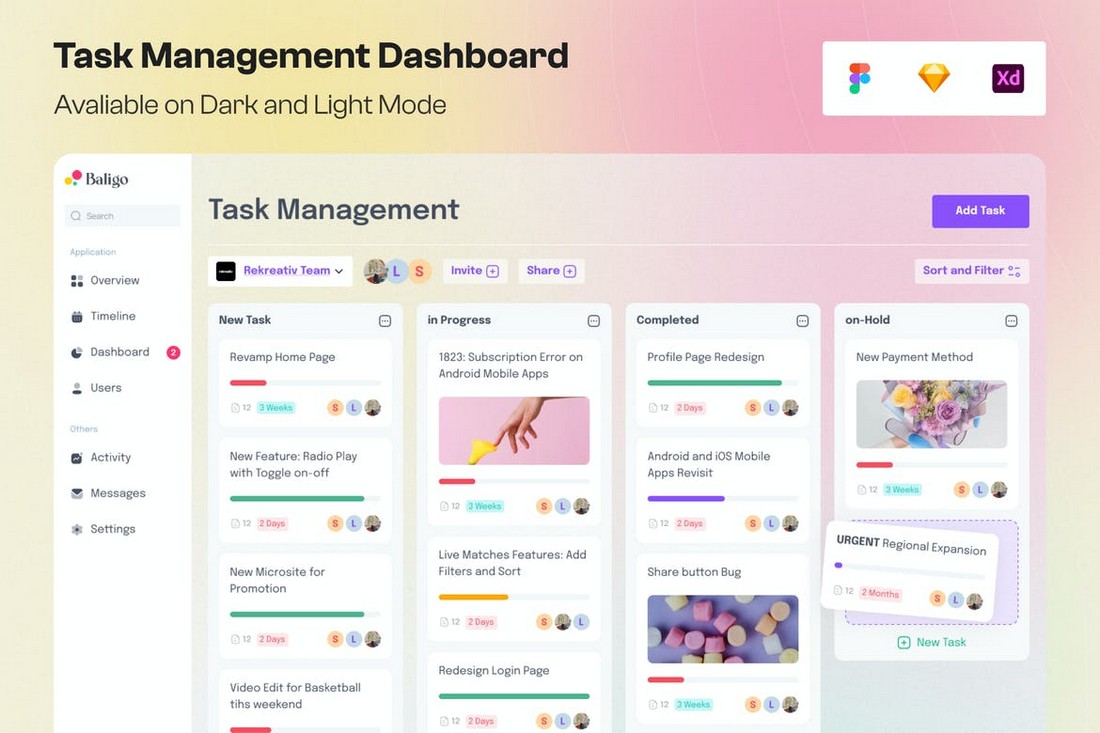 Design a beautiful dashboard for a task management app using this Figma template. It comes with organized artboards and customizable elements. The template is available in both light and dark color themes as well.
Dash – Free Figma Dashboard UI Template
This is a free Figma template you can use to create a professional-looking dashboard UI layout. The template includes a feature-packed dashboard design that you can easily customize to your preference. You can use it for free with your personal and commercial projects.
Minimalist Wireframe Kit Figma Templates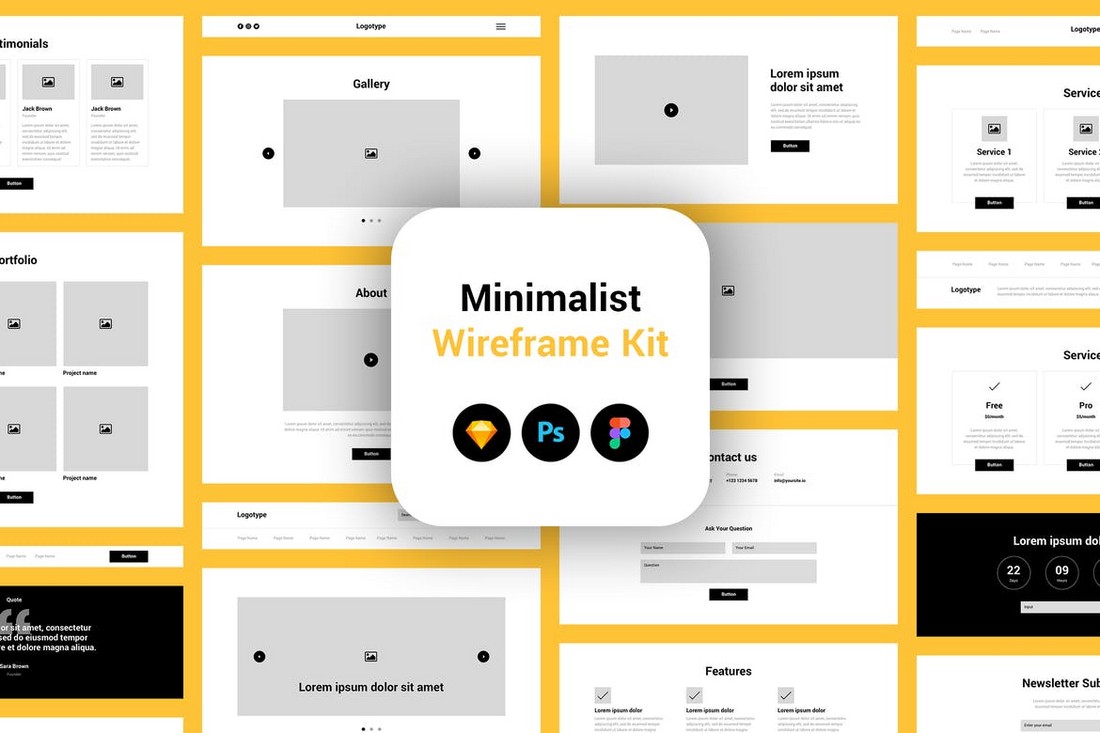 Every great design starts with a wireframe layout. This is a complete bundle of Figma templates you can use to start your own designs the right way. It includes all the elements you'll need to make website and landing page wireframes.
Onboarding iOS UI Kit for Figma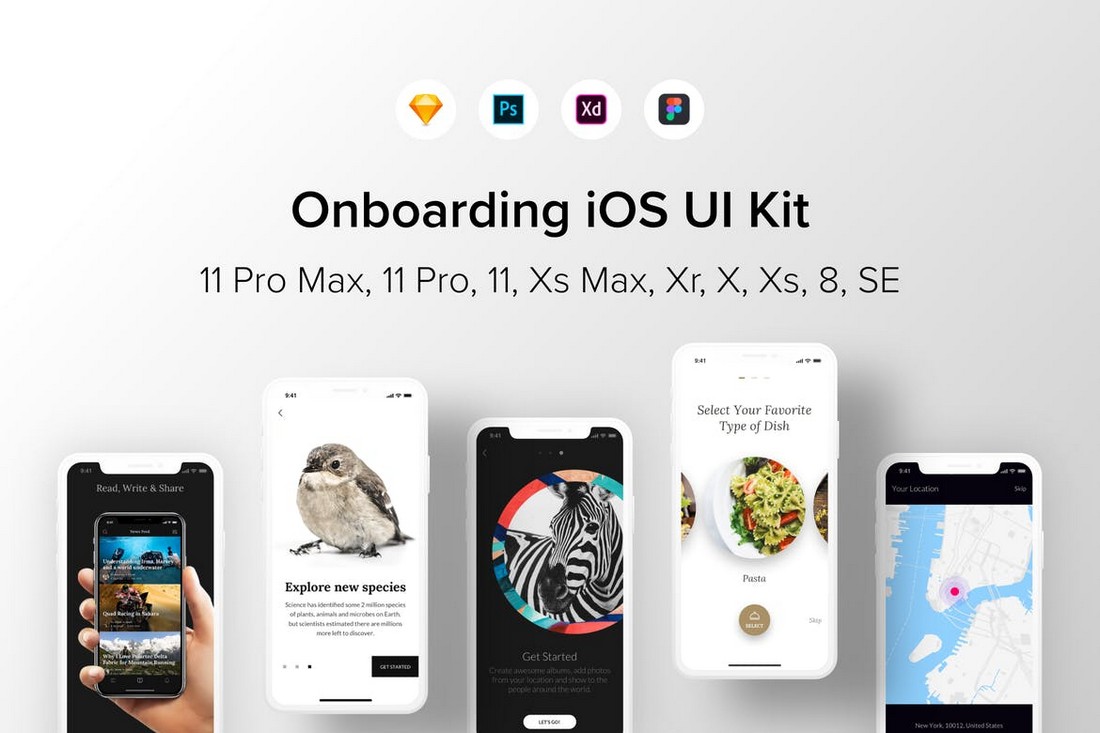 The onboarding process is one of the most important parts of mobile app design. With this Figma UI kit, you can design stylish user interfaces for your app onboarding steps with ease. The templates are made for iOS devices, including iPhone X, SE, and iPhone 11 series.
Responsive Figma Landing Page Template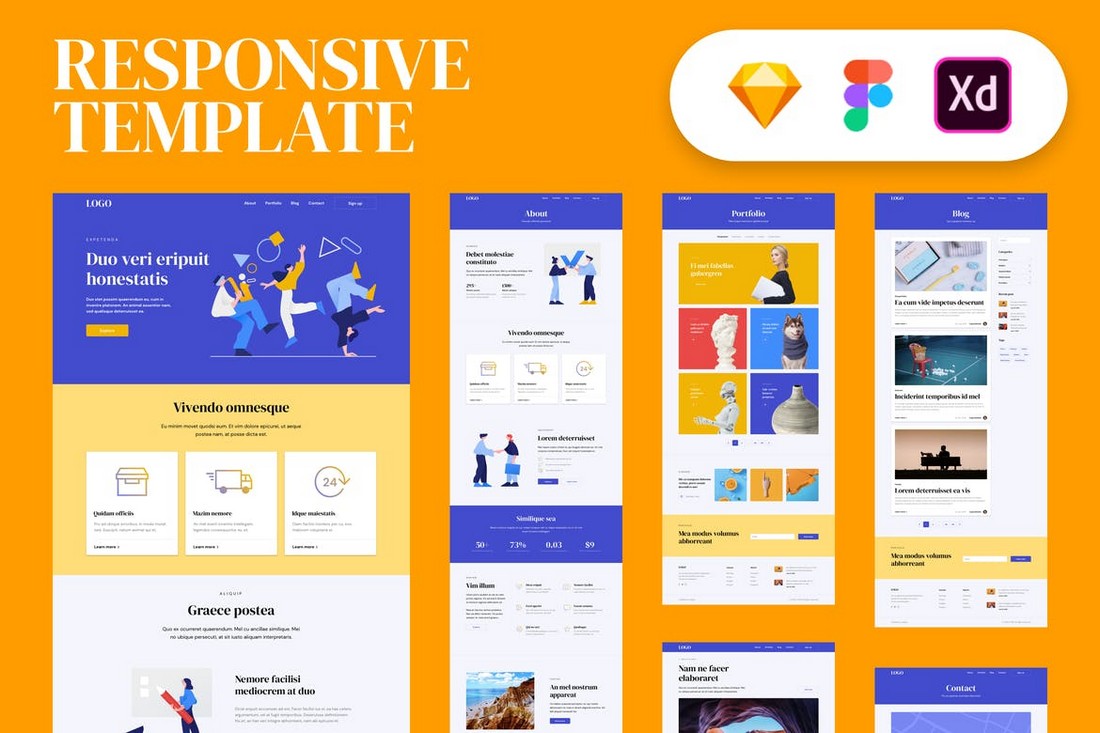 This beautiful website landing page template kit is perfect for web designers. It will allow you to easily craft a unique website design using Figma without an effort. All of the elements in the template are customizable. It includes both desktop and mobile designs.
Ecommerce – Android UI Kit for Figma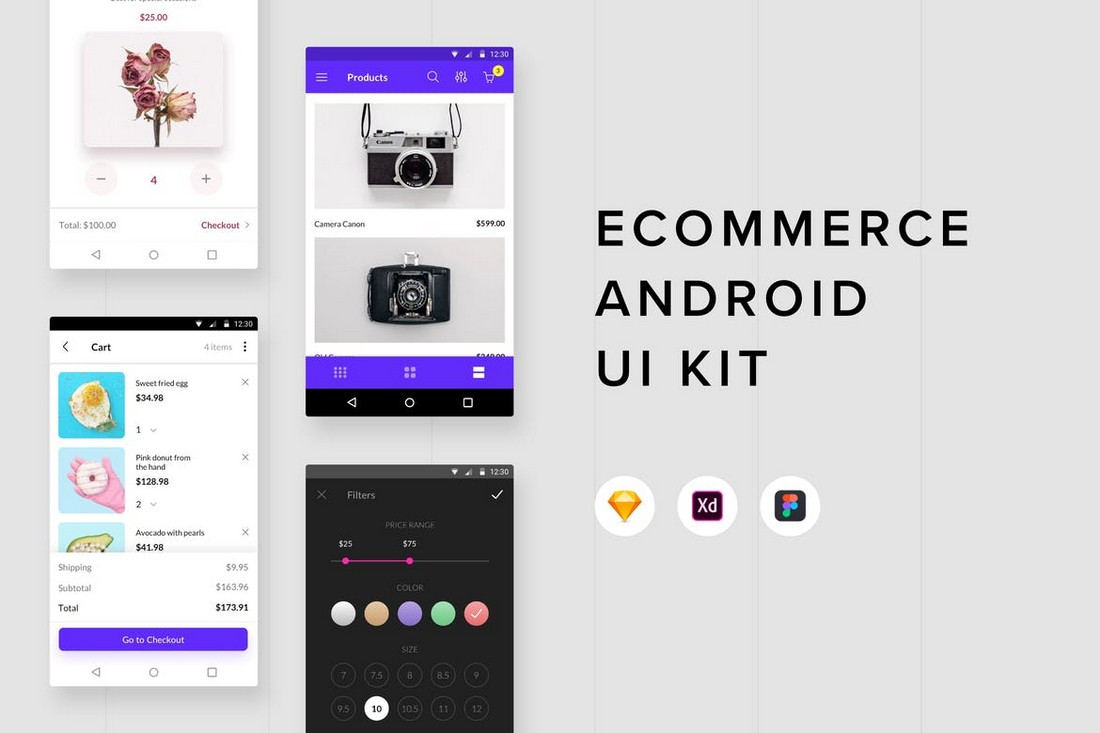 Working on an app UI design for an eCommerce shop? Then this UI kit will help you design product page, shopping cart, store layouts, and much more. It includes 4 unique screen layouts in multiple file formats.
Medical App Dashboard – Light UI Kit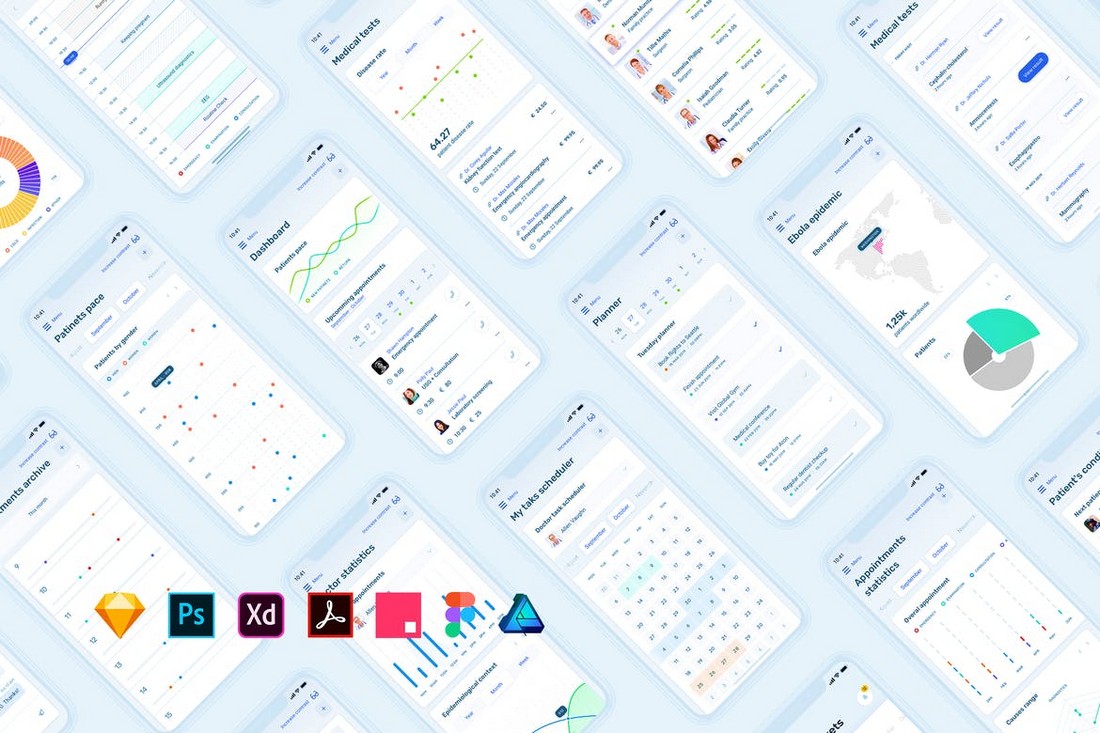 This is a complete dashboard UI kit for designing various medical and health-related apps. It includes 38 unique screen designs as well as 50 different widgets. The templates feature simple and clean designs with easily customizable layouts.
Elearning UI Kit – Free Figma Template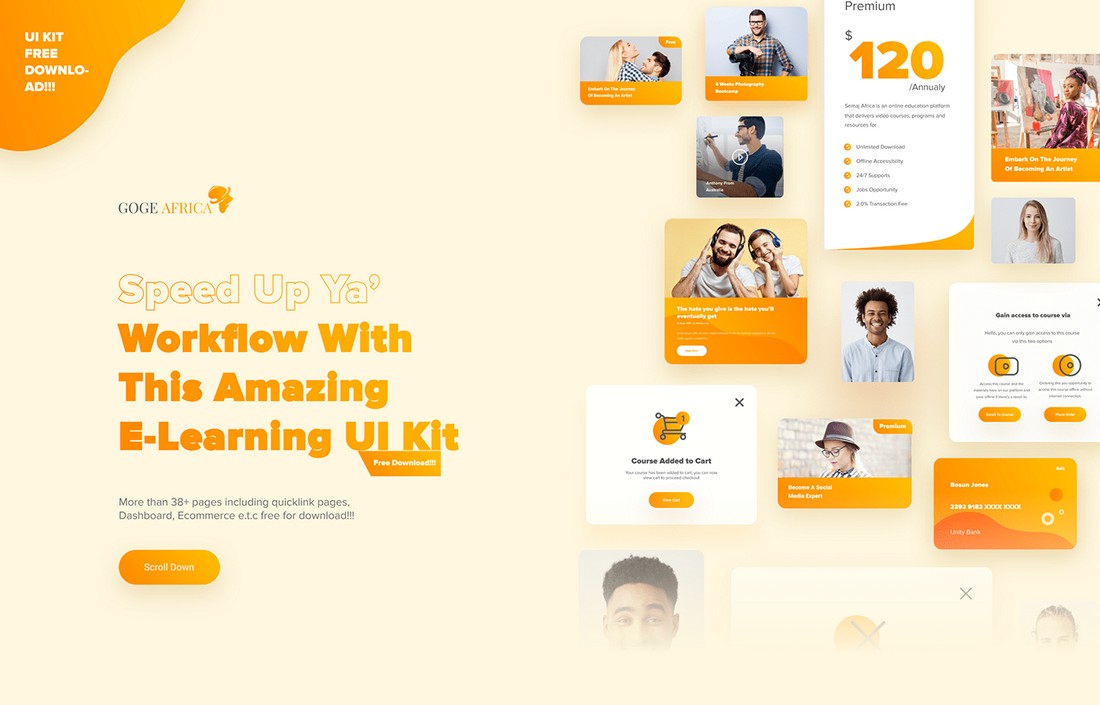 This is a free UI kit featuring a large collection of templates. The bundle includes more than 38 page layouts in 4 different categories. It's been designed for making eLearning websites.
tro – Free Mobile UI Kit for Figma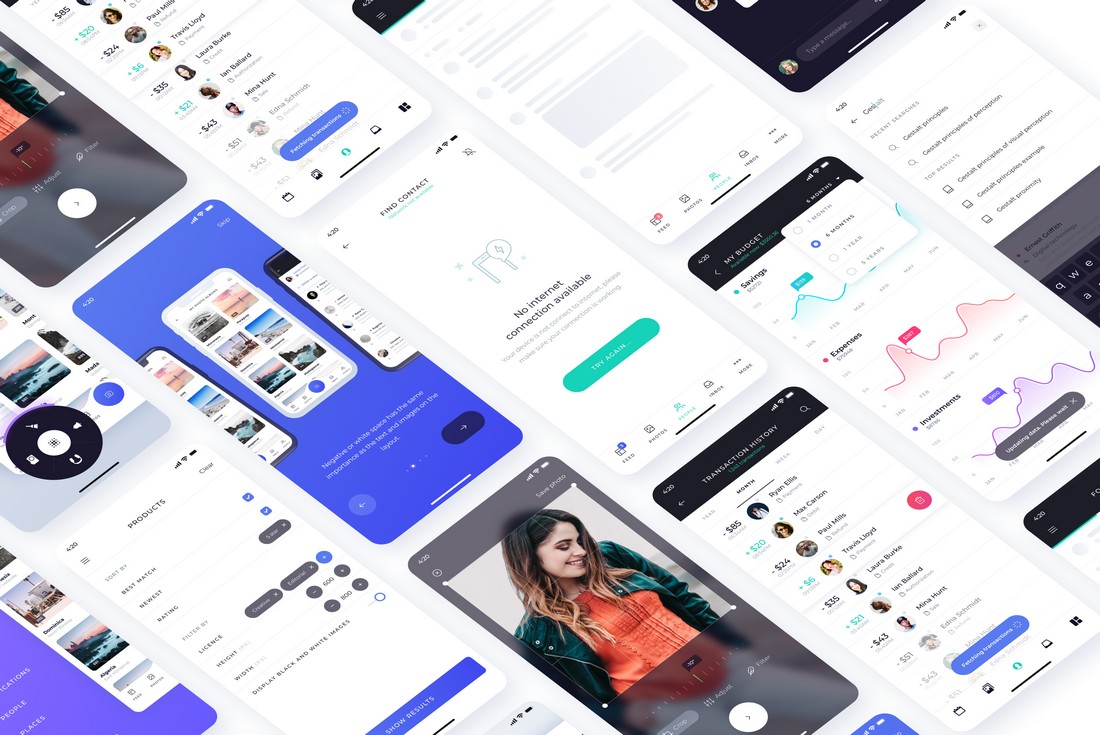 Atro is a modern mobile UI kit that comes with 12 unique mobile screen templates. The free Figma templates are fully customizable and let you design various types of interfaces for mobile apps.
Startup Landing Page Template With Illustrations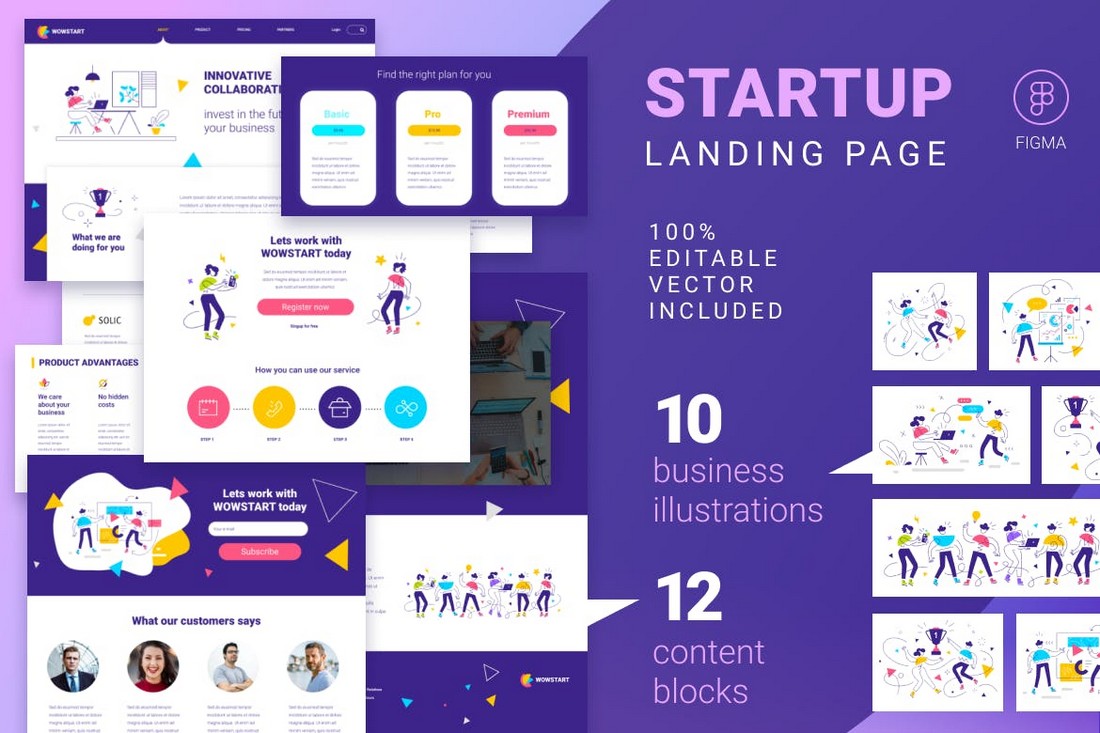 Designing a beautiful landing page for a startup website will be much easier with this Figma template. Because it comes bundled with gorgeous illustrations that you can use in your design. It includes a complete landing page template and 10 matching illustrations in vector format.
Membership & Sign In – Sign Up UI Kit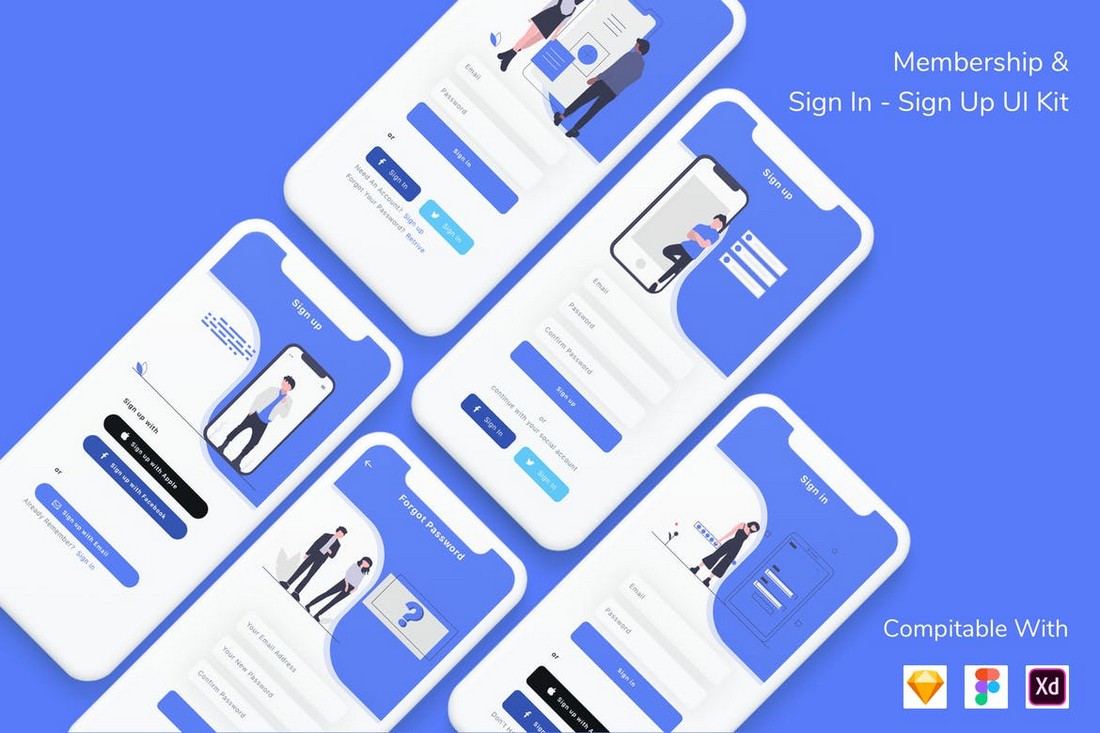 Signup and sign-in screens are some of the most common screens that you have to design over and over again for almost every app. With this signup UI kit, you'll be able to craft them more easily. This bundle includes multiple signup screen templates with different designs. And they are compatible with both Figma and Sketch.
Project Management App Figma Template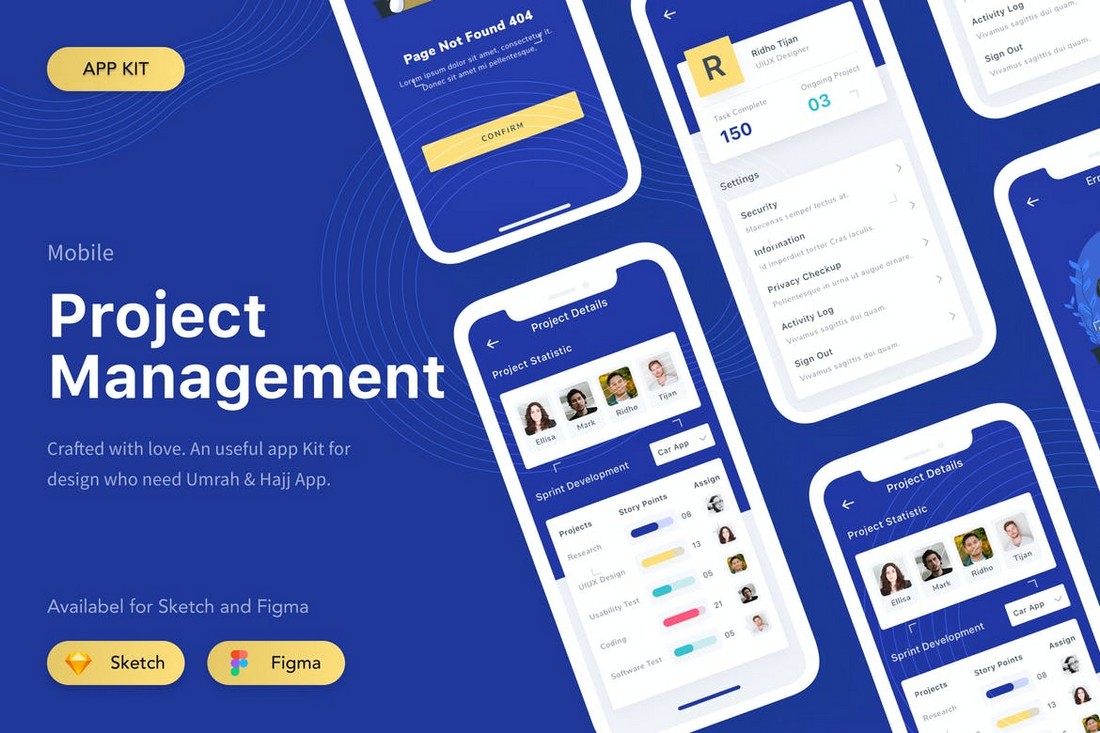 Looking for inspiration to design a project or task management app, then look no further. This template kit includes a complete app design for a project management app user interface. The templates are easily customizable and fully scalable. You can edit them using Figma or Sketch.
Nuzie – Task Management Dashboard Figma Template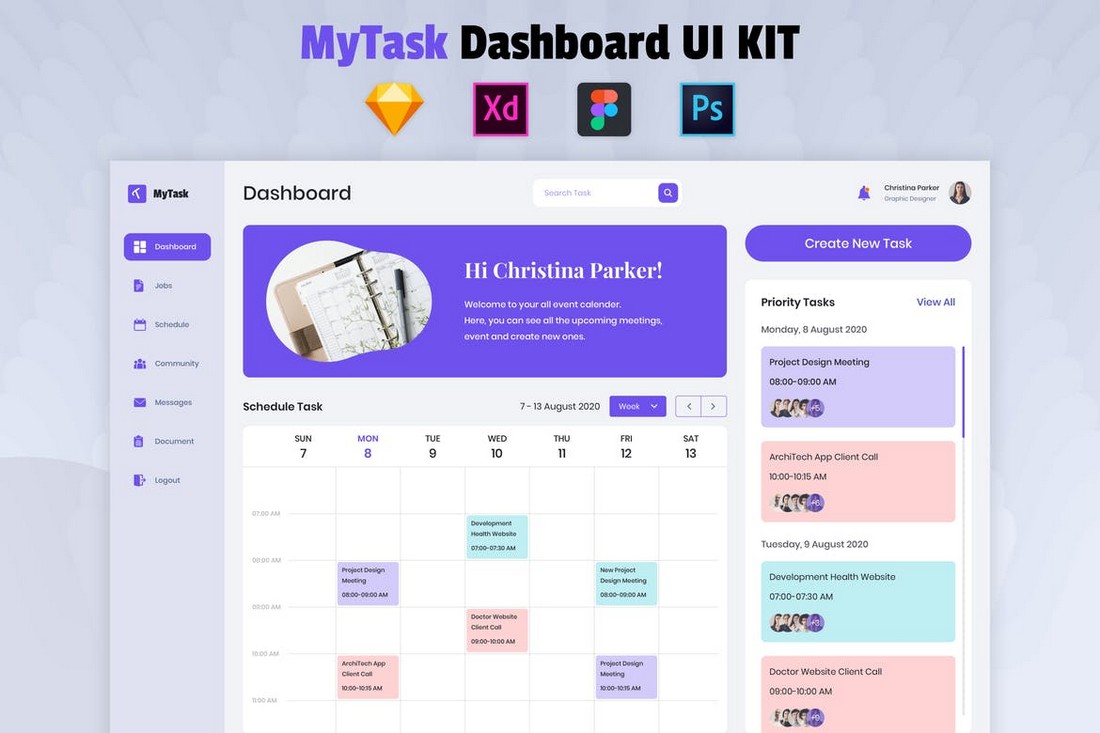 Another task management app dashboard template. This one is designed for a desktop dashboard interface. Task management pages are quite common in most productivity and team management apps. So this template will definitely come in handy. It comes in Figma, Sketch, PSD, and Adobe XD file formats.
Free Social Mobile App UI Kit for Figma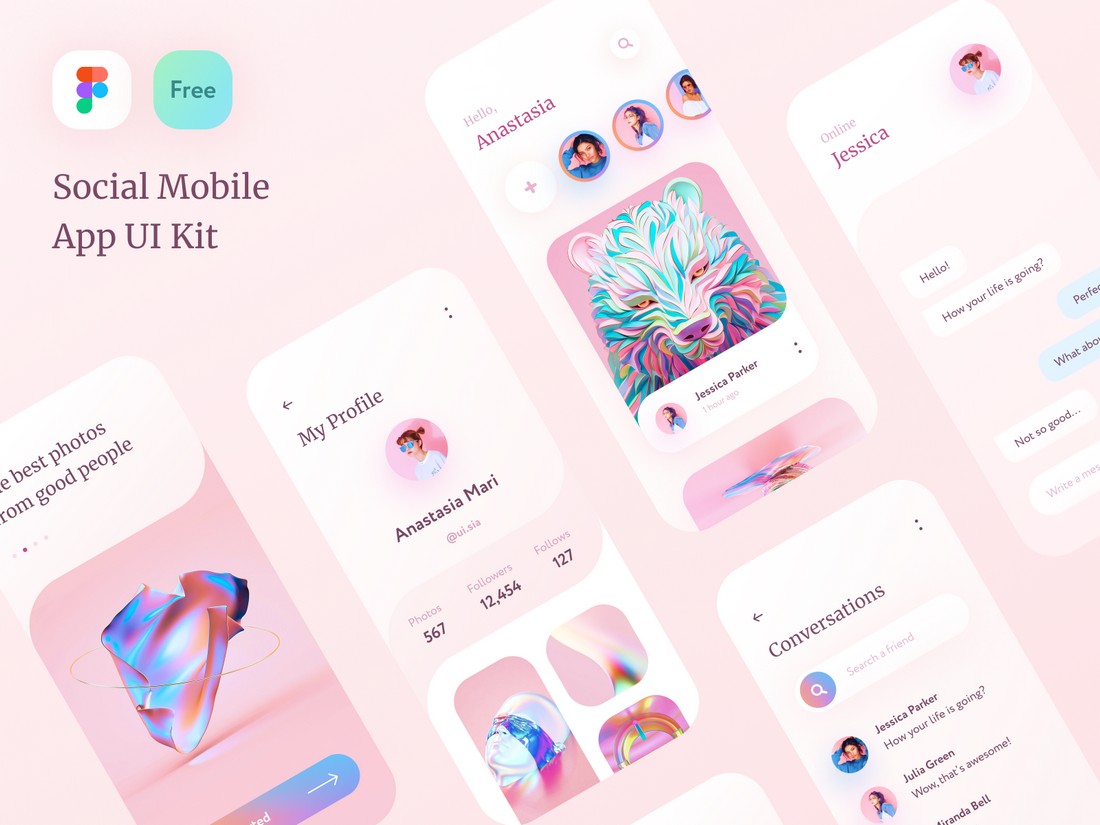 This beautiful mobile app UI Kit is perfect for designing a social networking app or a photo-blogging community. The templates are easily customizable with Figma. And you can download and experiment with them for free.
Merge – Wireframing UI Kit for Figma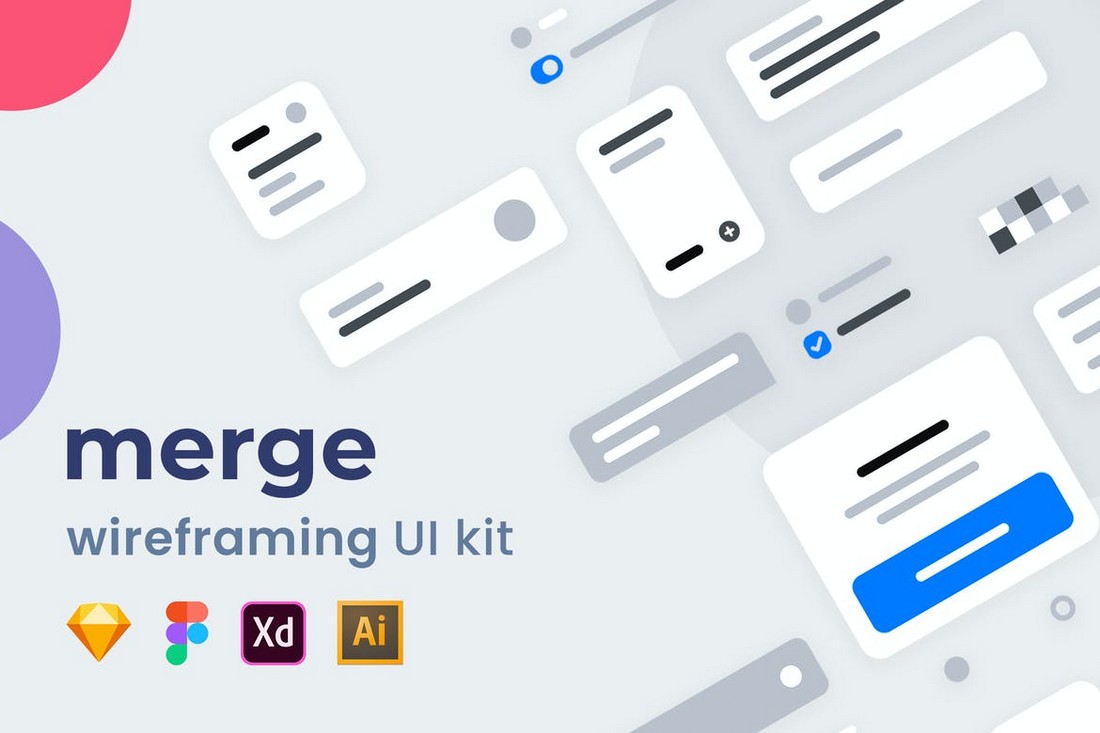 Merge is a wireframing kit for Figma. Not just any wireframing kit, this one comes with a smooth and simple design that allows you to create beautiful designs without complications. The UI kit includes more than 180 different elements and components. As well as 36 example designs already crafted for your inspiration.
Online School App Template for Figma & Sketch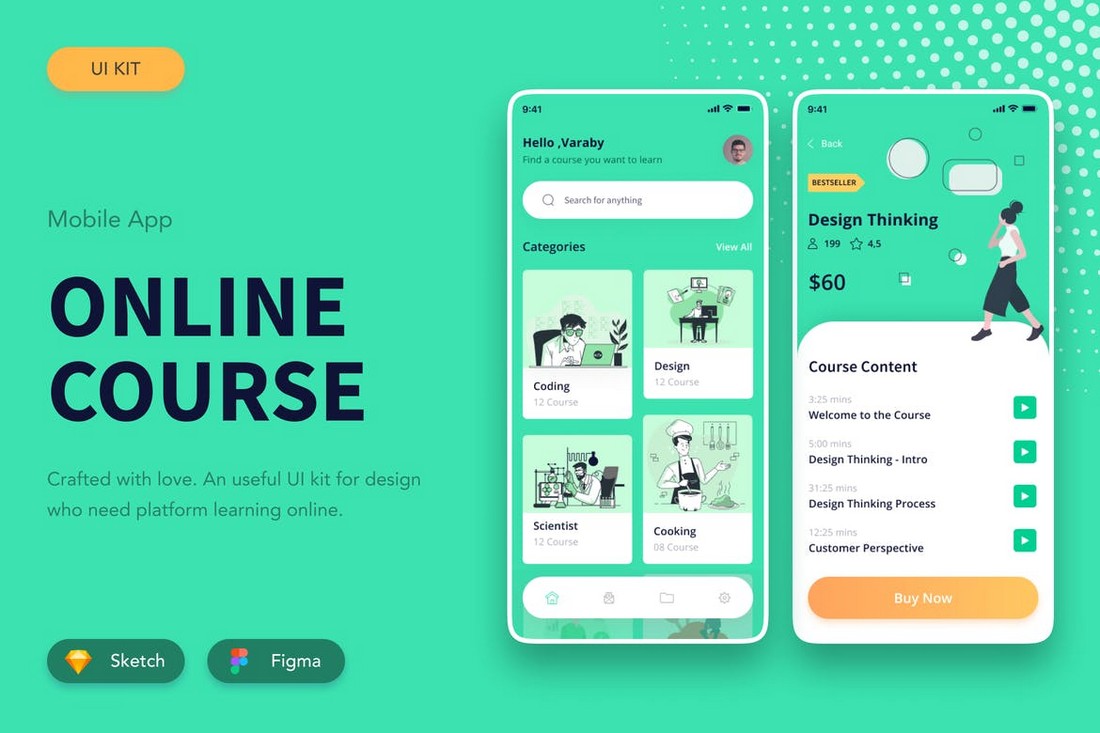 Whether you're making an app for your school or creating an online membership platform to sell courses, this app template will help you find inspiration to design a beautiful user interface. It features multiple screen templates with completely customizable designs.
Email App Dashboard UI Kit Figma Template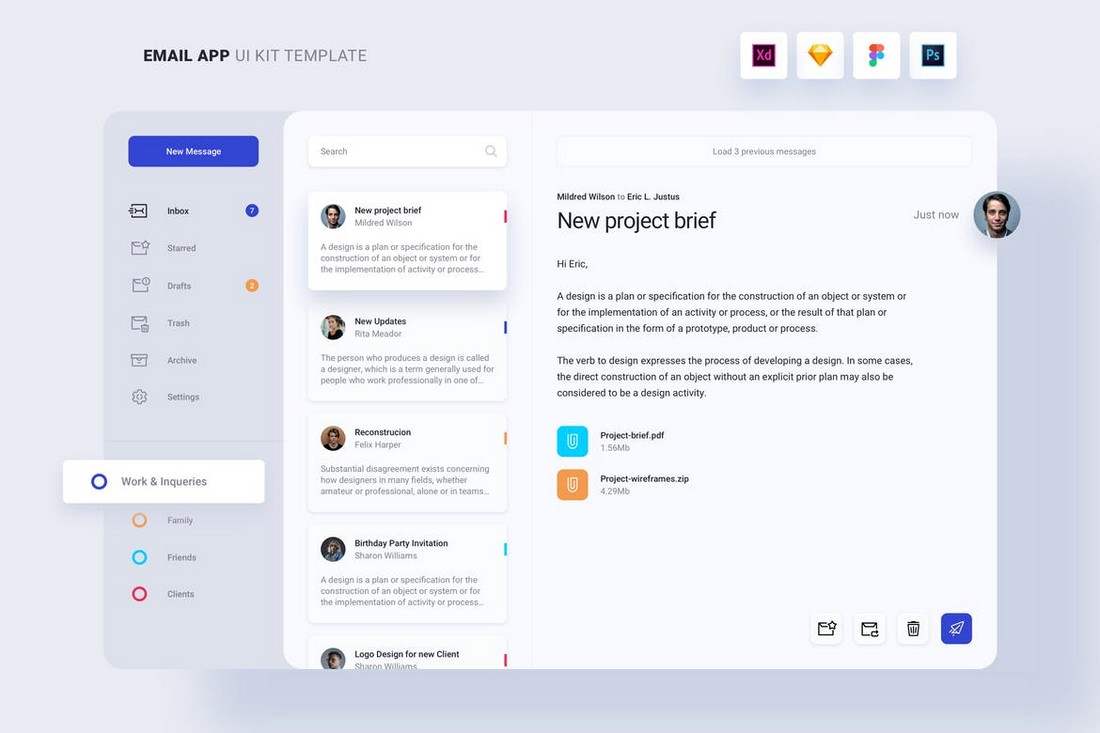 This email app UI kit is actually a great template you can use to design an instant messaging system for an app. It'll even work great for a team communication app as well. The template comes with lots of components and scalable vector elements you can use to craft your own dashboard designs as well.
Neumorphism UI Kit for Figma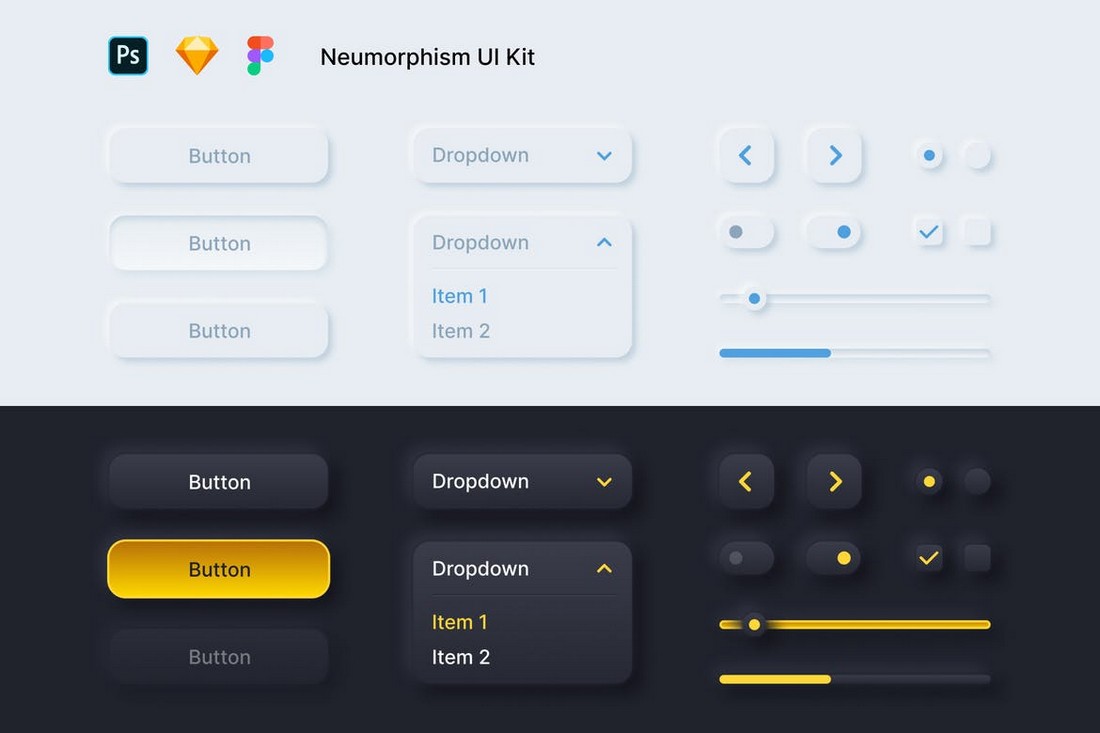 Neumorphism is a quite popular trend in the design world these days. Even Apple has adopted this new trend to design its' app and device interfaces. This is a UI kit made just for Figma that allows you to design user interfaces featuring the same design trend. It includes Sketch, Photoshop, and Figma file formats.
Free Agency Website Figma Template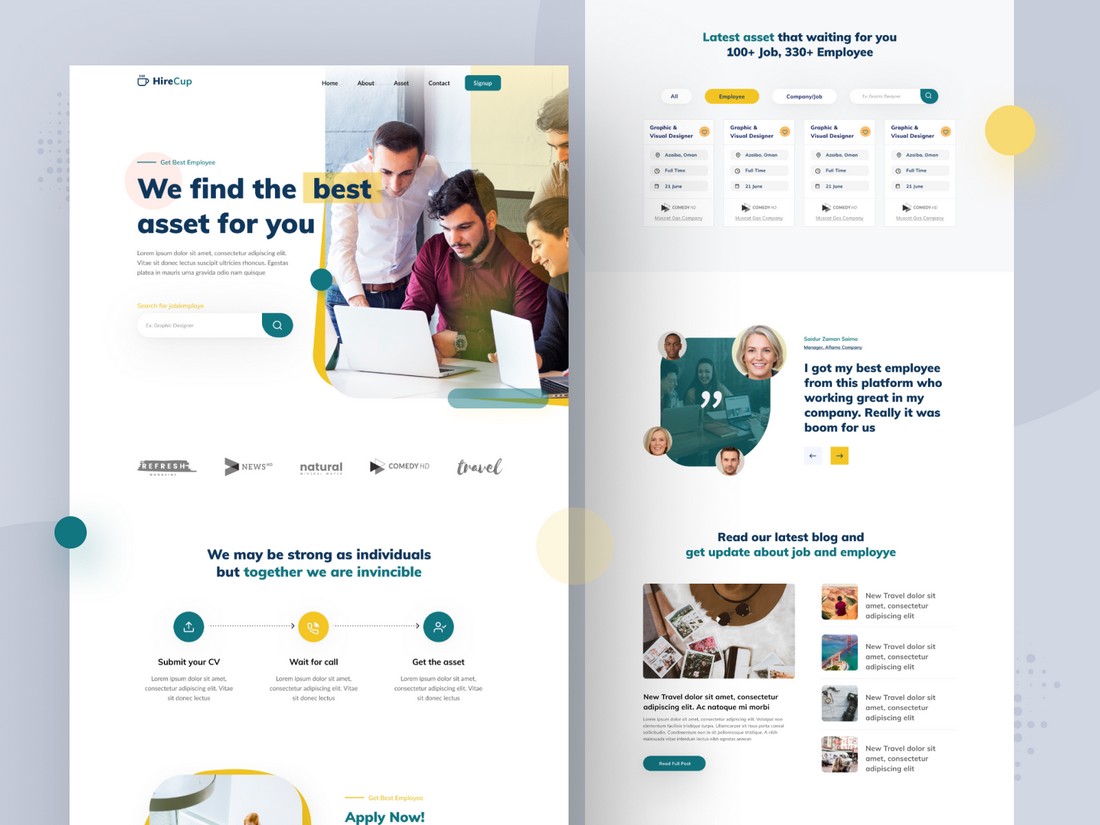 Finding inspiration to design your next agency landing page won't be difficult when you have this template with you. This free landing page template is designed with hiring agencies in mind. You can download it for free to experiment with the design.
ndroid Menu UI Kit for Figma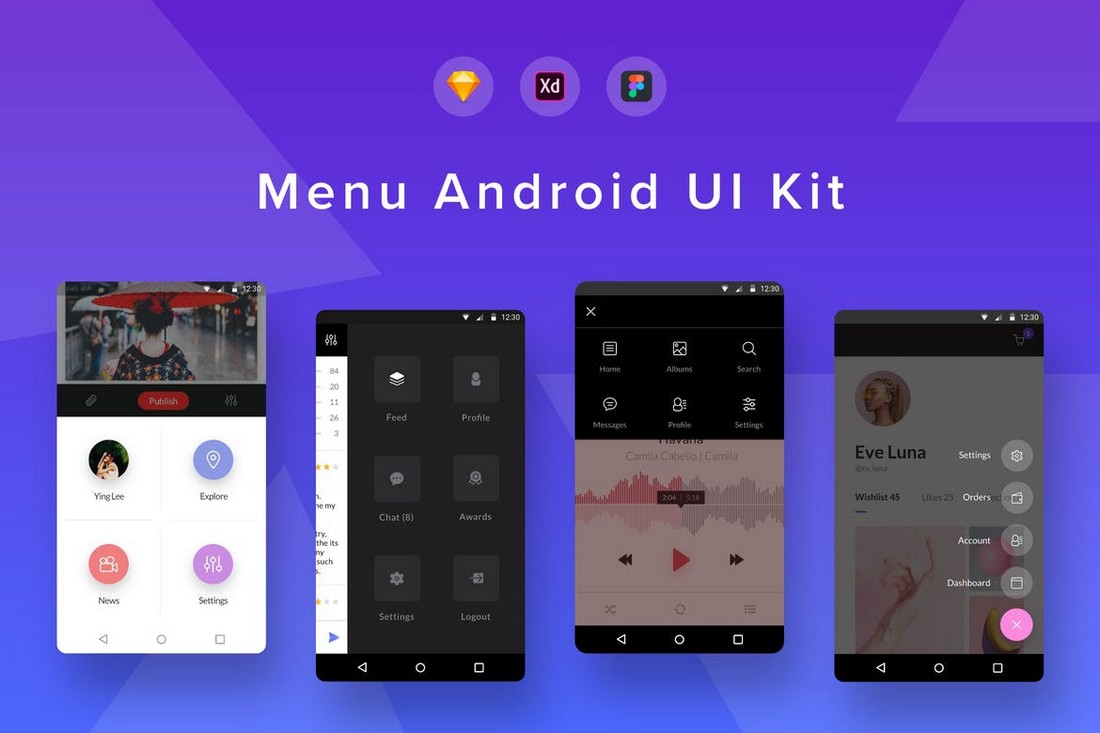 Another creative UI kit for Android apps. This kit includes 4 stylish templates with Android app menu designs. These are perfect for creating unique app experiences through your own projects.
Online Store iOS UI Kit Figma Templates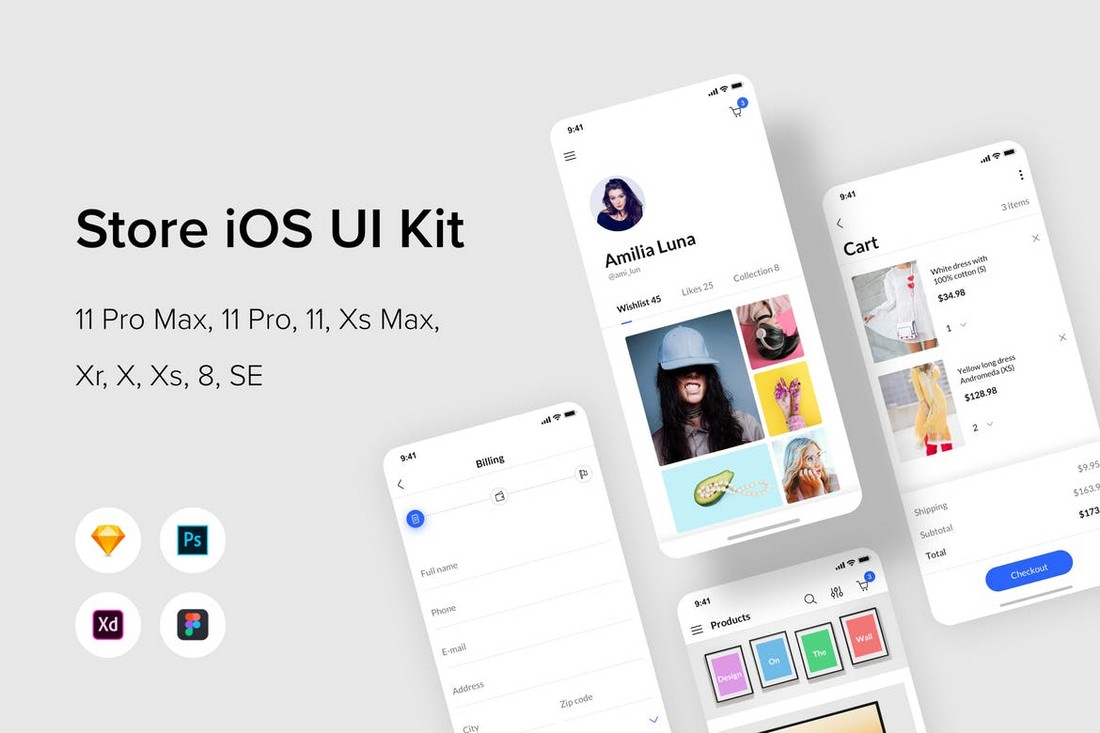 Use these modern eCommerce store UI templates to design a stylish shop layout for your online shopping apps. These templates are designed for the iOS platform and they are fully optimized for iPhone X and iPhone 11 as well.
User Profiles iOS UI Kit Figma Templates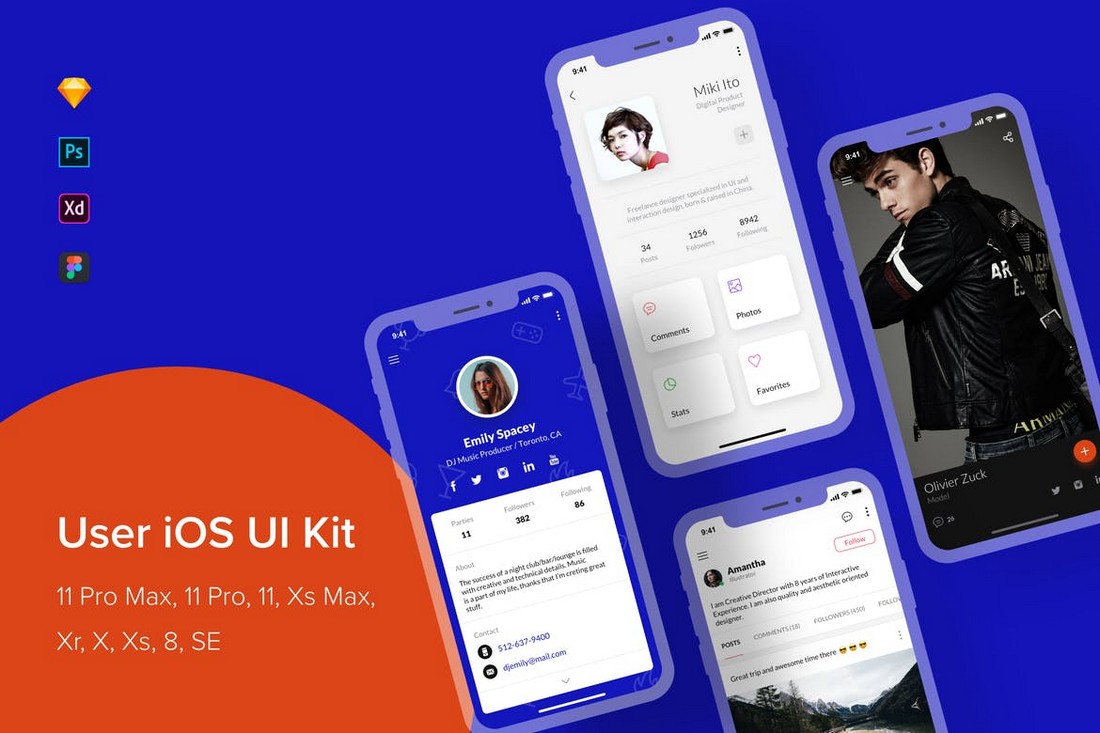 Designing user profiles for mobile apps requires careful planning and optimization. But with this UI kit, you can instantly design a modern user profile layout without an effort. It includes 4 templates in multiple file formats.
Dark Medical Dashboard – UI Kit for Figma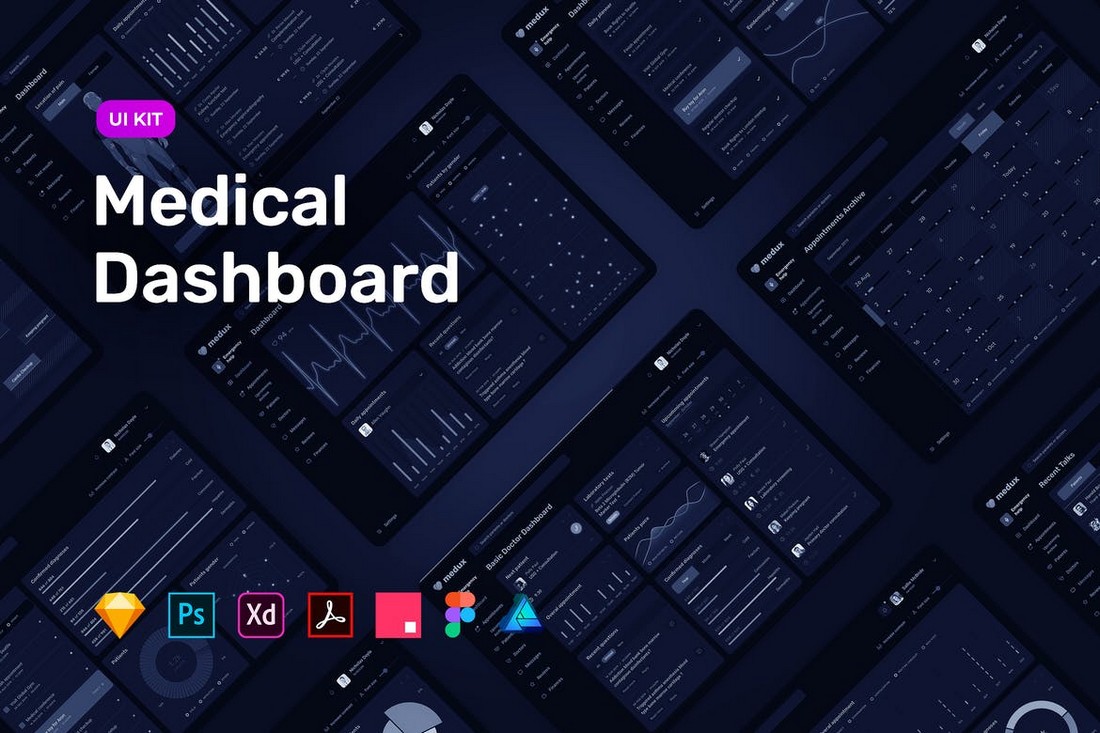 Dark-themed user interfaces are quite popular these days. This UI kit also features an attractive dark color design and it's available in multiple file formats as well. You can use it to design various medical app dashboards and interfaces.
Desktop & Mobile Wireframe Web UI Kit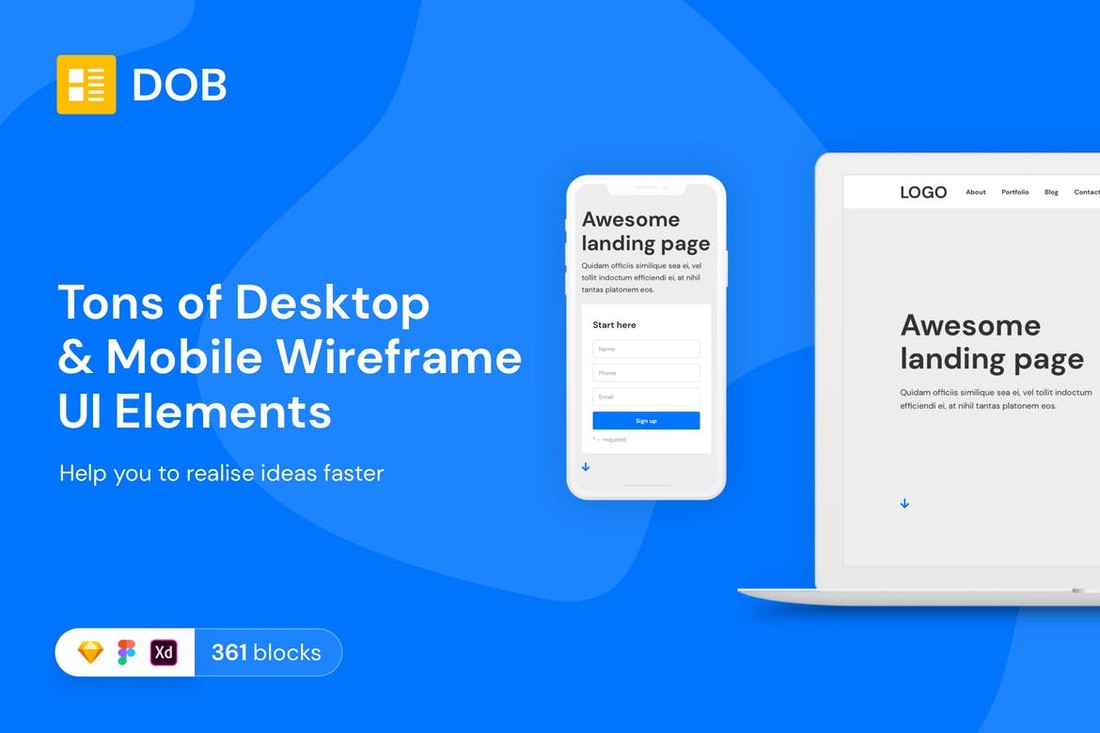 A massive bundle of Figma templates for designing both mobile and desktop wireframes. This UI kit includes more than 360 unique blocks with fully customizable elements. It also comes in Sketch and Adobe XD versions as well.
Football Website – Free UI Kit for Figma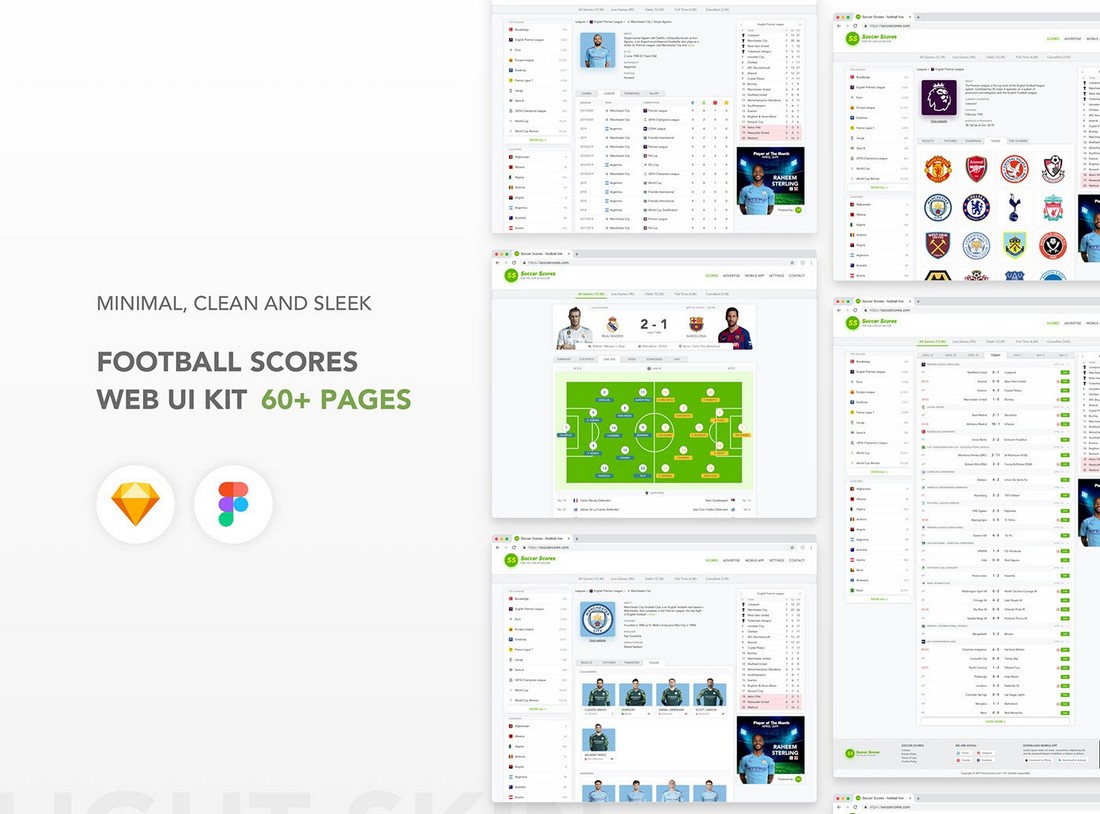 This is a big collection of UI templates for Figma. It comes with various layouts specifically made for football score and fantasy football websites. You can download it for free to experiment with Figma.
Freyr – Free UI Kit for Figma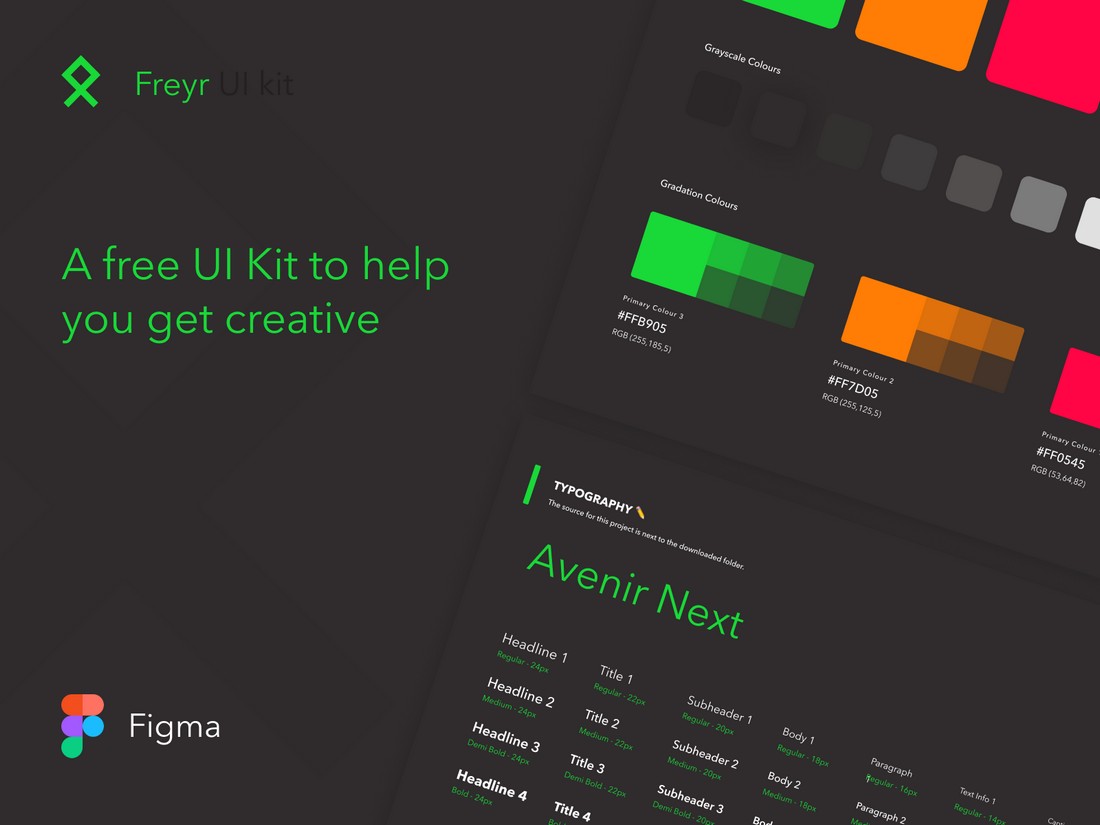 Freyr is a beautiful free UI kit that comes with lots of unique elements you can use to create your own user interfaces for mobile and desktop. It's completely free to use.
Clean Responsive Business Landing Page Template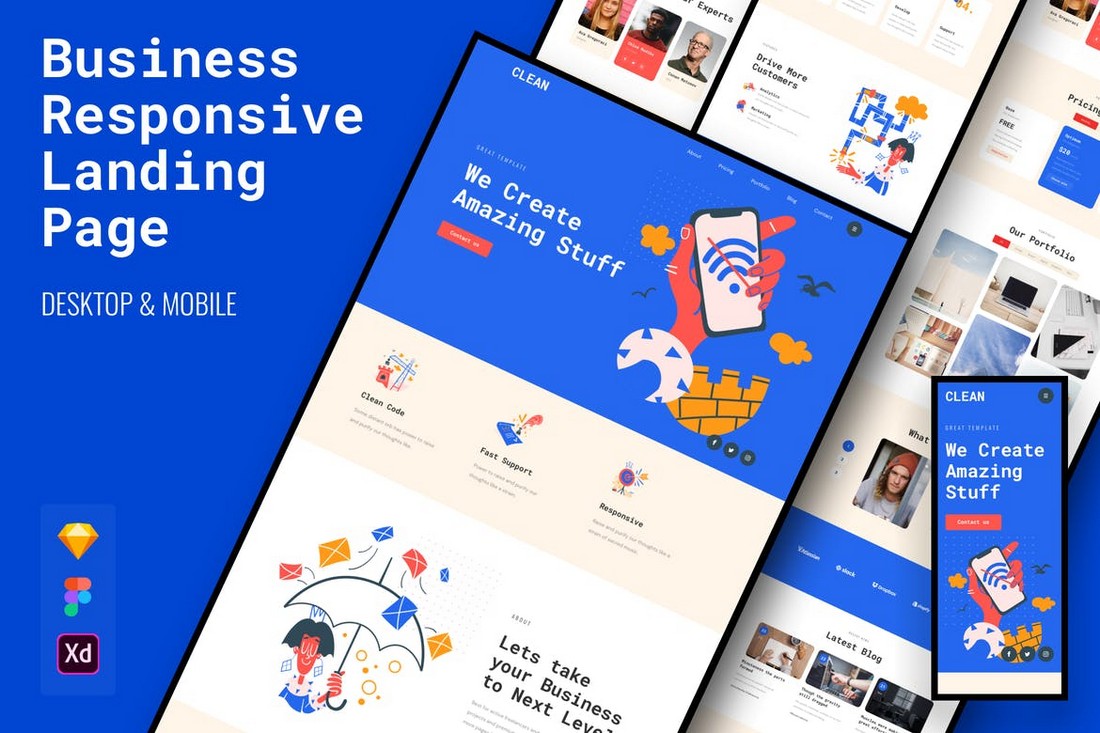 Design a stylish and modern landing page for a business or agency using this unique Figma template. It comes with both desktop and mobile layouts for easily making a website layout for various businesses.
Tripowa – Figma Tour & Travel Template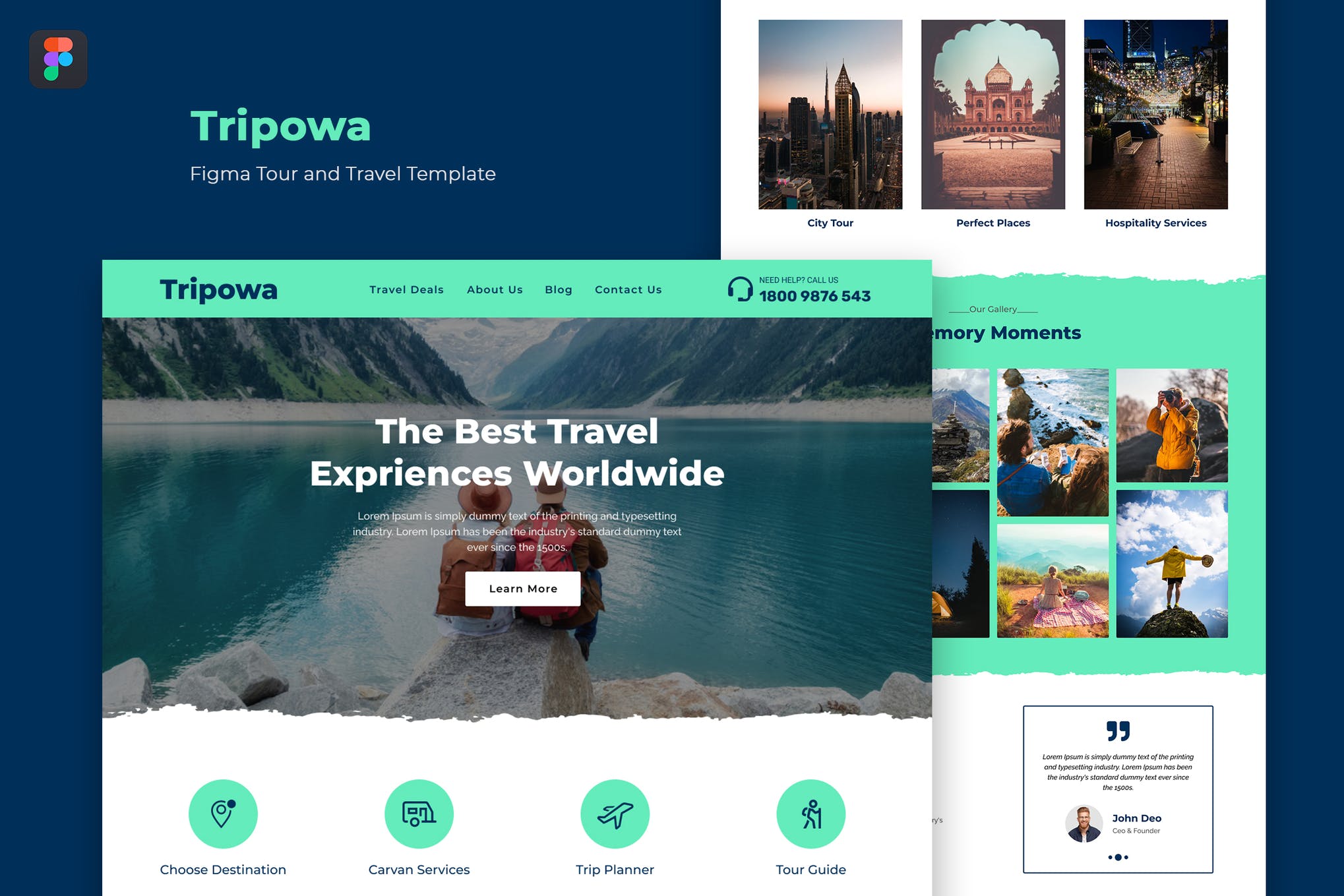 Whether you need a landing page for your travel agency website or blog, Tripowa can come in very handy. It has a clean, and beautiful design that can be fully customized just how you like it, free fonts, and excellent customer support.
WeDot – Wireframe UI Kit for Figma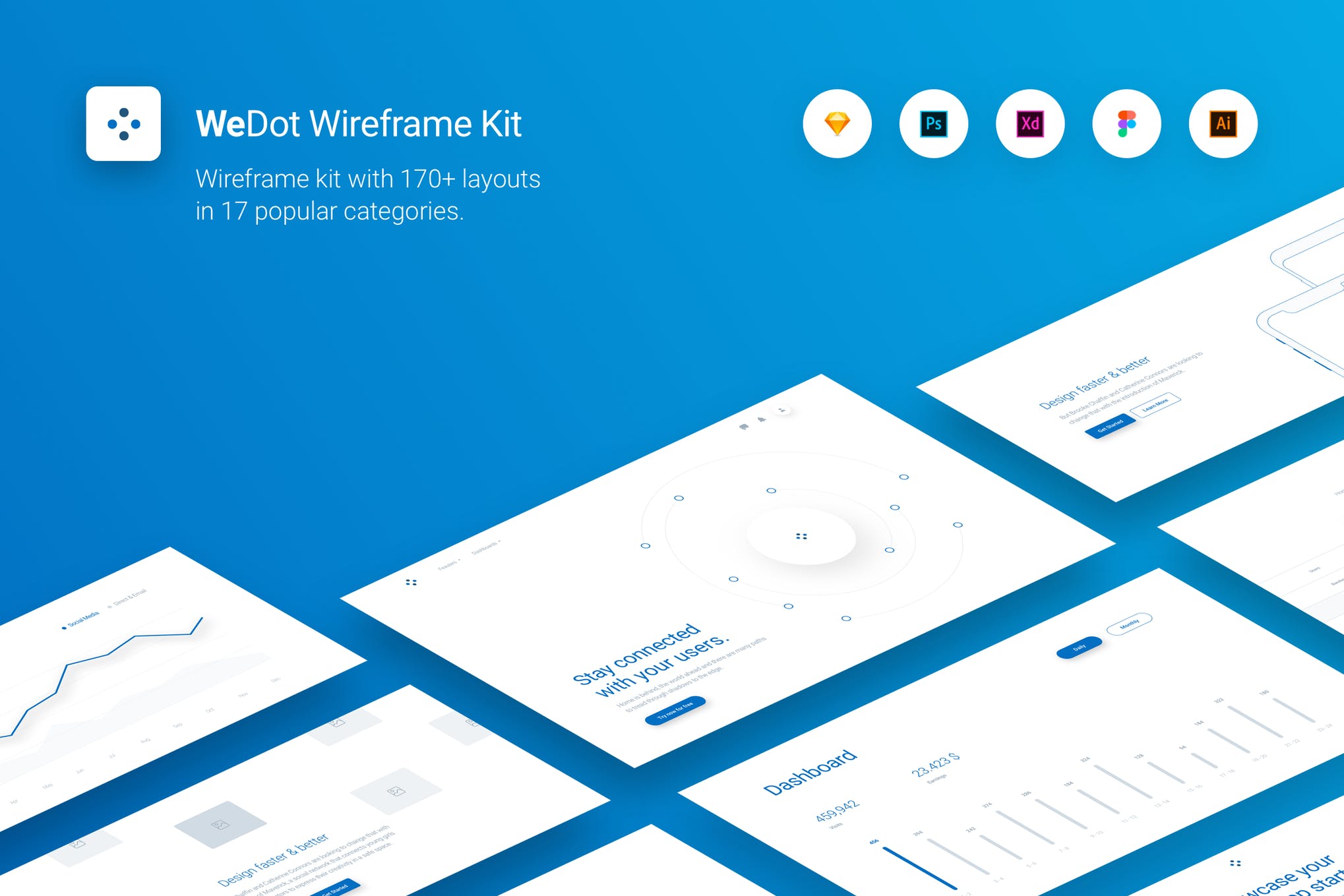 Check out WeDot, a wireframe kit featuring a massive library of over 170 layouts, helping you design any website in just a couple of minutes. Based on 12 column Bootstrap grid, the templates are fully responsive, and editable in Figma, Sketch, Illustrator, Adobe XD and Photoshop.
Free Figma E-commerce App Template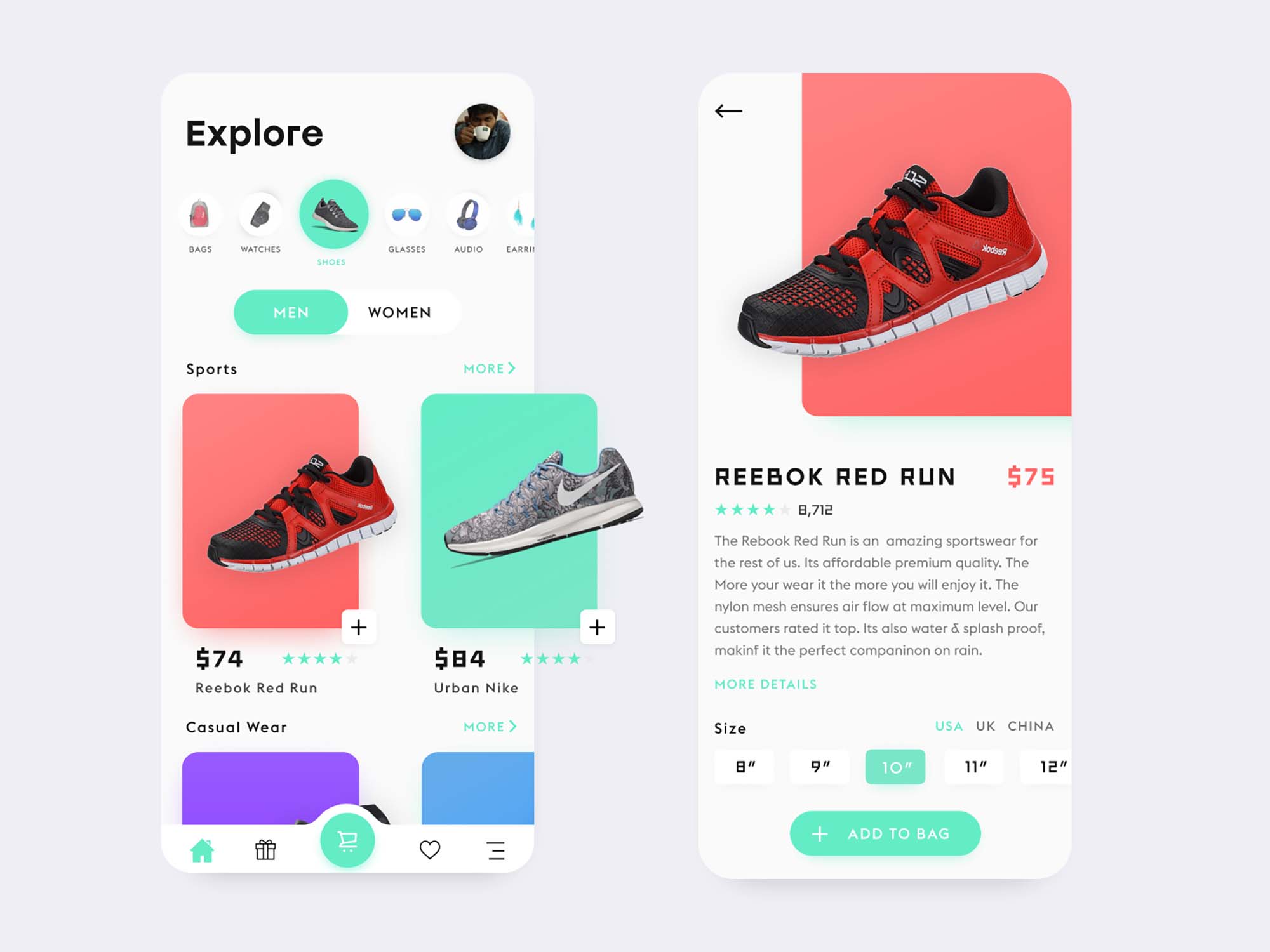 If you are looking for a Figma UI template as a foundation for your upcoming e-commerce store app design, this freebie is well worth checking out. It features a clean, and modern design that instantly commands attention, giving similar businesses a run for their money.
Toomail – Email Newsletter Wireframe UI Kit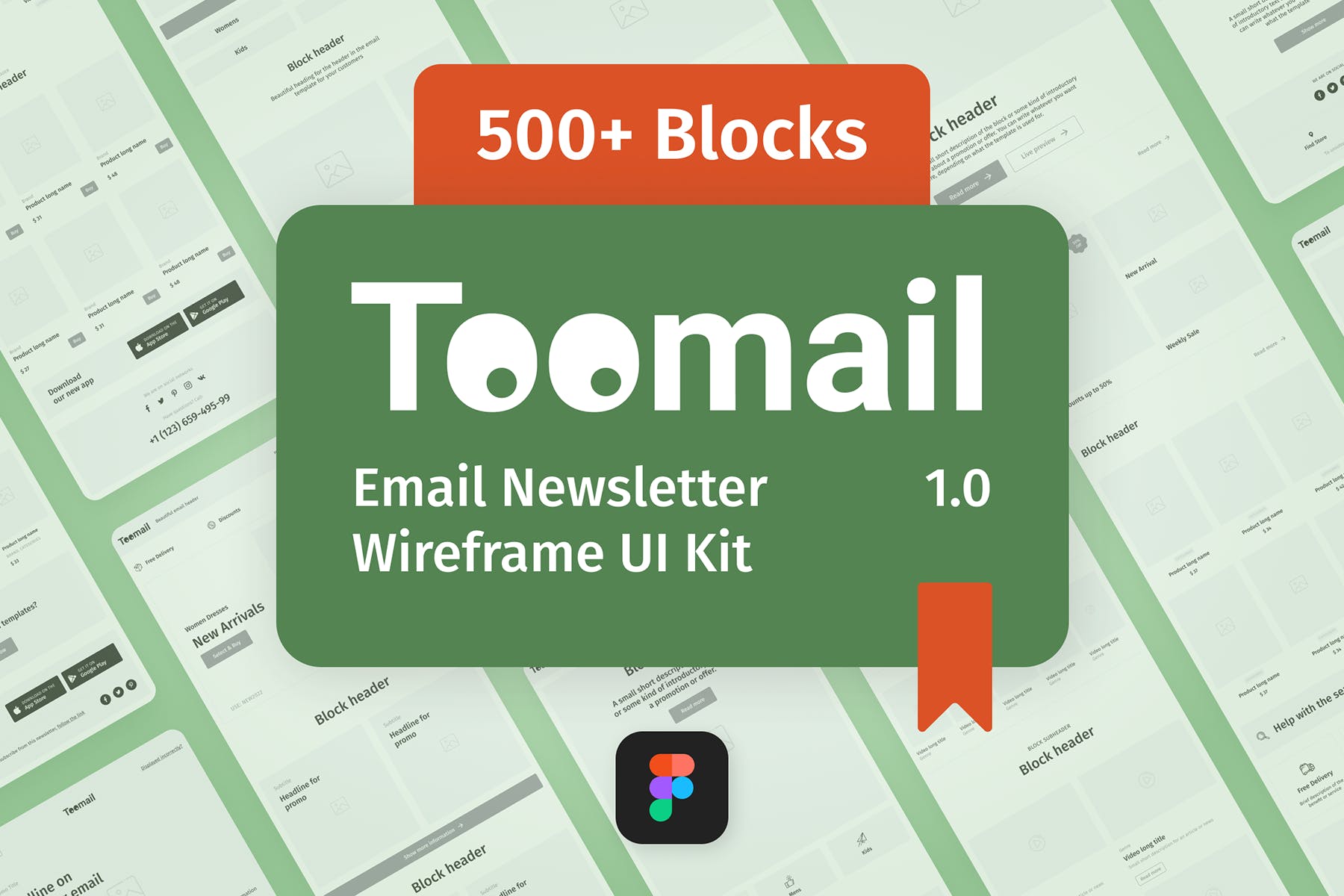 Regardless of the type of email newsletter, you're wanting to create, Toomail is a time and effort-saving wireframe UI kit that will help you produce emails without any hassle. An absolute favorite for designers, and marketers, Toomail is a product that will pay for itself many times over.
Free Bank App Concept Template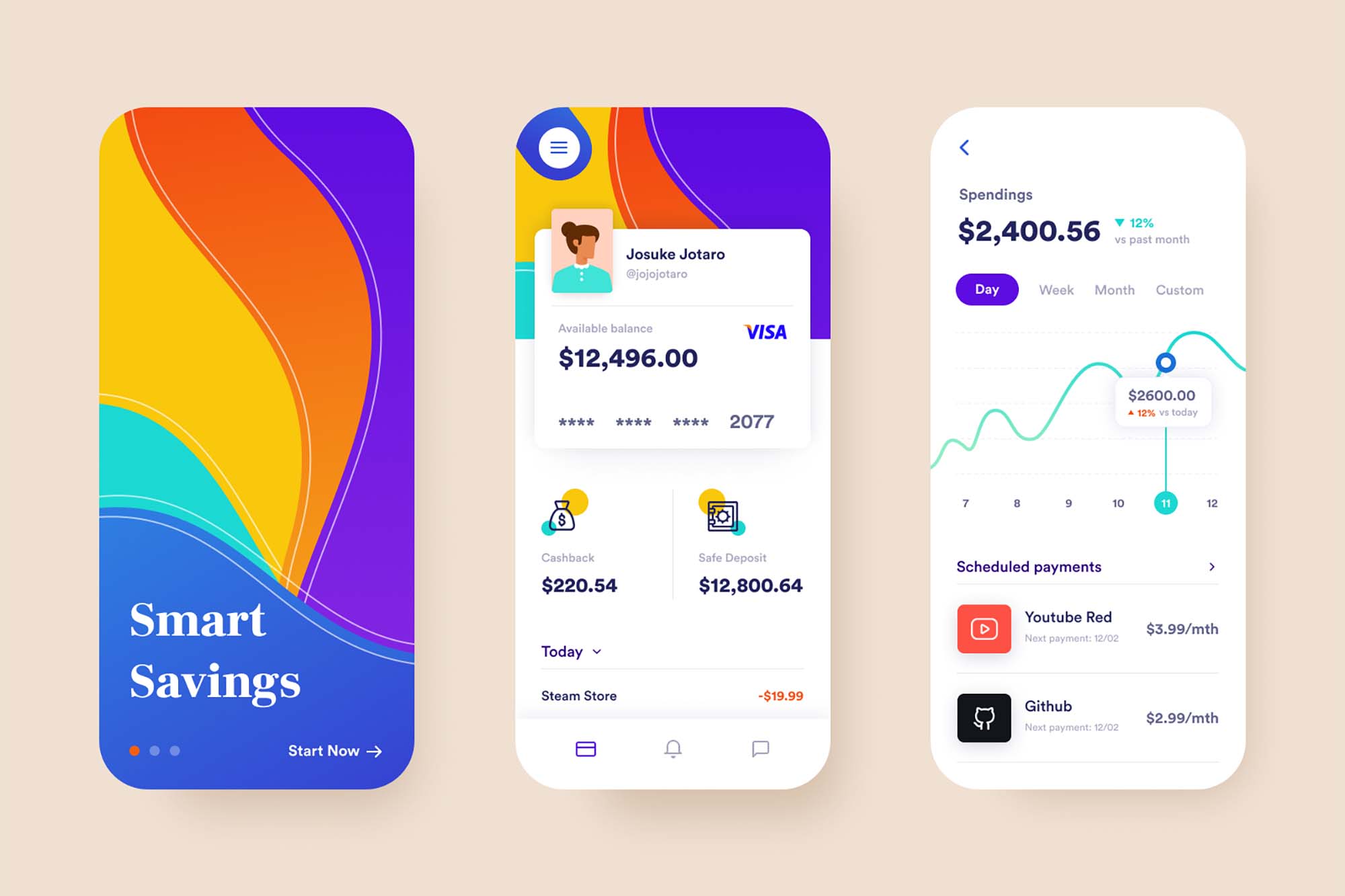 Wanting a well-thought-out Figma template for your banking app without having to spend a penny? Look no further than this freebie, providing you with a vibrant design that is sure to make an impression. We recommend you check it out right now!
Statistics – iOS UI Kit for Figma
This iOS UI kit can be used to design statistics and report screens for many different types of mobile apps. The pack includes 6 unique iOS screen layouts with fully customizable designs.
Feed – iOS UI Kit Figma Templates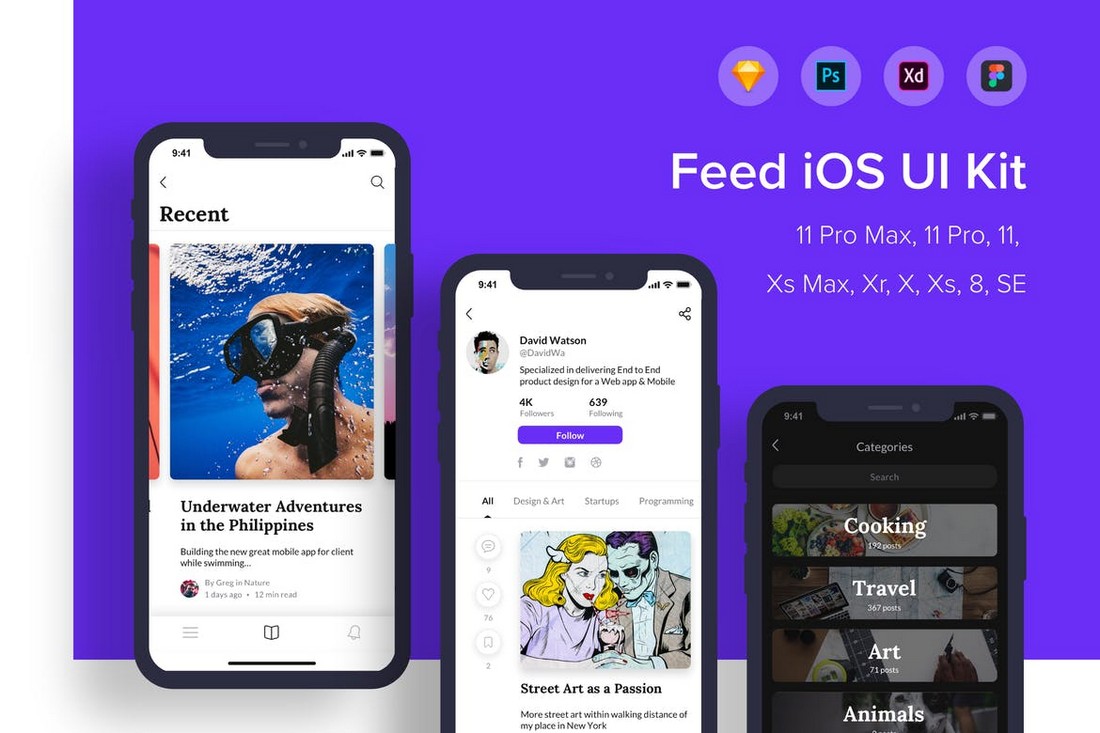 Working on designing a feed page for a social or a news app? Then this UI kit will help. It includes 4 unique iOS screen templates for crafting stylish user feed pages. The templates are compatible with iPhone 11 as well.
Walkthroughs – iOS UI Kit Figma Templates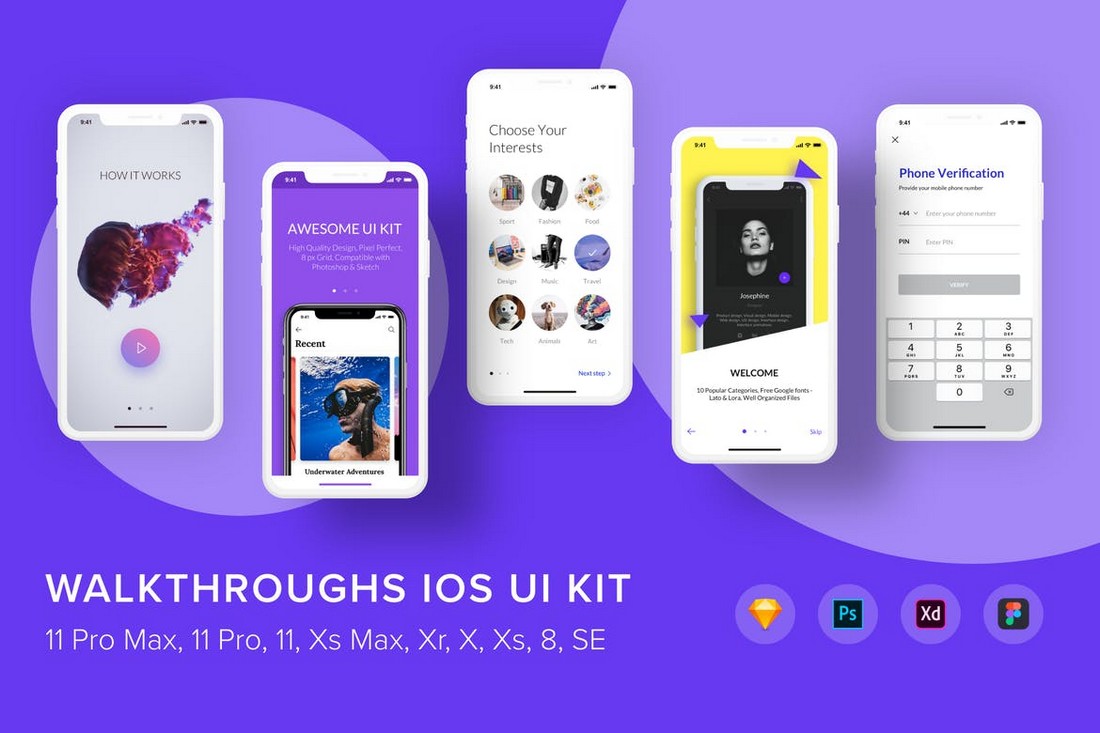 You can use this UI kit to design modern walkthrough and onboarding pages for your eCommerce and social mobile apps. The UI kit comes with 6 different mobile screen designs for iOS.
Travelo – Android UI Kit for Figma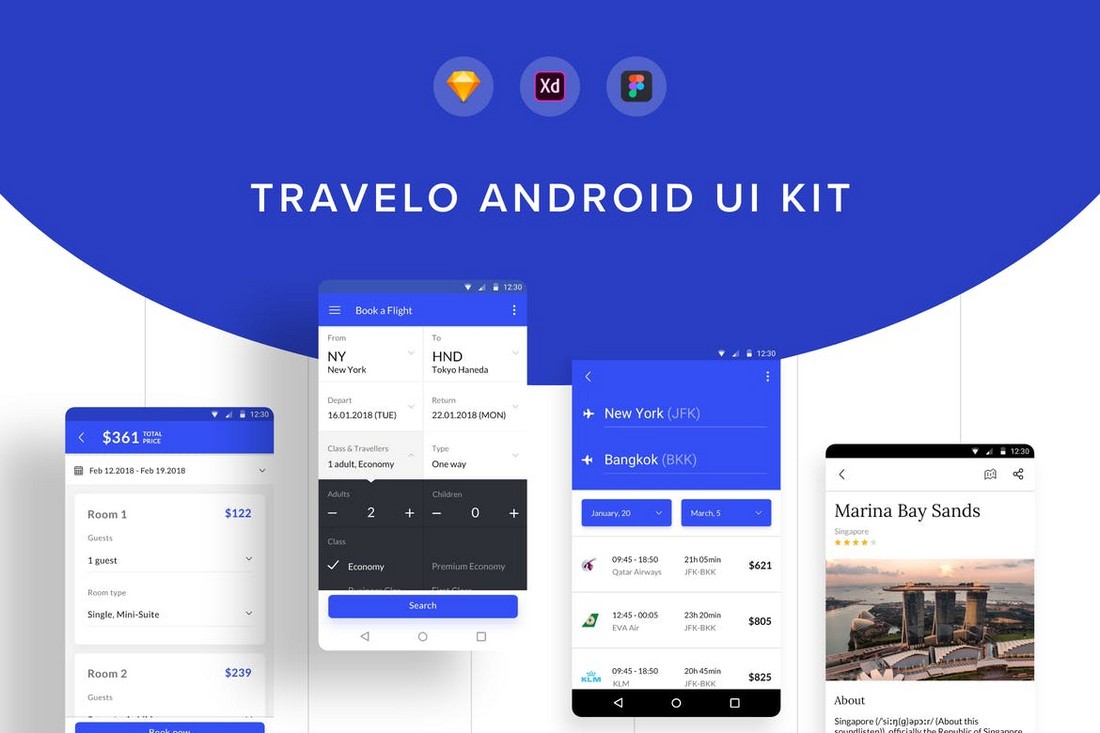 Travelo is a unique Figma UI kit that features 4 stylish templates for making travel and transport-related apps. It includes easily editable templates that are optimized for the Android platform.
Free UX Flowchart Kit for Figma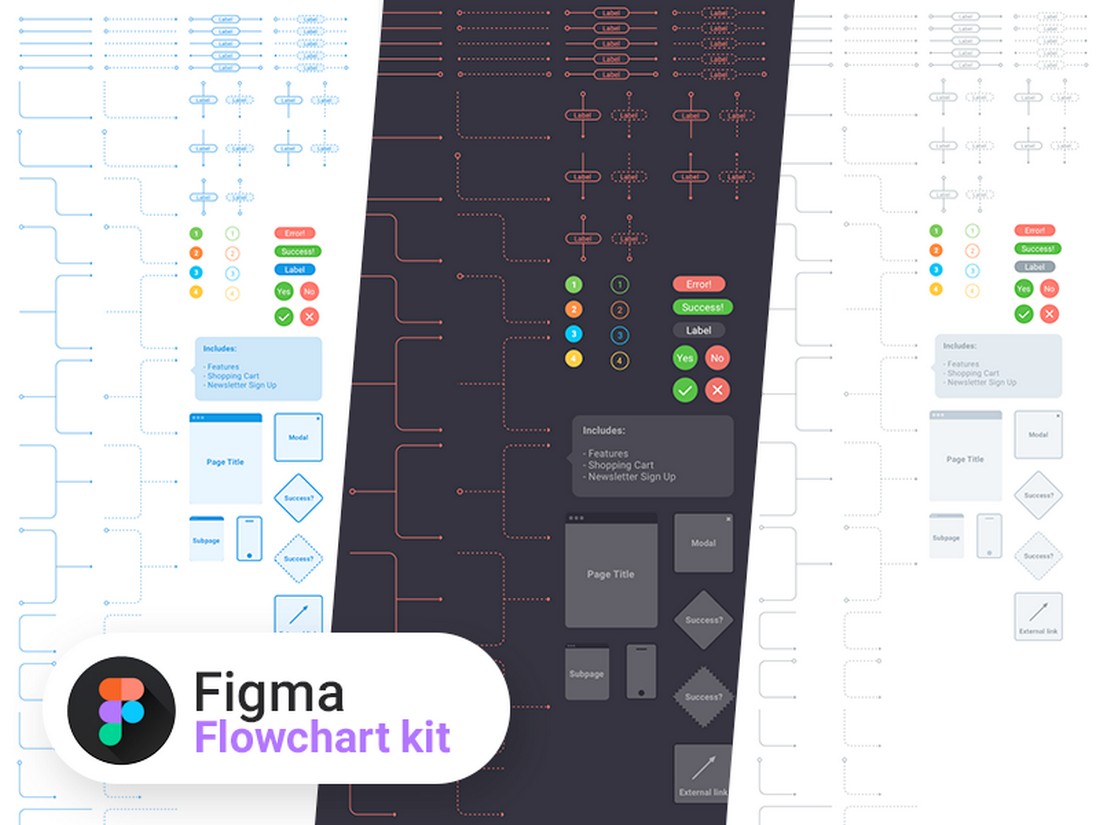 This is a free Figma template kit you can use to design unique user experience (UX) flow charts. The template includes lots of unique components and elements in 3 pre-made color schemes as well.
Greyhound Flowcharts – Free Figma Template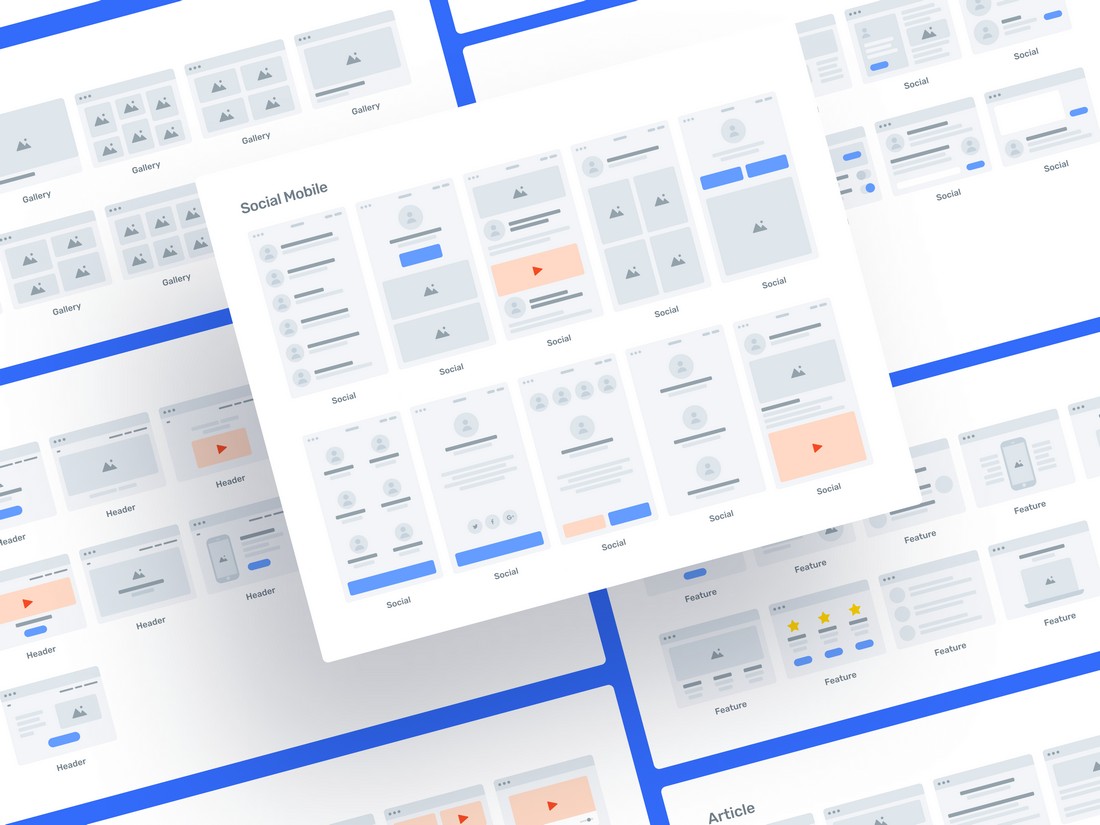 Another big Figma flowchart template kit you can use for free. This kit includes more than 200 flowchart card designs in 11 different categories. It comes in Figma and Sketch formats.
Containers – Web Wireframe UI Kit for Figma
Containers is a massive collection of UI elements for designing website wireframes. This bundle includes more than 250 content blocks in 15 different categories. Simply put, it has every kind of block you need to design any type of website wireframe. As a bonus, you also get 2 pre-made landing page templates and 5 mockups as well.
SeaWire – Figma Wireframe Kit for Websites
Seawire is another Figma wireframe UI kit for crafting website layouts. This wireframe kit features a much cleaner and minimalist layout that's ideal for making landing pages and one-page websites. There are 6 pre-made landing page templates in this pack that consists of 200 content blocks in 15 categories.
High Fidelity – Figma iOS & Android Wireframe Kit
Working on an iOS or Android app design project? Then this mobile wireframing kit is made just for you. It comes with a huge collection of app screens and components for designing both Android and iOS apps. There are mobile wireframes in 7 popular categories that are fully scalable and customizable.
Paper – Mobile Wireframe Kit for Figma
Paper is a simple Figma wireframing kit for crafting mobile website layouts. This UI kit has all the sections you need to design mobile-first website designs. There are components available in 10 different categories. And you can customize each template using Figma or Sketch.
DarkDot – Figma Wireframe UI Kit for Web
Dark layouts are now an essential part of a web design project. If you want to design a website with a dark theme, this wireframing UI kit will come in handy. It includes more than 170 different web layouts in 17 categories. It also uses the Bootstrap grid layout as well. You can craft various types of landing pages with this UI kit.
5 Tips for Getting Started with Figma
Figma is a new contender among the user interface editing tools. If you're new to Figma, here are a few tips to help you get started.
1. It's Free!
Figma is gaining popularity among UX and UI designers, especially because the software is free to use. The free plan allows you to use the software to create and manage up to 3 projects at a time with up to 2 editors. It even gives you unlimited cloud storage for free.
Be sure to let your friends and colleagues know about Figma so that you can easily share and collaborate on projects in the future.
2. Work Directly from the Browser
Unlike Sketch, Figma is not a software limited to only one platform or operating system. Figma works directly on your browser. This means you can use it on any platform, including Windows, Mac, Chrome, and Linux. No need to download software and install it on every device you own. Another great opportunity for better collaboration.
3. Collaborate with the Team
Figma makes collaboration much easier, especially thanks to the ability to access the app on the cloud. You can easily share the projects you're working on with your teammates and colleagues by sharing a link and collaborate with them in real-time without forcing them to buy or install any apps.
4. Live Previews
While Sketch comes with a very expensive mirroring app for mobile devices, Figma has a free mirror app for Android and iOS. Using this app you can easily view your user interface designs on your mobile to see how a live version looks like on a phone or tablet.
5. Plenty of Templates
Figma community is also growing rapidly. There are also a growing number of templates available for the app as well. With templates, you can make your design process simpler and easier. Be sure to use them to speed up your workflow.
If you're a fan of Sketch, check out our collection of the best Sketch iOS templates.
By: Roshan Perera
Title: 50+ Best Figma Templates, UI Kits + Wireframe Kits for 2023
Sourced From: designshack.net/articles/inspiration/figma-templates/
Published Date: Wed, 12 Oct 2022 08:00:00 +0000