An iPhone mockup graphic is the perfect way to demonstrate your app, website, or user interface. We've collected dozens of the best iPhone mockup PSDs and vectors, in all shapes and sizes, for your next project.
A well-designed mockup can make your app or website interface stand out from the crowd, and it's the perfect way to present your design to a client. Our iPhone mockup picks vary between photograph-based PSDs, or vectors that can scale to any size. Some are free, some cost a few dollars, but all of them are a great way to showcase your app.
We've also collected a mix of iPhone mockups for different versions of the phone — from the iPhone 7, to the iPhone XS, covering every type of device.
How to Customize Your iPhone Mockup
Before we dive into our list of iPhone mockups, it's worth offering a quick reminder on how to work with these graphics, and how to customize a mockup. We've written a great guide on how to customize an iPhone or iPad mockup which will walk you through the process step-by-step!
Top Pick
Build a iPhone Mockup in Seconds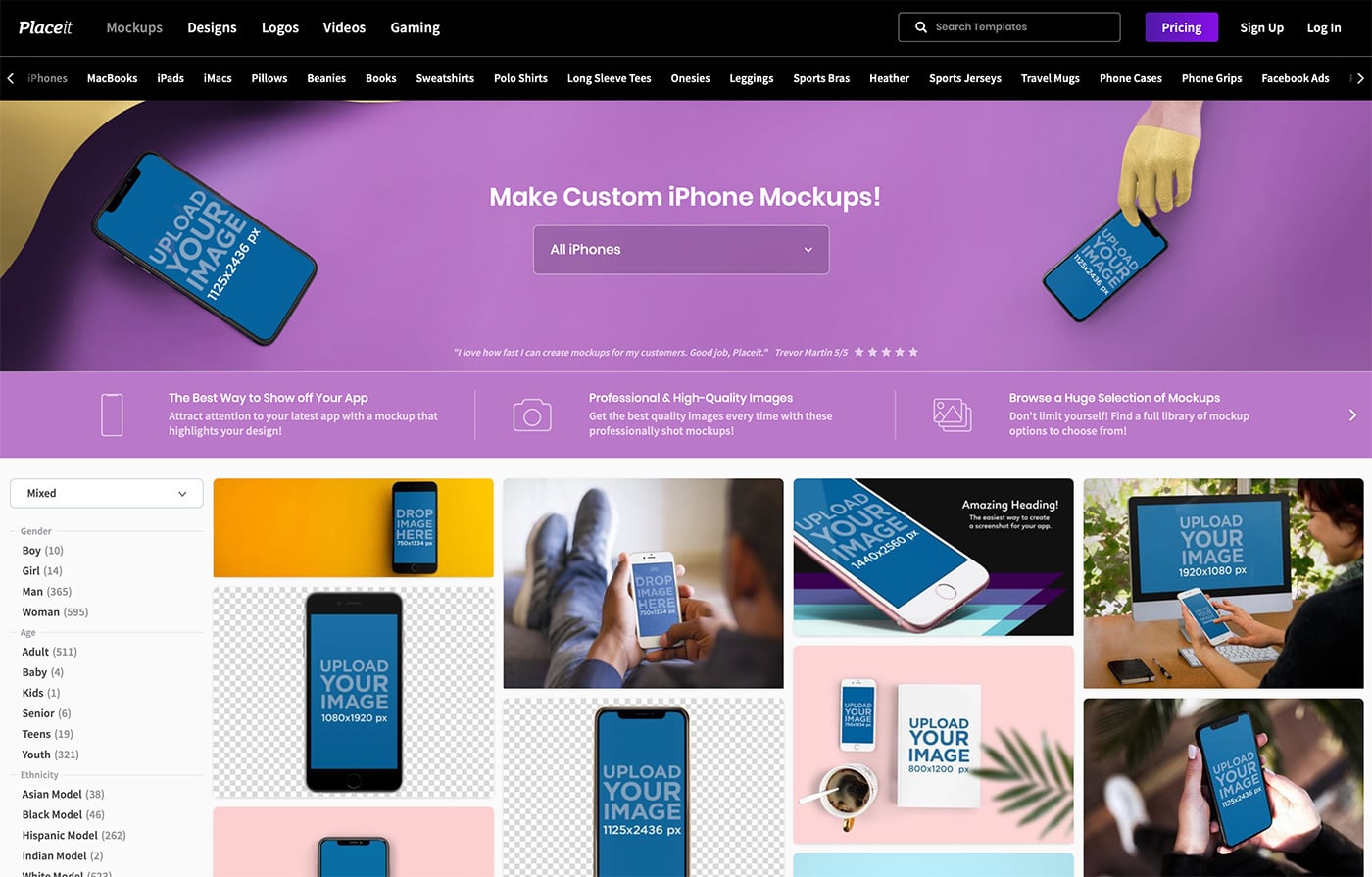 Placeit makes it super-simple to design your own iPhone mockup. Choose from a range of different photos, illustrations and settings in which to display your iPhone app, upload your image, and sit back while your iPhone mockup is built in seconds.
Build Your iPhone Mockup Now
iPhone 14 Pro Max Mockup
Looking for a shiny new iPhone 14 to showcase your designs? Then be sure to grab this mockup kit. It includes a floating mockup of the new iPhone 14 Pro Max in 4 different color schemes, deep purple, gold, silver, and space black.
iPhone 14 Mockup Templates Kit
If you want to showcase your designs from multiple angles and views, this mockup bundle is for you. It includes mockups of the new iPhone 14 device in several different angles and in fully customizable PSD format.
iPhone 14 Pro Screen Mockups
This is a big collection of iPhone 14 Pro mockup templates that show a close-up view of the device screen. It's perfect for showing off your designs. There are 18 different iPhone mockups in this pack.
iPhone 14 Pro White Case Mockups
Working on cover designs for iPhone 14? Then grab this mockup kit to showcase and promote your designs to your audience. It includes 10 different mockups showing the back side of the iPhone 14 in various views and angles.
Minimal iPhone 14 Pro Mockup
This iPhone 14 mockup kit features 5 different mockup templates, including ones showing the front, side, and back views of the device. The templates are available in fully editable PSD files.
Multipurpose iPhone 14 Mockups
With this mockup pack, there are so many different styles of mockups for you to choose from. It features the new iPhone 14 device from 14 different angles. Each mockup comes with smart object to let you customize the mockup with just a few clicks.
Free iPhone 14 Pro Mockup
This free iPhone 14 Pro mockup comes in 4 different color versions featuring the official colors of the Apple device. The mockups are available in high-resolution PSD, Sketch, and Figma formats.
Free iPhone 14 Dynamic Island Mockup
The Dynamic Island is the most unique feature of the iPhone 14. With this mockup kit, you can showcase all the creative things your app or designs can do with the Dynamic Island. The mockup is free to download.
Stylish iPhone 13 Mockups PSD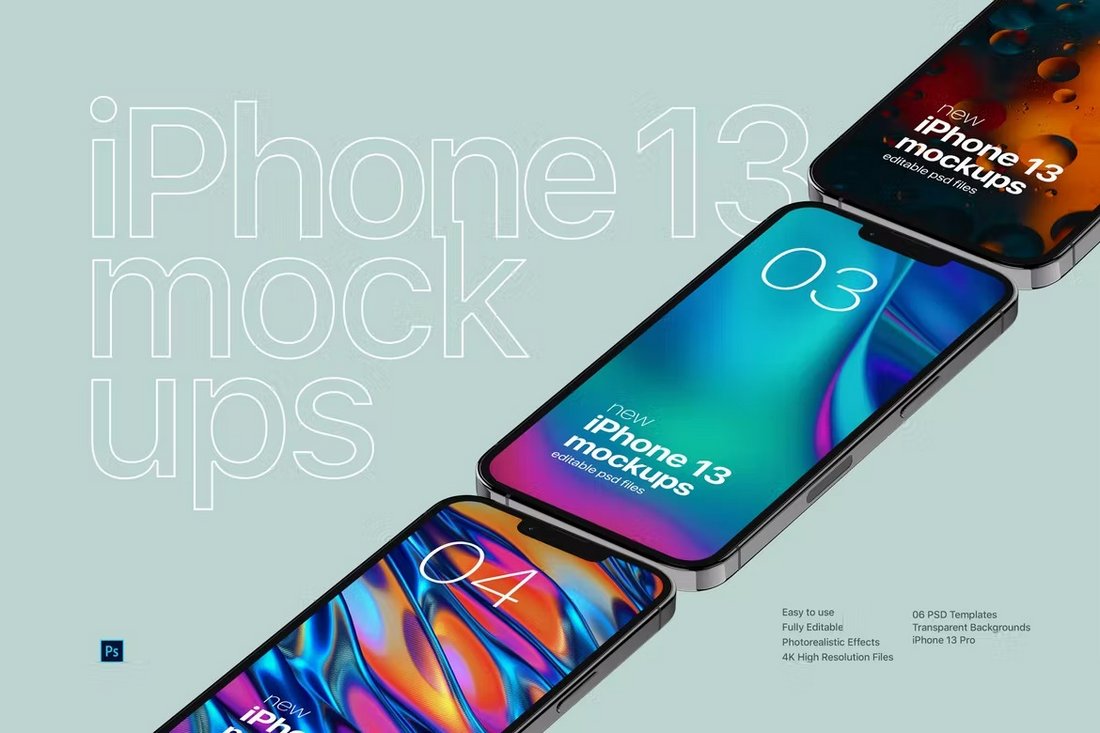 This mockups bundle comes with a set of high-resolution iPhone 13 mockups featuring many different styles of isometric scenes. There are 6 different mockups included in this pack that comes in PSD file format and in 4K resolution. You can change the background and edit the layouts with just a few clicks as well.
Colorful iPhone 13 Pro Mockup Templates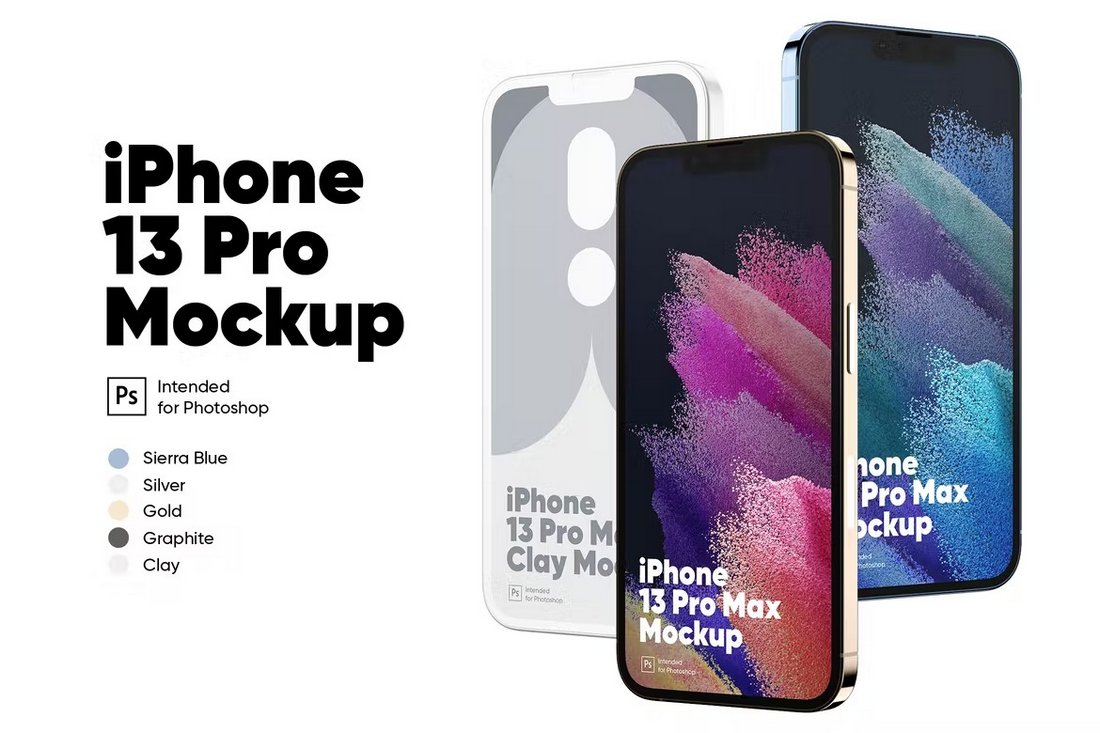 If you want to show off your products and designs using iPhone devices with different color variations, this mockup kit is a must-have for you. It includes the new iPhone 13 Pro in 5 official colors. As a bonus, you'll get a clay-style iPhone mockup template as well.
Trendy iPhone 13 Mockup Templates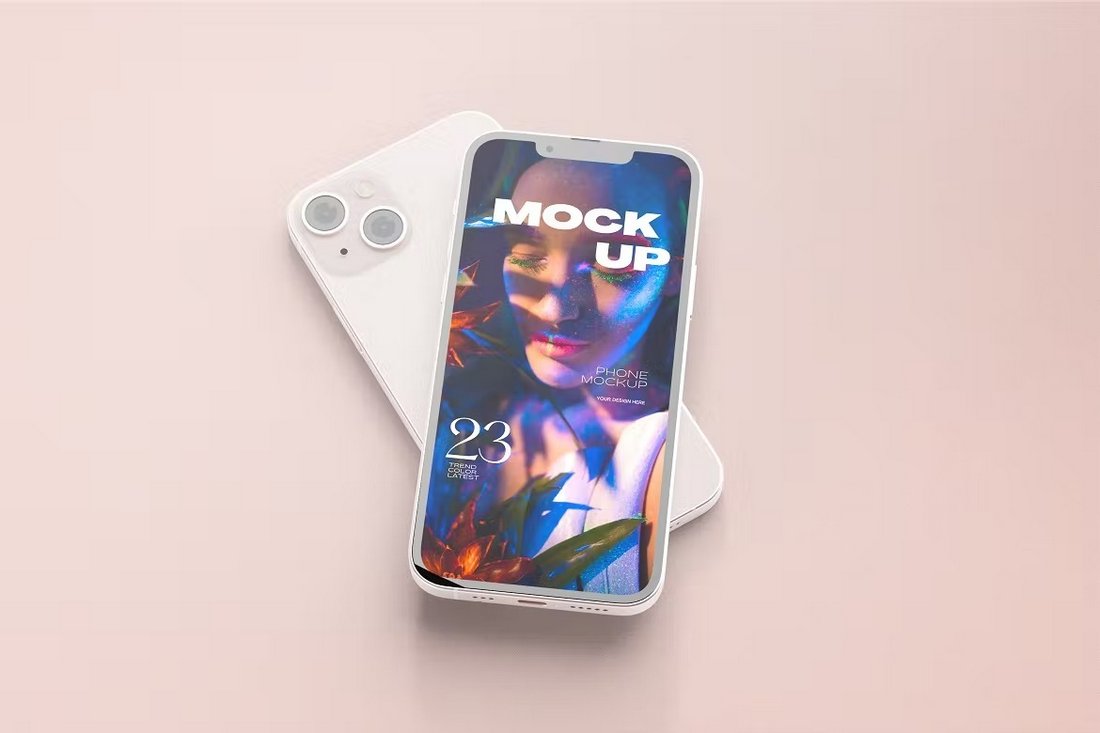 This iPhone mockups collection has some of the most creative and stylish mockups we've seen. It includes 5 unique mockups that allow you to show off your designs in beautiful scenes and environments. They are especially perfect for social media campaigns.
Outdoors iPhone PSD Mockups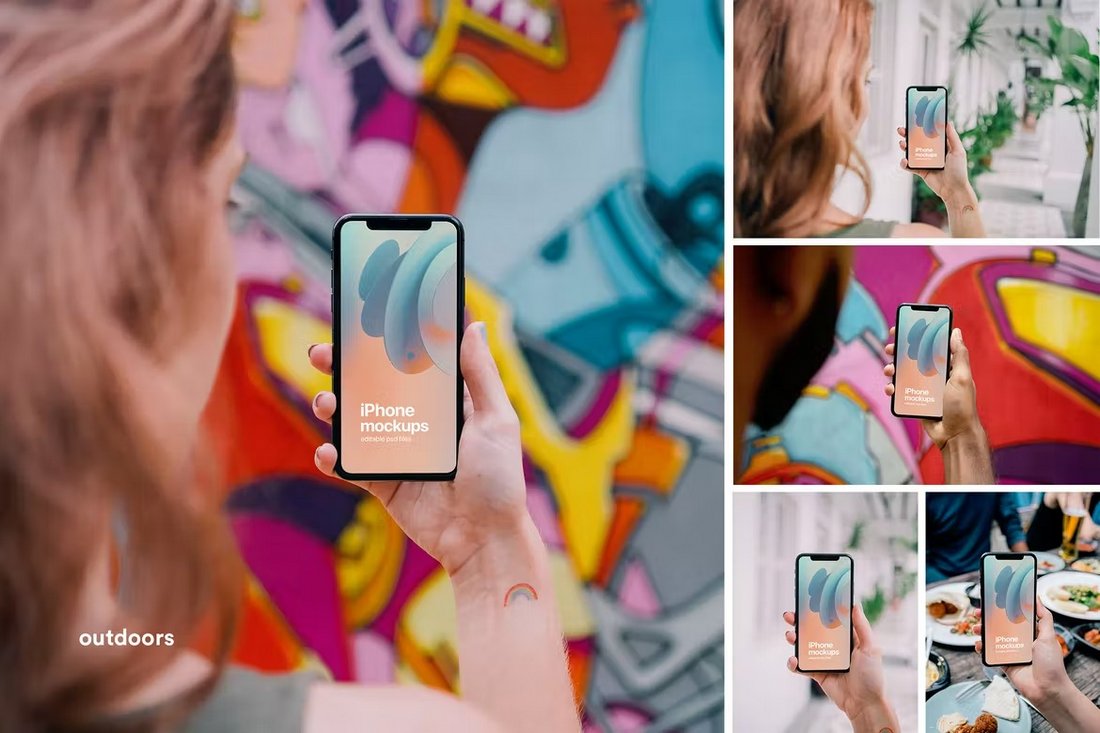 A collection of photo-realistic iPhone mockups featuring beautiful outdoor backgrounds. This pack features 6 different mockups that are based on real photos. They feature a woman holding an iPhone. The templates come in portrait and landscape-style scenes as well.
Free iPhone 13 Mockup Templates
This is a free iPhone 13 mockup template that features both front and back views of the device. It also includes the device in all 5 official color variants. And you can easily customize the templates to your preference.
9K iPhone 13 Pro Mockup PSD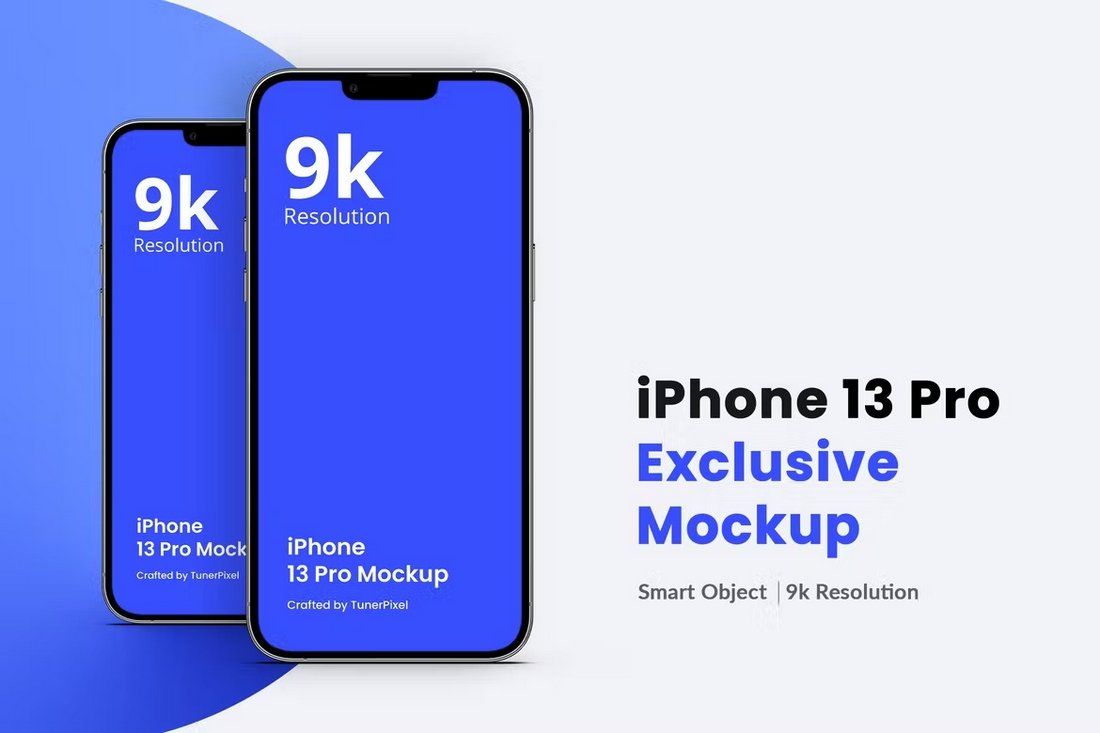 If you're looking for a high-resolution iPhone mockup for a big project, you probably won't find a better mockup than this one. It features an iPhone 13 mockup in 9K resolution. And it comes fully equipped with smart objects and separated shadows.
Credit Card & iPhone Mockup Template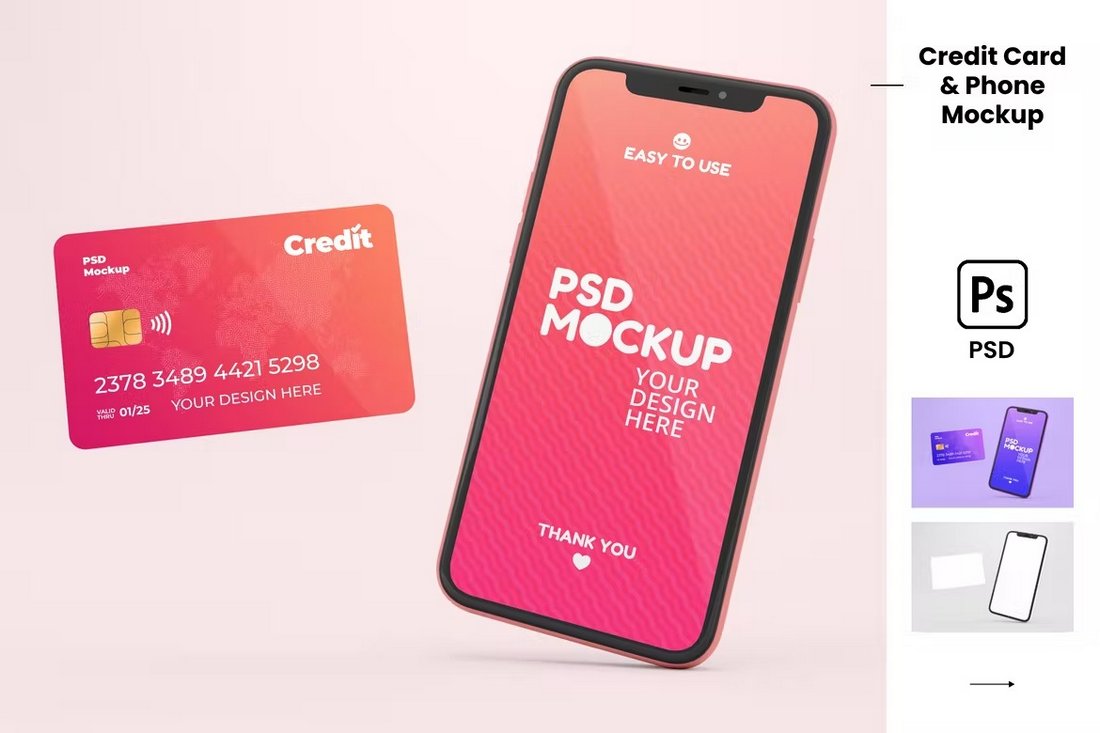 A great iPhone mockup you can use in your eCommerce-themed design presentations. This mockup includes an iPhone next to a credit card. You can use both to show credit card and app designs. And it features editable colors too.
iPhone Cases Mockup Template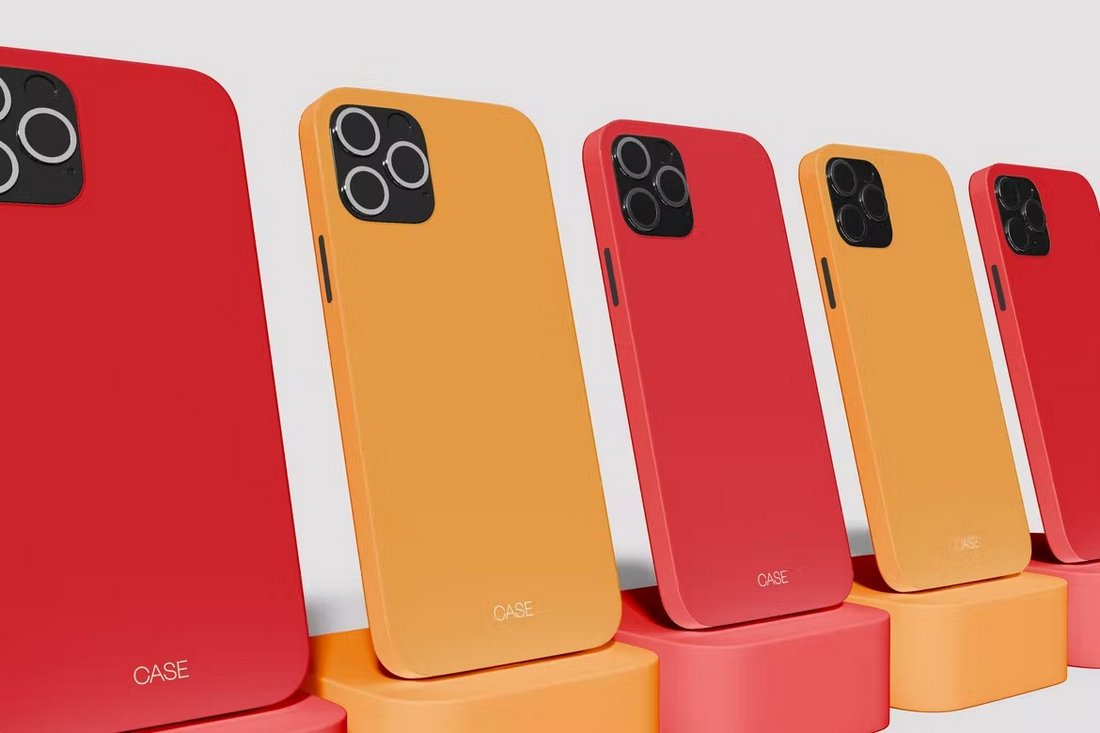 This mockup is great for showcasing your iPhone case designs. It includes multiple devices in the scene where you can show off different variations of your case designs. A must-have mockup for DIY crafters and Etsy sellers.
iPhone 13 Pro Max Mockup PSD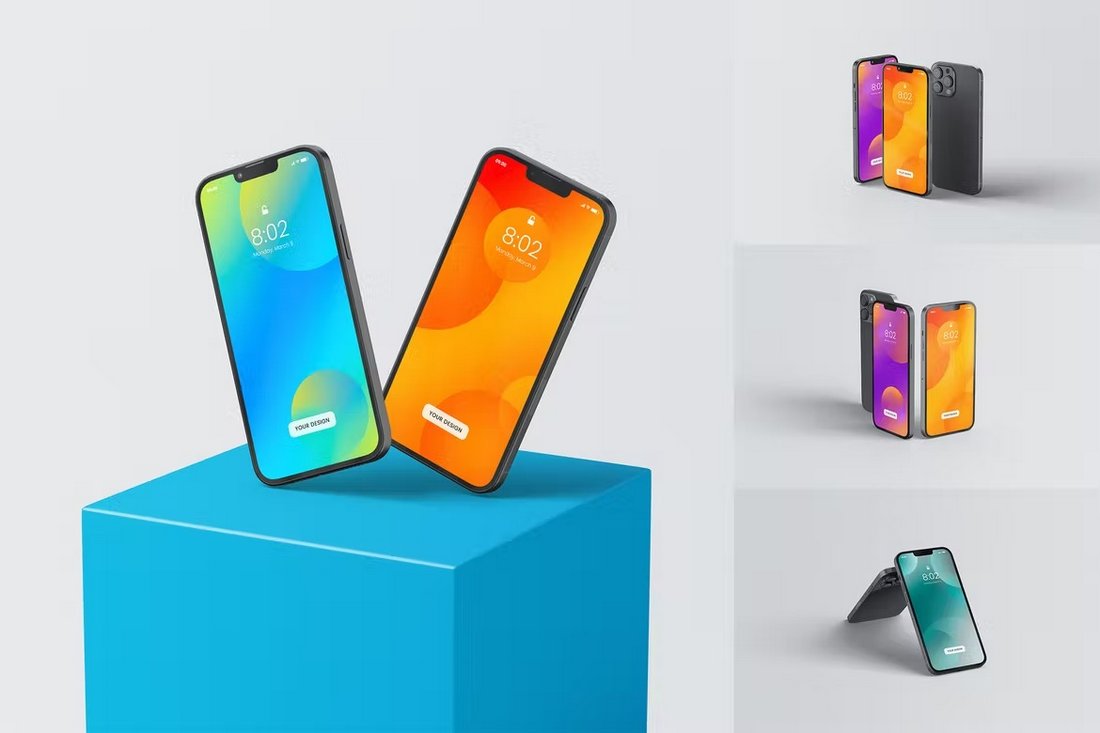 A collection of 4 stylish iPhone mockups featuring the new iPhone 13 Pro Max device. The bundle features multiple views of the device in creative scenes. You can also change the colors, shadows, and rearrange objects to your preference.
Free iPhone 13 Pro Mockups PSD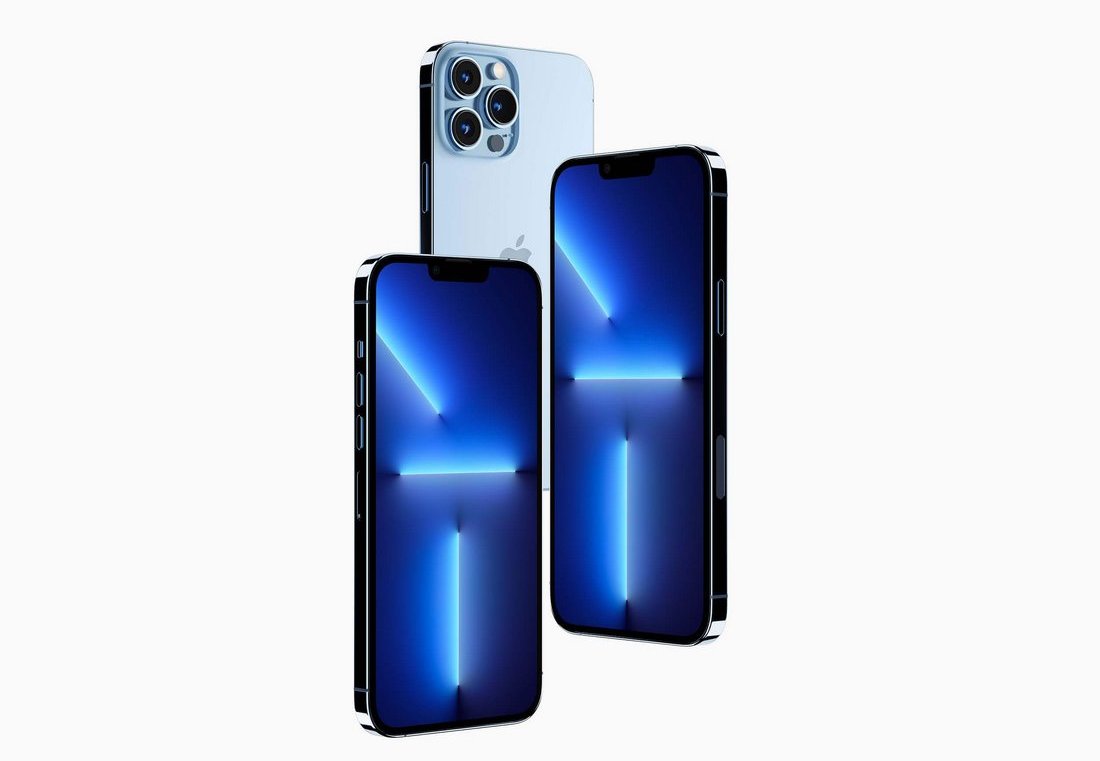 Another free iPhone mockup featuring the new iPhone 13 Pro model. This mockup comes in 4 different mockups with 4 official color versions of the device. Each mockup can be customized with Photoshop, Sketch, and Figma.
iPhone 12 Pro Max Mockup Template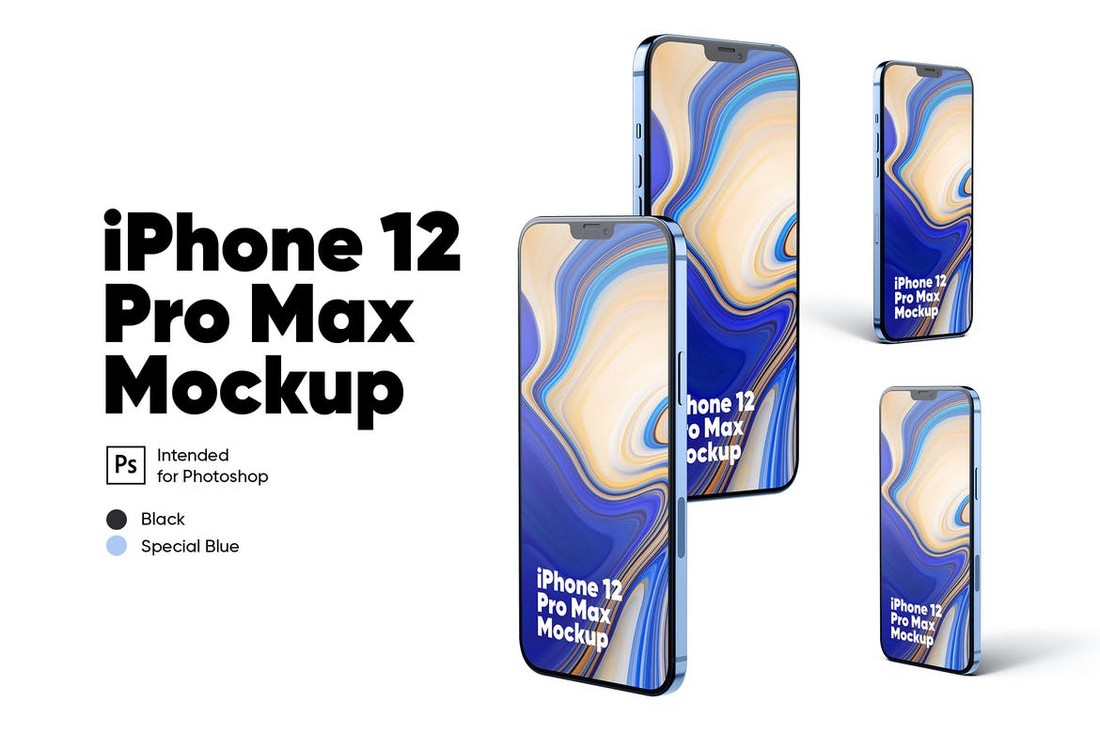 Show off your new designs and app screens on the latest iPhone 12 Pro Max using this mockup. This beautiful iPhone 12 mockup comes in both black and blue models. The realistic design will make your portfolio look even more authentic as well.
Modern iPhone Mockup Template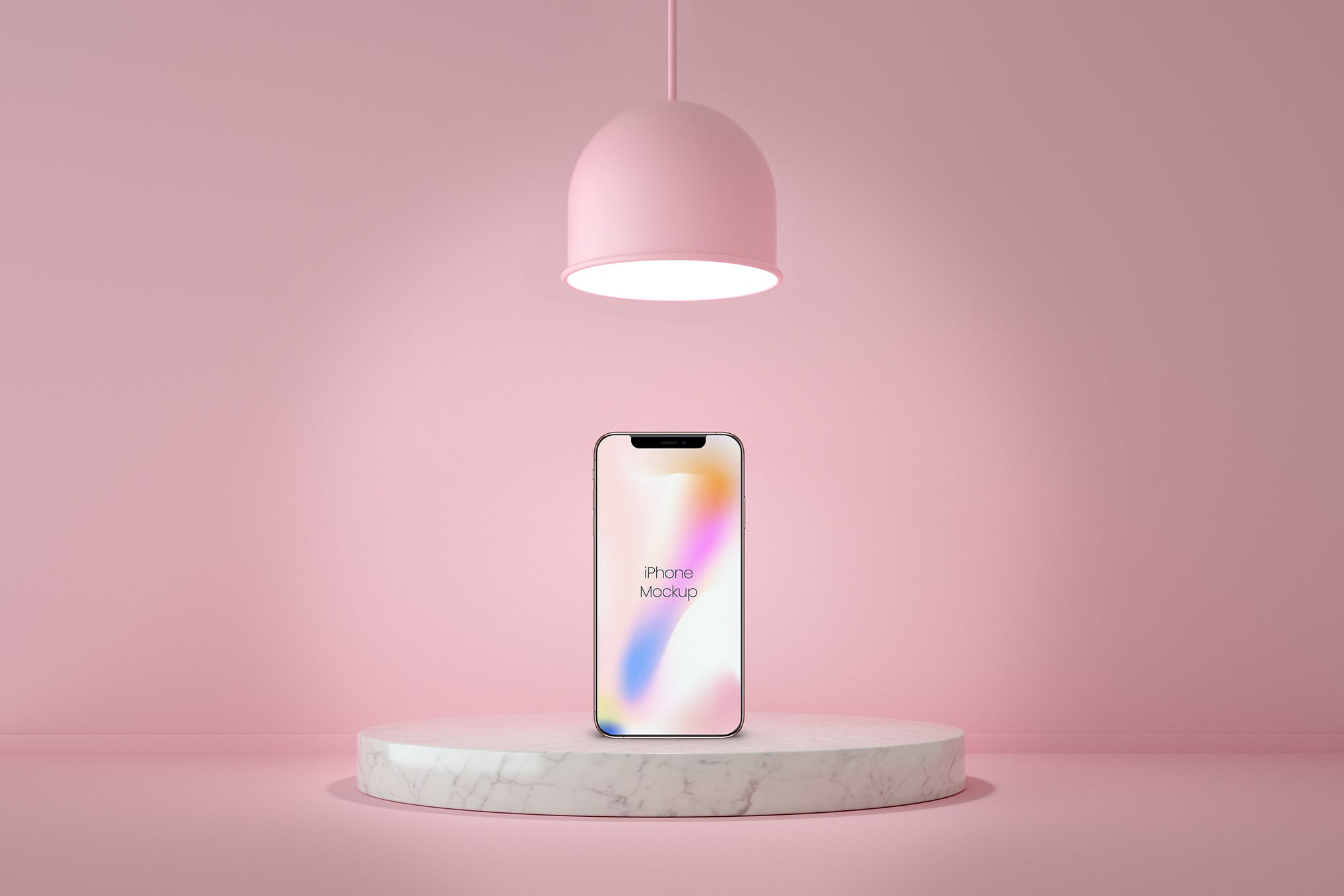 Showcase your iPhone design using this modern and stylish mockup template that allows you to skate through the editing process- thanks to the smart object layer. Just drop in your design, hit save and you're good to go!
Isometric iPhone 12 Mockup Template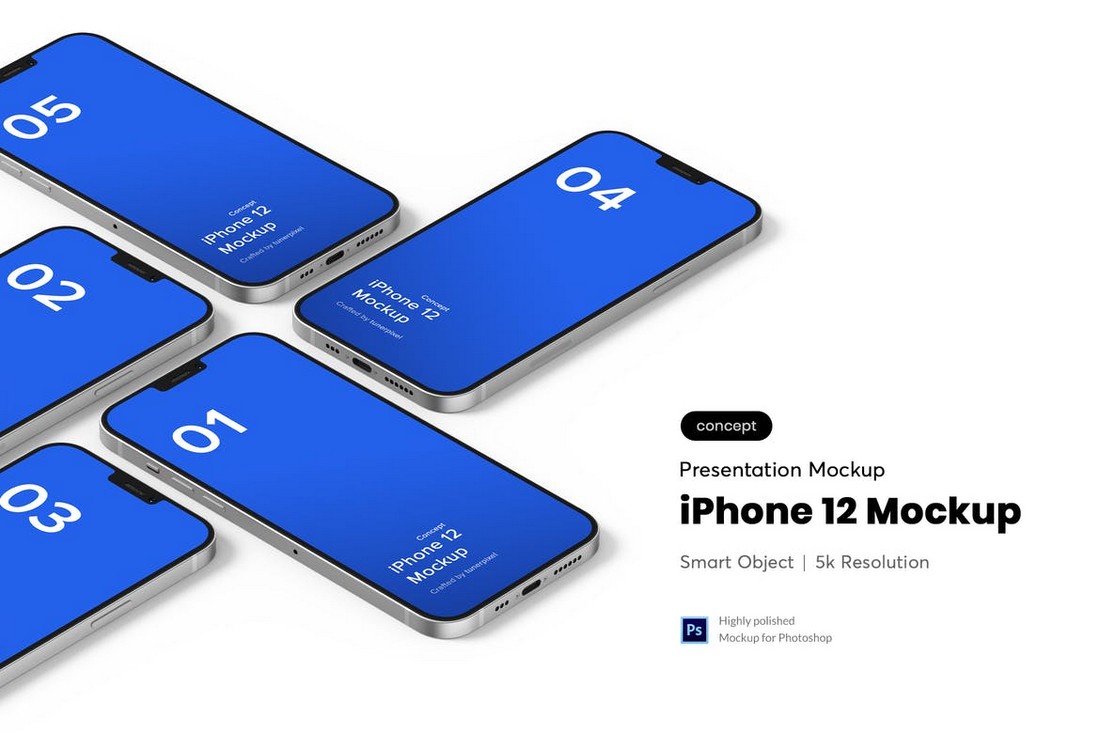 If you're looking for a high-resolution mockup template, this iPhone 12 mockup will come in handy. It's available in 5K resolution featuring an isometric view of the device. It's perfect for website headers and even big billboard designs.
iPhone 12 Mockup Templates – 21 Scenes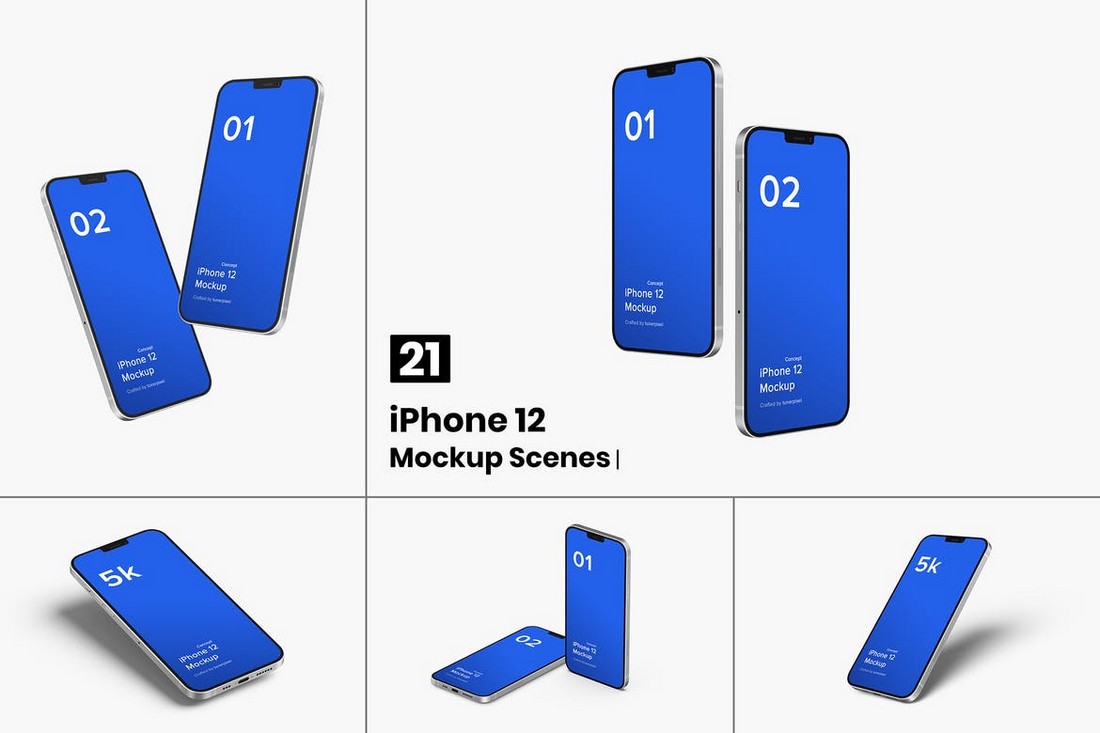 This is a bundle of iPhone 12 mockups that feature 21 scenes with different views and angles of the device. The mockups are all available in 5K resolution PSD files. You can easily edit the mockup using smart objects as well.
iPhone PSD Mockups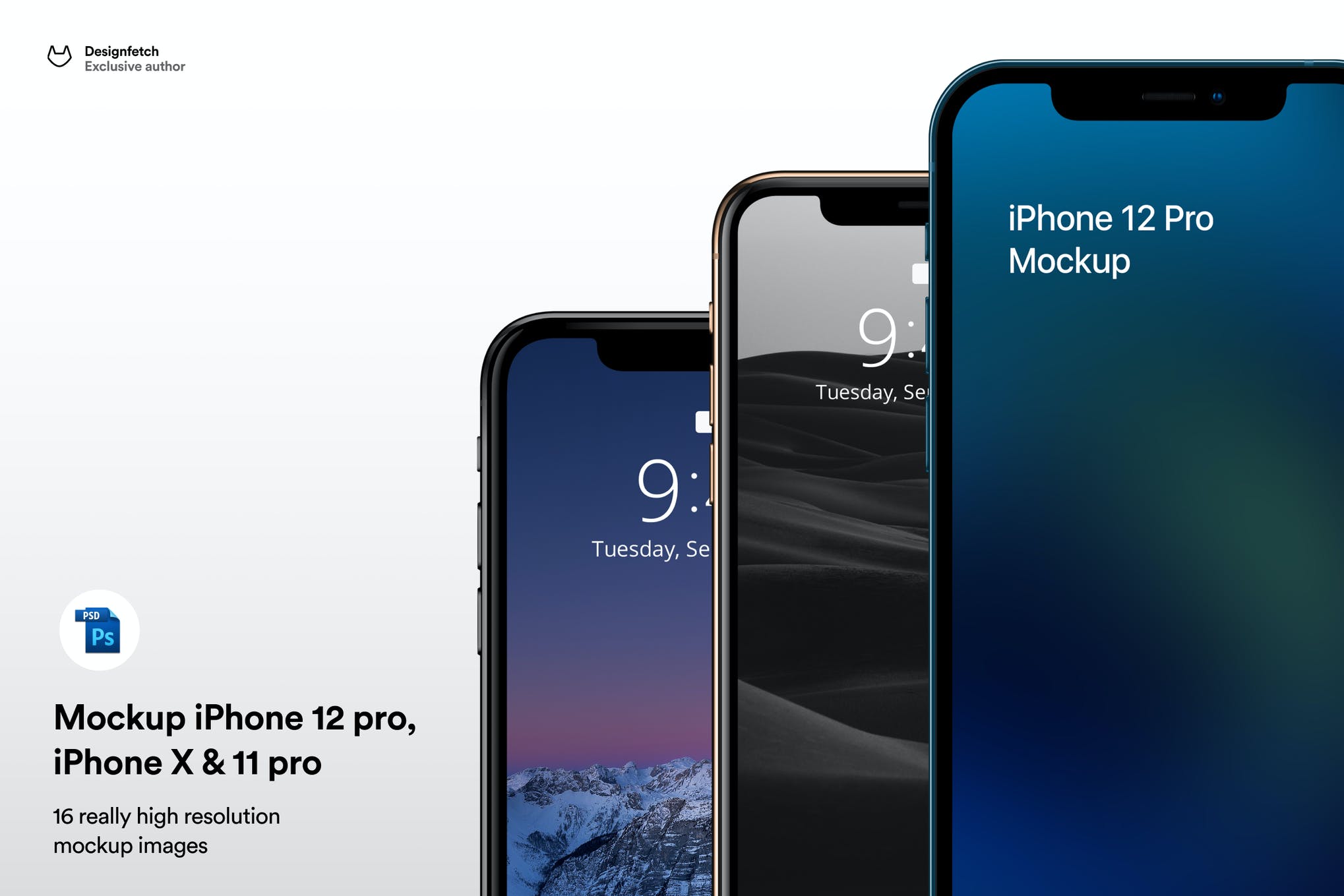 Here we have an amazing Photoshop collection containing iPhone 12 Pro, iPhone 11, and iPhone X mockups in incredibly realistic settings. You can use these mockups to elevate your UI designs and make a solid impression on your clients.
Minimal Flat Design Smartphones Mockup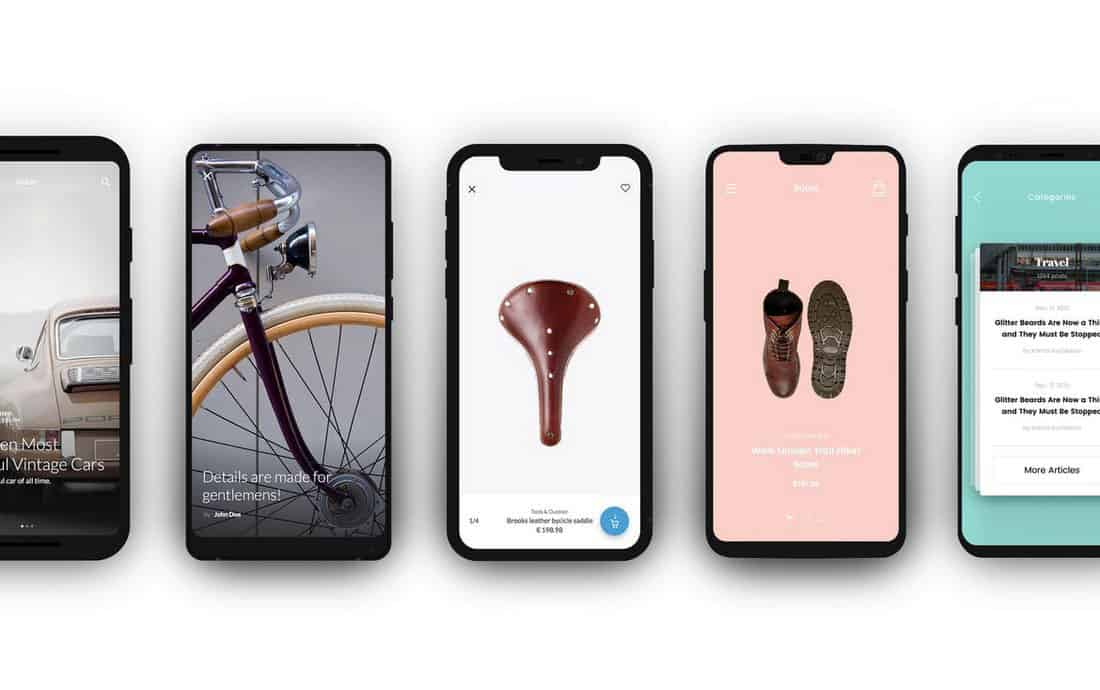 This is an all-in-one mockup template that will come in handy when you're showcasing your app screens or designs across multiple device types. It includes mockups of iPhone X, Samsung S9, Xiaomi 2, One Plus, and Google Pixel, all in the same place.
The size of the graphic is huge – 6000 × 6000px, making it suitable for a wide range of uses. Plus, the PSD file features vector elements making the designs easily scalable to any size as well. This one stands out from lots of the others in this roundup, as it features a range of phones and devices. It's a great mockup for the latest iPhone, but also for various other phone makes and models as well.
iPhone X Plus PSD Mockup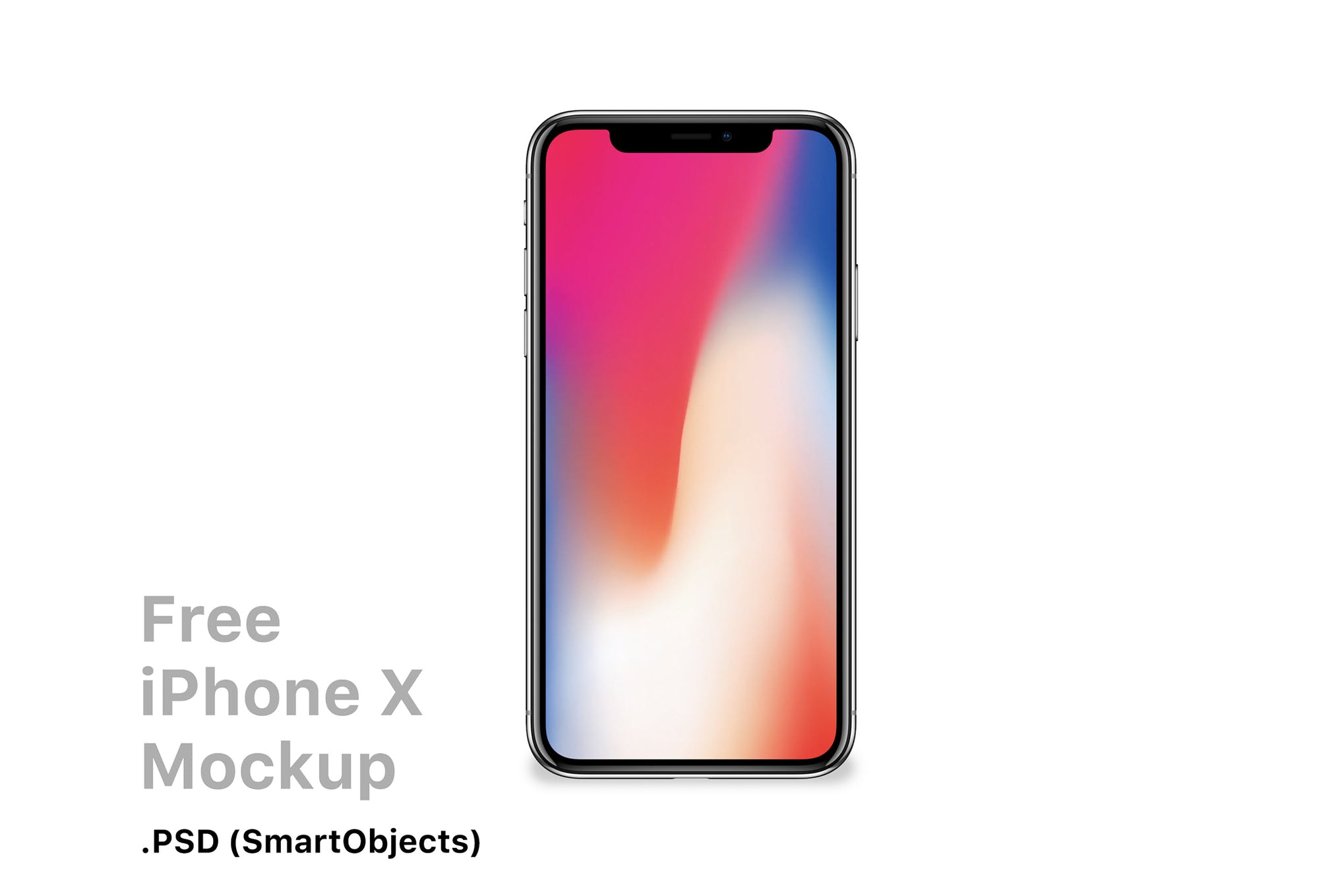 Create beautiful designs using this iPhone X mockup with one-click easy-to-use settings. It comes with a smart object functionality that will make you skate through the editing process. But don't just go by our words, take this mockup for a spin, and see for yourself.
Free iPhone 12 PSD Mockup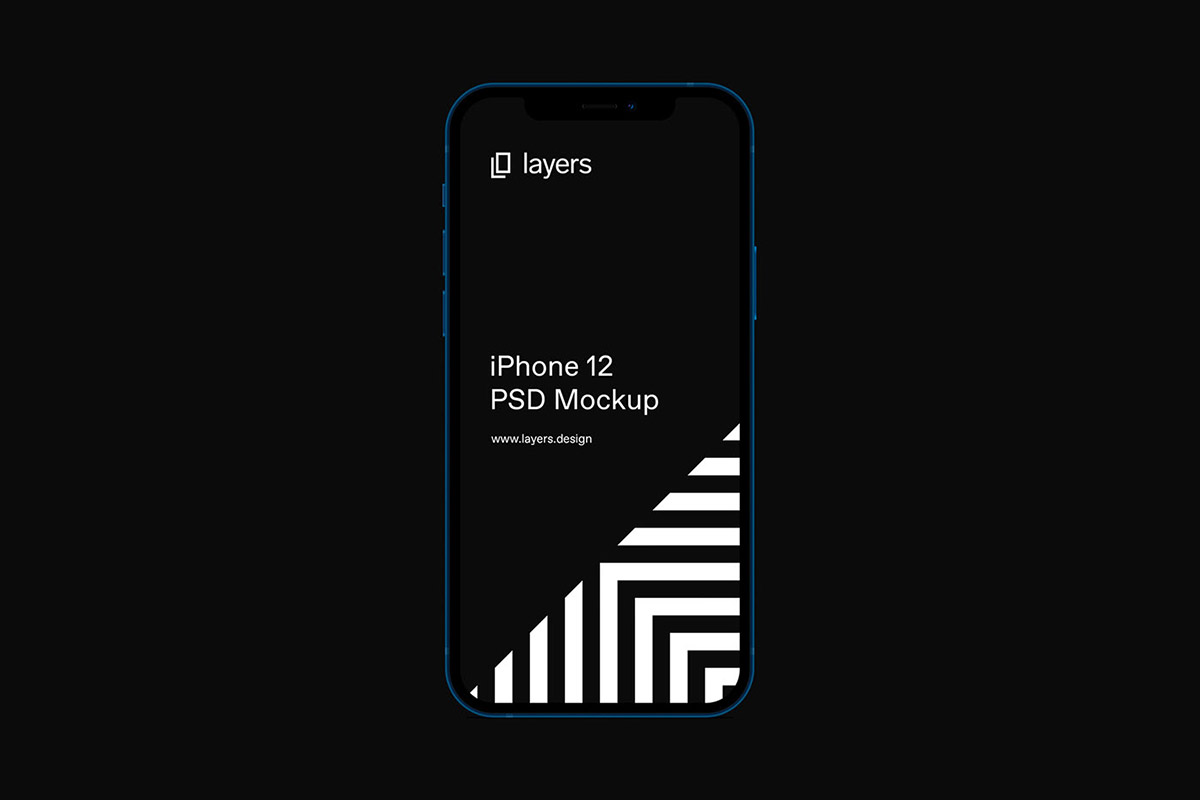 Next in our list of the best iPhone mockups is this modern and innovative option that will help present your designs in the best way possible. Available in PSD format, the mockup comes with a range of colors, allowing you to choose the one that best suits your vision.
Professional iPhone Mockup PSD Collection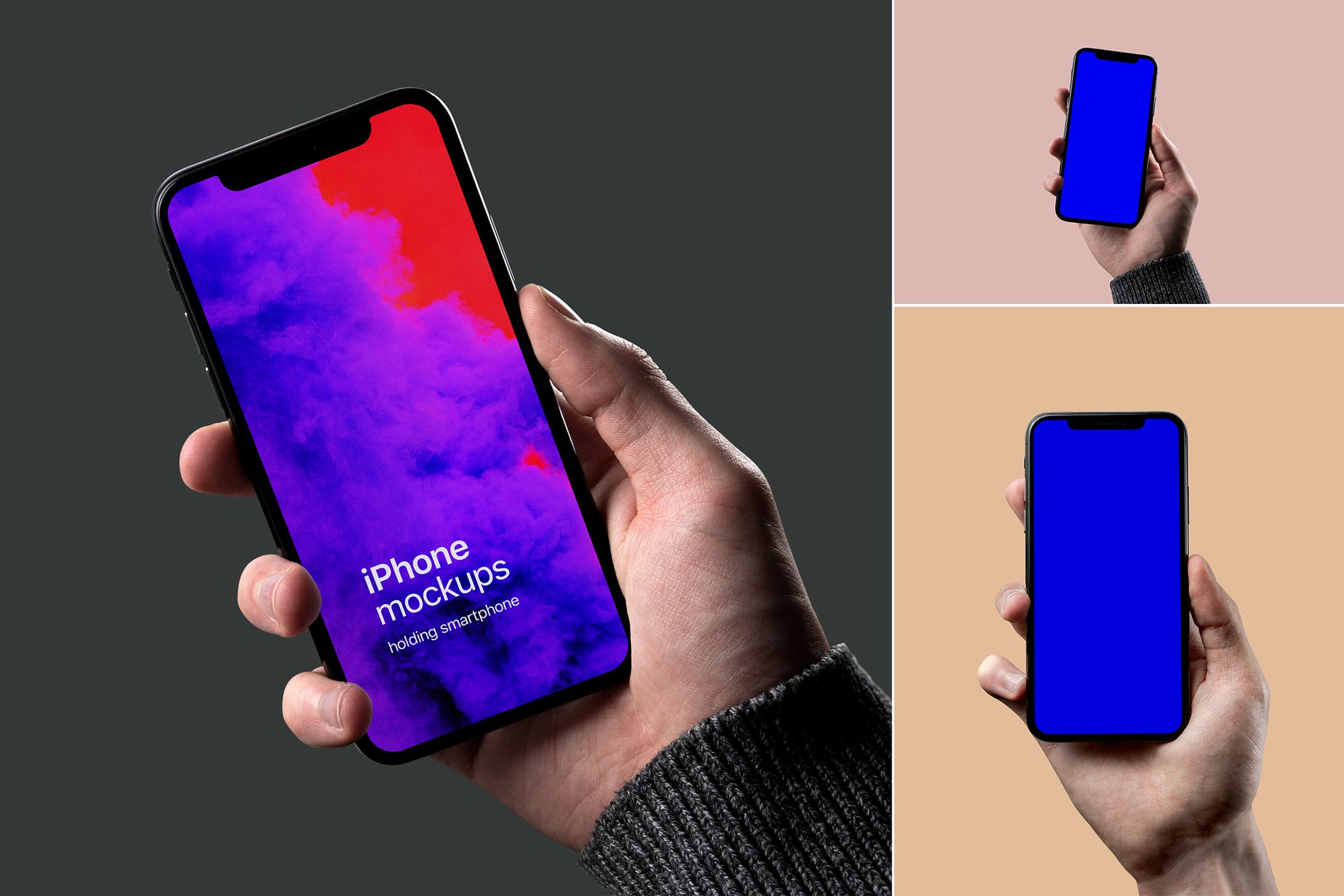 If you're searching for high-resolution, easy-to-edit iPhone mockups that produce photorealistic results, this PSD template is well worth checking out. A perfect choice for developers, and designers, this iPhone mockup template is a worthy contender for your cash.
iPhone 11 Pro Mockup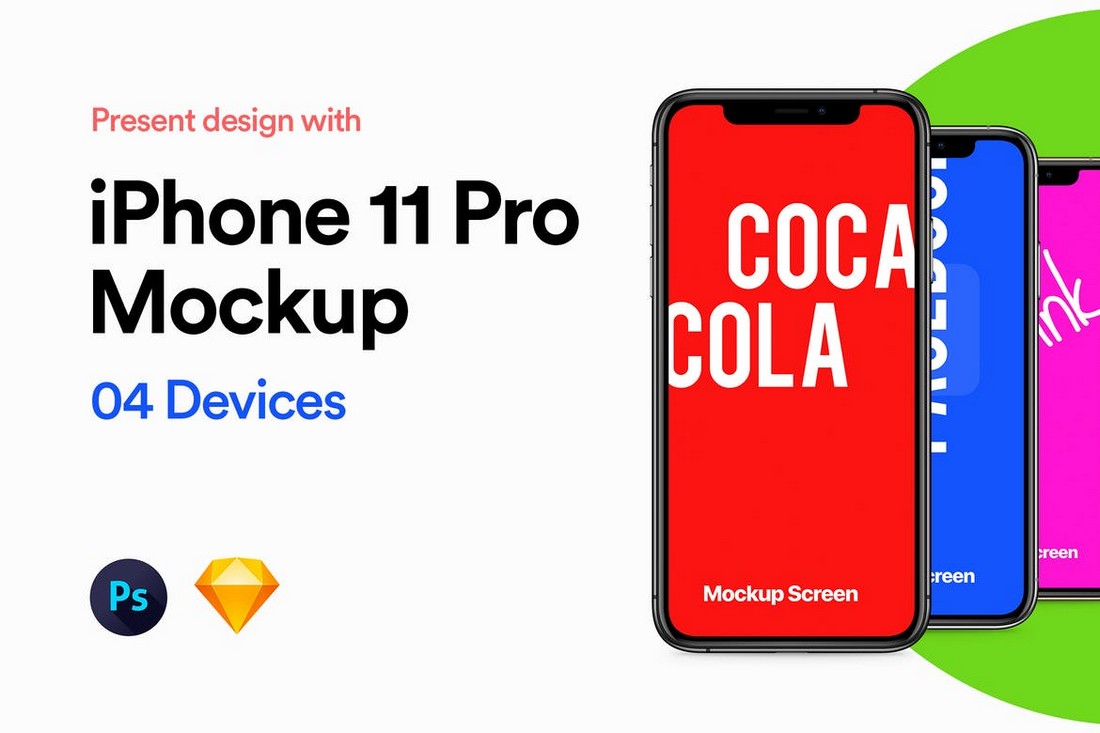 Showcase your designs using the all-new iPhone 11 Pro with this mockup set. It includes the new handset in 4 different color versions. The mockup is also available in Photoshop, Sketch, and Adobe XD versions as well.
iPhone 11 Pro Mockup Scene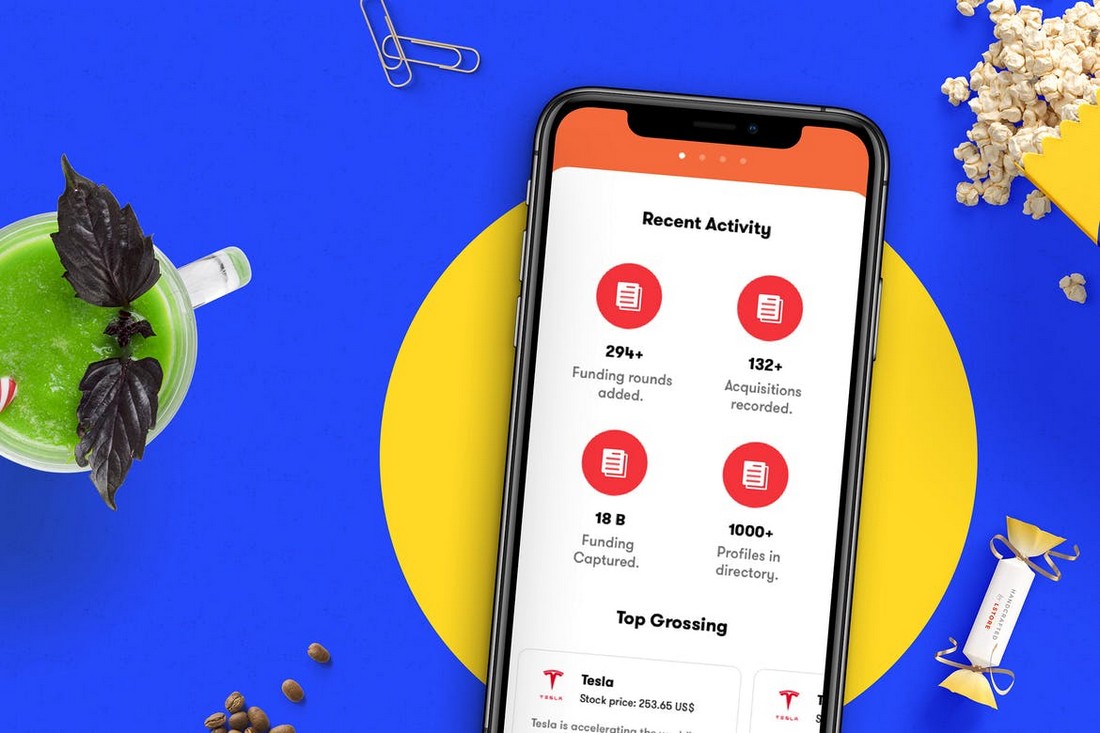 Another new iPhone 11 Pro mockup. This mockup comes with lots of additional elements in separate layers. You can use them to make a creative mockup scene. The template features smart objects for easy editing as well.
Creative iPhone 11 Pro Mockup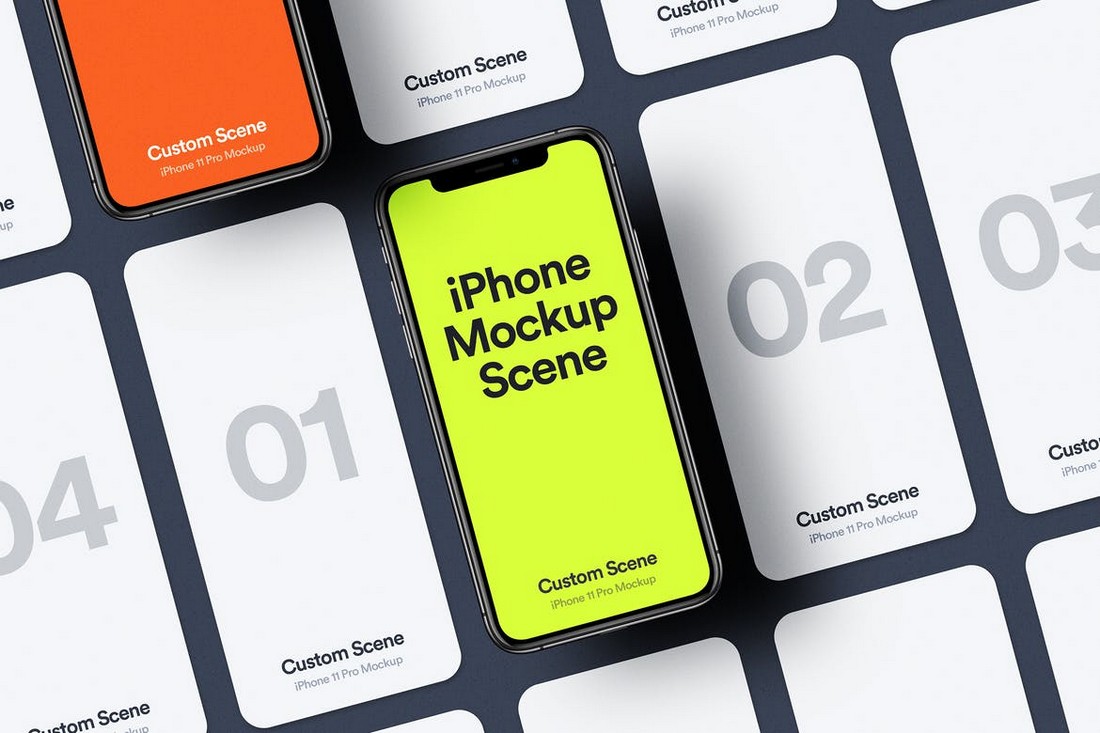 You can use this mockup to showcase multiple screens of your app or website designs in one place. It's also suitable for website designs as well. This mockup also features the new iPhone 11 Pro device with smart objects.
Professional iPhone Mockups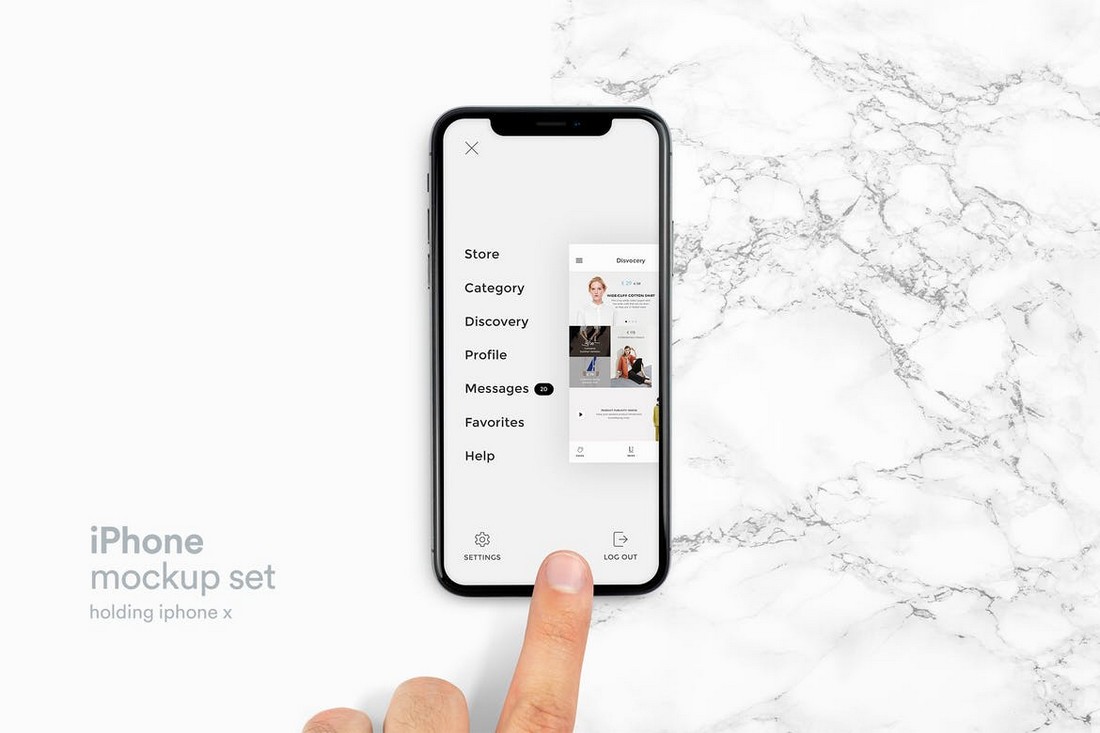 A set of professional and minimal mockups featuring the iPhone X. It includes 7 different mockup templates with various layouts. They are perfect for creative website designs and portfolios.
Free iPhone 11 Pro Max Mockup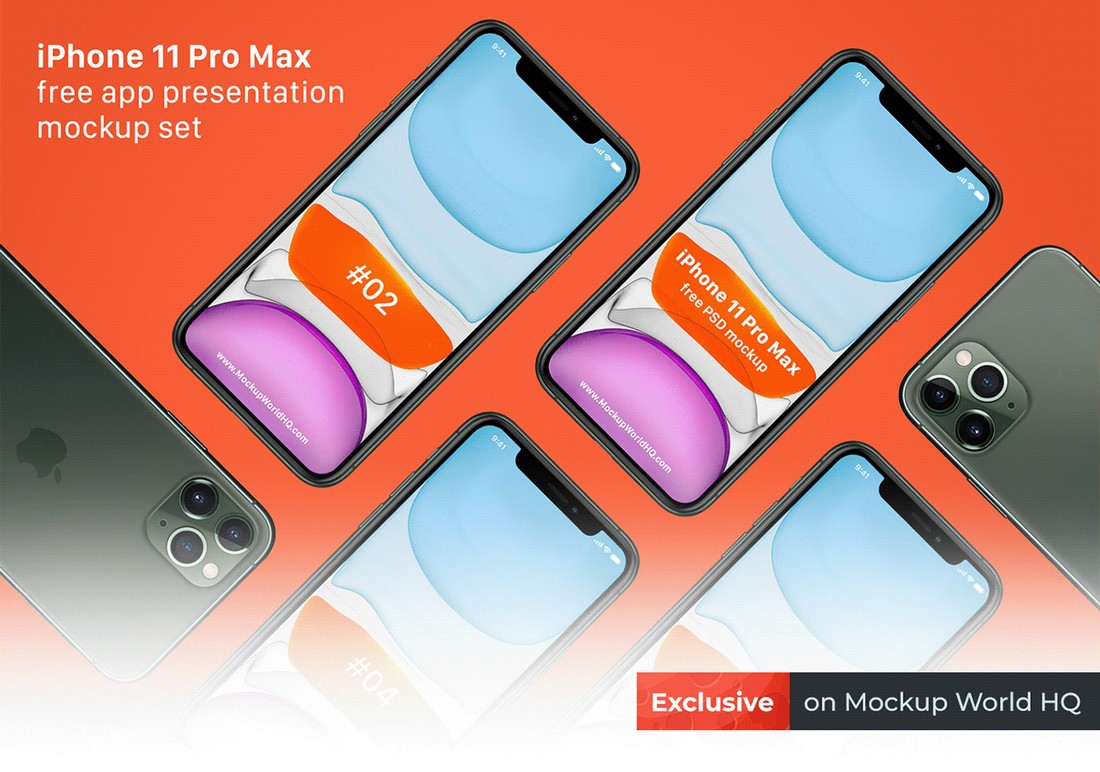 This is a free mockup template featuring the new iPhone 11 Pro Max. This template is designed with app presentations in mind. You can also use it to make website headers as well.
iPhone XS MAX Isometric Mockup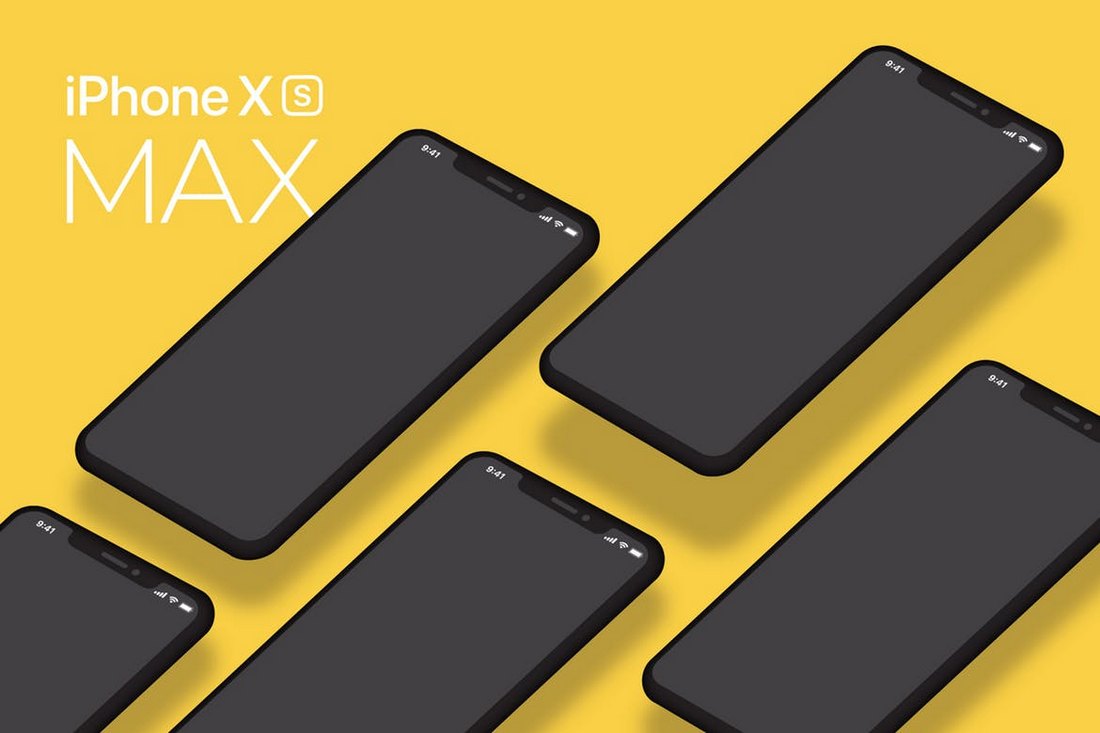 A minimalist flat design inspired mockups of the new iPhone XS Max. This mockup features an isometric view of the device and it comes in colored designs. The mockup is available in 3 different styles and in both Photoshop and Illustrator file formats.
New iPhone XS Mockup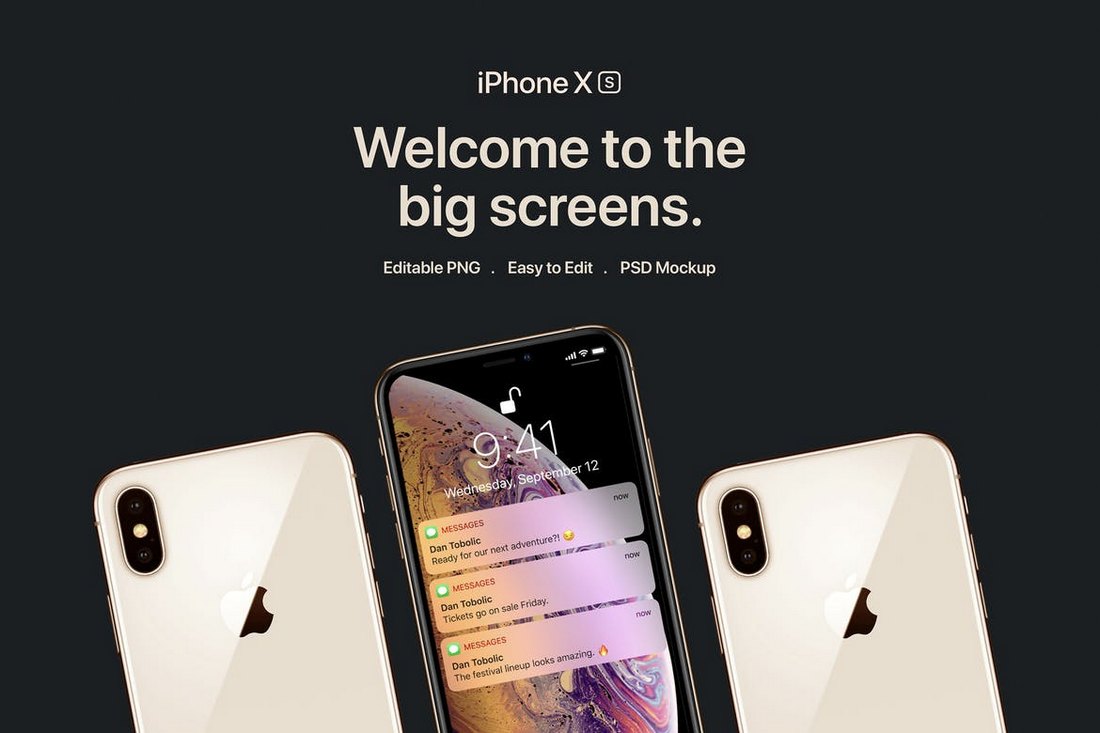 A showcase mockup of the latest iPhone XS. This mockup is perfect for showcasing your app screens on a website header, social media cover, or a portfolio. You can easily customize the PSD files to replace the screens and resize the devices.
iPhone XS Vector Mockup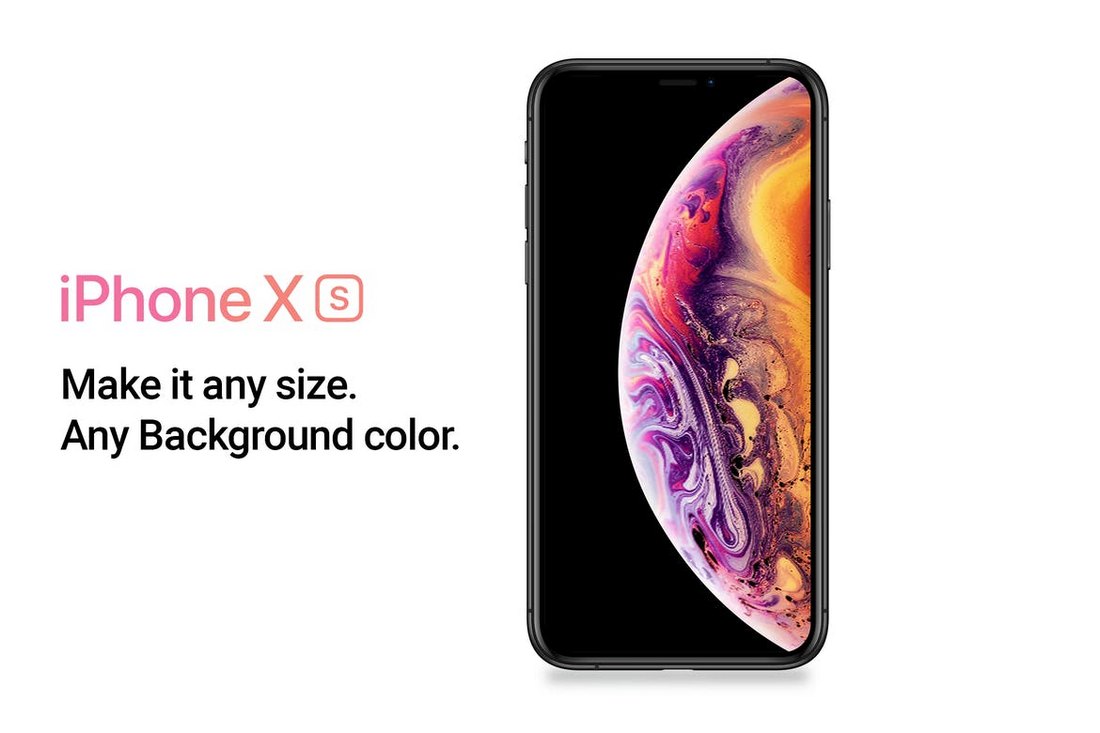 A fully customizable vector mockup of the new iPhone XS. This mockup comes to you as a completely vector-based mockup with a customizable background. You can edit the screen with just one-click using smart objects as well.
Free iPhone Dark Mode Mockup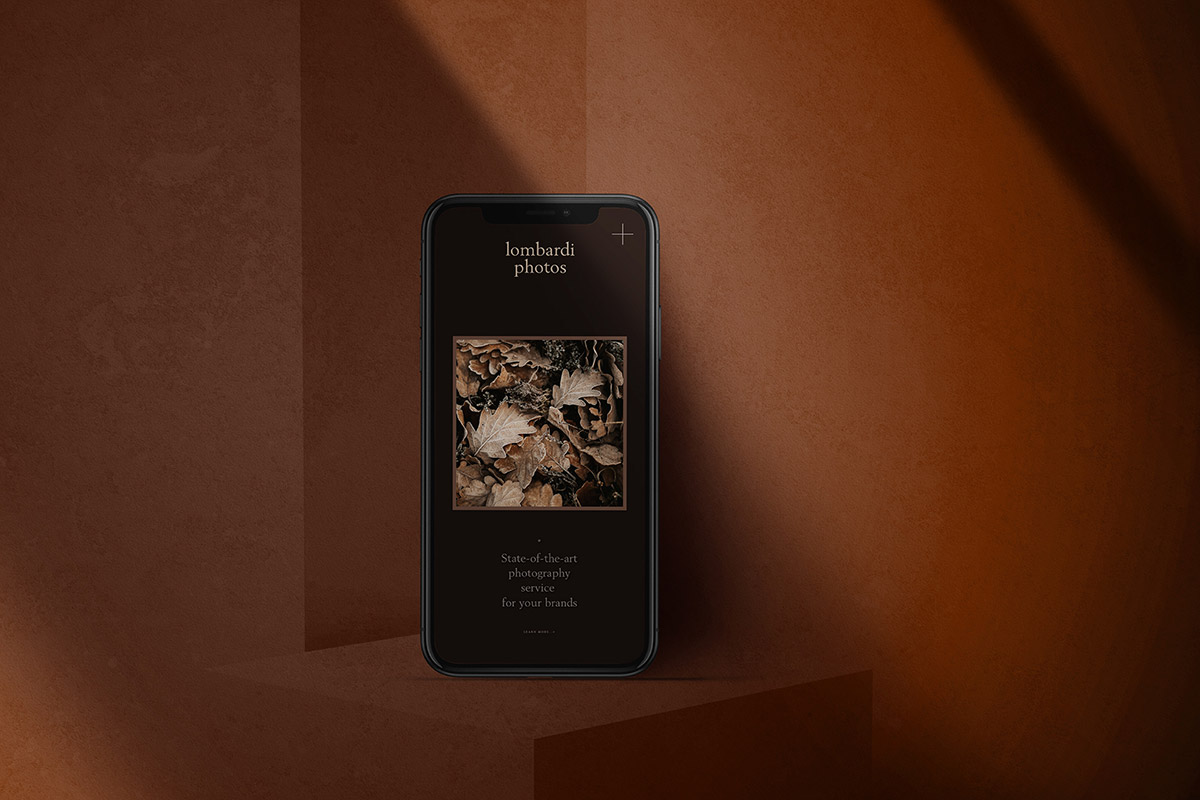 For a dark, and moody vibe, consider this iPhone mockup for showcasing your app design in a professional yet creative manner. The mockup oozes elegance, and luxury, and is certainly one of our favorite choices when it comes to the best iPhone mockups.
iPhone XR Mockups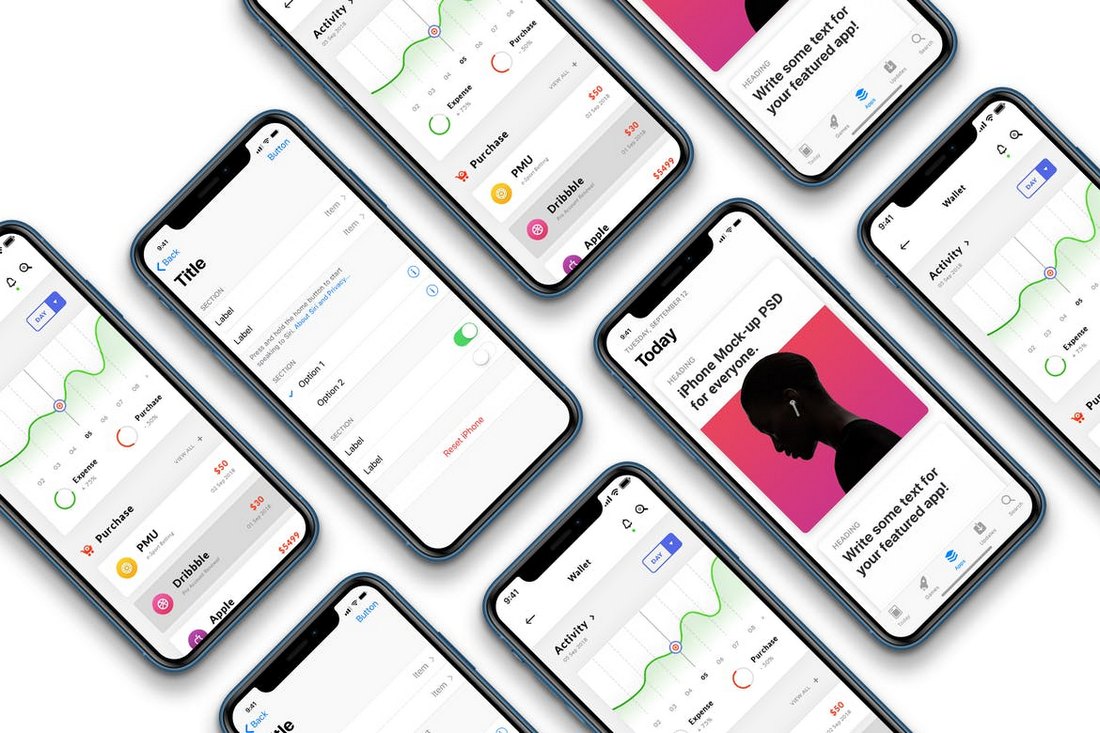 An iPhone XR mockup with perspective view. Featuring easily customizable PSD file with smart object, this mockup is perfect for showcasing your app screens on a website design or a portfolio website.
Free iPhone Mockup PSD Pack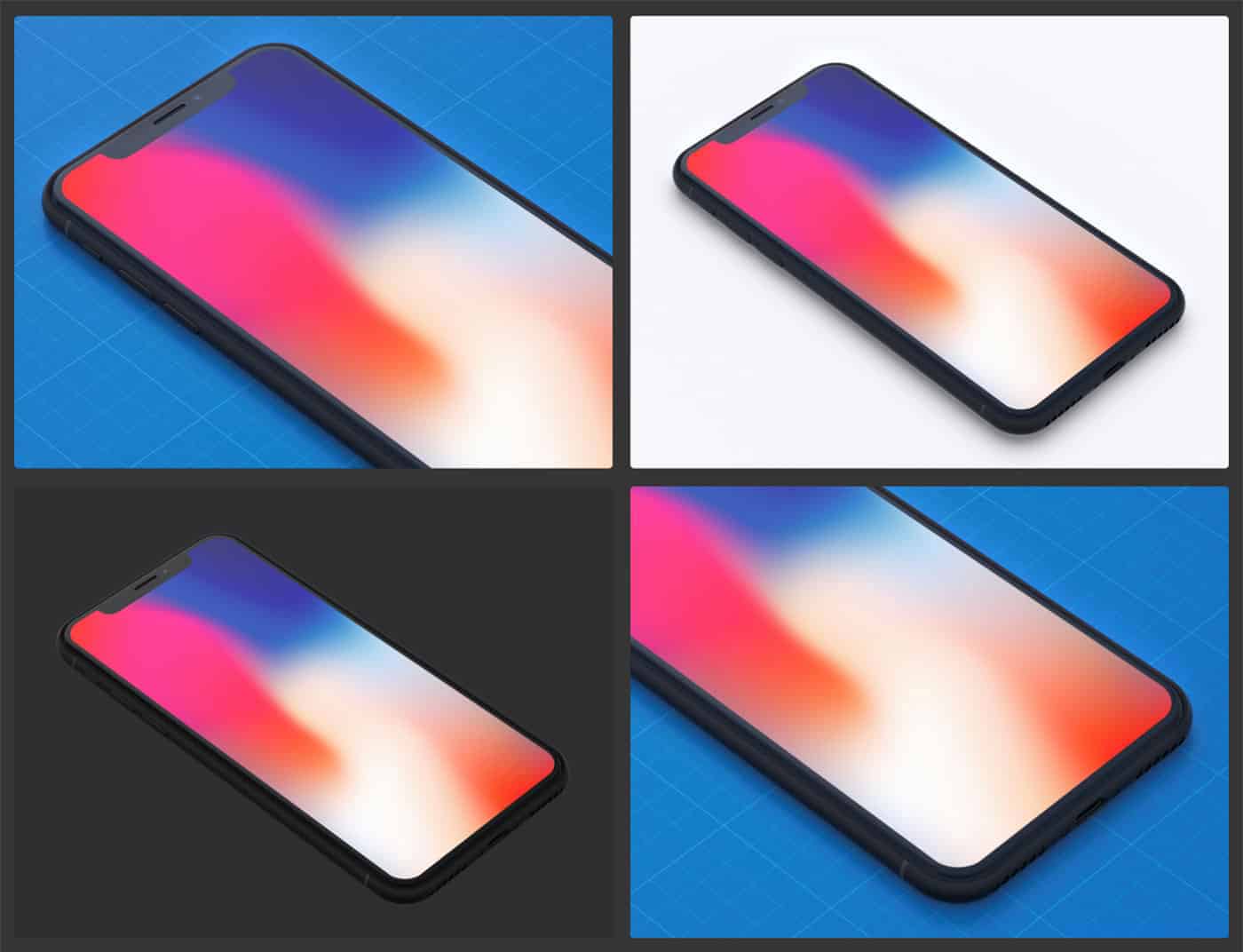 This pack includes a well-structured PSD file with high-resolution mockups in multiple colors. The mockups are editable, so you can change both the backgrounds and transparency. Excellent for presentations and hero images.
Just drop your designs in the smart object, and you're all set! They're super high-res, at 2,400 x 1,800px. Free to use for both personal and commercial projects.
Not all free mockups are created equal, and this one really stands out. It's pixel-perfect, has no usage restrictions, and has a bunch of different styles and configurations to get just the look you're after.
Realistic iPhone Mockup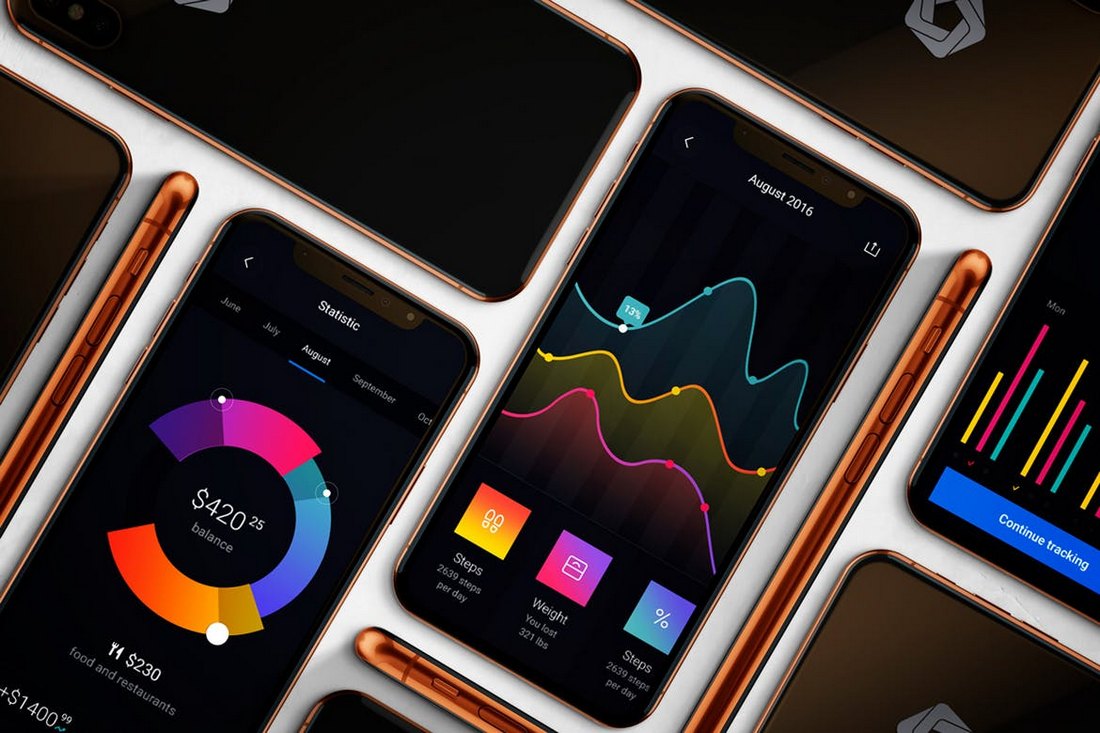 Another professional iPhone X mockup template for showcasing your designs and presentations. The mockup is available in 6 different styles and in 4500×3000 px resolution PSD files.
7 iPhone X Mockups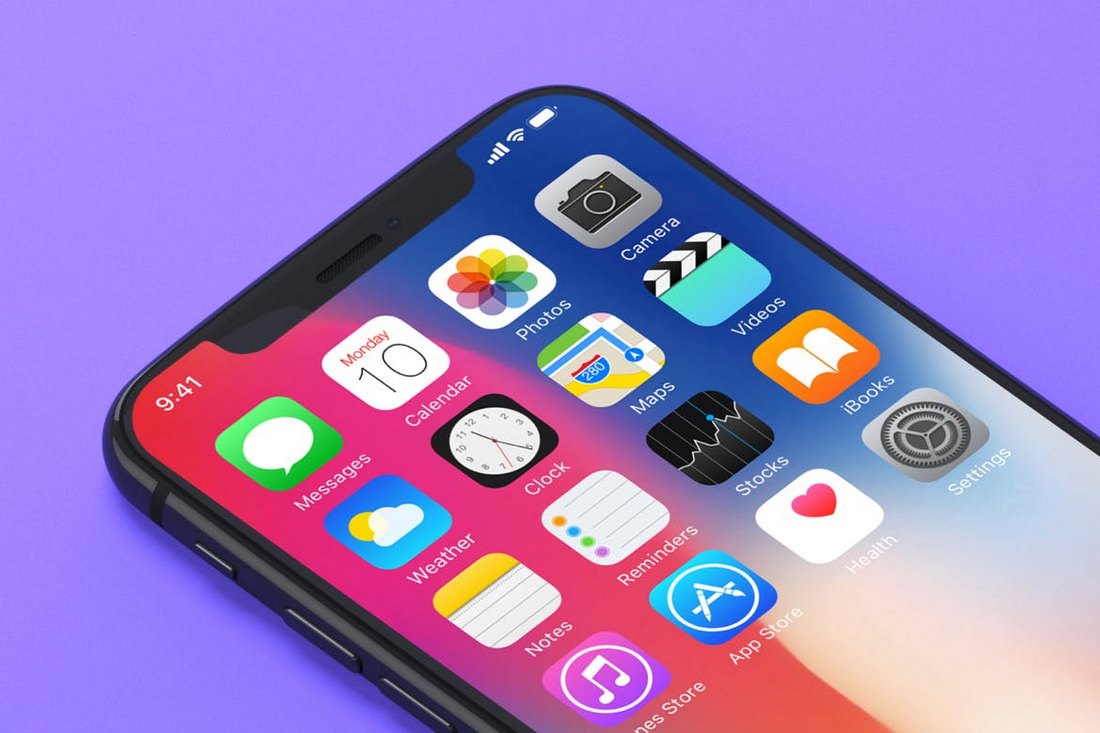 A collection of iPhone X mockups featuring different styles of views and angles of the device, including a close-up look at the device. The bundle includes 7 mockups in PSD files.
PSD Mockup iPhone XS & XS Max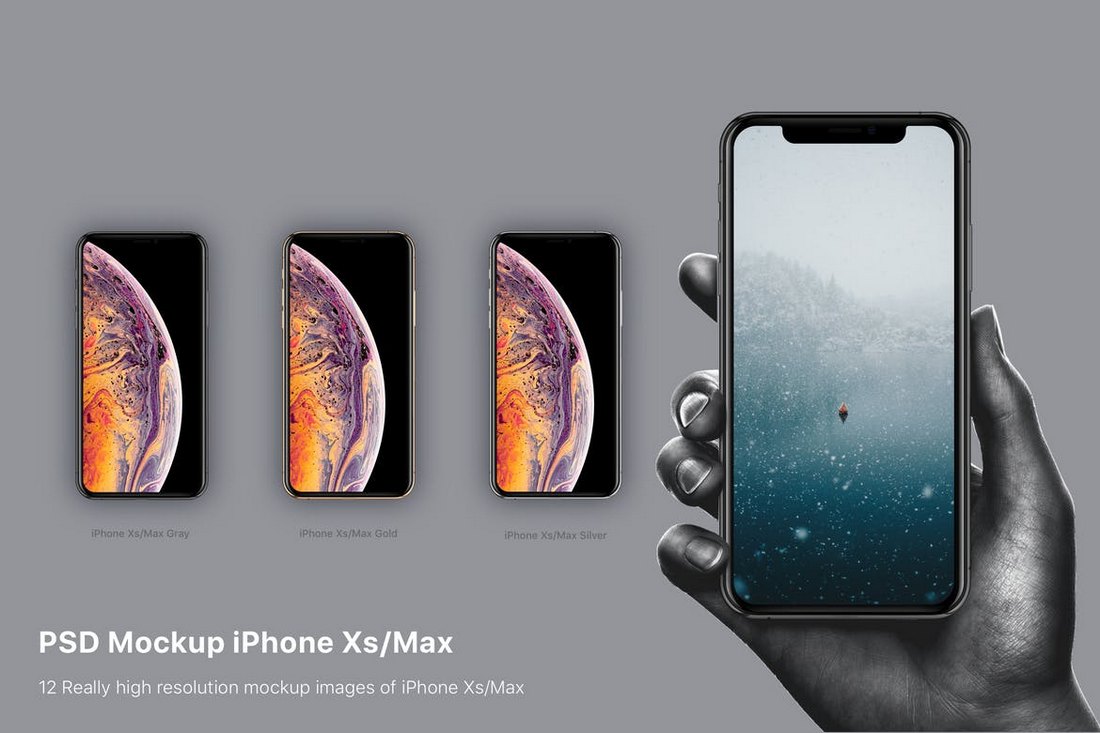 This bundle includes 12 different mockups of the new iPhone XS and the XS Max devices. It features PSD mockups that can be easily customized with smart objects and changeable backgrounds.
iPhone X Mockup PSD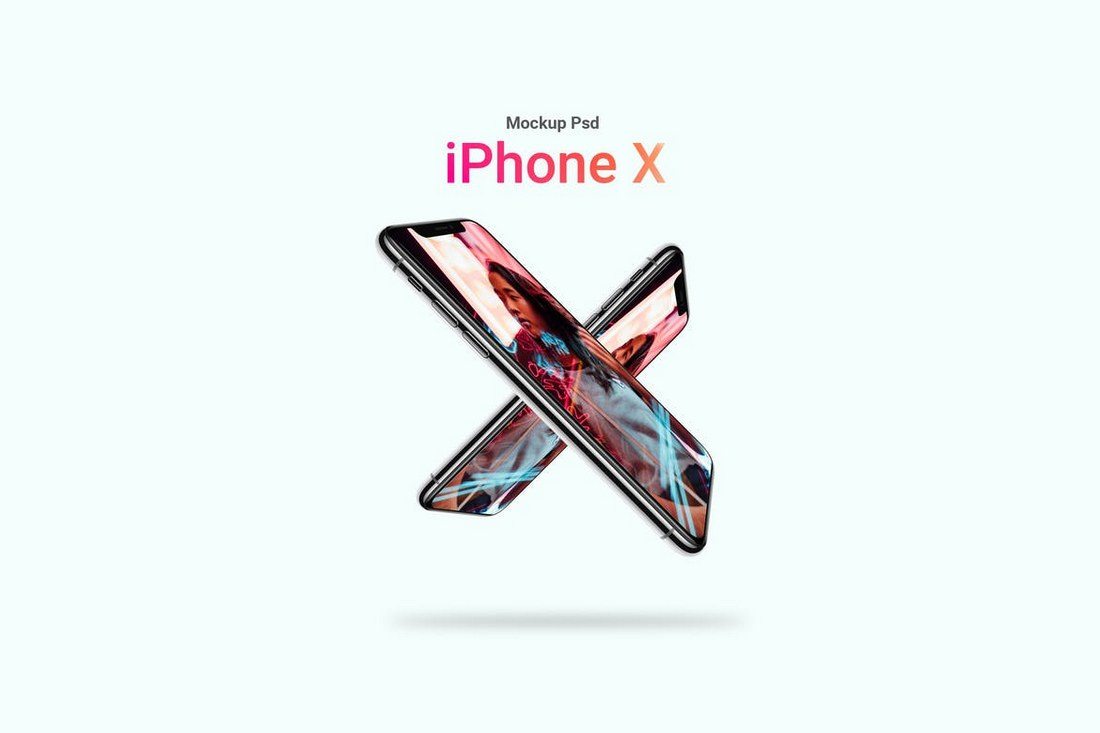 The latest edition to join the iPhone family, iPhone X is truly a beauty. This new mockup is designed to help you showcase your work using a creatively placed duo of iPhone X devices. It's perfect for designing a beautiful website header image or a landing page.
Free iPhone 12 Mockup Template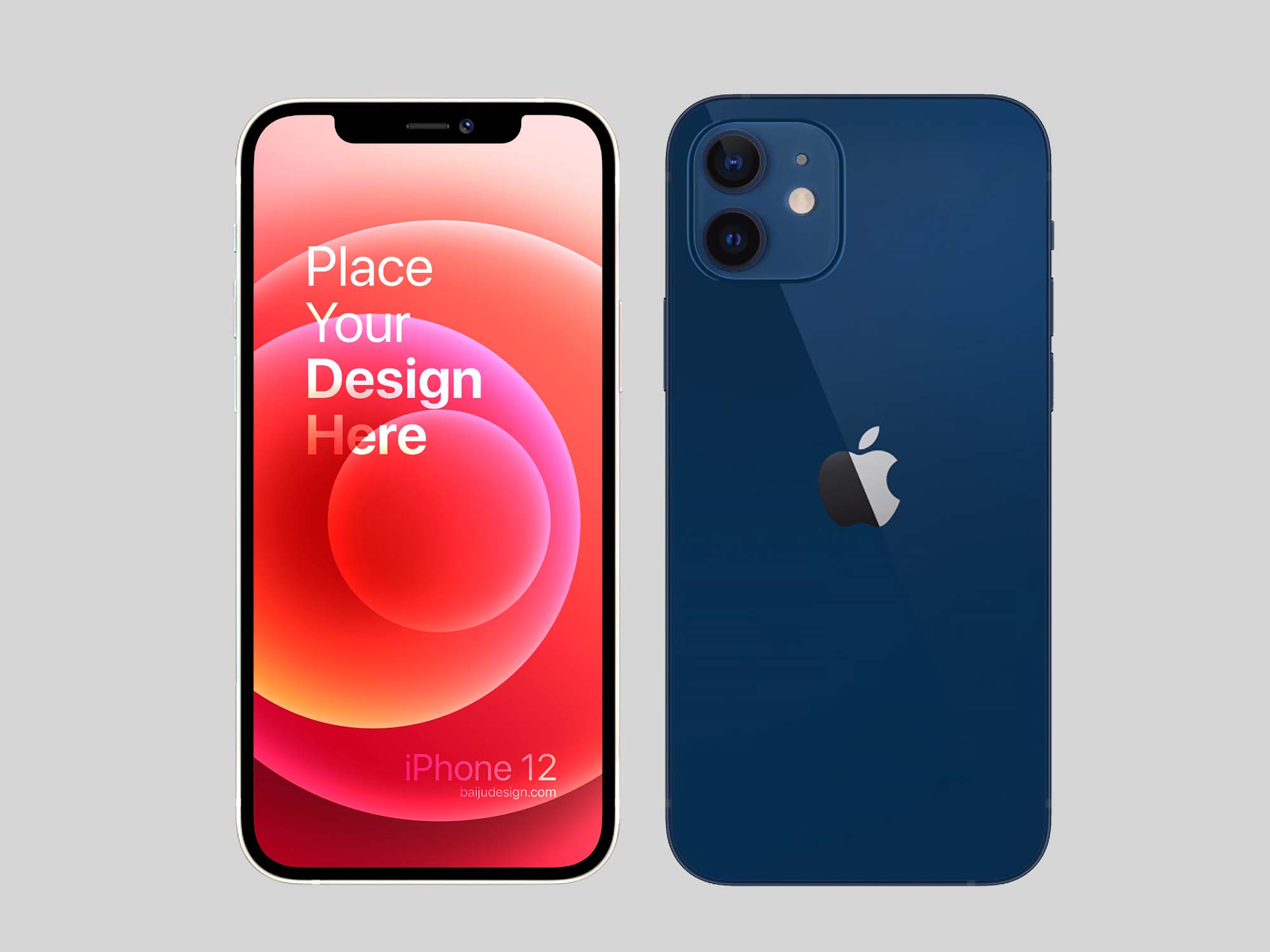 This gorgeous mockup template is specifically designed for iPhone 12 featuring 4 scenes with distinct perspectives to present your designs to your clients in an impressive and effective manner. Test it out yourself!
10 Authentic iPhone X Mockups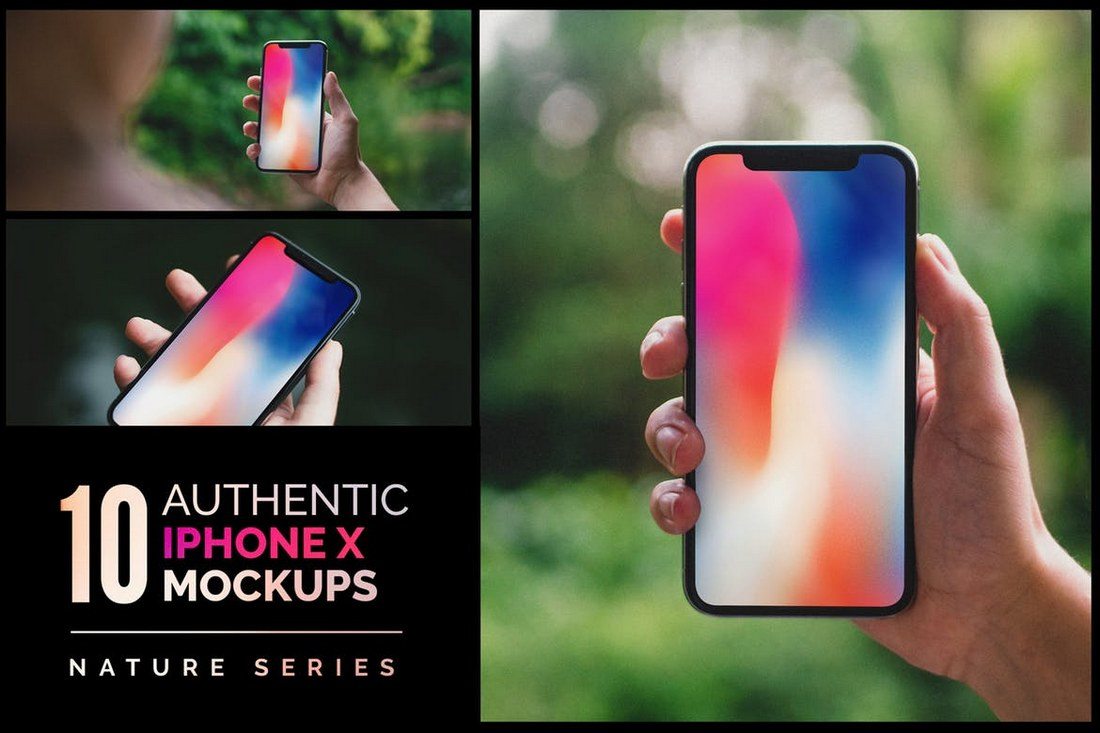 This bundle comes with 10 iPhone X mockups featuring several different angles and views of the latest smartphone. It allows you to present your various designs in different ways using photorealistic mockup templates.
Stylish iPhone Mockup Template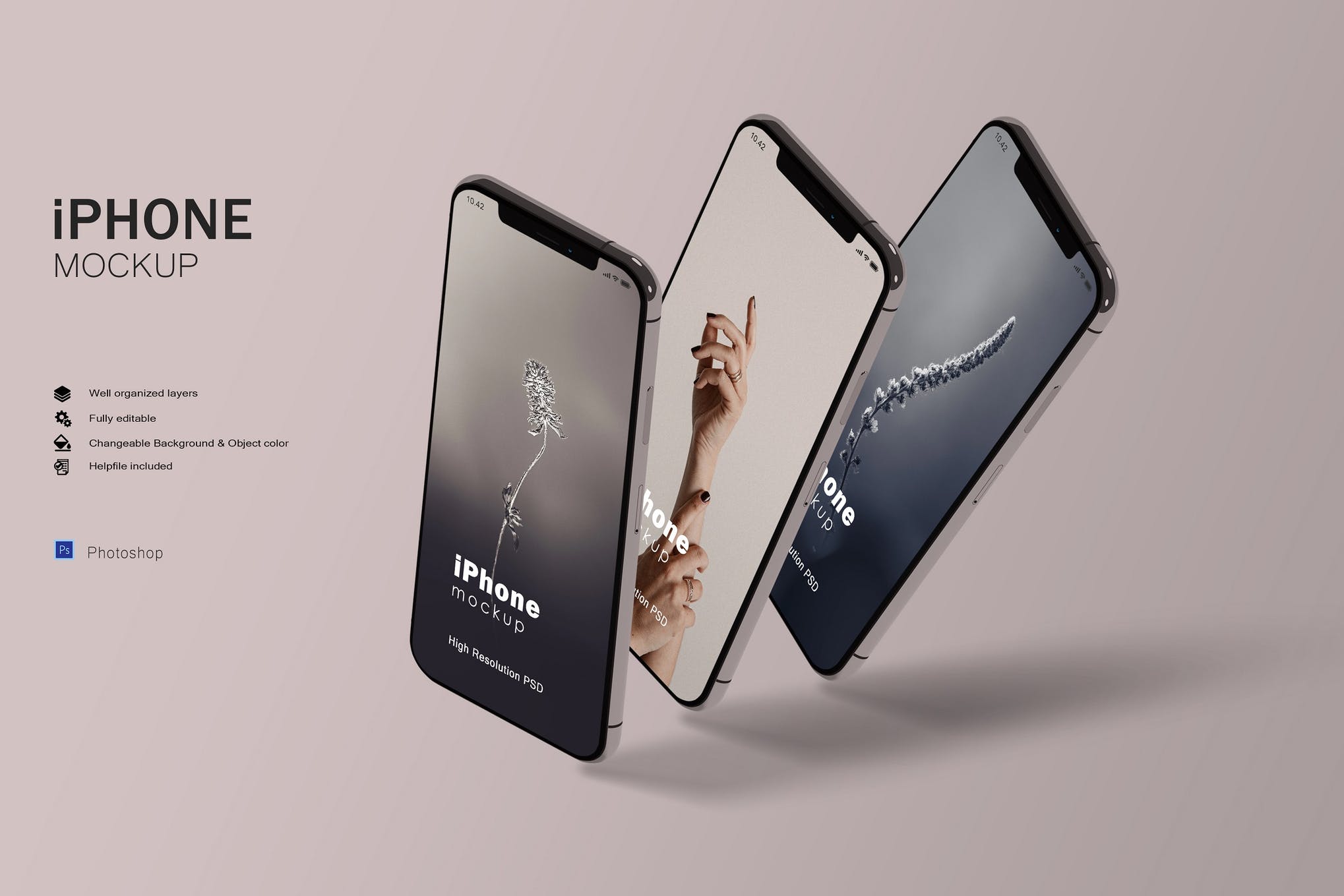 Impress your clients with this stylish iPhone mockup template that has everything you need to make your project look realistic. It features well-organized layers, changeable background and object color, and a lot more.
iPhone 12 Isometric Mockup Template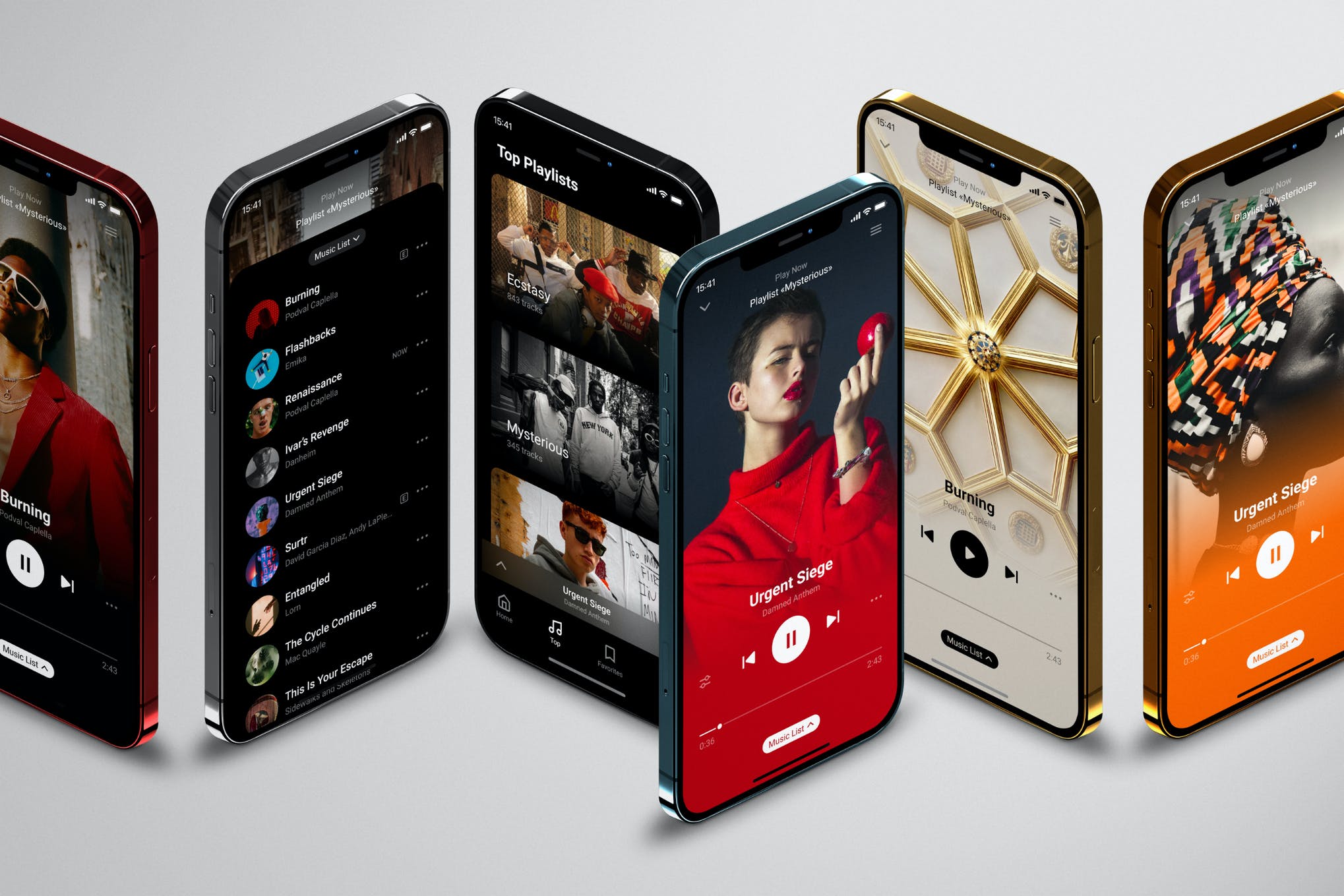 Check out this fantastic isometric mockup template for iPhone 12 that will help your designs stand out. It comes in high-resolution and allows you to tweak the color, and graphics with just a few easy mouse clicks.
iPhone 8 Mockup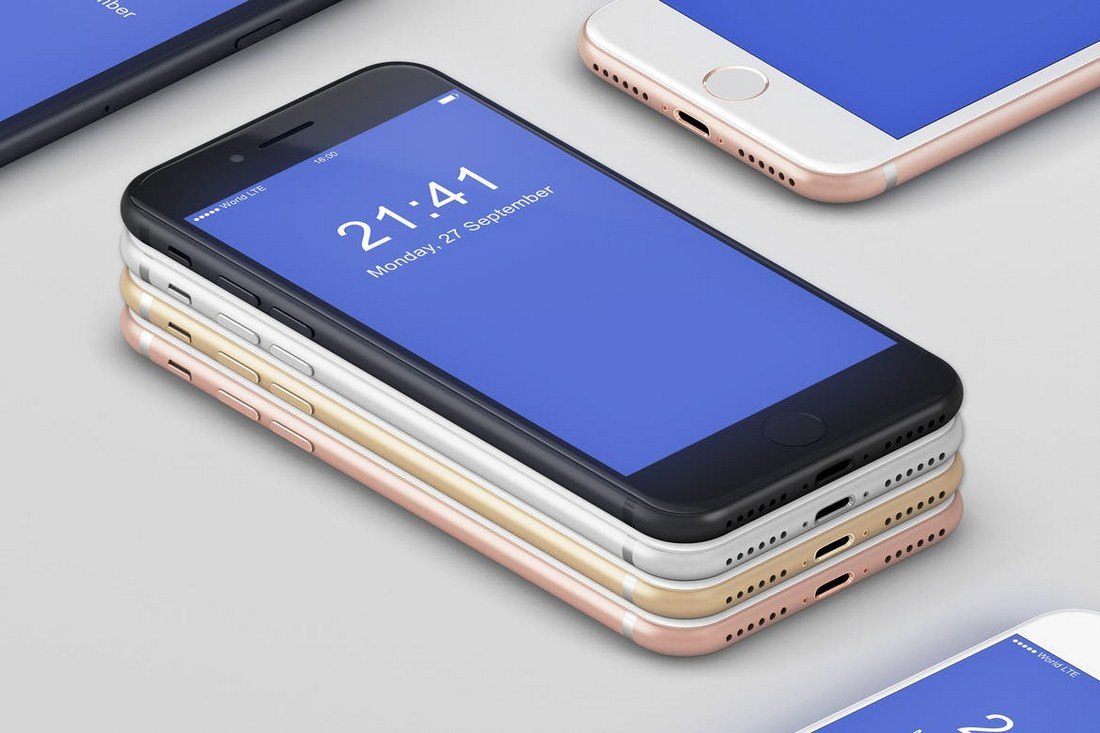 A customizable mockup template featuring a stack of iPhone 8 devices. The specialty of this mockup is that it allows you to turn on and off many of its features, including fingerprints, glowing display, shadows, change backgrounds, and much more.
iPhone X Mockup Set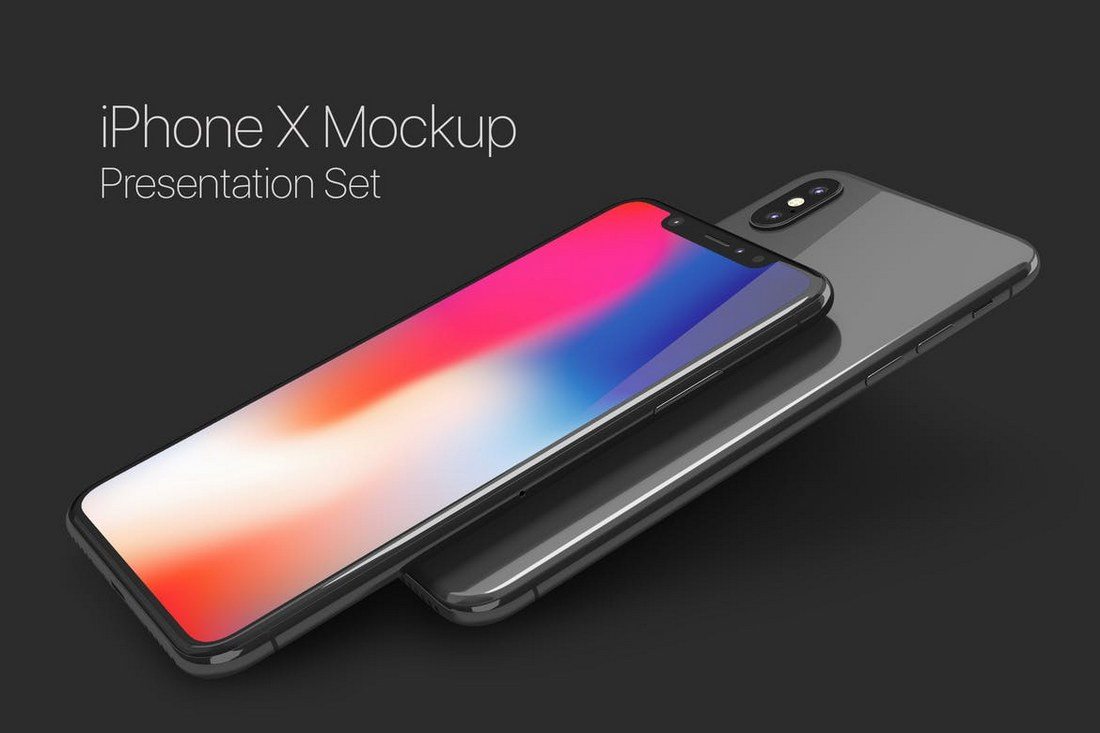 Yet another professionally designed iPhone X mockup featuring a tilted perspective of the new smartphone. This mockup pack also comes with 9 different scenes you can use with your various design projects from website design to product showcases and more.
Flexible iPhone Mockups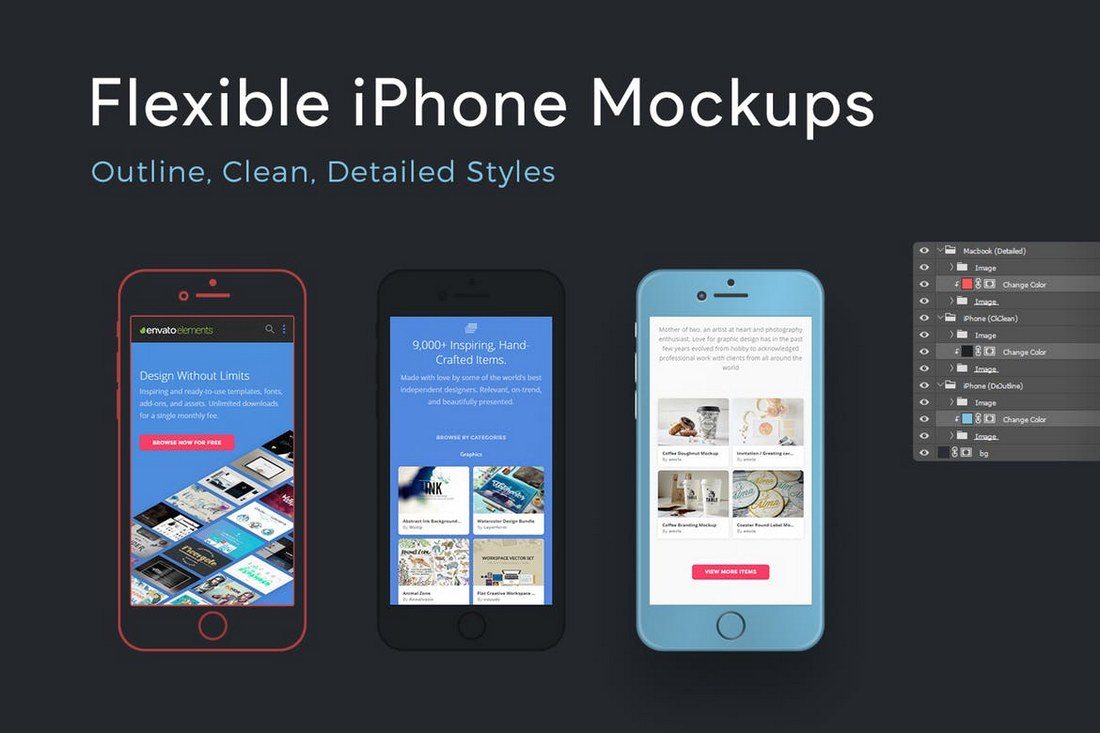 Mockup templates usually feature limited customizable features. This one is an exceptional mockup that comes with flexible features, which even allows you to change the color of the device to your preference.
iPhone X Mockup Office Style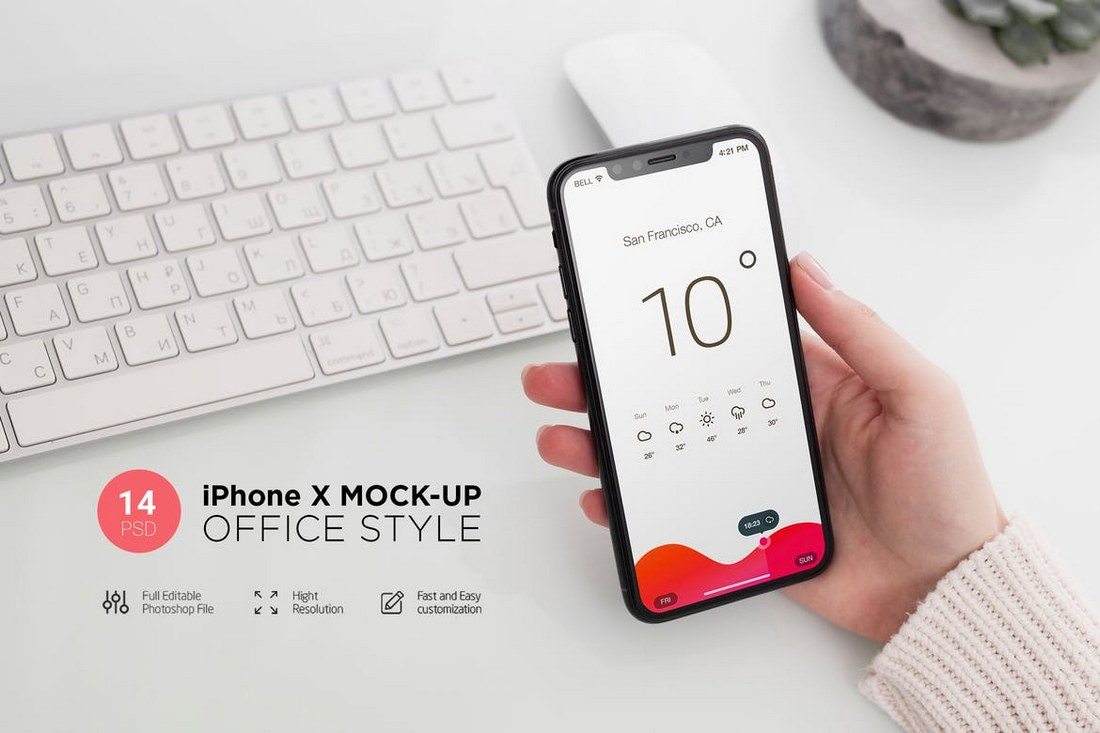 A pack of iPhone X mockups featuring an office environment. This mockup will come in handy for showcasing your designs and projects related to creative and business work. It includes 14 different mockup PSD files.
Free iPhone 11 Mockup Template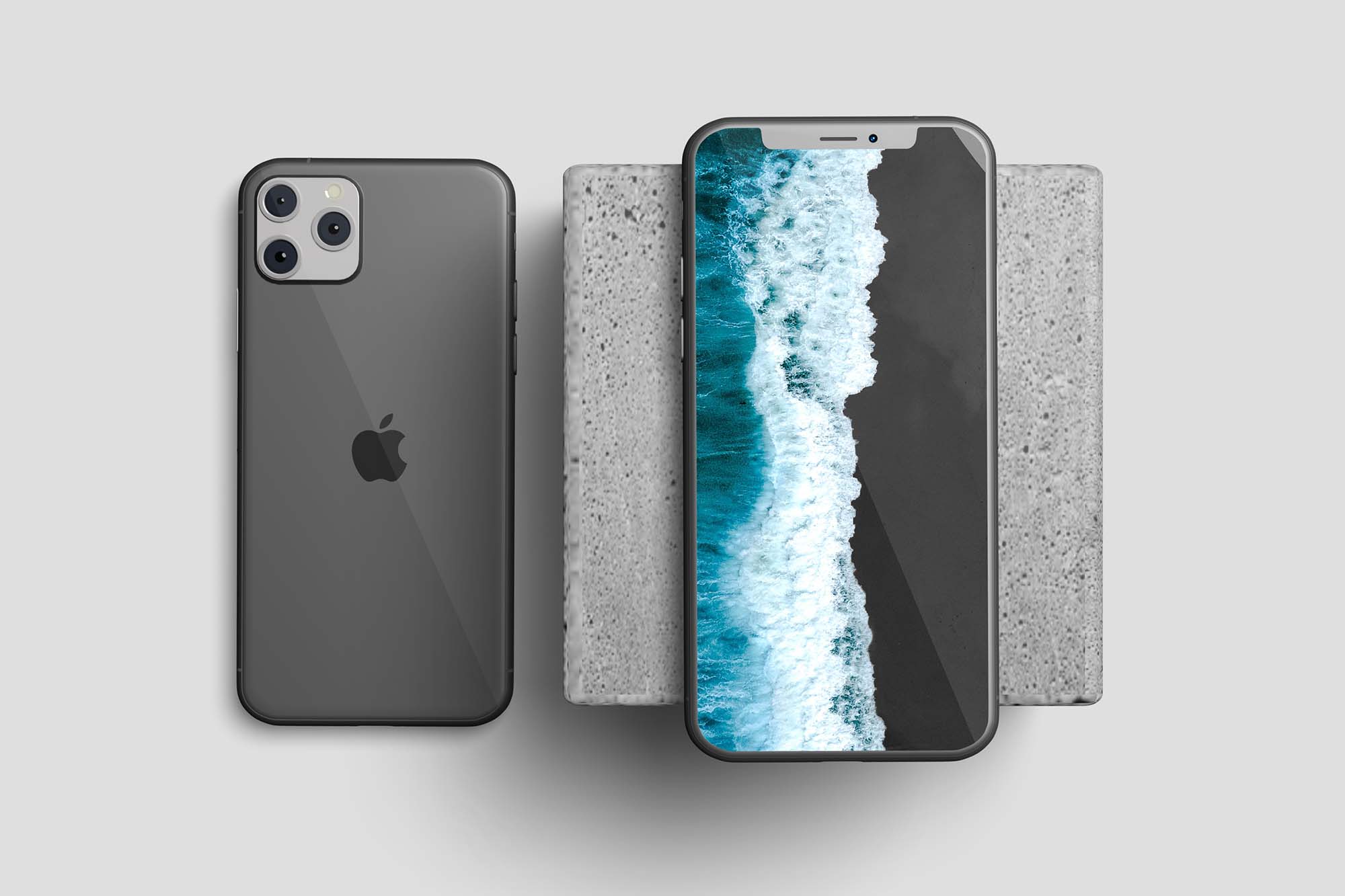 Next up is a treat for all visual designers out there. This iPhone 11 mockup template comes with 2 scenes with different perspectives and views. The iPhone is placed on a concrete slab. The best part is that the template is available for free download.
iPhone X – 4K Mockups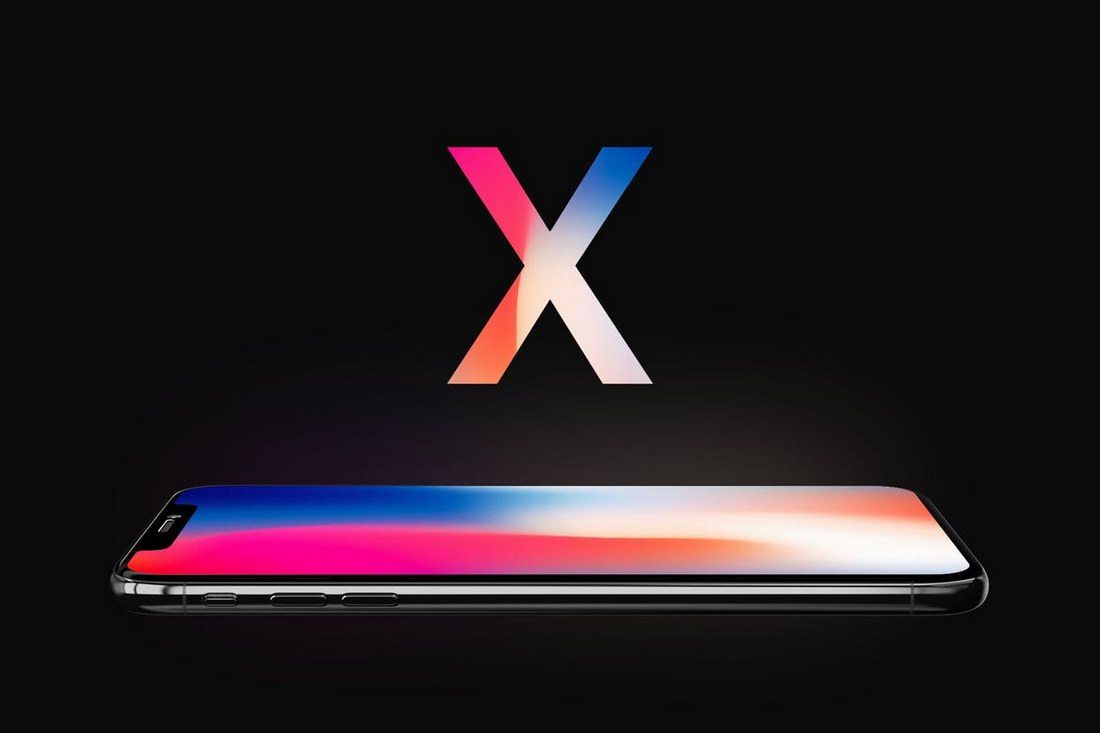 The iPhone X mockups in this bundle come in 4K resolution. They're perfect for print campaigns and high-resolution website designs. The PSD file also comes fully layered for easy customization.
iPhone 7 Plus Realistic PSD Mockups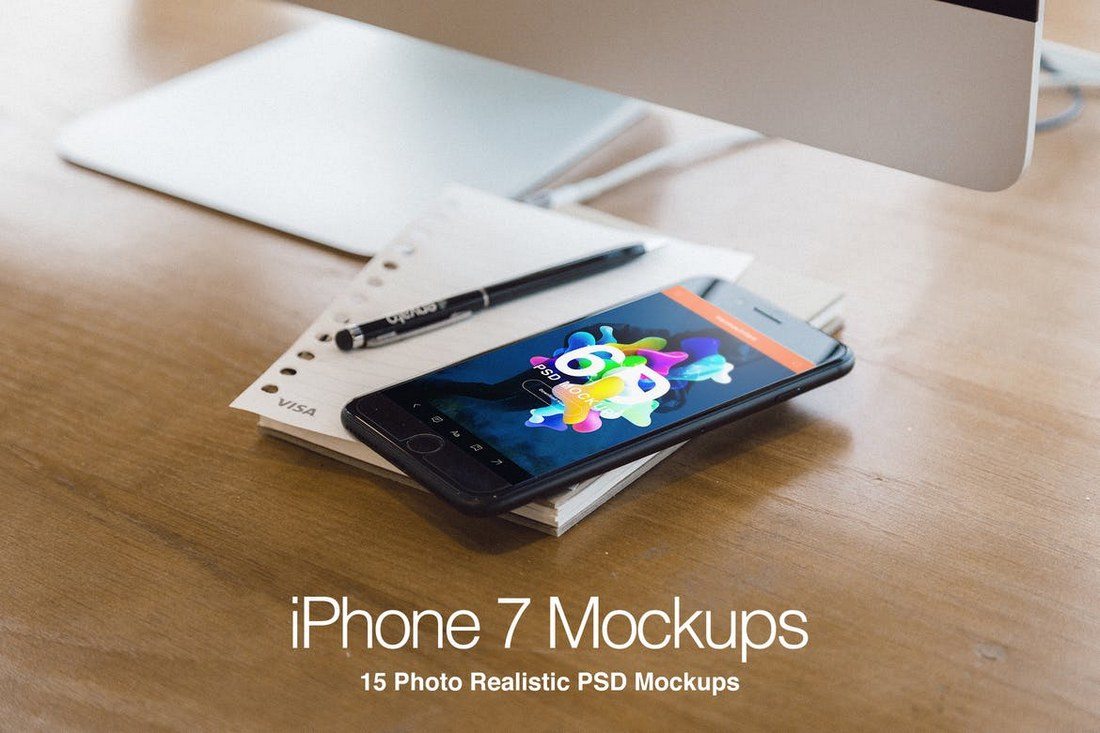 A set of highly creative iPhone 7 mockups that features a beautiful and a creative environment. This pack comes with 15 different PSD mockup files featuring different scenes and perspectives of the device.
iPhone 7 Plus Mockup 6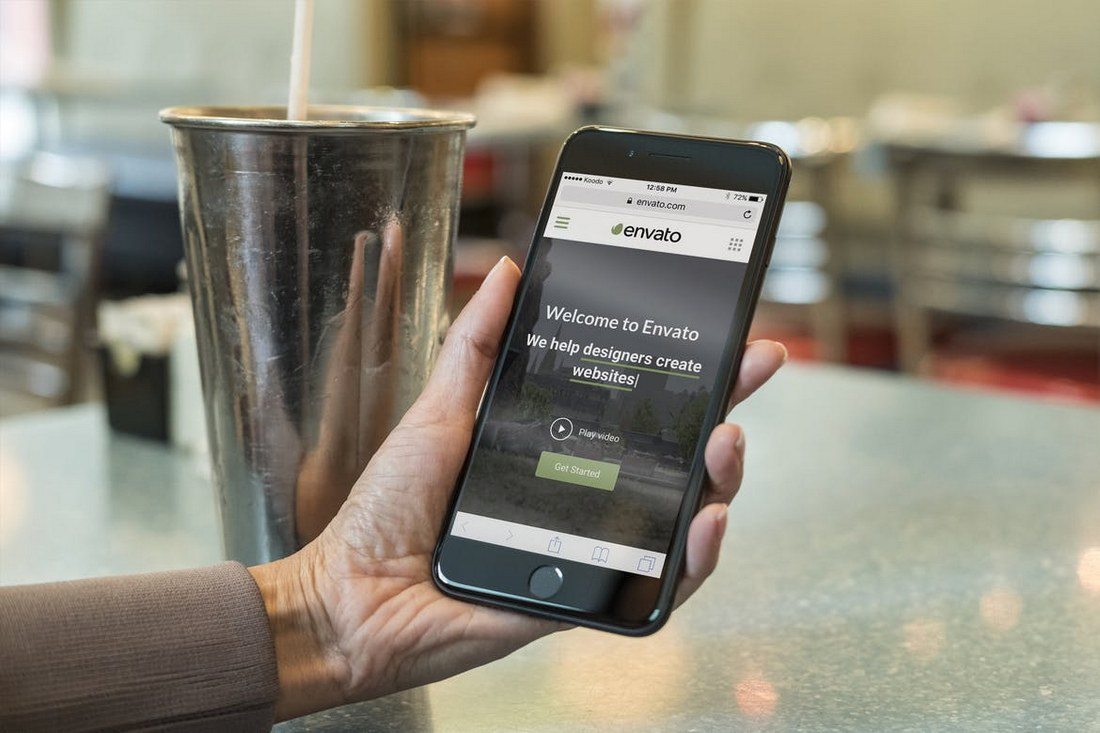 This mockup features a natural background of a coffee shop environment. It's ideal for presenting your website and other types of designs related to restaurants, coffee shops, and hotels.
Colorful iPhone Mockups With Hand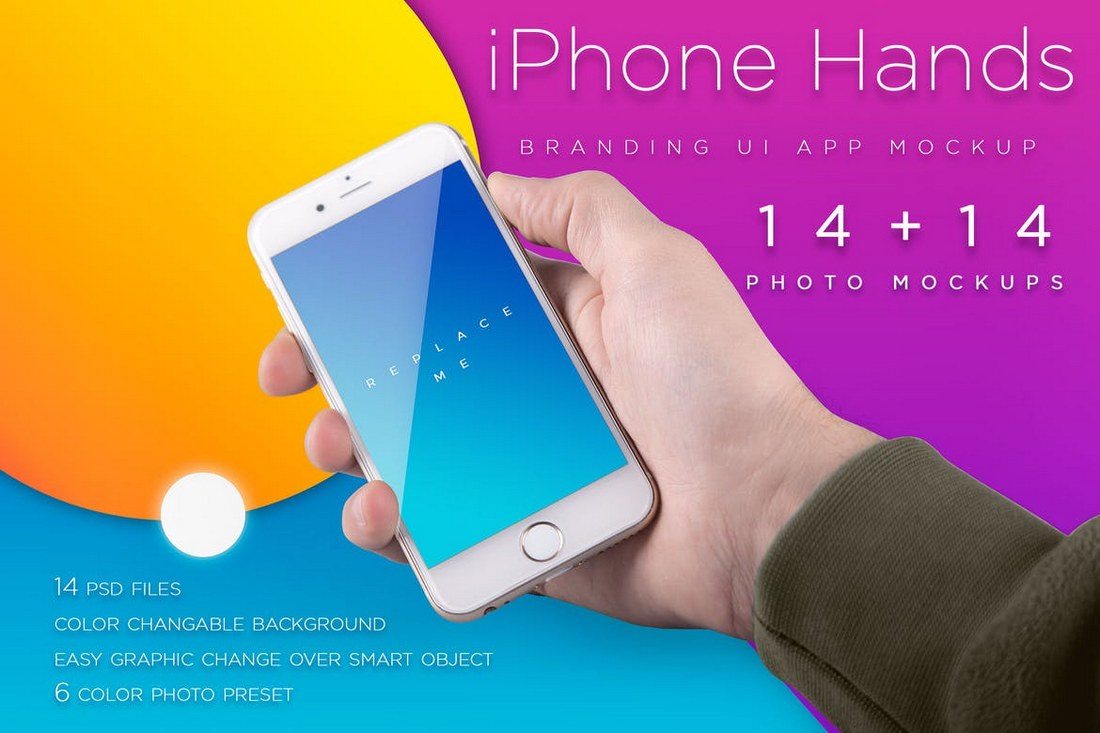 A bundle of 14 iPhone mockups that shows the device being held by a hand. These mockups also come with 14 colorful backgrounds as well as retina-ready resolution.
iPhone 7 & 7+ Mockups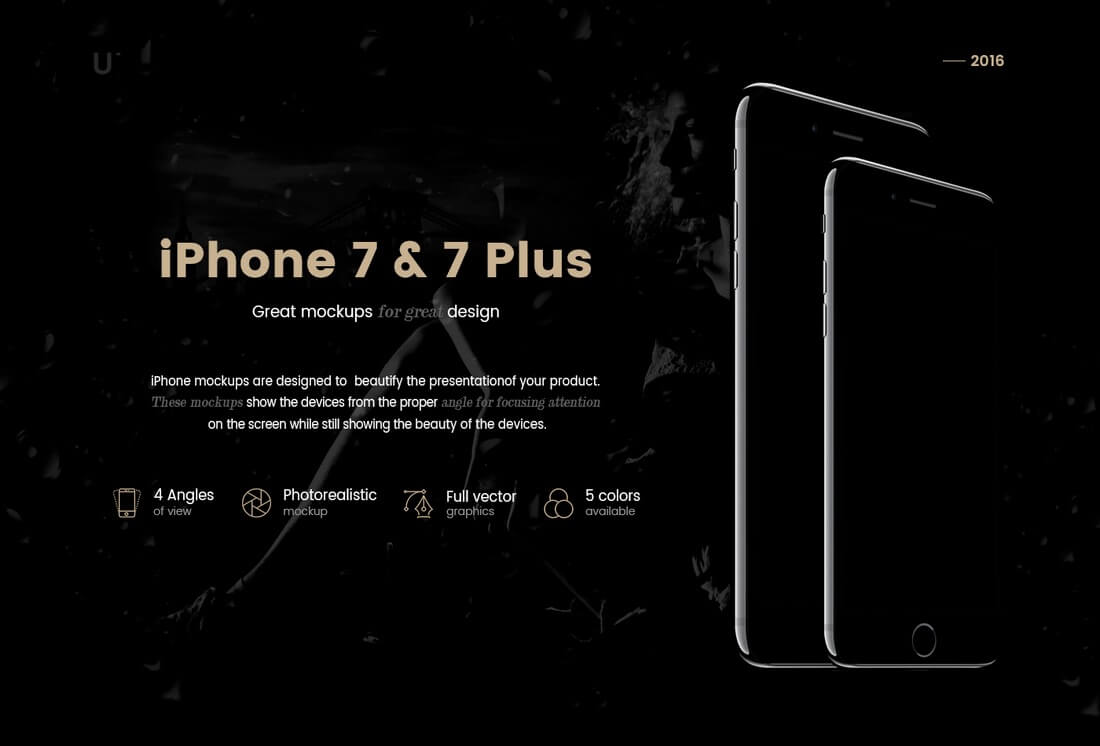 You'll find mockups for both iPhone 7 and iPhone 7 Plus in this bundle, in all 5 colors (Jet Black, Black, Gold, Rose Gold, Silver). The bundle includes 15 PSD files featuring 4 different angles of the devices.
iPhone 7 Mockups Pack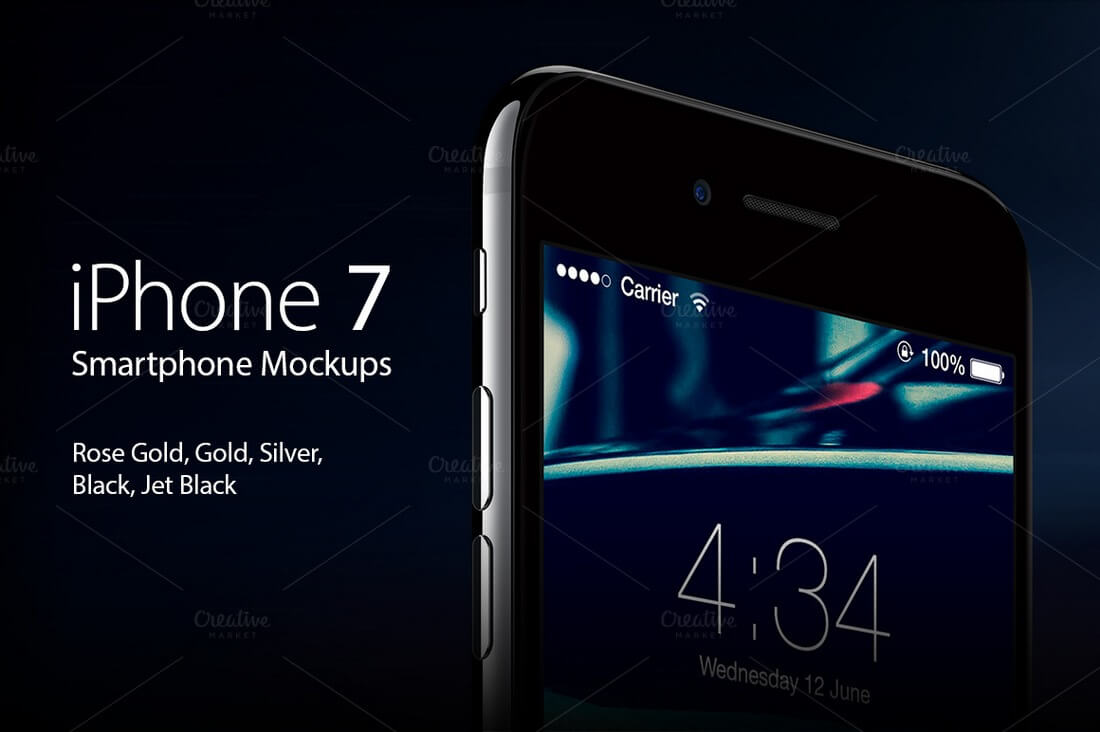 This bundle includes mockups of the new iPhone 7, featuring all 5 colors and 4 different views of the device along with a few ready-made combinations.
iPhone 7 / Android S7 PSD Mockup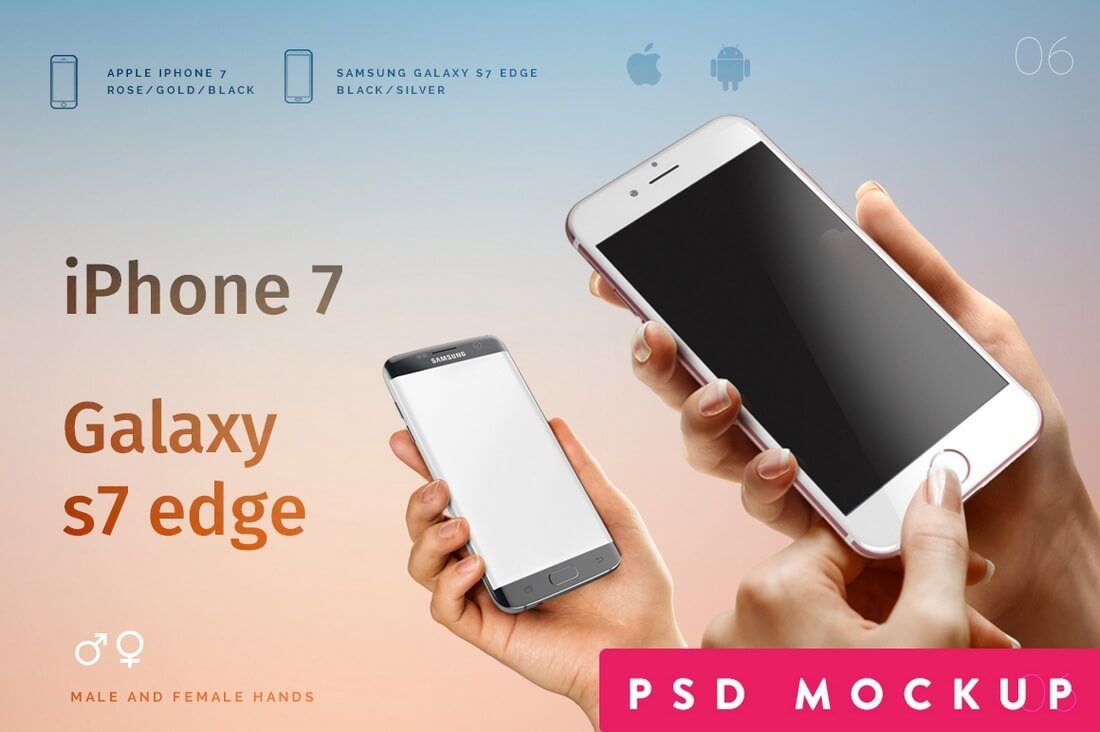 If you're promoting an app or a product that works on both iOS and Android platforms, this mockup will definitely come in handy because it includes both iPhone 7 and Samsung Galaxy S7 mockups, in 8 different variations.
iPhone 7 Case + Device Mock-Up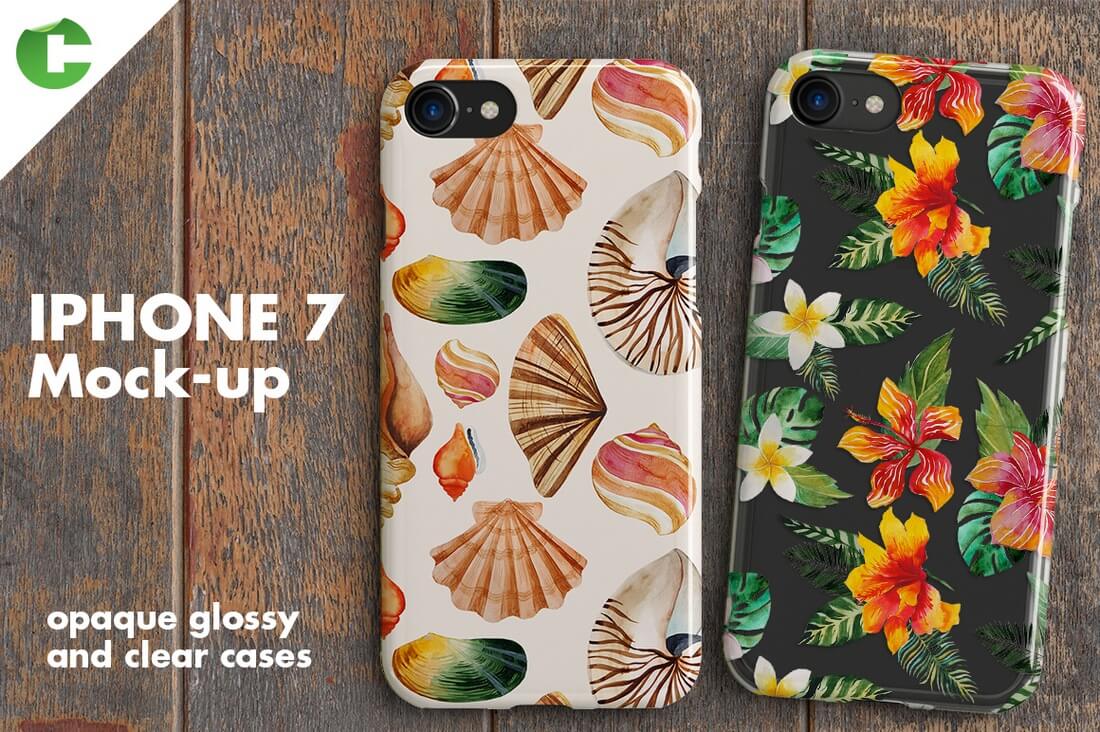 Another beautiful iPhone 7 case mockup, featuring all 5 color variations and changeable background.
iPhone 7+ Mockup – High Resolution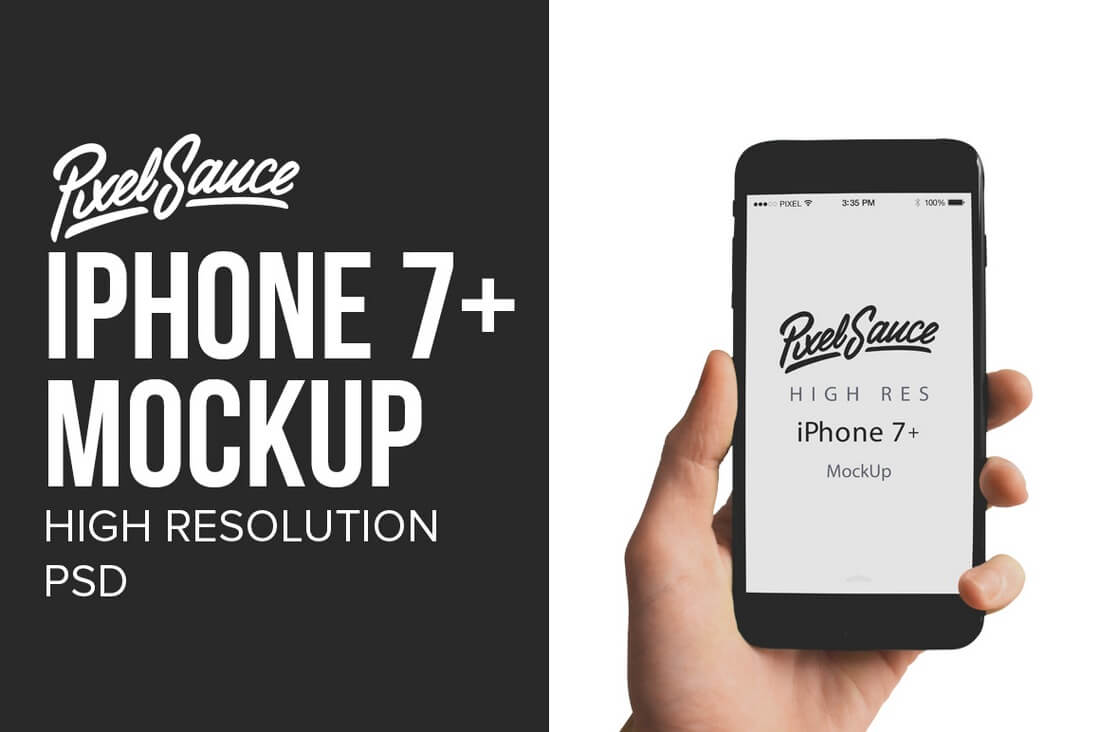 A high-resolution iPhone 7 Plus mockup that will fit in with almost any type of a background.
iPhone 7 Silver PSD Mockup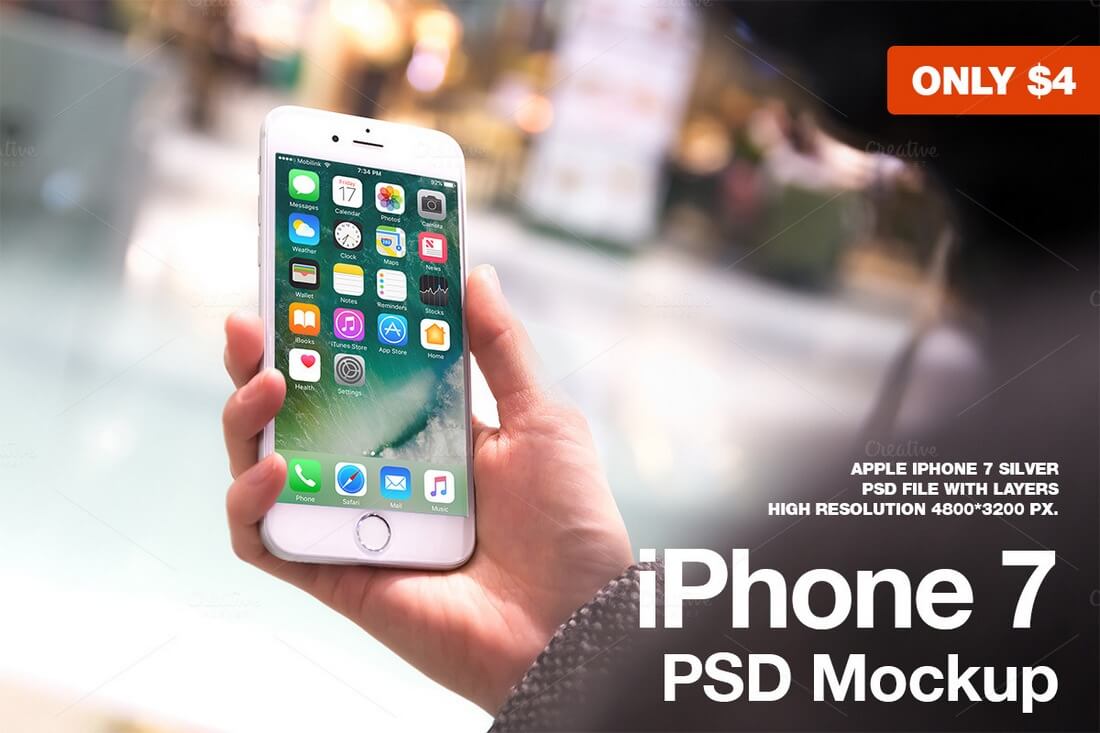 This realistic iPhone 7 mockup features the Silver color model of the latest Apple handset.
iPhone 7 Mockup Flying Black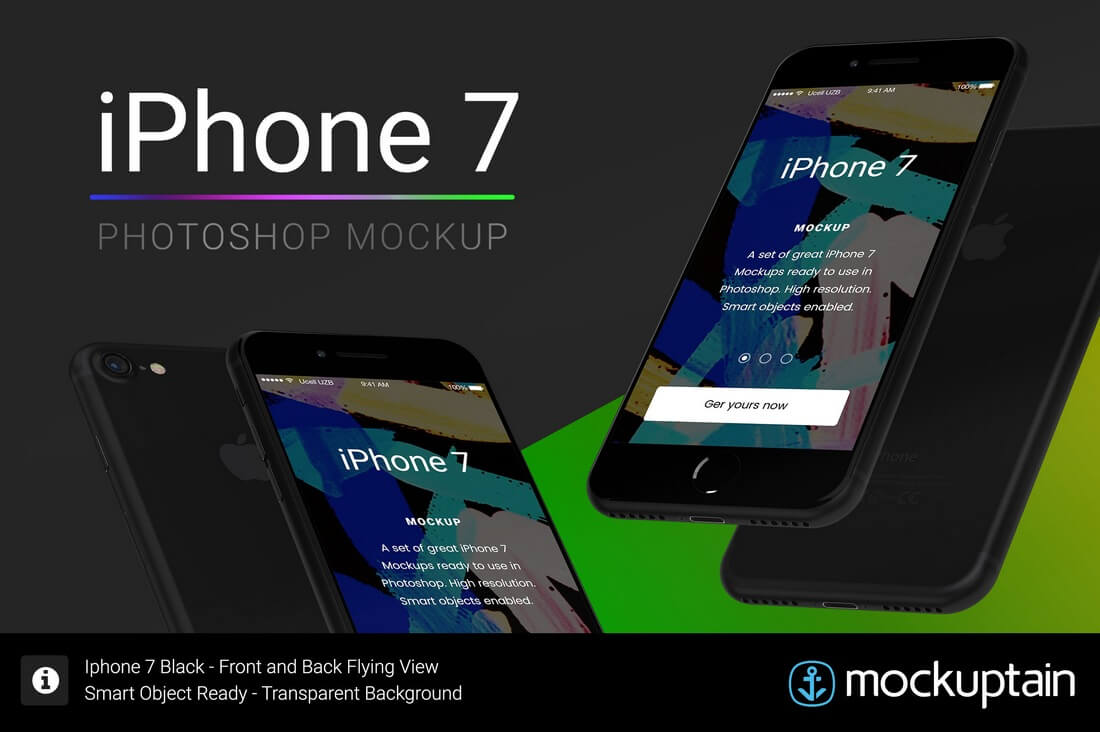 A stylish mockup of the true black iPhone 7, including views of both front and back of the device.
iPhone 7 Mockup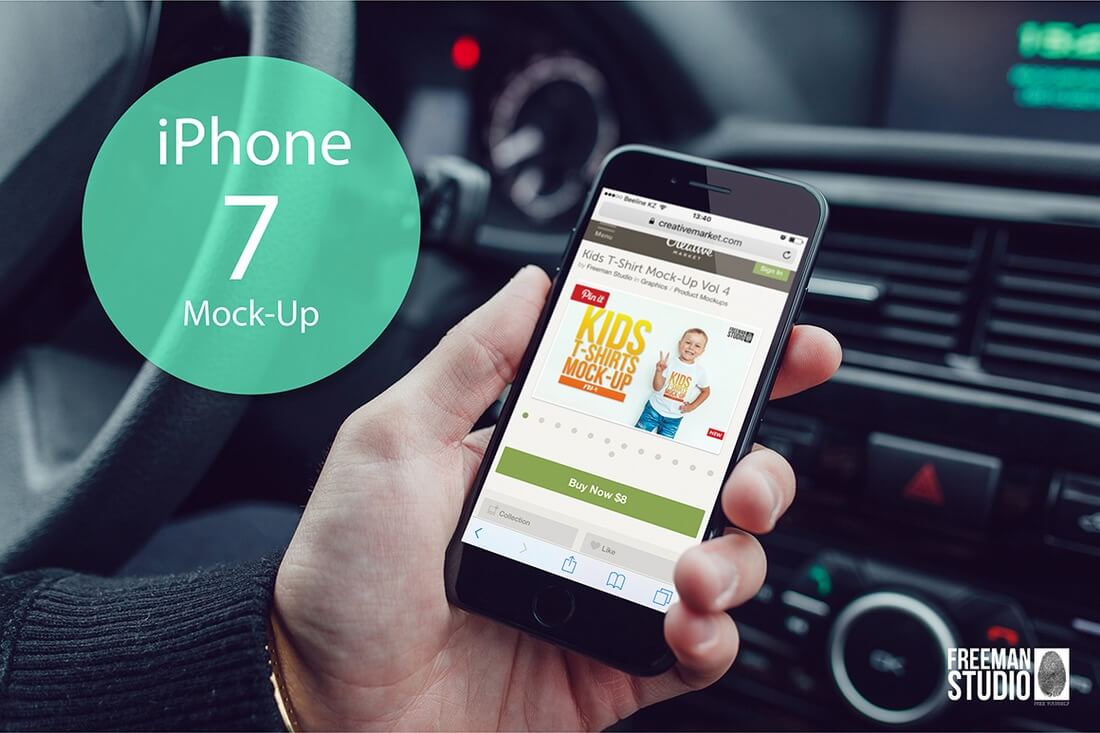 An iPhone 7 mockup pack featuring 7 templates, including outdoor and in-car environments.
iPhone 7 Jet Black Mockup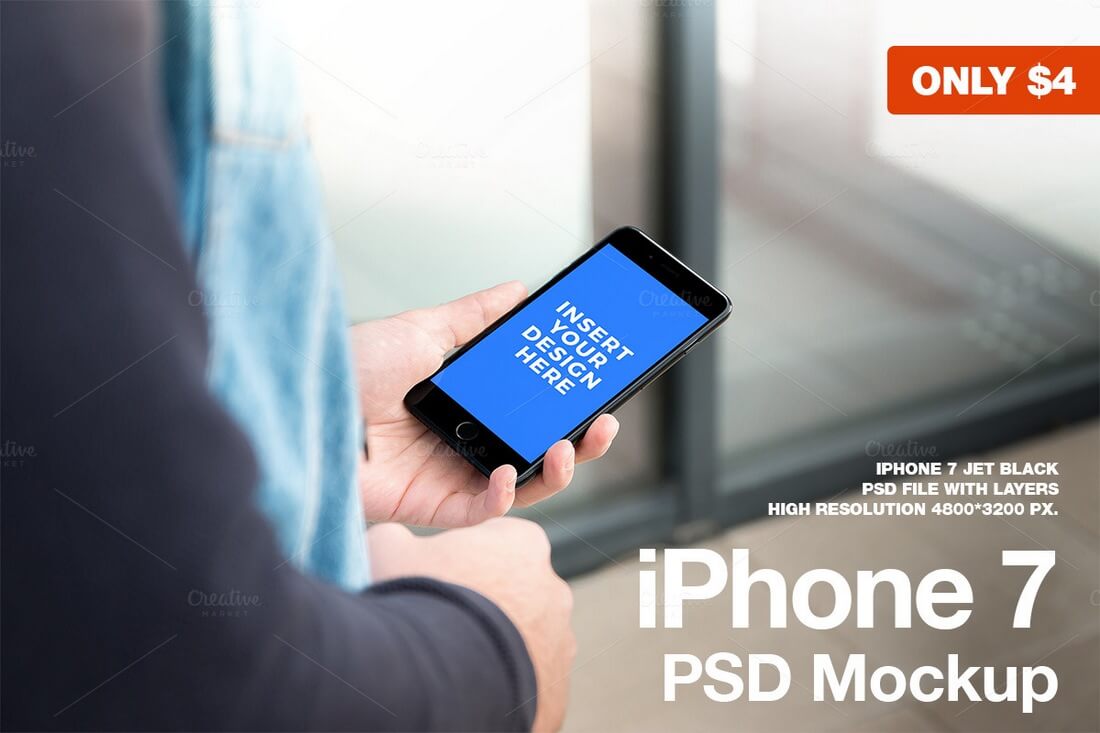 This mockup showcases the iPhone 7 as it's being held by a man.
iPhone 7 Duo Mockup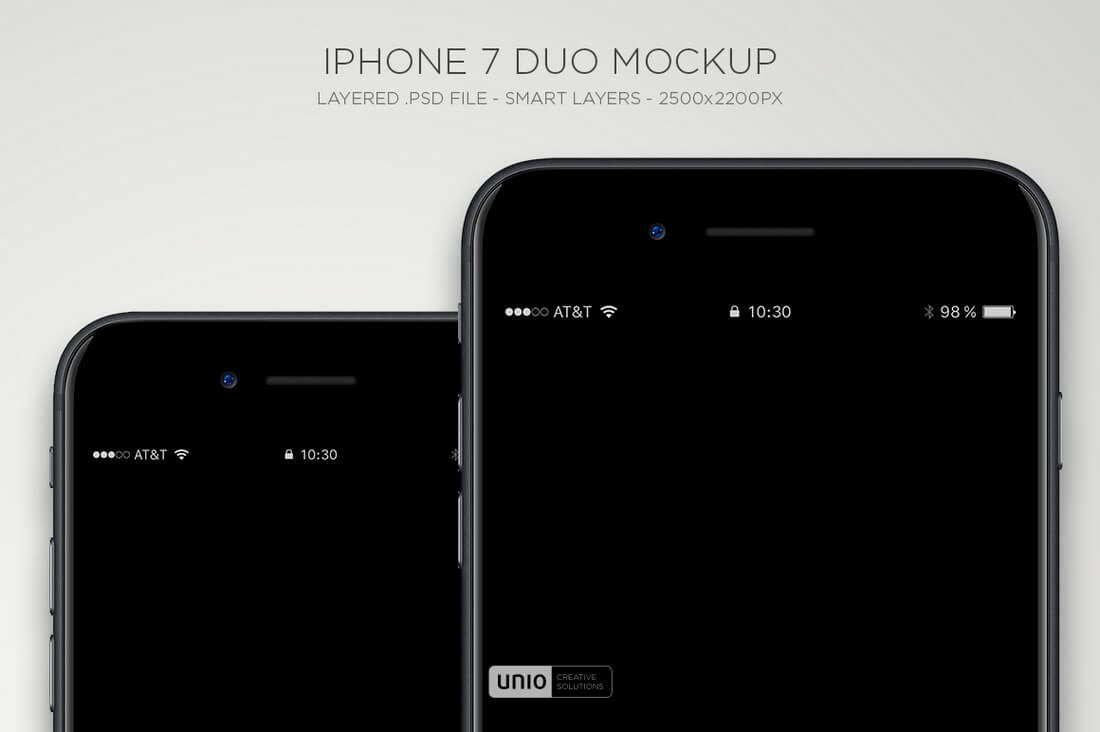 This mockup bundle includes PSD mockups of the both iPhone 7 and 7 Plus, with the ability to turn on or off shadows and reflections.
iPhone 7 Mockup Isometric White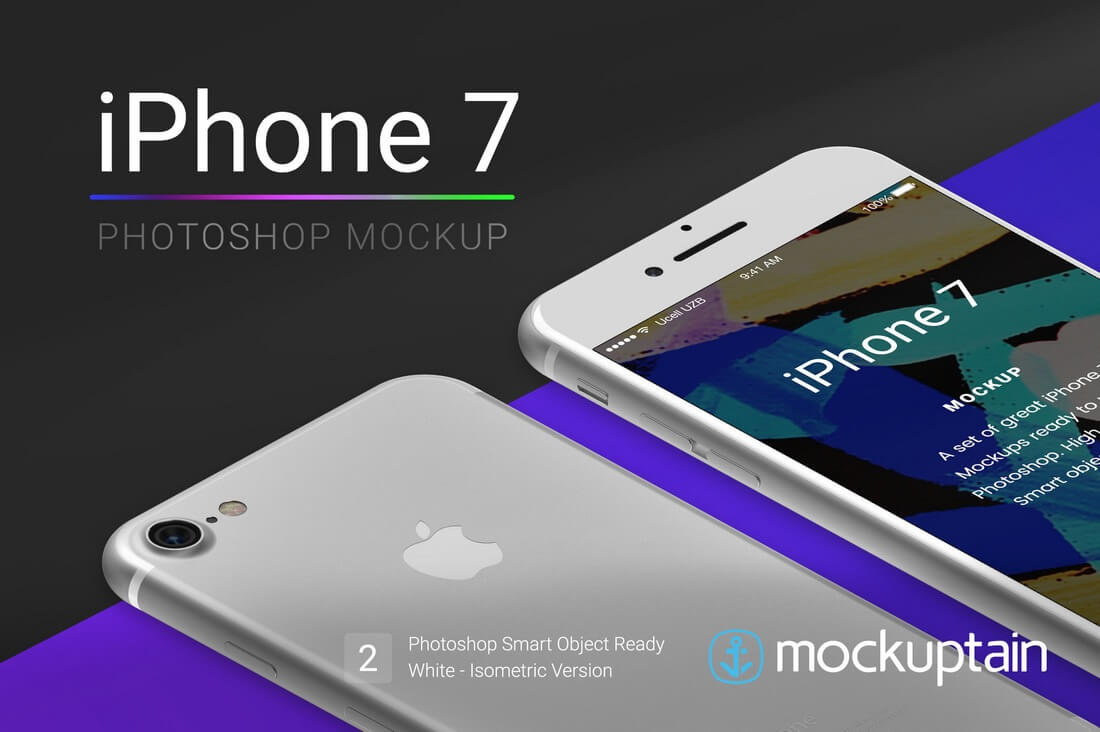 An iPhone 7 mockup that looks perfect for UX design and web design projects.
iPhone Office Work Station Mockup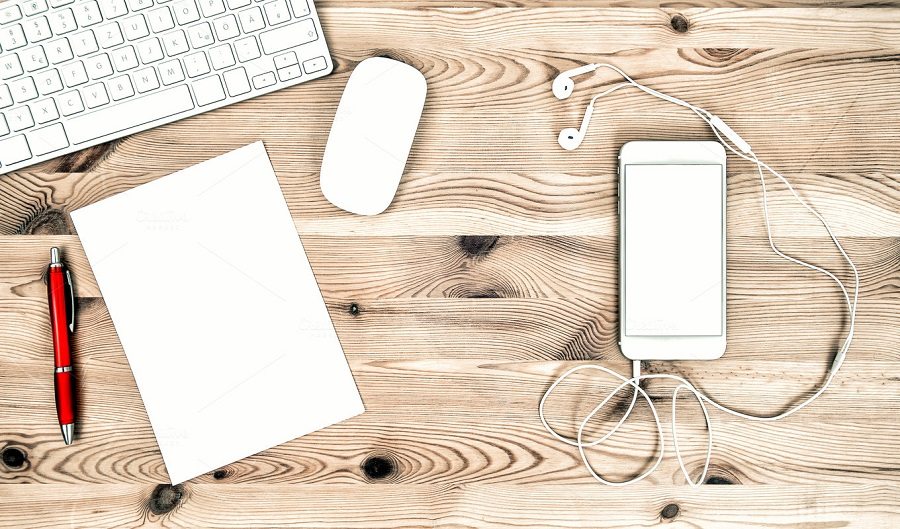 A gorgeous photo of a home office workstation, complete with Keyboard, Phone, Headphones, Stationary and Office Supplies.
iPhone Vector Templates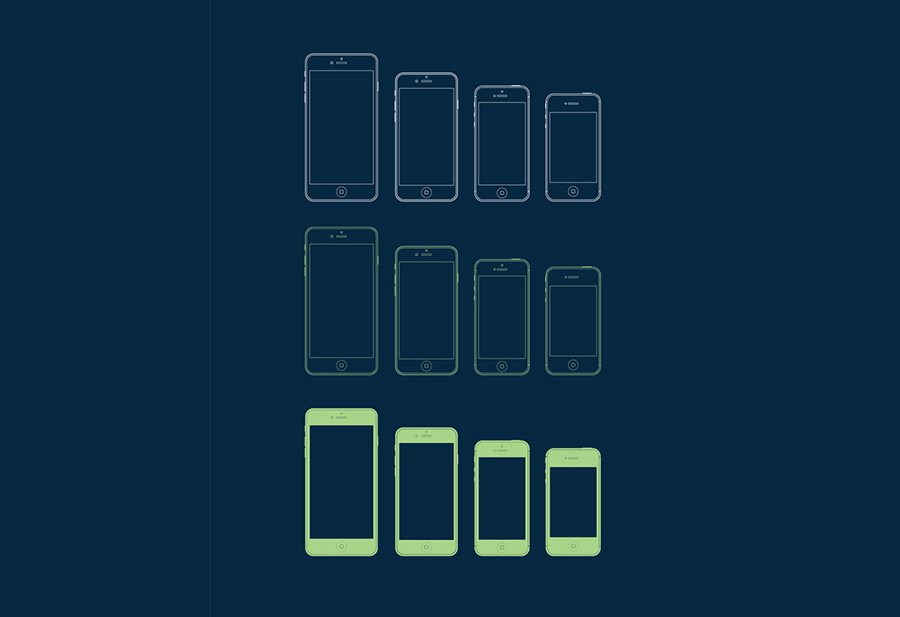 Simple outline iPhone Mockups. What else can we say? Beautiful, simple, and sleek.
8 Natural iPhone Mockups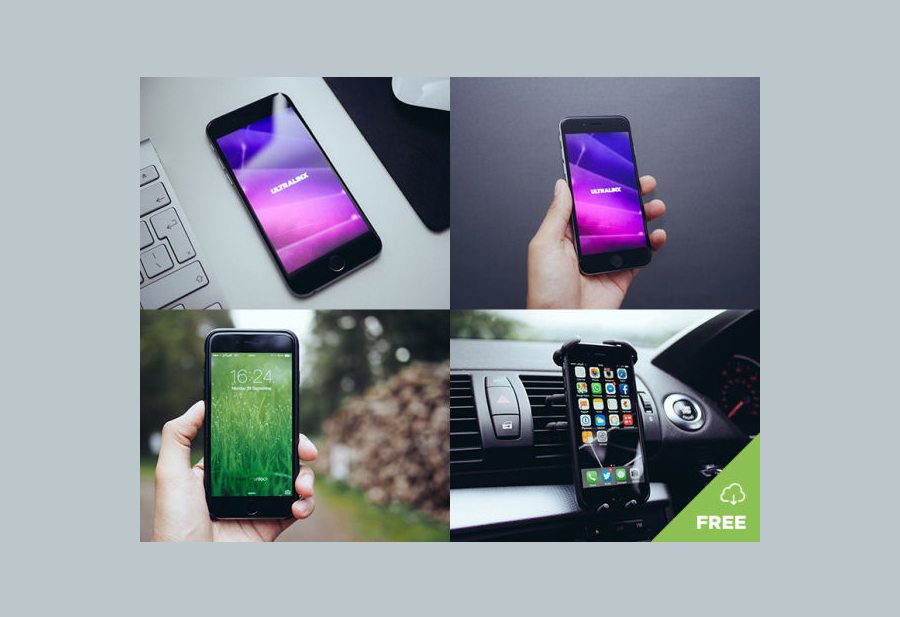 There are eight different mockups in the ZIP file for you to download and put your screenshots on, from a vareity of different scenarios and settings.
By: Roshan Perera
Title: 70+ iPhone PSD Mockups (Free + Premium) 2023
Sourced From: designshack.net/articles/graphics/100-iphone-psd-vector-mockups/
Published Date: Thu, 03 Nov 2022 14:00:00 +0000
Did you miss our previous article…
https://www.webdesignhawks.com/?p=11877