Lightroom is the go-to app for processing RAW images and enhancing photos. But does it have all the tools you need to edit photos and do professional work?
That's actually one of the biggest downsides to using Lightroom, as the app only offers a limited number of tools and features. And you have to switch over to a different app (Photoshop) to continue editing your photos.
What if you could do the tasks of both Lightroom and Photoshop using one app? And it only costs a one-time price of $54.99? Would you switch over to this app?
Before you answer, let's take a look at the benefits of using Lightroom and Affinity Photo to see which app is best for you.
ffinity Vs. Adobe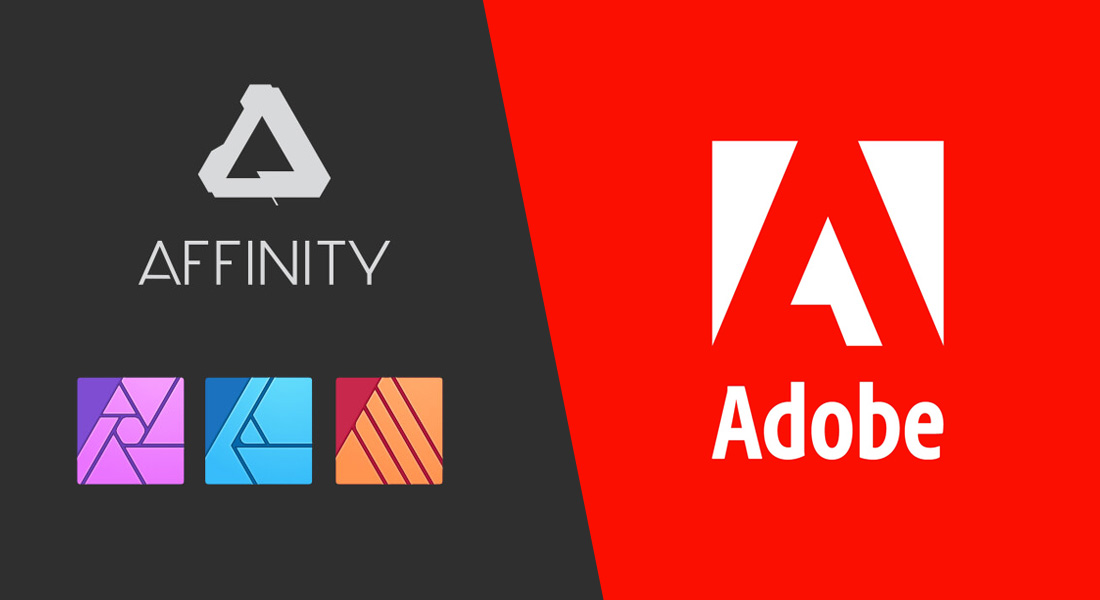 For decades Adobe has been dominating the graphic design industry with its lineup of award-winning graphics editing software. Everyone loved using Adobe software. But when the company introduced its new and expensive subscription plan, many users started looking for alternatives.
One of the companies that came to save the day was Serif with its Affinity software lineup. Affinity offers three apps, Affinity Photo, Designer, and Publisher, as alternatives to Adobe Photoshop, Illustrator, and InDesign. And they do a killer job at it. The best part is these alternative apps only costs $54.99 each. That's it! There are no subscriptions.
With so many users switching to Affinity software, the Affinity vs Adobe battle is heating up. Who knows, maybe this post will convince you to make the switch as well? Let's find out.
1. Go Beyond Basic Retouching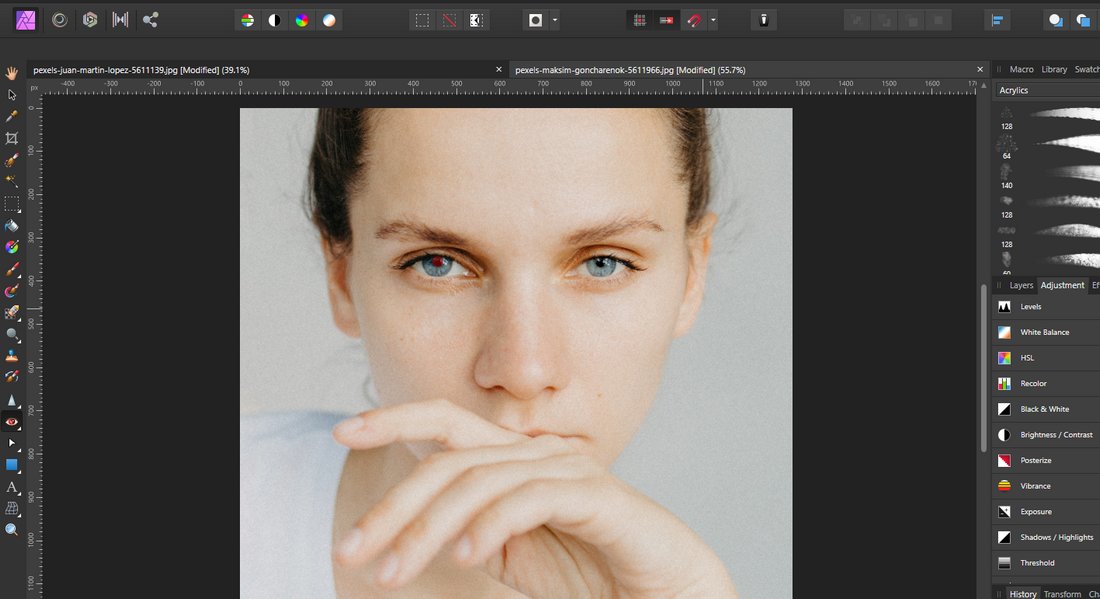 Lightroom offers a few great tools for retouching photos. You can easily get rid of the red eye, use healing tools to remove unwanted spots, and even do basic skin retouching within the app.
Although, if you want to go beyond basic retouching, you'll need a subscription to Photoshop. Or an advanced photo editing app like Affinity Photo.
With Affinity Photo, you can do everything Lightroom does and more. You can use multiple selection tools to target specific areas in a photo, use the clone brush to get rid of unwanted areas, remove backgrounds, remove blemishes, adjust colors, and do so much more.
2. Non-Destructive Photo Editing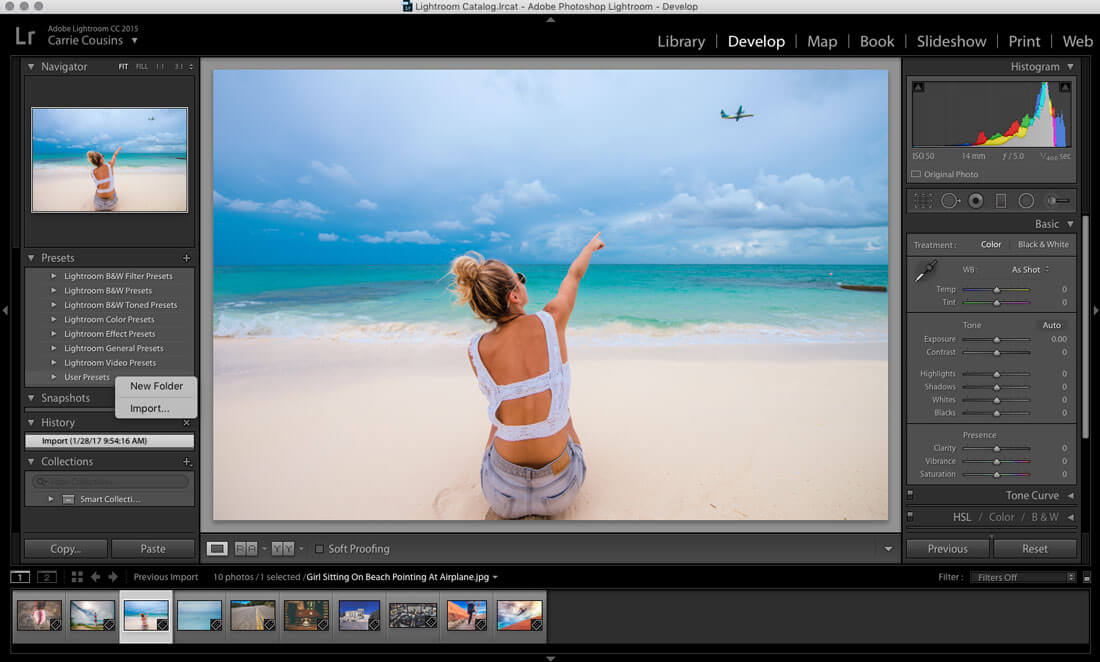 Being able to edit a photo without making permanent changes is important. It allows you to go back to specific stages of your image editing process to make changes or try different effects.
The good news is both Affinity Photo and Lightroom are non-destructive photo editing apps. Both apps keep your original photo safe and secure while you make edits using the app. And you can instantly go back to undo changes using the History panel.
A great thing about Lightroom is that even if you close the app, your edit history will still be there when you open the app again.
3. Adjustment Layers And Masks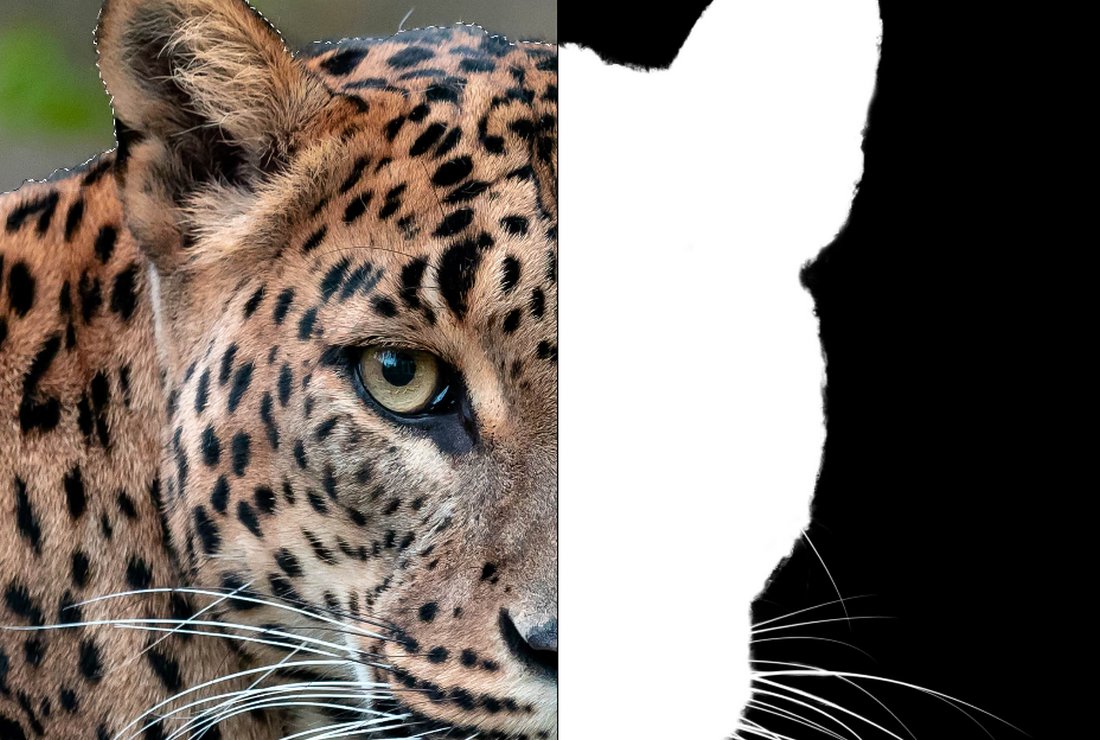 While the ability to navigate edit history is a great feature, Lightroom has limited capabilities when it comes to customizing the specific effects you've made before.
With Affinity Photo, you can always edit and customize the adjustments and effects you apply to a photo, thanks to adjustment layers.
You can also add multiple adjustment layers on top of another to create advanced effects. And easily adjust the strength of the impact by changing the opacity of the layer.
4. Incredible AI-Powered Tools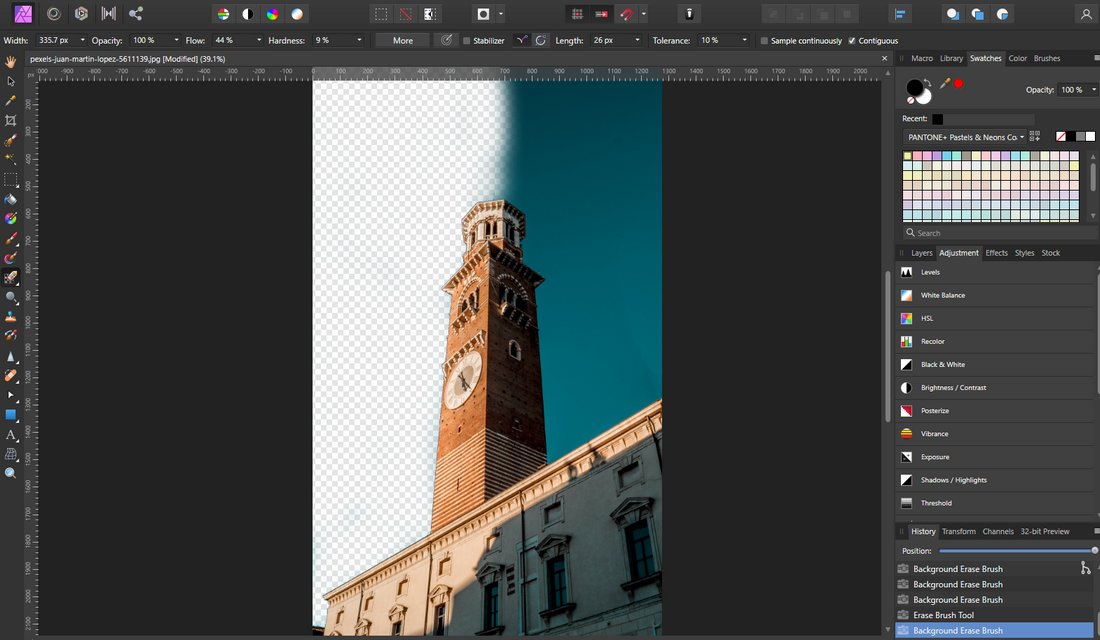 The fantastic selection of photo editing tools available in Affinity Photo is also worth mentioning. Unlike Lightroom, Affinity Photo has multiple selection tools. And it has several other AI-powered tools like a blemish removal tool, red eye removal tool, and a healing brush.
But our favorite is the background removal tool, which allows you to erase the background of any photo without affecting the center object or the person in the photo. It's perfect for portrait photo editing.
5. Instantly Improve Photos With Presets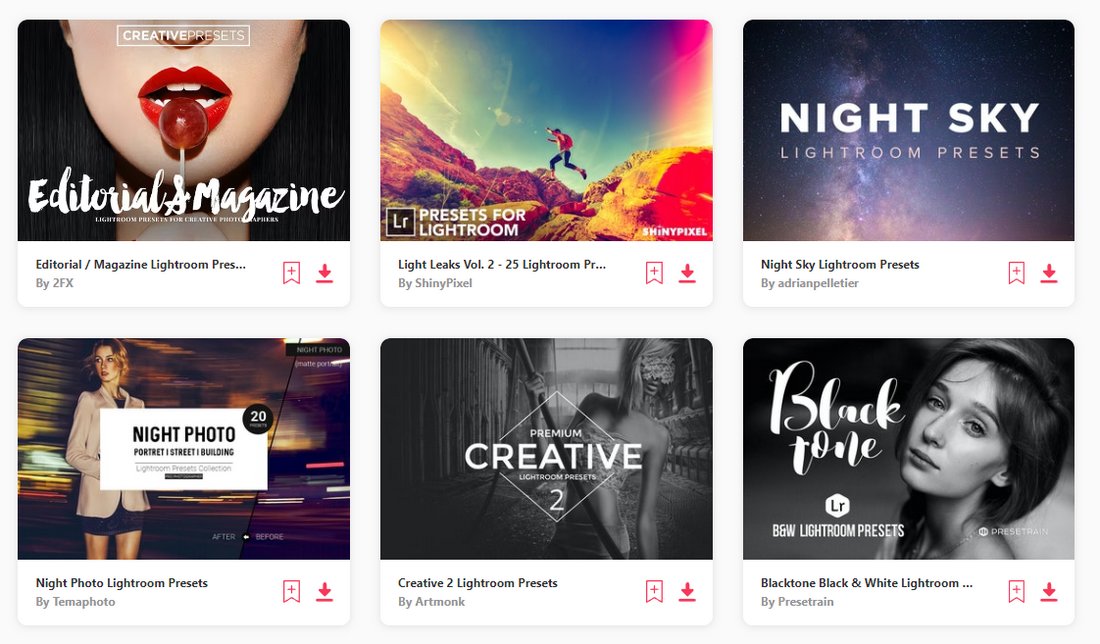 Lightroom not having so many advanced editing tools can also be considered a good thing. It makes the software a very beginner-friendly app.
Even if you don't have extensive graphic design knowledge, you can easily start using Lightroom to edit photos. Especially the ability to use third-party presets is a feature that makes the editing process much simpler.
With Lightroom presets, you can instantly apply cool filters, color adjustments, improve exposure, and much more without having to do all the work by yourself.
Of course, you can still use pre-made templates, overlays, and macros to make quick adjustments to photos using Affinity Photo as well.
6. Easily Apply LUTs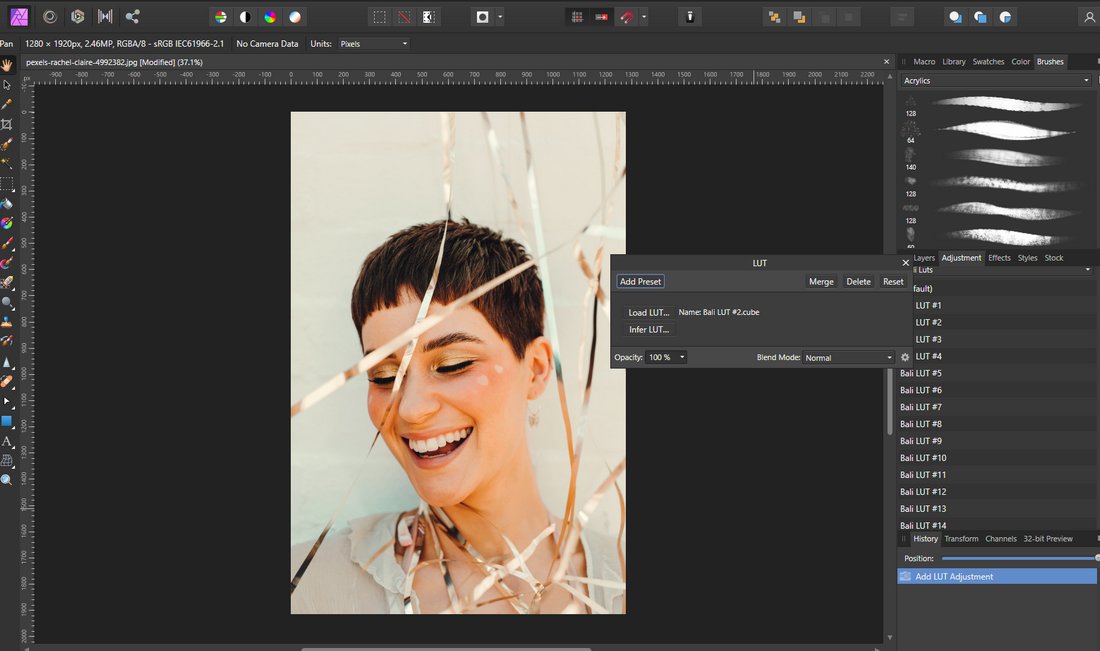 LUTs are great for adding beautiful color filters and giving unique looks to photos. Affinity Photo has a built-in feature that allows you to easily apply LUTs to add effects and filters to your photos.
You can use LUTs in Lightroom too. But you'll have to go through a long process to add the LUTs to the app.
7. Batch Photo Processing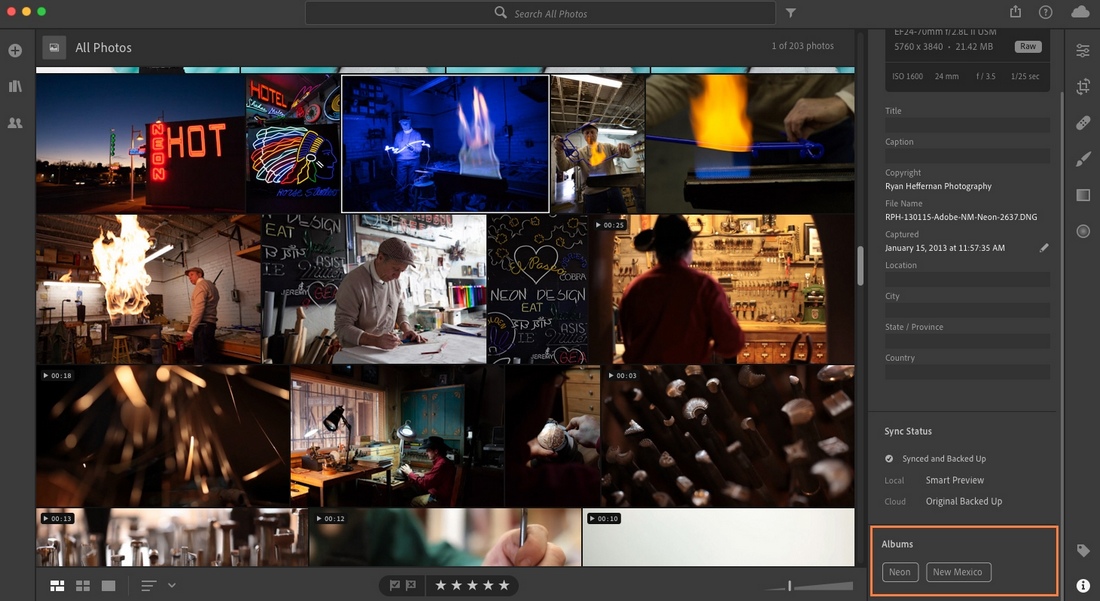 Photographers and editors often have to process photos in big batches. Whether it's to add a simple color filter or adjust exposure, it can be tedious work when you have to do the same task over and over again.
This is where Lightroom excels at offering a simpler solution. Lightroom is practically made for batch photo processing. And if this is a big part of your workflow, Lightroom will surely save the day.
Affinity Photo also has options for performing batch processing jobs. But it's not as simple or seamless as Lightroom.
8. Free Mobile App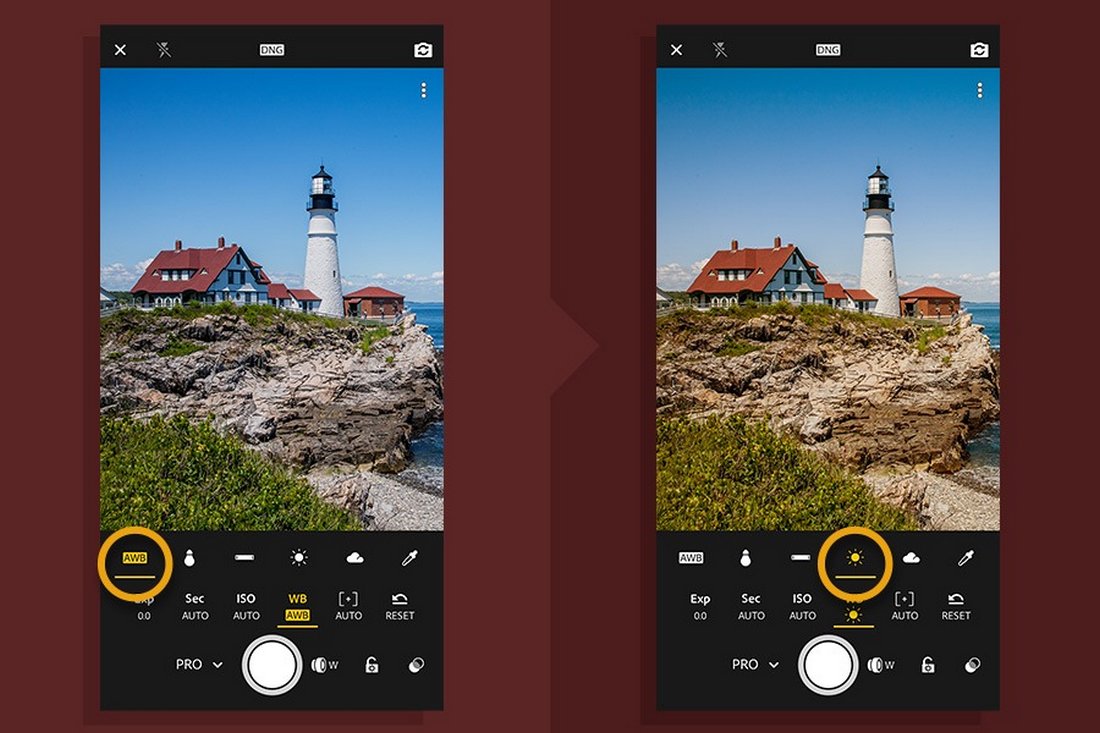 Affinity Photo is available on iPad. But it's not free. The app costs $21.99 and it's only available on Apple App Store.
Lightroom, on the other hand, is available on both Android and Apple platforms. And the app is free to use. You can access most of its tools and features for free on your mobile device. And it's perfect for editing your selfies and photos on the go.
Should You Use Lightroom or Affinity Photo?
The answer to this question is simple. Use Affinity Photo!
Affinity Photo offers the best overall selection of tools and features for your photo editing needs. And it all comes wrapped in an affordable one-time price tag. Compared to the perpetual monthly subscription you have to pay for Lightroom, you could easily learn to live with the small downsides of using Affinity Photo.
However, we would recommend using Lightroom if you're a photographer or a complete beginner who can afford the subscription. And go for the Photoshop + Lightroom plan as it offers the best value.
5 FAQs About Affinity Photo and Lightroom
These frequently asked questions about Affinity Photo and Lightroom may help you find answers to some of your questions.
How Much Is Lightroom?
Adobe offers three plans for using Lightroom. The first plan costs $9.99 per month. It only includes Adobe Lightroom with 1TB cloud storage. The Photography plan also costs $9.99 per month and it includes both Lightroom and Photoshop but with 20GB of cloud storage. The $19.99 per month plan includes Lightroom and Photoshop with 1TB of cloud storage.
What Is Lightroom Presets?
Lightroom presets are a pre-made set of adjustments that you can apply to instantly enhance photos. They are very easy to use and you can apply cool effects and filters to your photos with just one click.
How To Download Presets To Lightroom?
You can buy Lightroom presets from third-party marketplaces, like Envato Elements, and download them straight to your computer. Then you can install them by opening the .lrtemplate preset file.
What Is Affinity Photo?
Affinity Photo is a graphics editing software that you can use to edit photos, create photo manipulations, design graphics like posters, flyers, and much more. Affinity Photo is an affordable alternative to Adobe Photoshop. And it offers similar tools and features to Photoshop as well.
How Good Is Affinity Photo?
Affinity Photo is just as good as Photoshop. It offers similar and matching tools for almost every tool, feature, and option available in Photoshop. Affinity Photo is also being improved with regular updates. And it's getting better every day.
By: Roshan Perera
Title: Affinity Photo vs. Lightroom: Which App Is Best for Photo Editing?
Sourced From: designshack.net/articles/software/affinity-photo-vs-lightroom/
Published Date: Wed, 27 Jul 2022 13:00:44 +0000