When it comes to vector graphics editing software there have always been two players competing for the best vector editing app throne, CorelDRAW and Adobe Illustrator.
Both these apps offer incredible features and tools you need to design all kinds of vector graphics. But which app is the best?
Today, we wanted to find answers to this question by comparing the best features of these apps. If you're also confused about which app to use for your design work, we'll help you figure it out.
This is not going to be an ordinary feature comparison. Instead of comparing the user interfaces and the quality of features, we look at what kind of work you can do with both apps. Hopefully, it will help you find the right app for the type of work you do.
dobe Illustrator vs. CorelDRAW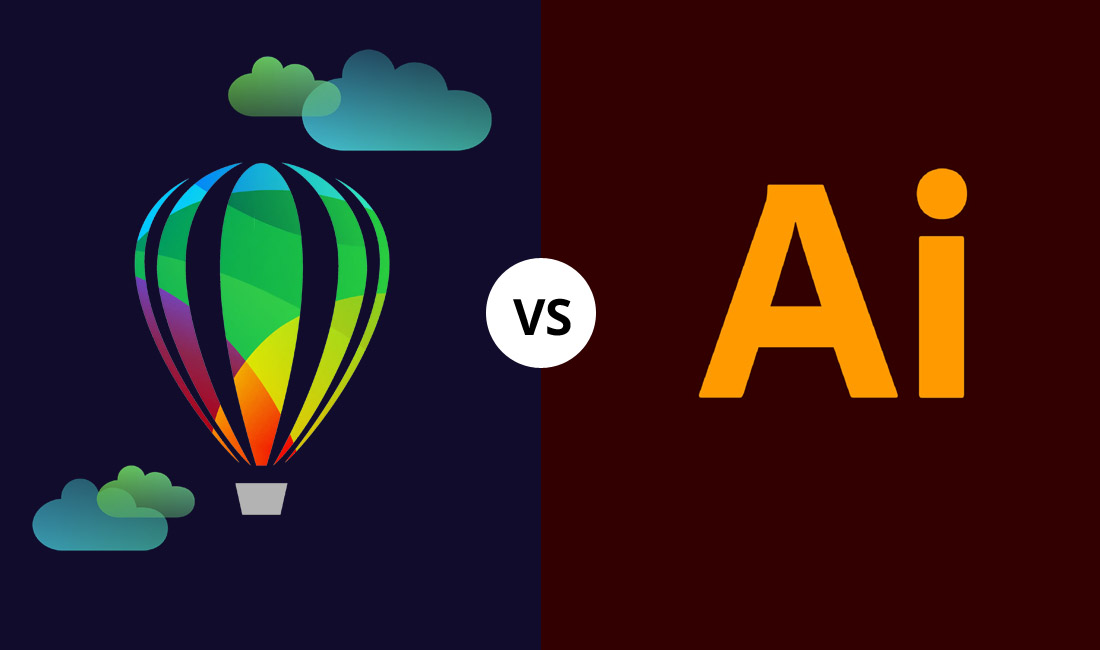 Before we jump into the pros and cons section, let's learn a little bit about these popular vector editing software.
It's hard to believe that both Adobe Illustrator and CorelDRAW have over a three-decade-long history. Illustrator was initially released in 1987 and then CorelDRAW came out in 1989. Over the years, both software came a long way to become industry-leading platforms for print and digital media.
The fact that both these software giants were able to survive and continuously develop their software over three decades says a lot about their dedication for quality and customer service.
Adobe Illustrator and CorelDRAW have similar tools and functionality with only a few small differences. So, you can't go wrong with choosing either of these apps.
However, it's important to choose and master one platform to be a true professional. Let's figure out which app you should start with.
1. An All-In-One Software Suite
Illustrator and CorelDRAW come as part of a complete graphics software suite. Illustrator is included in the Adobe Creative Cloud suite and CorelDRAW is included in the CorelDRAW Graphics Suite. The main difference is the pricing.
Adobe Creative Cloud suite costs $82.49 per month or $600 per year to access more than 20 Adobe apps, including Illustrator. Or you can get an individual subscription for Illustrator for $20.99 per month (paid annually).
CorelDRAW is available in two packages CorelDRAW standard and CorelDRAW Graphics Suite. CorelDRAW standard costs a one-time price of $335 and it comes with CorelDRAW standard version and Corel Photo-Paint.
CorelDRAW Graphics Suite costs $351 per year and it includes the CorelDRAW full version with Photo-Paint, Capture, AfterShot, and more for Windows, Mac, and iPad.
If you're a freelancer or just looking to practice art at home, CorelDRAW would be the ideal choice for you as it can be purchased for a one-time fee.
2. Support for Free-Hand Drawing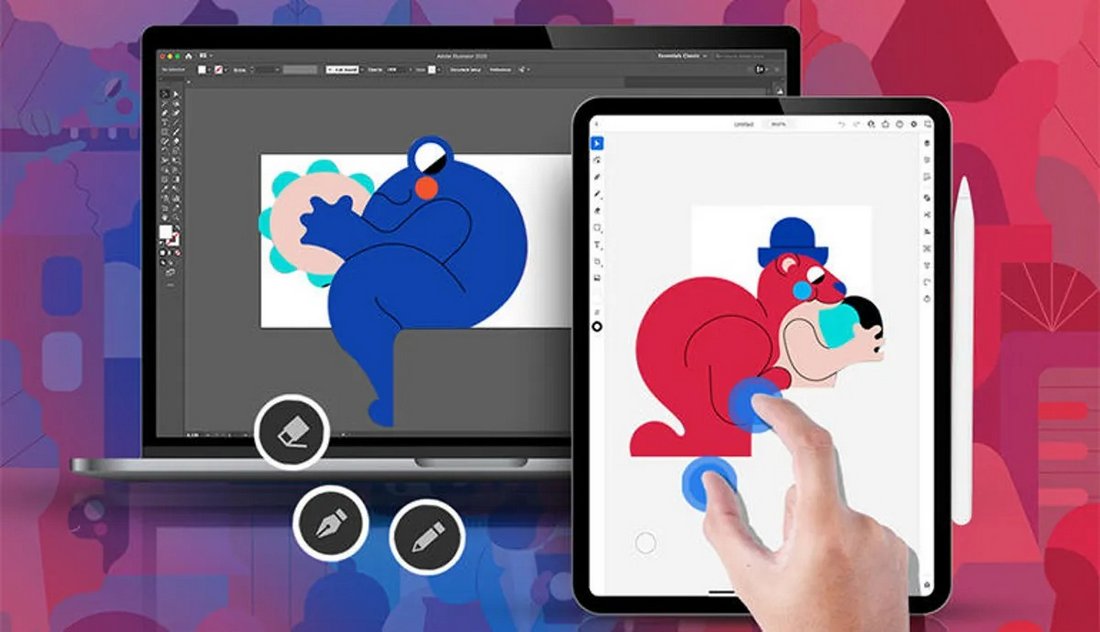 One of the first questions most artists have about using a vector graphics editor is the compatibility for free-hand drawing. You'll be happy to know that both Illustrator and CorelDRAW support free-hand drawing and they are compatible with all popular drawing tablets.
Both apps have very intelligent tools that support free-hand drawing. In fact, CorelDRAW has a dedicated tool called Freehand Drawing Tool and it offers very flexible features for creating realistic curves.
3. Lightweight & Faster Performance
Performance and system resource usage are two of the most important factors that directly affect your workflow and productivity. Especially when dealing with high-resolution graphics such as banners, posters, and billboards.
Compared to Adobe Illustrator, CorelDRAW has a significantly lightweight design and performs quite well even on older computers. It's one of the main reasons why the app is preferred for designs in the print industry.
4. Image Trace vs. PowerTRACE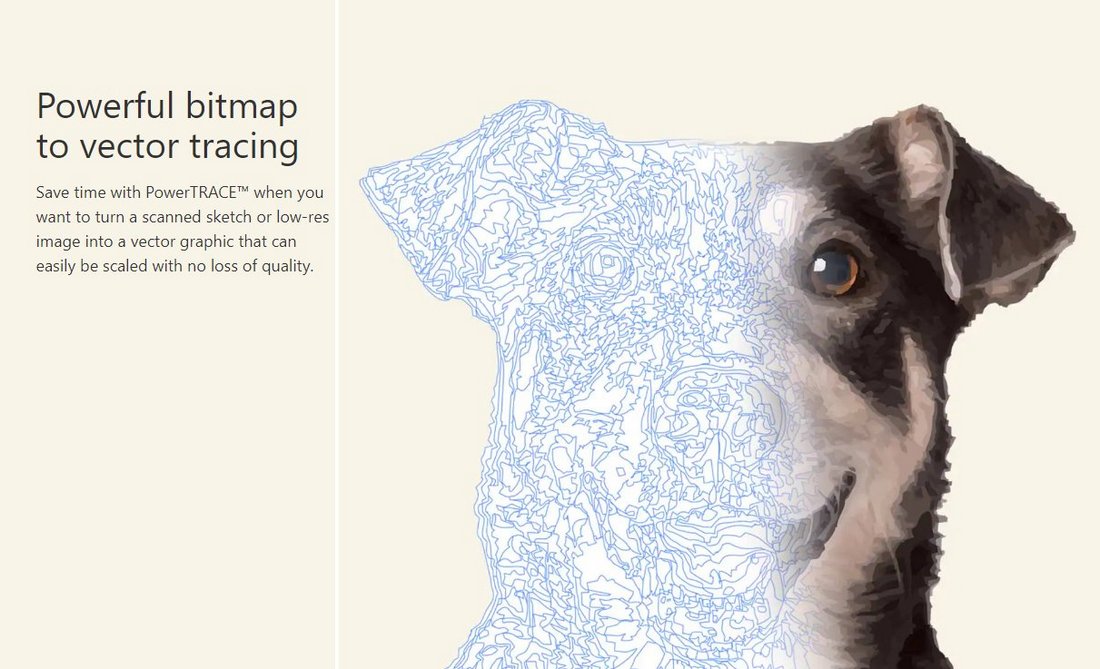 The ability to turn your ordinary raster images into vector format is a function that will make your life so much easier. It's the best way to create vector art from your hand-drawn designs as well.
CorelDRAW has a powerful tool called PowerTRACE that's able to scan even low-resolution images to create detailed vector graphics. Illustrator's Image Trace tool offers similar functionality but it's not as effective as PowerTRACE.
5. Compatibility with All File Formats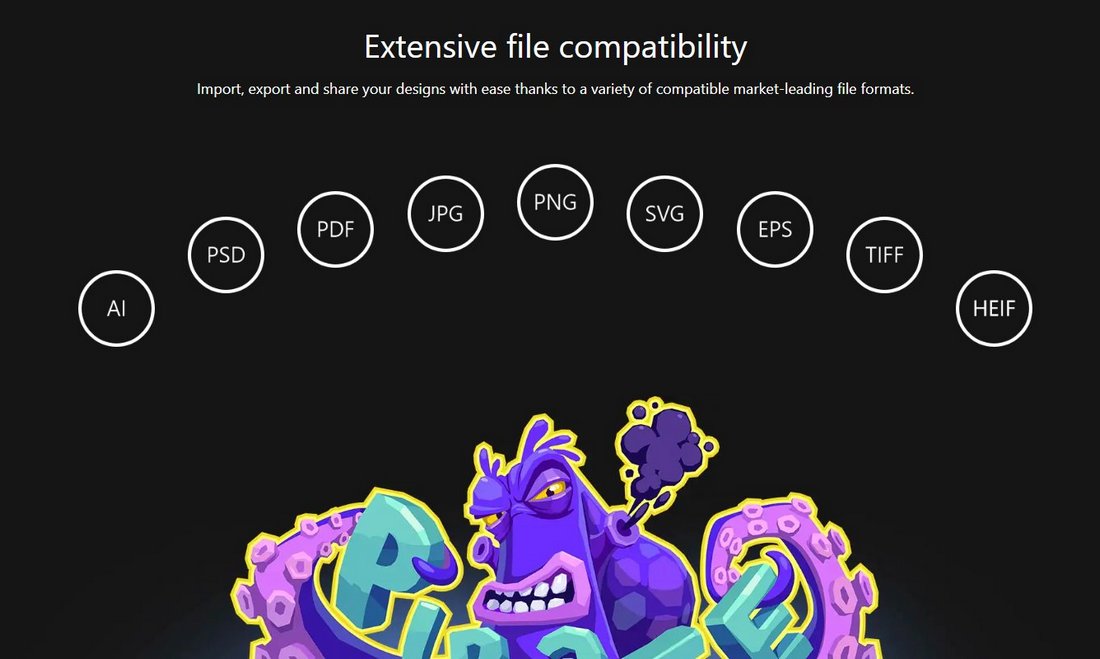 As a designer, you'll be working with all kinds of file formats. Being able to open, save, and export in any of these formats is a must-have feature for a vector editor.
CorelDRAW has a very extensive list of supported file formats. The app is compatible with more than 70 different file formats, including EPS, Illustrator AI, Photoshop PSD, GIF, and more.
Adobe Illustrator also supports lots of different file formats but with limitations. For example, you can only save files in 6 formats and export files in 14 formats. You can read more about it here.
6. Community & Third-Party Templates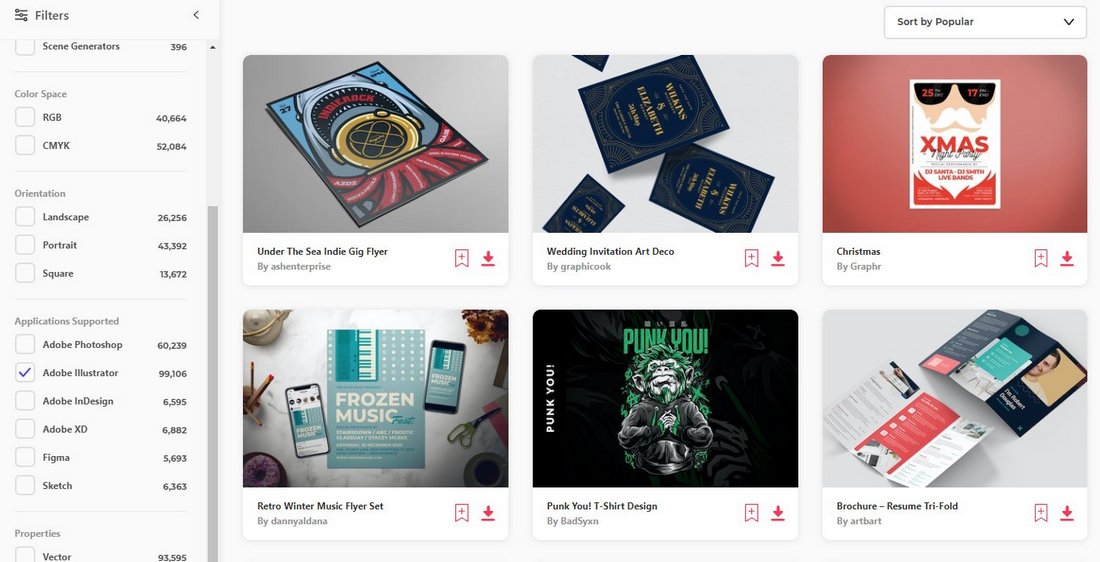 Adobe Illustrator has a much larger community of fans and users. And when you search for templates in a third-party marketplace, most of the results will be in AI file format.
Popular marketplaces like Envato Elements have almost 100K templates compatible with Illustrator.
It's worth considering this when choosing a software for work as it will directly affect how productive you can be. Templates are essential for design work and saving time.
Of course, you can always open AI files and EPS format in CorelDRAW as well.
7. Print vs Digital Media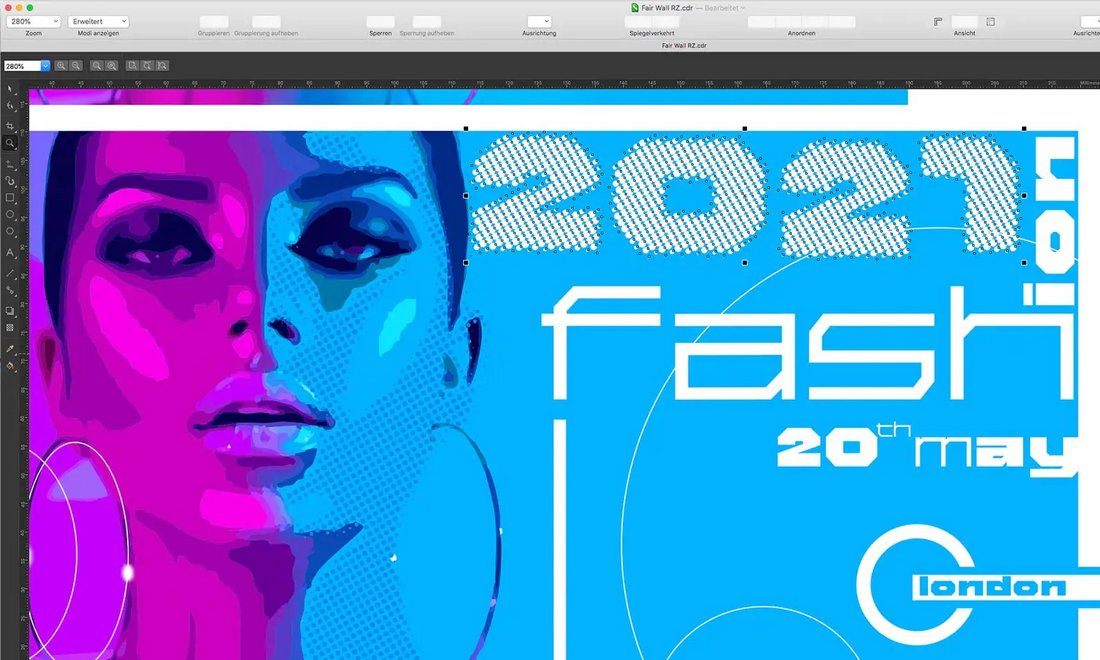 When it comes to print media involving signage, huge billboards, custom T-shirts, car wraps, and branding designs, CorelDRAW is the most popular software among all industry-leading companies.
It offers flexible file export support, better tracing, and many other tools that are made just for professionals in the print industry.
Adobe Illustrator is much more popular among freelancers and designers working with digital media. It has better tools for drawing, illustration, and creative artwork designs.
CorelDRAW vs. Adobe Illustrator: Which Is Better?
Overall, both CorelDRAW and Adobe Illustrator are perfect tools for vector graphics and design needs. Given the three-decade-long history of updates and improvements, both apps offer well-polished features and tools required for professional work.
However, these apps now have their own tribes. For example, CorelDRAW is the go-to choice among professionals in the print media. And Illustrator is widely used by designers in the digital space.
So it's best to choose the right software based on the type of work and industries you're involved in. You can watch this video to see the workflows between CorelDRAW and Illustrator to get a basic idea.
Also, if you're looking for an affordable Illustrator alternative, Affinity Designer is also worth checking out.
5 FAQs About CorelDRAW
Here are a few frequently asked questions about CorelDRAW to help you understand the software a little better.
What is CorelDRAW?
CorelDRAW is a vector graphics editing software that you can use for various design and editing needs like drawing illustrations, logos, signage, billboards, and more. It's also one of the best Adobe Illustrator alternatives available today.
How Much is CorelDRAW
CorelDRAW comes in two pricing plans. The standard package costs a one-time fee of $335 and it includes CorelDRAW standard and Corel Photo Paint. And the CorelDRAW Graphics Suite package costs $351 per year and it includes full versions of the software with additional apps.
CorelDRAW Essentials vs. Standard
It looks like CorelDRAW Essentials has been replaced by CorelDRAW Standard. Even the official website doesn't mention anything about CorelDRAW Essentials. Oddly enough, it is still available on online retail shops such as Amazon.
Instead of the Essentials, the company is now promoting a web-based version of the software called Corel Vector, which costs $69.99 per year.
Is CorelDRAW Available for Mac?
Yes, CorelDRAW is now available on Mac. But to get the Mac and the iPad versions of the app, you'll need to buy the CorelDRAW Graphics Suite package at $351 per year.
Which Version of CorelDRAW is Best?
CorelDRAW comes in a web-based version, standard version, and full version. If you're a professional designer, the full version is the best option for you. It's included in the CorelDRAW Graphics Suite package. Or you can get the CorelDRAW Standard version for a one-time price. It's perfect for personal projects and freelance work.
By: Roshan Perera
Title: CorelDRAW vs. Illustrator: Pros & Cons Compared
Sourced From: designshack.net/articles/software/coreldraw-vs-illustrator/
Published Date: Thu, 18 Aug 2022 09:00:01 +0000