Local SEO is important.
In fact, 46 percent of all searches on Google are local.
That means if you're a local business and you don't have your local SEO in order, you're missing an opportunity every time someone local searches for your products or services online.
And there's a lot of people searching.
About 89 percent of people search for a local business on their smartphone at least once a week, with 58 percent searching daily.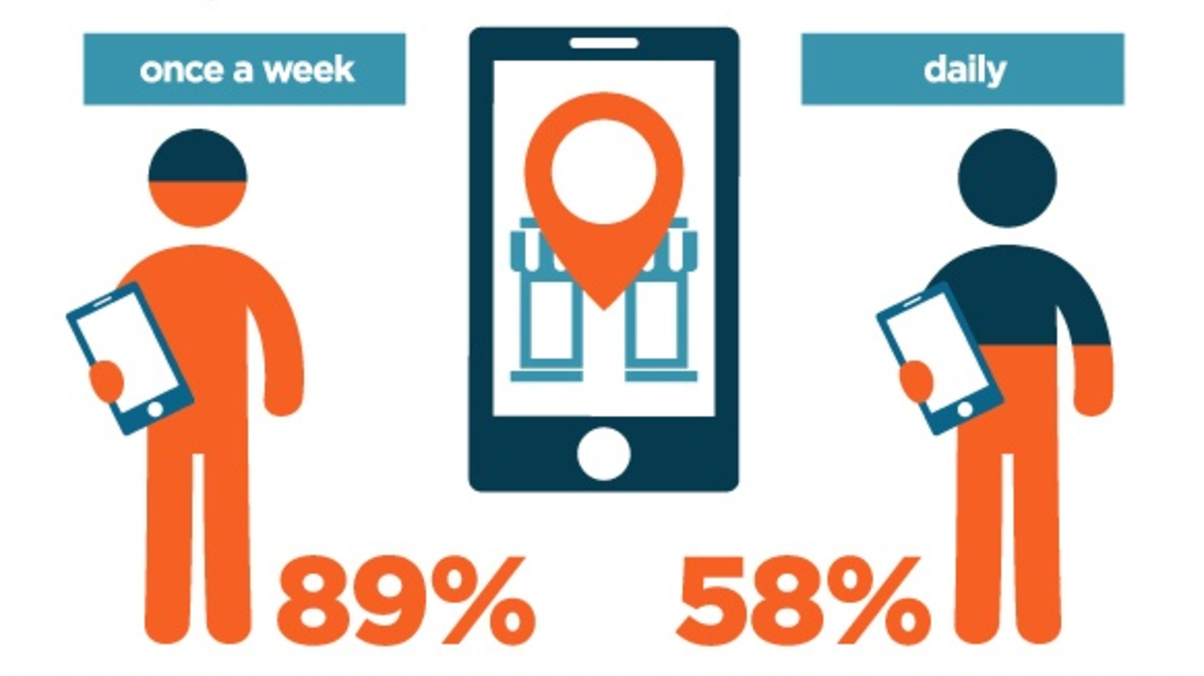 From that search, 72 percent will visit a store within five miles.
These searchers are unlikely to find you if your local SEO is poor.
What, Exactly, Is Local SEO?
Local SEO is the practice of increasing the online visibility of local businesses. It's similar organic SEO, but with an added geographical component.
Specifically, you're aiming to rank high in the search engine result pages (SERPs) for local searches.
There's no point in a New York restaurant ranking high in Houston's local search results. They want people searching for restaurants in New York to find them.
So it's imperative to improve your local SEO if you want to increase your organic local traffic.
According to Moz's local SEO report, Google My Business Signals, including proximity and keywords, are top ranking factors.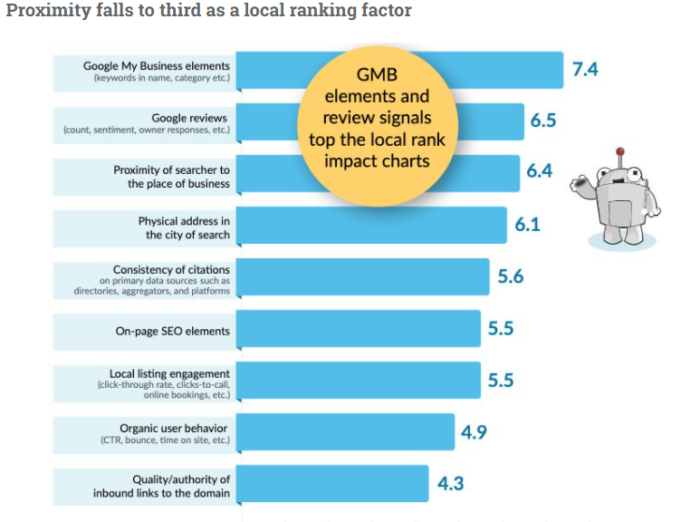 These are the signals that help local businesses rank in Google's three-pack.
What's the "pack?"
The Google three-pack is the collection of the top three results for your local search.
This used to be a 7-pack, but it was truncated to be a better fit for mobile searches.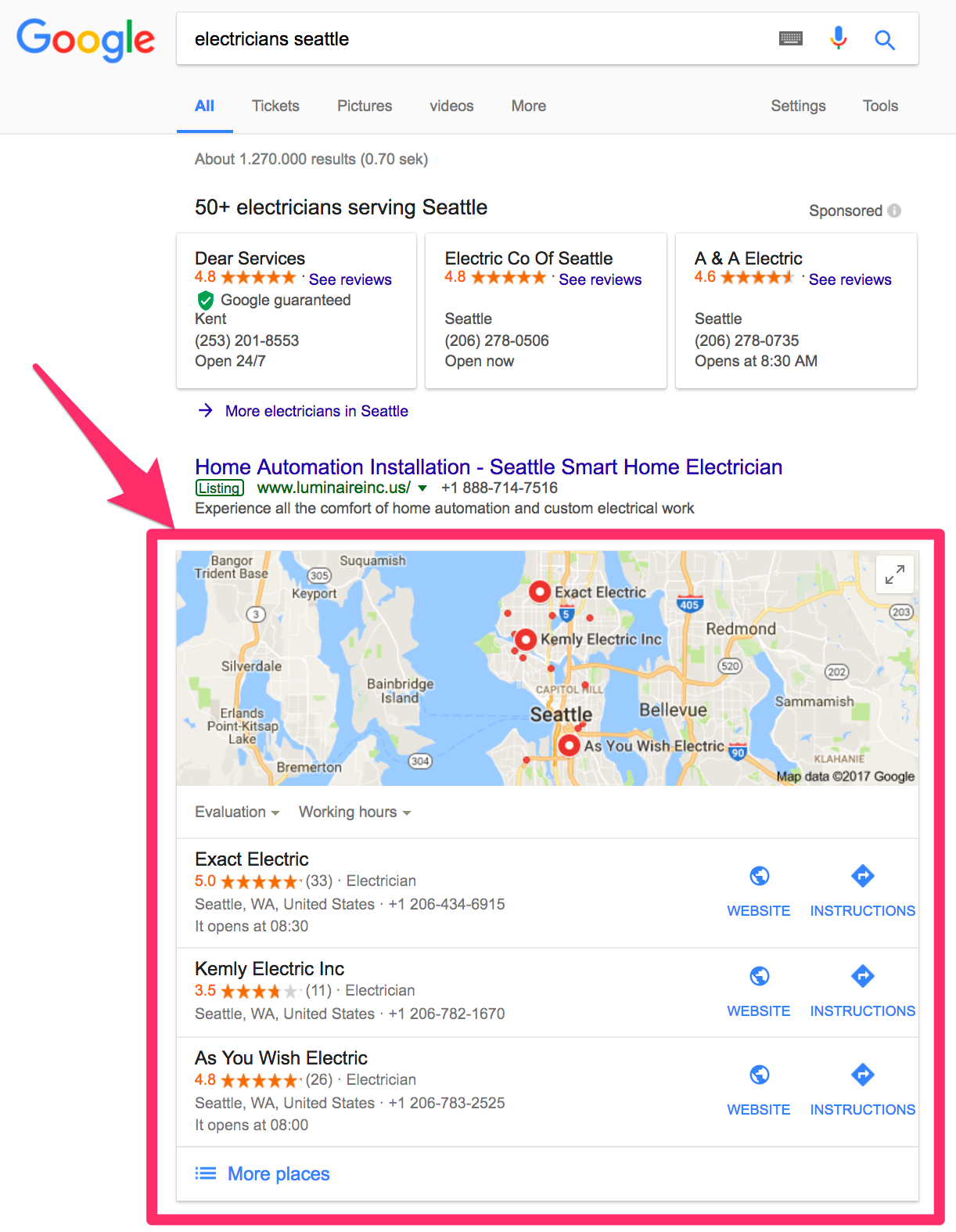 That's where you want your business to sit.
So how do you get it there? Here's a step-by-step guide to improving local SEO:
Create a contact page.
Make phone numbers clickable on mobile devices.
Add a map to your website.
Include testimonials on your website.
Use schema on your site.
Claim Google My Business profile (and optimize).
Claim social profiles.
Create locally targeted content such as a list of local events.
Prioritize getting more customer reviews.
Build citations on local search engines, blogs, and local directories.
Don't worry, we'll cover each step in more detail below.
First, here are free local SEO tips to get your business noticed.
1. Optimize Your Website for Local SEO
If your website isn't properly optimized, it will be hard for you to climb the SERPs.
Check your website's SEO now to see how it could be improved.
For local SEO, in addition to standard SEO best practices, you need to do the following:
Create a Dedicated Contact Page
These days, people want more detailed information about your business.
On your contact page, make sure you clearly show your "NAP:"
I would also recommend that you display your email, like Seattle's Velo Bike Shop has done on their site:

Include All of Your Business Addresses
If you have 10 or fewer locations, include the complete name, address, and phone number of each in the sitewide footer element on your website.
Make Phone Numbers Clickable on Mobile Devices
Some 30 percent of mobile searches are location-related.
So it's vital that your site is optimized for mobile devices.
Also, 76 percent of local searches result in a phone call.
So make sure your phone number is clickable.
If someone finds your website on their mobile device and wants to call you, they might be annoyed to find they have to switch between apps to type in the number manually.
Here, Barrio Restaurant has ensured their phone number is clickable when viewed on mobile devices.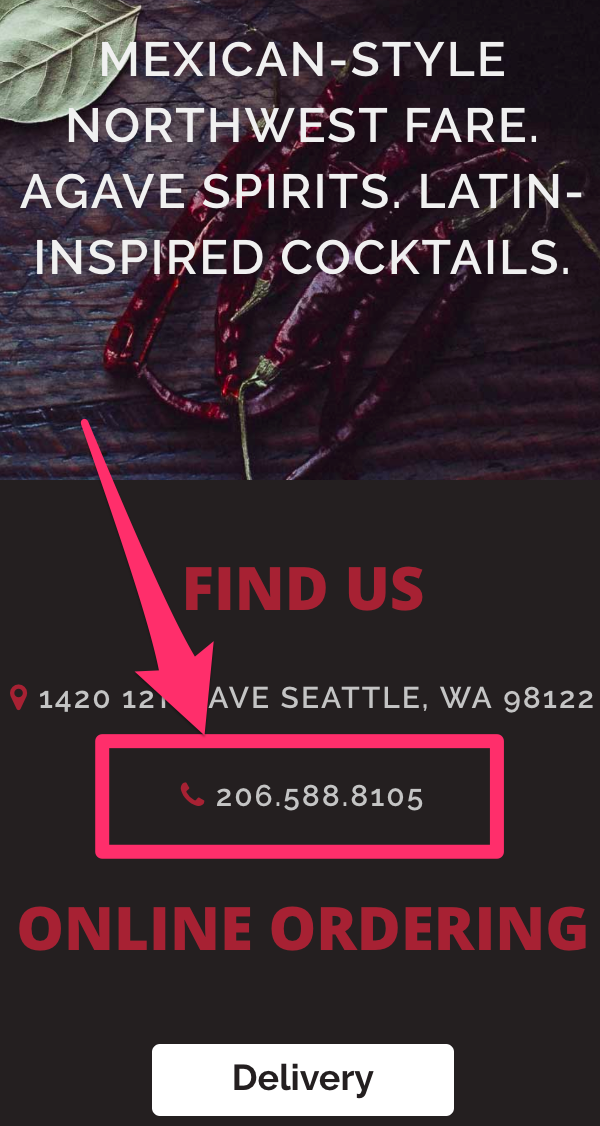 When the user clicks the phone number, their phone will prompt them if they'd like to call the number.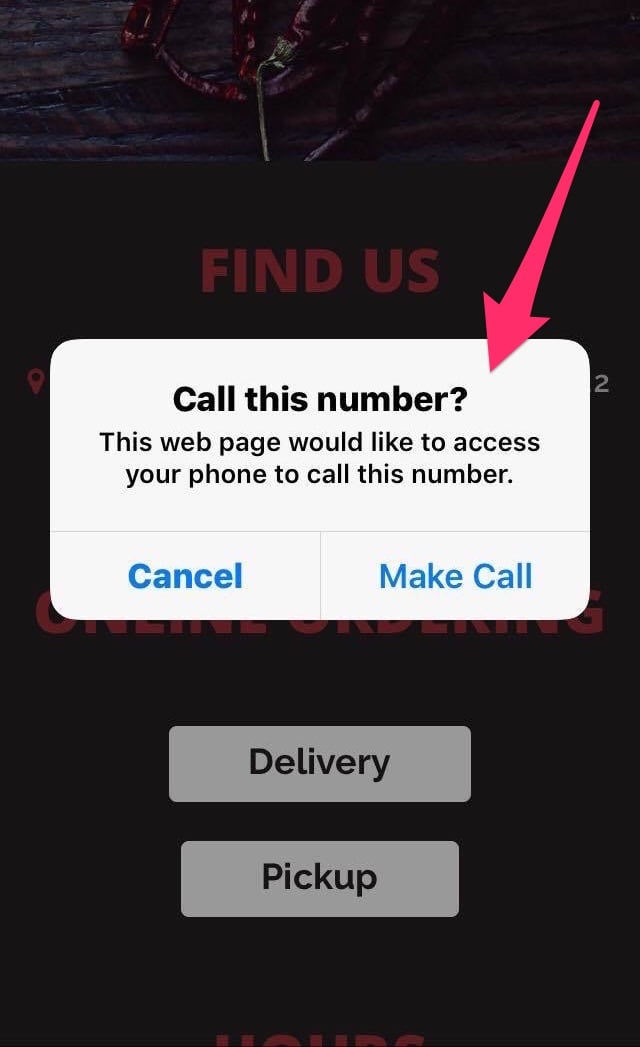 Google has a post that walks you through how to make a phone number clickable on your website.
Add a Map or Your Locations
The whole point of local SEO is to make it easier for people to find you, right?
So it would be silly not to add a map, especially when 86 percent of people look up the location of a business on Google Maps.
In this example, Starbucks gets it right, including an interactive map of all their locations.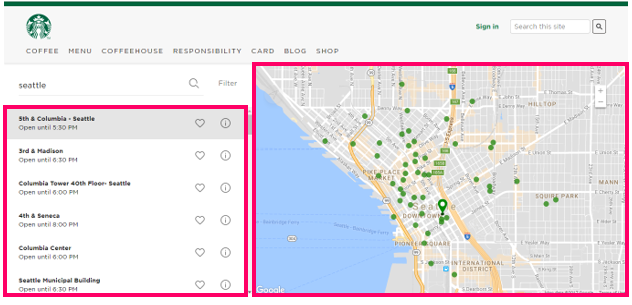 Add Testimonials
Google considers testimonials a trust signal, and it helps people feel confident that you are a real business.
That's why Local SEO Guide has a whole page dedicated to these types of reviews.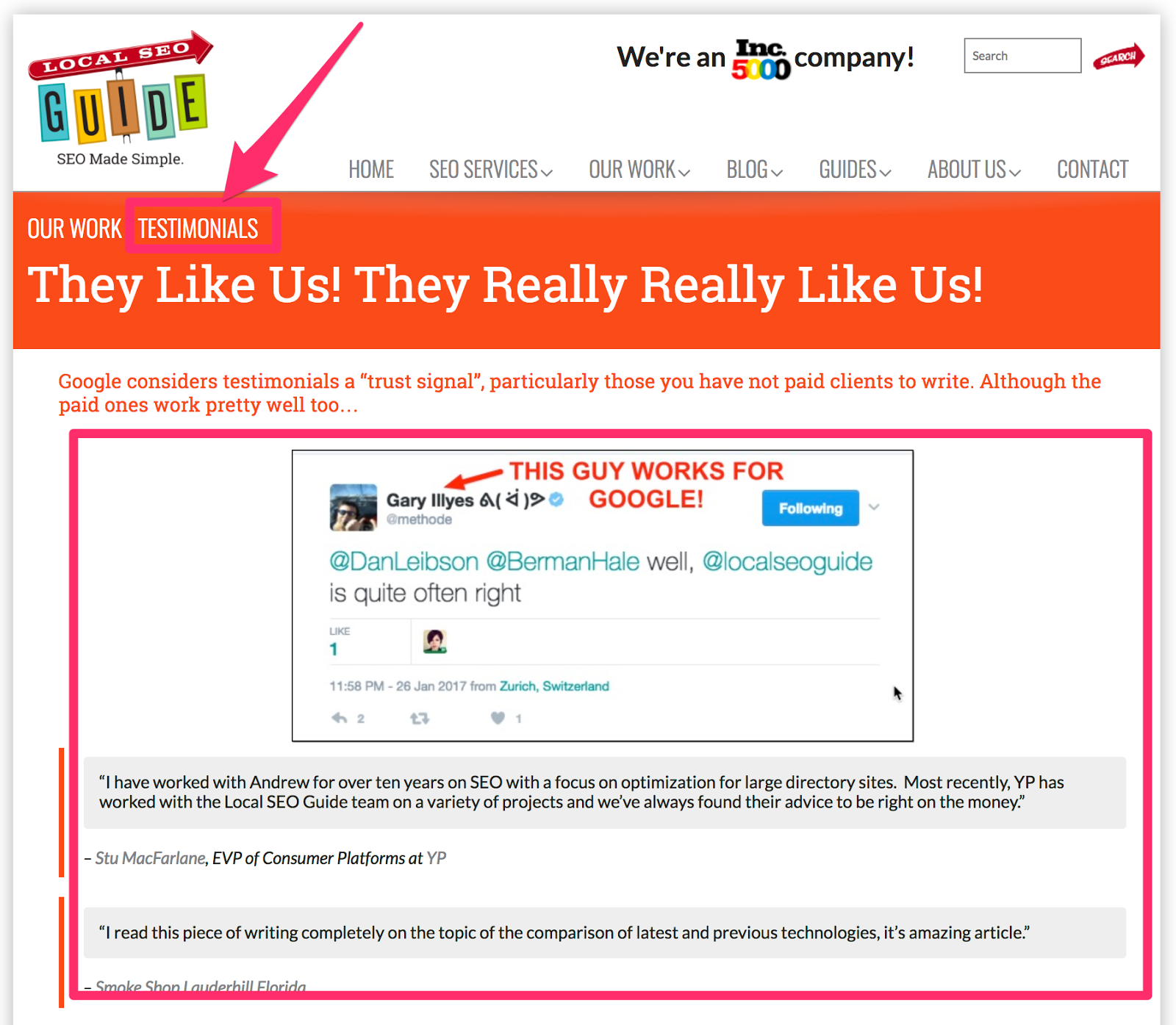 Collect and prominently display testimonials from local customers on your website for an added local SEO boost.
Add Schema
Schema.org was invented to create a common language between major search engines Google, Bing, and Yahoo.
It makes it easier for search engines to understand what your website is about.
By adding the appropriate Schema markup for local businesses to your website, you're telling Google you're a local business and not some big brand.
In turn, this can help to boost your local rankings.
To make this process easier, Hall Analysis has created a tool to help you create your Schema markup.
Just fill in your information, then copy the code on the right-hand side of the page.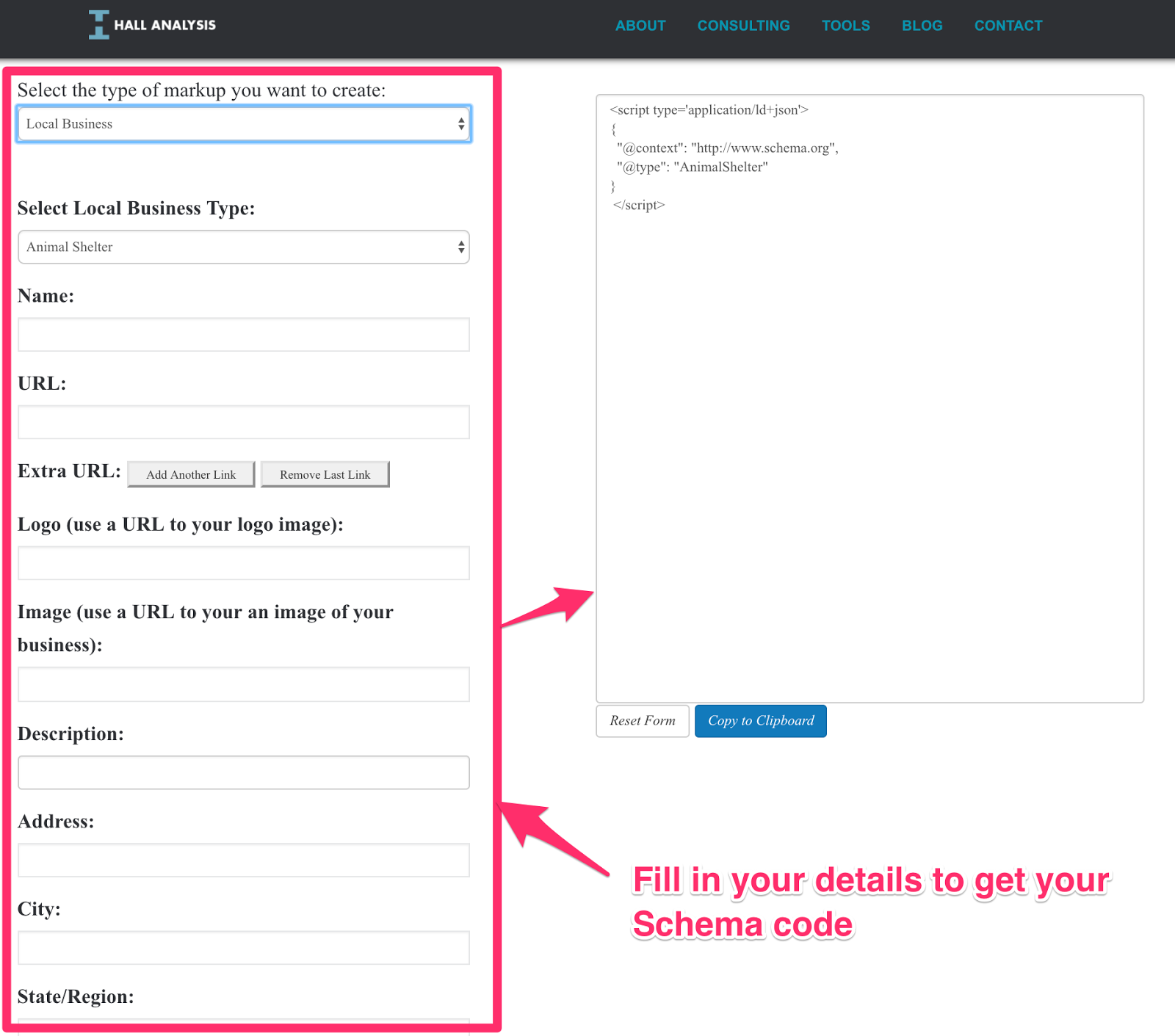 Next, paste the code in the <head> section of your HTML document or website builder.
After you've added your Schema markup, you'll want to test it with Google's structured data testing tool.
This tool should pull out your information, and show it on the right-hand side: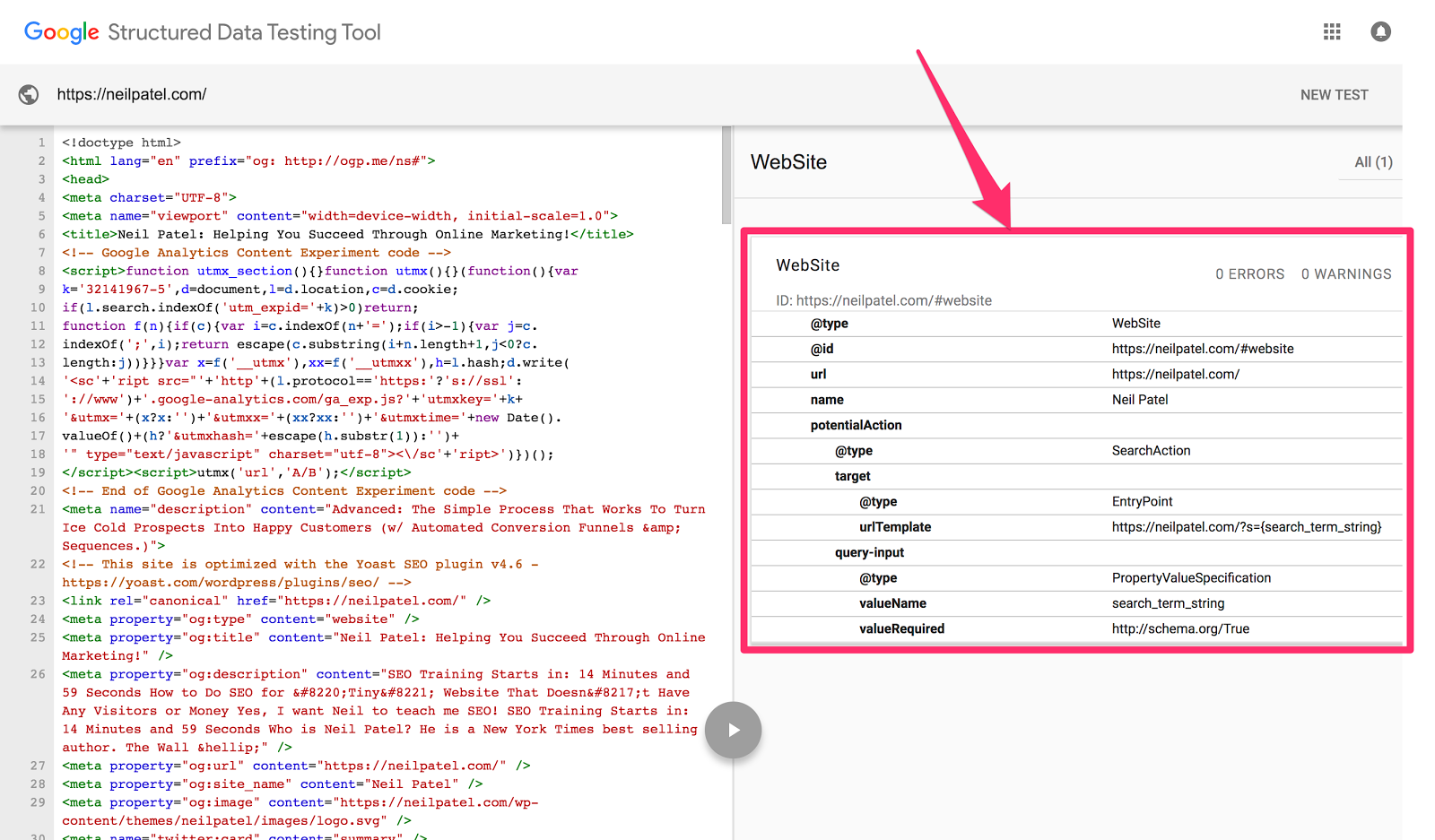 Once you've optimized your website for local SEO, you should be in a better position to improve your rankings and increase local organic traffic.
2. Claim Your Online Profiles – Especially Google My Business
Your website isn't the only place you need to be online.
You need to make sure your business is properly listed on the main review platforms, like Google My Business, TripAdvisor, Yelp, and Facebook.
And don't forget any popular local-review sites.
Why?
Because when it comes to local searches, Google's 3-pack is often followed by these review sites: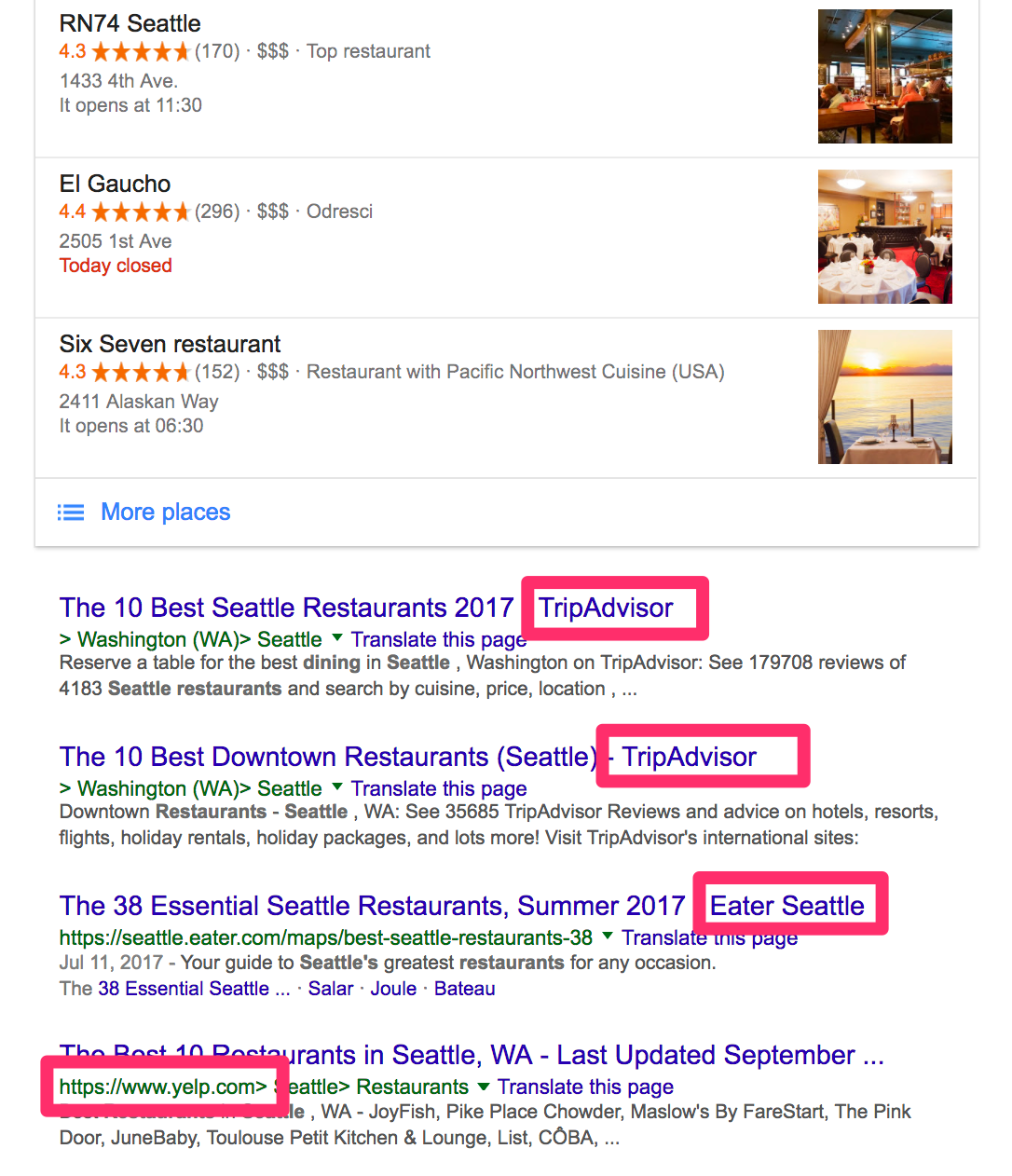 Google My Business
Filling out your profile on Google My Business is a good place to start.
This profile allows you to manage your presence on Google's search engine.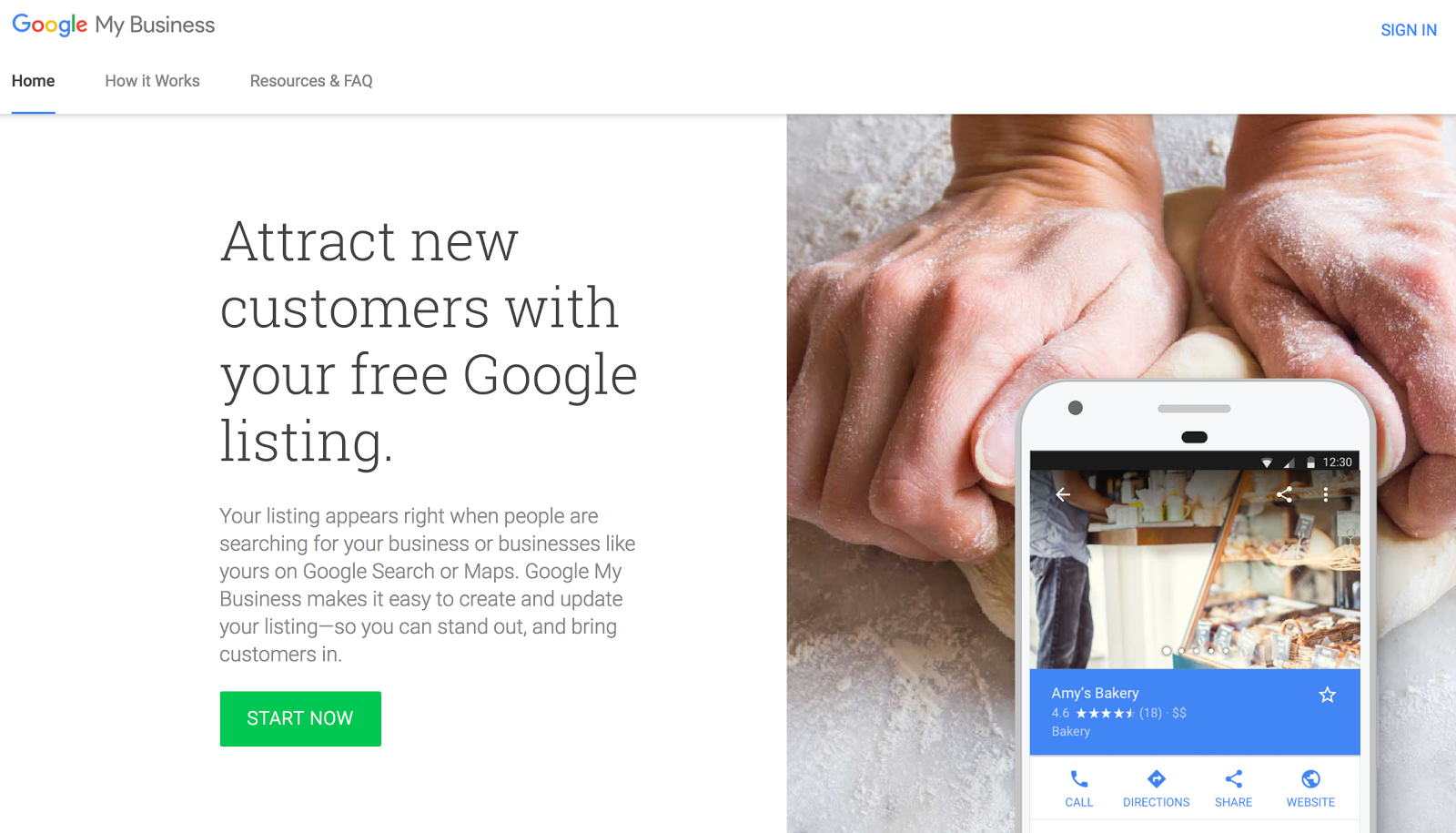 By filling out your profile completely and collecting reviews (which we'll talk about in a minute), you'll improve your ranking.
Google Maps will also show searchers a detailed profile of your business, like Seattle Coffee Works.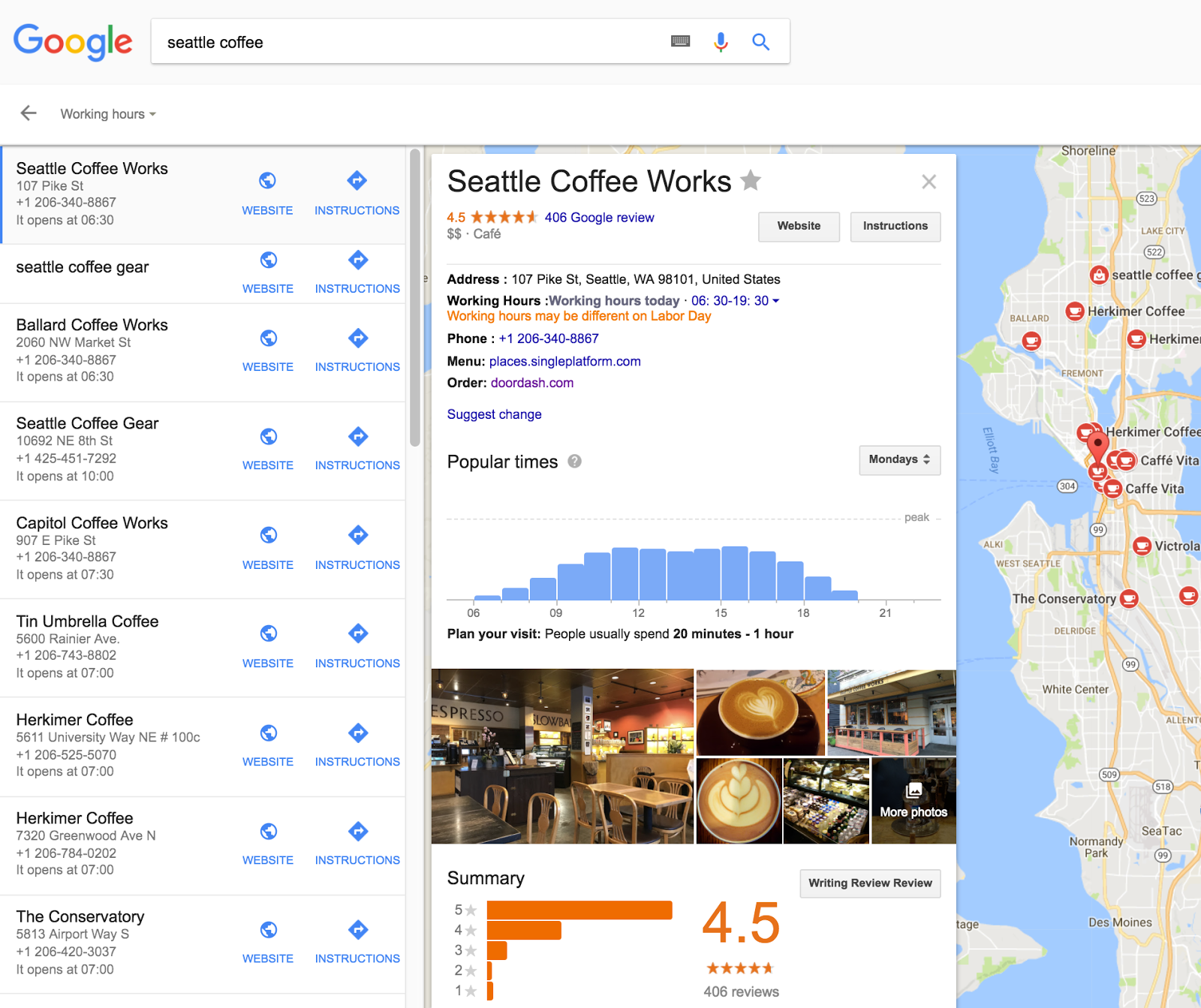 This is huge. So huge I wrote an entire post on how to optimize your Google My Business page.
Especially when you remember that 86% of people look up the location of a business on Google Maps.
Any Local Listings
You'll often see the occasional local review site among the heavy hitters, like TripAdvisor and Yelp.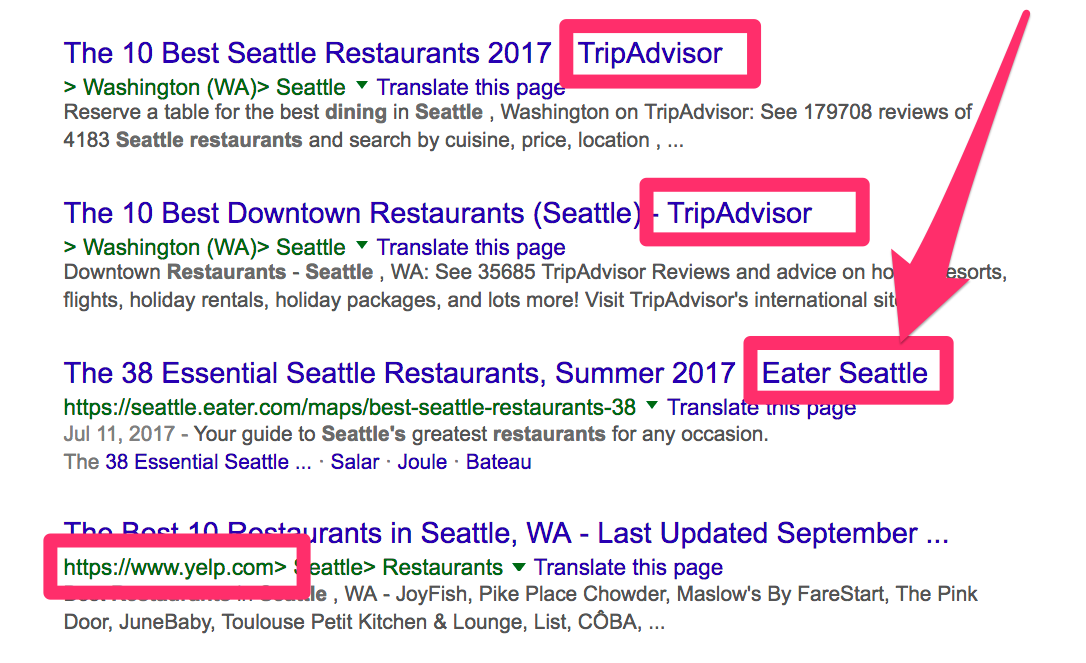 You can find the sites that are relevant to your business and location by searching keywords like:
[target location] reviews
[industry/niche] [target location] reviews
Claim Other Social Profiles to Improve Local SEO
You'll also want to set up profiles on the social media channels relevant to your target demographic.
Be sure to follow social media best practices.
When setting up your profiles, it's very important to make sure your information is identical on each platform.
Remember, consistency is key.
By setting up these profiles, you'll become more visible to potential customers. You'll also provide search engines with more information about your business, which will help to boost your ranking.
3. Create Local Content
Blogging is essential to SEO.
Just in case you haven't already, create a blog on your website.
If possible, host your blog on your business's domain for optimal SEO benefits.
For example, "www.website.com/blog" instead of "blog.website.com" or "websiteblog.com."
Here's Stonyfield's blog:

This way, as you acquire links to your blog, you'll also gain links to your business's main site.
And if you remember the pie charts at the beginning of this article, links are the second most important localized organic-ranking factor.
So, as your blog's search engine rankings increase, so do the rankings of your website.
When writing the posts, make sure to include local city and neighborhood names wherever you can.
Not everyone will use your city name when searching, so be sure you also include neighboring towns and cities, neighborhoods, and unofficial terms that locals may use.
Include local news and happenings, which will not only boost your SEO but will also provide useful information to your audience.
Capitalize on the popularity of an upcoming community event, election, fair, etc.
Or, sponsor local events, teams, or organizations, and write about them.
Try to cover local events from the perspective of a local business owner.
You can also interview local experts within or outside your company.
Here, Stonyfield gets involved in a local charity initiative.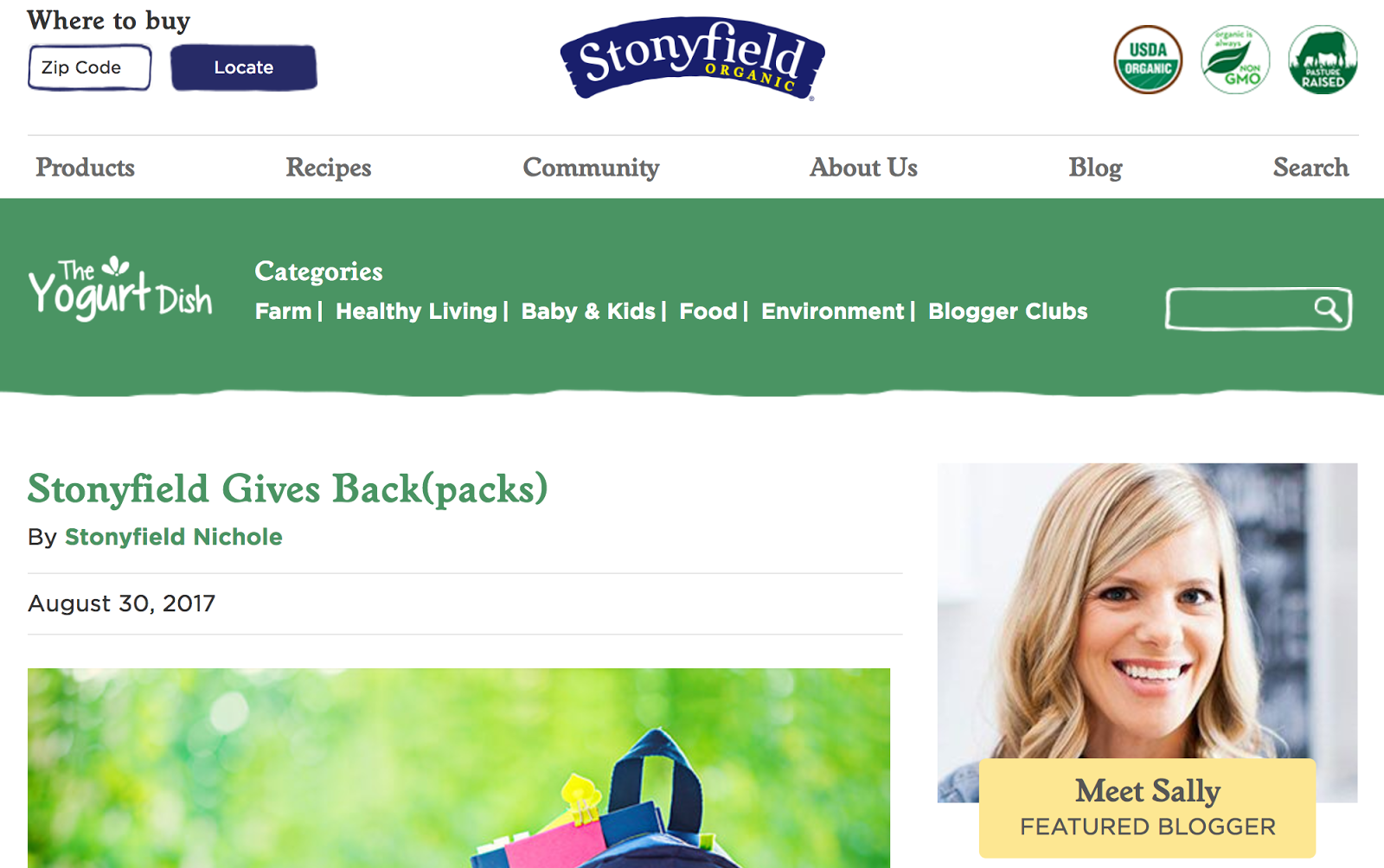 But don't write about your business.
David Meerman Scott, an online marketing strategist, says it perfectly:
"Stop talking about your products and services. People don't care about products and services; they care about themselves."
Write posts that help and benefit your reader in some way. Aim to become a trusted source in your industry.
Here, none of Stonyfield's most popular blog posts are about their business or products directly.
Instead, they are aimed at helping the reader in some way.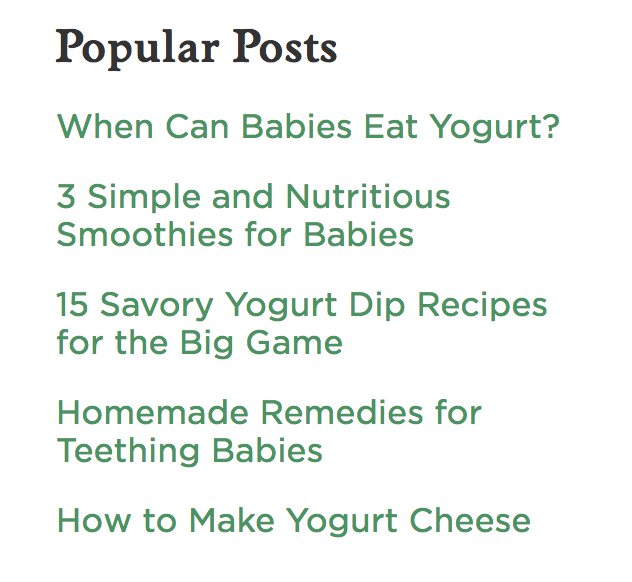 Build Links
While you build your blog audience, you also want to collect inbound links.
A good way to start is to join conversations in other local business blogs.
You might want to avoid direct competitors, but are there any complementary or related business blogs in your community?
Participate by leaving thoughtful comments or mentioning (and linking) their posts on your blog.
Building relationships with other businesses is a great way to establish your website and attract links back to your blog.
Another thing you can do is conduct a backlink audit of your top competitors. You can use Ubersuggest to do this. Here's how.
Step #1: Enter your competitor's URL and click "search."
Step #2: Click "backlinks" in the left sidebar to conduct your audit.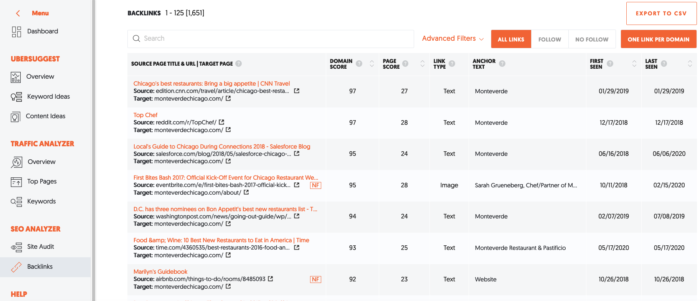 The final section of the results page lists every backlink, along with:
Domain score: Measures the overall strength of the website, from 1 (low) to 100 (high)
Page score: Measures the overall strength of the page, from 1 (low) to 100 (high)
Link type: Text or image
Anchor text: The clickable text that leads to your website
First seen: The first time Ubersuggest robots identified the backlink
Last seen: The last time Ubersuggest robots confirmed the backlink
So, if Monteverde Restaurant & Pastificio is one of your competitors, you should review every backlink with an eye toward two things:
Quality (measured by domain score)
Your ability to secure a link
Reach out to the same sites and tell them why they should link to your site, too. It's hit or miss, but even if you only pick up a few backlinks it's a step in the right direction.