When you're starting a new business, an online store, website, YouTube channel, or even an Instagram profile, one of the first things you do is design a logo.
There are two ways you can design logos. You can either hire someone to design your logo for a hefty price or you can make it by yourself. And this is where logo makers come to help.
With Turbologo, you can design unique and custom logo designs by yourself, even without any experience in graphic design. Not only that it also allows you to design entire branding identities using pre-made templates.
Today, we're taking a closer look at this platform to see what it has to offer. Let's dive in.
What is Turbologo?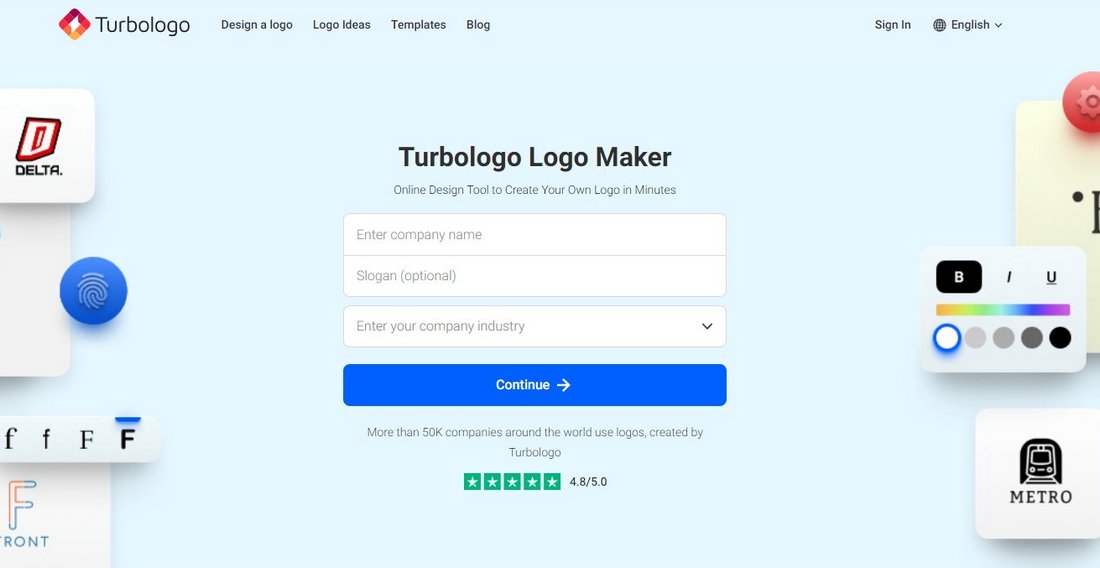 Turbologo is an online platform that offers all the tools and resources you need to design custom logos and brand kits.
Designing a logo is not an easy process. It takes advanced design skills, a subscription to Photoshop, and a few days of work to craft a great logo. But with Turbologo, you can design a logo in just a few clicks.
The platform uses a very simple process where you can enter details about your business and instantly generate hundreds of logo design ideas for you to choose from.
The logo maker tool in Turbologo is very beginner-friendly and even someone without any design skills can use it.
Of course, a branding identity consists of more than just a logo. You also need a business card, envelope, and letterhead designs to make your branding kit complete. Turbologo has got you covered in all those aspects as well.
Thousands of Logo Templates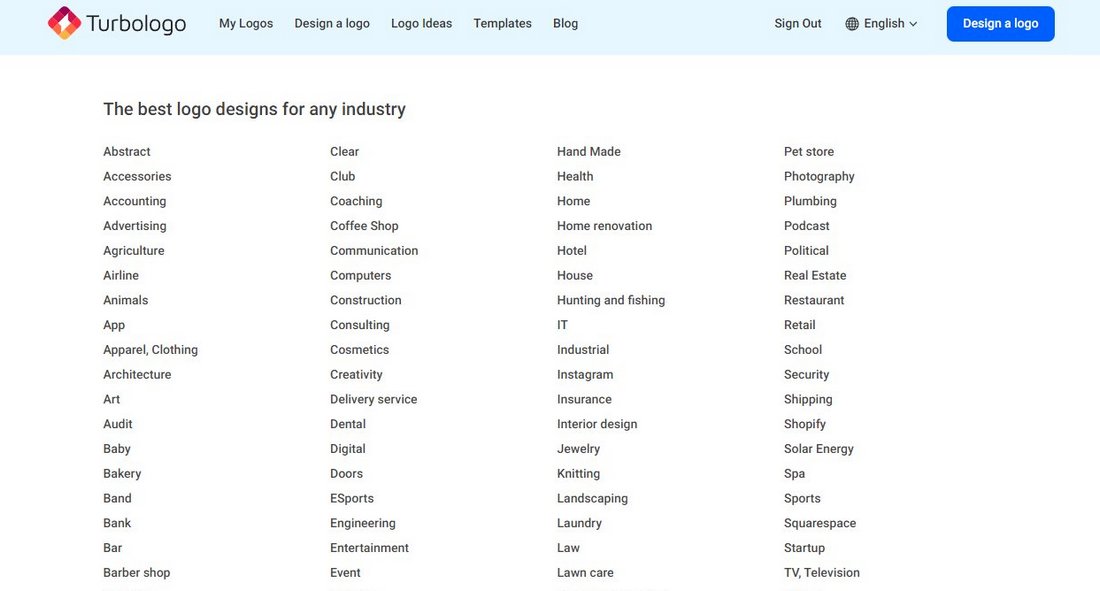 If you're in a hurry to launch your business and need a new logo design as soon as possible, Turbologo has a massive library full of pre-made logo templates for you to use. You can pick a template from this library to design a logo almost instantly.
There are more than 3,000 logo templates available on the platform. And these templates are categorized into 131 different industries.
You can also find logo design ideas for all kinds of industries from barbershops to restaurants, consulting firms, Instagram pages, YouTube channels, and so much more.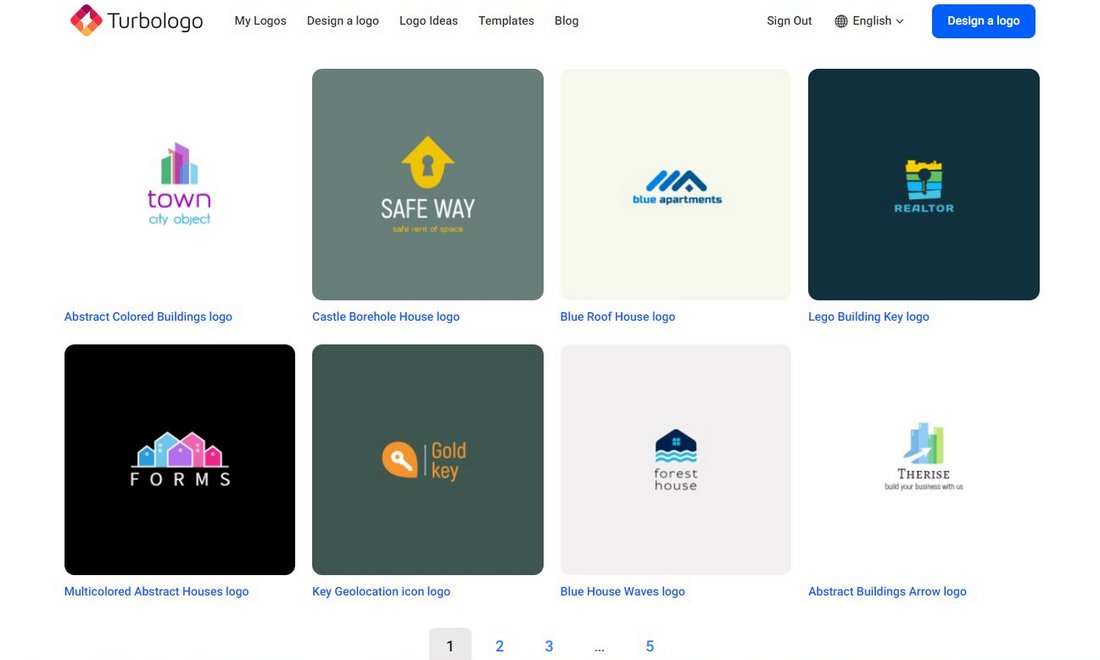 For example, if you want to find some ideas for a real estate logo, just browse the Real Estate category to find a template and edit it to your preference.
Craft Unique Custom Logos
Pre-made templates are great for saving time and instantly making logo designs. But sometimes they don't feel truly personalized to your liking.
For those of you who enjoy making custom logo designs on your own, Turbologo has a simple logo maker where you can design a logo without effort. Here's how it works.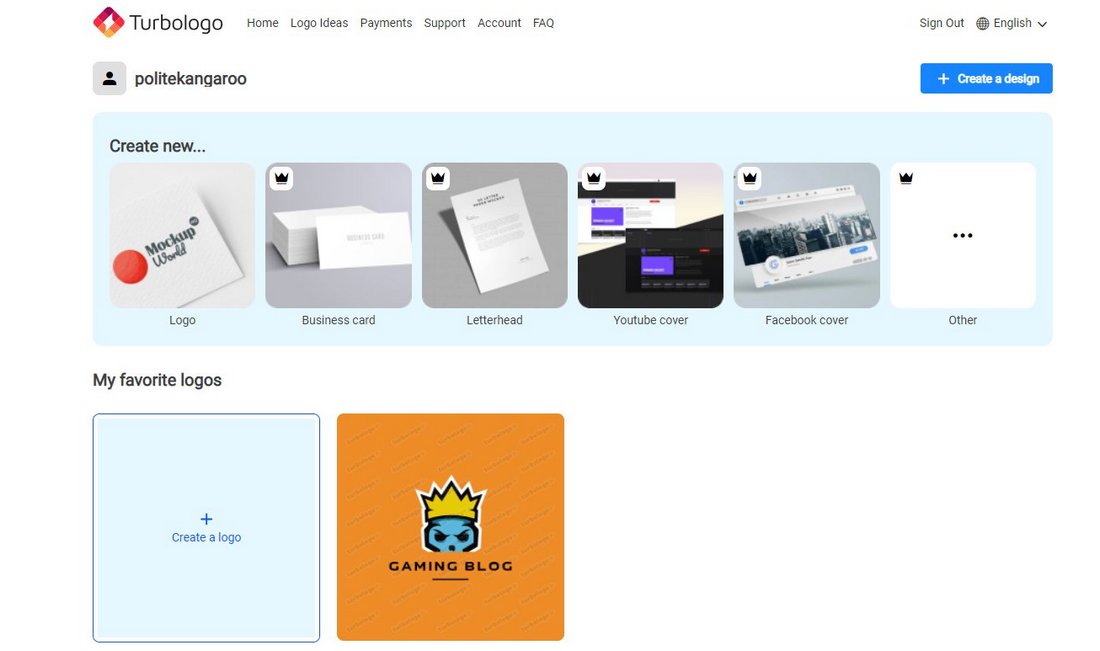 Step 1: First create an account in Turbologo and sign in. From there you can select the Create New Logo option.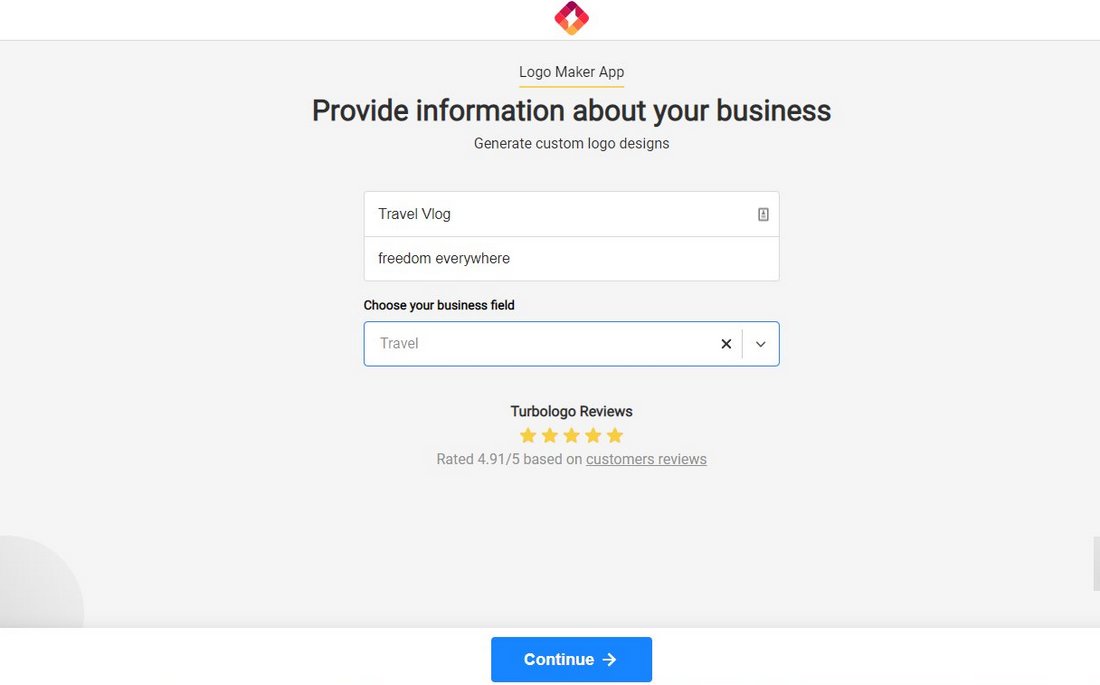 Step 2: Now, enter your business name, a slogan (if you have one), and select the category or your business industry from the list.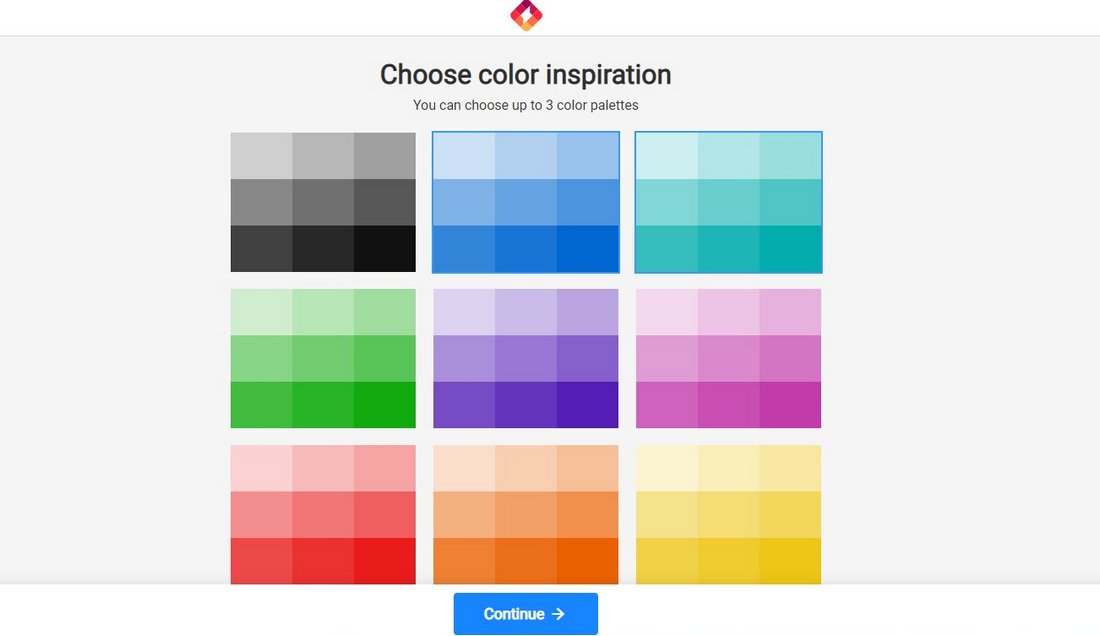 Step 3: In the next stage, you can choose a color scheme for your logo design. You can choose up to 3 color schemes here.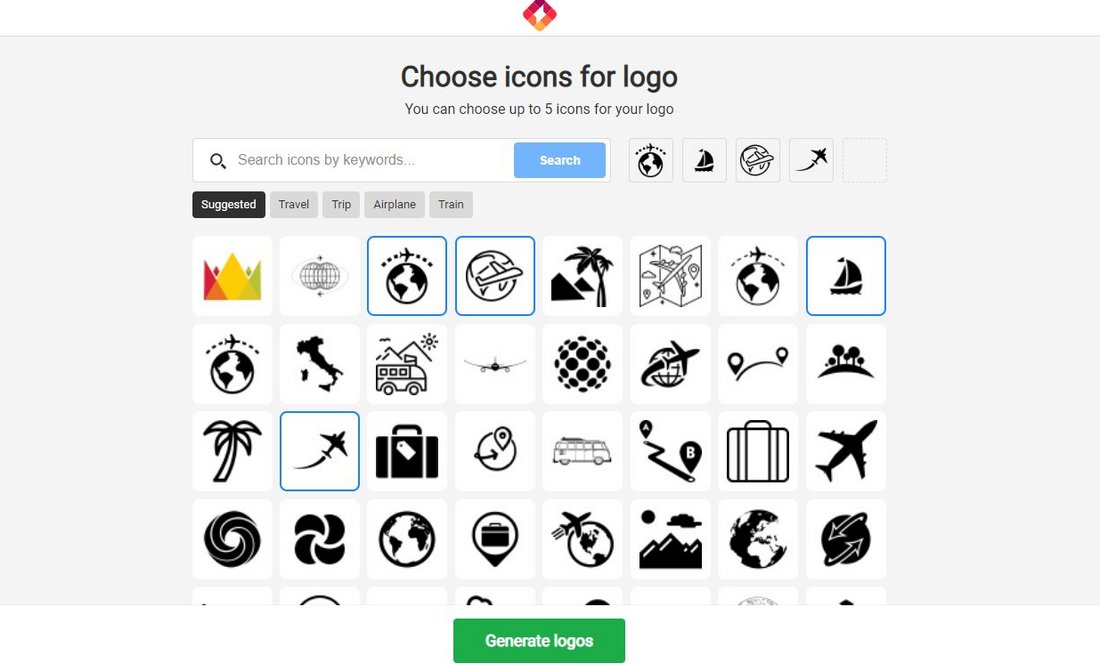 Step 4: It's time to select an icon for your logo. You can pick up to 5 icons from the list. And don't worry, you can customize the colors and icons later if you want.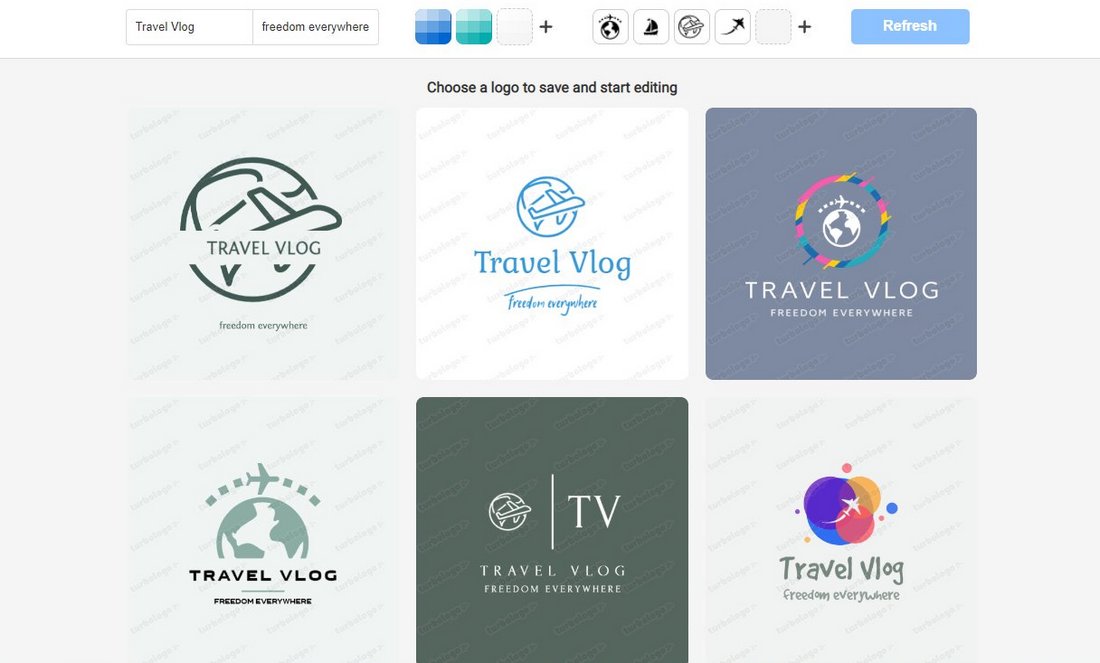 Step 5: Once you're done, click the Generate Logo button and you will have plenty of logo designs to choose from.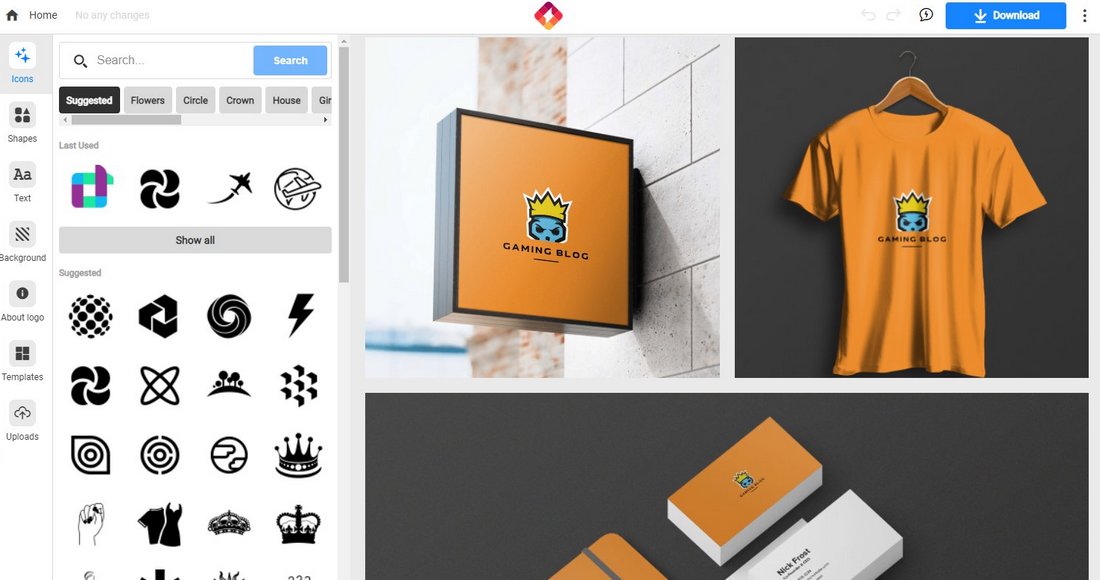 Now you can pick a design and start customizing. You can preview how the logo will look like in your branding designs. Or upload your custom icons and graphics to add unique elements to your logo as well.
When ready, you can download your logo in high-resolution formats to use in your branding designs. You will also be able to customize your logo design even after finalizing the logo design.
Design Brand Kits with Branding Templates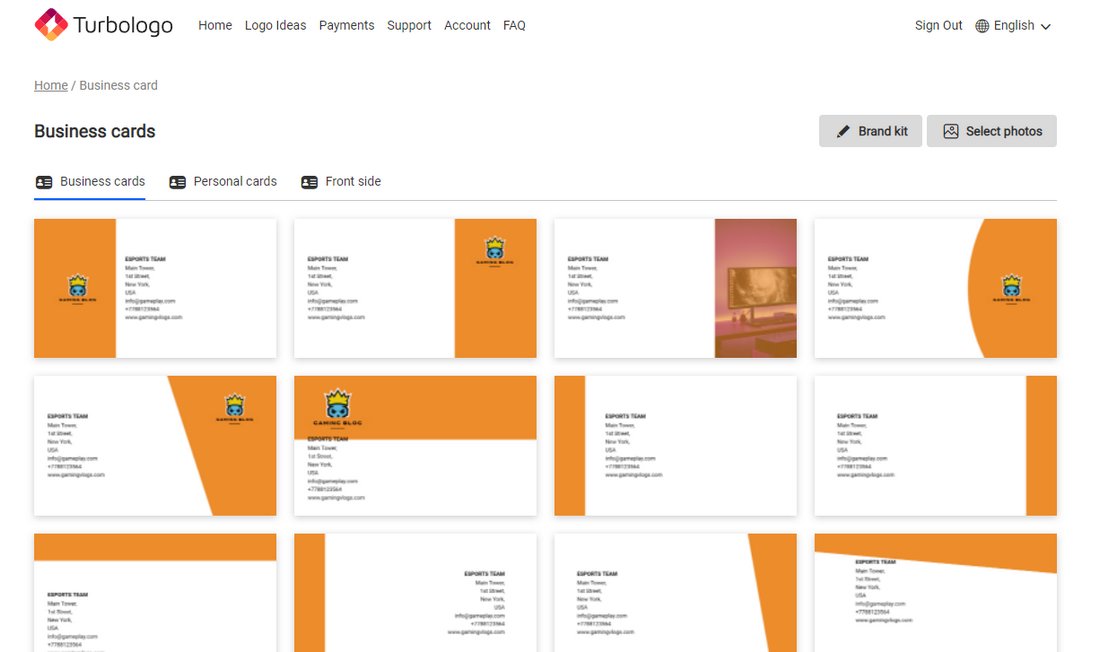 As we mentioned earlier, Turbologo is more than just a logo maker tool. It's a platform for creating complete branding designs.
In addition to making logos, you can also make other branding designs such as letterheads, envelopes, business cards, watermarks, and more. And the best part is you can use the logo you've created in Turbologo across all of those branding templates to generate new designs.
Templates for Social Media Covers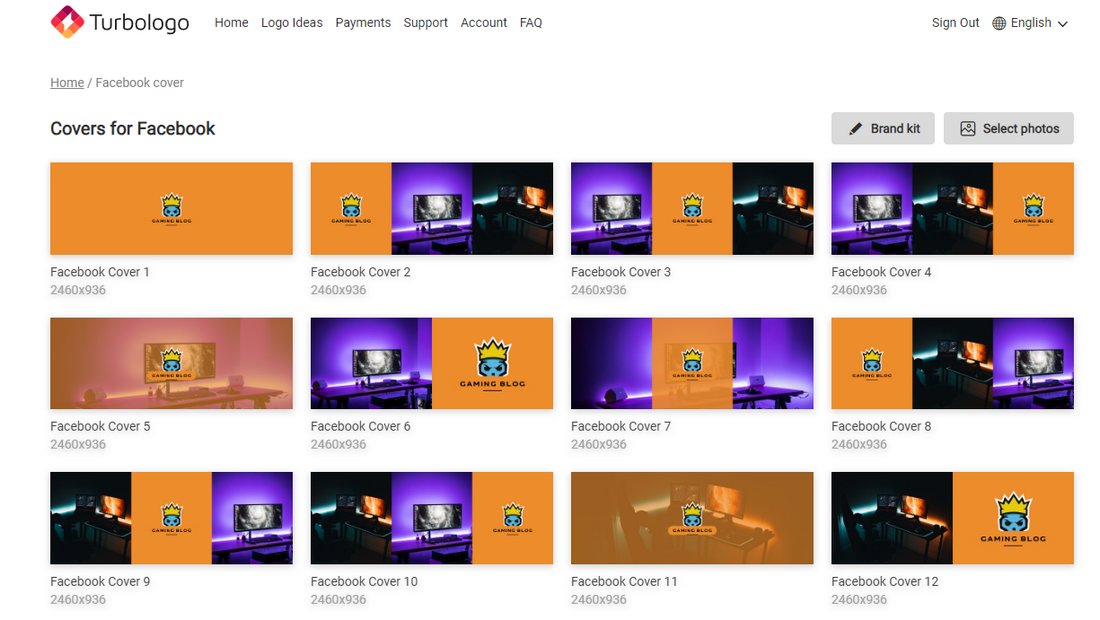 Nowadays, a brand kit also includes digital elements such as social profile covers for Facebook and YouTube headers.
Normally, you have to use a separate tool or buy templates to make these social designs. But with Turbologo, you'll be able to save time and money as it includes templates for making social media profiles and cover designs. Designing these social media templates is also just as easy as making logos.
Find Inspiration for Projects
Even if you're just looking for inspiration for a personal project or trying to come up with an idea for a cool logo design, you can use Turbologo to quickly come up with new design ideas.
You can signup and use Turbologo for free and you can generate logo designs as much as you want at no cost. It's a great way to find inspiration and experiment with different logo ideas.
Pricing
Turbologo is free to use for generating logo designs. You only have to pay when downloading your logo designs.
Pricing starts at $16. This plan allows you to download your logo design as PNG file in 1000px resolution. Although, it won't be transparent.For $32, you can download the logo in vector format as well as make changes to your logo design and make new versions of logos.For $64, you can also access the brand kit templates to make logos, business cards, letterheads, social covers, and lots more.
All these plans cost a one-time price. They allow a 3 months editing period. There are plans for 1 year of editing access as well.
In Conclusion
Overall, Turbologo is an impressive tool to have in your arsenal if you want to quickly design logos and branding designs for clients. It's especially useful for freelancers and designers.
It's also great for entrepreneurs for crafting logo designs for new businesses and projects without having to hire outside help.
The tool is perfect for finding inspiration and coming up with logo design ideas. You can try Turbologo and see how it works. After all, it's free to use.